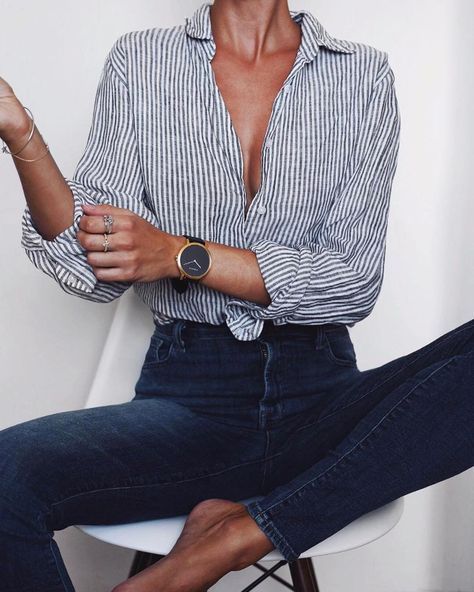 Button-up shirts are a classic in the world of fashion. They're a timeless wardrobe staple that every woman should have in her closet. One of the best things about button-ups is that they are one of the most versatile clothing pieces on the market. They're simple enough to pair with more overwhelming pieces as a basic, yet they have enough texture and interest to instantly add intrigue to any outfit. These tops help you look put-together no matter what you wear and can easily transform into an integral part of any style from a professional office outfit to a casual and care-free date-night look.
Despite all of this, putting together a look that includes a button-up shirt can be daunting. Many women fear that wearing a button-up will make them appear less feminine, old-fashioned, or shapeless. However, there are many ways to style a button-up shirt to create a variety of trendy looks that range from put-together and professional to flirty and playful.
1. Go Collared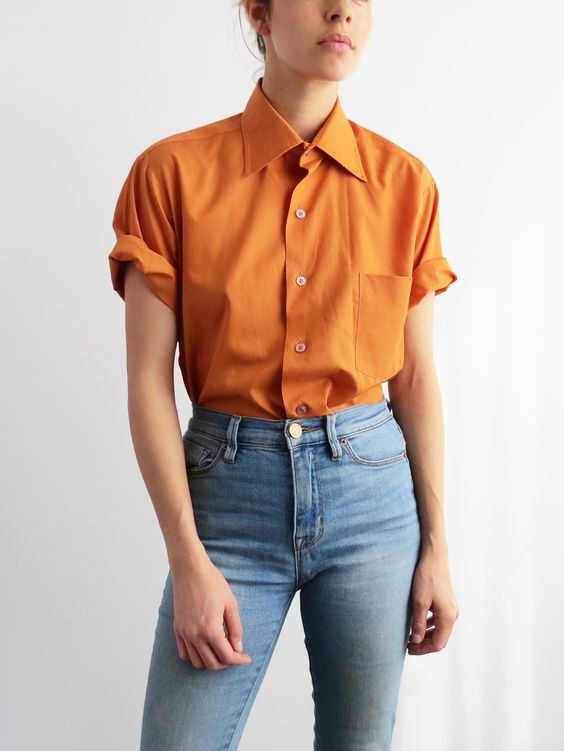 If you really want to rock a button-up, don't be afraid of its collar. Wearing a button-up with a bold collar helps you pull off the piece effortlessly by adding extra intrigue to your look.
Step away from the classic, long-sleeved, Oxford-style button-up and go with shorter sleeves instead. Short-sleeved button-ups with defined collars are a flattering style on most women and men. Go for a short-sleeved button-up in a fun, wild pattern that is guaranteed to turn heads. Pair it with strappy sandals and distressed high-waisted shorts to complete the look.
2. Check Out the Men's Section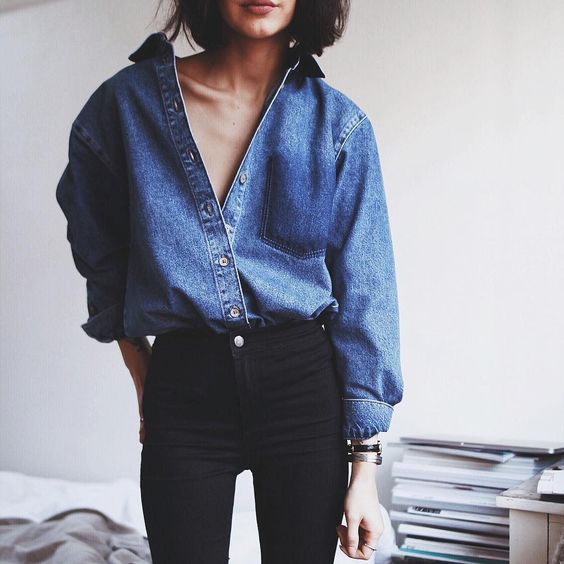 Who says that every piece of clothing you buy has to come from the women's section? Button-up shirts are more commonly worn by men. Expand your horizons and you will likely find some great button-up styles if you venture into the men's section of your favorite department or thrift store.
Buy a men's button-up in a smaller size if you want it to match your size more closely. However, you can also take advantage of the larger size. If you go for an oversized style, leave it unbuttoned over a fitted top or dress. Or, if the button-up is big enough, wear it all by itself as a twist on the trendy T-shirt dress style. Just be sure to wear a pair of booty shorts underneath in case you encounter any gusts of wind.
3. Tuck it In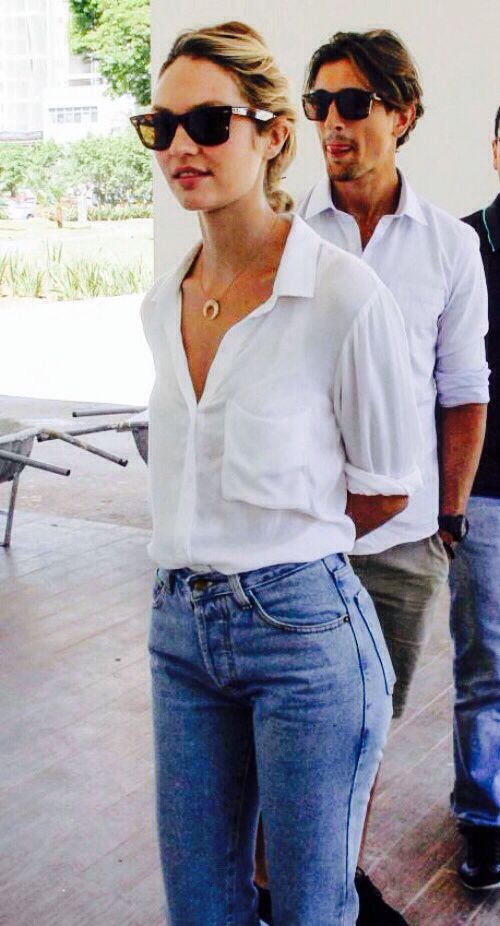 You might not think that a button-up shirt can be part of a look with a boho style, but you'd be surprised. The versatility of a button-up does not stop at boho looks.
Start off your boho-chic look with a loose-fitting solid button-up. Pair the top with your favorite long, flowing maxi skirt in a fun pattern or a bright color. Tuck your button-up into the waistband of your skirt, taking care to smooth out any wrinkles or lumps. To add balance and a put-together finish to your outfit, cinch the waist of your skirt with a wide belt. Accessorize with beaded jewelry, sunglasses, and to amp up the casual boho vibe of your look.
4. Add Layers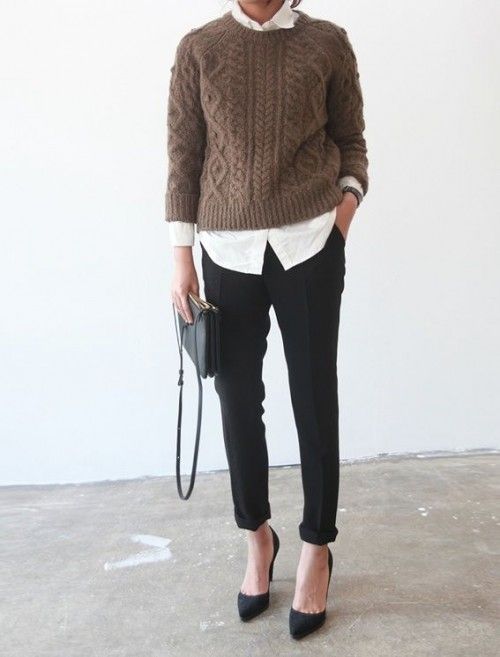 There are countless different ways to layer a button-down shirt. Layering automatically adds interest to your button-down by introducing more texture, color, and pattern to your look as a whole. Plus, it instantly makes your entire look appear more put together.
For a streamlined, professional look that works well for fall and winter weather, try layering a sweater over a solid button-up. If necessary, cuff the sleeves of the sweater so that your top is visible underneath or choose a cropped sweater to show off more of your button-up. Pair your sweater combo with slacks or dark straight jeans. You can also layer a button-up using a crop top or camisole. Pick an oversized button-up in a fun pattern and layer it unbuttoned over a solid, fitted top to achieve a casual and playful finish. Perfect this look with distressed skinny jeans.
5. Tie It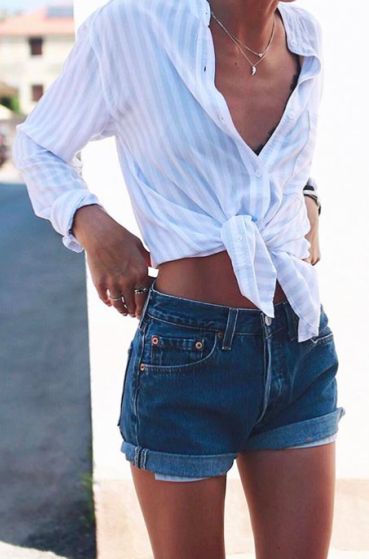 If you're worried about a button-up causing you to look shapeless, try tying up the top in the front instead. Tying your button-up adds an instant flirty finish to your look. It also ensures that your natural curves will be visible beneath your oversized or loose-fitting shirt. To tie up your top, button it up but leave the last few bottom buttons undone. Then, twist both sides of the front of the shirt and tie them together twice to create a simple knot.
Pair your tied button-up with high-waisted jeans or shorts. Or, wear it with a flowy midi or maxi skirt to create a more feminine finish.
6. Stay Classic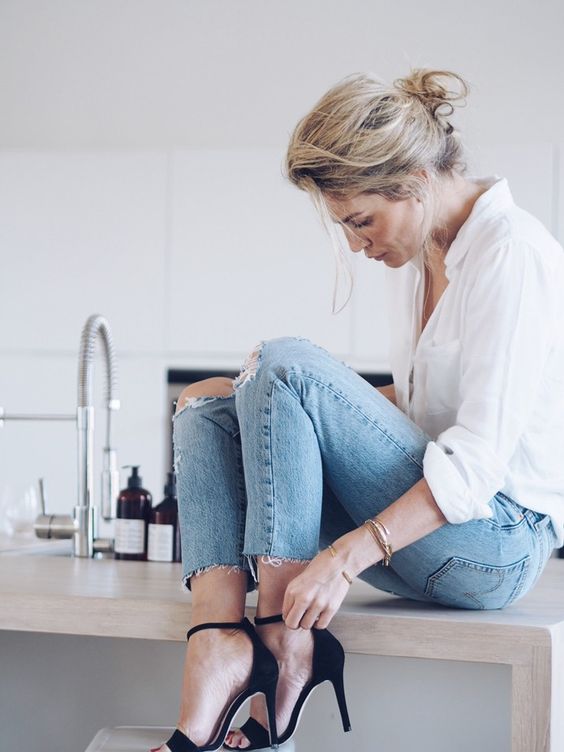 Never underestimate a classic button-up top. You don't have to do anything fancy to create a streamlined, trendy look using nothing more than a white button-up and some other wardrobe staples you already have in your own closet.
Start off your classic look with a solid white button-up shirt that fits well but not too tightly. Pair your top with light, distressed cut-off jeans to create a casual and care-free finish. Accessorize with strappy or lace-up sandals and delicate jewelry to add some femininity to the look.
7. Be Bold
A button-up shirt isn't necessarily a boring piece in and of itself. However, it can be used to dress down and add some solidity to an outfit that might otherwise appear too crowded or overwhelming. Take advantage of solid button-ups and wear them with pieces in bright colors or wild patterns.
Pair a classic white button-up top with loose gypsy pants in a striped or geometric pattern and strappy sandals. Or, pick out an A-line skirt in a bright, floral pattern and calm it down with a simple button-up on top. Balance out this look with block-heeled ankle booties or lace-up sandals.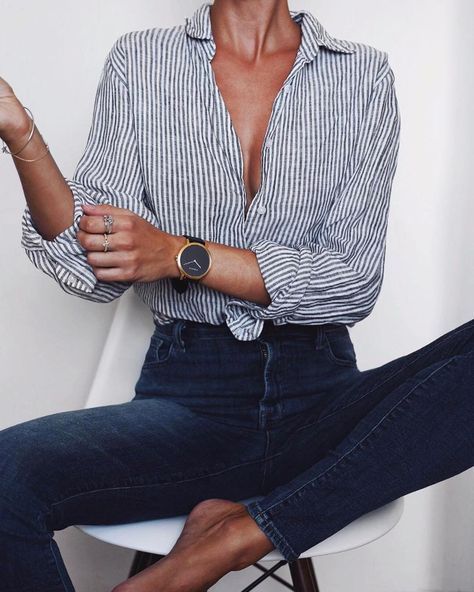 If you don't already have a few solid button-up shirts hanging around the back of your closet, it's time to go shopping ASAP. Button-ups are a versatile staple that should be as much of a no-brainer in your wardrobe as a basic V-neck tee or a pair of jeans.
button up shirts for big bust