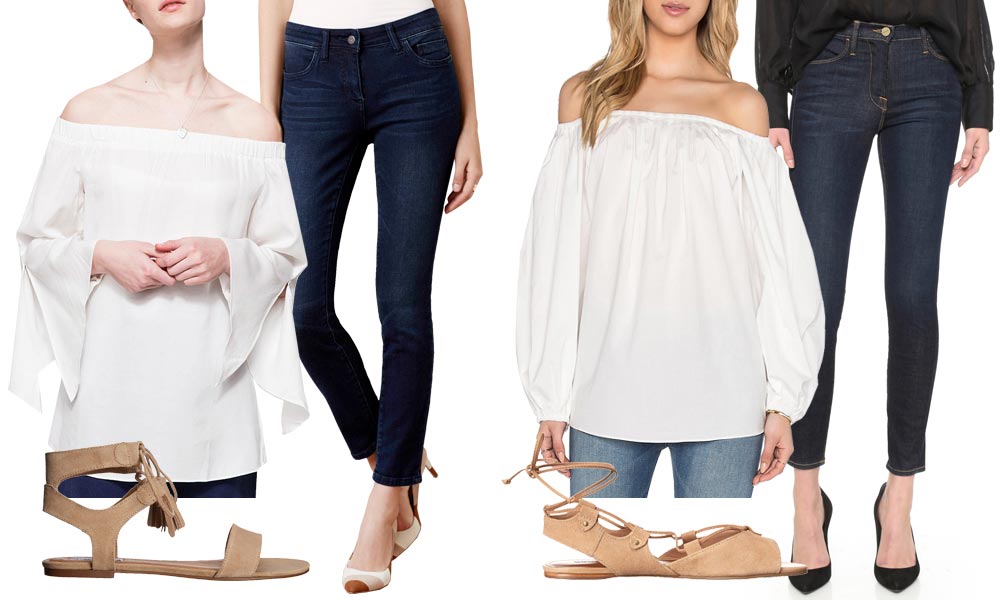 Off the shoulder tops are a must-have modern basic. These tops have been rising up the style trend charts for the past few seasons, and their popularity only continues to grow as warmer weather approaches. Off the shoulder tops are like the trendy older cousin of a classic basic tee. They're simple and casual, but can transform any forgettable basic outfit into a trendy, eye-catching look.
When it comes to off the shoulder tops, you have endless options for how to wear them. Depending on how you style it, an off the shoulder top can be used to create a wide variety of fashionable outfits that range from classic vintage looks to simple, comfy outfits that turn heads everywhere you go. If you're still feeling uninspired, keep reading to discover some of the trendiest, most creative ways to style the off the shoulder tops in your wardrobe.
1. Wear the Right Bra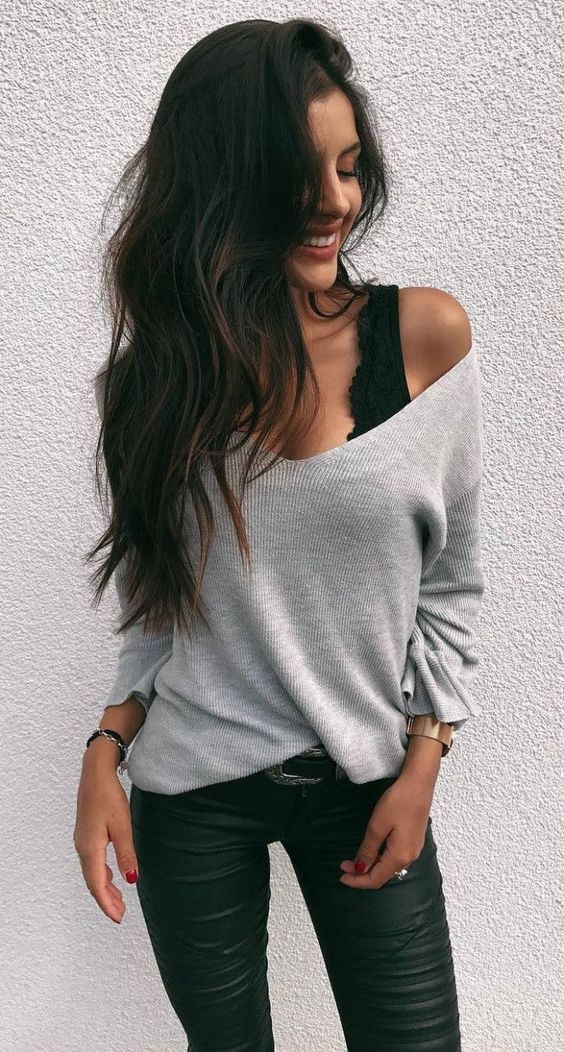 You have more than one option when it comes to what type of bra you want to wear with your off the shoulder top. The right bra for you depends on what style and level of comfort you're looking for. A strapless bra is the most common and obvious choice to pair with an off the shoulder top. Wearing a strapless style keeps your shoulders free of straps and your bra out of sight. On the other hand, many women find strapless bras too uncomfortable and restrictive.
You can also pair your top with a bralette. The lacy straps of a bralette add feminine style to your look when they're visible above your top. For off the shoulder tops with a very wide neck, a stylish bralette can also keep your look trendy and classy if your top slips lower and exposes the cups or back of your bra.
2. Pick a Fit

There are many different styles of off the shoulder tops. A major difference between popular styles is whether the top is form-fitting or looser. There's no right or wrong style to choose. Just pick the fit that best complements your body type and personal style preferences.
Tops with a tighter fit accentuate your bust and show off the shape of your waist and hips for an alluring finish. If you don't want a tight fit and opt for a loose-fitting style instead, beware of the parachute look. Avoid loose styles that feature elastic hems. The elastic tends to bunch up around the bottom and create an unattractive, lumpy parachute-like look. Go for a flowy top with a loose hem that doesn't make you look shapeless instead.
3. Get Vintage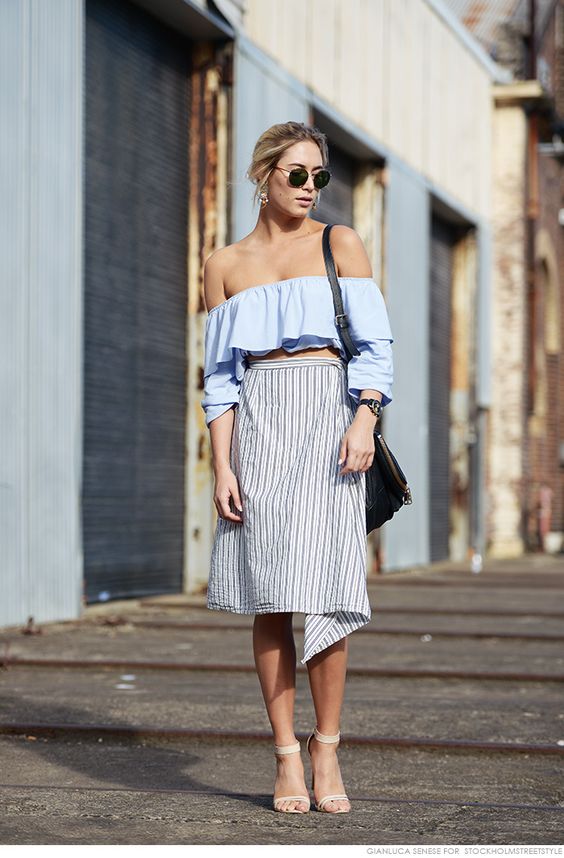 Even though off the shoulder tops are a trendy staple of modern fashion, you can use them to create classic, authentic vintage looks if you style them right.
Pair a loose-fitting off the shoulder top with an A-line skirt and neutral heels to create a pretty and polished look with a vintage feel. The slightly revealing nature of off the shoulder tops adds modern flair that helps keep your vintage look in line with current trends. Choose a top with details like ruffles or tie-up straps for a more authentic vintage feel.
4. Embrace Your Inner Hippy

You can reinvent the classic style of the flower power movement–and create a boho Coachella-worthy look–with an off the shoulder top.
Try pairing your off the shoulder top with strappy sandals and flowy high-waisted shorts in a vibrant pattern.Maintain balance in your look by choosing a top that fits tightly around your midsection to show off your shape but features looser, flowing sleeves that add to the classic 70s-inspired aesthetic of your outfit. Your accessories can make or break this look. Try beaded jewelry, a natural crystal necklace (think turquoise), or a headband to give your outfit a more authentic boho feel.
5. Keep it Simple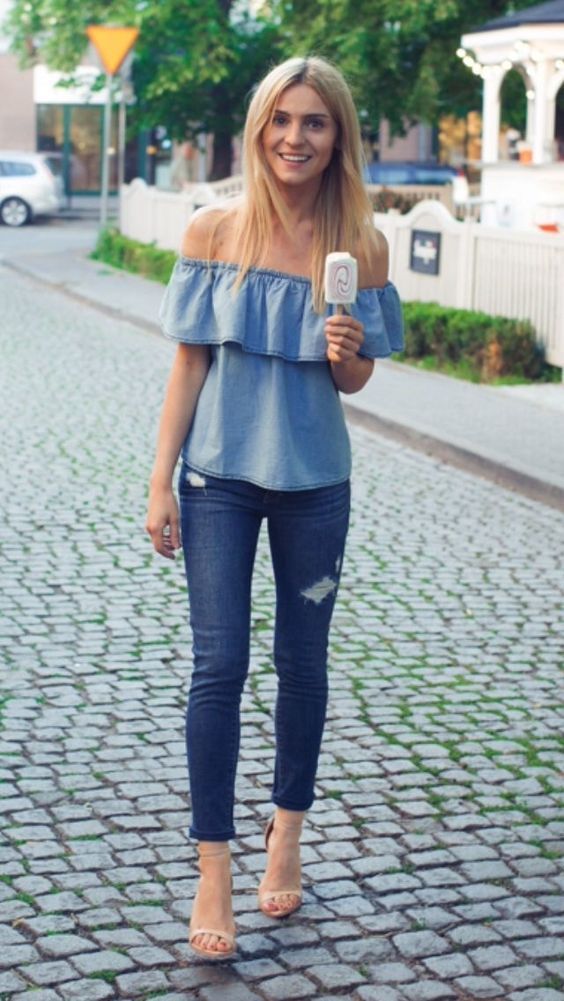 Use an off the shoulder top to create a simple, carefree look that helps you stay on-trend even when you dress casually.
Pair a loose-fitting top with belted mom jeans and flat sandals for a casual, feminine look. Opt for a tighter top with distressed, high-waisted jeans and block-heeled shoes to create a city-chic vibe. On especially lazy days, layer a wide-necked tee over a bralette and slip on leggings and booties or sandals if you really want to keep your look simple and comfortable.
6. Highlight Your Shoulders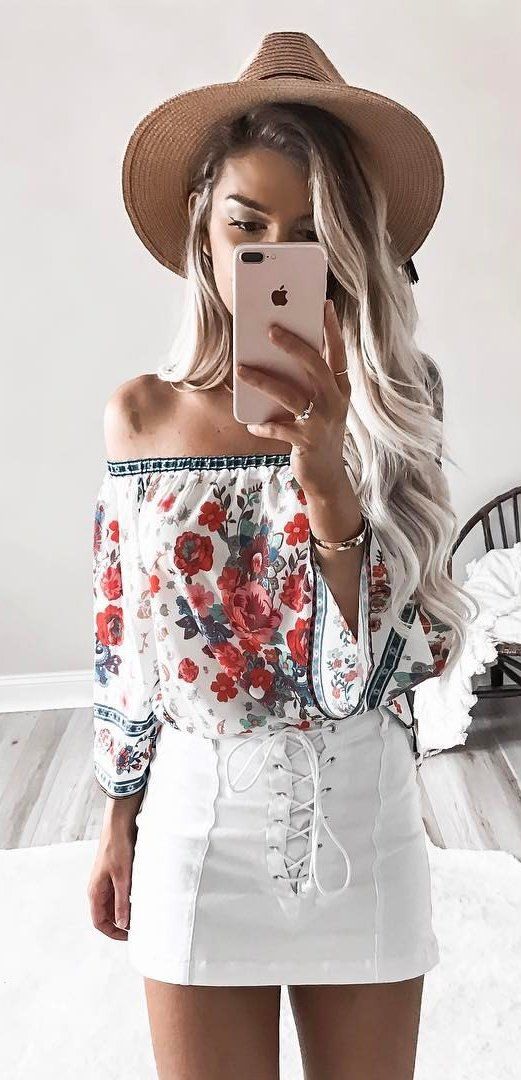 When you wear an off the shoulder top, you leave some skin exposed. The neckline of these tops naturally draws attention to your bare shoulders, collarbones, the back of your neck, and any other area of visible skin. Go the extra mile by making your skin look more presentable before you expose it in an off the shoulder top.
Enhance the appearance of your bone structure by swiping some contour or bronzer across your collarbones and the tops of your shoulders. If your shoulders are looking a little vampiric from a long winter of long sleeves, the contrast between your top and your skin will make them look even paler. Consider using a self-tanning lotion to give your exposed skin a flattering, golden glow before you put on your top.
7. Prevent Slip-Ups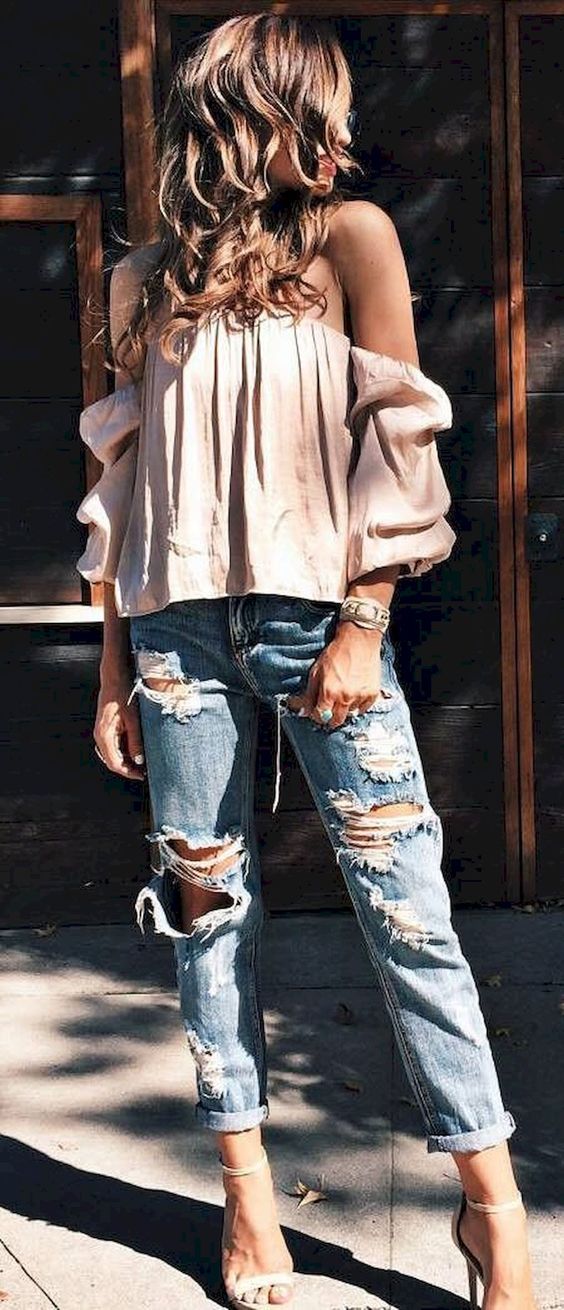 One of the most annoying things about off the shoulder tops is their tendency to slip farther down your shoulders than they should. These slip-ups can lead to embarrassing moments where you accidentally reveal more skin than you intended and can make you feel insecure and nervous to move freely in your top. Wearing an off the shoulder top shouldn't feel uncomfortable or impractical.
You can help keep your top securely in place throughout the day with just a few safety pins and hair bands. Grab two hair bands and attach one safety pin to opposite ends of each band–using a total of four pins. Pin the safety pins inside your top, along the hidden inner seam that runs under your arms from the front to back of the top. When you put on your top, make sure the bands are underneath your armpits to keep it from sliding down or creeping up during wear.
Say goodbye to any feelings of discomfort, frustration, or awkwardness when you wear an off the shoulder shirt. Use the tips in this post to learn how to rock an off the shoulder top as a part of many different looks that pair style with comfort and practicality to create the ideal trendy, casual look for everyday wear.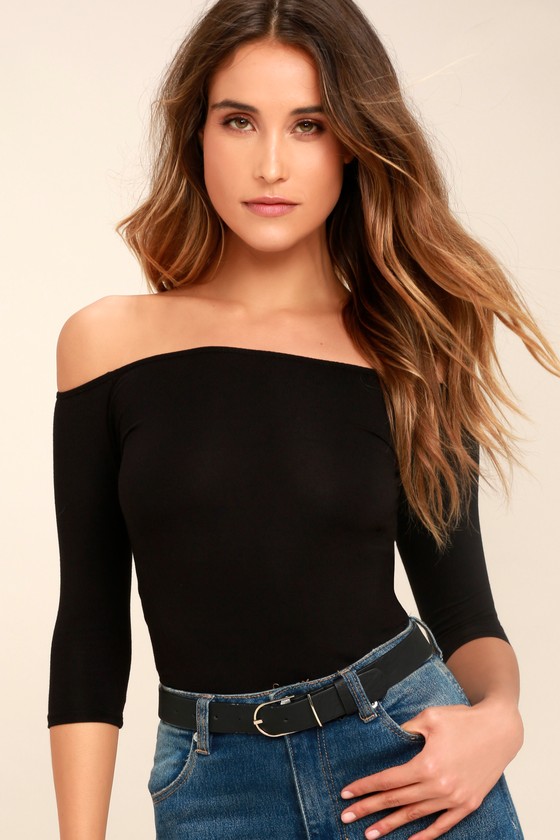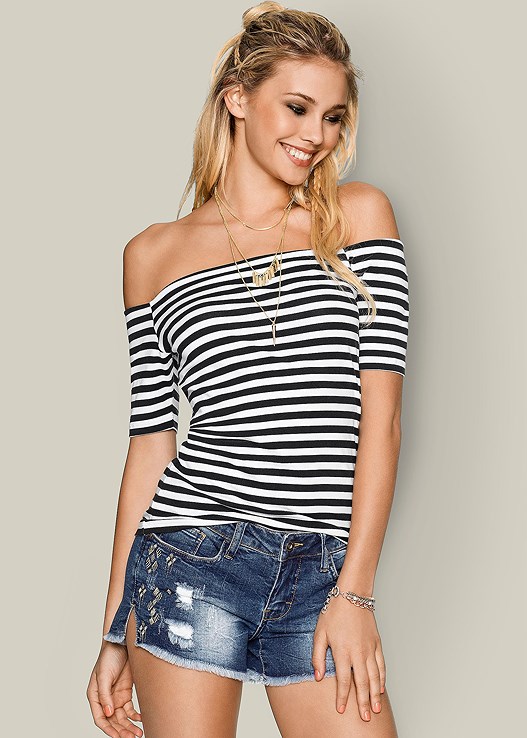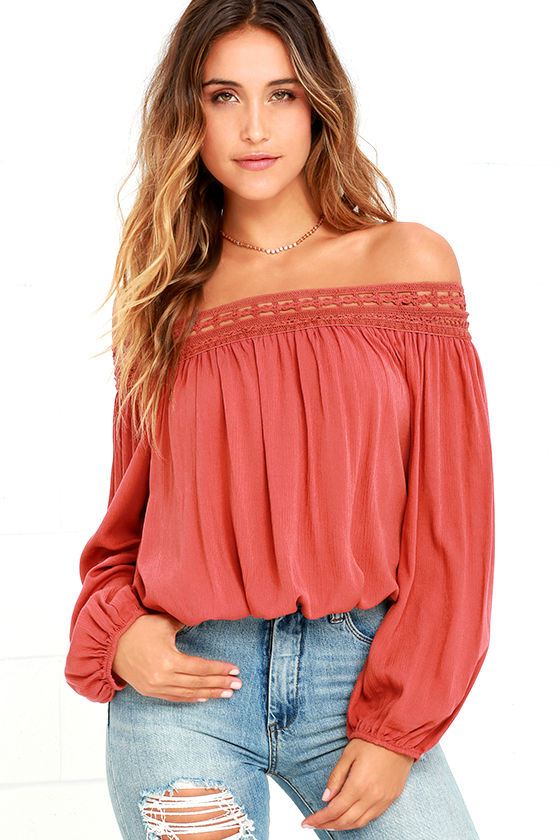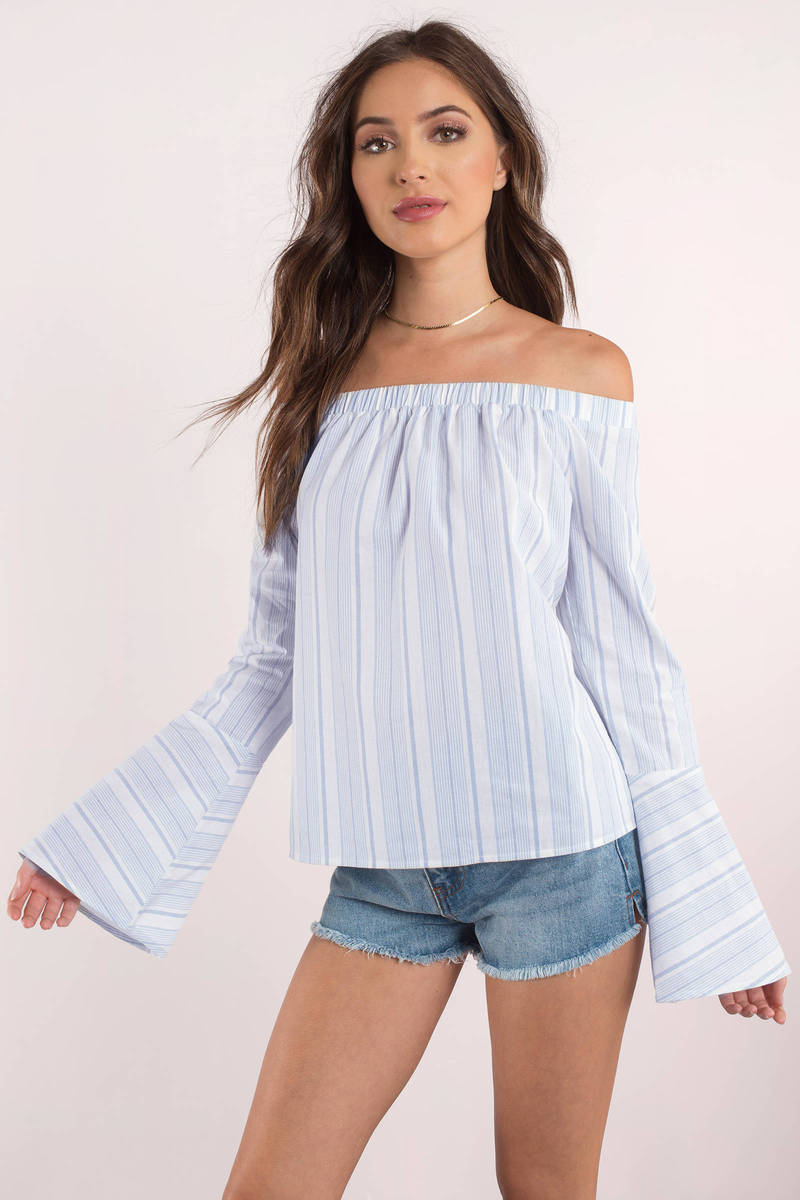 off the shoulder tops plus size