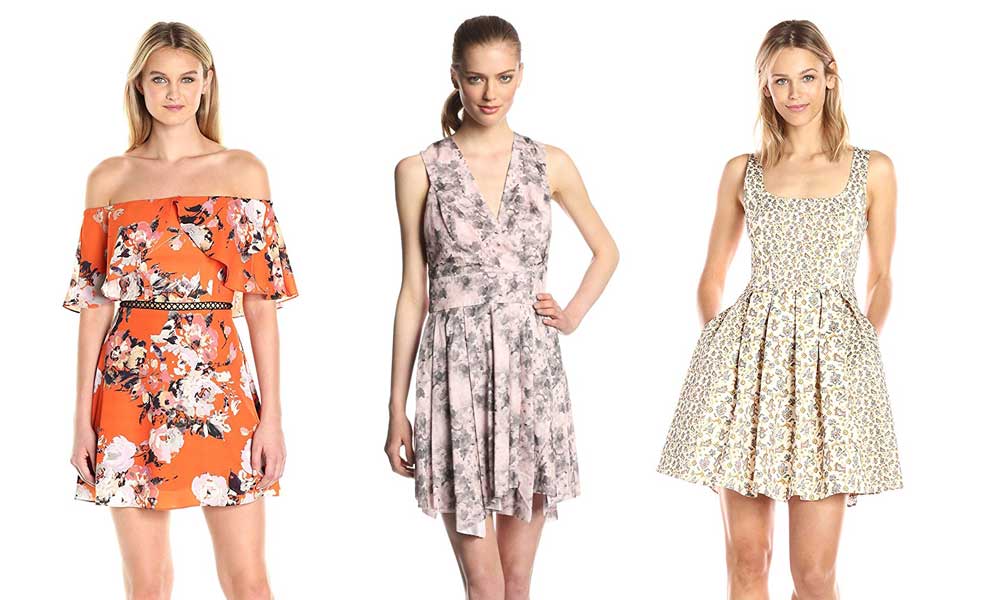 Summer is the season of dresses. When the sun is shining and the weather is warm, nothing is more tempting than a vibrant summery dress that lets you feel the warm sun rays on your skin.
Indulge your senses and guarantee yourself a brighter, happier day by investing in one—or five—of the best trendy summer dress styles of the season. Show off your bright and cheerful style in these luxury summer dresses designed to help you create stylish and sophisticated warm-weather looks for any occasion.
10. Sanctuary Clothing Penelope Dress
Show off your boho-chic style in this breezy mandala-printed summer dress from Sanctuary Clothing.
Ruffled trim gives the dress a flirty finish, while ruched detailing down the front and back adds interest and shape. This two-layer dress features a thin, semi-sheer outer layer of patterned rayon fabric over a solid inner layer of polyester material. Its spaghetti strap design paired with off-the-shoulder gathered full-length sleeves both set this dress apart from other sleeveless dresses and add to the carefree vibe of its relaxed summery style.
9. Adrianna Papell Floral Summer Dress
This flattering dress is the ideal warm-weather dress to wear to sunny brunches and outdoor summer parties. Its fit-and-flare design flatters any body type and borrows from classic vintage styles, which gives this contemporary dress a polished finish.
The bright orange-red fabric of this dress features a large white and pink floral print, expertly blending cheerful vibrancy with a delicate, feminine finish. Several textured seams break up this print to emphasize your shape and prevent the dress's busy pattern from coming off as overwhelming.
8. French Connection Dalia Sheer Dress
Look sophisticated in this pretty, refined dress from French Connection. Wide straps and a knee-length hem keep this dress modest and appropriate for a wide range of events. Ocean-inspired light blue material embellished with white botanical embroidery around the bodice gives the dress a delicate, feminine finish, while the sheer outer layer of its skirt contributes to its breezy, summery style.
The banded waistline of this dress accentuates the shape of your midsection and subtly slims your waist and tummy. A small triangular keyhole cutout divides the bodice and waistline at the back center. This detail along with a sharp V neckline add a flirty edge to the dress without disrupting its sophisticated, semi-conservative design.
7. French Connection Miami Dani Dress
Flatter your figure in this body-con mini dress from French Connection. Crafted from a blend of viscose and nylon materials, the dress hugs your curves for a sexy finish.
Cap sleeves and a V neckline effortlessly blend delicate femininity and sensuality in one style. A banded waistline, chevron mesh insets break up the continuity of the dress to conceal any bulges or imperfections around your midsection. Picot trim and an exposed back zipper set this style apart from other pure white summer dresses and ensure that it never looks plain or boring.
6. Robert Rodriguez Floral Sleeveless Dress
Stay cool in this sleeveless floral summery dress from Robert Rodriguez. One hundred percent cotton material ensures maximum softness and breathability to keep you dry and comfortable in hot summer weather.
A slitted keyhole back, pleated skirt, and wide straps give this dress a classy finish. Its banded waist and V neckline show off your figure without disrupting its sophisticated design. An asymmetrical hemline and abstract floral pattern add additional interest and style to this trendy summer dress.
5. Lilly Pulitzer Estrada Sheath Dress
This casual summer dress from Lilly Pulitzer defies any stereotypes that associate sheath dresses with plain or boring styles. Versatile and comfortable, this breathable cotton sheath dress is the perfect refined style choice for any laid-back warm-weather occasion.
The waistline of this dress nips inward to emphasize your figure and eliminate bulkiness and shapelessness for a polished finish. A narrow V neckline adds a sexy touch, but doesn't stray too far from the simplicity of traditional sheath dresses. Its bright, floral pattern adds the perfect finishing touch to this dress's fun, cheerful summer style without overwhelming.
4. French Connection Whisper Mini Dress
The picture of class and sophistication, this mini dress from French Connection is simple but never boring.
A form-fitting bodice and seams around the skirt and waistline of this dress prevent your figure from getting lost. Its high neck combines with its semi-open back, narrow straps, and mid-thigh hemline to create a modest, sophisticated summery style that will still keep you cool in warm weather.
3. French Connection Niko Stretch Dress
This stretchy fit and flare mini dress from French Connection combines vintage-inspired style with an ultra-modern design. As a result, this polished dress has a classic vibe that is still in line with contemporary summer trends.
This dress's round pleated skirt, full back, and square neckline give it a vintage vibe. Its fitted bodice, sleeveless style, and short hemline keep your figure visible. Breathable cotton fabric keeps you cool and comfortable, while its tiny, subdued floral print adds a classic flirty and feminine finish.
2. Lovers+Friends Summer Lovin Dress
This boho-chic peasant dress from Lovers+Friends makes laid-back, feminine summer style look effortless.
Draping sleeves and an asymmetrical hemline give this dress a graceful, feminine finish. Its banded waistline, V neckline, and slitted keyhole back keep your figure on display but don't show too much skin. Finally, shoulder cutouts, a pleated back, and narrow halter-style straps set this breezy summer dress apart from similar boho-inspired styles.
1. ABS Allen Schwartz Off-Shoulder Floral Print Dress
Show off your cheerful summer style in this bright, stylish off-the-shoulder mini dress from ABS Allen Schwartz.
Crafted from tangerine fabric embellished with a large floral print, this beautiful dress is inspired by the vibrant beauty of a sunny summer day. Its ruffled neckline and flowy design adds to the dress's breezy, feminine style, while its subtle sheer waistline shows off a bit of skin for an unexpected alluring finish.
Stay cool and on-trend this summer in one of these versatile luxury dresses, all of which  help you stock your closet with countless options for creating effortlessly polished, stylish looks all summer long.