Want some great inspiration from 15 business-casual outfits you should be wearing for work this year?
What you wear at work has a direct consequence on how your boss, colleagues and clients assess your personality and capabilities.
If you wear well-fitting clothes that suit the business occasion, you create an image that shows good judgement and intelligent thinking.
And that's what employers are always looking for in the people they select for promotion!
What are the best colors this year for business-casual outfits?
The fashion world has decided to pursue a more sustainable path from this year and one of the ways this is achievable is by dropping the resource-heavy bright-color dyes and producing clothes in neutral colors.
And this means more grey, beige, brown, black, white, rust and camel – along with natural green colors and new shades of blue.
And this makes for an attractive modern-classic look that is perfect for business casual outfits!
And in the interests of shopping less but wearing more, the capsule wardrobe containing separates in similar color tones has become an important way to organise a workplace wardrobe.
Blazers, shirts, well-cut trousers and modern jeans' styles are some of the most popular items we've seen on the business-wear runways this season.
And this new gallery shows how to put together a number of outfits that will enhance your business image and your fashion style.
The dress code for business outfits may have become less formal over the years, but it's still important to strike the right note with clients, colleagues and bosses.
And after we all went super-casual during the work-at-home times, business casual outfits have come back into fashion with a sharper fashion edge.
But above all, you don't want to be remembered as the one who always looked like she was on her way to an ultra-trendy dance-club.
Read on and learn how to be business-casual, trendy and classy in an understated way so you'll be remembered for your good work, not for your extreme fashion choices!
1. Capsule Business Separates For This Year
This is an excellent capsule wardrobe containing the main color trends for this year.
So you have three smart blazers in camel, black and brown that will mix and match with the other garments.
There are two long sleeve and two short sleeve shirts/blouses.
The four pairs of trousers encompass current styles in wide-legs, straight cut, slim-cuts and slightly flared.
The pencil skirts are perfect for office wear and going out, as they are so flattering to most women.
And a sleek, black dress in a modern style will always be suitable for formal meetings.
And there are four types of footwear to take you through the year, too.
Style tip: These are the basics of a business casual wardrobe and you can add color accents from scarves, belts and bags plus small items of jewelry to add variety.
2. Ankle-length Smart Jeans & Jacket Outfit
This is a lovely office outfit featuring trendy slim jeans, with a trendy high-waist that finish just above the ankle showing they are the latest style.
The fabulous jacket is perfectly proportioned for the model's height and weight, with structured shoulders and a length that just covers the hips.
And matching with the quality blazer, are patent-leather heels with pointed toes, to complete a smart casual look for a front desk, or back-office wear.
This capsule wardrobe also includes a lovely, camel coat.
The camel coat is a classic outerwear that's never out of style, but has become highly fashionable again for this year.
It's one of my favorite coats and looks fabulous with a high-quality leopard print neck scarf, if you want to add a touch of animal-print.
Style tip: Petite women look better in slim-cut jeans and trousers, but average height and taller women can look great in wide-leg trousers.
3. Black dress & Stone Jacket Business-Casual Outfit
This close-fitting, black dress is streamlined and figure flattering – but not too low cut or too short.
There's sometimes a fine line between what is suitable for casual business wear and outfits more suited to clubbing.
So always err on the side of modesty, rather than showing too much skin.
The super-smart, fitted jacket is short enough to flatter a slim or petite figure, but not the best proportion for someone with wide hips.
So let this image inspire you, but try on different jacket styles until you get the best silhouette and proportions for your individual body shape.
To discover your individual body shape and how to choose clothes that flatter you best, take a look at my HerStyleCode articles on using the Kibbe Body Shape Test or the Fruit Body Shape system.
Style tip: Ultra-long nails are fine for a model to wear for work, but not the best idea for anyone hoping to be taken seriously in a business environment.
4. Turqoise Hound's-Tooth Jacket & Jeans Outfit
There's nothing as good as a smart jacket to offset the fact that you're wearing jeans to the office.
These days lots of business is conducted by men and women wearing smart, stylish jeans, but when you add a snazzy jacket, it really sets the seal of quality on your look.
And that will definitely impress your clients and your boss.
This strong color radiates confidence and that's a valuable image to have at work.
The unusual lapels give this gorgeous jacket a strong contemporary style and the length is perfect for women who like to cover their hips.
Style tip: Always wear a belt with your jeans to add polish to your business casual outfit.
5. Cream Coat & Black Skinny Jeans Business-Casual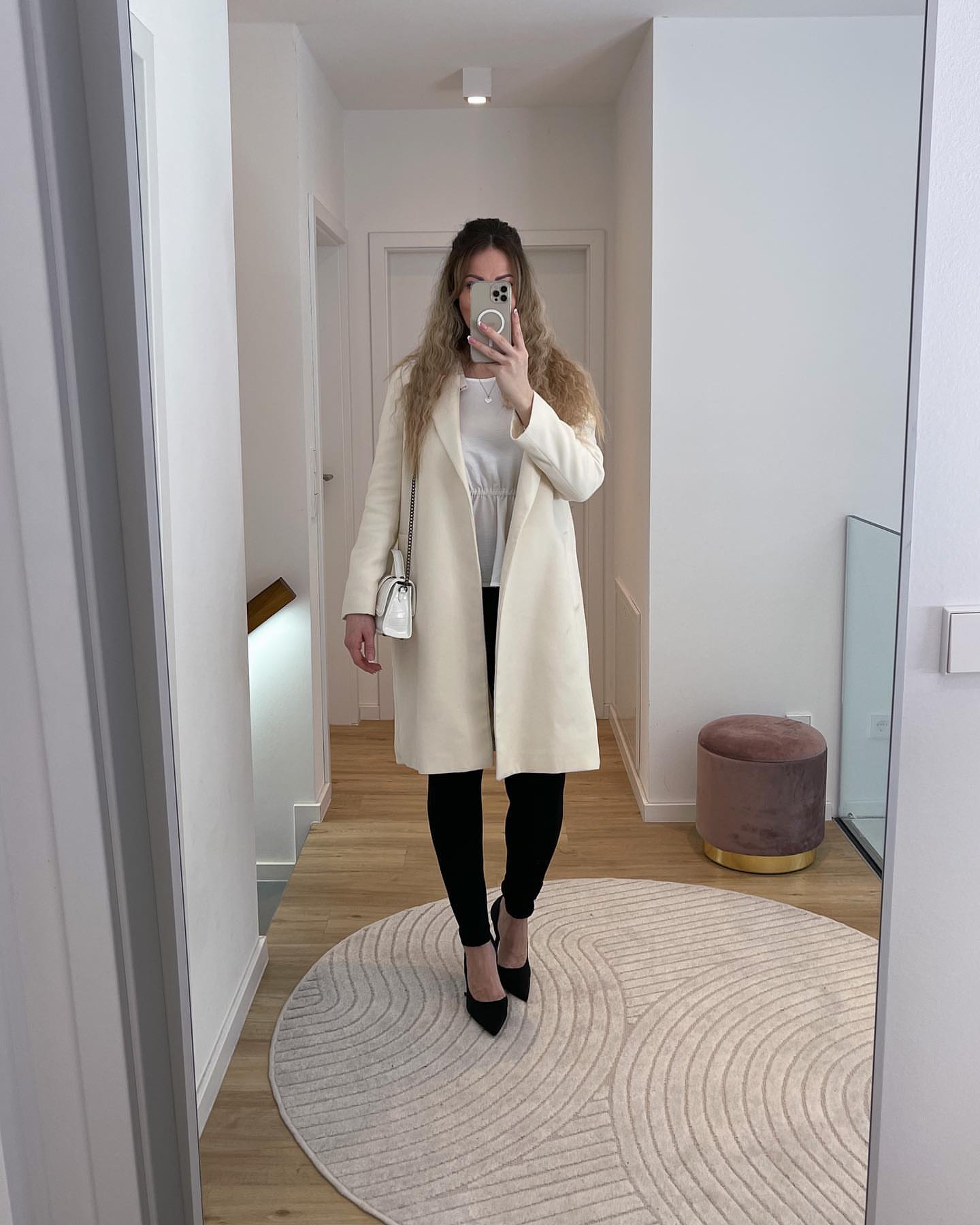 Black and stone have somewhat taken over from black and white this year and they do have a more modern vibe.
But you may also notice that there are three almost-white colors mixed up in this outfit.
And that's because mixing white with the off-white colors is a big trend right now.
You don't have to struggle to get the same shades of white any more, mixed shades adds interesting, 'texture' and gives your outfits a modern look!
The white top has a slightly, high-waist that means it will flatter your bust and cover any lumps and bumps around the stomach area.
And the loose, but not baggy, shape of the coat is also good for creating a smooth silhouette that will minimize large hips.
Style tip: This buttonless coat is designed to be worn open so it creates a long V and the illusion of a longer, narrower body – which is pretty clever, isn't it?
6. 3 Fashionable Business-Casual Trouser Outfits
High-waisted, ankle-length slim-cut trousers have emerged as one of the trendiest of the new trouser cuts.
The outline in neat and streamlined, and if you invest in good quality fabric, you won't have a lot of wrinkles spoiling the line, which can happen with wide-leg pants.
These three outfits demonstrate how to wear you tops to complement your figure, so the first image has a white blouse tucked in all round, to show off a slim figure and the lovely tailored style.
The second image shows a trendy beige top that's been tucked in and then gently pulled out a little, for the 'blouson' style that covers a thicker waist, but shows off slim hips.
And the third image shows how to wear black to create a slimmer look with a V-necked top that lengthens your line.
Plus a smart, soft jacket that is long enough to cover the hips.
Style tip: Don't wear a large shoulder-bag next to your hips if you want to minimize them – wear a small bag that doesn't add width.
7. Classic Double-Breasted Blazer & Black/White Outfit
Double-breasted blazers are super-smart and have long being popular as upmarket business wear.
However, they don't suit all body shapes so always try on a possible DB blazer and consider how it looks on your figure, before you buy.
If you have a larger bust, wear an double-breated blazer open or choose one that has a deep V neckline and is tailored in at the waist.
This makes a flattering look for your body shape and isn't tight or constricting.
However, this body shape should avoid thick fabrics or highly structured shoulders that can add too much top volume.
And if you have a smaller chest, you'll find that big lapels are more flattering.
In addition, a well-fitting, double-breasted blazer looks great on a petite body, as long as you don't choose an oversized style which would overwhelm your frame.
Style tip: For a contemporary twist on the formal double-breasted blazer, wear with a crew-neck white T-shirt, which is the basis of many trendy outfits this year.
8. Trendy Wide Trousers with Black/White Striped Blouse
A classic black and white vertical striped shirt is brought right up to the minute with extreme wide-leg trousers for a new business casual look.
I'm not a fan of floor-length wide legs, they look a bit untidy and extreme for business casual.
The extra-long legs are trailing on the floor, which isn't a good idea and can easily cause an accident when a narrow heel catches in the hem as you go up or down stairs.
You'll get a smarter look and avoid fraying the fabric on the floor, if you wear them slightly shorter.
And platform shoes or wedges are the right choice to wear with long, wide pants, rather than narrow heels.
What is most important is that the trousers fit well around the waist and hips, and these trousers have lovely tailored pleats to help you get a flattering close fit.
The lovely, smart striped blouse is black and white, and you can wear black with navy this year as they are both neutrals.
Style tip: To get the correct proportions when wearing wide-legs, always make sure your top is close-fitting or softly draped, like this blouse, and finishes around the waist-line or is tucked in.
Never wear a baggy top with wide-legs.
9. New Green Pinstripe Trouser Suit
I'm delighted to see so much green in the fashion trends this year.
It has opened the door to lot of fresh new looks and given us a break from seeing blue all around us every day in jeans.
This tailored pin-strip suit in deep grey-green is a real fashion coup if you can find one online or locally.
The green waistcoat underneath is the perfect top and finishes off the business suit look beautifully.
And there's a nice touch of feminity in the patterned lining of the turned-back cuffs!
You are bound to impress with your style and good taste in this outfit which also features medium-brown, suede court shoes.
Style tip: If you want to look like a boss, this is the type of suit you should be wearing.
10. Warm Grey Sweater-Dress & Suede Over-the-Knee Boots
This cosy sweater dress is just the right thing to be wearing on a cold day at work.
The over-the-knee boots may be a little too racy for formal business meeting, but many offices are fairly informal.
The cool light-taupe color of the dress harmonizes well with the model's cool-beige blonde hair with a grey-blonde ombré.
And the decorative strappy broad belt adds loads of personality, whilst emphasizing the waist!
The soft, ribbed texture of the dress is echoed in the soft, suede boots with a casual, crinkled line.
And just a few inches of leg are showing, covered in black tights to create a color and texture contrast that matches with the black belt.
Style tip: Trendy high neck sweaters look great with a long pendant necklace to draw the eye down and create a 'longer body line', like a V-neckline.
11. Quirky Red Trousers & Cute Grey Tailored Jacket Business Outfit
This outfit is worthy of someone who works in the fashion industry or a similar creative field.
Creativity shows in the daring match of scarlet red trousers with a beautifully designed pale-grey jacket with lighter lapels.
The jacket has fashionable slightly gathered shoulders which add structure and style, without adding unwanted width.
The slim-cut Capri-pants have a jaunty slit in the hem and invite you to wear a pair of fun socks, in beige with black spots, and flat Oxford loafers.
And smart black shoes with dark red and gold decoration will always add class to an original and trend-setting business casual outfit!
Style tip: When experimenting with color like this, stick to a white T-shirt or blouse, a black bag and low-key jewelry to avoid distracting from the main focus garment.
12. Blue Wide-leg Trousers & Peach Blouse Business-Casual
Here's an appealing summer business casual outfit that you could wear regularly for work and as part of your going out ensembles.
The fabulous flared trousers are a lovely new shade of intense-blue, that sets them apart from denim indigo shades, and are a fresh look for this year.
And they fit perfectly around the waist and hips, to flatter the figure, before flaring out from the knee to a hem that just touches to top of the foot.
And the long-sleeved blouse is a super-cute shade of pale coral-pink that complements the rich blue pants.
There are two different textures, matte in the trousers and slightly satin-shiny in the blouse, which adds interest.
Style tip: Rolled up sleeves not only keep you cool in summer, but they also create the impression that you're working hard!
13. Ultra-Chic Belted Pinstripe Suit with Chunky Boots Business Wear
There's a definite 'retro' feel to this highly stylish business casual outfit!
The double-breasted 'butcher's stripe' blue suit has vintage wide-lapels and is worn open, but pulled in at the waist with a matching blue belt.
The white center V-line is slimming and the belt gives a tailored look that strongly defines the waist in a flattering, feminine way.
The black cap and heavy, platform boots convey an army uniform vibe and so this is definitely a great outfit to wear if you want to project a strong, competent image in your office!
Style tip: You get a nice, 'top to toe' vibe when you match a hat with the footwear that adds lots of polish to a very chic and powerful look!
Camel coats of all types are important fashion items this year and one of my all-time favorite items!
I love this knee-length trench-coat, which is the summer version of the warm winter camel overcoat.
Camel and blue tones complement each other really well and are a fresh, new combination to add to your fashion color options.
Cropped, slim-cut trousers are excellent smart-casual items to wear for work, as they look more sophisticated than a lot of other pants' styles.
And if you take a matching tote-bag to work with you, you'll be all set to do a little shopping in your lunch-hour.
Style tip: A shower-proof trench-coat is an excellent choice for a light summer coat that you can drape around your shoulders or button up tightly when it rains!
15. Classic White Blouse & Slim Ankle-length Jeans Business Wear
And suitable for informal business environments, we have the ragged finish hem that is another big trend this year.
Styling ragged hem jeans for a business casual look is trickier than more finished garments, so this simple outfit uses a classic white blouse and a classy white blazer to elevate the whole look.
This means you can work at your desk in your shirt and jeans, but if you get called in to a meeting, you have a formal jacket to give you a business-like image!
Camel colored footwear is trendy, but neutral, and will match with all of this year's fashionable colors.
Style tip: Wear smart shoes with ragged hems to avoid looking 'street' and try to match your bag and shoes to add even more 'polish'.
——————————————————————
If you shop wisely you can have a business-casual wardrobe that crosses over with your daytime off-duty outfits and helps you get more wear out of the clothes you buy!
What fashions are not suitable for business casual wear?
These days fashion is quite strongly divided between streetwear, club outfits, athleisure and business-casual and its important that you don't mix your casual daywear with your office outfits.
For example, don't appear at work in a Bardot top that shows your bare shoulders.
Save tops or dresses with a very low neckline, or cutouts that reveal your body, for leisure time.
Track-suits and leggings with matching tops are strictly for off-duty wear.
Scruffy trainers are also not the right footwear for the office, as they send the message that you aren't taking your work seriously.
Wide-leg trousers are fine, but baggy sweatpants are not, as they signal that you care more about your comfort than looking professional.
Bright neon colors, or Goth vampire style may be your preferred look, but in an office environment they create a distraction to others.
And save your large, statement jewelry items for leisure and evening wear, as they are not suitable for an efficient and business-like look.
So dial it down a little and save your exciting fashion moments for your off-duty time!
Always remember that your goal should be to to create a good impression on your managers and any clients you deal with.
Our working lives last a long time, so whatever you feel about your current position, at least you can have the satisfaction of looking your best every day!
So take pride in looking smart and business-like as you work you way up the promotion ladder to a job you can do well and really enjoy!
Your Comments
Tell us what you think – your feedback is important to us:
Has this article helped reduce your stress around dressing for work?
Have you started putting together more stylish outfits that are suitable for your workplace?
Have you thought about making a capsule wardrobe to 'shop less and wear more'?
Has it made your shopping trips more targeted and helped you avoid mistakes?
Have you gained self-confidence?