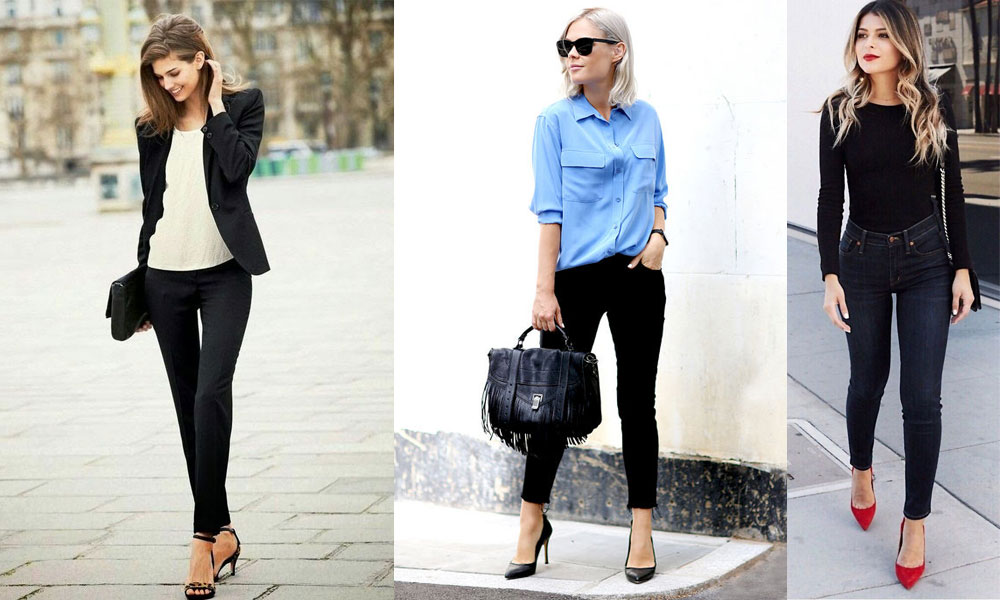 The first day at a brand-new job is always nerve-wracking for anyone. You want to make an awesome first impression by dazzling your boss and co-workers with your skills, work ethic and even your outfit. In fact, trying to put together a first-day of look can be one of the most stressful parts of prepping for your new position.
Deciding what to wear on your first day of work puts a lot of pressure on you. Try not to stress yourself out too much over what you wear. There are a few simple guidelines you can follow when picking out your first-day look. These tips will help you choose an appropriate, professional outfit for your position and work environment no matter what new job you're taking.
1. Dress the Part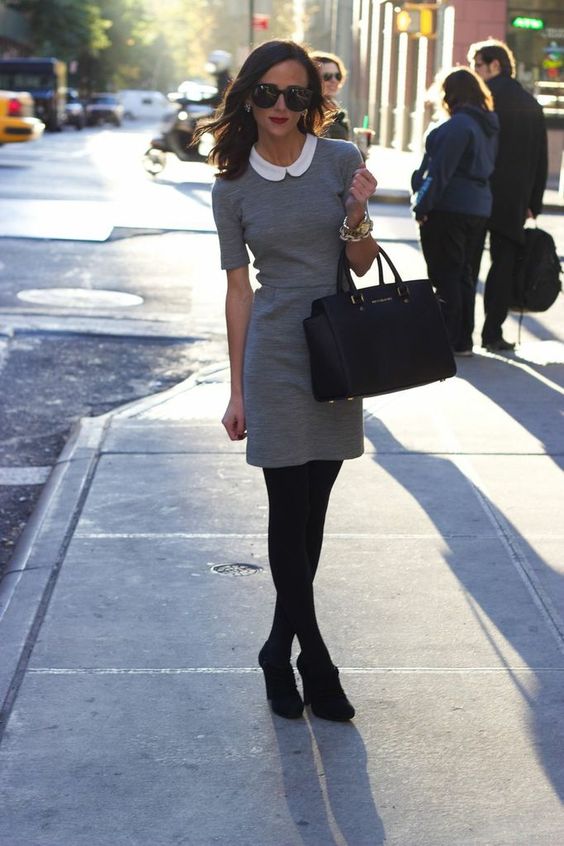 "Dress for the job you want, not the job you have," is definitely a cliché, but it's a cliché for a reason. Try to dress up for your first day of work and go all out with an outfit you rock. When you feel confident with your look, you'll automatically act more confident, be more focused, and feel better all day long.
This does not mean that you should wear an outfit that's completely inappropriate for your job just because you look good in it. It's important to find a balance. You need to fit in with your work environment while wearing something that makes you feel great about yourself. Choose an outfit that is relevant for your position and allows you to feel comfortable as well as confident.
2. Don't Assume Professionalism is Best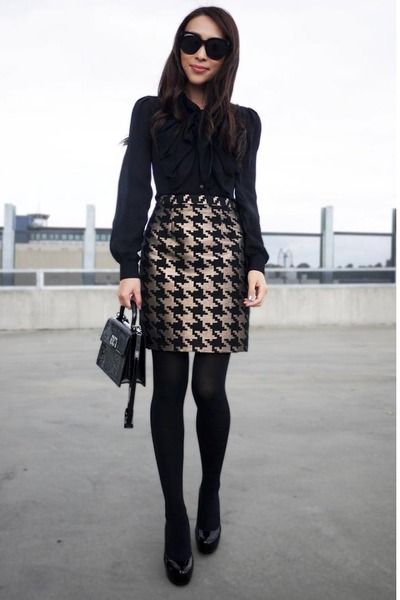 This tip is slightly misleading, because looking professional on your first day of a new job is always important no matter what your position is. However, you should not assume that dressing as professionally as possible is your best bet for making a positive impression on your coworkers. If you show up to your first day wearing formal business attire and everyone else is in dark jeans, you'll look and feel out of place and unapproachable.
Dark pants, a fitted blouse, and a blazer is a classic look for a reason; don't underestimate it. A simple, business casual look like this covers your bases if you're not sure exactly how professional you're supposed to dress.
3. Overdress Rather Than Underdress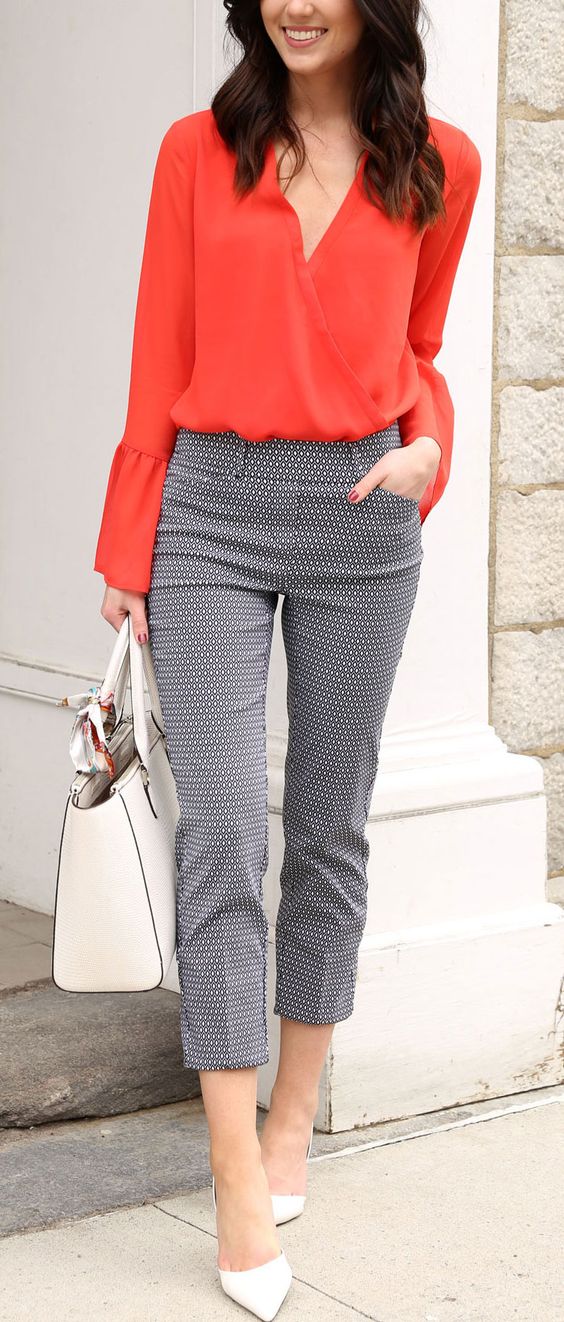 Although dressing up as formally as you possibly can isn't your ideal route, few things will make you feel more out of place on your first day of work than being underdressed. Stay away from any obviously casual pieces on your first day. This means avoiding jeans, shirts that aren't blouses, and any type of sandal.
If you're worried about looking overdressed, wear a versatile outfit on your first day. Start out with a blazer and take it off halfway through the day if you feel out of place. Bring a fashion scarf in your bag and throw it on at lunch if you want to lighten up your look.
4. Keep It Simple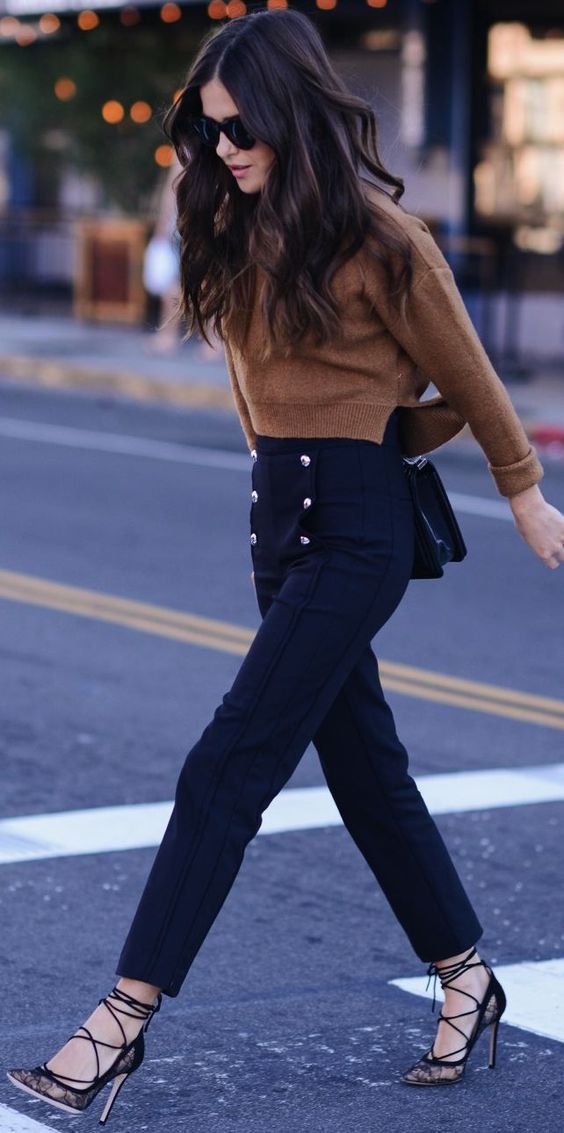 Simplicity is key when it comes to choosing what to wear for your first day of a new job. It's very tempting to boost up your first-day look with a ton of accessories, wild patterns, and heavy makeup. Excessively busy, gussied-up looks can act as a defense mechanism for combating your nerves about your new position.
However, you shouldn't try to hide behind what you wear. You might feel like an overcrowded look helps you feel more confident, but it's just a mask that prevents your true confidence and genuine self from shining through to everyone around you. Go with a simpler look instead. You'll automatically appear more approachable and trustworthy to your coworkers, which will help you make a lasting positive impression and start building relationships.
5. Stay Away From Trends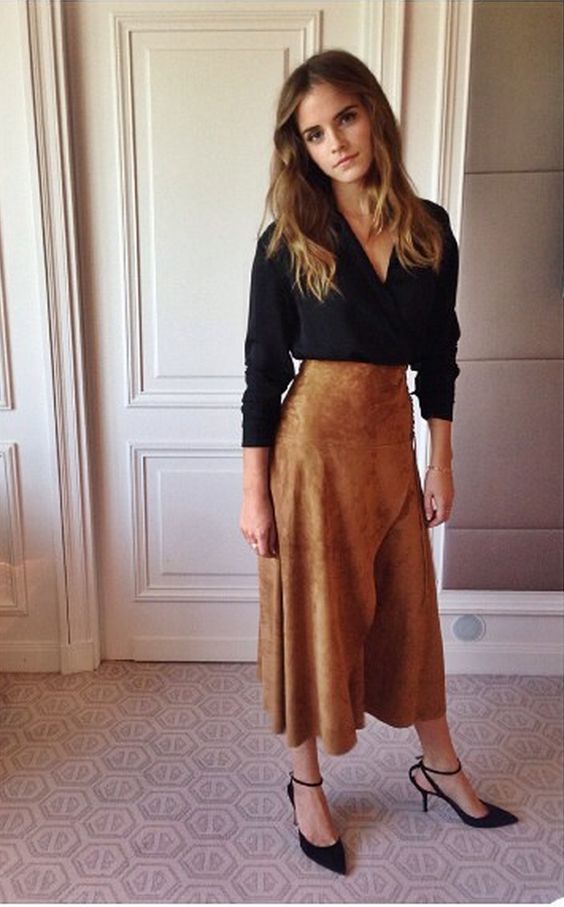 Your first day at a new job is not the time to put all your best knowledge of the current trends on display with your outfit and accessories. It's a good idea to stay away from obvious current trends altogether for your first day and go with classic pieces instead.
This doesn't mean that you have to wear clothes that are boring or outdated. It just means that you should focus on making sure your outfit looks professional and is not too distracting. No matter how great you look in your trendiest outfit,  save it for after-work hours. Dressing for the latest trends adds an instant immature and laid-back vibe to your look that you don't want to present on your first day of work.
6. Look Put Together

Your look as a whole is what you will present to your new coworkers and superiors on your first day of work. Therefore, it's important to make sure you're putting out a very put-together vibe with what you wear.
One easy way to look put-together is to coordinate colors. Matching isn't enough. Focus on the details of your look when it comes to color coordination. If you're wearing a navy blue skirt, try to find a statement necklace with a matching dark blue pendant. Pair gold hoop earrings with the gold accents on your pumps. It's also key to balance out your look. Make sure that all of your clothing has the same texture or fit. Try to vary the fit and complexity of your clothes and accessories so that you appear balanced and don't end up looking top or bottom-heavy.
7. Know Your Industry

What you wear to the first day of work at a technology-focused start-up should look much different than your outfit for day one at a long-established marketing corporation or an arts-centered creative workspace. This should be fairly obvious, as it seems like common knowledge that different jobs warrant different attire. However, it can be really difficult to put together an industry-specific outfit to wear for your first day. This is especially true if you're just starting out in your chosen career field.
One of the worst things to do is assume you know what to wear for your first day on the job based solely on the industry surrounding the position. Don't wear your most whimsical necklace just because you're starting work in a creative industry. Don't wear jeans for your first day at a more casual start-up. Use the industry you're heading into as a guideline for your first-day wear. Wait until you've gauged what you coworkers wear on the daily before you assume you know the standard dress-code.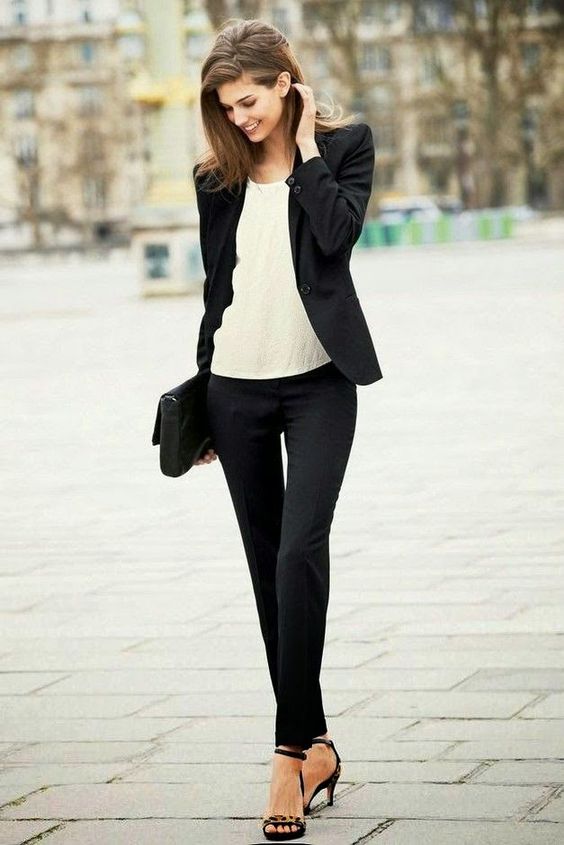 What you wear for the first day of a new job is important. Your look makes up a part of the first impression you make, but it's not everything. Keep it simple, remember to smile, shake hands, and let your genuine charisma, skills, and talents shine through whatever you wear.