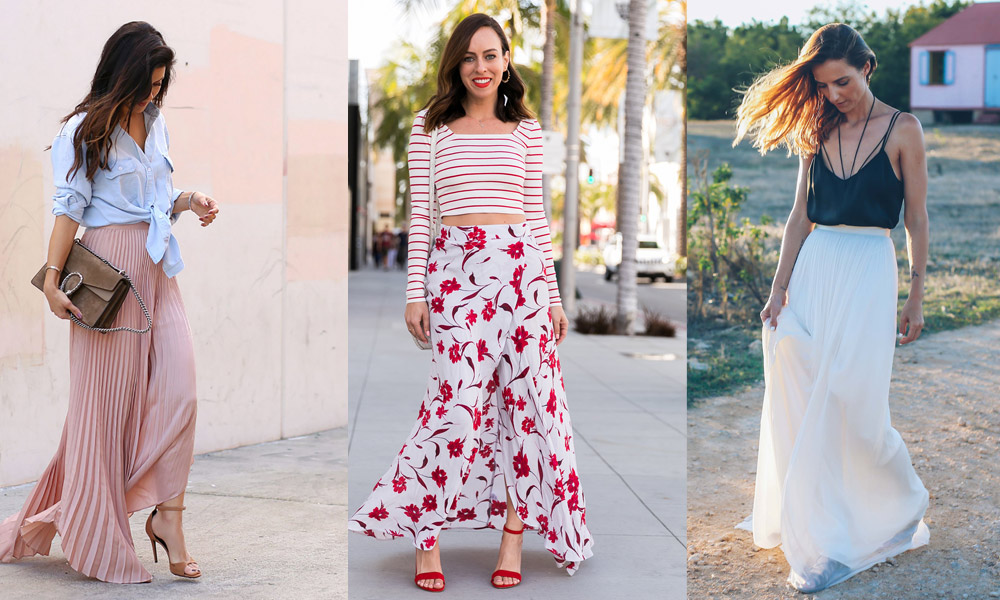 How to Wear Long Skirts – Super Styling Tips for Trendy Maxis and Midis
Long skirts can be midi– or maxi-length depending on the occasion and they are both popular again for winter and summer wear. There's always a special feeling of femininity you are when wearing a long skirt, and worn with a pair of knee-high boots in cold weather, a thick long skirt can be warmer than any type of pants. And in the summer, there's nothing as pleasant as going out for the day in a comfortable and pretty, floral skirt flowing around your legs and creating little swirls of cool air!
To describe the difference between the two skirt lengths; a midi-skirt reaches down to about mid-way between the knee and the ankle, and the maxi-skirt finishes past the ankles to skim the top of the foot, when you have your heeled shoes on. And this year, long skirts have suddenly come back into popularity again. So if you want to get up to speed on this lovely new trend, here's our quick guide to how to wear long skirts and which styles will suit you best!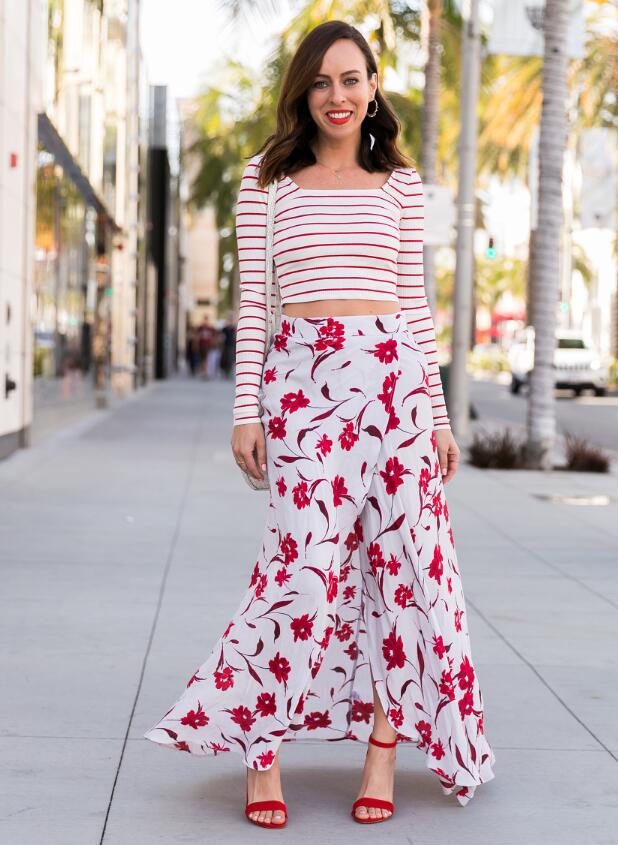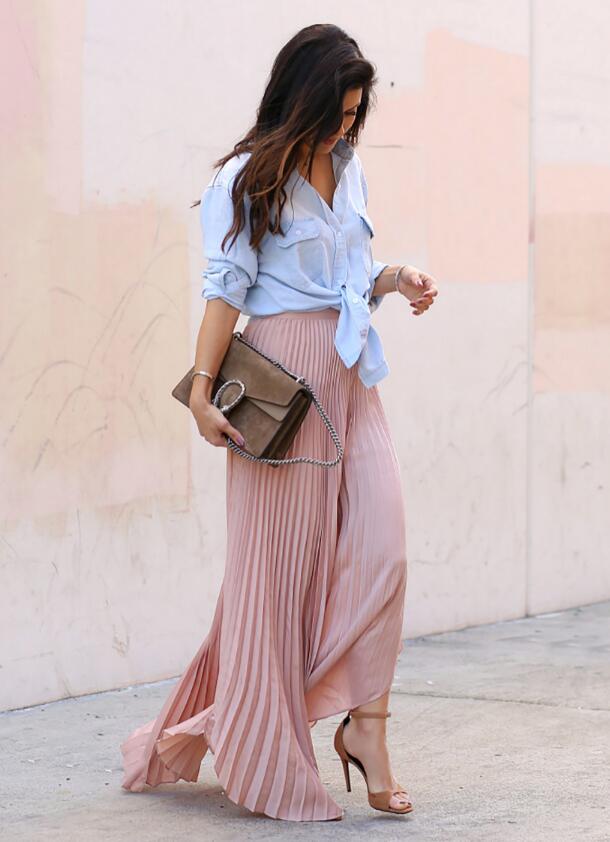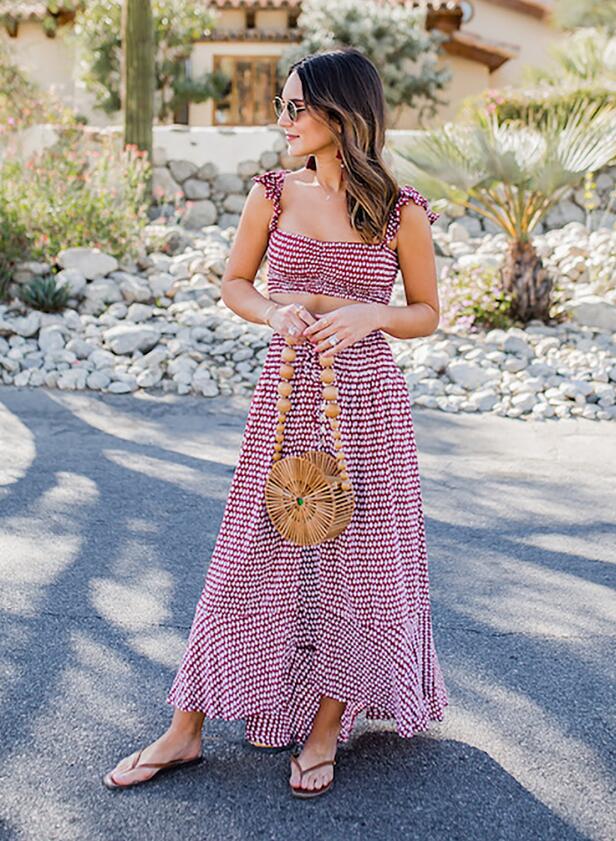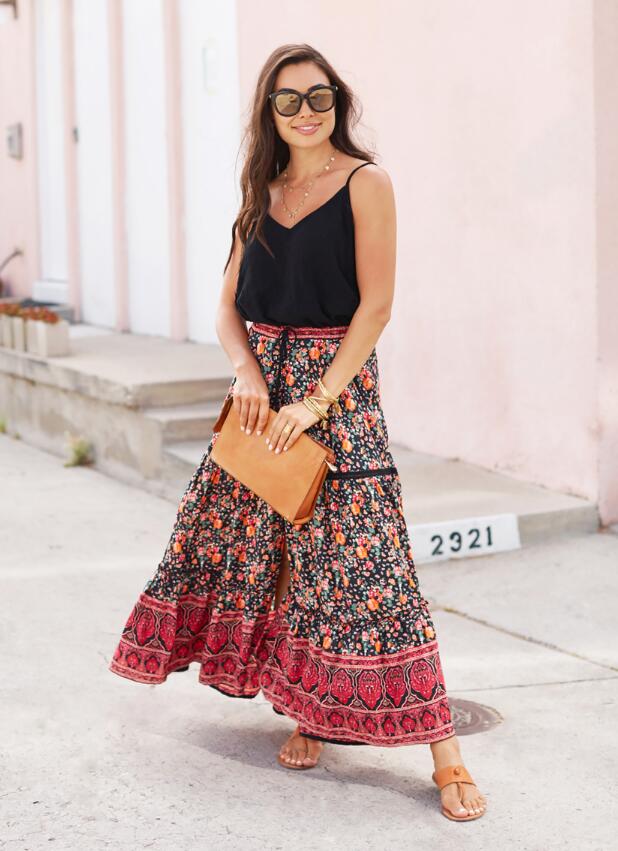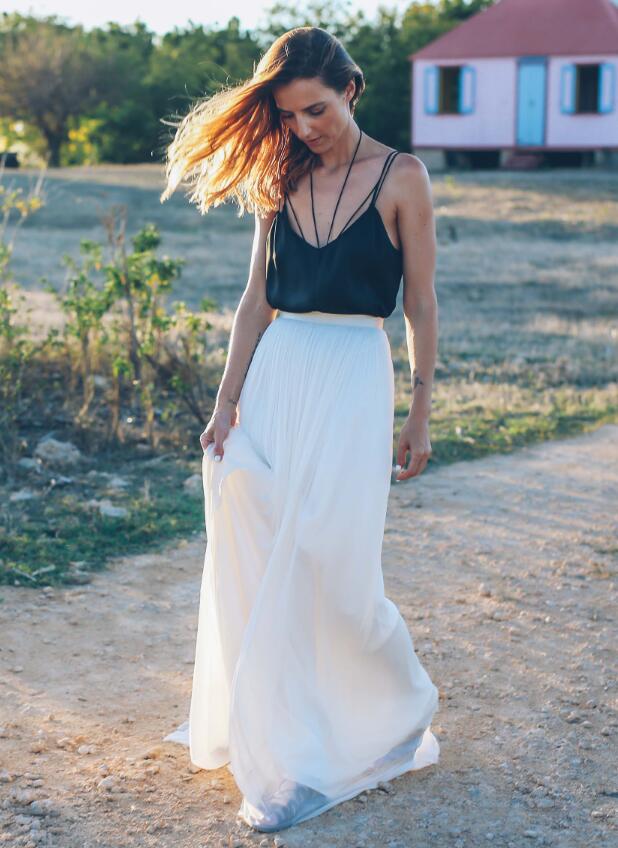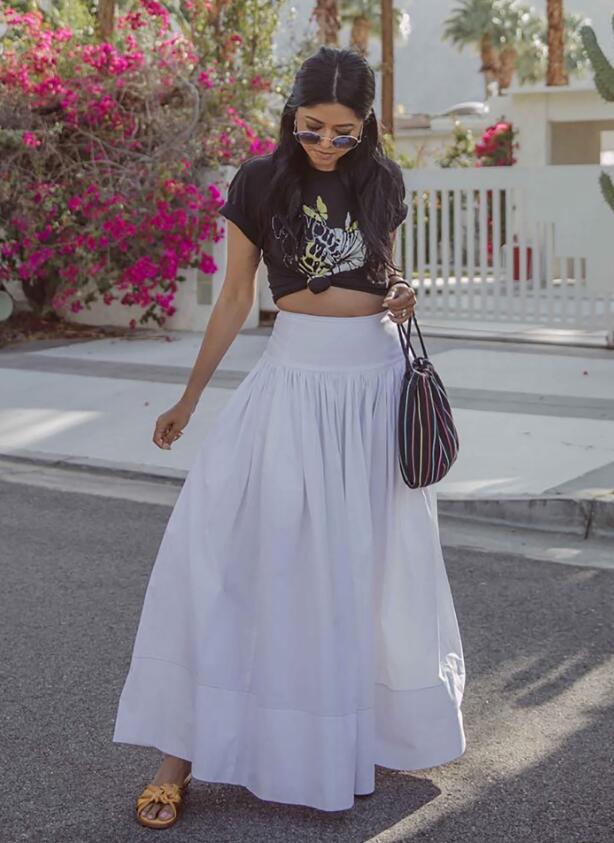 How to choose the best long skirt styles for your body type:-
Long skirt styles for short body types
Short figures which don't have a lot of shape to them can wear layered skirts to add more texture and dimension. And that also applies to pleats and knife pleat skirts, which have plenty of texture and extra volume. In addition, you can wear lovely draped skirts and wrap-arounds long skirts to add a more flattering look.
Long skirt styles for curvy body types
Curvy women look very attractive and shapely in long skirts and you can choose from yoke-waist, box-pleated and high-waist designs to flatter your figure. In addition, A-line skirts minimize wide hips and high-waists make everyone look slimmer, as long as you have a reasonably defined waistline to start with.
Long skirt styles for tall body types
Tall women look good in all types of long skirt, so you can wear flared, bodycon and box-pleated skirts this year. And tall figures also find mermaid and layered skirts flattering for their height.
Long skirt styles for pear-shaped body types
Pear-shaped figures have wider hips, so they look more balanced when wearing a flared skirt that skims over your hips. But this body shape also looks great in a smart pencil skirt or a trendy wrap-around skirt. Wear a cropped top or cropped cardigan to draw attention to your waist or a baggy sweater that covers the hips.
Long skirt styles for apple-shaped body types
Apple-shaped figures tend to carry their extra weight around the midriff, which means there's no defined waist to give shape to your overall figure. However, you can wear a pencil skirt, or a stretchy bodycon, style worn with a blazer to give a streamlined outline. And apple-shapes are also flattered by gathered tulle skirts and A-line skirts.
Long skirt styles for an inverted triangle body type
This body shape look great with box-pleat skirts and asymmetrical long skirts, which add flared shape to the bottom part of the ensemble.
Long skirt styles for petite body type
Try to elongate your figure by wearing closely matched colors, to give the impression of a longer silhouette in one color. And always stick to small prints, as large patterns or floral prints can swamp a small figure.
Wrap long skirt outfits
The wrap skirt is just as flattering as the currently fashionable, wrap-dress. And in addition to being comfy and chic, this style is attractive and feminine. Long wrap skirts are suitable for evenings out and are available in a wide range of light-weight fabrics that drape beautifully around the figure.
This year's skirts are showing a lot of plaid and checked patterns, which do work really well on wrap skirts. And, of course, there are plenty of different prints and colors to suit women of all sizes. The wrap dress is definitely a great choice for various informal and semi-formal occasions, like lunches and evening drinks parties.
Black long skirt outfits
A black maxi-skirt is one of the easiest ways to slide into this new trend, as it is popular with lots of different fashion-tribes and therefore, versatile and stylish. A long black dress is one of the most popular evening outfits, as well as a warm and fashionable winter garment. And a black skirt can be formal or informal, depending which shoes, boots and accessories you team with it.
The black and white look is always smart for a winter maxi-dress, with a white, polo-necked, fine knit sweater with long sleeves. And you can dress it up with black or tan knee-length boots and a blazer jacket, or keep it casual with a graphic tee-shirt, denim jacket and trendy white sneakers.
White long skirt outfits
White long skirts are mostly seen on brides, but they have come into style for winter and summer for this year and create a lovely, feminine look. Obviously, a winter long, white dress would need to be in a thicker fabric than a light cotton skirt for summer. But a long, warm skirt is often warmer than trousers and you can add bright accessories like the winter colors.
These include shades of purple, tan, brown, blue, forest-green, mustard-yellow, burgundy and deep-pink in spring, winter and autumn. Wear with knee-high boots in a light-color that harmonizes with your outfit for trendy style and to elongate your legs. Or wear with the pretty, summer pastel colors and the fashionable white sneakers that are very trendy for this year.
Floral long skirt outfits
Long floral skirts have been popular for hundreds of years, so it's no surprise they're back again for this summer. Small prints are best for petite women and will avoid you looking lost amidst a lot of fabric. And for any woman, swirling, small flowery skirts create a relaxed and Boho look. But medium-sized flower prints look good if you're trying to put together a contemporary look. And large flowers look great on larger women! So don't be shy to show your curves in bright, flowery long skirts. Add wedge sandals if you're petite, or this year's fashionable white trainers for a modern look.
Match your long, floral skirt with a pretty camisole in white or cream, or a sleeveless white tee-shirt for a lovely, cool outfit on a warm day or evening. A plain, light-colored top is the best way to balance a flowery skirt. Although you can, of course, add a top that's plain and matches one of the colors in the skirt for an equally attractive outfit. To protect you for a cool draught, take one of the latest cropped cardigans with you. They are gorgeously feminine with long lace collars, and gem or pearl buttons, and they finish at the waist, to suit a top that's tucked into the waistband of your skirt.
High-waisted long skirt outfits
High-waisted long skirts are extremely flattering, because they make your legs seem much longer and accentuate the waist. But you need to style your skirt carefully to get the right balance between your top and your skirt. So for leisure wear, choose a cropped top, or a bralette style top. These suit high-waist skirts perfectly and the whole outfit will give you a sleeker silhouette and make you appear slimmer. Or you can wear casual, tucked in, tee-shirts or a soft shirt tied in a knot at the waist for a cool, leisure look.
For office wear choose a dark or a medium colored midi skirt and wear with a white or pastel colored shirt or blouse tucked in, of course. This summer's colors are gorgeously soft shades of aqua, moss-green, forget-me-knot blue, shell-pink, lavender and lots of cream, sand and khaki shades that go with most other colors. And you can easily put together a modern set of smart office wear with just a couple of long skirts and various tops.
Pleated long skirt outfits
This retro-style is a really head-turning style, which hasn't been in fashion for a very long time. Long pleated skirts are great for wearing at special occasions and will give you a truly classic and sophisticated look. To get the best look and lasting pleats try to find a style with wide pleats in a thick, good quality fabric. And most women need to wear heels with this look, as it can look too flared out on the bottom half, without a little extra height.
For a totally contemporary look, look out for 'plisse design' on a soft fabric. Plisse design means the fabric has been treated chemically to create an intentionally pleated, wrinkled or puckered-up finish. Sometimes the fabric itself is called, plissé, and other times it is just the 'plissé finish' that's on the fabric. Permanent pleats are expensive, but worth it and garments with the lighter, 'plissé finish' do need to be cleaned carefully to avoid spoiling the finish.
Long skirts with a sexy slit
The beauty of the maxi-skirt with a slit up the side or back, is that you get both comfort and sex appeal! Slit-side long skirts are usually a sleek silhouette, but they don't have to be at all tight to work. The key to this look is to gauge the formality of the occasion and make sure your skirt's slit is appropriate. For instance, to enjoy drinks at a cocktail bar when you're dressed for a theatre visit, you can wear a slit that starts on your thigh.
But you will have to choose between perching on a bar-stool with one leg covered and one totally bare, or constantly pulling on the fabric to cover your thigh. Formal dinner dances are the place where you'll most often see a sophisticated black skirt with a high slit. However, if you're having dinner with friends and family in a good restaurant, only wear a slit from the knee down.
How to maxi-skirts fashionably
Choose the correct shoe for the style of skirt and your own height
Never wear a patterned skirt with a patterned top
If you're not sure wear one of the latest cream or neutral beige tops
Don't wear any long skirt with a slit in it for work
Go for high-waisted long skirts if you are curvy, average, tall or petite – they are flattering
Don't wear tight or baggy skirts – they are not flattering at all
Keep your top simple and wear low-key accessories
If you don't have a maxi-skirt to hand, wear a top over a long dress
There are lots of lovely tops to wear with long skirts, and this year we have super-cute, sleeveless lace- tops to add to our wardrobe. And they are a gorgeous way to add interest to a plain skirt, too! Happy shopping!