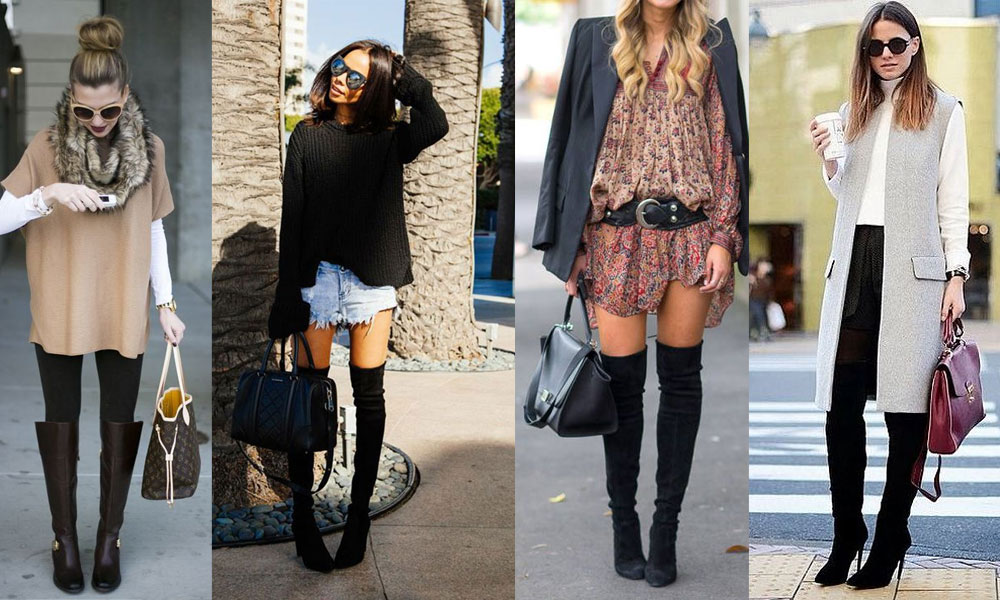 Chunky booties and ankle boots are great, but the number-one current trendy boot style is knee-high boots. Knee-high boots are any type of boot that rise all the way up your calf and at least reach the bottom of your knee. Many of these boots even extend up past the top of your knee and rest somewhere in the middle of your thigh.
Knee-high boots are extremely versatile. They're both convenient and super stylish. These boots are easy to slip on without a second thought and they complement almost any outfit and style. Plus, they add an instant sleek finish to your look. If you ever feel like your look is a bit boring or missing something, try a pair of knee-high boots to transform yourself into an instant chic glamour queen.
1. Try Tights

Some women are intimidated by the prospect of wearing knee-high boots over bare legs. If you feel uncomfortable with this style, add some tights to your look. Tights soften the look and intensity of knee-high boots and help your whole outfit appear more streamlined.
Wear tights under knee-high boots and pair this combo with virtually any other outfit you'd normally wear with knee-highs. Dresses, skirts, and even high-waisted shorts with a crop top complement the winning combination of tights and knee-high boots. Don't let yourself use any excuses to get out of trying this top trend. Start out with tights to make the knee-high boot trend less intimidating and more accessible for your style.
2. Don't Be Afraid of a Heel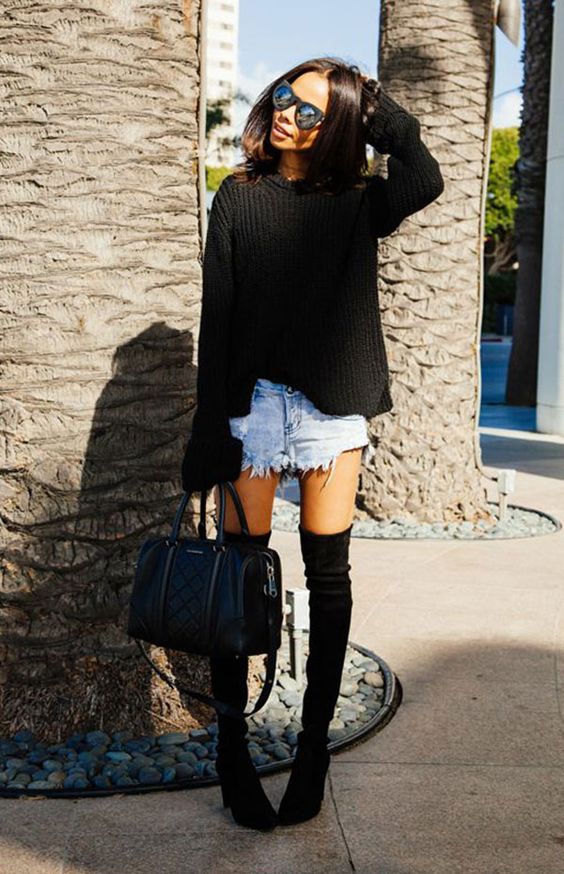 There are few things in this world that are sexier than a woman strolling down the street in knee-high boots with four-inch stiletto heels. Heels never fail to make any outfit look better and the combination of knee-high boots with a flattering heel is hard to beat. If you don't feel like it's practical to walk around in boots with a high stiletto heel, you can also purchase knee-high boots with a shorter chunky or wedge heel instead.
In terms of adventure with knee-highs, don't be afraid to experiment with different textures and colors of these boots as well. Knee-high boots are available in a wide variety of materials and colors. Have some fun with this trend. Try out knee-high boots in leather or suede. Skip past black or brown and grab a pair in a shade of maroon instead. Make this trend your own and you'll be glad you did.
3. Go All-Black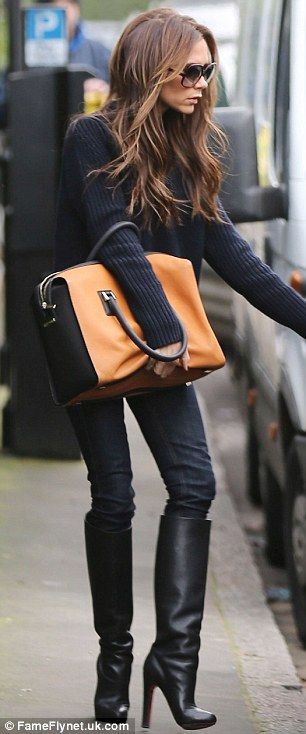 Knee-high boots add a pop of intensity to any look. Outfits that only include black pieces are pretty intimidating all on their own. Knee-highs help kick an all-black look up a notch.
Pair black leather or suede knee-high boots with black leggings, a black crop top, and a black leather jacket. Or, wear knee-highs in a different color to offset and soften an all-black look while keeping it stylish. If you do go completely black, though, make sure to keep your look balanced and streamlined. Add needed texture to the look with a shirt that includes detailing or an oversized jacket or cardigan.
4. Consider the Occasion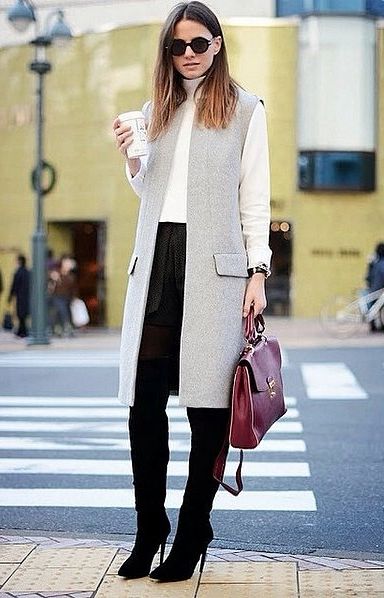 Knee-high boots are not confined to one occasion. As long as you wear them correctly, you can rock knee-high boots anywhere from work to a party to a first date to the grocery store.
If you're headed to work, stay away from stilettos and slip on a pair of knee-high boots that are flat or have a short chunky heel. Pair them with slim jeans, a blouse, and a blazer. When your plans include a casual party or a slew of everyday activities, throw on a lace-up T-shirt dress over your boots. Dress up knee-high boots for a more formal first date with a slim-fitted dress, tights, and some chunky bracelets. You can wear knee-high boots no matter where you're going or what you're doing. All you have to do is transform the rest of your look to fit the nature of the event.
5. Go With Just a T-Shirt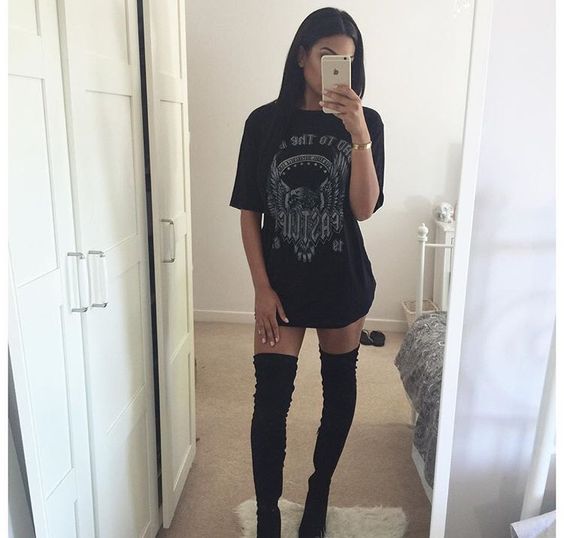 One of the most common sightings of the knee-high boots trend is the pairing of these boots with an oversized boyfriend T-shirt. These T-shirts are different than a T-shirt dress. They really are just huge T-shirts. While wearing only an oversized T-shirt would normally appear sloppy, pairing the shirt with knee-high boots really changes the game.
Knee-high boots add slimness and style to the look of a giant T-shirt. They make this extremely simple, comfortable look appear put-together and stylish instead of lazy. If you pair your knee-high boots with an oversized T-shirt, keep the rest of your look simple and laid-back. Tie your hair up into a messy bun or straighten it and leave it down. Avoid wearing jewelry or other accessories. Your shirt and boots should be the focal points of your look.
6. Pair With a Skirt or Dress

Knee-high boots look instantly sweet and feminine when you pair them with a skirt or a dress. You have plenty of options when it comes to wearing a skirt or dress with this type of boots.
Pair a mini skirt with knee-high boots, tights, and a crop top for a flirty finish. Go boho with a long maxi skirt that flows over the boots and a loose, lacy top. Wear a loose, mid-length dress that reaches a few inches above the top of your boots for a stylish and balanced look. The possibilities are endless.
7. Keep it Balanced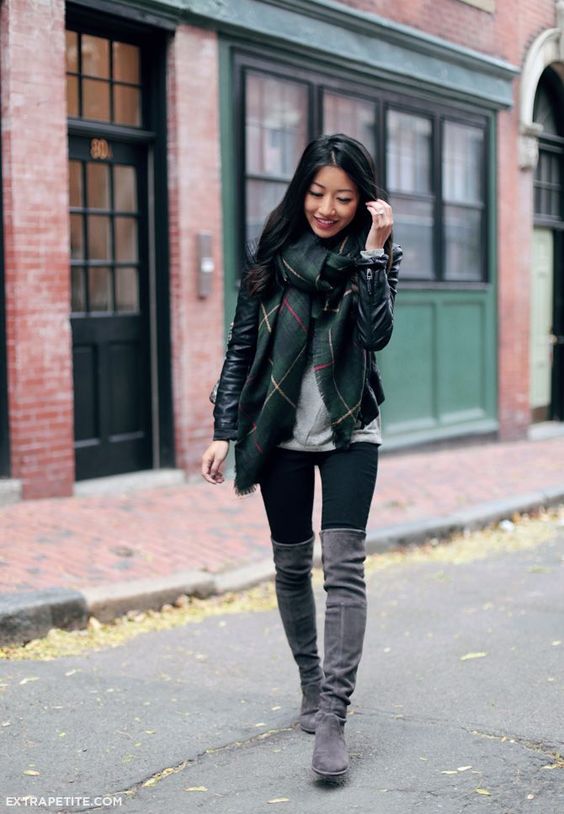 Balance is very important when it comes to wearing knee-high boots. If you don't add texture and bulk to the top of your outfit, you'll end up looking bottom-heavy.
It's okay if your boots are the focal point of your look. Just make sure to weave in some interest elsewhere in your outfit as well, even if it's just a chunky necklace or a cardigan.


via
You really can't go wrong when it comes to knee-high boots. These boots are basically the closest you'll ever get to Cinderella's magic glass slippers. They automatically make almost any outfit look more glamorous, put-together, and trendy. Don't miss out on this trend. If you're not sure where to start, just try the ideas in this post with the knee-high boots in your own closet.
Click here to buy your favorite boots on Amazon!