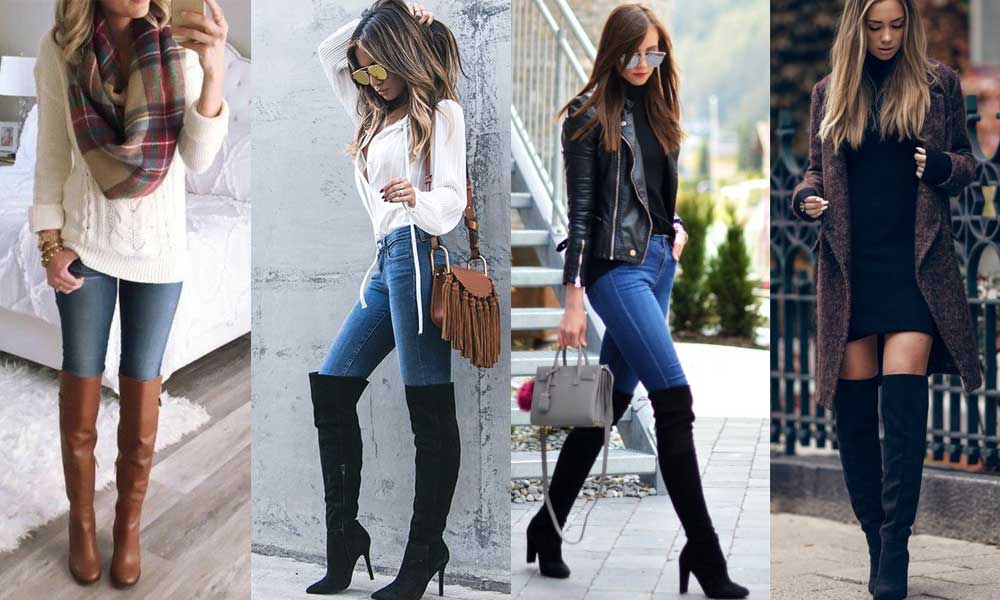 The world of fashion will never be without jeans. From white washed to black, from boyfriend to skinny, jeans are welcome at any time of day and any time of year. Similarly, knee-high boots have been one of the 21st century's most reliable fashion staples.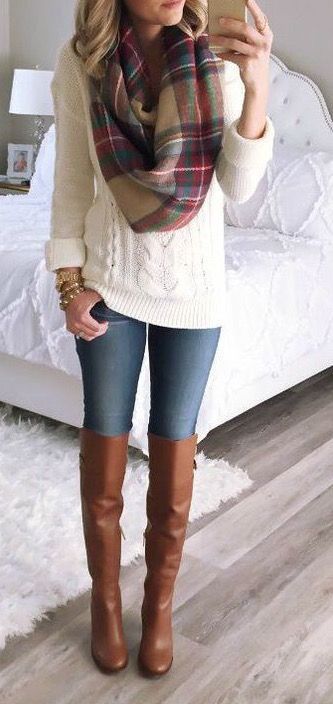 Some of us wore them back in middle school with our Hollister polos and Juicy Couture zip-ups. But despite their presence in some of our more embarrassing fashion phases (remember when sweatshirts, denim mini-skirts, and Uggs all went together?), knee-high boots have stood the test of time and will continue to spice up our fashion of the future. Because both jeans and knee-high boots have earned their roles as 'must-haves', wearing them together will make your fashion game unstoppable. Here are some ways to make that happen:
Casual Nightwear
This nighttime outfit works for both going out or staying in. Did your friend ask you to attend a last-minute house party, or are your parents dragging you to a family dinner? Either way, this outfit is perfect. Depending on the venue, you can complete this look by padding dark makeup. Switch out the black choker for something gold if you're feeling extra extravagant.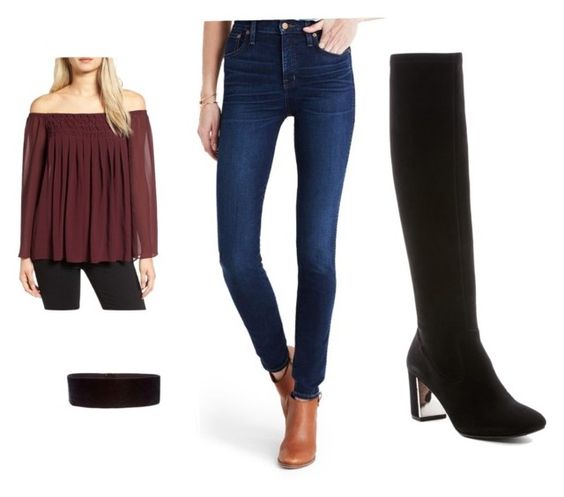 Burgundy top, Black Choker, Skinny Jeans, and Black Boot via
The Outdoors Type
Go girly or more laid back with this rustic-casual look. The simple tops and ripped jeans say, "I'm not afraid to get down and dirty." The flat, leather boot is always comfortable and stylish; you can really wear it with anything. The lighter brown works best for daytime, especially for outdoor activities. Just cross your fingers for nice weather!

Collared Top, Light Blue Top, Ripped Jeans, and Brown Boot via
After Memorial Day
Now that its socially acceptable to wear white again, why not celebrate summer with white jeans and a shirt that pops? This look is good for going out to a nice lunch or hitting the town for some shopping. Plus, the suede boot is good all year round; maybe keep it for your next winter holiday party!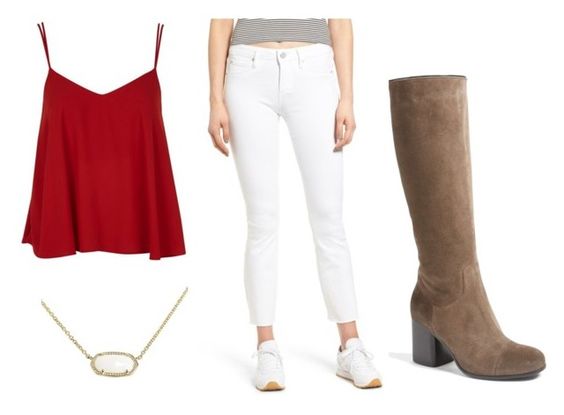 Red Shirt, Necklace, White Jeans, and Beige Boots via
Raining Cats and Dogs
Who says you can't have fun on a rainy day? You can never mix and match too many neutral colors; in fact, they all go quite nicely with one another. And you can contrast these natural colors with a fun pattern on your feet. Besides, who doesn't love dogs? Top it off with a scarf—good for your aesthetic and for keeping you warm. An off-white jacket will tie everything together and keep you and your stylish clothes from getting wet.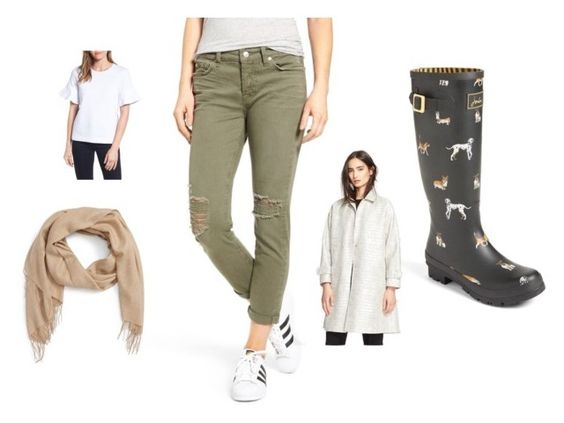 White Tee, Beige Scarf, Olive Jeans, Raincoat, and Doggy Boots via
How Celebs Do It
Don't believe me? See your favorite stars out on the street rocking the boot-jean combo:
Victoria Beckham outfit ideas: Knee-High Boots with Jeans:
Here's the fashion queen herself taking her son out for some fish and chips—no really. Wearing a heel that high in the daytime is definitely allowed, especially if it's to complete an edgy ensemble like Victoria's. You could even say that those black boots really spice up her outfit.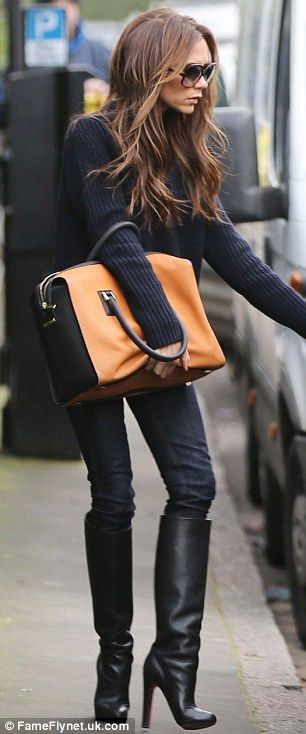 Mila Kunis outfit ideas: Knee-High Boots with Jeans:
Mila makes denim and heels look professional by adding a black blazer. And you know that nothing can stop a girl with Starbucks in her hand. This celeb is clearly out to kill.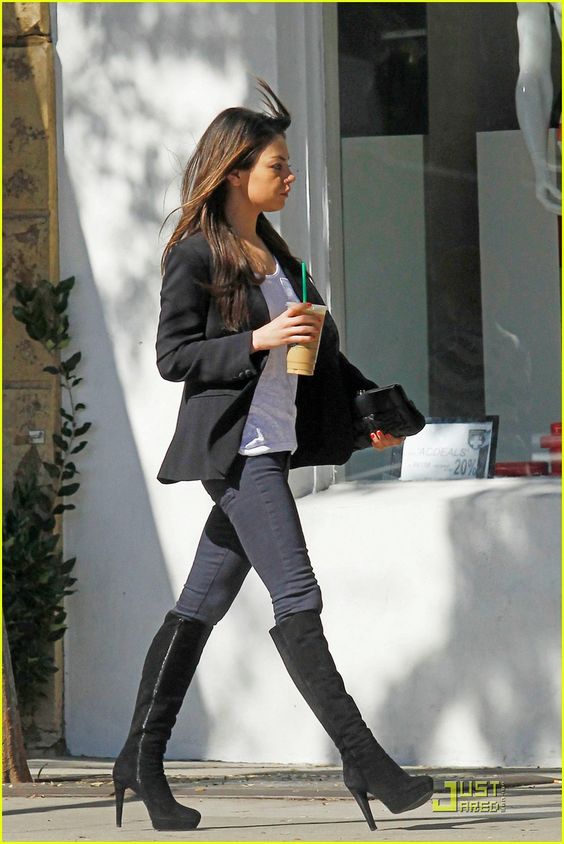 Jennifer Aniston outfit ideas: Knee-High Boots with Jeans:
We all knew Rachel Green as the ultimate fashionista, but Jen herself has been killing the game since the 90's. Her choice to pair a black leather jacket with light brown boots is bold to say the least. She shows us that you don't need black heels to be a badass.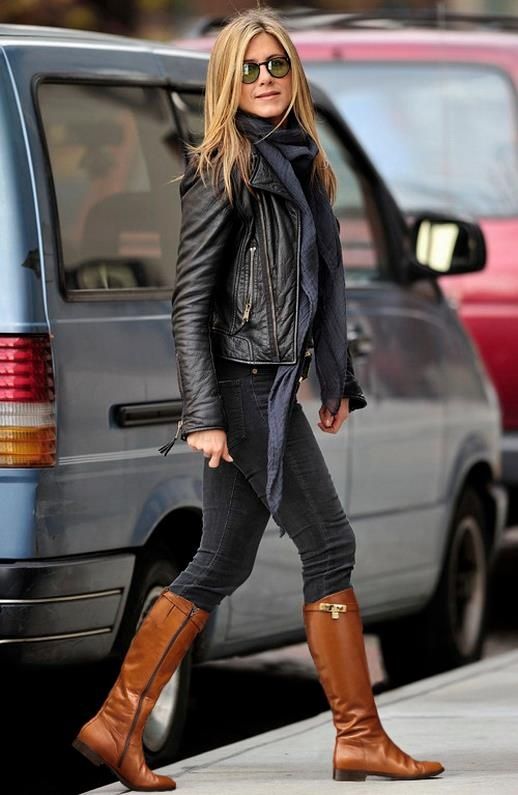 Kendall Jenner outfit ideas: Knee-High Boots with Jeans:
This is not the easiest way to match your bag with your shoes, yet Kendall couldn't have done it better. Was it luck that the beige on her bag matched her suede boots perfectly? I don't know, but I am very impressed. While her light ripped jeans make this outfit casual and appropriate for daytime, the black and white make it suitable for a classy night out as well. Kendall shows us how to be versatile with our jean-boot combinations.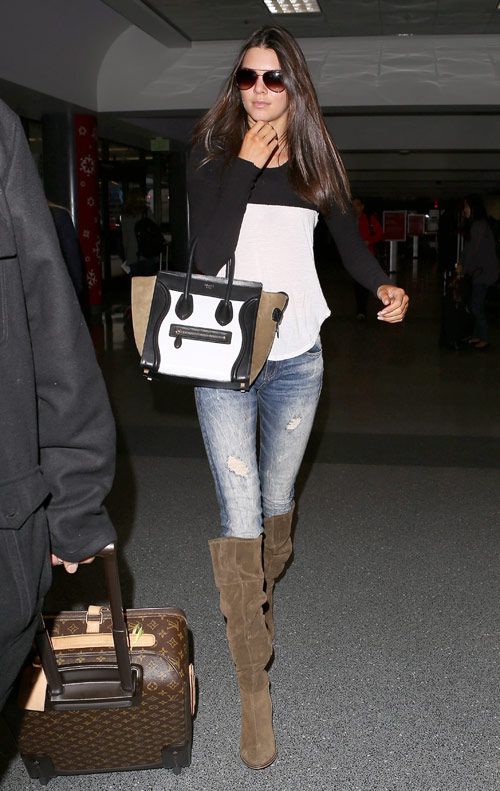 You can buy your favorite shoes on amazon and nordstrom.com.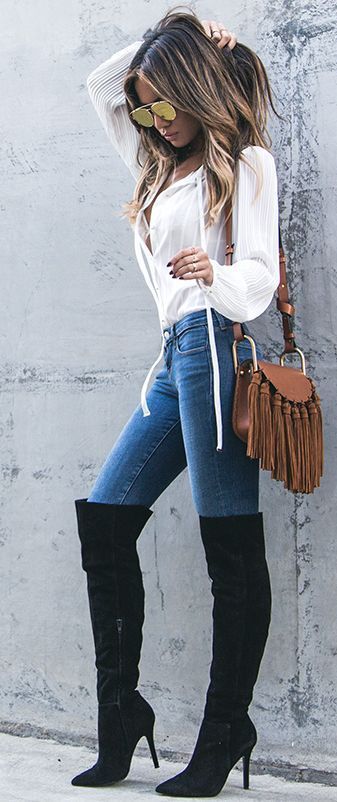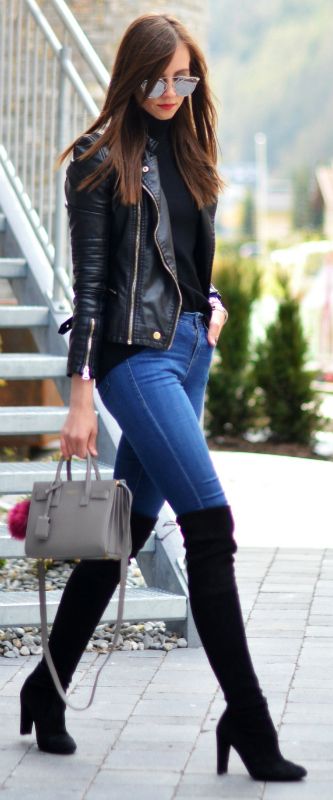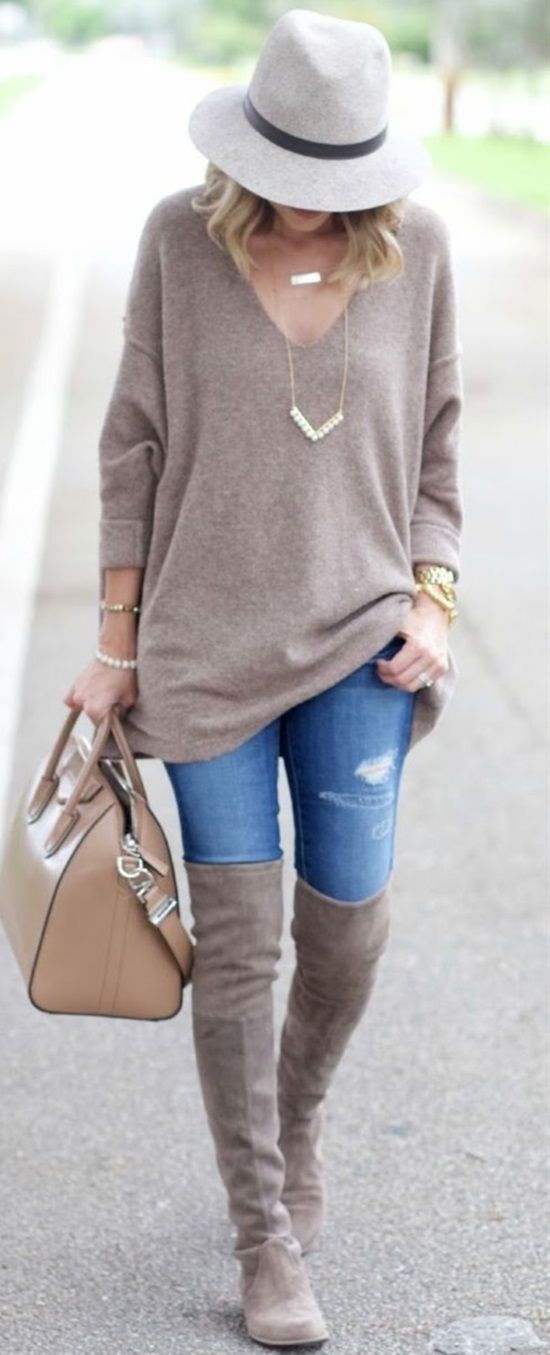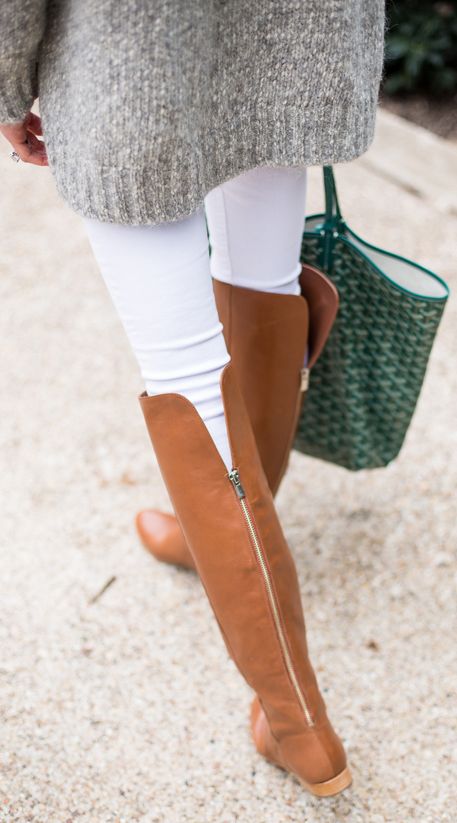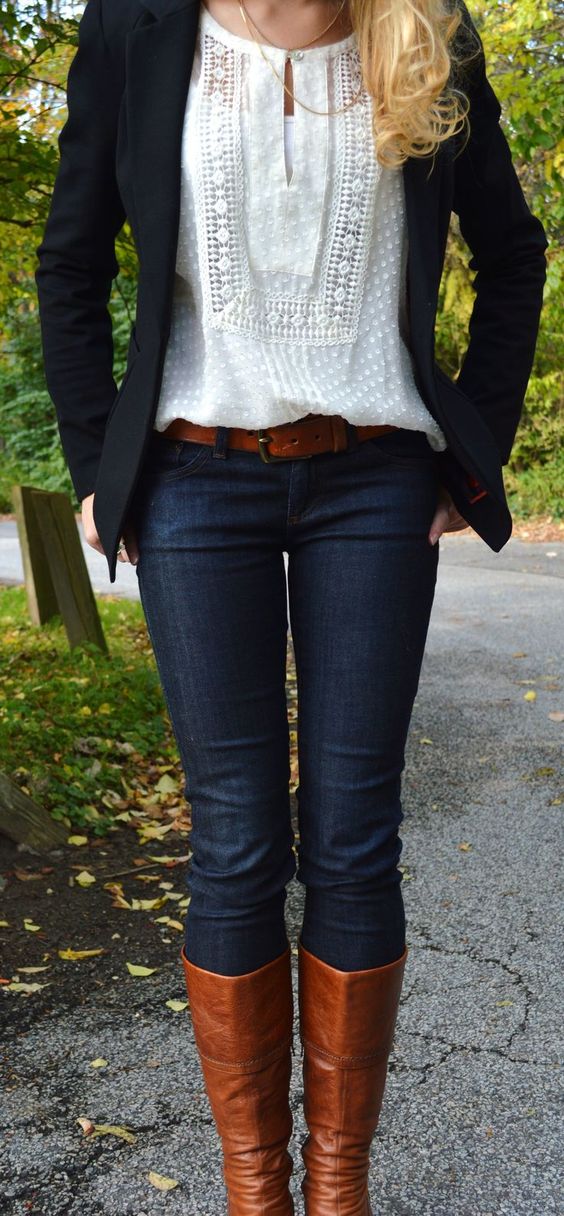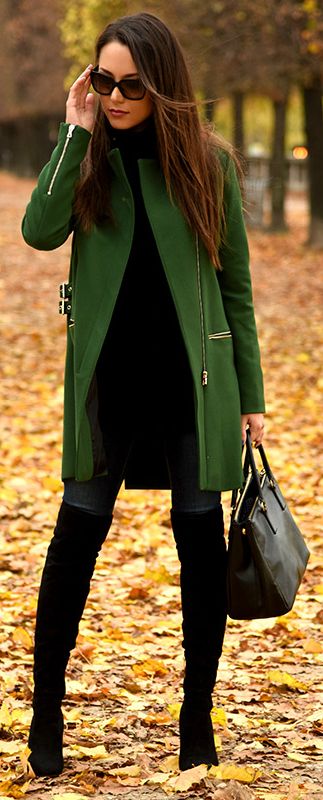 You can buy your favorite shoes on amazon and nordstrom.com.