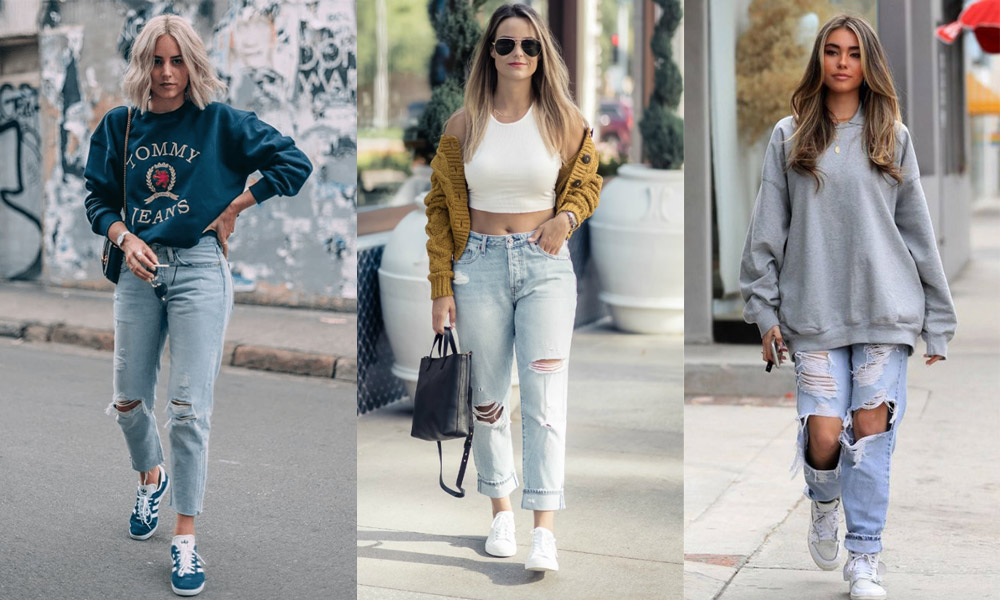 Arguably one of the best parts of being in a steady relationship with a man is being able to pilfer his clothes to add to your own wardrobe. Let's face it. Your boyfriend's clothes are more comfortable than yours and often look cuter on you than the wardrobe staples you actually picked out for yourself at the store. Plus, they carry that irresistible cute-boy smell you just can't reproduce on your own.
It's easier (and cheaper) to add men's clothing to your wardrobe if you've got a man who already owns cute pieces you can steal for yourself. However, you can still effortlessly pull off the boyfriend style even if you don't have a boyfriend. There are countless ways to wear clothing meant for men as a woman and look cute, sexy, and feminine while you do it (no boyfriend required).
1. Appreciate the Oversized
Statistically speaking, your boyfriend probably doesn't wear the same size clothes that you do. The first step to wearing your boyfriend's clothes happily is appreciating their oversized fit and using it to your advantage. If you're shopping for men's clothing from an actual store and not just from the back of your boyfriend's closet, embrace the oversized look there too. Trying to buy men's clothes in a size close to yours sometimes works out, but often ends up fitting badly in some places and looking awkward.
Pair an oversized men's sweater or cardigan with snug-fitting leggings or tights that accentuate the shape of your legs and prevent you from looking like a giant blob. Or, if your boyfriend's tees are big enough, wear it with nothing on bottom and pair it with strappy sandals and feminine accessories like a long pendant necklace.
2. Layer It
Layering is key to wearing men's clothes in a fashionable and flattering way. The oversized fit of your boyfriend's wardrobe staples allow you to layer them over or under the clothes you already own to create unique and stylish looks.
On a cooler autumn day, layer a men's sleeved collared shirt underneath a cropped, chunky-knit sweater for an off-kilter look that keeps you warm but still shows off your shape. Pair this combo with cozy leggings and knee-high boots or distressed jeans and ankle booties. Or, start with a foundation of high-waisted leggings or cutoffs and a fitted crop top. Layer a large, unbuttoned men's shirt on top and slip on a pair of sandals or sneakers to finish off this cute and casual look.
3. Don't Knock a Suit
Okay, so it's pretty unrealistic to expect that you'll be able to effortlessly fit into one of your boyfriend's suits. You'll probably have to visit an actual store to buy your own. However, if you want to try out wearing clothes with a traditionally masculine vibe, start with a suit. Professional suits for women are regaining popularity in the modern world of fashion.
Wearing a suit to the office or any other semi-formal or professional occasion instantly gives your look a chic and unique vibe. If you don't want to rock a full-on suit yet, pair fitted dark jeans or slacks with a blouse and a loose-fitting blazer instead to get a similar look.
4. Tie It
Wearing men's clothing can make you feel like you're lost or drowning in a mass of fabric. Tying and tucking in men's clothing instantly makes it more flattering and customizes it to your smaller body frame.
Try knotting the hem of an oversized men's T-shirt at the front to transform it into a gathered, fitted crop top. Pair it with high-waisted cutoff jeans and a pair of gladiator sandals to create a carefree and casual look. Or, take one of your man's button-downs and tuck it into a pair of distressed denim shorts. For an added flirty finish, leave the top half of the button-down undone and rock a lacy bralette underneath.
5. Rock His Hat
You can look just as sexy in your boyfriend's baseball cap as he does. Create a flirty and easygoing look with a classic baseball cap, a loose-fitting tee, and a pair of denim cutoff shorts or jeans.
Don't limit yourself to baseball caps either. A men's fedora looks boho and chic when paired with lace-up sandals and a bright, printed summer dress.
6. Dress Up His T-Shirts
There are few things in this world that are more comfortable and comforting than wearing an oversized men's T-shirt. If you want to wear your boyfriend's tee somewhere other than your bed, though, you might want to dress it up a bit.
Dress up a men's tee for everyday wear with accessories. Pair a long, delicate pendant necklace with a giant T-shirt to add instant femininity to your look. Shoes can make a big difference, too. Wear block-heeled booties or detailed gladiator sandals to add balance and an interesting focal point to a large, plain tee.
7. Wear Real Boyfriend Jeans
Depending on what size your boyfriend wears, it might be unrealistic to think of actually wearing his jeans. If the size discrepancy between the two of you is just a little too much, consider investing in your very own pair of men's jeans that's closer to your own size. Buying denim from the men's section helps you create a more authentic "boyfriend jeans" look.
If you don't feel like men's jeans flatter your frame, you can personalize them to help them look more natural on you. Try cuffing the bottom hem of the jeans so that they fit more snugly around your ankles. You can also try wearing the jeans higher up around your midsection and cinching them with a belt to accentuate the shape of your waist and hips.
Your man probably already knows that his favorite hoodies no longer really belong to him whenever you're around. Once you start experimenting with a wider range of men's pieces, though, all of his clothes will be at risk for incorporation into your new favorite flattering and carefree looks.