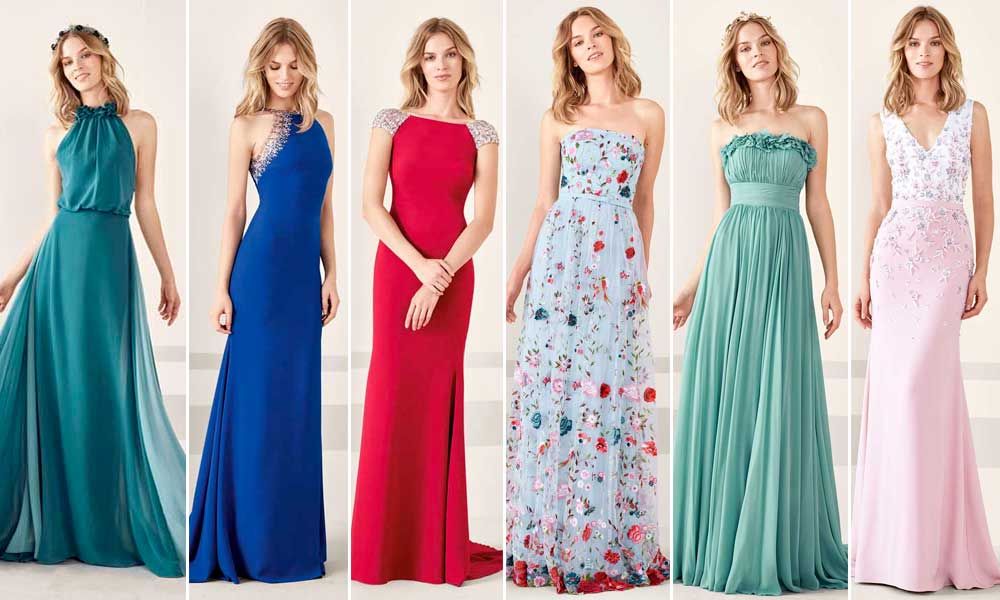 Whether you're included in a wedding party or have a formal business event to attend, you will inevitably need a formal dress no matter how casual and laid-back your everyday style.
Top-quality formal dresses are almost always a smart investment. Wearing a high-end dress can have a transformative effect on how confident and attractive you feel in your formalwear. Plus, you can usually spot the low quality of a cheap, knock-off designer dress from a mile away. Discover the best luxury formal dresses on the current high-fashion market to create an alluring, head-turning look for the next elegant event you attend.
10. Ever-Pretty Sparkling Gradual Evening Dress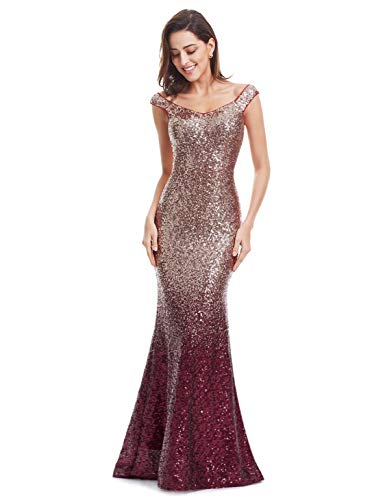 Show off your figure in this form-fitting, sparkly evening dress from Every-Pretty. Its bodice hugs your hips and waist to accentuate your curves before flaring into a loose skirt that adds glamour and elegance to the gown.
Classic cap sleeves give this dress a flirty, feminine finish and its unique T-back adds eye-catching interest to its design. The floor-length gown's exterior is covered in sequins that glimmer in the light and make this dress look fun and party-ready. It is available in three different colors–red, blue, and gray–all of which have a graceful, graduated ombré pattern as shown above.
9. Badgley Mischka Cowl Back Sequin Gown
This short-sleeved, floor-length gown from Badgley Mischka has an elegant, unique design that is sure to turn heads anywhere you go. It features a high-low hem that rests at your ankles in front and skims the ground slightly in back for a lavish finish. The dress's slim fit and high neck create a tasteful design that also enhances your curves. Its draping cowl back accentuates the slimness of your shoulders and the delicateness of your spine, adding flattering elegance to the gown.
An all-over sequined exterior brings sparkling life to this dress and gives its already eye-catching design even more reason to stand out in a crowd. The gorgeous evening gown is available in five muted, sophisticated colors: black, blush, navy, gold, and gray.
8. CG Chris Gelinas Open Back Evening Dress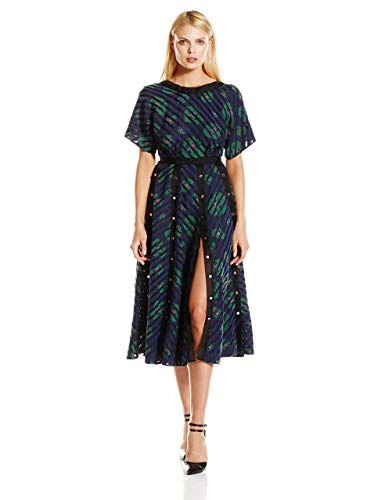 Get adventurous with this mid-length evening dress. Its design is unconventional and looks very different from most classic formal evening gowns, but it pulls off a flattering, glamorous style just the same.
Featuring loose elbow-length sleeves and draping fabric in back, this dress takes on a soft, delicate look. The Italy-made garment's open back, leg slit, and cinched waistband shows off your shape and a tasteful amount of skin. Its multi-textured patterned silk fabric adorned with trendy rose gold antique hardware flatters imperfections in your figure and makes for an eye-catching finish.
SHOP NOW
7. Rachel Zoe Sandy One-Shoulder Gown
Redefine the meaning of a classic black formal dress in this gown from Rachel Zoe. The dress's bold one-shoulder design and revealing open back makes a daring, stylish statement wherever you go.
The bodice of this dress has a classic, flattering shift design. The gown features ruffled trim down the center back, adding unexpected delicate femininity. It ends in a raw hem that skims over the tops of your ankles for an adventurous, contemporary finish.
6. Rachel Zoe Cold Shoulder Long Dress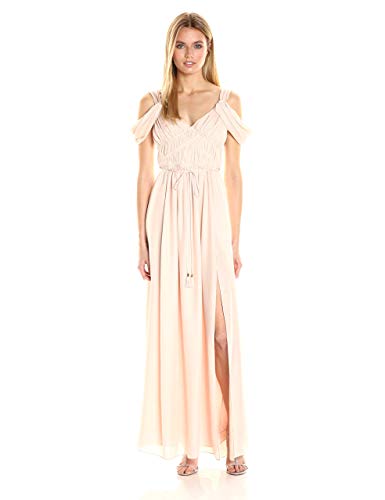 This intricate, boho-style dress is a trendy combination of laid-back and elegant, which makes it a versatile choice for a wide range of events.
Crafted from one hundred percent silk, the dress is super soft and sleek and drapes over your body to flatter any figure. A leg slit, rouched detailing around the bodice, and a detachable belt help this loose dress show off your shape but retain its graceful finish.
SHOP NOW
5. HALSTON HERITAGE Sleeveless Boatneck Satin Tulip Gown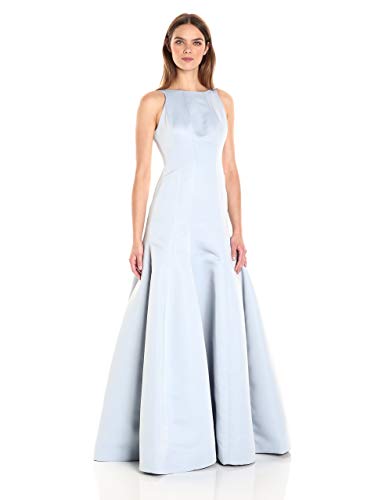 Look polished and sophisticated in this floor-length gown that defines modern elegance. The dress's bodice  hugs your hips and waist to accentuate your curves and flatter your figure. Its pleated skirt adds a tasteful, classic finish.
This dress is crafted from elegant, sleek silk fabric. Its high boat neck gives the gown a poised and dignified finish and its round open back adds tasteful interest to its design.
SHOP NOW
4. 

Badgley Mischka Halter Gown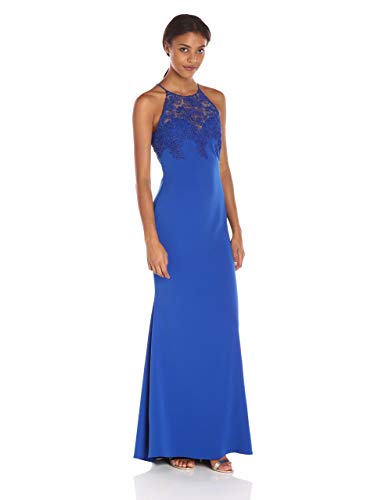 Intricate patterned lace lines the upper front and back of this gorgeous halter gown from Badgley Mischka. Sleek and simple, the dress drapes elegantly for a glove-like fit that flatters your figure while maintaining its tasteful style.
The dress's slim halter neck adds a unique, contemporary finish to its classic design. Its high-low hem skims the floor slightly in bag to give this gown an extra touch of elegance and sophistication.
SHOP NOW
3. Cynthia Rowley V-Neck Gown
This floor-length floral gown is the perfect choice for any springtime formal event. Its textured floral pattern and high center leg slit give the dress a lighthearted, fun and flirty finish.
With a sharp, plunging V-neck and open back, this dress draws attention to your chest and slims your spine. Its wide shoulders add structure to the gown and give it a sophisticated finish that many other sleeveless dresses lack.
2. HALSTON HERITAGE Sleeveless High Neck Ombre Gown
This high-necked tiered gown is sleek and striking with an adventurous, contemporary design.
Featuring a sheer ruffled overlay, the dress's loose black bodice gives way to a form-fitting midsection that accentuates your waist and hips. Its halter neck and cutout detailing in back add interest and femininity to the elegant style of the gown. Its waistline flares out into a sheer gathered skirt that drapes loosely around your ankles for a soft, delicate finish.
1. Rebecca Taylor Lace Dress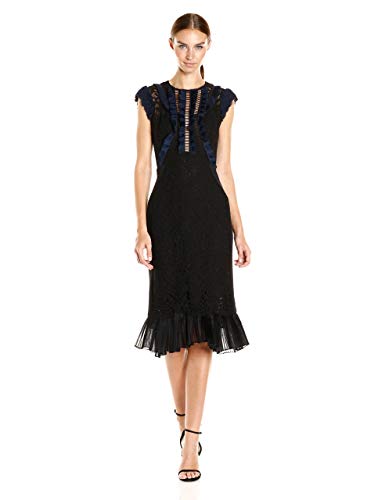 This evening dress from Rebecca Taylor is bold and daring. Its eye-catching design is sure to turn heads at any formal event you attend.
The gown is form-fitting to show off your curves. It features sheer lace sleeves and ruffled detailing around its bodice that add interest and femininity to its style. This dress's hem has a short back slit and is trimmed in sheer pleated ruffled material that gives it a striking, bold finish.
Formal dresses are meant to make you look your best. Dress to impress at the next fancy event you attend in one of these luxury dresses that add elegant glamour and sophistication to any formal look.