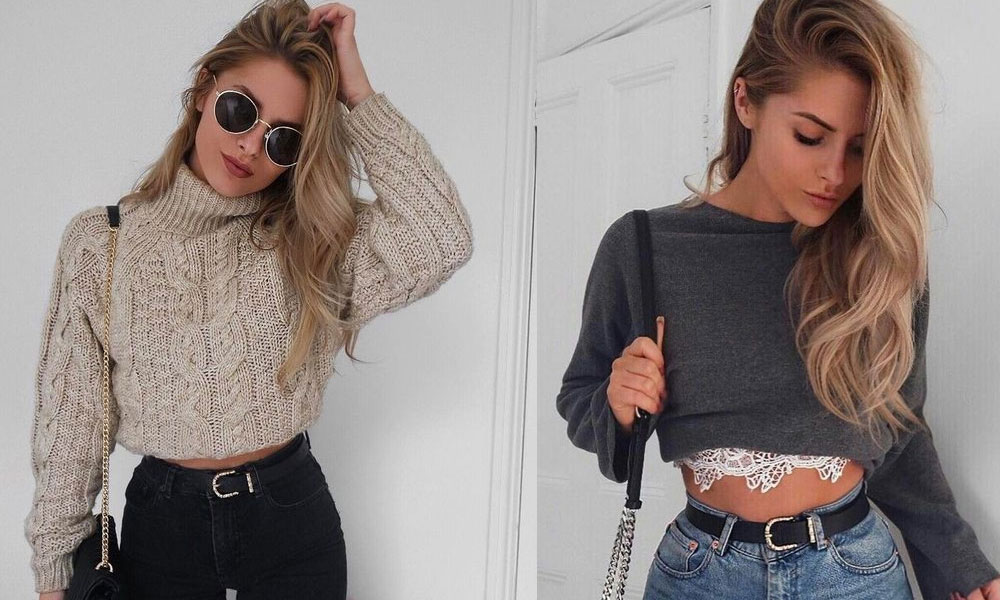 With the ever-rising popularity of high-waisted jeans, skirts, leggings, and other bottoms, it seems like the majority of tops are now designed with a cropped style. Most modern women are used to rocking crop tops with high-waisted shorts in the summertime, but the cropped trend doesn't stop at little camisoles. Cropped sweaters are becoming more and more common and trendy.
A cropped sweater seems like a bit of an oxymoron. Sweaters are supposed to keep you warm in cold weather; how are they supposed to do that if they barely brush past your belly button? Despite their arguable impracticality, cropped sweaters do allow you to keep wearing your favorite high-waisted bottoms all year long. Because of how unintuitive cropped sweaters are, it can be difficult to figure out how to use them to create cute outfits that you can actually wear without freezing. If you want to try out this quirky sweater style, keep reading to learn how to rock your cropped sweater in many different ways.
1. Wear a Mini Skirt

Pairing a mini skirt with a cropped sweater creates an unexpected, eye-catching look that combines elements from two different seasons for a stylish, feminine finish.
You can wear a cropped sweater and a mini skirt in warm, cool, and cold weather. When it's warmer outside, leave your legs bare and pair your outfit with block-heeled sandals to maintain balance in your look. On cold days, add tights or leggings underneath your skirt. Wear heeled booties or thigh-high lace-up boots to create a streamlined finish. Add an infinity scarf around your neck as a focal point to complete your look.
2. Beware of Your Bust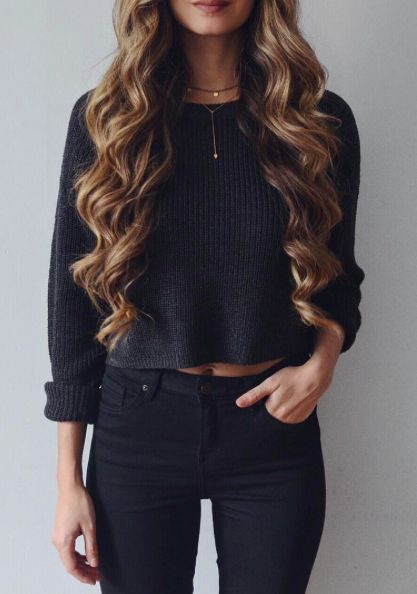 For women with a larger bust, wearing a cropped sweater presents a different set of challenges. The thick material and loose, cropped cut of this sweater style can make large-busted women appear top-heavy and create the illusion that their midsection is wider than it really is.
This doesn't mean that you shouldn't wear cropped sweaters if you have a cup size above a B. If you have large breasts, try to find a sweater that is made from a thinner material to minimize added width. Also, make sure that you always pair your cropped sweater with form-fitting bottoms that clearly show off your shape. Cinch a belt around your waist to balance out the look.
3. Pair It With a Pencil Skirt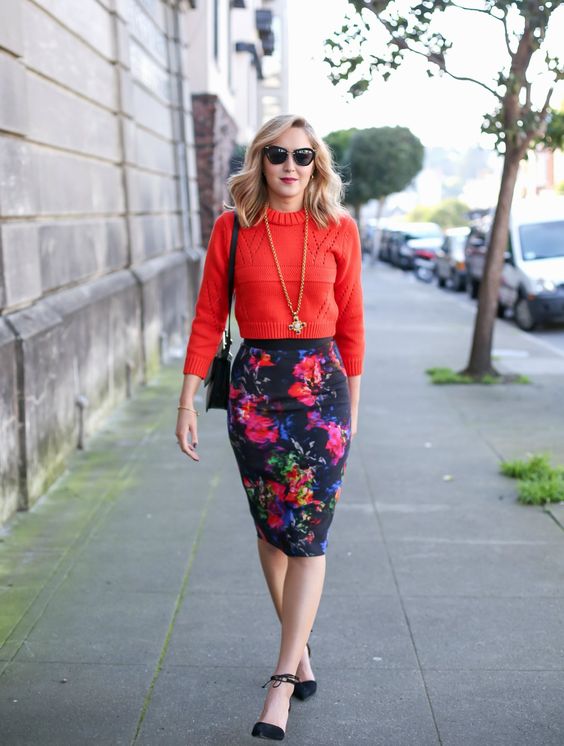 A cropped sweater might not seem like part of a professional look on its own, but you can easily make it office-appropriate when you pair it with the right pieces. Professionalize your sweater by pairing it with a pencil skirt. Pencil skirts complement cropped sweaters because their tight fit balances out the loose style of the sweater. These skirts are the perfect way to effortlessly dress up a cropped sweater without sacrificing coziness or comfort.
For a classic professional look, pair a neutral pencil skirt with a neutral sweater. Add a coordinating belt and heels for a simple and elegant finish. If you want your outfit to be a bit more eye-catching, go with a patterned pencil skirt instead to add interest to your look. Choose a cropped sweater in a neutral shade or a color that matches a color featured in the skirt's pattern to ensure a put-together finish.
4. Keep It Casual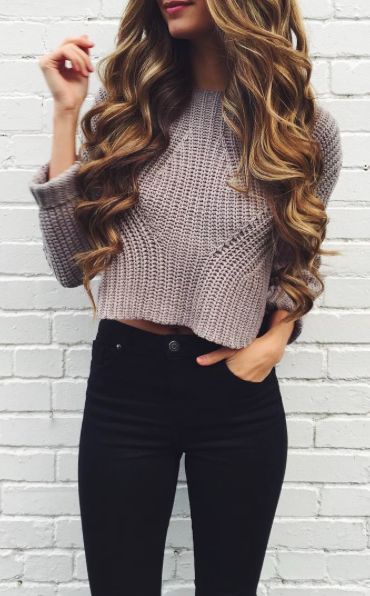 You can create looks with your cropped sweater that are simultaneously comfortable, casual, and trendy. Some of the most stylish and flattering of these looks are very simple; sometimes less is more.
Create a classic casual look by pairing a cropped sweater with high-waisted jeans. This outfit choice is obvious, but the fact that it's expected doesn't make it any less on-trend if you style it right. Choose form-fitting jeans that rise up to just below the bottom hem of your sweater. Wear distressed jeans to maintain balance and give a focal point to your outfit.
5. Create Contrast that Complements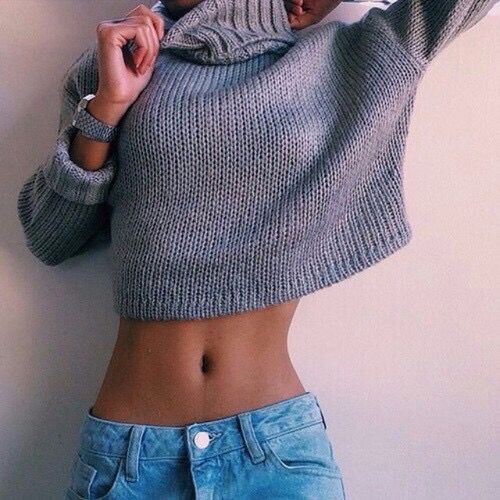 The square, baggy construction of cropped sweaters might seem unflattering at first glance. However, cropped sweaters can flatter your figure very well if you pair them with the right pieces.
Always make sure there is contrast in your looks that include a cropped sweater. Wear form-fitting bottoms to counteract the loose, baggy appearance of your sweater. Tight jeans and skirts make your legs look slim and shapely. When you're wearing jeans, add a belt. This accessory emphasizes your sexy curves and the contrast between your tight waistband and loose sweater makes your waist appear smaller than it really is.
6. Add Interest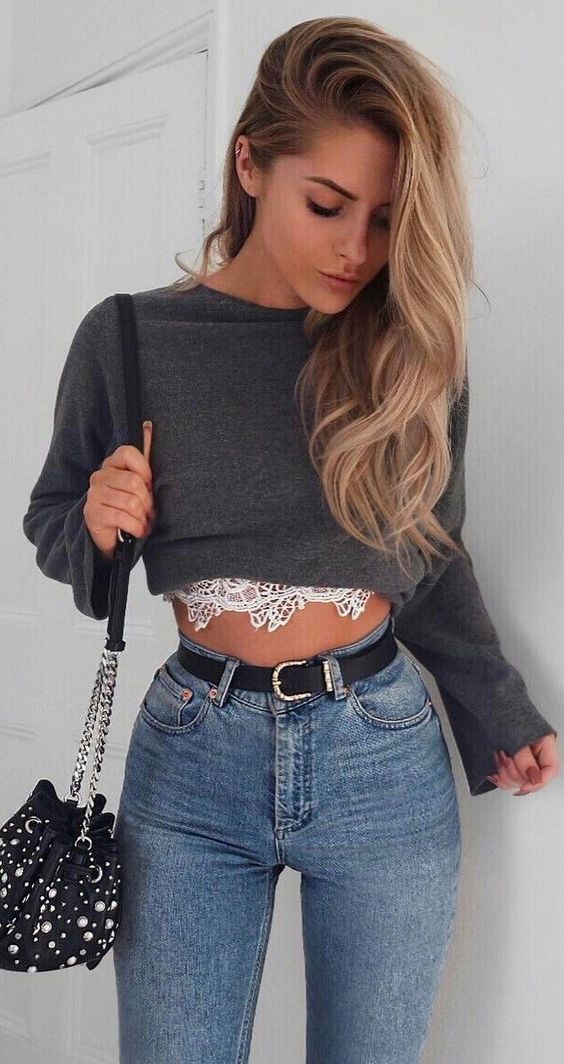 Adding interest to your cropped sweater outfits with accessories and other embellishments helps you maintain balance in your look and contributes to its stylish finish. There are many different ways to make the looks you create with your cropped sweaters more interesting and eye-catching.
Look for sweaters that feature patterns instead of solid colors. Patterned sweaters make your outfit more eye-catching. They also balance your look and prevent you from looking top-heavy or wide. If your cropped sweater is very short, try wearing a long-line lace bralette underneath it. The lace peeking out under the bottom hem of your sweater adds an unexpected delicate, feminine finish to your look.
7. Layer It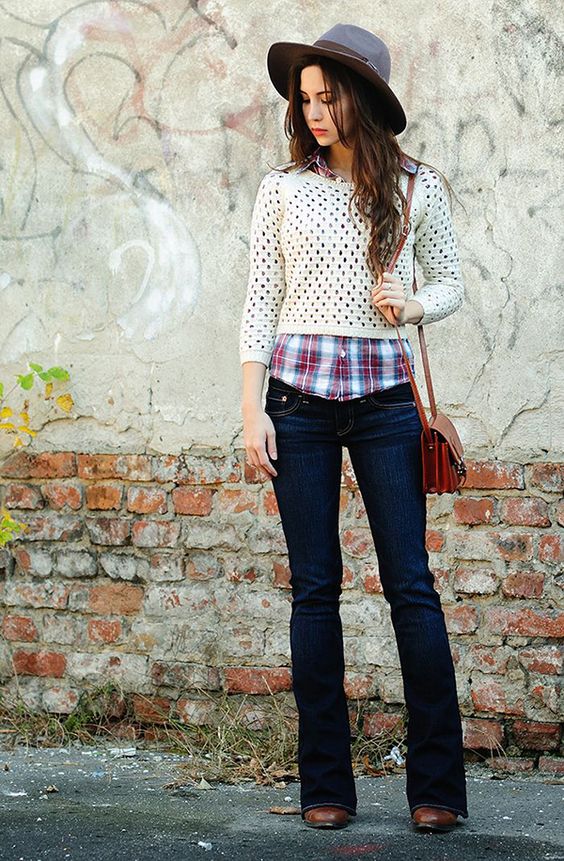 Because of their unique style, cropped sweaters work well for layering. Layering your cropped sweater adds dimension and interest to your outfits and allows you to create a wide variety of different looks using the same piece of clothing.
Layer a neutral cropped sweater over a long-sleeved collared button-down shirt and pair it with dark jeans for a clean-cut professional look. Or, try layering a cropped sweater over a flannel shirt to put an intriguing twist on a classic look. Pick a neutral sweater or one that coordinates with the colors in your flannel.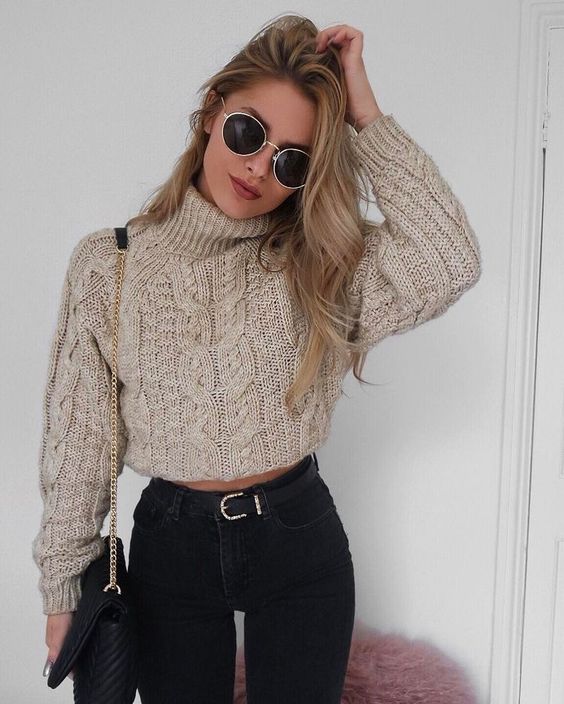 via
Cropped sweaters are fun, stylish, versatile, and comfortable; they're basically the ideal piece of cold-weather clothing. Use the cropped sweaters in your wardrobe to create some of the looks above to wear to a wide range of occasions from a day at the office to a holiday party.