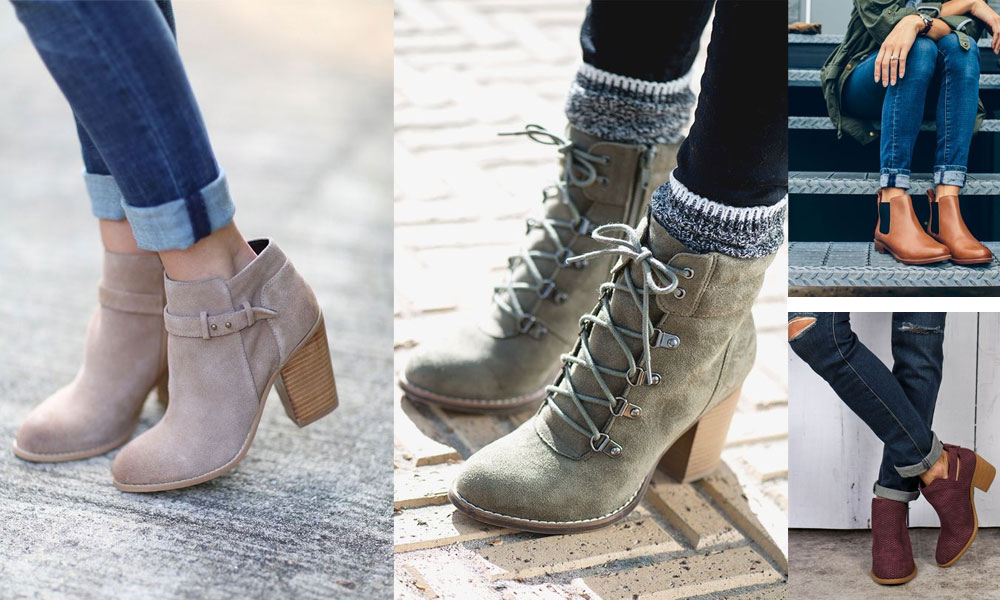 Ankle booties are a major trend in the current fashion world. While they might just seem like short boots that tend to make your ankles look wide, booties are actually a very versatile piece that look fabulous on anyone if you style them right.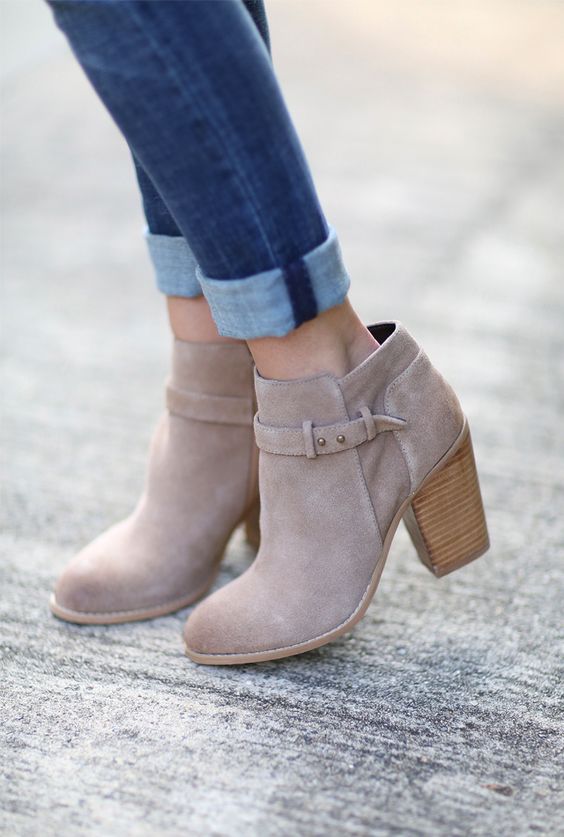 via
Fun, effortless, and trendy, booties are a great go-to piece to have in your closet. They add instant interest and style to almost any outfit and ensure that even the most drab looks turn heads on the street. Read on to learn how to style ankle booties strategically and creatively to create the trendiest eye-catching looks using some of the most basic pieces that you already have in your closet.
1. Go Monochrome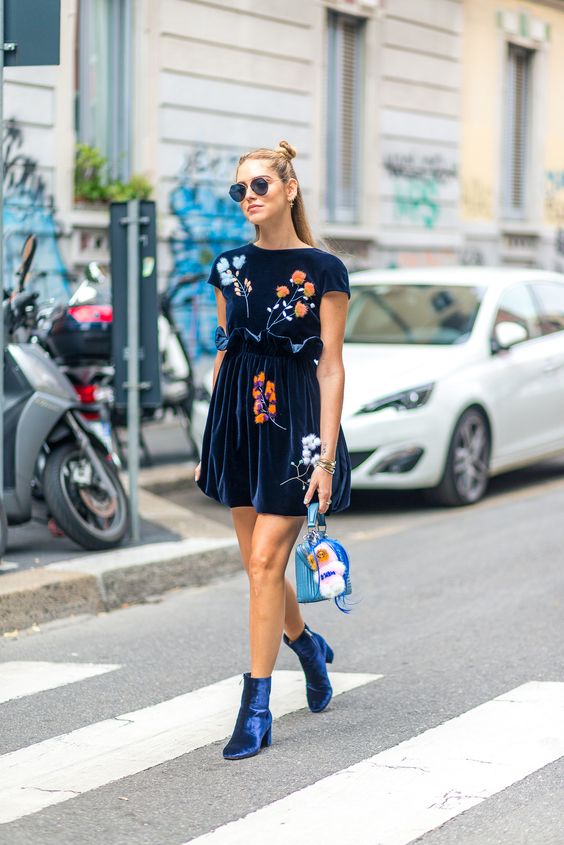 Create a trendy monochrome look with your ankle booties by pairing them with bottoms in the same color. Try distressed black jeans with black leather ankle booties and a faded black graphic tee for a sleek and city-chic finish.
To put an extra twist on the monochrome trend, try pairing your ankle booties with other pieces in the same color and texture. For example, try rocking heeled velvet booties with a matching short velvet dress. If you go monochrome, though, just make sure you accessorize to break up the matchy-matchy vibe. Try subtle accessories like delicate metal jewelry or a beanie in a completely different color.
2. Try Tights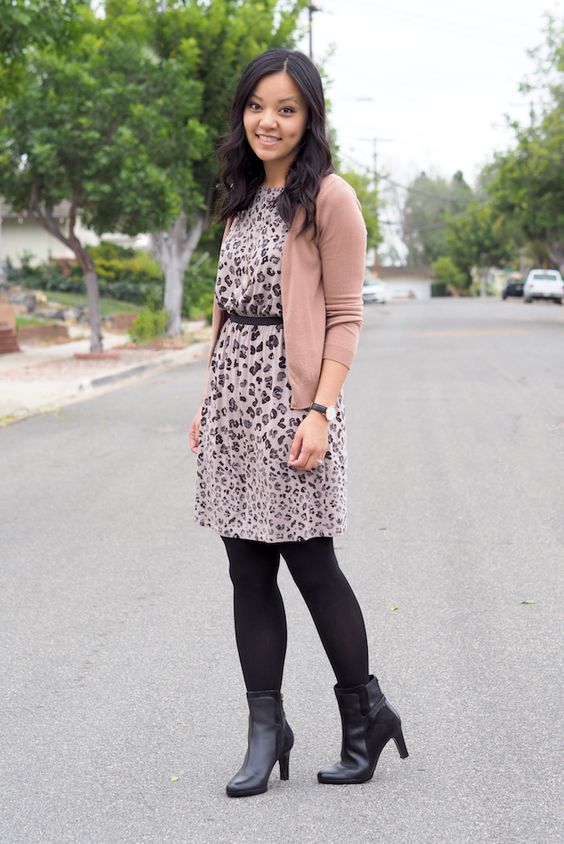 Tights and booties are the perfect pair. Many women don't want to wear ankle booties against bare legs for fear that they will have negative, distorting effects on the shape of their ankles and legs. If this is something you're worried about, just throw on a pair of your favorite tights.
When you wear tights with your ankle booties, you automatically create a stylish, streamlined look that appears instantly put-together. Pair the winning ankle booties and tights combo with a short skirt, fitted crop top, and an oversized cardigan for a trendy fall look. To create a more polished finish, wear heeled booties to add length to your legs and slim down your frame.
3. Find Your Style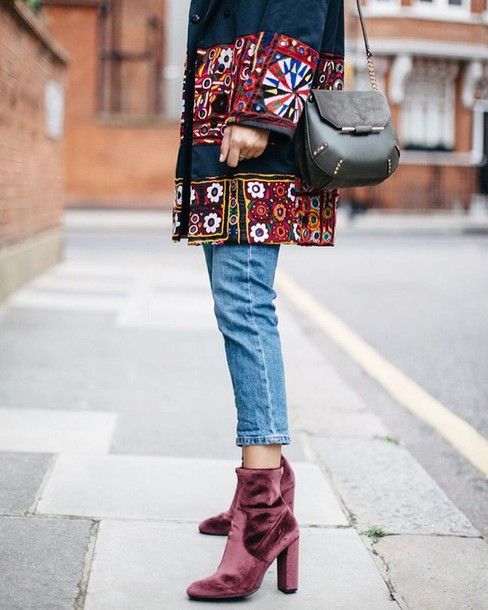 There are countless different types of booties, including high shaft, low shaft, pointed toe, peep toe, and many more. Every bootie style has a slightly different effect on how your legs and ankles look and on your look as a whole.
If you're worried about your ankles looking wide, go for low shaft booties with a wider ankle opening. These booties are less likely to squeeze your legs and make you look like you have cankles. On the other hand, if you have thinner ankles and don't want to look like you have stick legs, try high shaft booties that feature a smaller ankle opening. This style of booties help your legs look more streamlined. As for toes, go for pointier toes if you want to achieve a more professional or formal look. Save peep toes for fun, casual occasions like shopping or a coffee date.
4. Pick a Texture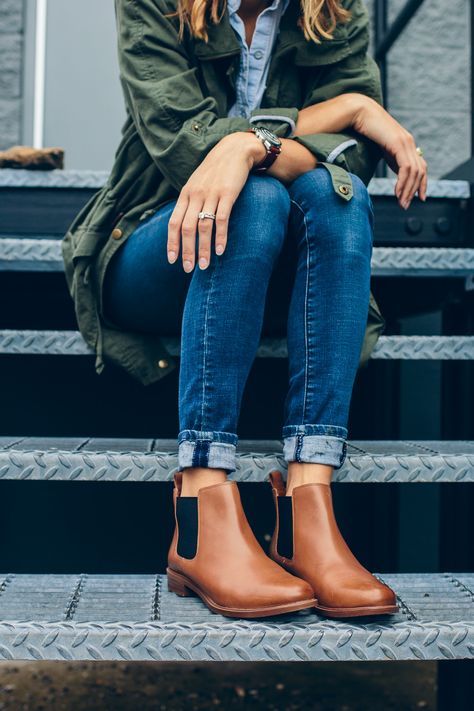 Booties don't only come in one texture. Leather, suede, and velvet are all popular textures for this style of boots. All of these textures are trendy and can be worn fashionably in a variety of different ways.
Leather booties are the perfect go-to shoe for adding a trendy twist to any look. They fit perfectly into looks with a city-chic or boho style. Try pairing leather booties with tights and a short dress to create a gorgeous fall look. Or, slip on brown leather booties underneath a loose-fitting maxi skirt for a boho look with an edge of country chic. Suede booties are surprisingly versatile. Wear them with anything from jeans and a sweater to a sleeved dress. As for velvet, save your velvet booties to wear as a focal point with a subtle outfit for a more formal occasion.
5. Rock Socks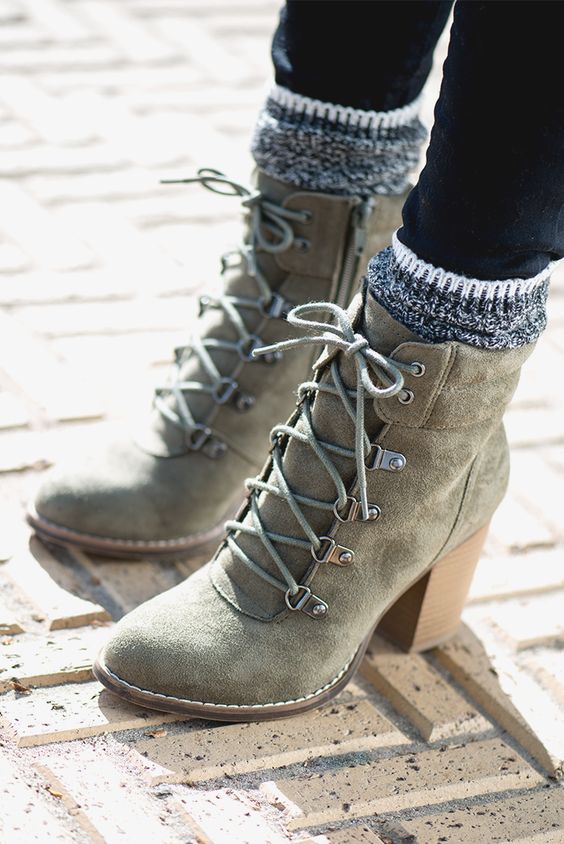 Socks with booties creates a unique look that is both trendy and whimsical. Pair knee-length socks with heeled ankle booties and skirts or high-waisted shorts. Pick socks that are patterned for a fun finish or with lace trim for added interest and femininity.
If you don't want to step out of the box and wear long socks against bare legs, try socks and booties against jeans or leggings. Scrunch long socks above leather booties and pair them with distressed straight-leg jeans and a button-down for a cute and casual finish. Or, pull mid-calf socks up over leggings and wear them with booties and an oversized sweater to look comfortable and carefree.
6. Wear a Skirt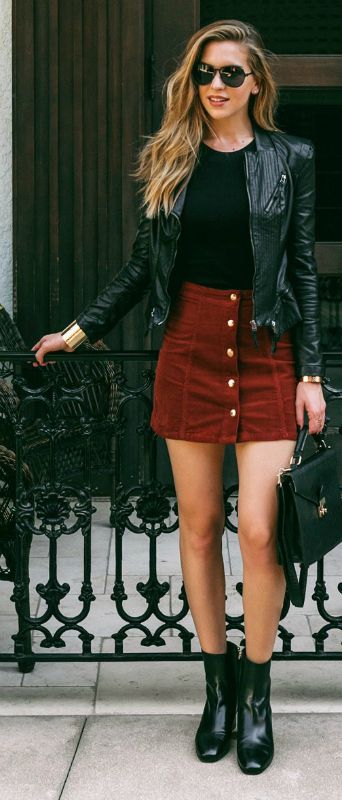 There are many different ways to wear a skirt with ankle booties to create a wide range of looks. Try pairing leather or suede booties with a mid-length A-line skirt. The fullness of an A-line skirt helps counteract any distortion that ankle booties have on your legs and ankles.
If you want to create a more polished yet chic finish, try high shaft velvet booties with a short velvet skater skirt. Pair this velvet combo with an oversized combo. The chunky knit of the sweater will offset the texture of the velvet to create a more carefree and balanced finish for your look.
7. Play With Height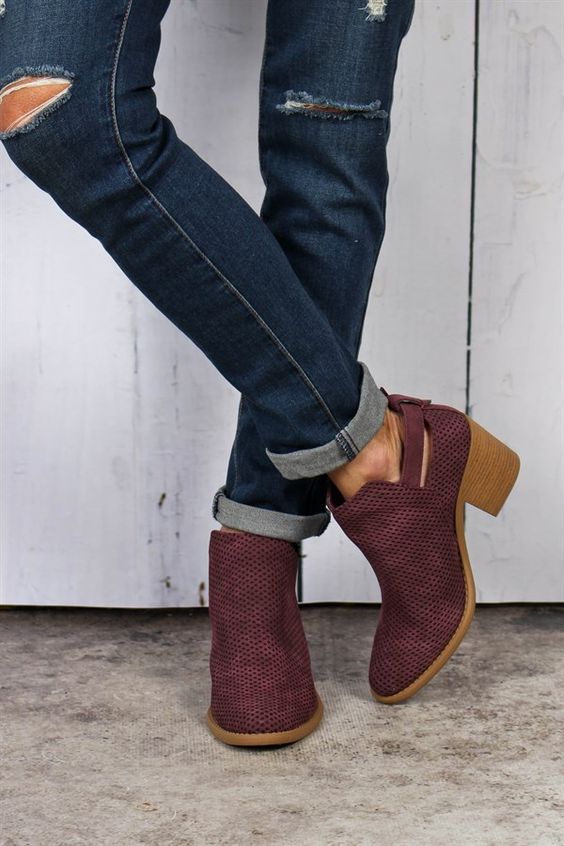 You have many different choices when it comes to the height of your booties. Pair flat leather or suede ankle booties with cuffed jeans and an off-the-shoulder blouse to create a casual yet sophisticated look that's perfect for a day at work or out with friends.
Wear block-heeled booties with a skirt or a dress for a lunch outing or a casual party. Stilettos almost always look formal. Save your tall, thin-heeled booties for a special occasion when you want to dress up your look.
Ankle booties aren't a luxury trend item. They're a timeless staple and every woman should have at least one (or two or three) pairs of them in the front of her closet. Invest in various styles and textures of ankle booties and see how they are able to transform your basic looks into instant trendsetters right before your eyes. Thanks for sharing this post on Facebook and Pinterest!