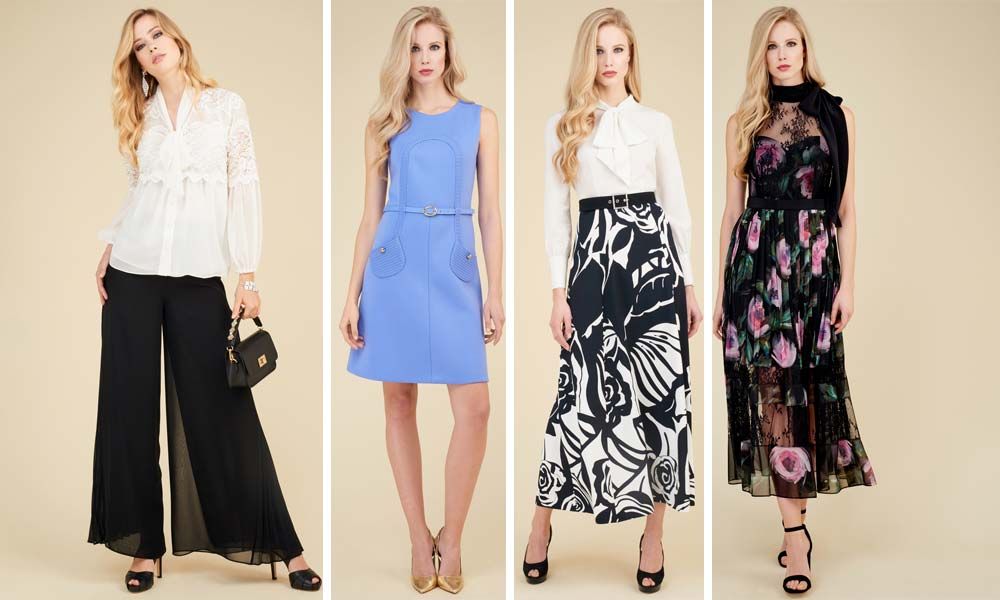 On days when you're feeling too lazy to put together a full outfit, a casual dress comes to your rescue and gives your look an effortlessly stylish finish.  Casual dresses also come in handy for events–think a coffee date or brunch out with friends–where you want to look pretty and polished without getting too dressed up.
No matter why you buy a casual dress, you're always glad to have it when an opportunity to show it off inevitably arises. Check out the list of luxury pieces below to discover the best ten top-of-the-line casual dresses that are sure to become versatile, well-used staples in your closet.
10. Lark & Ro Women's Cashmere Turtleneck Sweater Dress
Elegant and trendy, this sweater dress from Lark & Ro is the perfect casual dress for women with a sophisticated style and an affinity for comfort. Crafted from one hundred percent two-ply cashmere, the dress is soft to the touch and clings to your body to show off your sexy figure.
The line of buttons along the neck and shoulders and gathered long sleeves give this dress a delicate, feminine finish. The sweater dress is available in navy blue, pale gray, and classic black.
9. Marycrafts Women's Work Long Sleeve Pencil Midi Dress
If you're looking for a semi-casual dress to wear to the office, you can't go wrong with this pencil midi dress from Marycrafts. This dress works well as business casual attire, but it can also be worn to more carefree occasions like a holiday brunch or a baby shower.
Made from a blend of stretchy rayon, nylon, and spandex materials, this dress effortlessly conforms to your figure and shows off your curves with its pencil silhouette. It also features an elegant boat neckline and detailed pintuck seams that add interest and style. This dress is available  in more than twenty different colors ranging from black to turquoise to pink. Choose your favorite or stock up on several to give yourself plenty of options the next time a semi-casual event pops up on your calendar.
8. Chicwe Women's Plus Size Printed Maxi Dress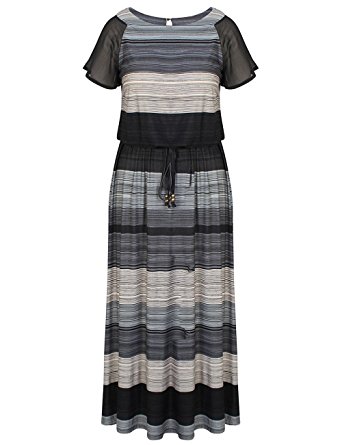 With a loose, flowy construction cinched with a stylish belt, this casual maxi dress from Chicwe is made to flatter plus size figures. The dress is very versatile, with a design that is both simple and trendy.
The neutral striped pattern of this dress is muted and low-key, which makes the dress a viable option for church, casual dates, and a wide range of other events. Despite its simple design, this dress is anything but boring. It features details such as a keyhole back and antique brass beads on its belt to keep its style interesting and fashionable.
7. Dokoto Women's Casual Half-Sleeve Belted Midi Dress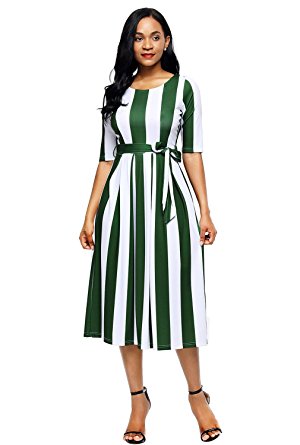 With a stand-out contemporary, city-chic style, this midi dress from Dokoto is the perfect choice for a casual party or a day out shopping.
Featuring a loose fit, crewneck, belted high waist, and bold striped pattern, this dress has a vintage style reminiscent of the 1950s. Despite its retro undertones, the dress fits in seamlessly with modern styles. It is available in several colors, including red, pink, blue, black, and green.
6. DesirePath Women's Sexy Casual Maxi Dress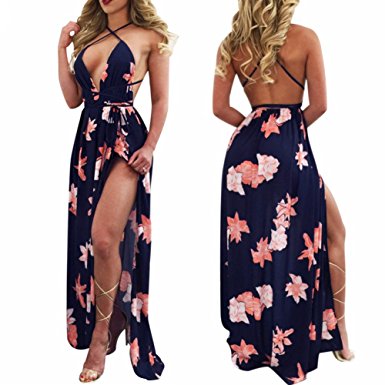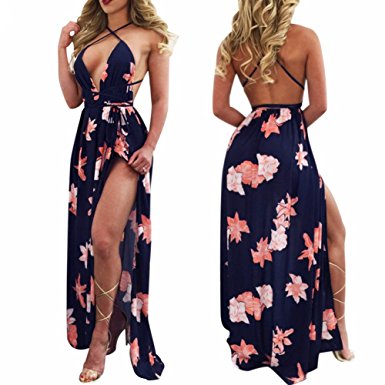 Look hotter than the weather in this sexy casual summer maxi dress from DesirePath. Everything about this dress effortlessly flaunts your figure and accentuates your curves in all the right ways.
The dress is made from stretchy fabric that clings to your figure and features snug-fitting romper shorts with a long, flowy skirt overlay. It includes a high slit, an open back with criss-cross straps, and a plunging V neck that shows off your bust. This dress is a fun and flattering choice for a vacation, nightclub, or semi-casual date. It comes in four different colorful floral prints.
5. Zeagoo Women's Floral Lace Party Dress

 
This simple, elegant party dress from Zeagoo is a versatile must-have item you'll find yourself wearing over and over again. It has a modest design but fits snugly to flatter your figure. This combination makes the dress appropriate for events ranging from a cocktail party to a casual wedding.
The dress includes a classic round neck, a full back, and 3/4 flare sleeves. It consists of a blend of stretchy polyamide and cotton, but features a floral lace overlay for an eye-catching, feminine finish. This party dress is available in multiple colors, including black, yellow, gray, pale pink, and several more.
4. ACEVOG Women's Polka Dot Vintage Tea Dress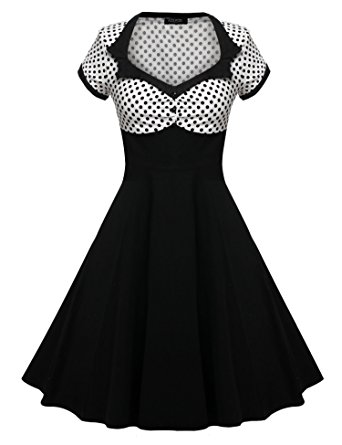 Show off the style of decades past in a trendy way with this whimsical vintage tea dress from ACEVOG. The dress has a retro design with a button-down collared neck, loose pleated skirt, and high waist.
The bust of the dress is tight and low-cut to show off your cleavage. It features a cheerful polka-dot design that contrasts nicely with the dress's solid black skirt. This polka-dot pattern comes with four color choices: white, black, light blue, and dark blue.
3. HIKA Women's Casual Round Neck Dress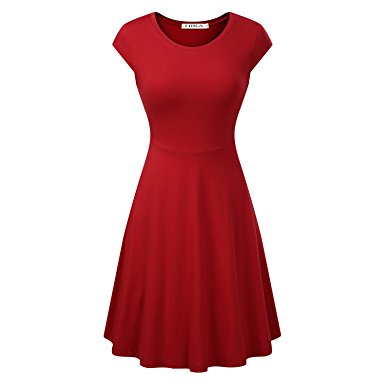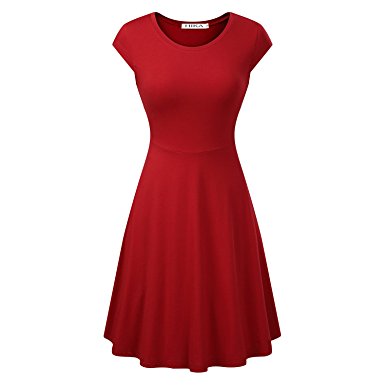 Look put-together and feel comfortable at the same time in this effortlessly stylish, casual dress from HIKA.
The dress has simple features–a round neck, short cap sleeves, and a loose skirt–with an excellent, flattering fit and a polished finish. It is crafted from soft, breathable spandex and cotton material and comes in several solid colors that range from dark green to bright yellow to pure white.
2. Zalalus Women's Spaghetti Strap Bodycon Party Dress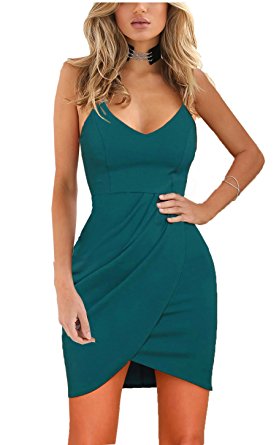 This bodycon party dress straddles the line between casual and semi-formal. Its ambiguity makes the dress a versatile option for clubbing, a dinner date, or a cocktail party.
With a slim, snug fit, this bodycon dress accentuates your curves and its low, rounded neckline shows off your bust. It falls to your mid-thighs and features an asymmetrical slit that contributes to its elegant, modern style. The dress is available in five solid colors: black, blue, teal blue, purple, royal blue, and dark red.
1. OFEEFAN Women's Cold Shoulder Tunic Swing Dress
Feel simultaneously casual and stylish in this trendy tunic swing dress from OFEEFAN. The dress features a relaxed tunic style, a flattering round neck, and short ruffle sleeves for an eye-catching finish.
With its laid-back, trendy style, this dress is a fashionable, carefree addition to your wardrobe. It comes in more than ten colors, including black, purple, pink, white, orange, blue, and several more.
If you're in the market for a high-quality, trendy dress for any casual occasion, look no further than this post featuring the best luxury casual dresses the modern market has to offer.