What to Wear with a Blazer – Female Fashion Right Now!
The blazer is a special kind of jacket based on men's naval uniforms from hundreds of years ago. These days blazers are more varied than in previous times, but the main definition is that it looks like a suit-jacket, but it's cut in a more casual style. So when you're wearing a blazer, you're adding a touch of semi-formal chic to your outfit and that makes for a classier look.
Fashion is undergoing a big change right now, with skinny jeans and leggings being joined by flares, boot-cut, straight-leg, wide-leg and high-waist trousers. So you may feel you need some advice on what to wear with a blazer this season to make sure you look your very best!
Autumn and winter are the time to wear dark colored jackets, which now include the latest, plain gray and fabulous gray-plaid blazers. Fashion is starting to move back to the 80's idea of oversized clothing and a gray-plaid blazer with a black wool jumper will look smart with blue jeans and black combat ankle boots. But there are so many fantastic, new colors and designs for the women's blazer that we need to take a look at each one to see what to wear!
Latest blazer colors for women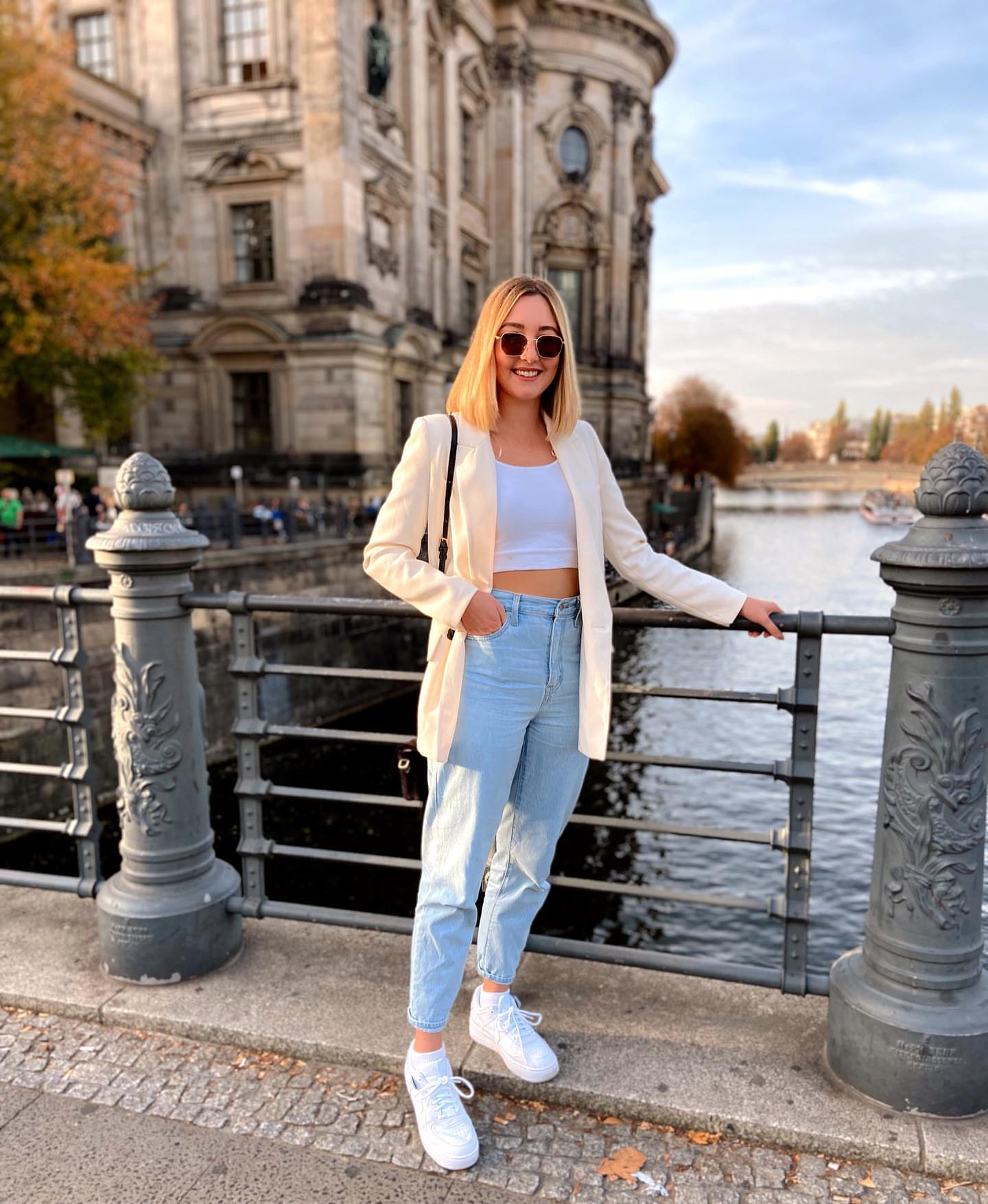 As jeans are so popular, it's no surprise that one of the most popular color trends for women's blazers this season is a cool blue in lots of different shades. So for winter that means the darker blue blazers, but looking forward to spring and summer the hottest colors will be:
Lemon
Orange
Aqua
Soft light gray
Plaid patterns
Light mustard
Cool light green
Oxy-fire – orange and bright red blend
And there'll also be a wider range of strong colors including:-
Blush
Mauve
Medium gray
Vermilion red
Tobacco brown
Color 'mix and matching' for blazers
Remember that orange is a complementary color for blue on the official Color Wheel, so an orange blazer will match with blue, black and gray jeans or pants for a casual, but super-trendy look. And there's a definite trend for bringing back the 70's fashion for wearing orange and indigo-blue or purple together.
So if you wanted a stand-out outfit for a special occasion, try an orange blazer with matching trousers, with a purple silky T-shirt and purple shoes.
Hot leather blazers
Great quality faux leather blazers are on offer right now and there'll be far more to come soon. They instantly add style and class to any outfit and you can have just one black leather blazer or experiment with the fabulous brightly colored blazers that are incredibly stylish!
Vintage – if you love 'vintage' look, look for an over-sized faux leather blazer.
Peplum – peplum leather jackets have a flared section around the waist, for a retro 80's look with boyfriend jeans.
Bright colored – faux leather blazers are a futuristic new trend that's extra-stylish.
White – faux leather blazers are a neutral color you can wear any season with lots of different colored trousers and skirts.
Classic – A classic black leather blazer will be a garment that can be formal with matching pants or a leather skirt. Or it can be worn for casual activities with all the new styles of blue jeans and a white shirt of T-shirt.
Oversized blazers for 80's style
Go back in time to the 80's and sport an over-sized blazer over a fancy bra or bra-top. This look is 'cool' and cool in a hot nightclub. Make sure your bra top is in a color that stands out from the blazer; say a red or purple top under a black jacket. Or stick to classic black top with light-blue jeans.
Buttercup blazers for town & country
Buttercup blazers are varied and sometimes quite experimental, so they are popular with a wide range of fashion fans.
This gorgeous, figure-flattering tweed, Buttercup blazer is a single-breasted jacket. It has a short and fitted cut, plus 3-buttons and 3 faux pockets. You can wear it for town and country activities, styled with tobacco brown turtle-neck tops and pants for office wear or over a plain shirt and boyfriend jeans for country wear.
Casual open-front blazers in bright colors
Open-front blazers look more casual as they don't have any buttons and they are more comfortable for women who are plus-sized or have a large bust. They are cooler and suitable for summer wear with jeans, skirts, long shorts, jeggings and a cropped top. Wear with white trainers to complete the look.
How to Style Cut-out blazers
If your style is Boho or experimental, there are lots of new ideas from young designers on offer this year. Blazers with cut-out sections are a big trend-setter and very contemporary.
You can wear them with the cut-outs showing your skin underneath, like cut jeans. Or liven things up with a brightly colored top to add fashion style to a black blazer. This style looks trendy with skinny jeans, trousers, dresses and skirts. Or wear with a white shirt for a smart look.
Extra-long blazers in light colors
Extra-long blazers can also be single-, or double-breasted, and drape down to just above knee-level. They can be in trendy pastel or bright colors and look like light, summer coats. They are perfect for spring and autumn, when you need a little more warmth around your legs. And the extra-long blazer looks super with jeans, T-shirts, dresses and shorts.
Casual unstructured blazers
Unstructured blazers are made with light, flowing fabrics that are pretty and feminine. They can be worn with girly top such as lacey camisole tops, silky tops, bra-tops, skirts and jeans.
These blazers have a long V-neck that makes them a great style choice for women with a large bust, because you get plenty of room around the chest. They also suit plus-sized women well as the length comes down to cover the hips and the single button is placed just below the waist, giving a longer look to the body. It's a semi-formal blazer that can be worn as a pants suit with matching trousers.
Or you'll get a relaxed style with jeans, pants, skirts, dresses and curved-neck sweaters, T-shirt tops or a dressy blouse.
Smart belted blazers
The belted blazer is always a classic look that can be casual or formal depending on the blazer. You need a fitted tweed blazer with enough length to take a belt. And the leather belt can be wide with a large metal buckle, or narrow, depending on your figure. Tweed has a lovely texture and its own classic style, but it matches well with trousers in the same general color or with blue jeans.
Jazzy plaid blazers
It's been a long time since we've seen plaid blazers on the fashion runways, but they're a huge new trend for this year. We love them for their variety which ranges from classy, gray plaid to crazy green and red patterns. They are a hot outfit to wear in the office, and match really beautifully with white shirts and blouses, classic trousers, pencil skirts and various jeans styles.
Crepe fabric blazers for summer
If you like an elegant blazer to wear on a cool, summer evening, but nothing too dark or formal, look out for the crepe fabric blazers in pretty colors. Crepe is a fine fabric that drapes perfectly, so it's smart and comfortable to wear.
Deep-cut blazers with wide lapels
This blazer has a deep-cut front with wide lapels and no buttons, so you wear it as a casual, open jacket. You can slip it on at any time of the year, as it's cut long enough to cover the top of the thighs. It suits plus-sized women well as the deep V-front elongates the body shape and the loose fit is always comfortable to wear.
Sassy sailor-styled blazers
The sailor-blazer in white mimics the white uniforms worn by staff on cruise ships and has a slightly different design from most blazers. It's often worn with a jaunty, sailing cap, a blue, white and red neckerchief and a striped blue and white, or red and white T-shirt top. It's a smart look popular with women over 40, but you can give it a modern twist by wearing it with non-traditional high, white leather knee-boots or ankle boots!
Elegant bolero blazers
Like the short, Spanish bolero jacket worn by male flamenco dancers, this elegant jacket is the shortest cut blazer. It's great for petites and perfect for a semi-formal evening dinner party. Bolero blazers look fantastic with streamlined trousers, tightly fitted dresses, V-necked sweaters and gold jewelry.
Edgy asymmetric blazers
Asymmetry has been fashionable for a few years now and it always adds edge to hairstyles and garments. The asymmetric blazer projects a Boho or artistic image and gives you an attractive and original look when worn with textured trousers, a leather skirt or jeans. Keep your top plain to show off the asymmetry.
Updated denim blazers
The denim blazer should already be a part of your casual wardrobe as it's incredibly versatile and matches almost all clothes well. Bring you denim blazer up to date with high-waist jeans, flared and bell-bottom jeans and new season shirts/T-shirts for a fabulous new look.
Cute lace blazers
And this year we even have lovely lace fabric blazers that create a trendy and feminine look for hot weather, formal occasions. They look great with a plain skirt or semi-formal trousers for summer-evenings and wedding parties!
Double-breasted blazers for women
The traditional double-breasted blazer has at least six buttons and may have metallic buttons for extra class. They are absolutely indispensable item for your fashion wardrobe as they look great with most pants and skirts. This kind of blazer looks good almost with everything. But if you want to look really contemporary, choose a blazer in a bright color that will mix and match with your other fashion clothes.
For summer wear you can match a double-breasted blazer with wide-leg trousers and culottes, girlfriend jeans, flared jeans/ trousers, skinny jeans, biking shorts, midi- and mini-dresses, ripped boyfriend jeans, V-neck woolly jumpers and turtle-neck fine-knit tops!
And here are more blazer outfit ideas for women, enjoy. Subscribe and get more new outfit ideas and fashion suggestions on herstylecode.com