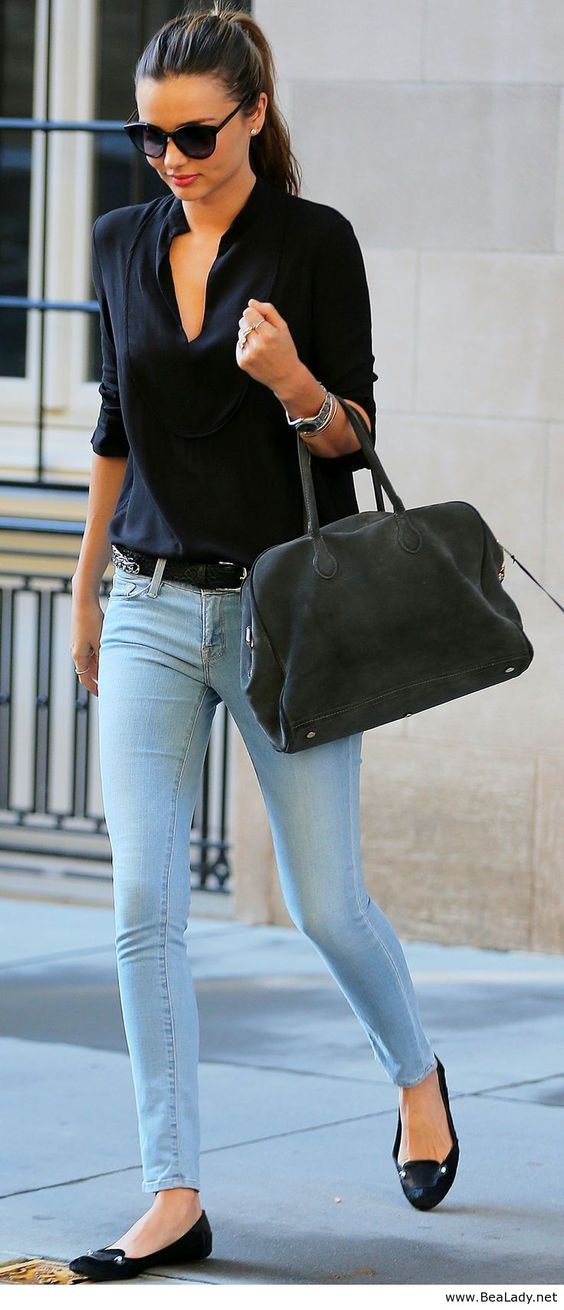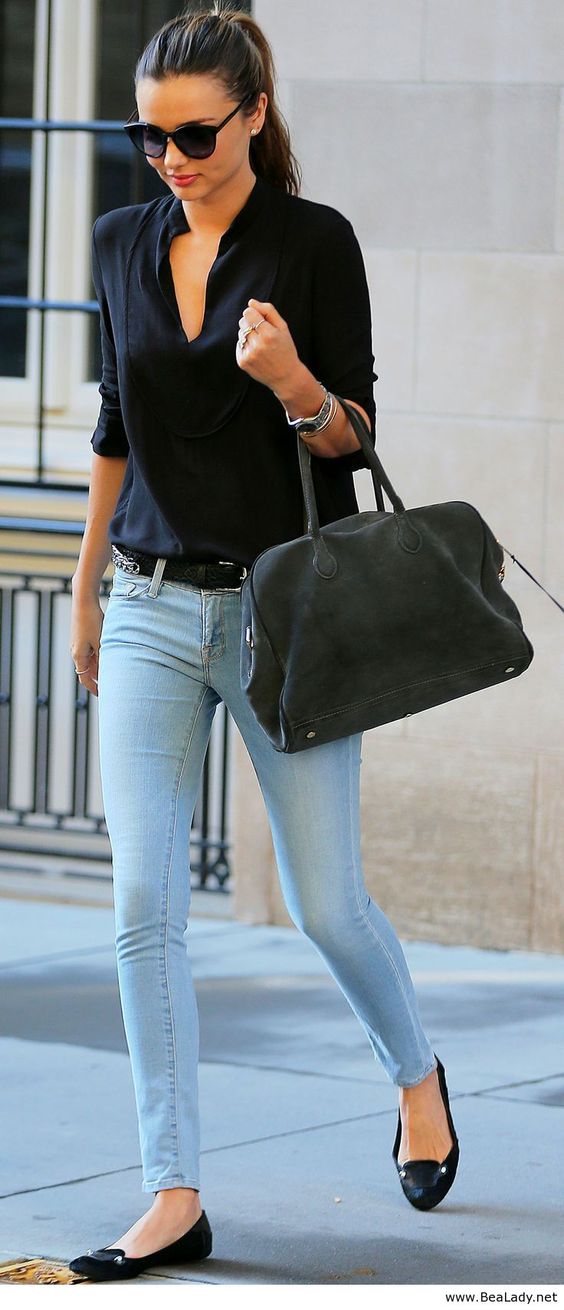 Skinny jeans and flats are both wardrobe staples that every woman should have in her closet. It makes sense that these classic, timeless pieces should be paired together. However, mixing skinnies and flats is not as simple as it might seem. It can be difficult to combine skinny jeans and flats in a way that is flattering, stylish, and interesting. However, it's definitely not impossible. There are many ways to rock skinny jeans and flats together to create a flawless, streamlined finish for your look.
1. Get Professional

Skinny jeans and flats are both pieces that are widely considered to be components of a casual outfit. The general consensus is that if you want to dress up an outfit, take jeans out of it and add heels shoes. Contrary to popular belief, however, skinny jeans and flats are a great start to a professional outfit that is appropriate for anything from a business meeting to a parent-teacher conference to a regular day at the office.
Use skinny jeans and flats as your simplistic base for a professional outfit. This pair creates a simple, streamlined foundation to which you can add other pieces to professionalize your look. Combine solid ballet flats with high-waisted black skinny jeans and a slim-cut blazer. Or, pair a lacy sleeved blouse with flats and dark navy skinny jeans for a more casual finish that still looks polished.
2. Don't Be Afraid to Cuff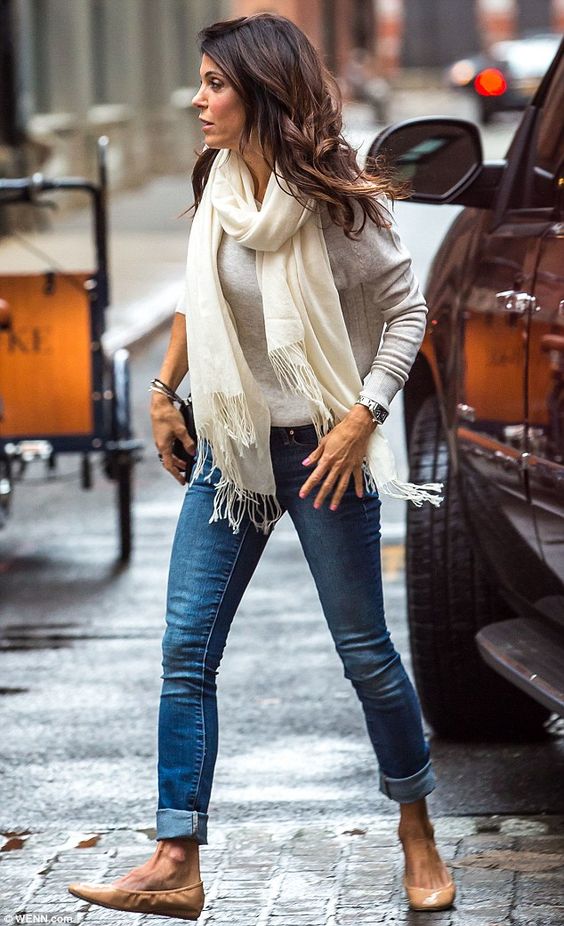 You probably spent most of your life hearing that cuffing your jeans is a big no-no. This is actually a very outdated style tip. In many cases, cuffing your jeans is perfectly acceptable and often helps skinny jeans and flats pair together more smoothly. One of the biggest problems with skinny jeans and flats is that the jeans tend to bunch up around your ankles and look bulky. If this is the case with your skinny jeans, try folding them up about one inch until they rest comfortably around your ankles without bunching.
If your flats are strappy, chunky, or bulky in any way, try cuffing your skinnies to create a bit of balance and make sure the focus is not all on your feet. Fold the bottoms of your jeans up twice with approximately one-inch folds. Make sure that your jeans do not rest higher than your low-to-mid calf and that your folds are even on each leg.
3. Consider Your Options

There are countless different types of flats out there. Don't think that only a certain kind of flat shoes work with skinny jeans. Skinnies create a seamless and streamlined look. They complement a wide variety of flats from sleek ballet flats to chunky gladiator sandals.
If you want to wear sleek or simple shoes like ballet flats or uncomplicated sandals, pair them with unripped, full-length skinny jeans to maintain a streamlined finish for your look. However, if you opt for more complex flats like strappy sandals or gladiator sandals, make sure you add some interest to your skinnies so that your look appears well balanced. Pick cropped skinnies, cuff full-length jeans, or buy some that are distressed.
4. Balance It Out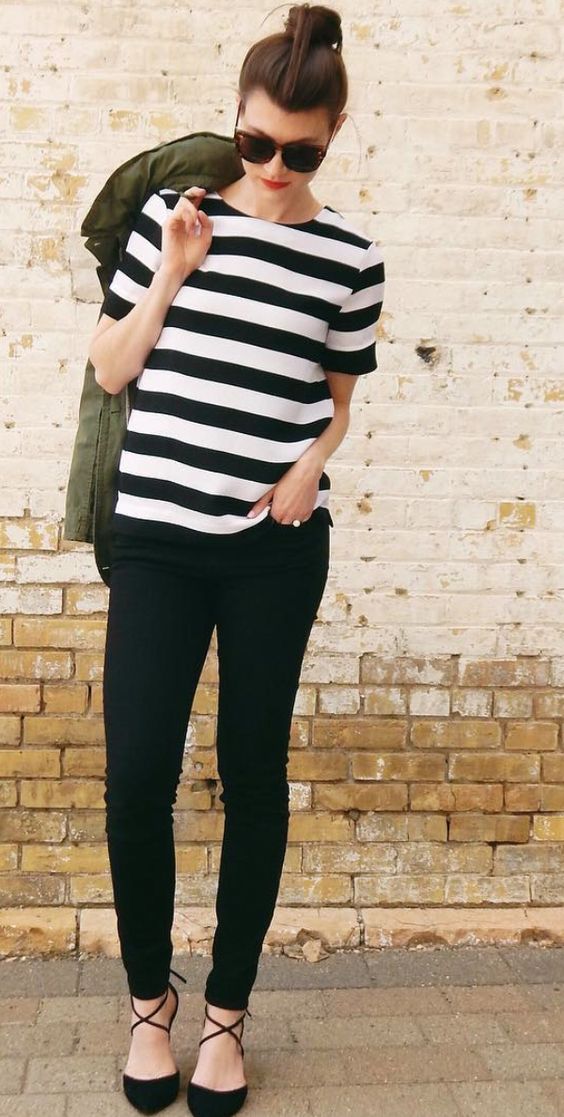 Skinny jeans and flats are a slimming combination. They create a very streamlined look. While this is a big benefit of the pairing, it's also important to balance out your look as a whole so that you don't appear too straight and shapeless.
A great way to add balance to your look is to add some interest up top. Try an oversized denim jacket, a long sweater, or a loose cardigan. Just make sure that you don't incorporate too much bulk around your torso or you'll end up appearing top-heavy. Avoid this top-heavy look by wearing a tight shirt underneath looser outerwear to keep your natural shape visible.
5. Make a Focal Point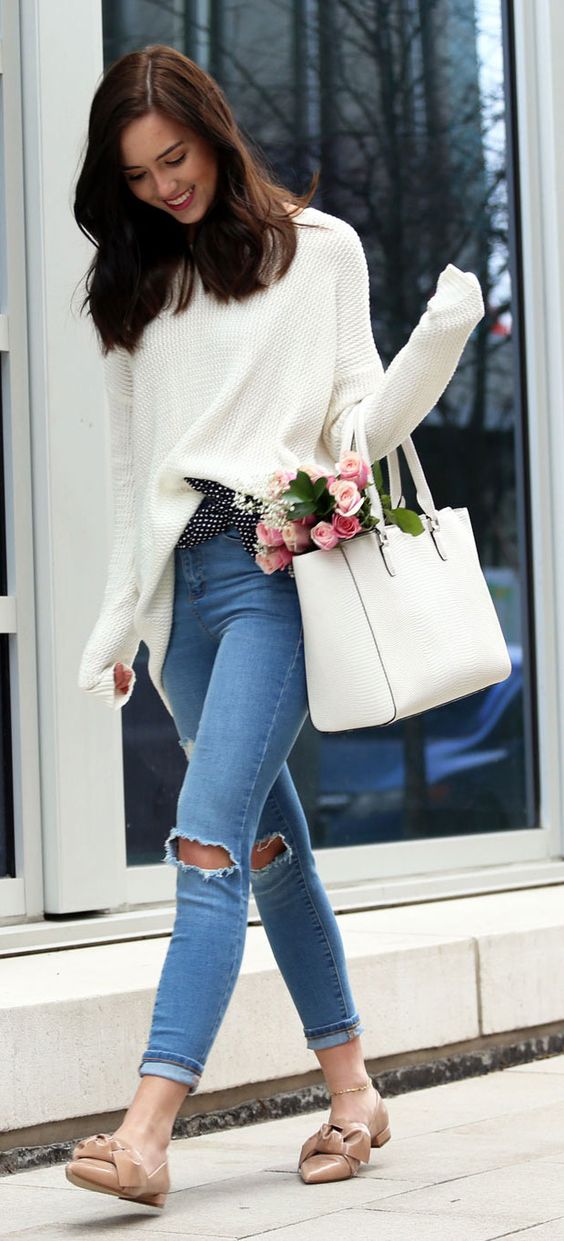 Skinny jeans and flats create a great foundation for your outfit, but they're a pretty simplistic combo by themselves. Unless your shoes are super unique or interesting on their own, you need to add a focal point to your look to steer it away from drab and dull territory.
Try adding brightly-colored or textured accessories to your look in order to create an eye-catching focal point. Pair your skinnies and flats with a long, pendant necklace, a fashion scarf, or a set of chunky bangles. If you're not interested in accessories, try a flattering top with an out-of-the-box neckline like a cowl neck.
6. Dress For The Occassion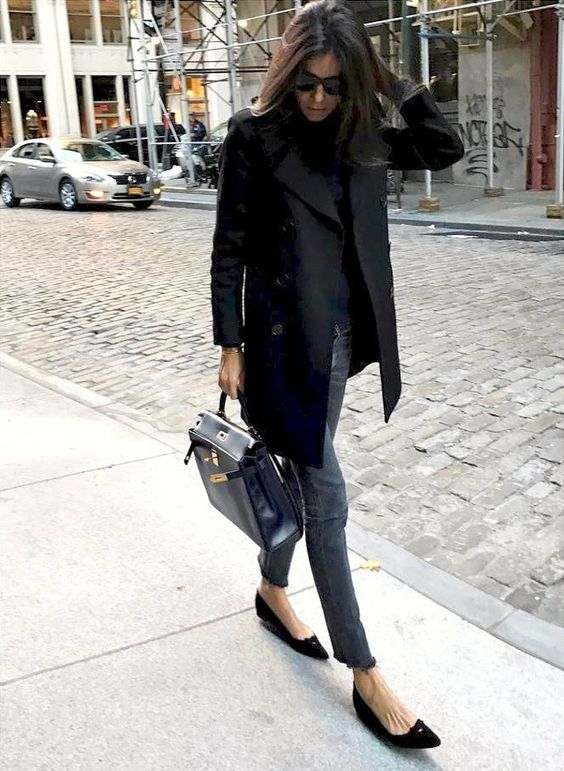 Skinny jeans and flats are a great start to a look for almost any occasion. This combination works as an outfit foundation for any event from a social gathering to work to everyday errands. You just need to add different components to complete your look depending on your plans.
If you're heading off to work, pair dark skinnies and ballet flats with a polished, patterned blouse or blazer. For everyday activities like errands or meeting a friend for lunch, go casual with lighter distressed skinny jeans, strappy sandals, and a loose-fitting T-shirt. For a social gathering or small party, create a laid-back and flattering look by dressing up your skinny jeans and flats with jewelry, a scarf, or other accessories.
7. Add Some Interest

Don't be afraid to pair your skinny jeans with unique flats that include fun colors or textures. In fact, unique flats go very well with skinny jeans. The simplistic nature of skinny jeans offsets and balances out more interesting shoes and prevents your outfit from looking too busy or overcrowded.
Experiment with different types of flats. Get out of the box of neutrals and buy some in bright colors or patterns. Don't be afraid of sandals with complicated straps or textured detailing. Remember that there is no reason that flats have to be boring or practical. They can be fun and stylish, too.
Skinny jeans and flats together are anything but a boring combination. They are a simplistic duo, but when you pair them correctly, they create a stylish starting point for a wide variety of eye-catching looks that will quickly become some of your everyday favorites.