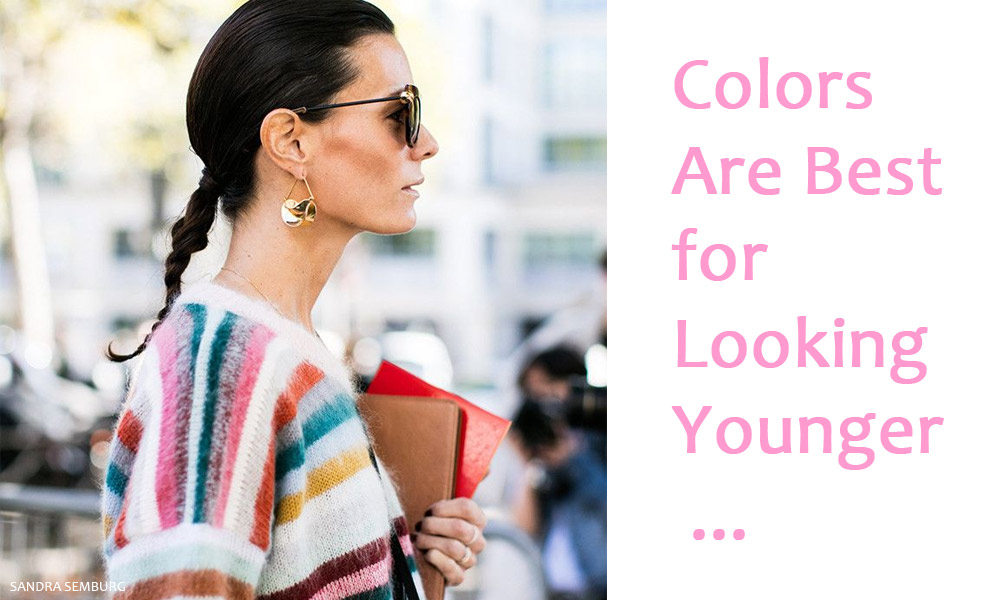 In the past, grandmothers always stuck to dark colors in printed fabrics, hence the phrase, 'granny prints' to describe dark, patterned fabric. But these days, mature women are healthier and more active, so we want to stay young looking as long as possible! And the first rule of choosing colors to make you appear younger is to ditch the dark shades.
Ditch the dark colors
In particular, black or navy blue against the face is ageing, as it absorbs light and accentuates facial wrinkles. Obviously, black is one of the most popular core colors in our fashion and work clothes, but you can start by switching to dark-gray or dark-blue to move your wardrobe away from too much black.
Add scarves & white collars
And if you do still have black sweaters or blouses you can't just throw away, add a lovely bright scarf in a color that complements your individual skin-tone. Or a large, bright necklace will add the brightness to offset a dark top. Another great idea to pep up the dark items in your wardrobe is to buy individual white or cream collars and sew them around the neck of tops and dresses. This will reflect light up onto your face and make you appear younger and trendier, too!
Brighten up
As we age, the colors on our face fade and so adding brighter colors to your image winds the clock back remarkably well. The best colors to wear to look younger are lighter or brighter colors, that reflect light up onto your face to reduce the appearance of wrinkles and add a warm glow to your skin. Fortunately, the scientists have researched which colors create a younger image and here are some of the best ones to wear.
Red, pink & purple shades
Red with a touch of violet is a good choice for women past 40 years of age. So look out for clothes that range between fuchsia and raspberry to get the youthful effect. And if you don't feel ready to wear a bright red, pink or purple coat, blouse or dress, wear a scarf, necklace or bracelet in one of the colors. Look out for unusual 'Boho' print blouses, wear spots and especially horizontal stripes with a white background for a fresh, summery look. You'll look younger and fresher if you add a touch of color to skin-flattering ivory, cream or pale beige.
Turquoise, lemon, green & coral
Another youthful color is turquoise in all of its different tones. It's a color that tends to suit most skin undertones and it's found naturally on white beaches with aquamarine seas lapping on the shore. It conjures up images of lively, natural outdoor spaces and adds lots of life to your outfits. And bright colors like deep coral red, lemon and mint in simple clothes will liven up your look tremendously. Make sure you wear jeans to show you're young at heart and team them with a bright top to emphasize your fun side.
Choosing the right shade of a color
Look at the color wheel and choose colors that suit your warm or cool skin undertones and your hair color. Women have warm, cool and neutral undertones to their skin, and you can check which you are by your hair and eyes, or by checking what color the arteries in your wrists appear. So very generally, brunettes, golden-blondes, red-heads and anyone with the slightest gold or copper tone in their brunette hair will usually have warm skin undertones. Women with brown and honey-colored eyes are usually 'warm', too.
On the other hand, blue, green and black eyes often have cool undertones to their skin. And those with naturally pale blonde hair or coffee-brown or black hair usually have 'cool' undertones. If you look at the blood veins in your wrists, 'warm' skin types appear to have green veins, and 'cool' types appear to have blue blood. Cool skin types look great in pastels and bright blue shades, but not in warm, orange colors.
Classic patterns
Some patterns are classics, but still youthful. So wearing a simple, French-style striped top can call back images of the young Brigitte Bardot. Look for narrow horizontal striped tops with a white or cream background and avoid wide stripes, as they remind people of rugby shirts on beefy men! And spots on a white background also look fresh and playful. Resist the urge to buy a T-shirt featuring the face of a beautiful young woman, as it will only emphasize the fact that you look older than your T-shirt.
General tips
To look more youthful, avoid the common errors that some mature women make. For example, if you have put on some weight and no longer fit into a 'favorite' top, don't keep on wearing it! Tight clothes just emphasize your middle-aged spread and that's very ageing. Instead of a tight-fitting jumper and a long scarf to try and hide the fact that it's too tight, look out for fashionable, plain long-sleeved dresses. And either stop wearing cardigans altogether or buy fashionable shorter cardigans instead of the generic long, shapeless cardi beloved of older people in general. Wear sweat-shirts in bright colors with jeans instead and project a more positive and youthful image!
Ditch the old rules
Wear natural fabrics with a smooth surface that skim your body, and avoid fabrics like tweed with noticeable ridges or texture as this always makes your silhouette look larger and outdated. Don't stick to the old fashion rules, such as matching the color of everything you wear. This instantly marks out your age-range and looks old-fashioned. Overall, go for brighter, more adventurous colors, and move right away from the traditional granny colors of black, beige and gray.
Be confident
Think back to the colors you used to enjoy wearing and don't hold back in trying them again. We were all brain-washed into thinking that older ladies had to be less noticeable and sort of shrink into the background of life, but it's not true! Show your inner vitality in the youthful colors you choose, and present yourself to the world as a confident and positive woman just approaching her prime!