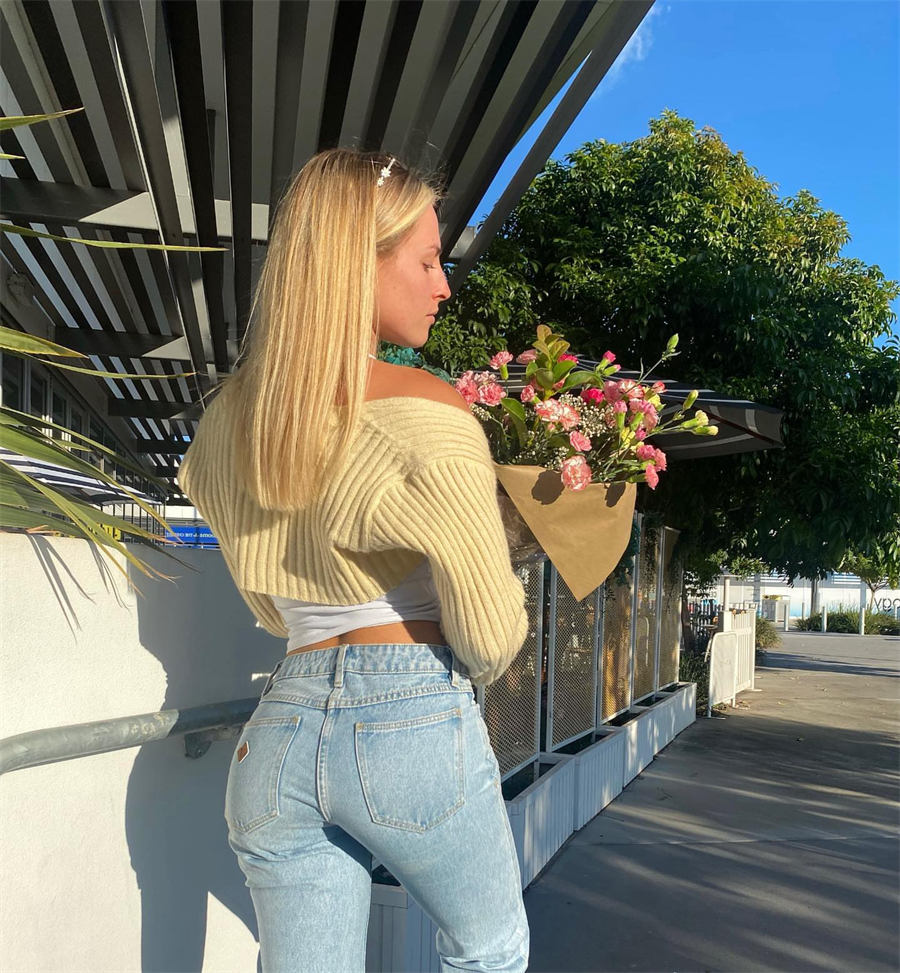 Jeans, an iconic wardrobe staple that transcends borders, cultures, and generations, have remained a timeless piece in the fashion world. Today, they come in an array of cuts, styles, colors, and fits, making them an incredibly versatile item that can accommodate every woman's body type, personal style, and occasion. In this article, we delve into the varied world of women's jeans, exploring the unique characteristics of each type, along with some style tips on how to wear them, and suggestions for the most suitable body type and occasion.
The fascinating journey of jeans began in the 1870s with the invention by Levi Strauss and Jacob Davis. Initially, jeans were considered workwear for miners and laborers due to their durability. However, over time, they've transformed and evolved, becoming a significant part of our fashion lexicon. With the advent of new designs and technologies, jeans have been redefined and reborn in many forms, each one capturing the spirit and trends of its time.
Whether it's the rebellious ripped jeans of the rock n roll era, the high-waisted "mom jeans" that reminisce the 90s, or the modern, sleek lines of skinny jeans – each type has its unique story, fashion ethos, and style statement. The choice of jeans can speak volumes about one's style, personality, and mood.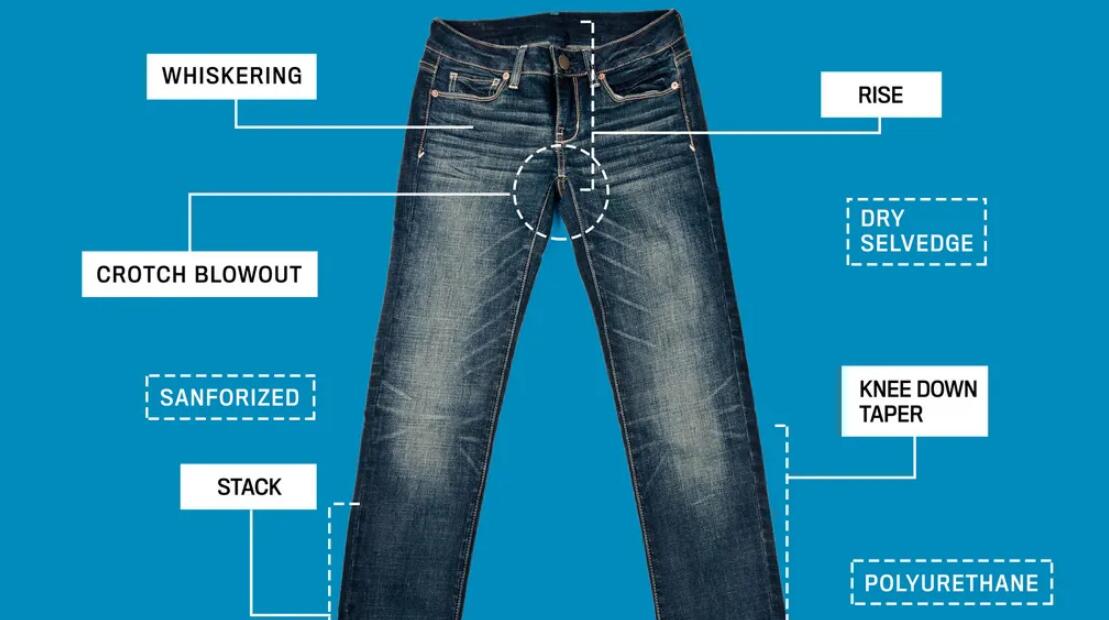 In this comprehensive guide, we will walk through different styles of jeans, deciphering the features that set them apart. We'll explore how to perfectly pair them with other clothing items to achieve a certain look, whether it's casual, elegant, edgy, or chic. Further, we'll discuss which styles best complement different body shapes, from pear to hourglass, apple to rectangular, ensuring you find a pair of jeans that not only looks great but also makes you feel confident and comfortable.
We'll also provide tips on how to select the right pair of jeans for different occasions, from a relaxed brunch with friends, to a busy day at the office, or a dinner date night. Because jeans aren't just a piece of clothing; they're a fashion statement, a comfort blanket, and a symbol of personal expression.
1. Cargo Jeans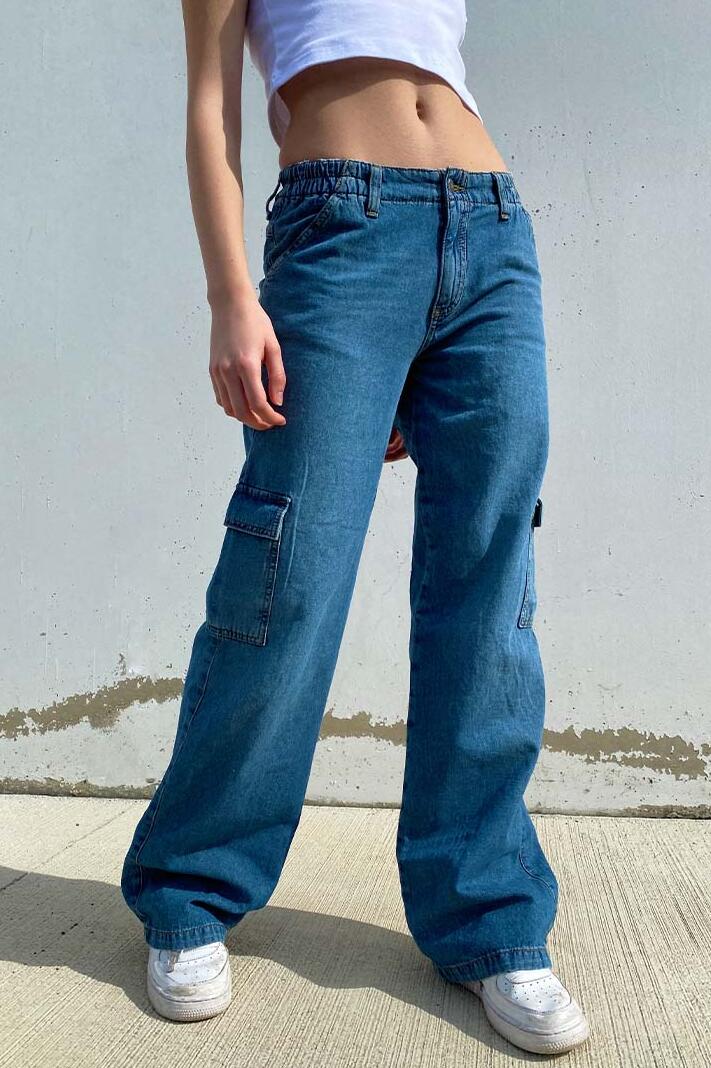 Cargo jeans, recognized for their practicality, are an offshoot of cargo pants. These jeans are characterized by multiple, large, functional pockets typically positioned on the thighs and lower legs. The relaxed fit and rugged aesthetics of cargo jeans make them perfect for casual, day-to-day wear, especially for outdoor activities. They look great when paired with simple, fitted tops, such as tank tops or turtlenecks, to balance out their bulk. A pair of combat boots or sneakers would complement the outfit well. Although cargo jeans can suit various body types, they may add volume to the lower body, making them ideal for women with an inverted triangle body shape, drawing attention away from broader shoulders and balancing proportions.
2. Mom Jeans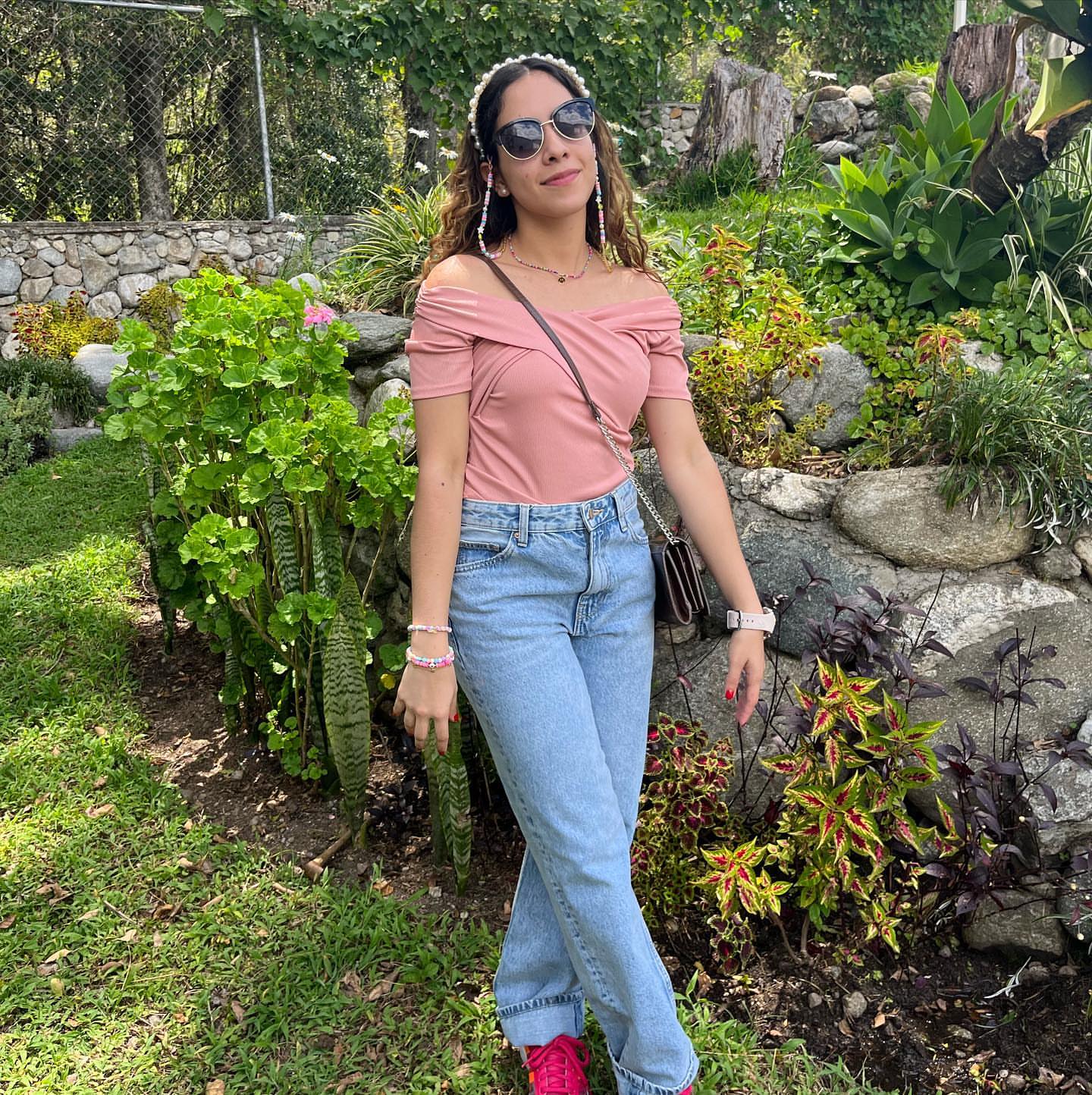 Mom jeans have made a significant comeback recently. They are high-waisted jeans with a relaxed fit around the hips and thighs and taper slightly towards the ankle. Styling mom jeans is easy – pair them with a fitted t-shirt or a cropped top to highlight the high waist, and finish the look with sneakers or ankle boots. Perfect for casual outings or an effortless work look, they suit a wide range of body types, particularly those with an hourglass or pear shape, as they accentuate the waist and provide room for the hips.
3. Skinny Jeans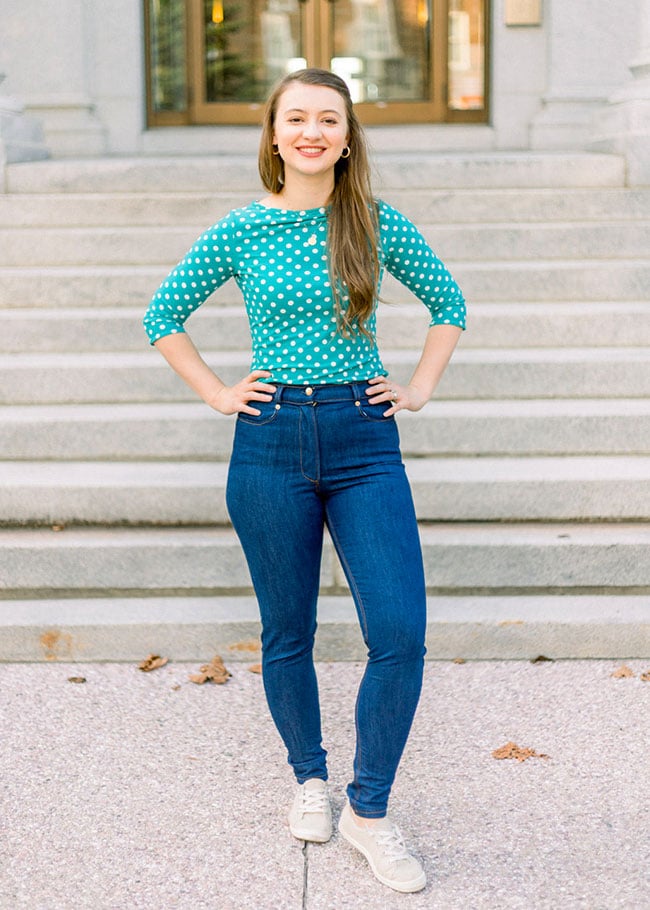 Skinny jeans, known for their form-fitting silhouette, cling tightly from the waist down to the ankle. They are incredibly versatile and can be dressed up or down according to the occasion. Pair them with a loose blouse or an oversized sweater for a casual look, or with a fitted blazer and heels for a more formal setting. Skinny jeans, especially darker shades, can be incredibly flattering for fuller figure or plus-size women when paired with the right top and shoes. However, they can also work well on petite or hourglass figures.
4. Reversible Jeans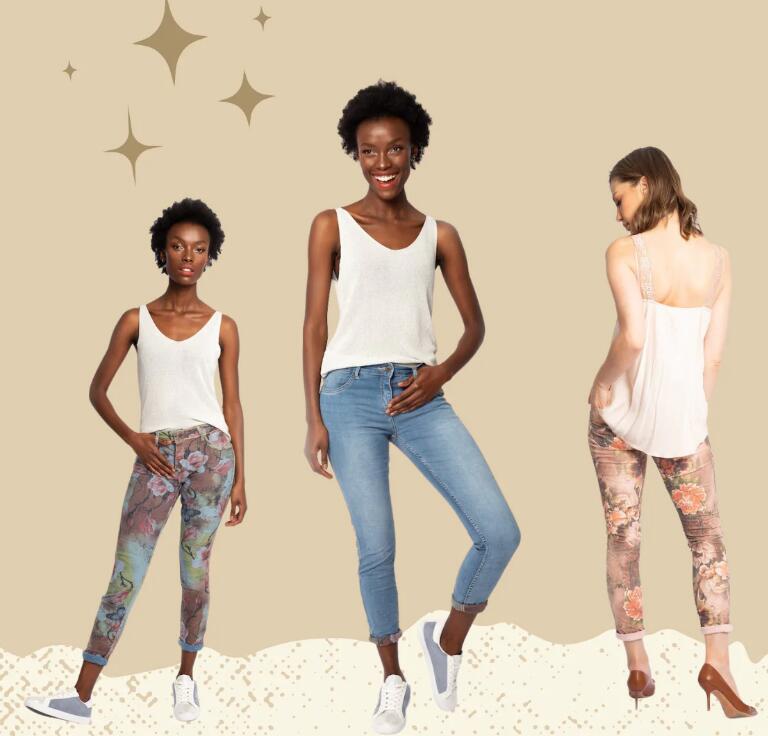 Reversible jeans are the fashion world's answer to practical and versatile clothing. They offer two distinct looks – usually a different color or pattern – in one pair of jeans. They can be styled just like regular jeans, but with the added bonus of double the wear. For instance, pair the lighter side with a casual tee for a daytime look and then flip to the darker side with a chic top for an evening out. Reversible jeans typically come in various cuts, making them suitable for all body types, depending on the style chosen.
5. Cowboy Jeans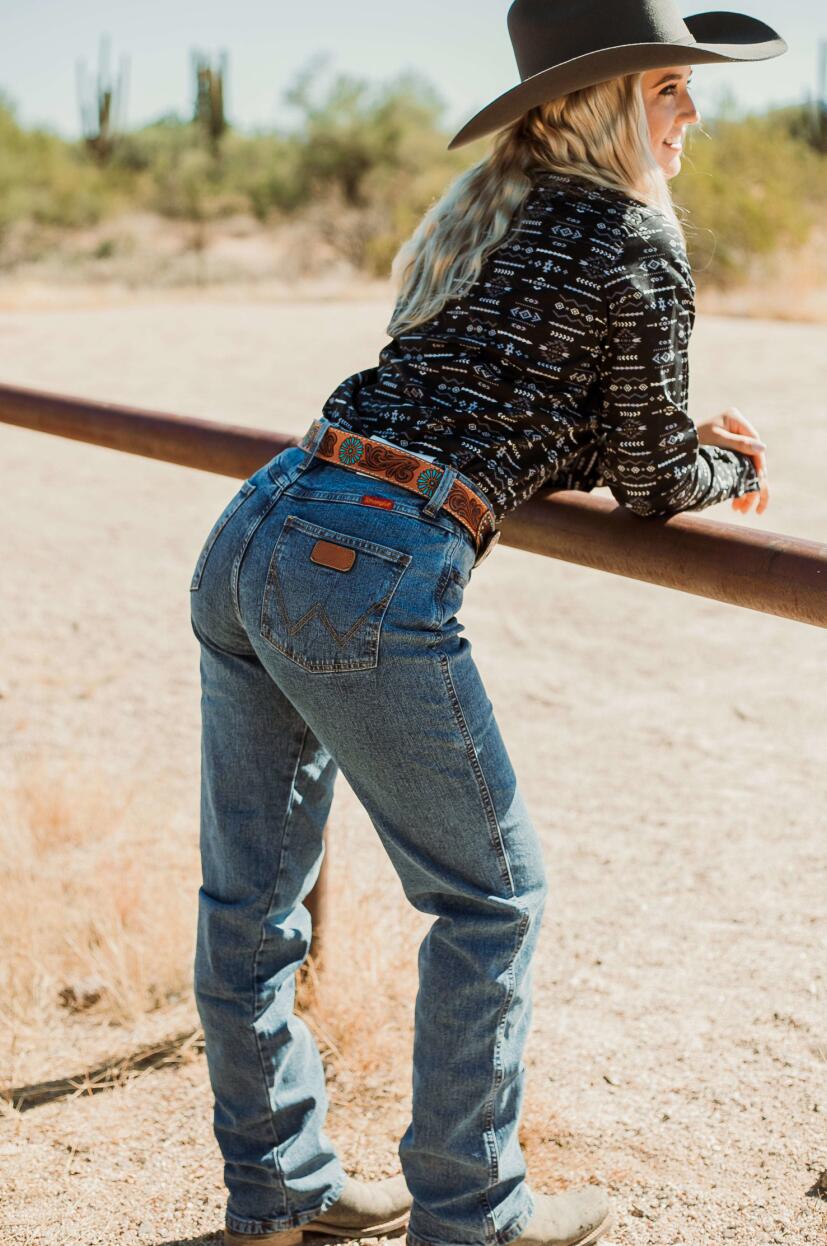 Cowboy jeans, also known as Western or bootcut jeans, are characterized by their flared bottoms, designed to accommodate a pair of boots. These jeans are fitted around the waist and thighs, flaring out slightly from the knee downwards. They are perfect for a casual day out when paired with a plaid shirt or a simple tee. For a more dressed-up look, pair them with a fitted blouse and heeled boots. Cowboy jeans can balance out wider hips or larger thighs, making them great for pear and hourglass body types.
6. Bootcut Jeans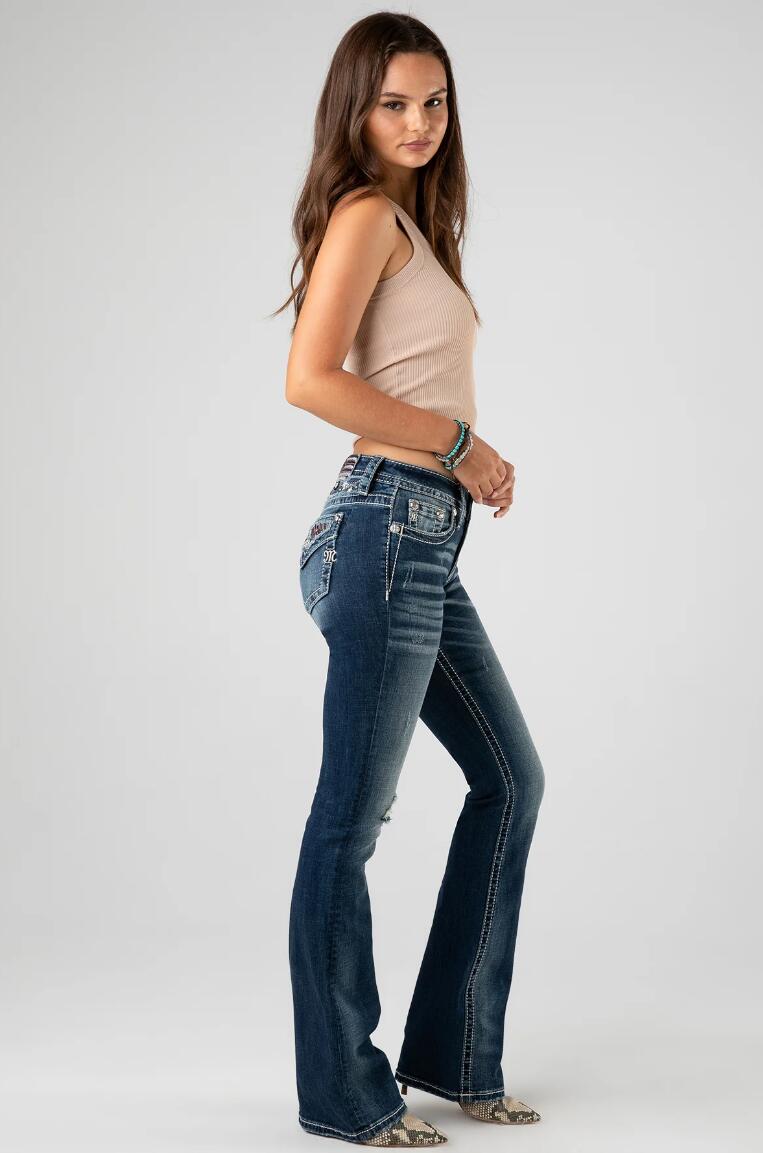 Bootcut jeans are a timeless style characterized by a slight flare from the knee to the ankle, designed to comfortably fit over boots, hence their name. These jeans can be paired with nearly any type of top, but a tucked-in blouse or a fitted tee tends to highlight the flattering waistline best. Given their ability to balance out the body's proportions, they're perfect for casual and semi-formal settings and are particularly flattering on women with an hourglass figure or those who want to create the illusion of longer legs.
7. High-Rise Jeans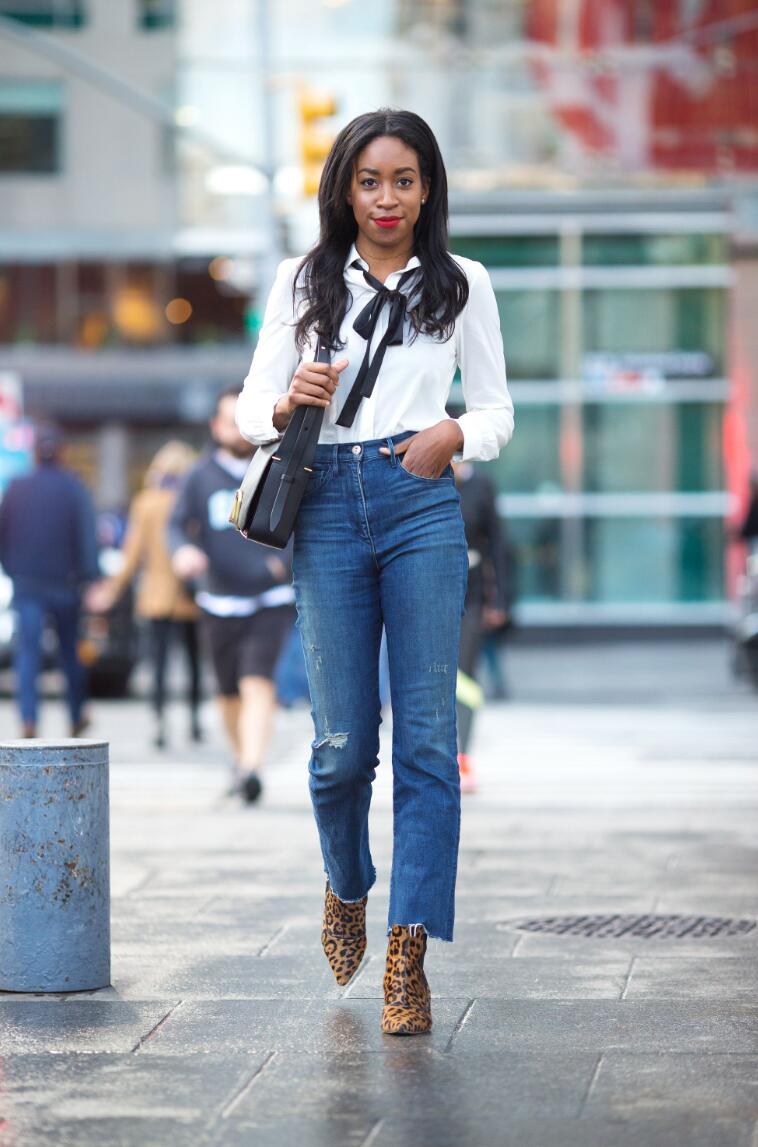 High-rise jeans, with their waistband sitting at or above the natural waistline, are a go-to for many women. They're perfect for elongating the leg line and emphasizing the waist, making them ideal for crop tops, tucked-in shirts, or bodysuits. For a casual day out, you can pair them with flat sandals and a graphic tee. For a more dressed-up occasion, try them with a fitted top and high heels. These jeans are a boon for apple body types as they cinch the waist, and for petite women, as they create the illusion of longer legs.
8. Low-Rise Jeans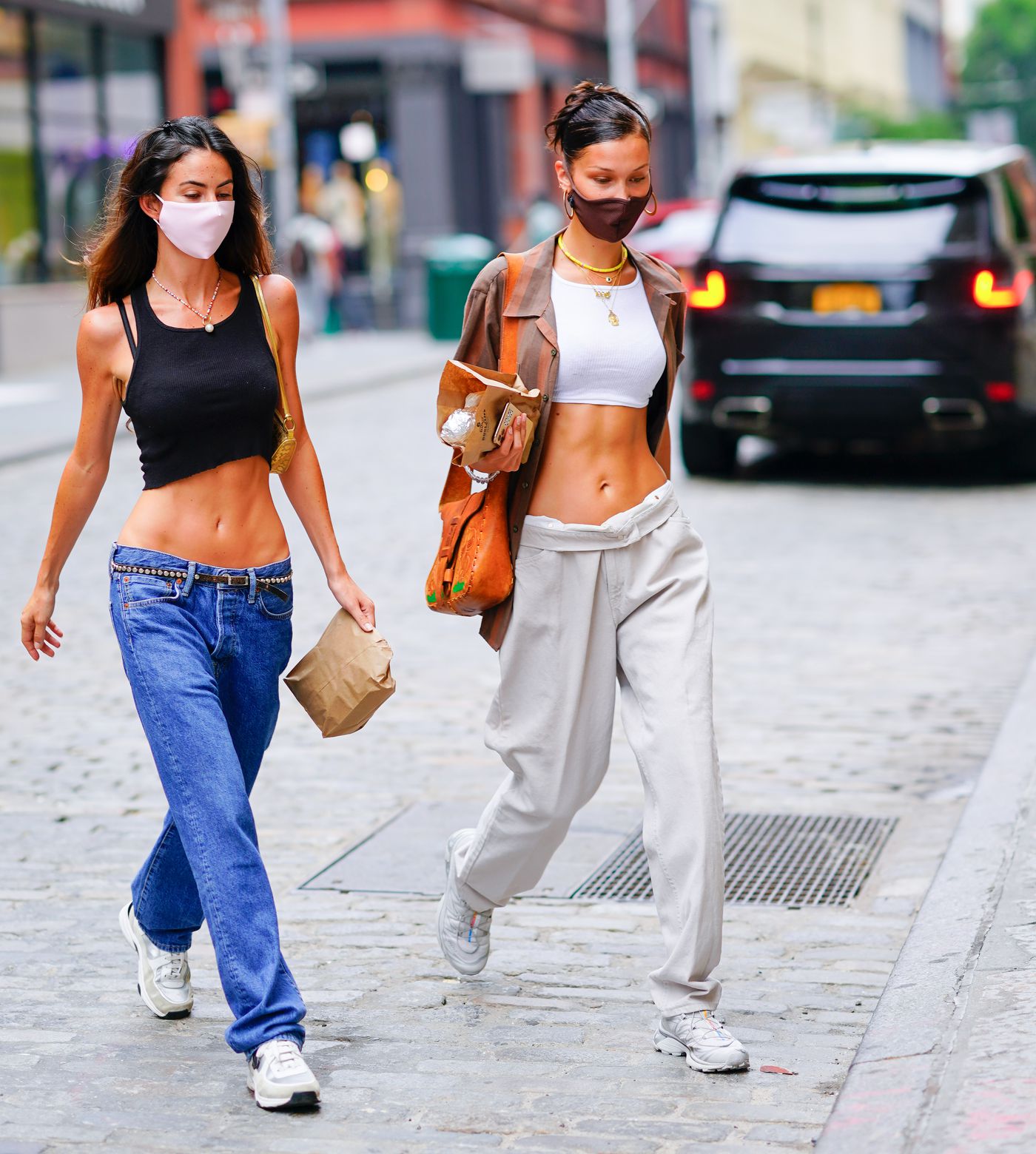 Low-rise jeans sit below the navel and have a more relaxed feel. They're best paired with longer tops or untucked shirts for a laid-back vibe. Think casual tees, flowy blouses, or oversized sweaters. Since low-rise jeans tend to sit on the hips, they can be a good choice for women with a more rectangular or athletic body type, as they fit snugly without adding extra emphasis to the waist.
9. Boyfriend Jeans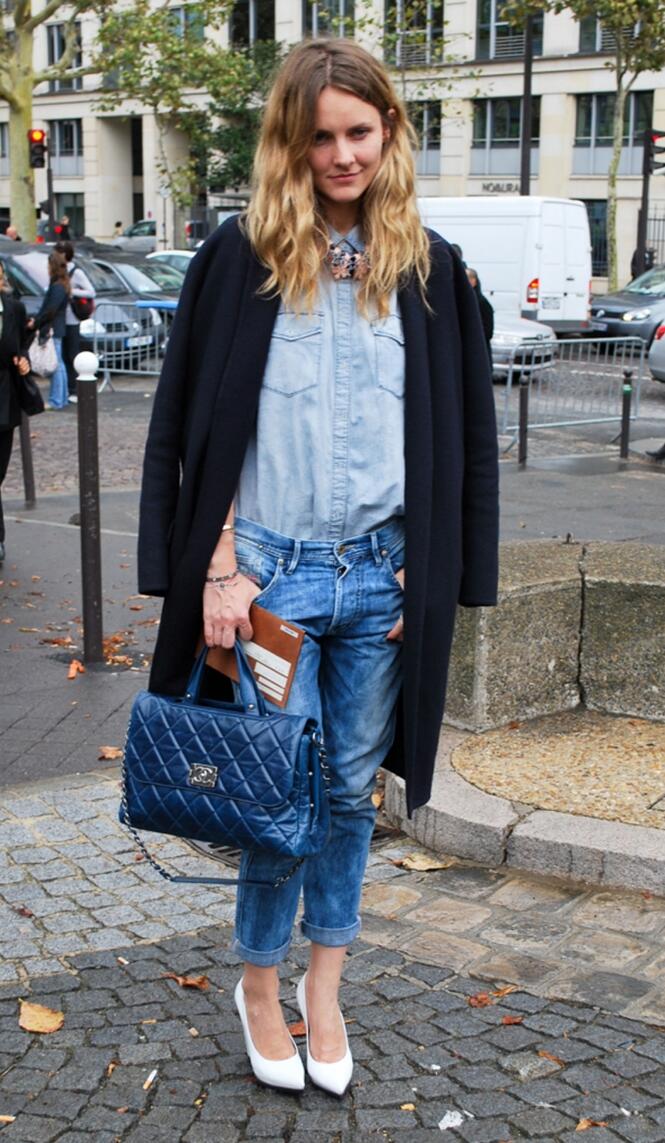 Named for their borrowed-from-the-boys look, boyfriend jeans are all about casual comfort. They're typically roomier in the hips and thighs with a straight or slightly tapered leg. These jeans look fantastic when rolled at the ankles and paired with a casual tee and sneakers, or dressed up with a blazer and heels. Boyfriend jeans are forgiving on most body types due to their relaxed fit but are particularly flattering on pear-shaped figures as they balance out the hip area.
10. Flared Jeans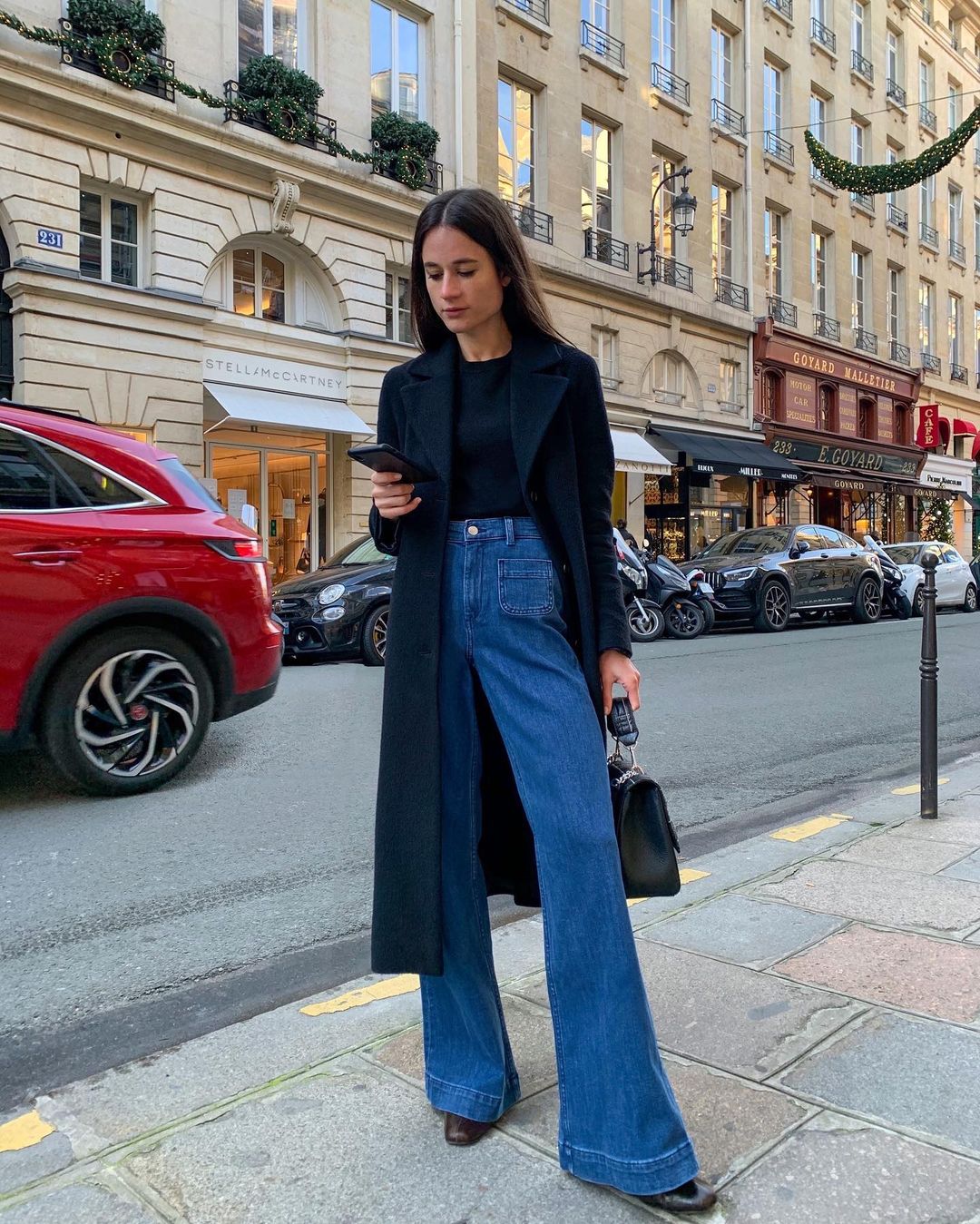 Flared jeans, a nod to the fashion of the '70s, start snug around the waist and hips with a dramatic flare below the knee. These jeans are incredibly versatile – pair them with a fitted top to balance out the flare, and don't forget the platform heels to accentuate the leg-lengthening effect. Perfect for a boho-chic look, flared jeans suit women who wish to balance out wider shoulders or create an hourglass silhouette, making them great for the inverted triangle and rectangle body types.
11. Straight Leg Jeans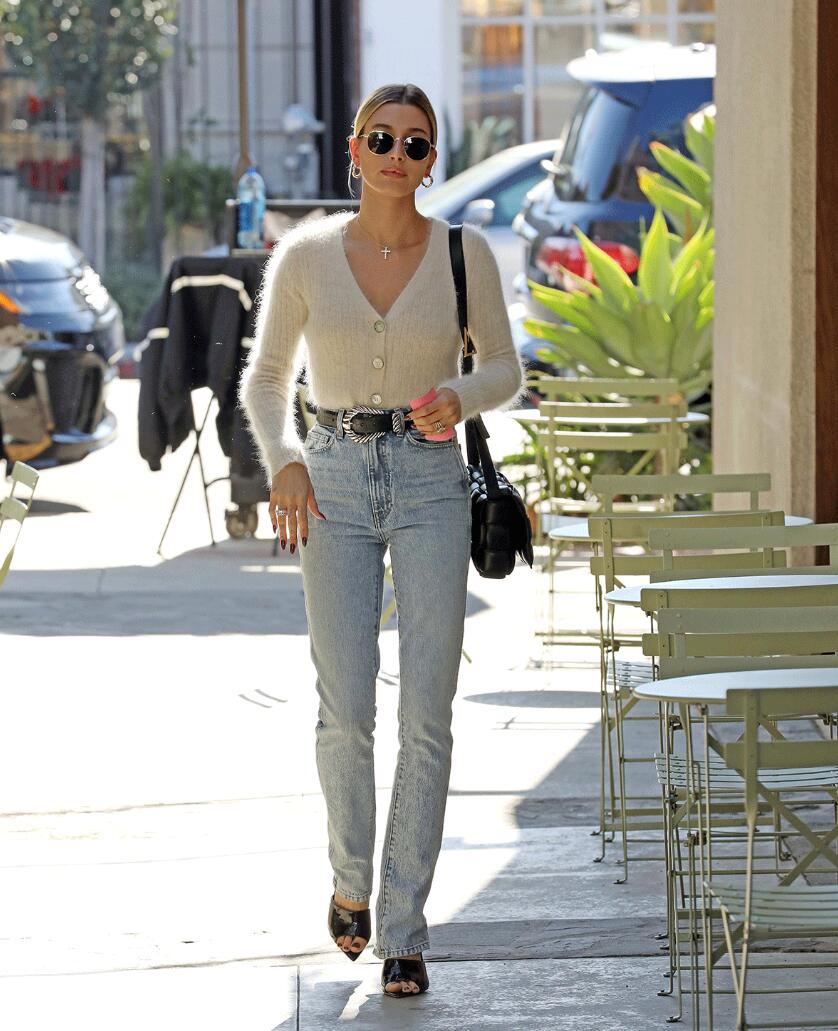 Straight leg jeans, as their name suggests, feature a straight fit from the hip to the ankle. This timeless, versatile style pairs well with just about anything — think tucked-in blouses, cozy knit sweaters, or even a simple tee for a minimalist aesthetic. They work for casual outings, work environments, or even dressier occasions with the right top and accessories. Ideal for rectangle body types as they continue the straight line of the body, these jeans can, however, make curvier body types appear wider and may not flatter petite frames due to the lack of tapering.
12. Bell Bottom Jeans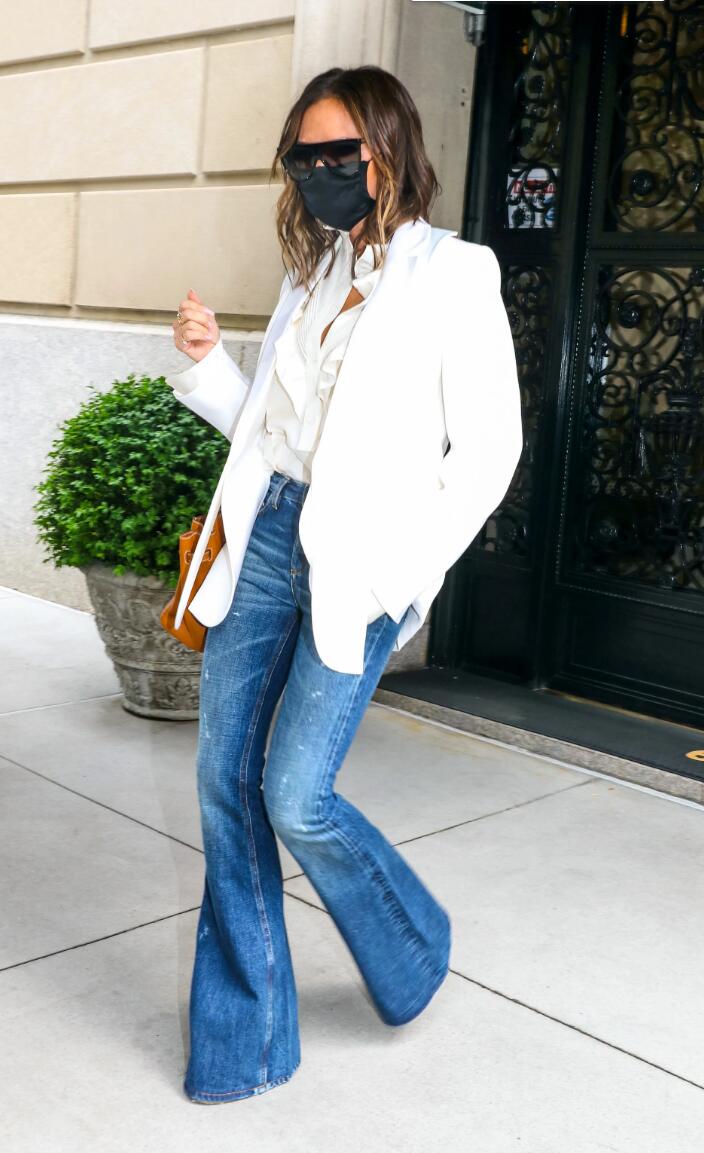 A retro favorite, bell bottom jeans are fitted around the waist and thighs and dramatically flare out from the knee down. This 70's-inspired style is great with fitted tops or cropped blouses to counterbalance the wide flare. Excellent for music festivals or casual outings, they can be styled with platform shoes for an authentic throwback look. Bell bottoms are particularly flattering on pear and hourglass shapes as they balance out wider hips, but may overwhelm petite or shorter women due to the large flare.
13. Baggy Jeans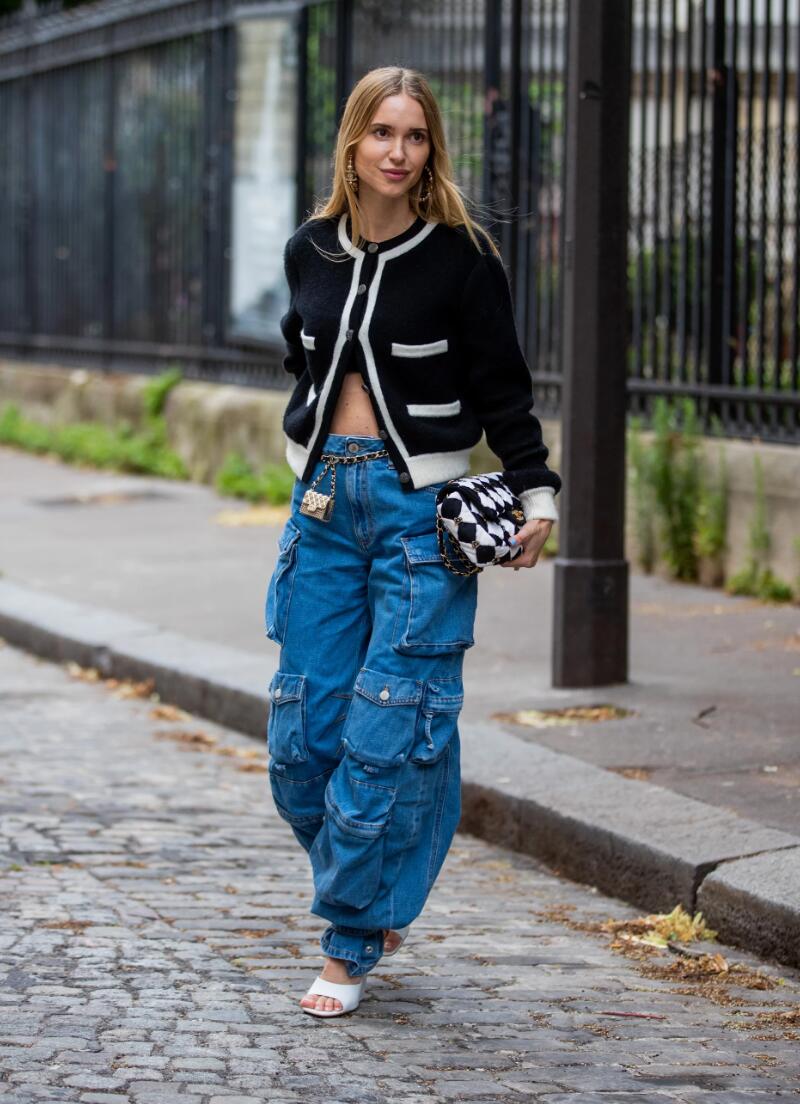 Baggy jeans are the epitome of relaxed, laid-back style. They feature a loose fit from the waist to the legs, offering plenty of room for movement. Pair them with crop tops or fitted tees to avoid looking swamped in fabric. Great for casual settings, baggy jeans are perfect for those who prioritize comfort. They work well on tall and athletic body types, which can carry off the loose fit, but might not flatter petite or curvier figures as the excess fabric can hide natural curves and shorten the appearance of legs.
14. Girlfriend Jeans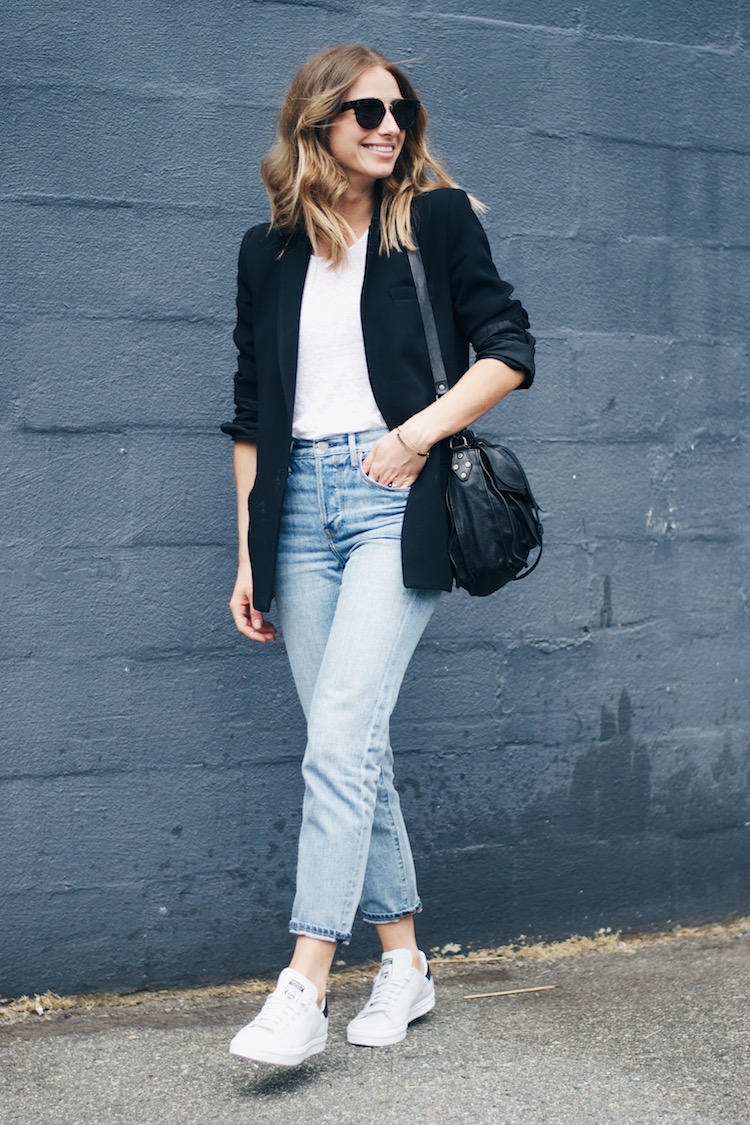 Girlfriend jeans are a more feminine version of boyfriend jeans with a slimmer, more form-fitting cut. They look great with simple tees, blouses, or sweaters, and can be dressed up or down depending on the occasion. Perfect for casual wear, they complement most body types due to their comfortable yet flattering cut. However, they may not be the best choice for women with fuller thighs or hips, as the jeans' snugger fit might emphasize these areas more than desired.
15. Stovepipe Jeans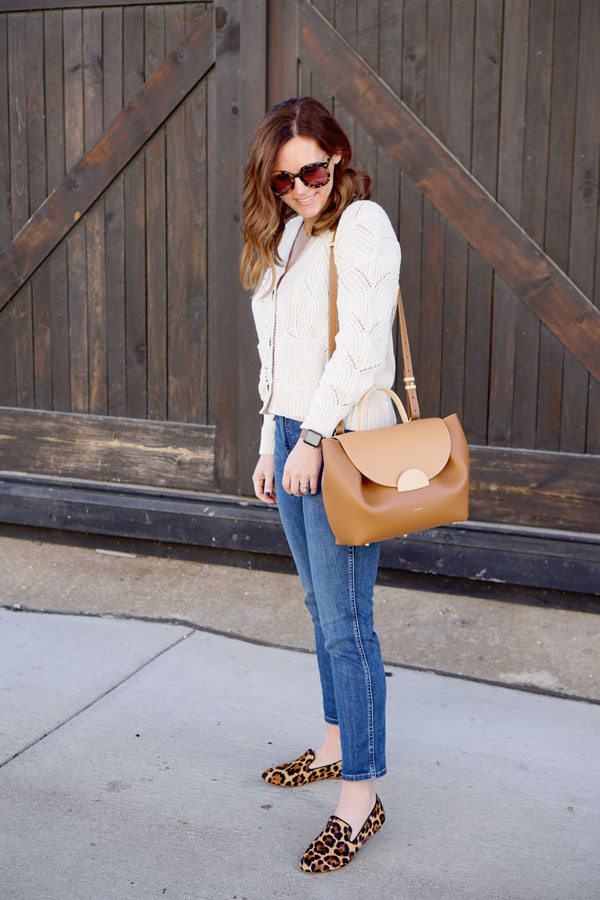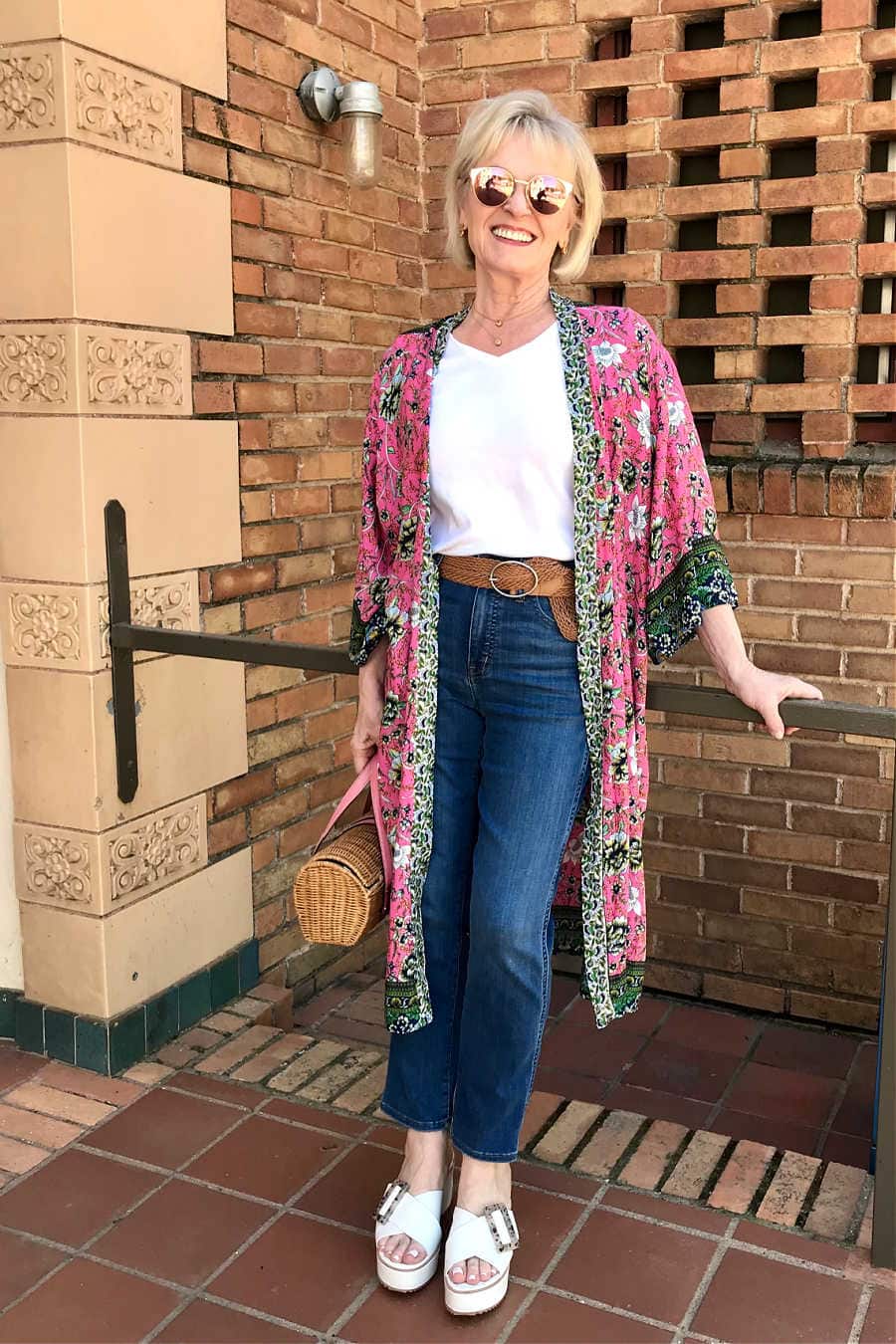 Stovepipe jeans have a straight cut from the thigh to the ankle, reminiscent of the shape of a stovepipe. These jeans are fantastic with both loose and fitted tops, depending on the look you're going for. Whether for a casual day out or a night on the town, stovepipe jeans work with everything. They are particularly flattering on taller women and those with an apple or rectangle shape, elongating the legs and creating a balanced silhouette. However, those with a petite or pear-shaped body might find these jeans less flattering as they can make the legs appear shorter and emphasize wider hips.
16. Skimmer Jeans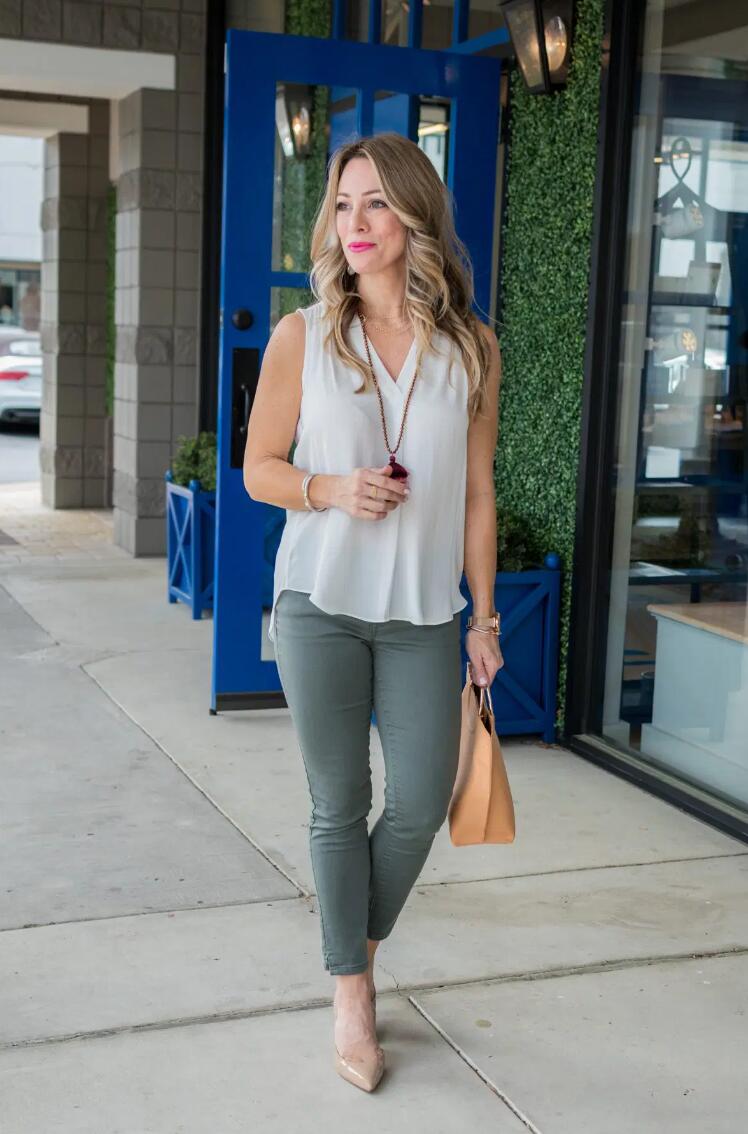 Skimmer jeans, aptly named for their skimming length, typically end just below the calf and above the ankle. This gives them a chic, slightly cropped look that pairs well with high heels, flats, or even sneakers. Versatile and stylish, they can be teamed up with casual tees, dressy blouses, or lightweight sweaters, making them great for a variety of settings. Skimmer jeans work wonderfully on taller women and those with a balanced body type as they highlight the ankle area attractively. However, they may make shorter legs appear even shorter, so petite women may want to consider this before opting for skimmers.
17. Cropped Jeans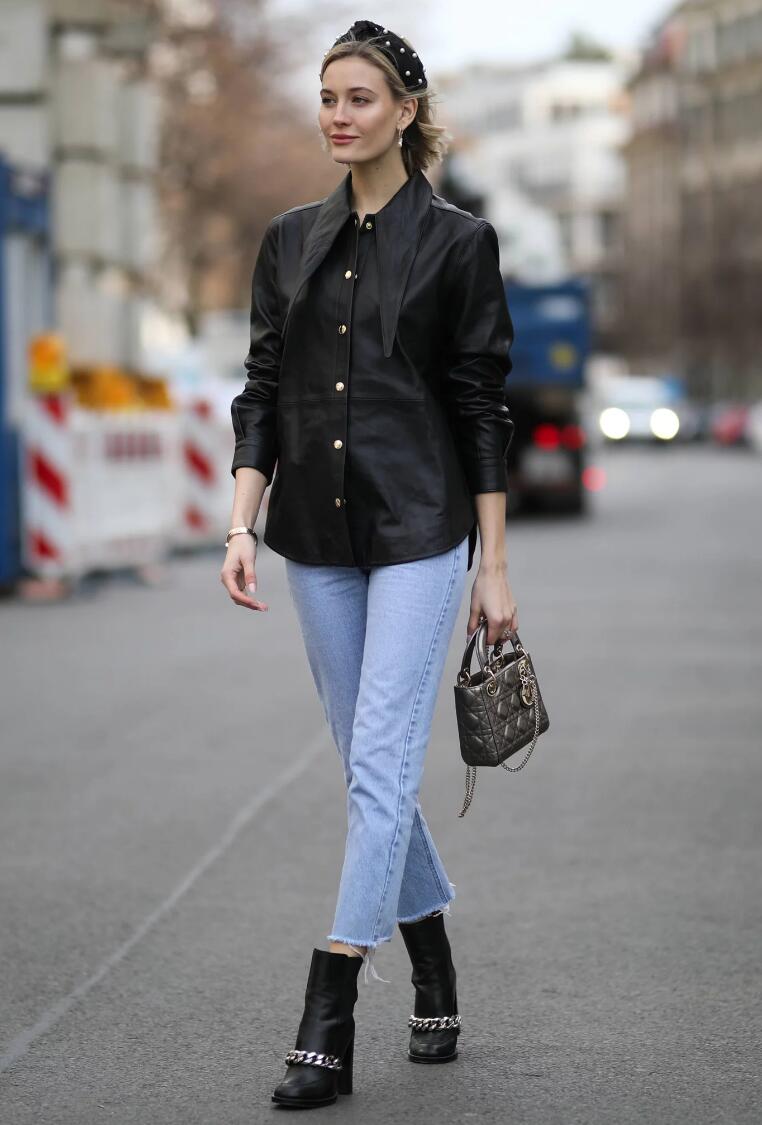 Cropped jeans are cut shorter than your average pair, usually ending midway down your calf. They're perfect for showcasing your footwear, so feel free to pair them with your favorite boots, heels, or sandals. Tops of all kinds work well with this style, but a balanced look is key – try pairing them with a longer or oversized top. Ideal for casual outings or semi-formal settings, cropped jeans flatter taller women and those with slender legs. However, they may not be as flattering on petite women or those with fuller calves, as the mid-calf cut-off can make legs appear shorter or wider.
18. Ankle Length Jeans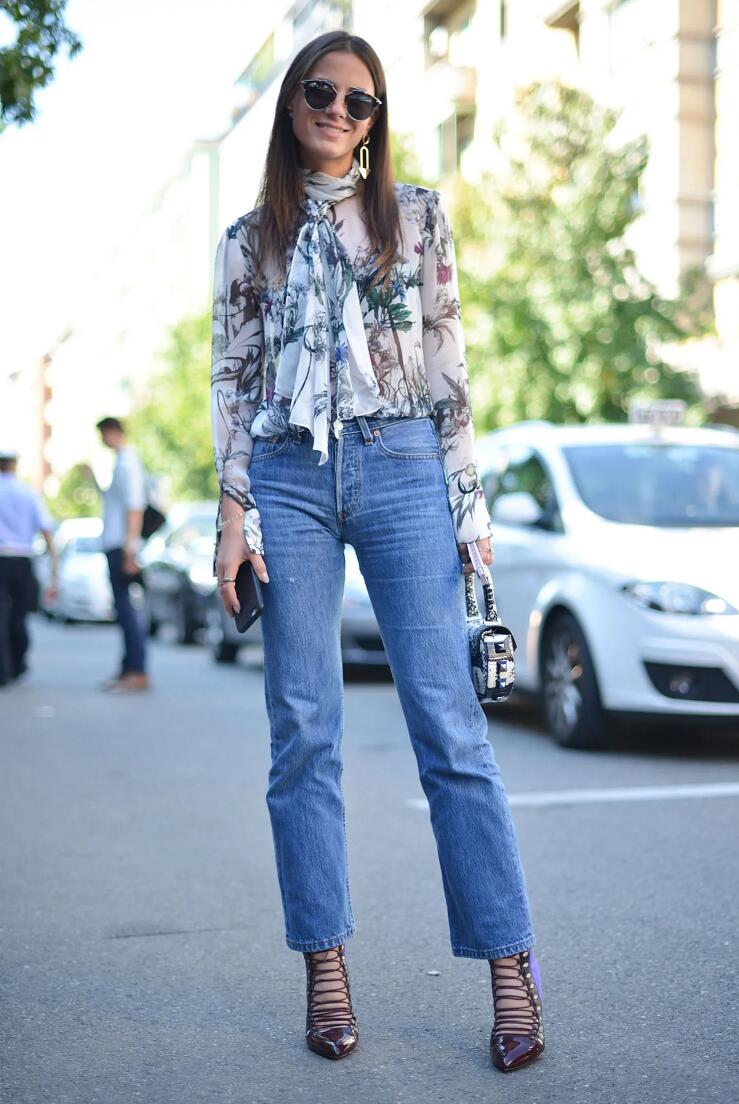 Ankle length jeans, ending right at or slightly above the ankle, are a classic style that works well with almost any outfit. Pair them with flats, heels, or ankle boots and team with tops ranging from casual tees to more formal blouses. These jeans are versatile and suitable for a range of occasions, from work to casual weekend outings. They work on most body types, especially tall and average height women. Petite women can also benefit from this style as it doesn't shorten their frame like some longer jeans can.
19. Capri Jeans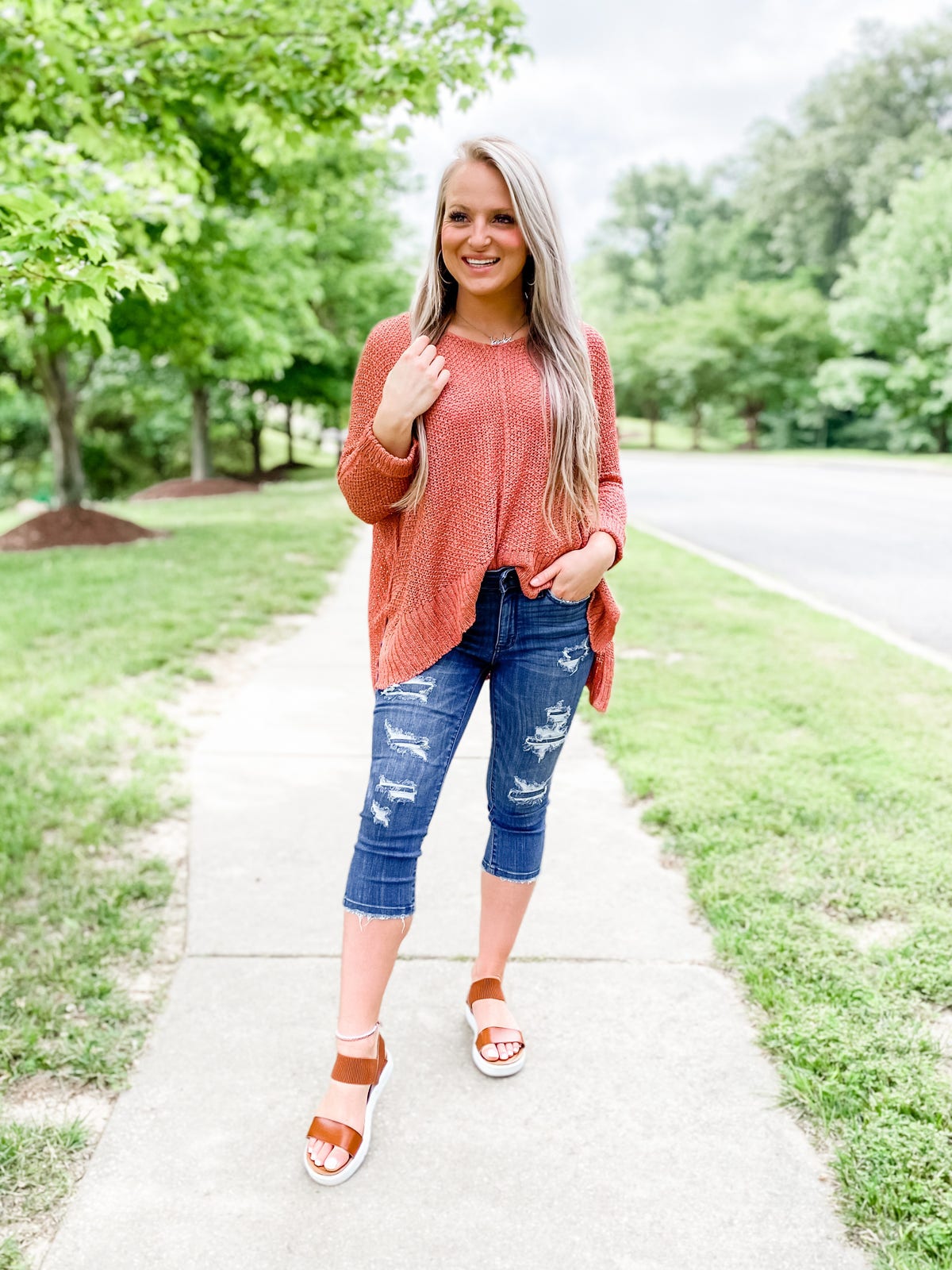 Capri jeans, also known as three-quarter jeans, typically end between the knee and mid-calf. Paired with sandals, flats, or even heels, they give off a summer vibe. While they can be styled with any top, they look particularly good with a simple tee or a casual button-down shirt. Ideal for warmer weather and casual settings, Capri jeans are best suited for taller and athletic body types that can pull off the shortened length. However, they can make shorter legs appear even shorter, so they might not be the best fit for petite women.
20. Gaucho Jeans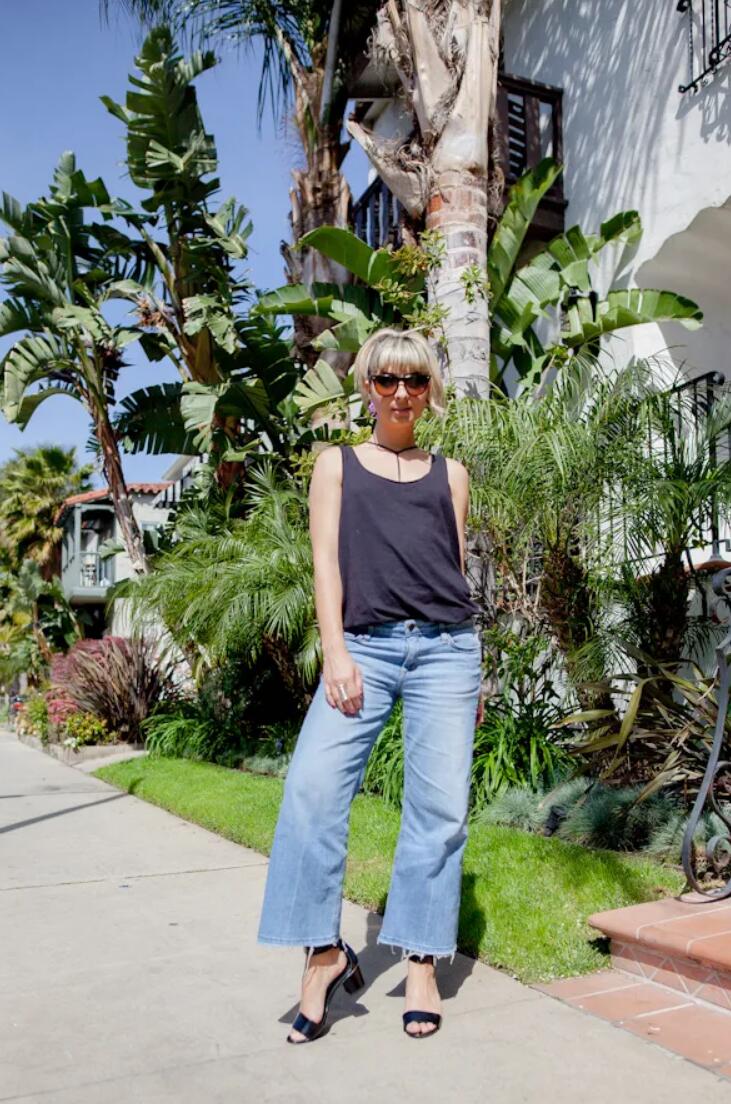 Gaucho jeans are wide-legged, cropped jeans reminiscent of the traditional gaucho pants from South America. These jeans, paired with high heels and a fitted top, can create a sophisticated, trendy look. They work well in semi-formal to formal settings due to their unique and elegant style. Gaucho jeans look great on taller women and those with a rectangle or hourglass figure as they add some volume while still accentuating the waist. However, petite women and those with pear-shaped bodies might find this style less flattering as it can overwhelm a smaller frame and draw attention to wider hips.
21. Distressed Jeans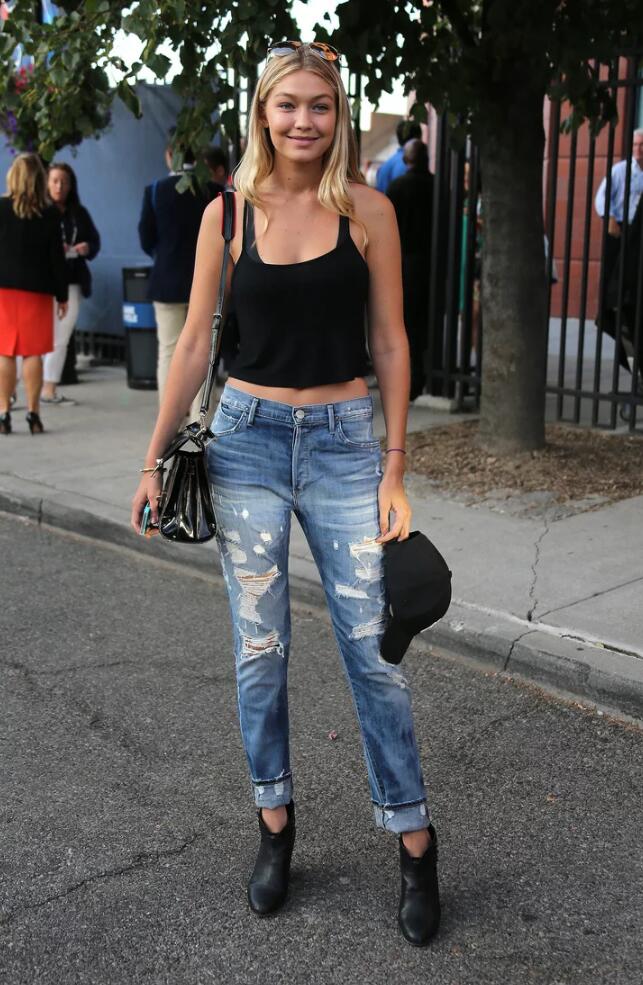 Distressed jeans are characterized by their worn and torn look. They give off an edgy, rebellious vibe and work best in casual and relaxed settings. You can pair these jeans with everything from graphic tees to leather jackets for that effortless rock 'n' roll style. While they're popular across various body types, the placement and extent of the distressing can impact how they flatter your figure. Tall and slender body types can generally pull off any level of distressing, while those with fuller figures might want to opt for lightly distressed options to avoid drawing attention to specific areas.
22. Ripped Jeans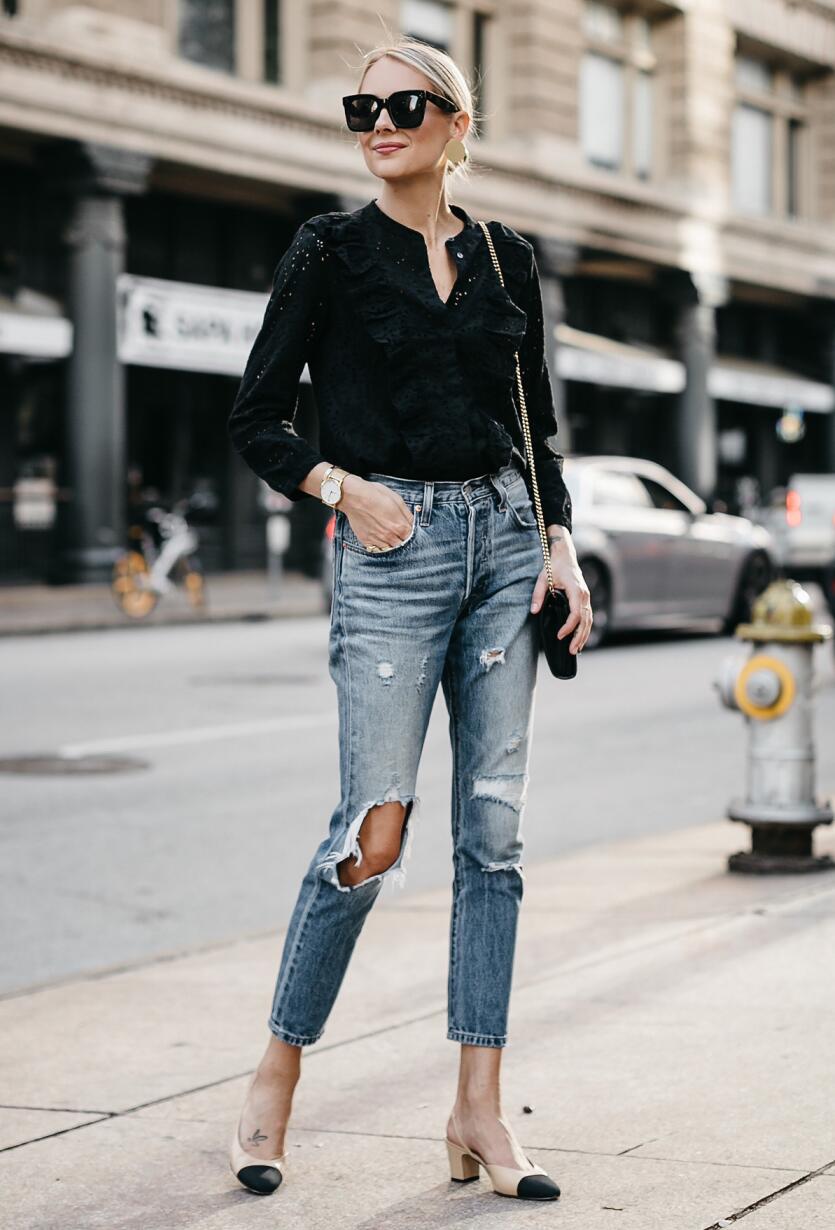 Ripped jeans, similar to distressed jeans, are all about the rugged, carefree look. The key is balancing your outfit. Pair them with a simple, classy top to prevent your outfit from looking overly casual. Ripped jeans are a fantastic choice for casual outings and weekends. Anyone can rock a pair of ripped jeans, but be aware of the rip placements – you want them to highlight your best features. For those who are conscious about their thighs, avoid jeans ripped in that area.
23. Dirty Washed Jeans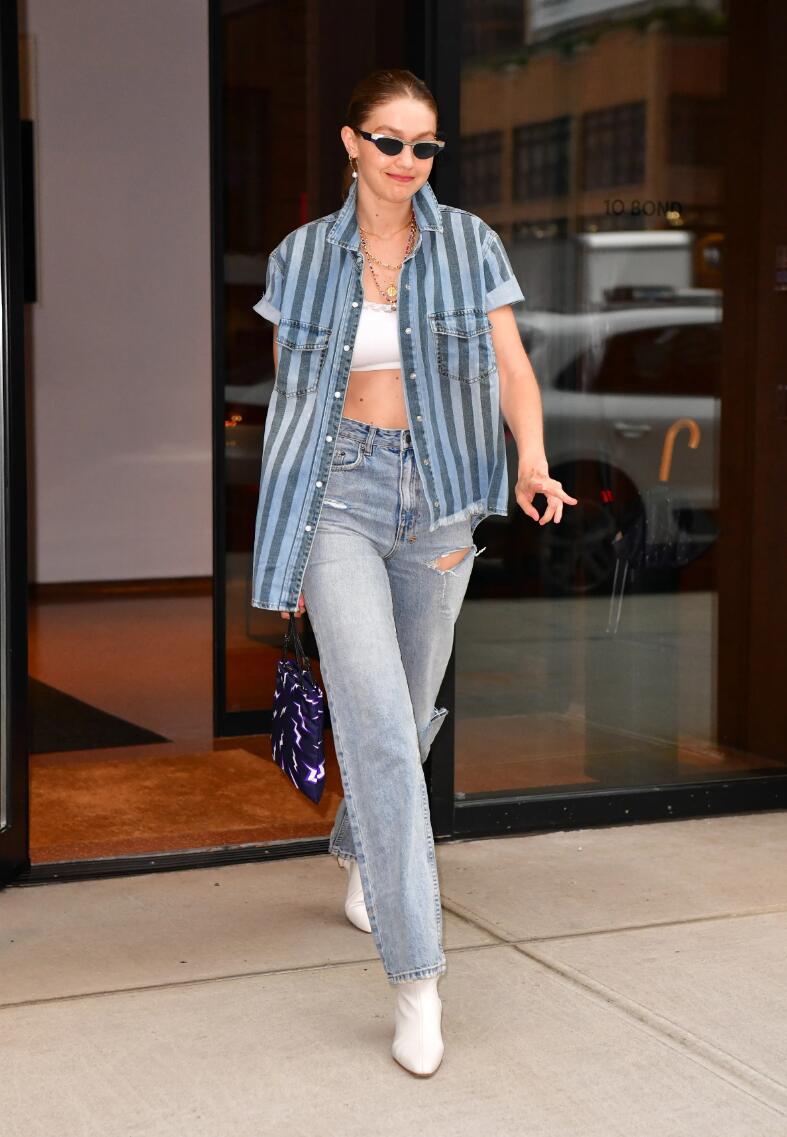 Dirty washed jeans come with a deliberately 'dirtied' look, generally achieved through a special dyeing process to make them appear stained or soiled. They add a grunge factor to your outfit and are best suited for casual settings. Pair them with simple, clean-cut tops to avoid looking unkempt. They are suitable for all body types, but keep in mind, the darker the wash, the more slimming the effect.
24. Vintage Wash Jeans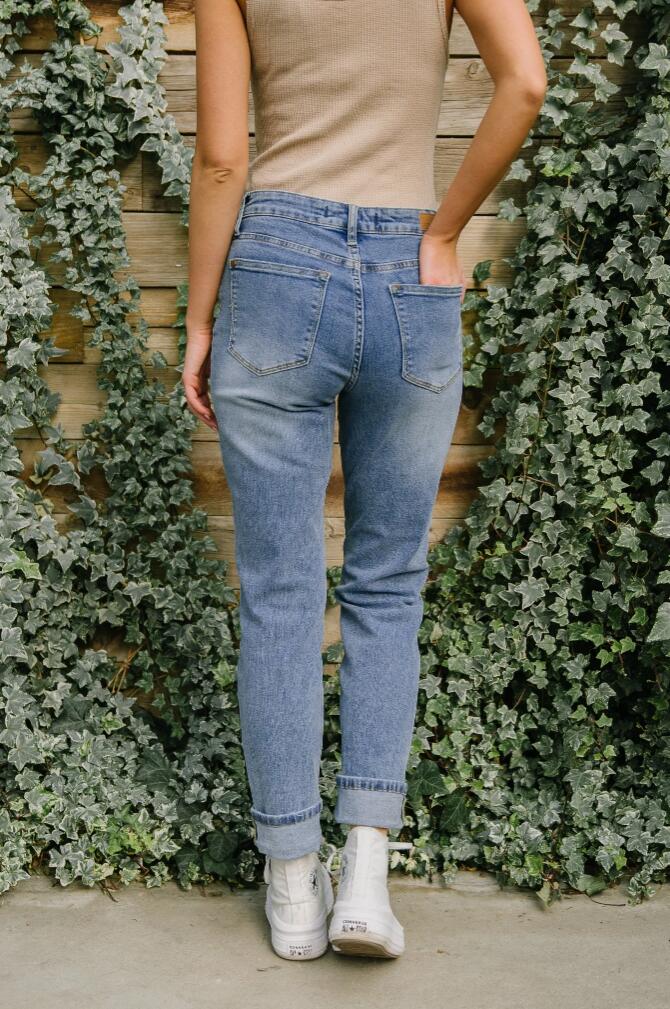 Vintage wash jeans have a lighter, faded color and often come with a worn-in feel. They give off a cool, retro vibe that pairs well with everything from plain white tees to patterned blouses. These jeans are suitable for casual occasions and can flatter all body types, especially when you choose a fit that complements your figure. Remember that lighter washes can emphasize certain body parts, so choose a wash that highlights your best features.
25. Classic Wash Jeans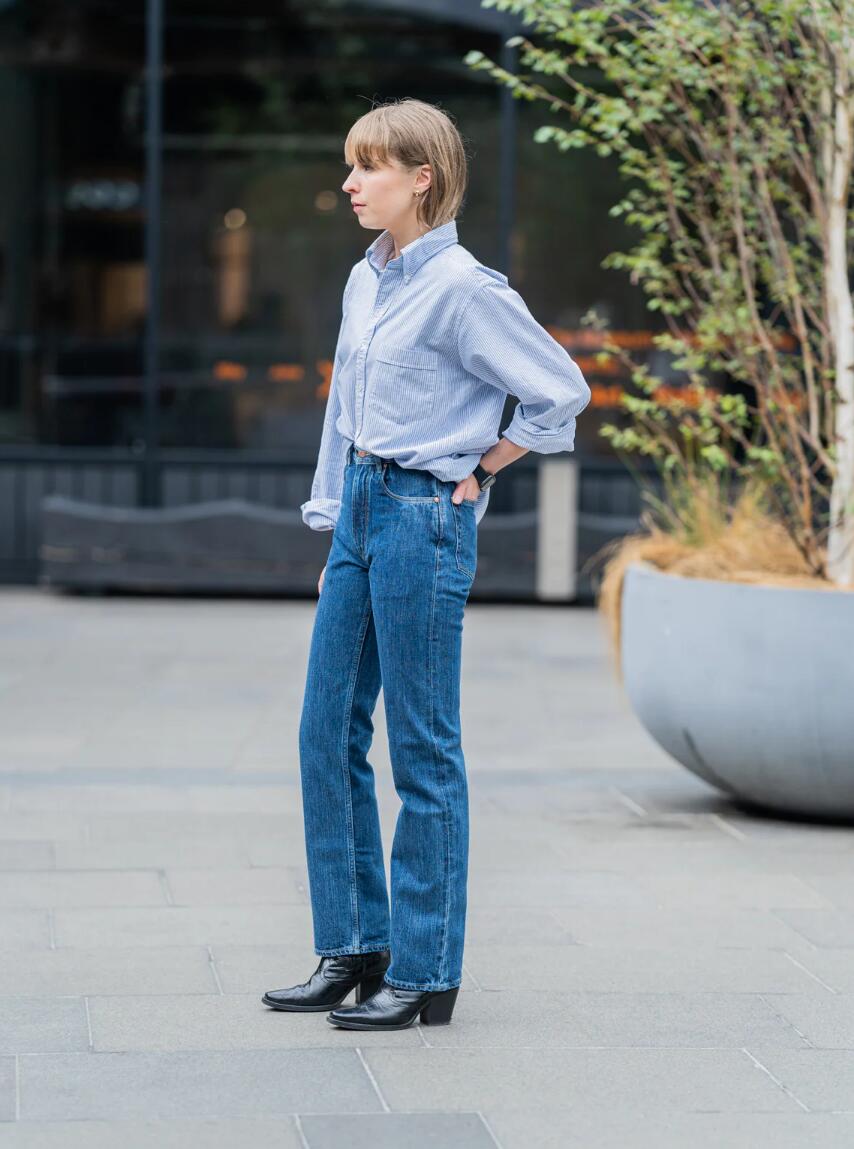 Classic wash jeans are your go-to everyday jeans. With a medium to dark indigo hue, they are incredibly versatile and can be dressed up or down. Whether it's a casual t-shirt for errands or a blazer and heels for a business casual look, these jeans work for almost any occasion. Suitable for all body types, the darker wash is especially flattering as it provides a slimming effect. However, those who prefer a more lived-in look might find the classic wash a bit too polished.
26. Whisker Washed Jeans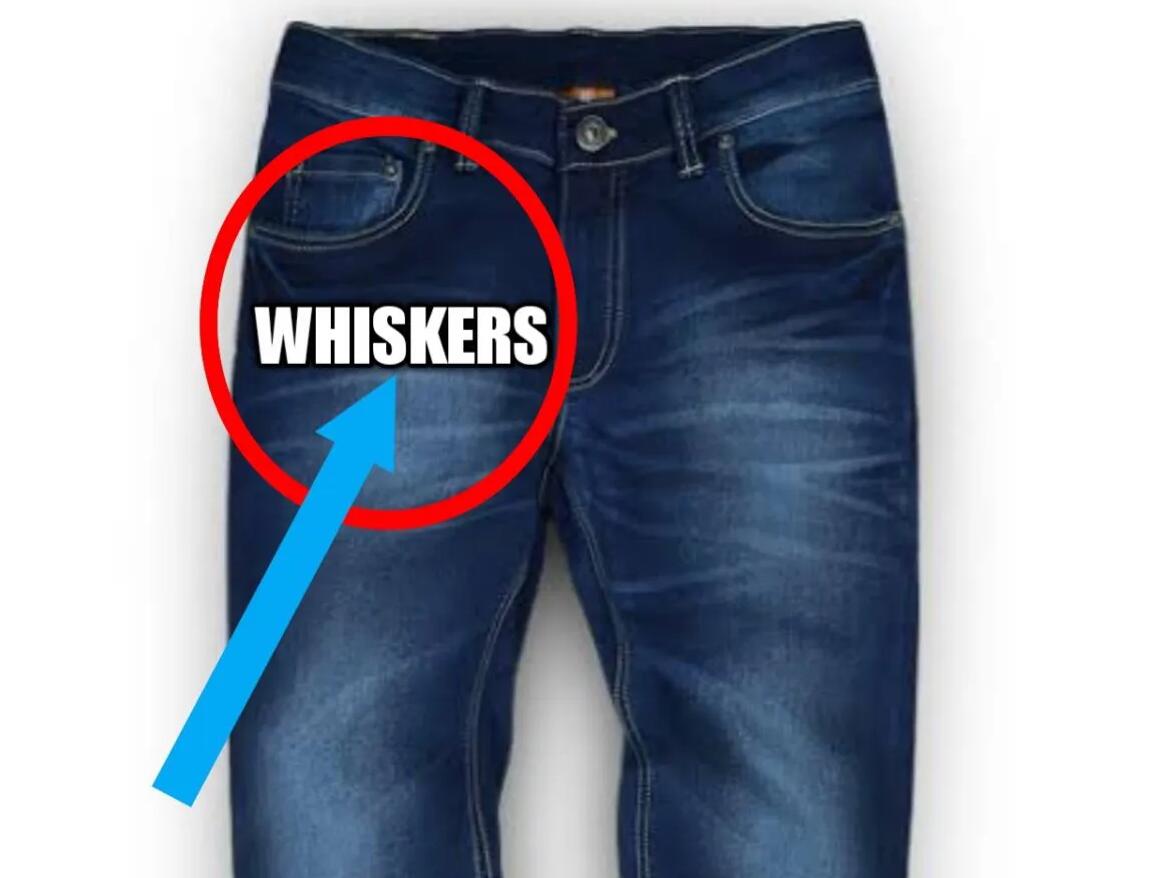 Whisker washed jeans are characterized by faded lines that form around the crotch area, resembling a cat's whiskers – hence the name. This design is typically found on heavier denim materials and offers a casual, worn-in look. It's a versatile style that pairs well with casual and semi-formal tops. However, since the whiskers emphasize the hip area, those who are self-conscious about their hips might want to opt for a different wash. The whisker washed jeans are ideal for creating an illusion of curves, making it an excellent choice for straight body types.
27. Acid Washed Jeans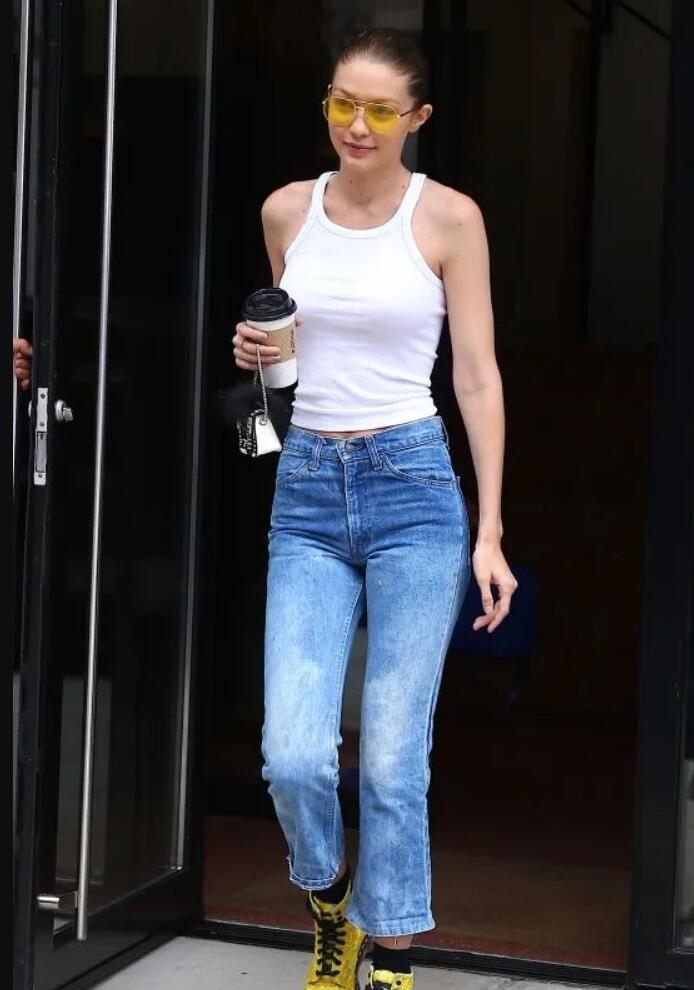 Acid washed jeans were a huge hit in the '80s and have made a strong comeback in recent fashion trends. They are characterized by a marbled or spotted appearance, created by treating the denim with chlorine or acid. The high-contrast, grunge vibe is perfect for a statement casual look. Pair them with bold colors or keep it subtle with neutral tones – the choice is yours. These jeans can suit all body types, but the high-contrast design can draw attention to certain areas. Therefore, those who prefer a more slimming look might want to opt for a different style.
28. Carpenter Jeans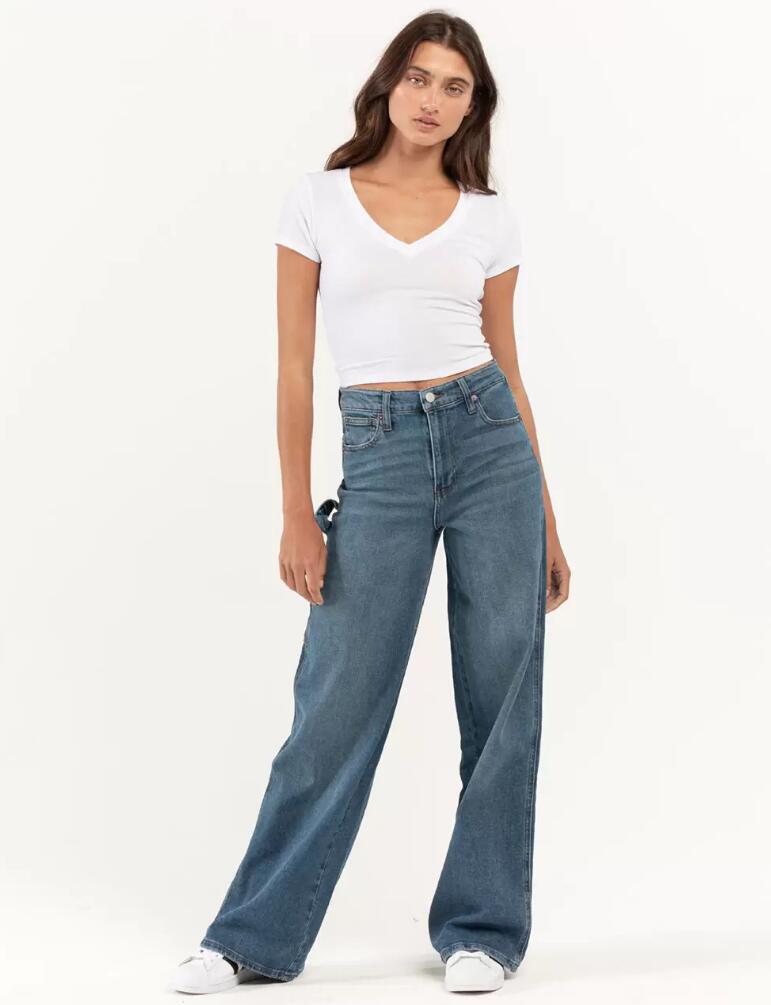 Carpenter jeans, as the name suggests, were originally designed for carpenters. They come with a loose fit and multiple pockets, including a loop typically intended for a hammer. This style is all about comfort and utility, making it perfect for a laid-back, casual look. Pair them with simple t-shirts or sweatshirts and your favorite sneakers. While they can suit all body types, their loose design might not be flattering for those who prefer a more fitted look.
29. Cuffed Jeans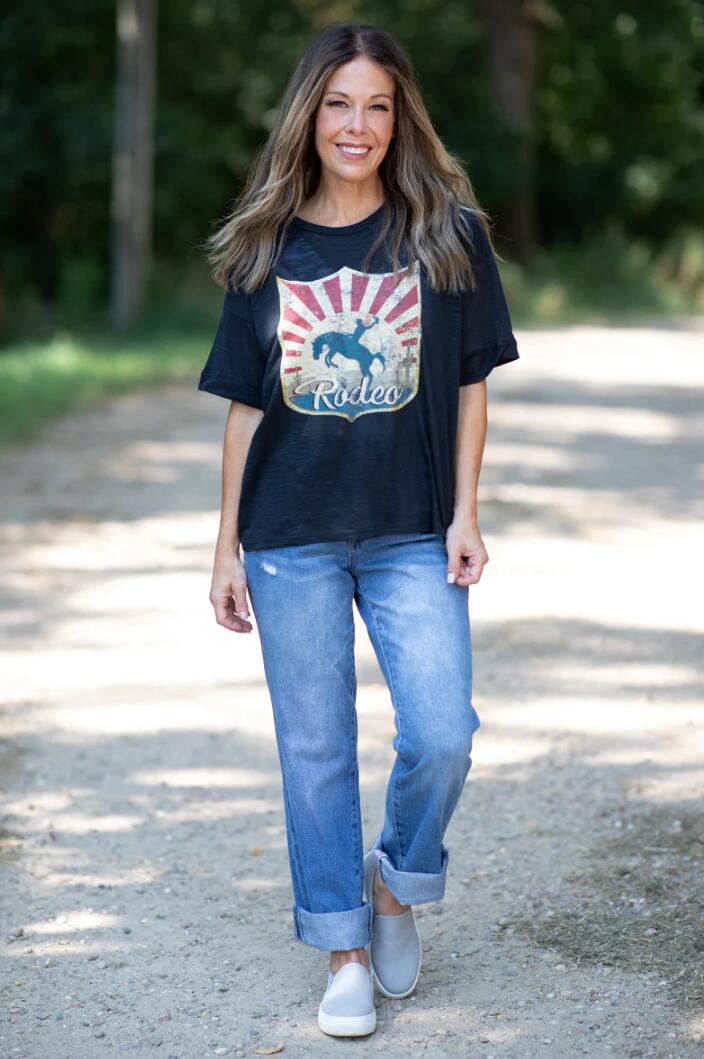 Cuffed jeans, characterized by a rolled-up hem, are a trendy choice that adds a touch of elegance to your outfit. They are incredibly versatile – you can dress them up with a pair of heels and a classy blouse or keep it casual with flats and a t-shirt. They're perfect for showcasing your footwear, making them a popular choice for both casual and more formal occasions. While they flatter most body types, shorter individuals should be cautious as cuffs can make legs appear shorter. However, this can be counterbalanced by wearing heels.
30. White Jeans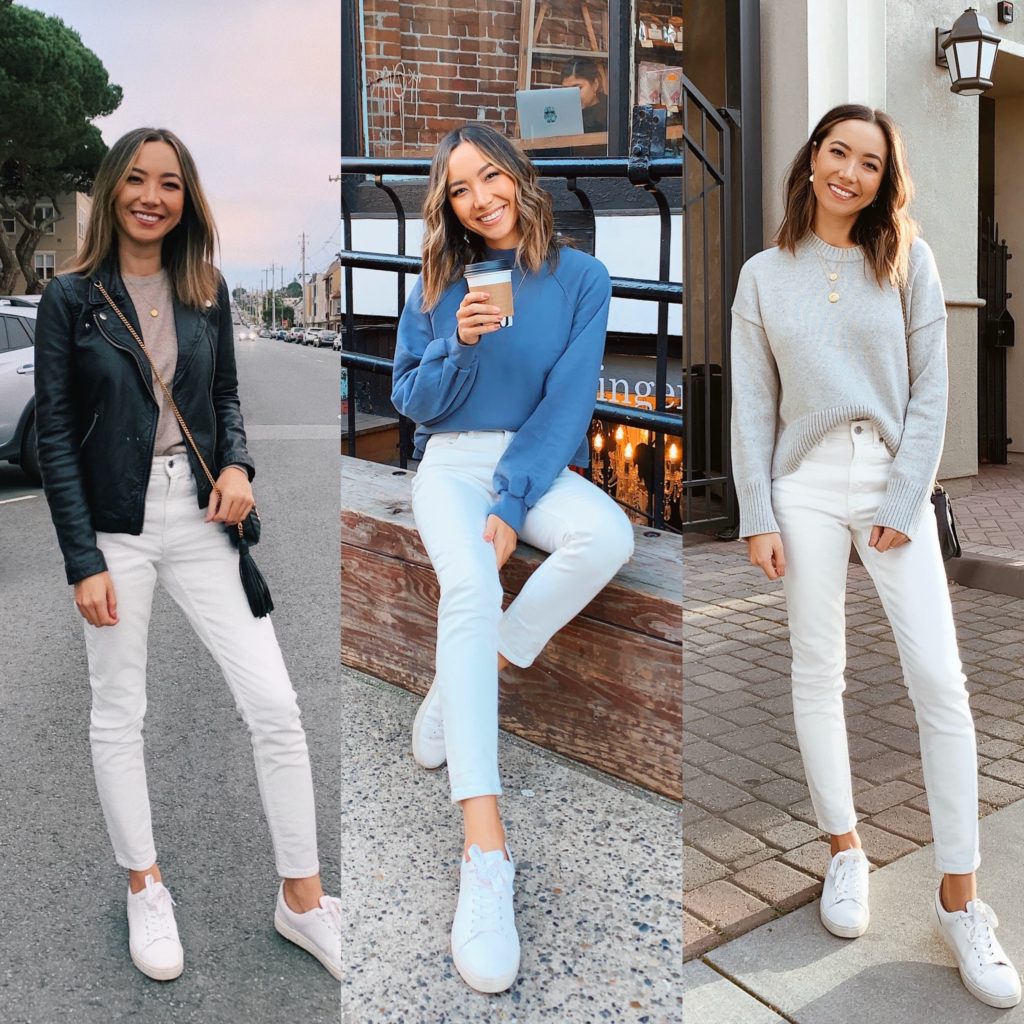 White jeans are a classic staple that can be intimidating to some due to their bold nature. They offer a fresh, crisp look that can be surprisingly versatile. From spring to summer, or even winter with the right layers, white jeans can be worn in any season.
White jeans are a blank canvas and pair well with nearly every color and pattern. For a casual look, try a light blue chambray top or a brightly colored t-shirt. For a more sophisticated outfit, opt for a silky blouse or a tailored blazer. White jeans are also a great way to let accessories shine. Bold shoes, statement bags, or even a colorful belt can take center stage against the neutral backdrop.
In terms of body type, white jeans can be flattering on all shapes and sizes, given you choose the right cut. However, they have a reputation for being less forgiving than darker washes, so finding the right fit is crucial. They can highlight certain areas, so those who are conscious about their lower body might feel more comfortable in a looser fit like boyfriend or bootcut styles.
The major concern with white jeans is keeping them clean, but with a little care, they can be a valuable addition to your wardrobe, offering a chic and stylish look that stands out from the crowd. Remember, confidence is key when wearing white jeans. Rock them with pride and you'll be sure to turn heads!
After exploring the diverse range of women's jeans, it's evident that there truly is a perfect pair of jeans for everyone, regardless of body type, personal style, or lifestyle. Remember, the best pair of jeans isn't just about the latest trend; it's about finding a style that you feel comfortable in and that suits your unique shape and style.
Whether you're pulling on a relaxed pair of boyfriend jeans for a casual weekend, stepping into sophisticated bootcut jeans for a professional setting, or rocking a pair of classic skinny jeans for a night out, the versatility of jeans is undeniable. With so many options, there's no limit to the looks you can create.
So go ahead, embrace the wonderful world of jeans. Try on different cuts, experiment with new styles, and don't be afraid to step out of your comfort zone. The perfect pair of jeans can not only transform your wardrobe but also boost your confidence, emphasizing the beauty of being uniquely you.
After all, jeans aren't just a part of our wardrobe; they're a part of our lives, holding memories and moments stitched in their fabric. So find your perfect pair, and start creating your own story.