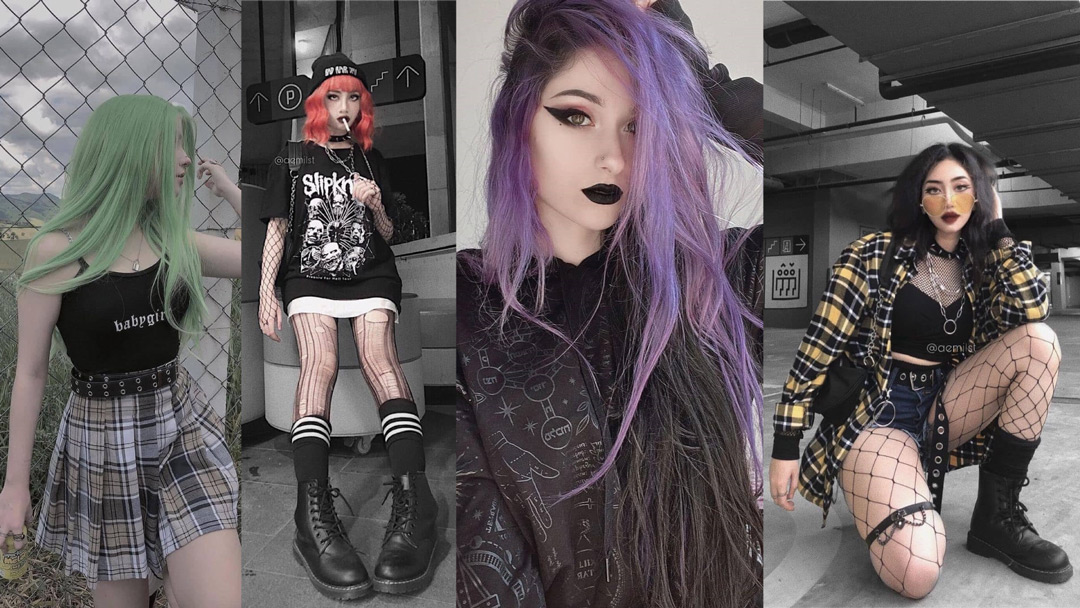 E-girls, or electronic-girls is a term referring to the style aesthetic adopted by mostly teens or young adults. Many call it an update to the scene girls and cyberpunk look of the 2000s. Yet what exactly constitutes an e-girl look? Here are the essentials that make an e-girl synonymous to edgy, experimental and effervescent. 
Where do E-girls come from?
E-girls came into the mainstream through Tik Tok, emulating the Nirvana songs and lip-syncing to the latest audio trends. However, it will be a rare sight if you ever find an e-girl in person. The aesthetic is bold, yet mostly limited to the online world. Thus, your next door neighbour who you see in sweatpants and jumpers might be the edgy one, and you wouldn't ever figure that out.
The term e-girl was first used to describe the minority group of girls in the online gaming world. They were assumed to be pretentious, without any real interest in gaming (and instead coming to platforms for attention from men, who were a majority of the gaming pool). Thus, the term was originally a pejorative connotation. Today, the term is far more used to describe a collective liking for the aesthetic (that is the fashion sense, makeup and hairdos in the genre).
Call them the scene sisters or attention seekers, the popularity e-girls have gotten over the past few years was a history in making. While people were seeing the grunge look on the streets, e-girls (and e-boys) made an aesthetic of themselves by being in front of a screen, and the world shifting to digital platforms as mediums of communication only pushed the narrative further.
E-Girl Style and Mindset
Independent mentions e-girls and e-boys as the 'antithesis' to the Instagram influencers. If we delve into the fashion history of the related subcultures, scene and emo kids were a rebellion to the perfect preppy and girly looks of the 2000s (mostly worn by Paris Hilton and Lindsay Lohan), and the e-aesthetics of today are a counter to the instagram-perfect face mostly shown by models and manufactured by photoshop.
E-girls when compared to the insta-face have the liberty to express their personality as long as they fit (and love to fit) in the aesthetic. The silent and moody nature of the e-girls also stands in stark contrast to the outgoing and bubbly nature of a VSCO girl aesthetic, which rose to popularity simultaneously.
Another major clarification required for e-girls is the attention. Whether an individual is seeking attention or not, the question is mutually apt to every subculture on the internet. Thus, today the term is just a title like any other.
The E-girl Closet
E-girls got the best of both worlds. The girly silhouettes with monochrome color palette (and some pop of reds, pinks and electric blues) juxtapose the two aesthetics, yet combine them into one complete edgy persona.
Tops
Striped Solidarity
Become the bad girl crush of the internet with various types of monochrome stripes. Stripes have been the go-to print for outerwear when it comes to any subculture remotely related to emos.
E-boys are often seen in such stripes, however, it can be easily worn as an e-girl with a black dungaree and a pair of boots to complete the look in as few pieces as possible.
Graphic Gazes
The e-girl aesthetic takes inspiration from the grunge culture of the 80s and 90s, which denied the use of fresh clothes and instead believed in makeshift DIY.
Worn out graphic tees are one such aspect of grunge adopted by the e-girls. Think tees of bands like Led Zeppelin, Nirvana and Arctic Monkeys.
Whether you turn your old tee as a tank top or invest in a fresh piece, make sure if you like these pieces to be oversized or not, as these are often worn over striped t-shirts or full sleeved neon ones.
Nets and Crops
Sheer fabric of any kind adds on to the mystery in an outfit, and e-girls utilise the psyche of a fishnet to perfectionism.
A classic black and white pair can keep you company for decades, as fishnets are often worn when going all out with your clothing style. If you shy away from baring your skin, neon fishnets act as a great accessory over any shorts or crop tops.
Pants and Skirts
Flared pleated skirts are the most common type of silhouette worn by the soft e-girls, while the more edgier ones look towards tight silhouettes of a black denim skirt, or even a leather one. The fishnet and skirt duo is versatile and can be worn with heels, boots or sometimes even flats.
Having skirts in the closer checklist for an e-girl also distinguishes them from the typical e-boy aesthetic, which usually has black skinny jeans.
When it comes to pants, the priority is comfort. Ripped or not, e-girls wear both skinny and baggy jeans confidently. Greys and worn out blacks are common hues for denim, while leather is thrown about whenever the outfits need to be elevated just a notch.  
Dresses
A not-so common piece is the dress amongst the e-girls, as they might point out the dungarees being equivalent to a dress. However, the influence of Japanese kawaii culture has brought alternate versions of the 'maid dress' in the internet scene.
E-Girl Accessories
Hair
In favour of the lockdown, the e-girl hairstyles skyrocketed as a trend thanks to the DIY nature of the look. The most basic hairstyle is the coloured strands of hair in front of your face, which can easily be done by anyone with a colouring kit at home. 
Ponytails and space buns are some of the hairstyles which require maintenance, yet are a defining hairstyle for the e-girls.
Jewelry
E-girls take jewelry to the extreme. Inspired by their punk predecessors, heavy silver chokers in circles or heart shaped designs are the most common necklace accessory. Chokers are often layered with dangling crosses and hearts which go down to the torso.
Necklaces also have leather straps in either black or pastel colors, embedded with pins and pointed studs. Chains used for the dangling beauties are either thin or thick enough to become a statement in itself.
Rings of any kind, be it on the earlobe or on your fingers, have connected chain links with the earlier mentioned motifs to keep a cohesive look. Silver is by far the only color used by the electronic girls and boys, which suit their calm yet eerie personalities.
On the talk of jewelry, let us balance it out with statement footwear. Heeled boots, doc martens or Mary Jane shoes are common favorites and work perfectly well with knee high socks on any given day. 
Makeup
At its minimal, an e-girl makeup consists of shaped eyebrows, bold eyeliner and eyeshadow with a natural blush and tinted lips. Yet more is more when shown on a screen; Bold cat eyeliner, heavy eyeshadow and equally prominent blush in various shades of pinks, reds and purples are staples in makeup. 
Try adding stamp-like motifs of hearts and stars as freckles if you wish to go creative. The blush tones are often matched with the hair or t-shirt colour for a unanimous look head to toe.
Frequently Asked Questions
Who are some of the famous e-girls to look for fashion inspiration?
Emma Lagevine and Pokimane are the ones involved in streaming and gaming, while Youtuber Nava Rose solely creates content in edgy fashion. Rari Kari is another famous Youtuber known for her experimental hairstyles. 
Can I wear the e-girl look outside?
Of course. Just because the trend is a result of the booming internet doesn't mean these styles cannot be taken out of your rooms. Many might not understand your purpose of dressing like an e-girl, but what matters more is you representing yourself.
What are some light colours that can be worn in an e-girl look?
White tees are definitely a good choice as it opens up the opportunity to layer multiple pieces over it. A rule of thumb (which can be experimented with), is to keep the lighter colours in the inner layers of your outfit, while the dark blues and blacks can go on top.