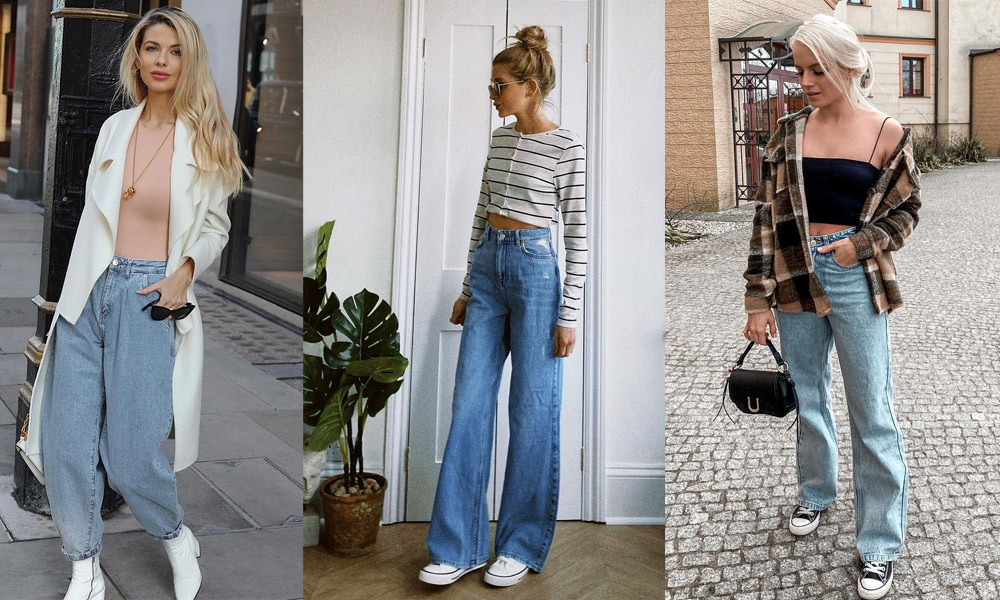 Tips on how to wear baggy jeans and what to wear with baggy jeans
If you've ever felt squashed in your skinny jeans, you'll be delighted with the new range of baggy jeans in the stores right now. It's great news for women who like more comfort and room to move about in their jeans. And it's also a totally up-to-the-minute look, so from now on you can be comfy and trendy in your casual wear. However, this huge change in jeans' styles means you have to re-arrange the rest of your fashion clothes to put together a balanced look.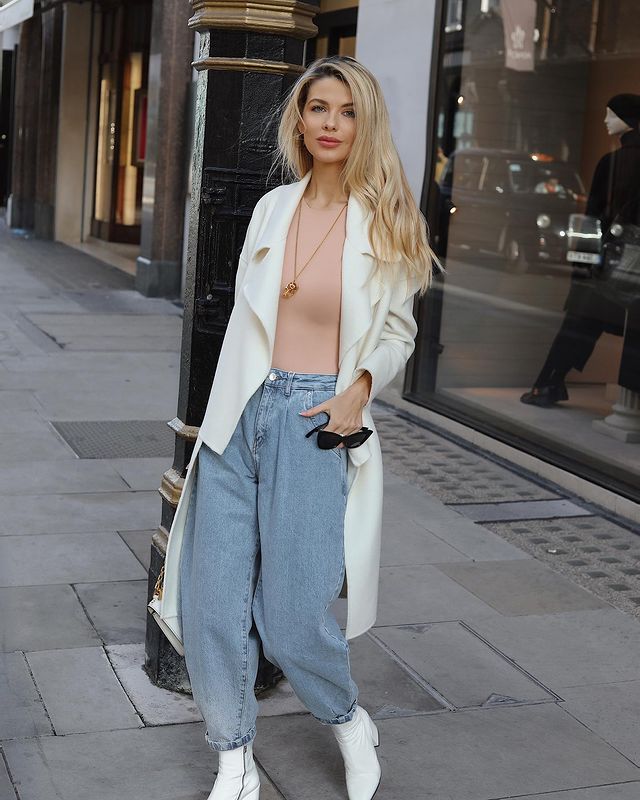 So this is your easy guide to how to style baggy jeans for a fresh new image this year!
All-inclusive trend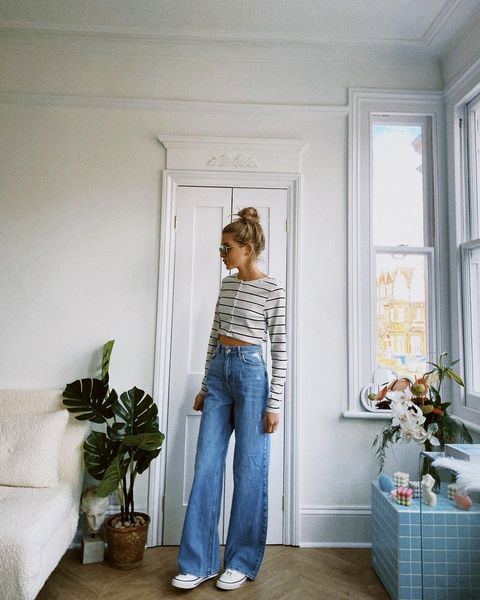 The main thrust of this fashion sea-change is that oversized clothes are back in fashion, so you'll be wearing one-size up tee-shirts, flannel shirts, sweatshirts and sweaters with your wide-leg, baggy jeans. And that also means that plus-sized women can enjoy loose-fitting outfits and be more at ease with themselves, which is how it should be!
This new trend is definitely an all-inclusive one, and women of all different sizes should be able to shop in the same stores.
Super-cool baggy jeans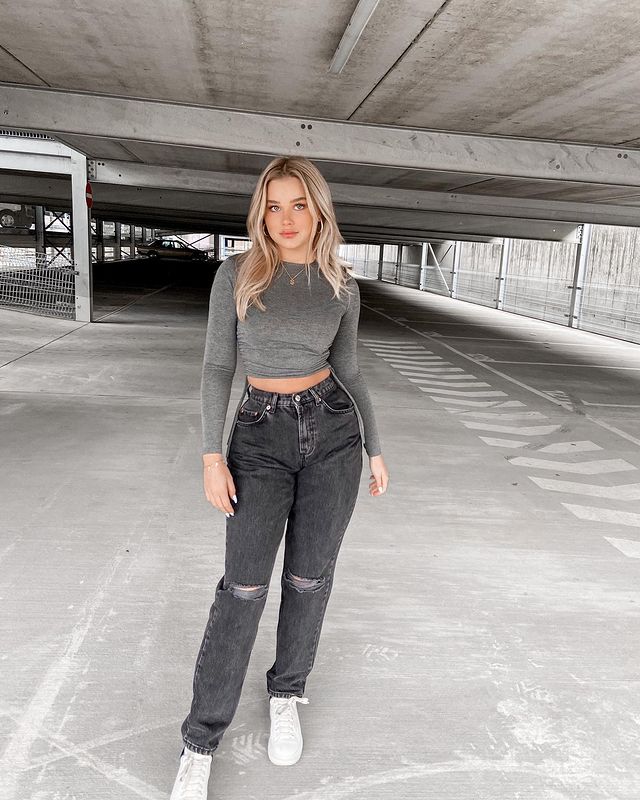 And if you're a fan of distressed, surfer and skater baggy jeans, there are plenty of baggy jeans to suit your taste! Baggy jeans are super-casual and cool, and they send a message that you wear your clothes for comfort and don't fuss about having a tailored look. And if you can't find the clothes designed to be oversized in your size, try just sizing up one size with a normal cut for a slouchy fit!
New jean styles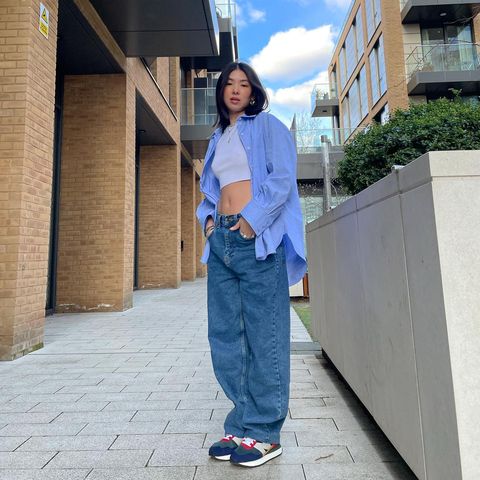 Skinny jeans aren't going to disappear, as they are incredibly popular, but now we'll have more choice and can buy jeans in a variety of more generous cuts. At present there are baggy jeans, wide-leg jeans, mom jeans (with a loose, tapered leg cut to just above ankle length, high waist and a more shapely silhouette), boyfriend jeans, dad jeans (with a low crotch and slouchy look), flares, boot-cut, bell-bottoms and straight-cut legs on offer.
Fab colors for sweaters & tops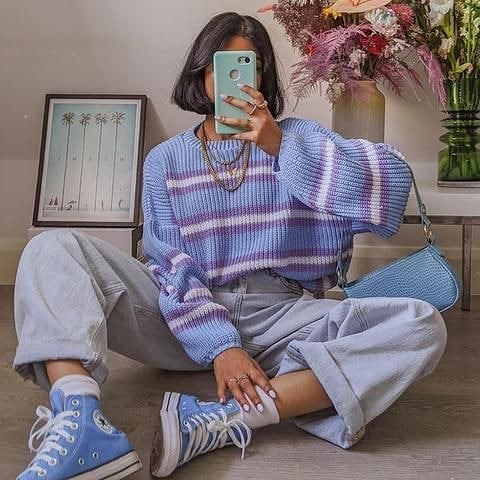 There are lots of fabulous new colors in the tops you'll be wearing with your snazzy baggy jeans, too! For winter wear, black, gray, brown, tan, cream, purple, burgundy, green and hot pink. And for spring and summer, there are lots of pretty pastel shades in lavender, blue, green, soft orange, burnt orange and pink.
Flannel shirts & plaid jackets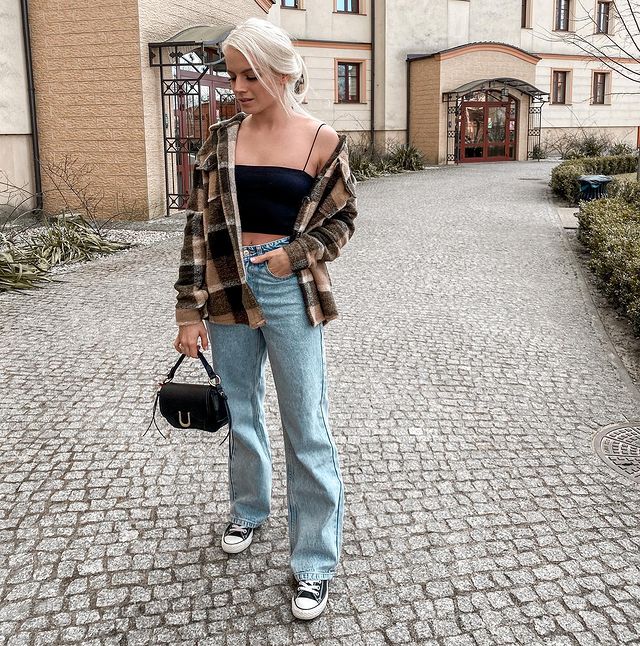 Baggy jeans are not going to be for everyone, especially petite women, like me, who just look short and squat in baggy jeans! But taller and broader women can carry off this look without any problems. So you should be wearing oversized denim jackets with your baggy jeans, and the new plaid, check and tweed oversized jackets for a smarter look.
Flannel shirts in gray, or brown check are popular, and there are also attractive, thicker flannel shirts, which are really a warm jacket designed to look like a flannel shirt. The stores are full of the new accessories you'll love to wear with your baggy jeans!
Cropped & oversized tops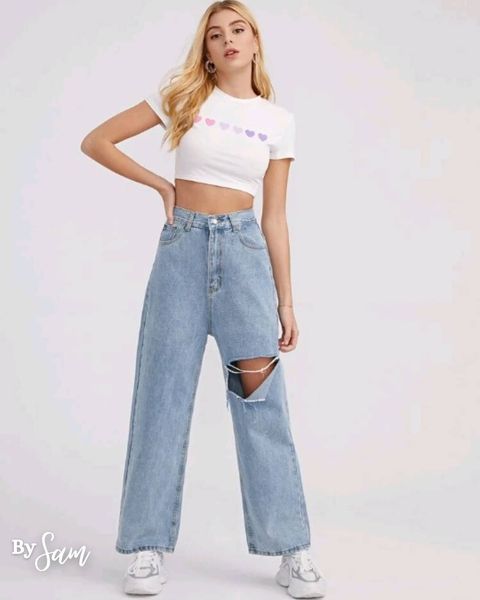 And although everything is 'bigger-fit', lots of the wool and tee-shirt tops are cropped or a cute, waist-length. And this means you get emphasis on your waist, so you won't look swamped in your new clothes. Attractive new look cardigans are on offer everywhere, with lots of them much shorter than you remember. And for winter wear you can get long and thick cardigans with texture in the knit, to be worn as lightweight coats.
Look out for versatile and trendy gray, brown, sand, cream and tan that are complementary colors to blue jeans. So it's quite an exciting time in fashion, as just about everything has been updated!
Baggy jeans platform shoes & boots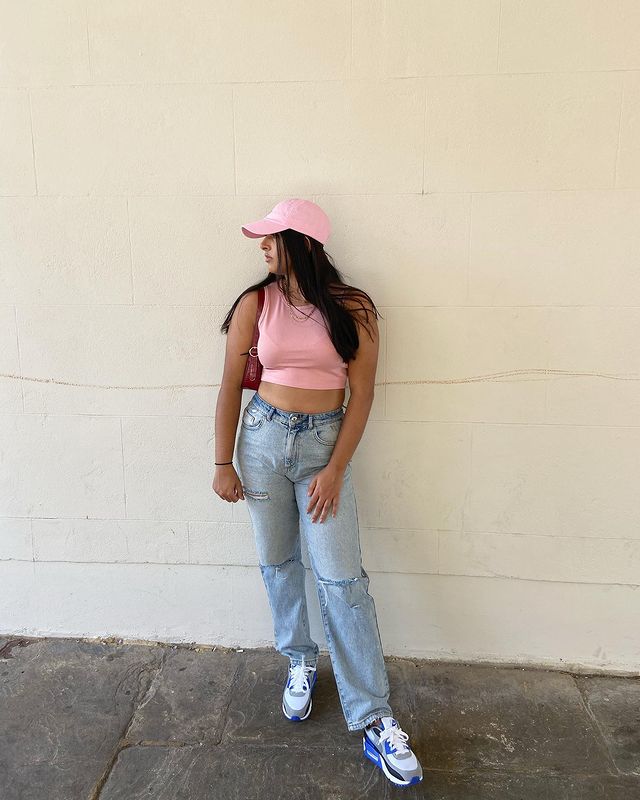 You can pair baggy jeans with a variety of shoes and boot styles, but chunky footwear is the best option for an overall contemporary vibe. For winter wear, engineer boots and ankle boots are a good match. And trainers, but in particular, platform shoes in any footwear style will give you a good balance in proportions with baggy jeans. And if you're not very tall, the extra inches of a platform shoe, boot or sandal will give you a more flattering, taller silhouette by making your legs look longer. Baggy jeans should be worn long enough to cover your platform shoes or boots.
And a word of caution – high heeled boots and stilleto shoes can easily get snagged on the inside hem of wide jeans and cause you to fall forward, so try to avoid wearing thin, high heels with baggy jeans.
Feminine cardigans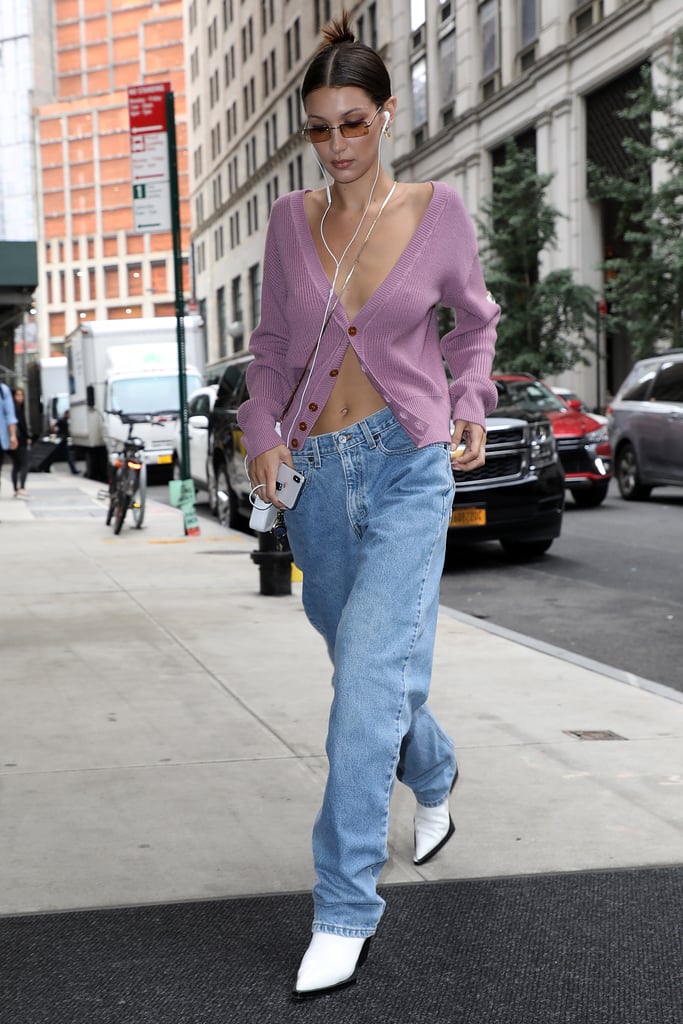 The cute cardigans are something that smaller women can wear, as well as everyone else, and I can't wait to choose summer cardigans this year. They have lots of interesting and pretty details, for those who want to offset the masculine vibe of the baggy jean.
These are meant to be worn as a buttoned up 'sweater top' with your wide leg jeans. They have feminine details, like lovely, large lace collars, pretty pearl buttons, shiny jewel buttons and attractive embroidery, which will make your cardies versatile to wear with summer dresses, too.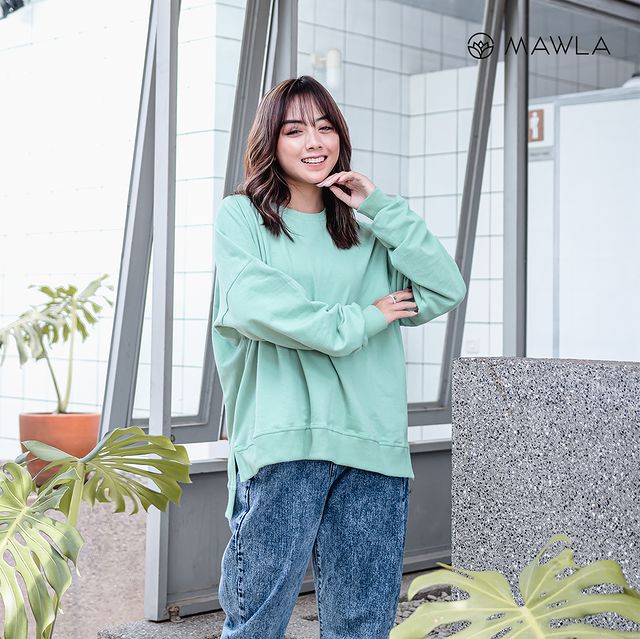 Lots of sweaters are cropped and wider than normal continuing the 90's fashion trend. Cropped and waist-length woollen tops look especially great with high-rise jeans and accentuate your waistline and curves in a flattering way.
Knitted tank-tops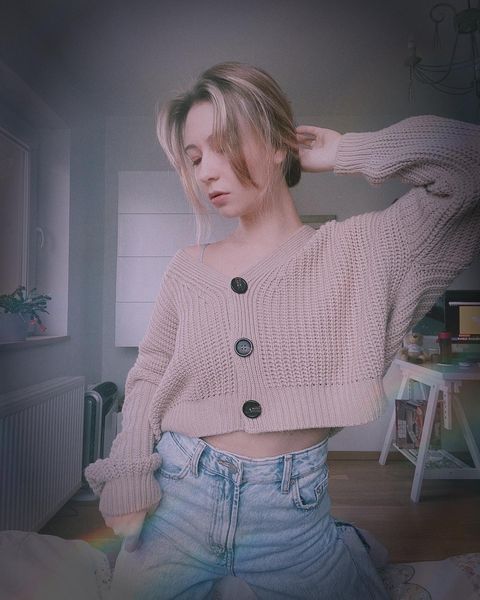 After being a joke for so long, the 70's knitted tank-tops are back and specially designed to match your new baggy jeans. They are much shorter and wider than the close-fitting tank-tops that people wore over blouses and shirts in the distant past. And they can be very figure-flattering, so make sure you try them out, too!
A tank-top adds a degree of warmth to your blouse or shirt alone, without you having to cover up with a jacket, especially if you don't want to crush your puffy sleeves or do want to show off a pretty patterned shirt.
Puffy sleeves & baggy jeans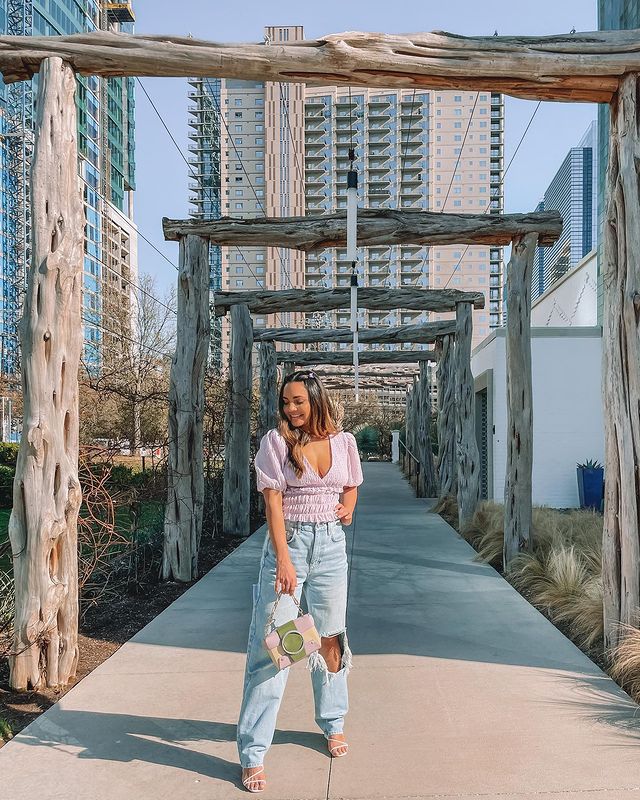 Puffy sleeves are also a popular trend in sweaters, cardigans, blouses and shirts. And they look great with baggy jeans, because they balance out the wide legs with more volume on the arms. They are also a feminine look, so we keep our sex-appeal – even if we are wearing heavy engineer's boots!
The summer tops will feature lots of pretty floral patterns in shirts and blouses with V-necked and round-necked fine-knit tops with lace just showing a little bit around the neckline. And there's a huge range of bright quirky coats and jackets waiting for us this summer, too!
Graphic T-shirts and baggy jeans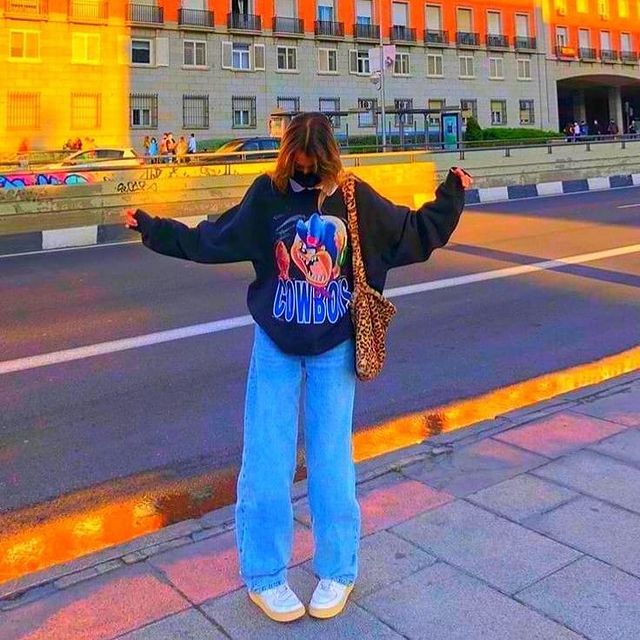 This is another area of fashion that has just exploded with new images and logos to keep us looking and feeling fresh this year! They are the perfect type of tee-shirt to wear with your baggy jeans and can reflect your interest in a band, a sports team, even a T.V. show like Friends. Go for random images that just appeal to you, or messages that reflect your interest in 'green' projects, or art.
Out shopping today, I noticed that not only are there lots of cooler, vintage-look Mickey Mouse tees with images from 1928, but many vintage characters from Looney Toons are now printed on tees, like Tom & Jerry. So you can go for a bright, fun look with your baggy jeans, too!
Tucked-in style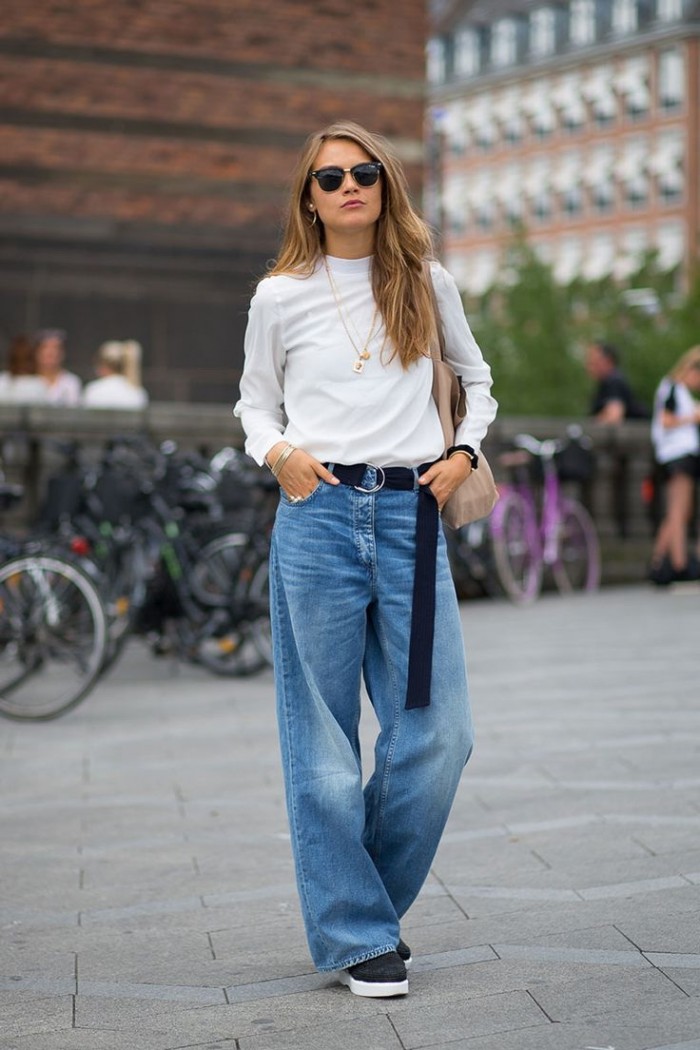 And if you don't like the cropped styles or can't afford to re-do your whole wardrobe, you'll be fine if you just wear the clothes you already have, but tucked-in at the waist! The tucked-in, all around the waistband look is another key to the high-waist, baggy jean style and contrasts with the oversized tee-shirt or sweater look. But the point is not to all wear the same, exact styling with your wide leg pants, but to pick and choose what suits your budget – and most of all your body-shape!
Outfit suggestions for baggy jeans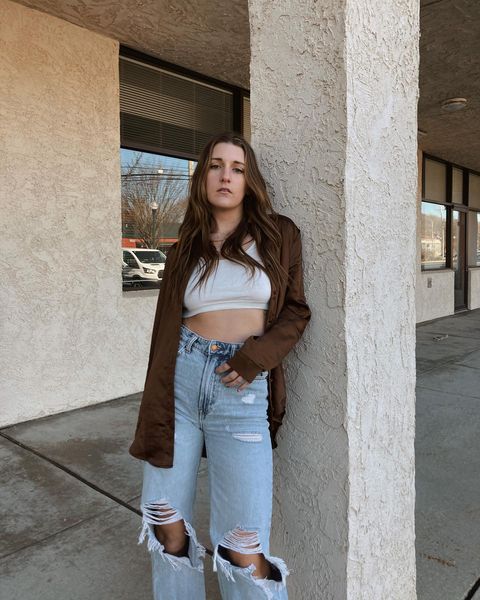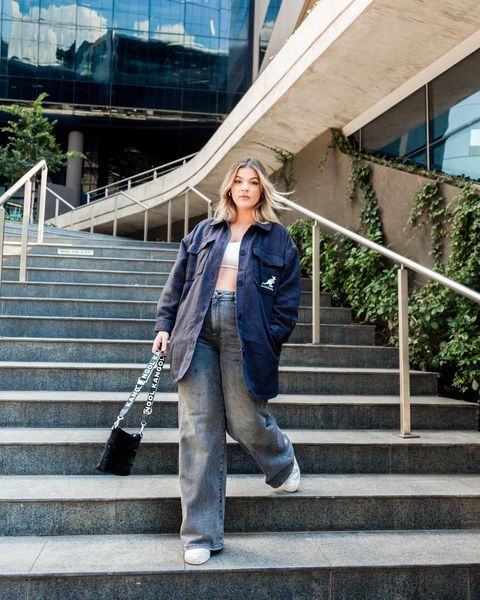 Here are just a few of the outfit options you've got with baggy jeans:-
Skater-chic is easy to achieve with baggy jeans and Van's sneakers. Wear a tee-shirt under an animal-print coat for a super new look.
For a Boho, polished look wear a quilted jacket and medium-heels with your wide-leg jeans.
Chunky boots and a brightly colored sweater and jacket will bring your baggy jeans' look to everyone's attention.
Wear an attractive belt, heels and a structured handbag to look ready for more formal activities.
Baggy 'dad' jeans have a low-waist and crotch, so always tuck-in your top to keep some body-shape.
Make your 'dad' jeans chic by wearing with an olive or brown shade trench-coat and a brightly colored handbag.
Get a modern skater look, with distressed baggy jeans and heels, all topped off with a short, baggy black leather jacket.
Look out for slouchy two-tone sweaters or wear your long cardigan off one shoulder to reveal a blue and white stripe tee underneath. Match with cuffed baggy jeans and black Doc Martens for an original look.
A simple, light-blue jeans and sweater outfit looks extra-trendy if you choose one of the new 'cut-out' sweaters, with a gap from shoulder to just above the elbow. And pointed white shoes!
Try cropped, wide-leg jeans with a dark-blue and white striped long tee-shirt, cowboy boots and a long leather jacket.
Two or three-tone tie-dye tee-shirts are also a great accessory to wear with baggy jeans. The tie-dye patterns are different from the hippy vibe, so you'll have a look that's authentic, but with a contemporary twist!
There are lots of sexy, cropped tops with bust shaping, so copy 90's style with light-blue baggy jeans, a bralette cropped top and a long, see-through raincoat.
With the international high-street shops displaying all the new tops and shoes you need to make a great baggy jeans outfit, you need to put aside plenty of time for each shopping outing. LOL! You'll be mesmerised by the difference in this year's fashions and need to do a lot of 'trying on' of clothes you may have never tried before!