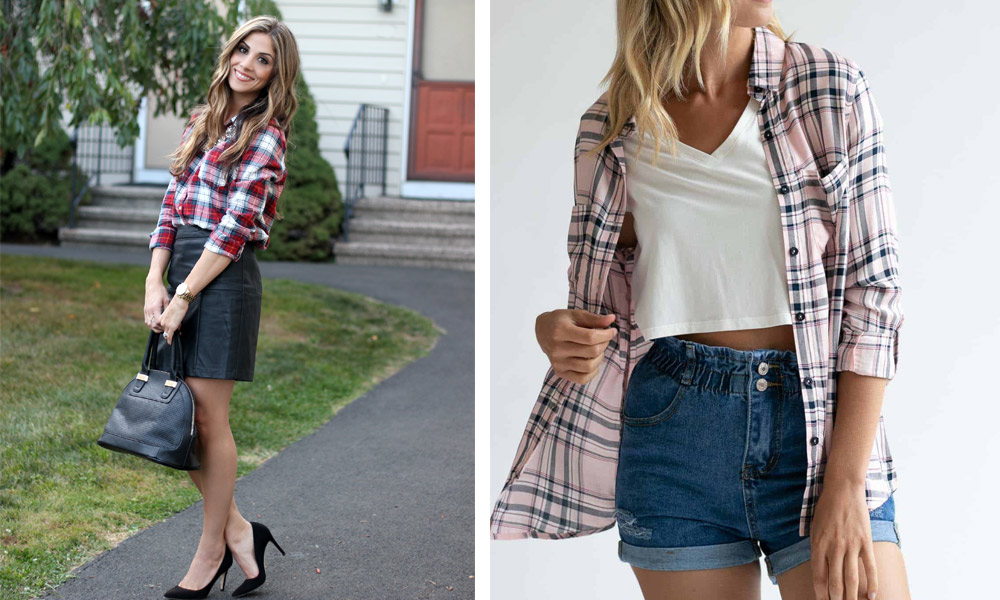 1. Flannel & faux leather skirt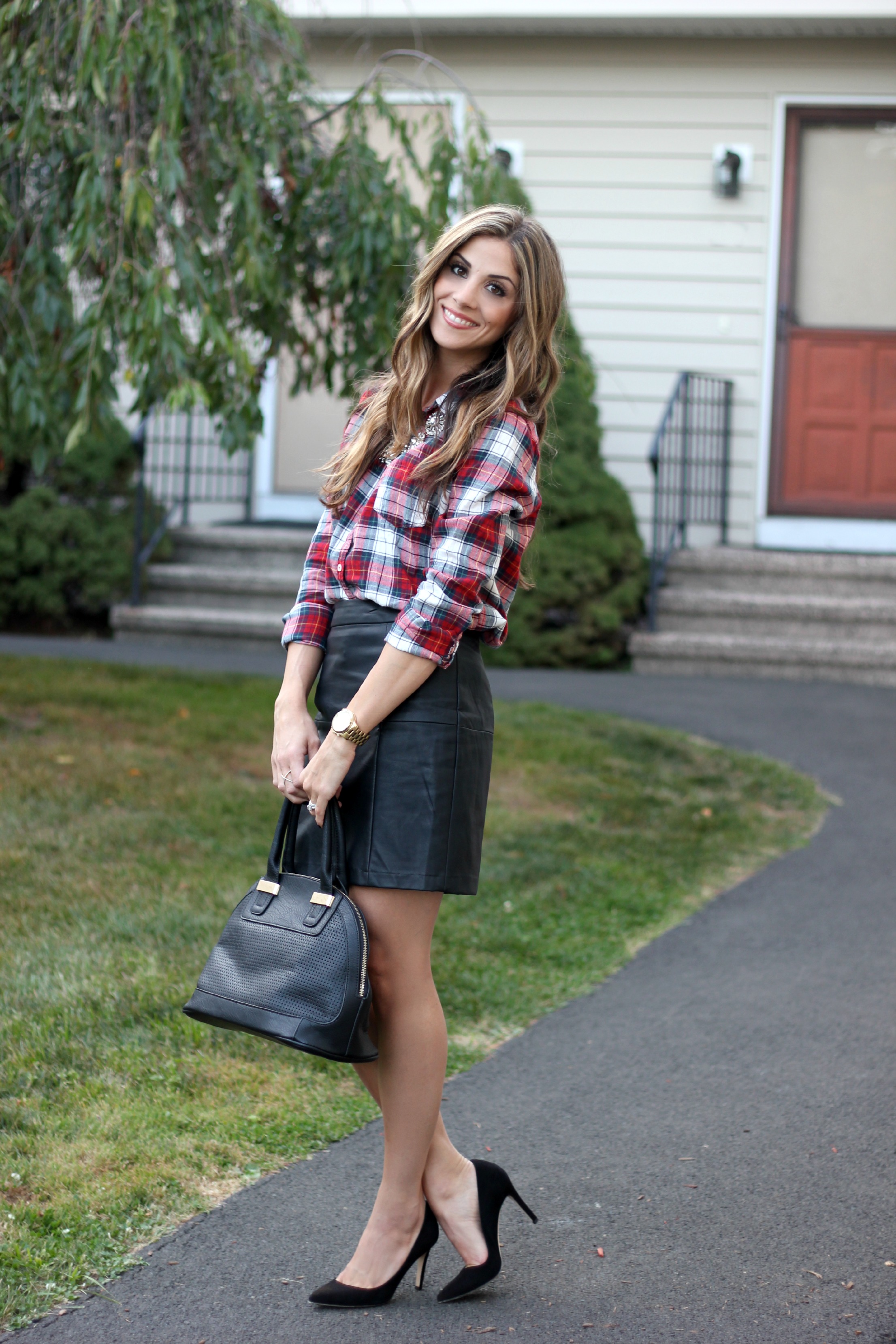 Flannel shirts are always popular from autumn to spring, as the high wool content in authentic flannel is extra-warm, breathable and soft on your skin. And if you style it with flair and imagination, a good quality real flannel shirt can look as smart in the office as it looks in any outdoor setting. This red and white flannel shirt, tucked into a super-trendy faux-leather skirt, is a smart look that you could wear for almost any occasion!
2. Patterns on flannel fabric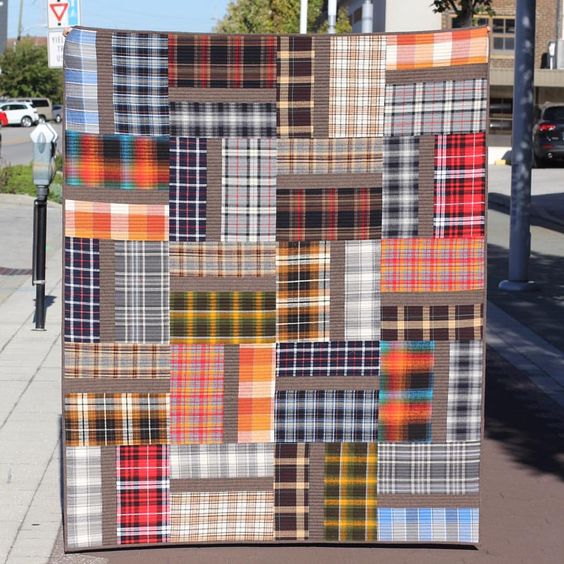 There are three main types of pattern traditionally used for flannel shirts and they are wide-checks, plain with no pattern and classic tartan plaid. One of the most popular, traditional ways to wear a flannel shirt is with black leggings. This always looks good and you can make it high-fashion trendy with an urban chic messenger bag and flat bootees. Or you can dress it up with heeled boots up to knee-height and a smaller shoulder bag.
Remember that wide checks can swamp a small figure, so if you're petite you'll look more appealing in a small tartan pattern. And large checks are a good way to skim over those parts of your figure that you want to draw attention away from.
3. Fun message shirts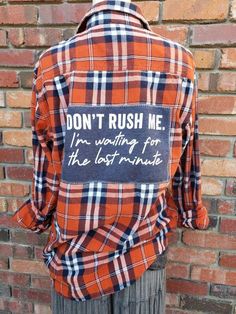 Here's a super new style idea to bring flannel shirts right up-to-the-minute in 'attitude'. It's one of a wide range of the latest 'message shirts' that have copied the idea of messages on T-shirts and given them a vintage look for trend-setting fashion style! You can choose from a wide range of styles for your message, including glamorous gold crowns to eco-slogans and humorous, witty remarks!
4. Quirky flannel clothes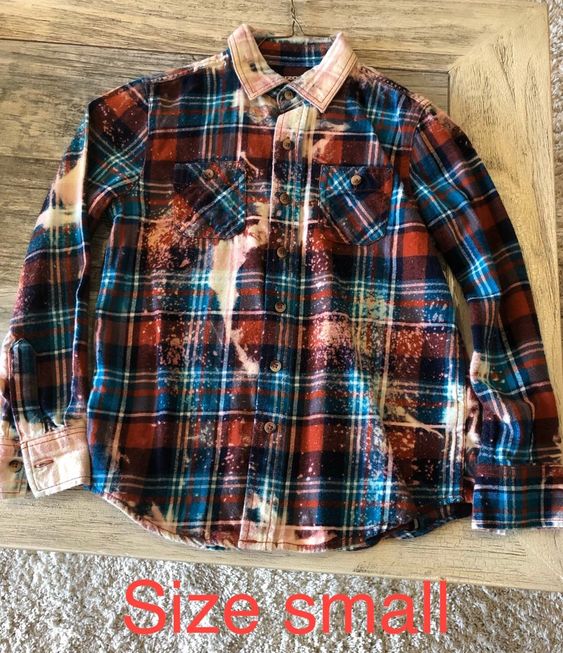 This unconventional checked flannel shirt is about as far away from traditional flannel style as you can get. And that's because it has a sort of industrial chemical vibe, which suggests factory work, rather than outdoors. It has well-chosen, trendy colors of burnt-orange and blue, which have been treated with bleach to create a totally new look. And the result is very work-wear punk, and will make a super, eye-catching urban look with black, skinny jeans and engineer boots.
5. Flouncy flannel blouses


This loose-fitting flannel blouse is a new way to style checked-flannel fabric to fit in with this season's fascination with flounces and fancy sleeves. It's a really interesting style, with a retro pie-crust neckline, which we last saw on the lovely outfits worn by Princess Diana. So if you prefer a feminine look to your flannel tops, this is a great look to match with black vinyl pants or skirts!
5. Vintage punky flannel garments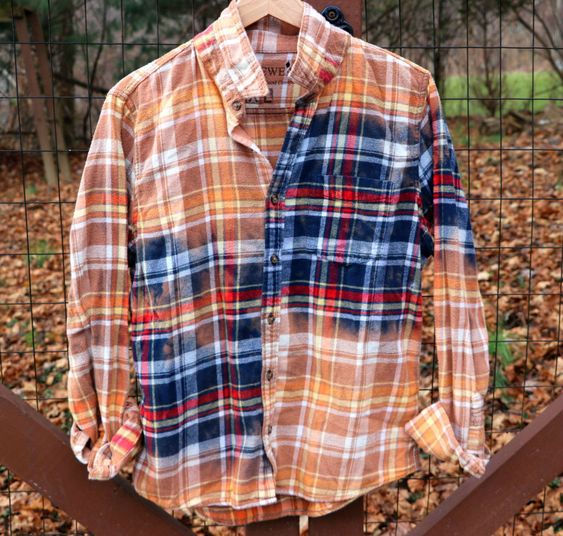 And re-cycling is a great way to help save our environment. This is a second-hand, vintage flannel shirt that has been re-styled by expert use of bleaching chemicals to go from a smart red and blue check to a punk look! And the more your colors seem to clash, the better. Worn with heavy engineer boots you'll get a fabulous urban look that's miles away from lumber-jacks and cowboys!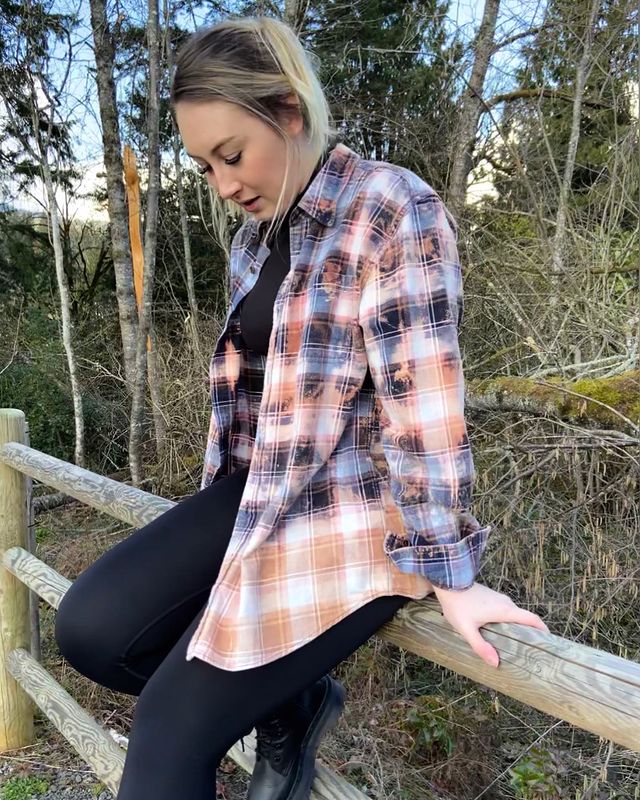 5. Grunge & 'distressed doll' flannel outfits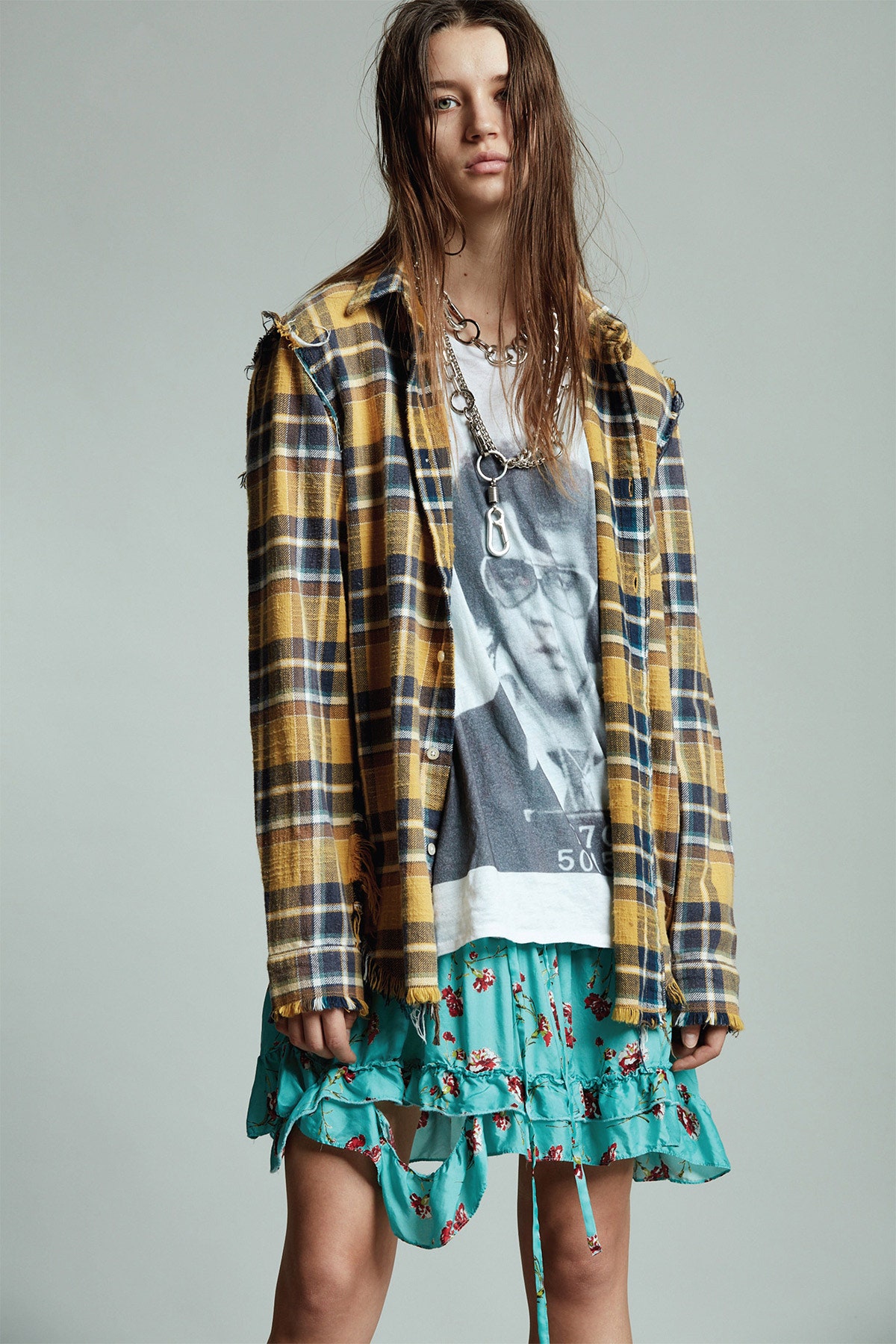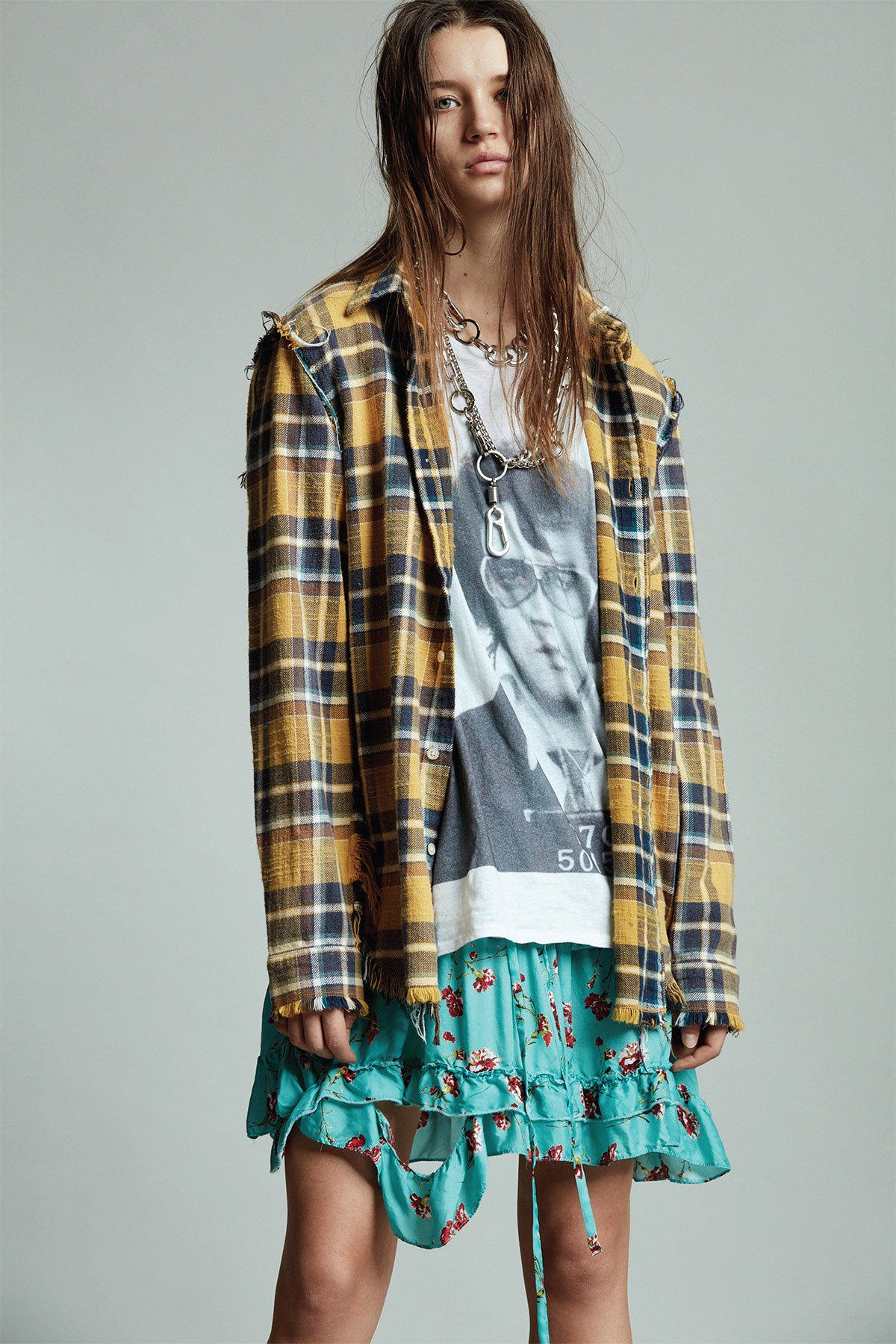 Someone looks as if they're having a 'bad day' in this image! LOL! But it's just another trendy teenage look that goes by various names from 'distressed doll' to grunge. To be honest, I like it a lot and also think it's quite a useful trend. It's original and it's moving us all away from an obsession with designer brand 'uniforms' that cost far too much! There's nothing more fun than looking through vintage clothes at a flea-market!
6. Re-worked retro flannel attire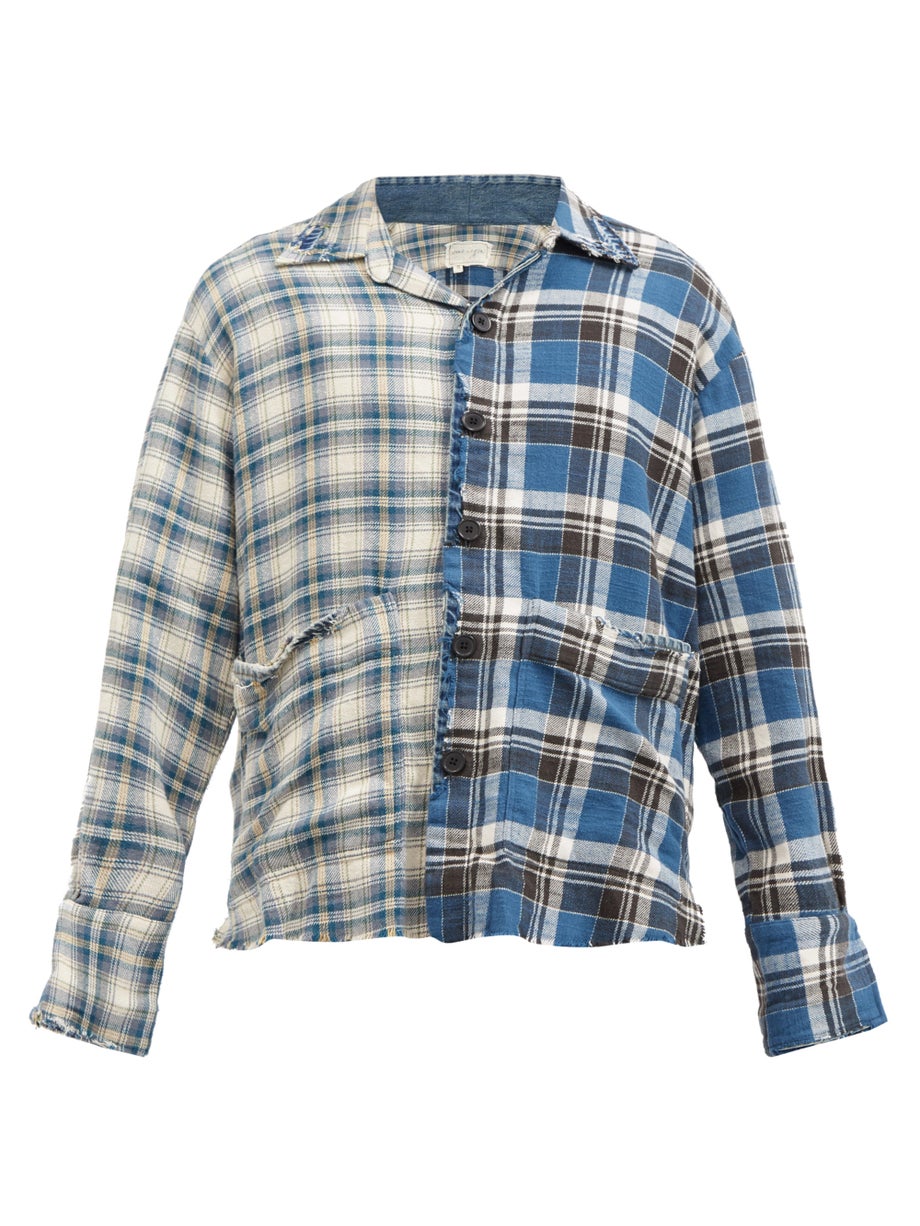 And this is another contemporary way to re-style vintage clothes from 'cast-offs' to 'must-haves'. Clever seamstresses and tailors are taking retro clothes apart and sewing different styles and colors together to make fresh looks to enhance your individual style!
7. Chic color combinations for flannel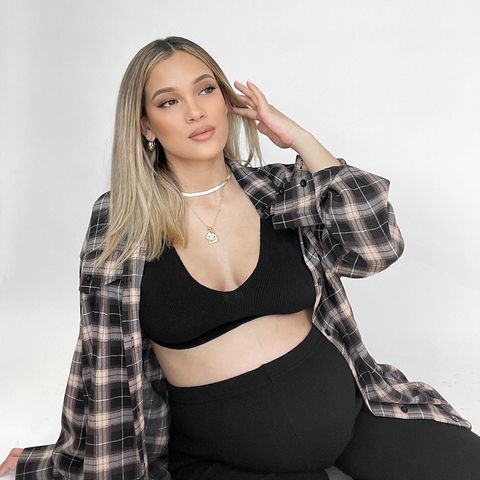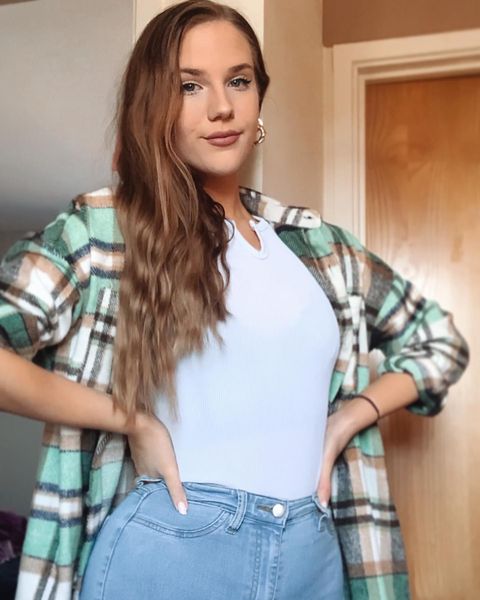 Apart from black leggings and blue jeans, there doesn't seem to have been much change in flannel shirt styling for a few years now. So let's get some new trends going and start matching pants with the main color of the flannel shirt. If you like plaid and want something warm but chic, then pick out the main color from the tartan – which could be anything from green, red, purple, blue etc. – and wear matching colored jeans or pants.
Then you can either tuck in your shirt, or leave it casually loose, and finish off the look with a matching or toning cardigan, or jacket. This carefully color co-ordinated look will keep you warm all day if you work in a cool environment and look suitably professional.
8. Under a sweater

Another attractive way to wear your flannel shirts is beneath a round or V-necked sweater. Choose a plain sweater that complements the colors in your checked shirt and make sure that you have three points where the pattern is showing up against the plain sweater. So that would be the collar, the cuffs turned back over the sweater cuffs, and the bottom of the shirt showing below your sweater. It's a chic look that balances pattern, texture and plain fabrics in a stylish way.
9. Faux fur-lined flannel shirts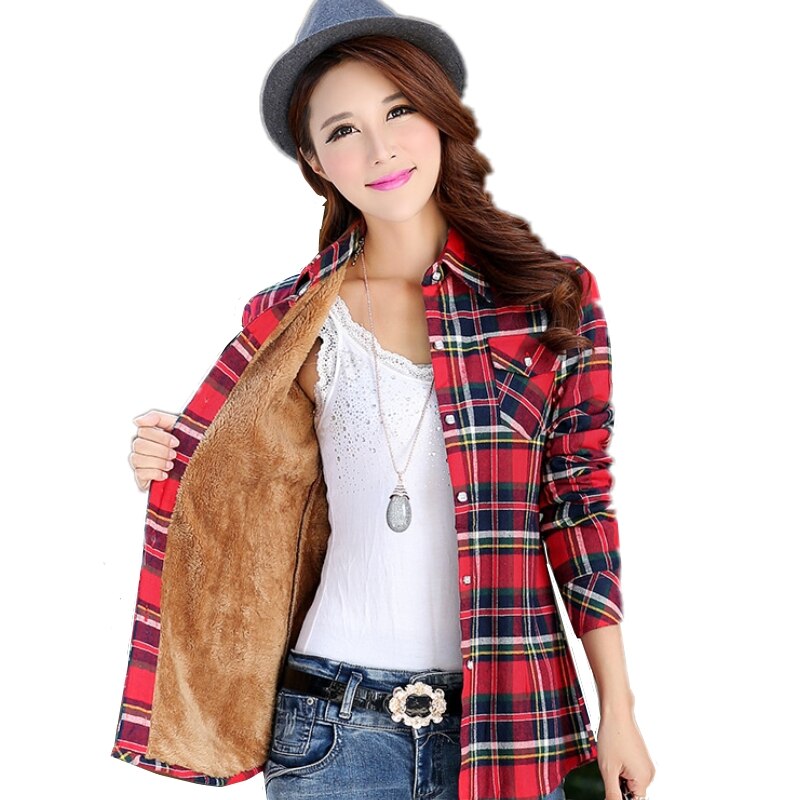 This season has a big trend in fur-lined jeans, jeggings and leggings and they have copied the super-warm fur-lined flannel shirts. The idea is that you don't have to go out wearing so many clothes to keep warm, like 3 sweaters and 2 T-shirts under your jacket, so you look like a much larger version of yourself! This pretty outfit combines a cute and romantic vibe in the lace-trimmed white T-shirt, trendy silver belt buckle and crystal pendant, which you would usually be wearing in the depths of a cold weather spell. But covered by a faux fur lined red flannel shirt, you can look cute and feminine whilst keeping warm and fashionable!
10. Fantasy hair color & flannel matching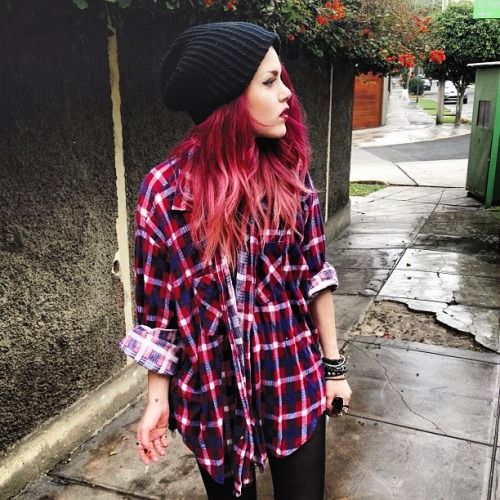 If you love fantasy hair color, you always have to pay a little more attention to your clothing colors. But this stylish gal has managed to get a fabulous color combo with her red and coral hair and the red, blue, white and black flannel shirt. The key to getting a good look is to wear cool colors if your hair is a cool color, and warm shades if your hair is a warm color. And although most people think red is a 'warm' color, it is actually a cool color with a lot of blue in it!
11. Cowgirl flannel styles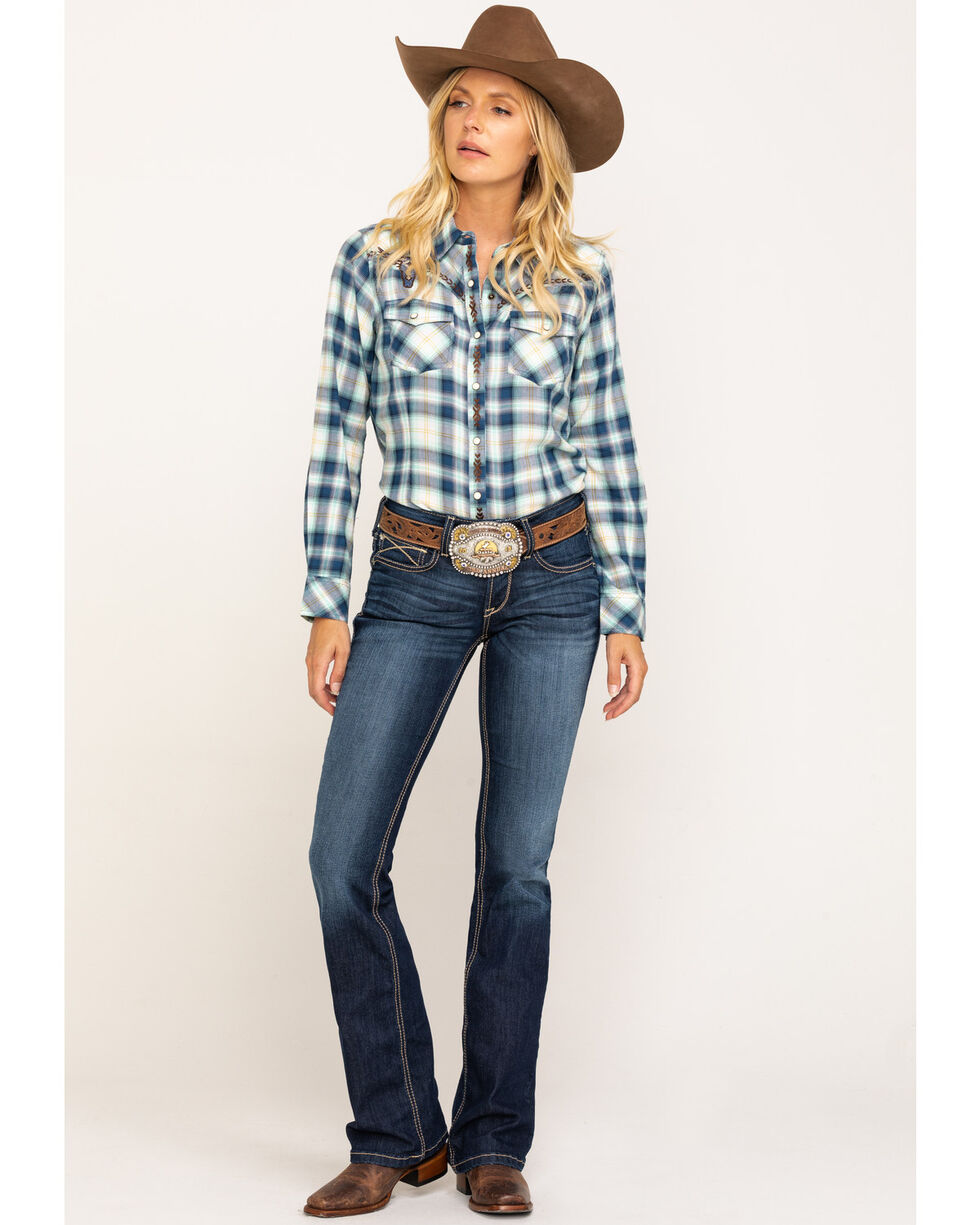 This familiar way to wear flannel in the cowgirl style has been brought up to date with the unusual turquoise color of the shirt. And it's an image that shows all the accessories you need to create a cowgirl look, including the hat, a fancy belt with eye-catching buckle and the latest flared jeans. Cowgirl boots usually have a heel and are higher than ankle boots to give protection when riding the range!
12. Biker flannel shirt styles
Racing down the highway on a bike is a pretty cool; I mean 'cold' experience at any time of the year, so you definitely need to have the right clothing. And even if you don't do a lot of biking yourself, you can dress like an authentic biker chick and be warm and super-trendy. This stylish young woman has put together a fabulous biker outfit, featuring a flannel shirt over a patterned T-shirt. Flat ankle boots are the most fashionable footwear for casual flannel and leather outfits and the clash of patterns, jewelry and colored patches really balance out the black base color and add lively trend-setting style!
13. Be trendy in summer flannel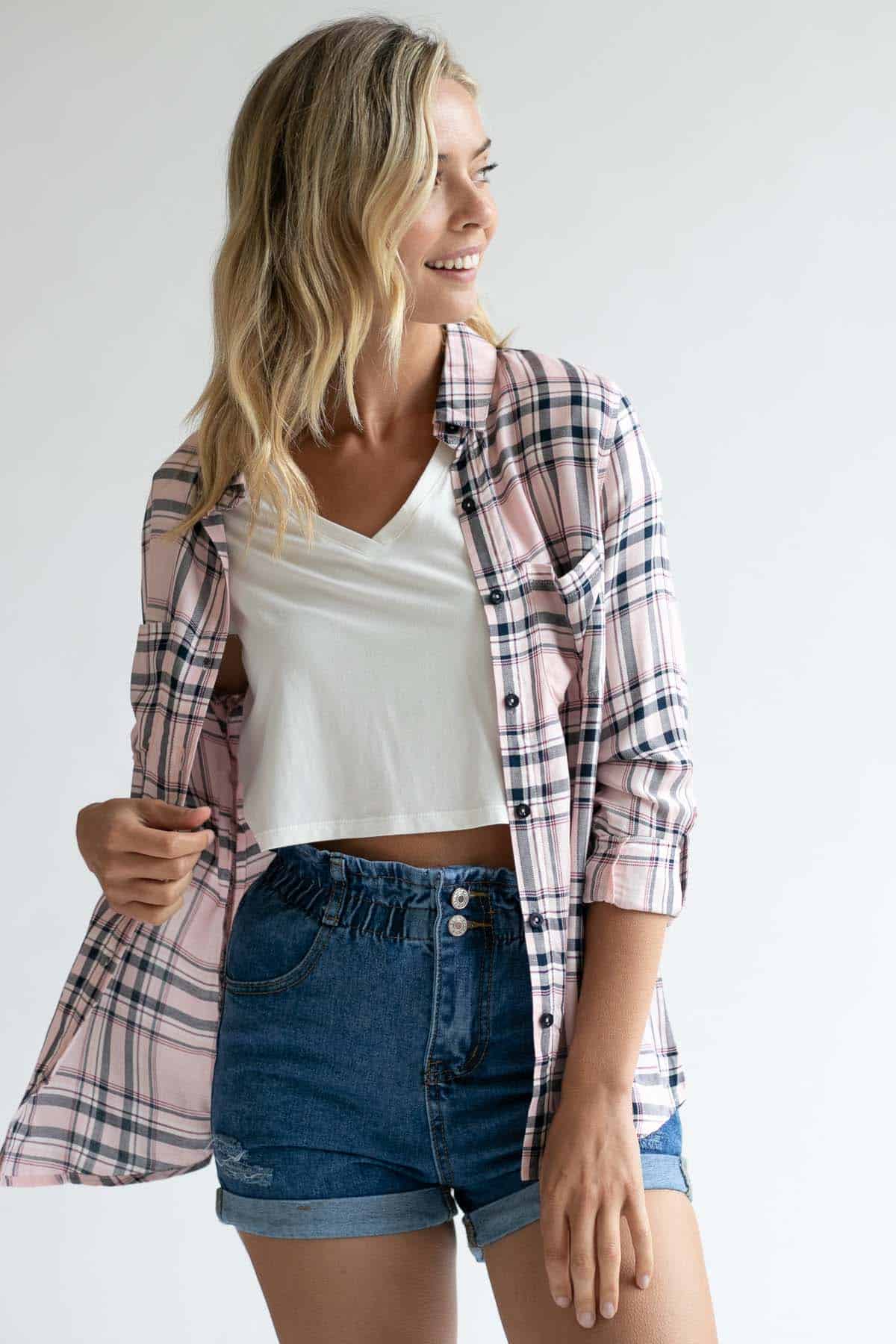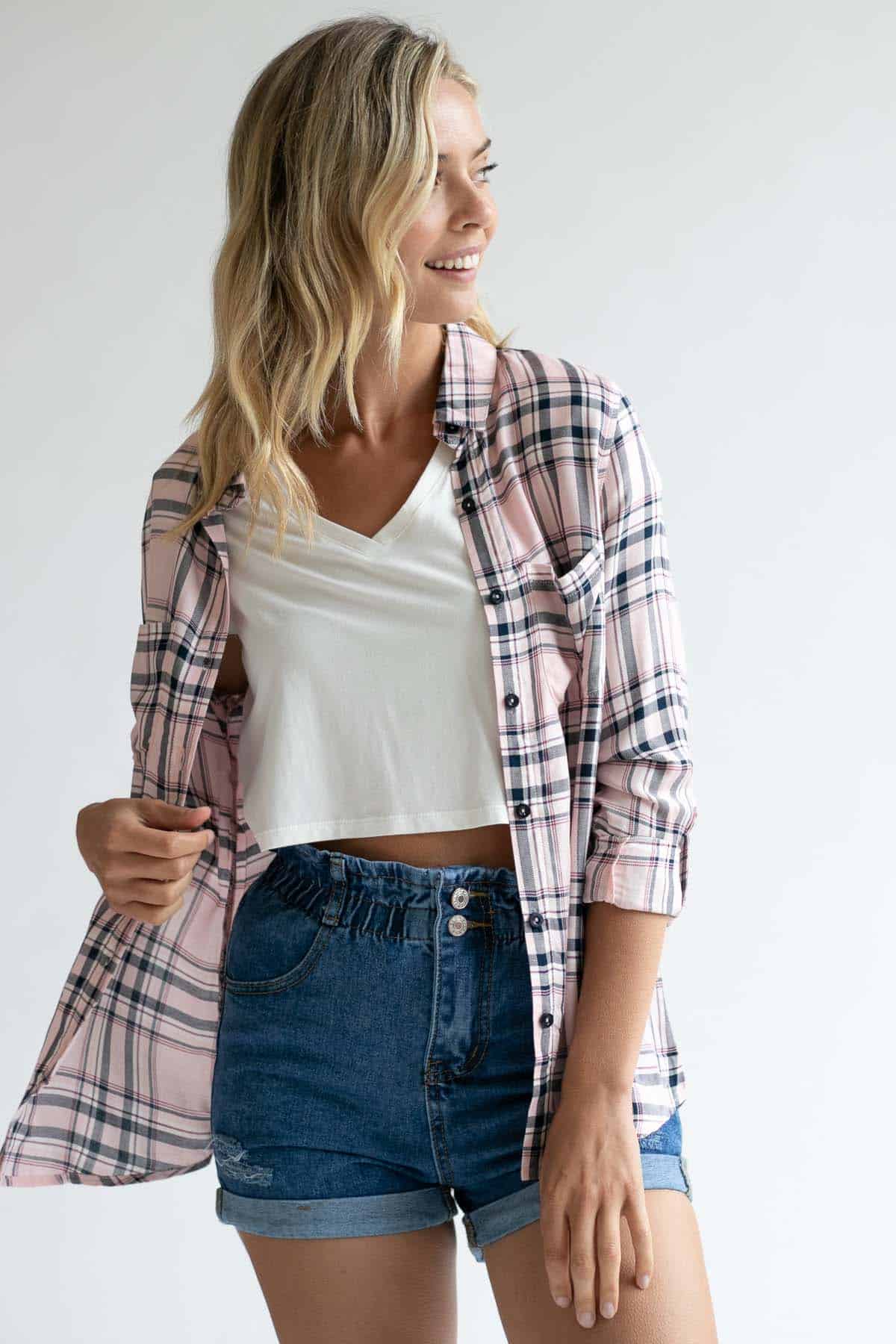 Pink Summer Flannel –ragstock
You won't always be wearing your flannel tops just to keep warm and there are plenty of cut-off flannel tops to wear in warmer weather. Sleeveless check blouses can be worn over a simple, white blouse or a T-shirt in a matching or clashing color. And you can cut your own old flannel tops to have a diagonal bottom edge, worn over a T-shirt or flower-patterned blouse for something completely new and edgy!
14. Do-it-Yourself flannel re-cycling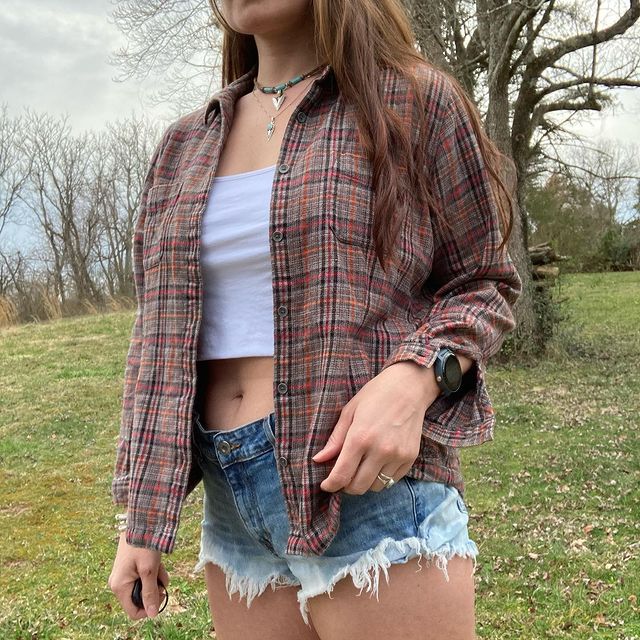 And those of you who have sewing ability can create marvelous new combinations of checked flannel with lace, satin, velvet, geometric, floral and beige canvas fabrics. Flannel is such a bright and versatile fabric that has been very popular for many years, so there's a whole heap of 'cast-off' vintage material just waiting to be re-styled and re-cycled. Use your imagination to use it on everything from glued-on, card-board-box covers, to trendy light-upholstery on foot-rests and even glued onto the top of vintage coffee-tables!
15. How to buy real flannel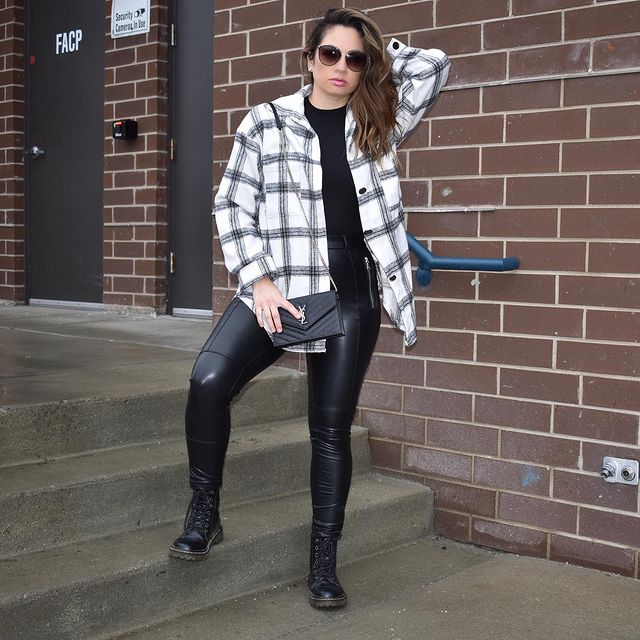 Real flannel was invented in Wales, U.K. to deal with the need to work outdoors in their cold, rainy climate. It's made from tightly spun, long sheep wool fibres that are then woven into a dense material with a velvety texture. This texture is the key to trapping warm air from your body and wicking away perspiration moisture to keep you dry and comfortable. So there is a big difference between wide-check and plaid shirts that are made from other materials, like cotton and synthetic blends, and real flannel shirts.
So from warm and cosy flannel sheets to old flannel night-shirts and uni-sex shirts, let's bring back all types of flannel and enjoy its bright colors, versatile fashion style, durability and really useful recycling properties to help us all look and feel truly eco-trendy!