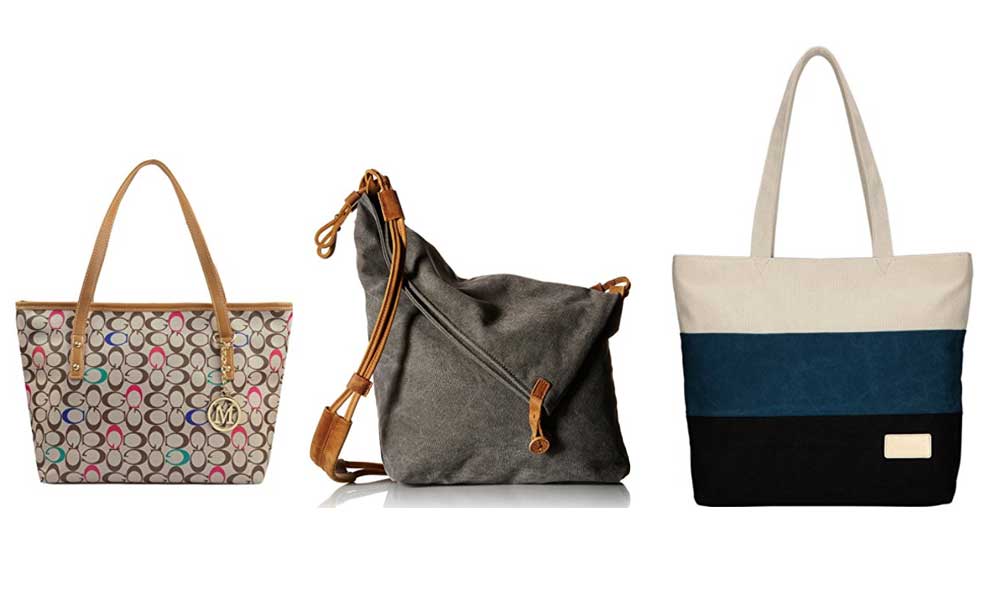 One woman can never have too many bags. Most women can attest that there is rarely ever an event or situation you attend that doesn't require you to carry some of your belongings with you. Sometimes all you need is your car keys or a credit card, like on a quick trip to the grocery store. However, other situations, like when you're heading off on a weekend trip, necessitate a larger packing list. Many men might be able to get away with just using the unusually large pockets of their pants to carry their necessities. One look at the non-existent pockets of female skinny jeans, however, shows that this same trick doesn't work the same way for women. That's why women really do need the excessive horde of bags that exist in most of our closets.
When it comes to choosing a bag to buy, there are two main concerns most women consider before making their purchase: attractiveness and functionality. You want to make sure that the bag you buy fulfills its purpose, comfortably holds what you need, and doesn't fall apart. However, you also want the bag to add, not detract, from your style when it's on your person. Any bag you buy needs to be both cute and functional, but this combination can be somewhat difficult to find.
8. WINK KANGAROO Leather Rucksack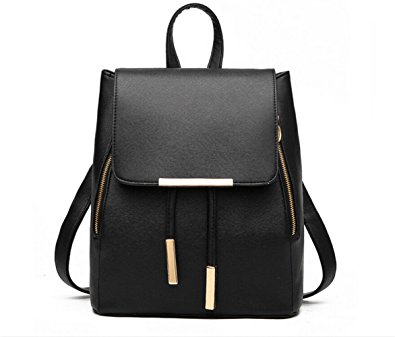 This leather backpack combines a cute design with a very useful construction. Its miniature size makes this bag the perfect choice for a day trip or any other outing when you need to carry a bit more than what will fit in your standard purse. The backpack features six separate pockets, including one back zippered pocket and five inside pockets, that allow you to independently store and carry your belongings for simple and convenient access at any time.
Everyone has a different style, and this backpack caters to various fashion senses with its availability in many different colors. These colors range from light blue to yellow to white to the black shade pictured above. The mini pack's exterior is crafted from high-quality synthetic leather and features a durable polyester interior. Plus, it includes gold metal detailing that adds an extra touch of eye-catching style.
7. Micom Casual Shoulder Bag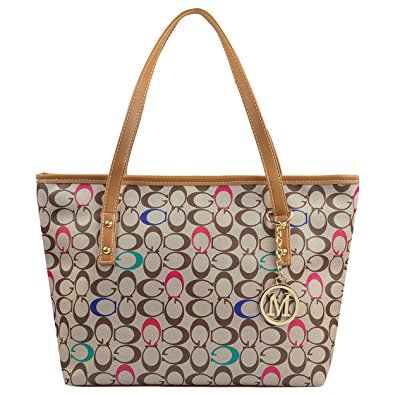 This classic patterned shoulder bag is both extremely eye-catching and functional. It includes a shaped bottom with metal feet that add structure to the bag and help it easily hold more of your belongings. With two zippered pockets and multiple separate slip pockets, this large bag makes it easy to organize everything you carry with you so that you never have to search to find any one item.
Available in many different patterns, this bag helps you make a strong style statement wherever you go. Its pattern choices are simple enough to be classy without looking tacky and yet are still guaranteed to turn heads. Crafted from synthetic leather with a short double-strapped construction, the spacious bag is both durable and comfortable to carry.
6. ArcEnCiel Tote Bag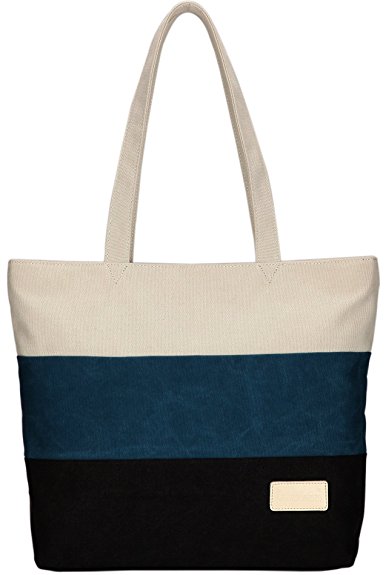 Every woman needs a classic tote bag by her side. Whether you're shopping at the local farmer's market or heading out for a hike and a picnic, a simple and spacious tote bag often comes in handy. Simplicity in both design and functionality is key when it comes to a traditional tote bag and that's exactly what this tote from ArcEnCiel accomplishes.
The bag's design is very simple yet stylish with three wide, multi-colored canvas stripes available in various shades and combinations of blue and red. Its durability is reinforced with a strong fabric lining inside the bag's classic canvas exterior. Plus, the tote includes a main zippered closure for added security for your belongings along with two separated interior pouches.
5. Tom Clovers Crossbody Messenger Bag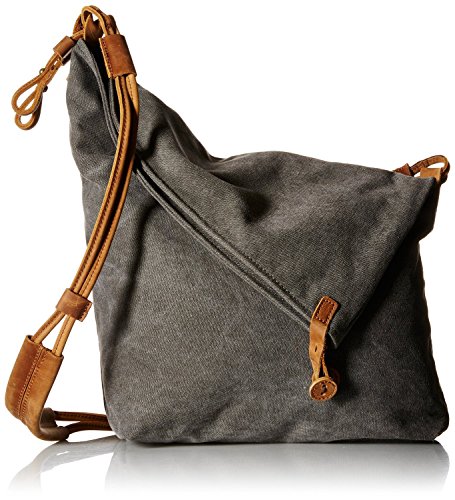 For the times in your life when you need to carry a heavy amount of belongings on your person, whether you're on your way to class with a pile of books or going out for the weekend with your full makeup collection, a crossbody messenger bag becomes your best friend. This unique bag construction helps you comfortably and fashionably carry heavy items without getting a sore back or shoulder.
This crossbody messenger bag from Tom Clovers is a classic that will never go out of style. Its casual sling construction with a stylish button closure features a spacious main compartment that can easily hold books, a laptop, and much more. The bag is extremely durable and is designed with real leather straps and detailing and a canvas body with fabric lining. It even comes in a broad range of colors, including gray, blue, beige, and even a dusty rose pink.
4. Mountaintop Hanging Toiletry Bag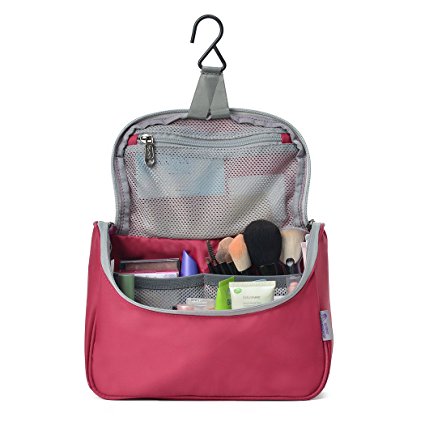 When you're on vacation or a business trip, it can be difficult to keep track of all of the toiletries you've brought with you. This hanging toiletry bag eliminates the frustration of spending fifteen minutes digging around your suitcase for your mascara. It allows all of your bathroom necessities to be within reach at eye level at all times.
This hanging bag is resistant to both water and dust in order to keep your makeup and other toiletries safe. It includes a spacious bottom compartment that is designed to hold shampoo, conditioner, and other larger containers. The bag's top compartment includes multiple mesh and zippered pockets that easily accommodate makeup and other more compact items. The whole bag itself hangs from any standard towel hook or shower rod with its sturdy hook attached at the top.
3. Isabelle Crossbody Bag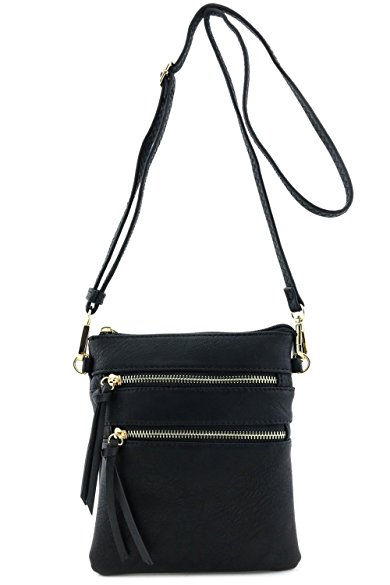 This small crossbody bag from Isabelle is a great choice for short outings when you don't need to carry much with you. It is crafted from durable, quality synthetic leather with metal detailing and features a long adjustable shoulder strap for ease of carrying.
The bag includes multiple pockets that allow you to easily organize your cellphone, chapstick, and other small necessities. It is available in multiple solid colors ranging from turquoise to red to baby pink.
2. Scarleton Crossbody Bag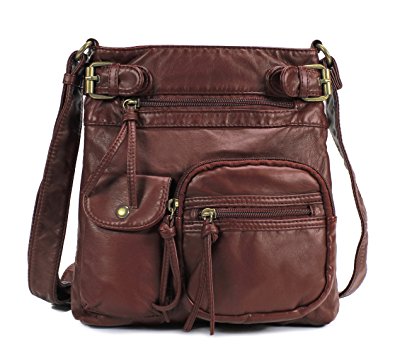 This classic crossbody bag is a medium-sized tote that is both practical and stylish. It features a vegan leather construction with a fabric lining that increases its durability. The bag's adjustable shoulder strap lets you position it in different ways on your body depending on your carrying preference.
Ready for anything, this crossbody bag includes multiple pockets in various sizes. These separate compartments on the front of the bag allow you to keep your cellphone, coins, keys, and more easily accessible at all times.
1. Noosa Life Lunch Bag

This lunch bag allows you to carry your food in style without worrying about mixing your lunch in with your other belongings. It is constructed from thick, durable neoprene material that is easy to clean and insulates your hot or cold food all day long.
The bag features a gorgeous black-and-white floral design. The design is simple yet stylish and eye-catching at the same time. This is a lunch bag you'll be proud to carry on your arm whenever you're in need of food on the go.