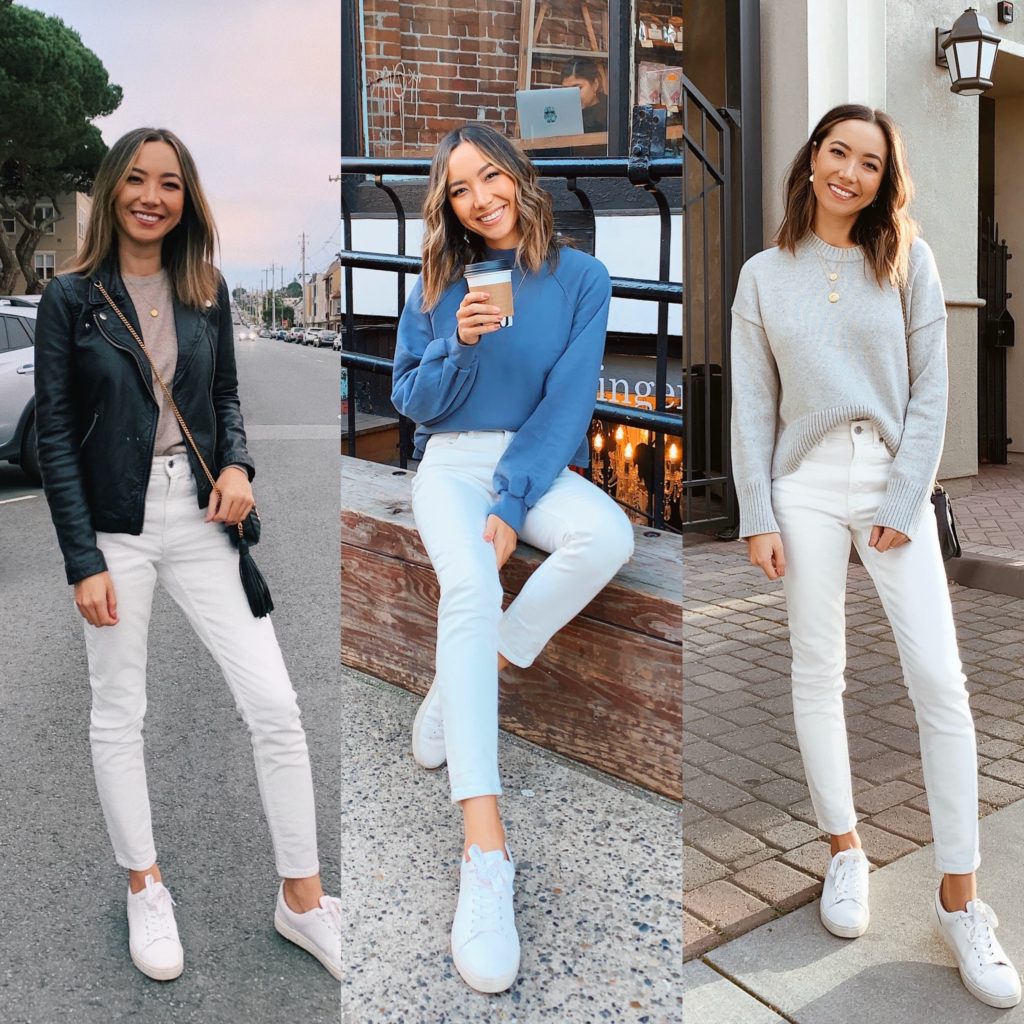 White jeans can make some super-trendy and attractive outfits, especially with all the new fashion colors and styles available this year! So we've put together this vital style guide to give you the confidence, knowledge and inspiration you may need to buy new white jeans and wear them in a super-flattering way.
First of all, I've shared my own top tips to buying white jeans that fit and flatter, because that's the most important part of clothes buying:-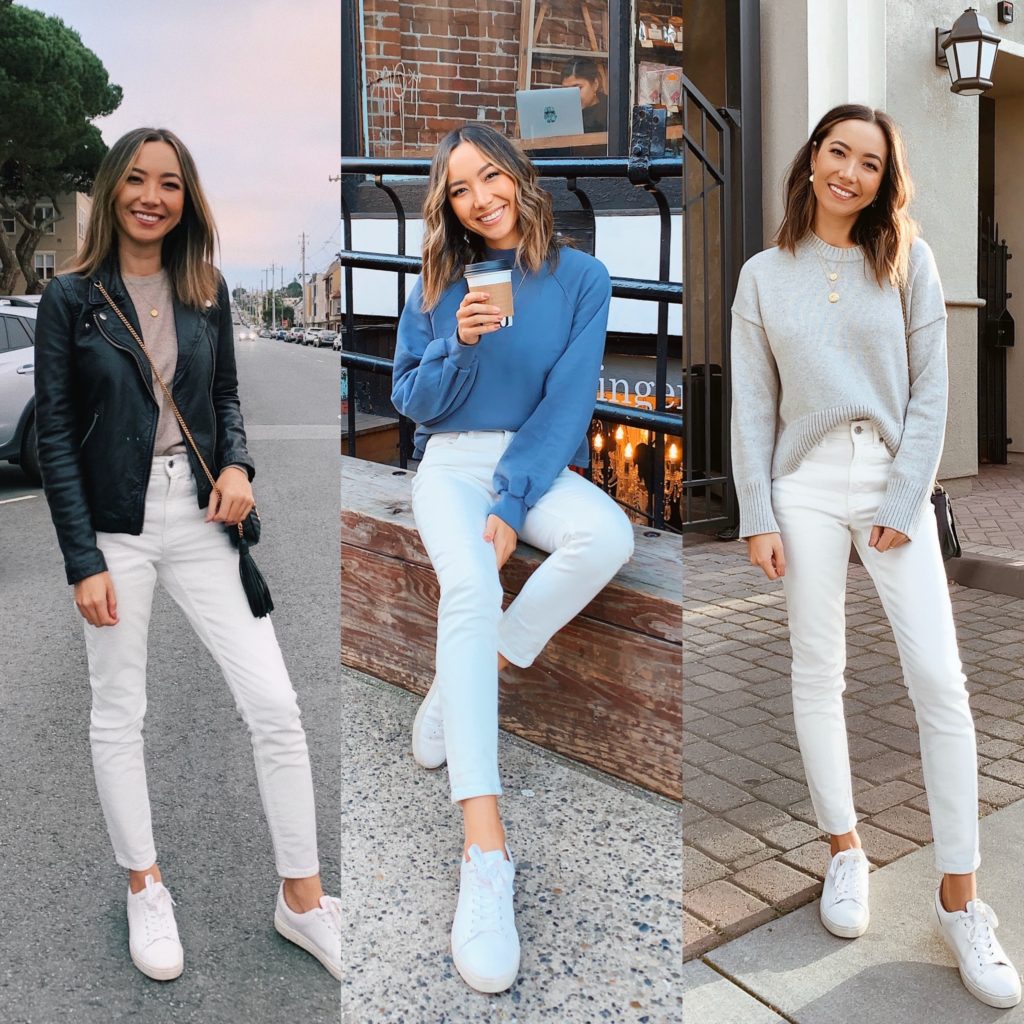 Best white jeans fabric
I always look at the fabric quality first when I'm buying any new clothes. Because you don't want any new garment that's going to look worn after a few wears. And thin, white poly-cotton white pants are virtually transparent and cheap-looking.
The best white denim for white jeans is 95% cotton, with 5% elastane, so you get strong, supportive and thick fabric with just a little stretch to ensure a perfect fit.
Getting the right fit for you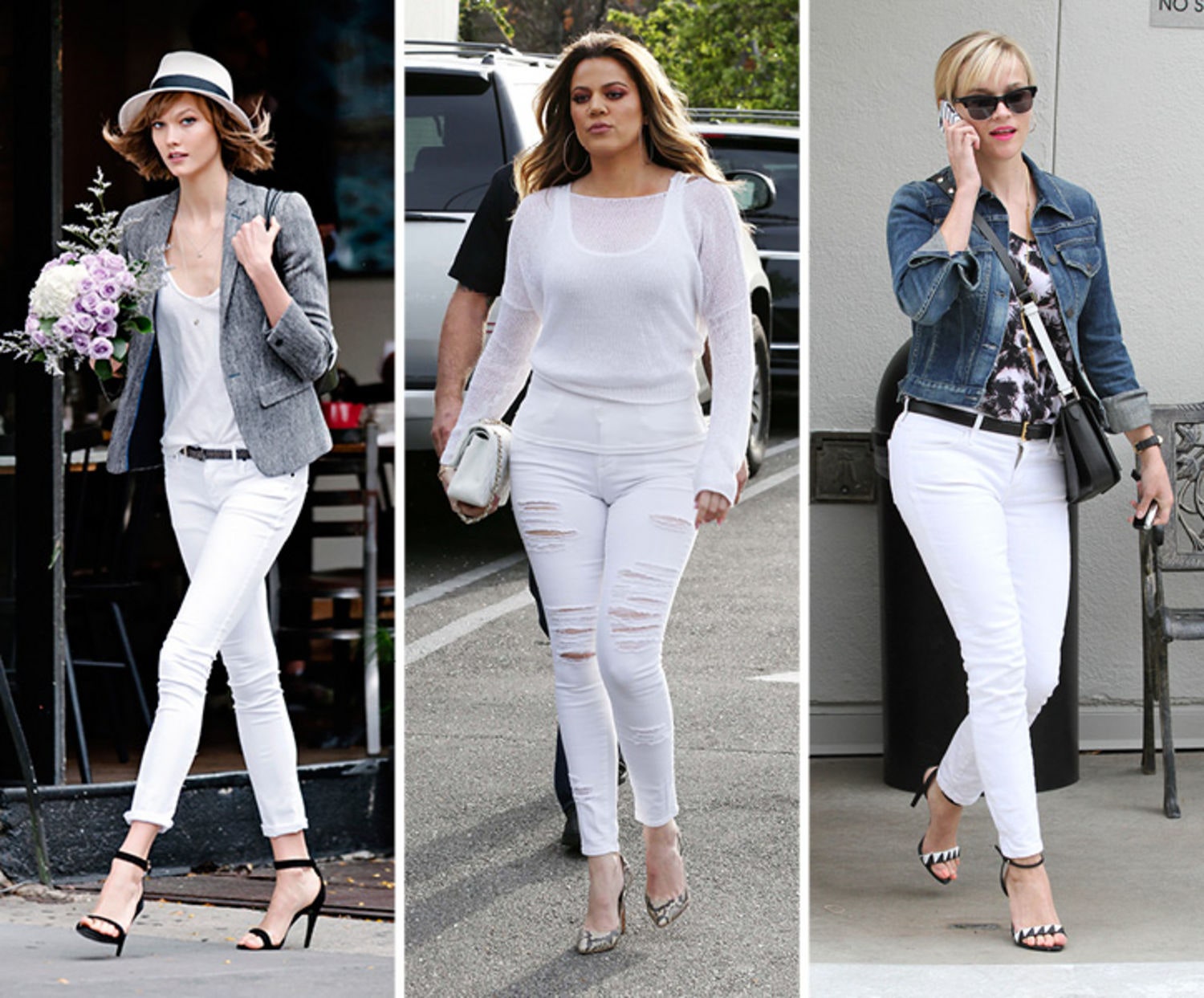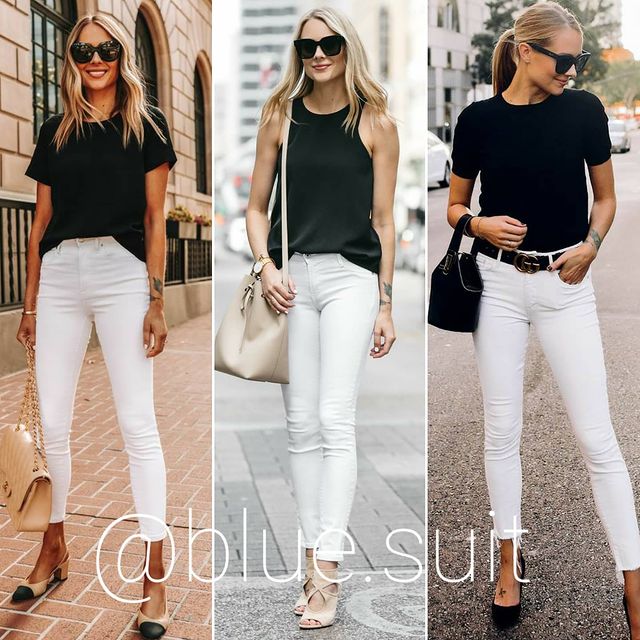 The fit of white jeans must be excellent, not over-tight for skinny jeans and not over-baggy for baggy jeans. Baggy white jeans should be a close fit around your waist and hips, before the shape of the leg flares out. And if you choose flares, bell-bottoms, boot-cut, straight-cut, and wide-leg or cropped white jeans, you still need a pair that flatters your figure. So take a good look at your body proportions before you decide which style of jeans you want to wear.
Curvy women can get a great hour-glass figure with flares, bell-bottoms and wide-leg jeans that have a high-waist. Tall women look best in the widest-leg white jeans, as well as all of the other styles, because their legs are long enough to balance out the width. But if you are tall and quite slim, avoid jeans that make you look long and shapeless. However, if you are short, wide-legs will ruin your silhouette. So we would recommend that short women should stick to flares, boot-cut, straight-cut or skinny white jeans, worn with platform footwear, or high wedge-heels.
What to wear with white jeans?
High-waisted white jeans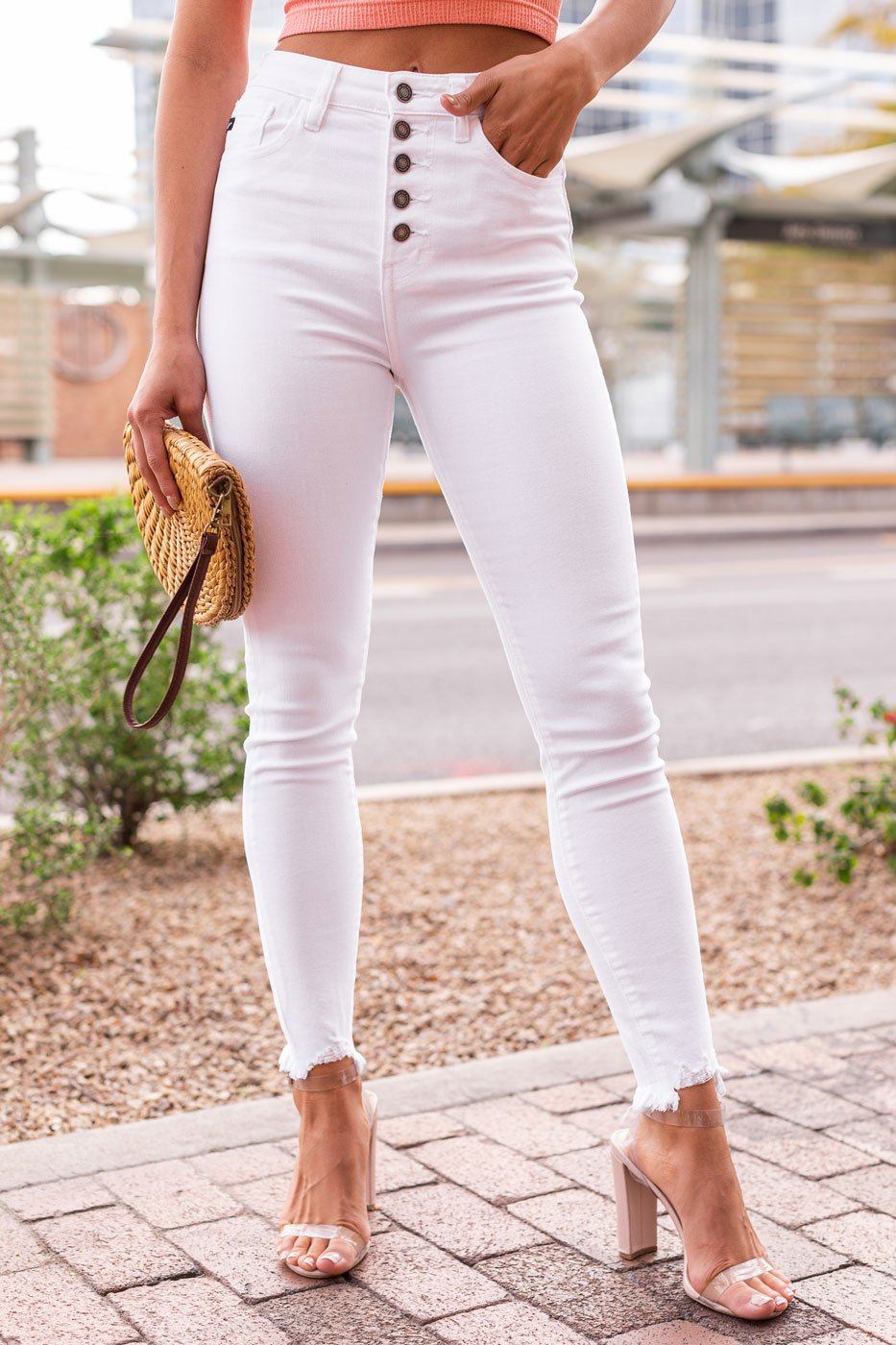 Everyone looks better in high-waisted white jeans, which are set to take over completely from low aists. High-waist white jeans will tend to hold-in your tummy area and accentuate your waist. And for summer wear, cropped or cuffed jeans look extra-casual at two or three inches above the ankles. This is going to be a tricky year for choosing jeans, so take your time in the changing room. And if you don't really like what you see within 30 seconds, take them off and try a different size or style.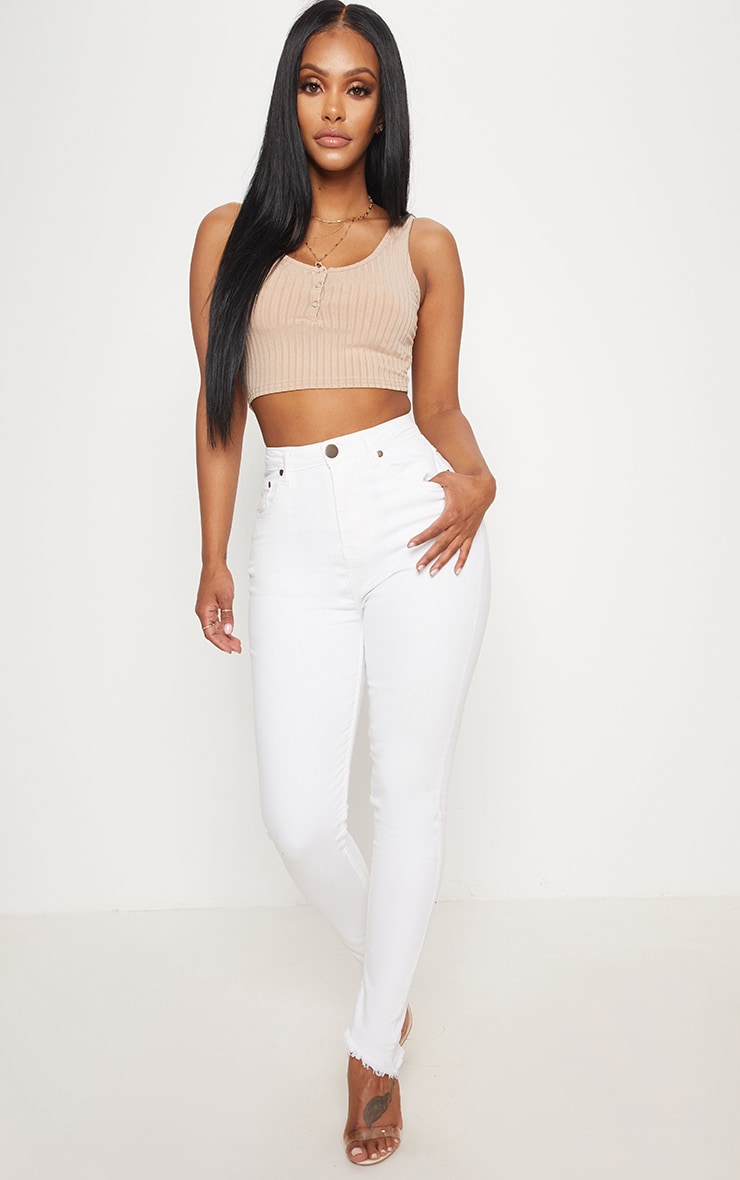 But on the other hand, with so many different styles, there is going to be a perfect style for every size and shape of woman – at last! White jeans were not designed for plus-sized women, because white can make anyone look wider. However, with so many different styles on offer this year, just follow our styling advice and you'll understand which jeans and accessories can make you look great!
Simple tops & white jeans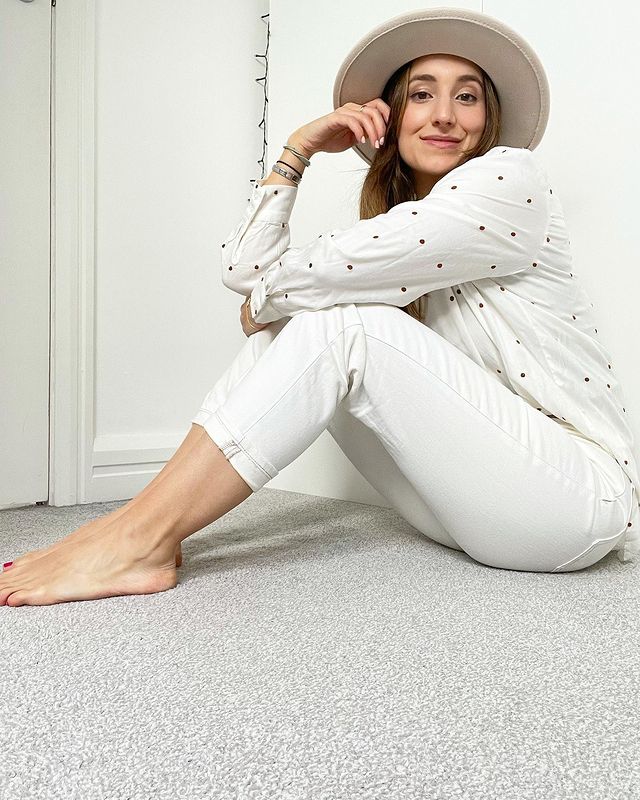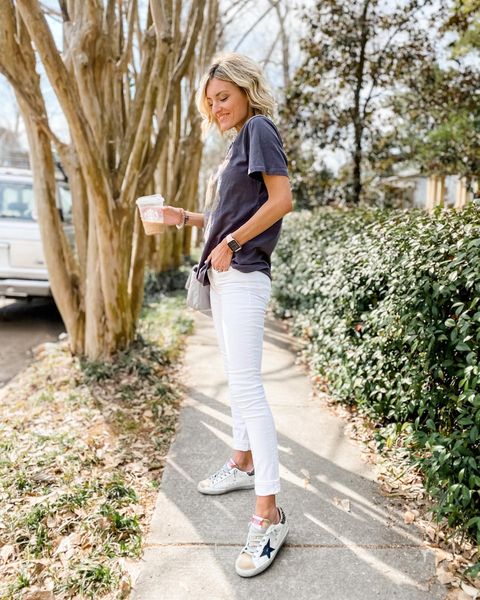 Always aim for clean lines without a lot of extra decoration or frills when you're wearing white jeans. They are an attention-getting color to start with and so your accessories should be simple and chosen to balance your proportions, accentuate a good fit and have pleasing color harmony.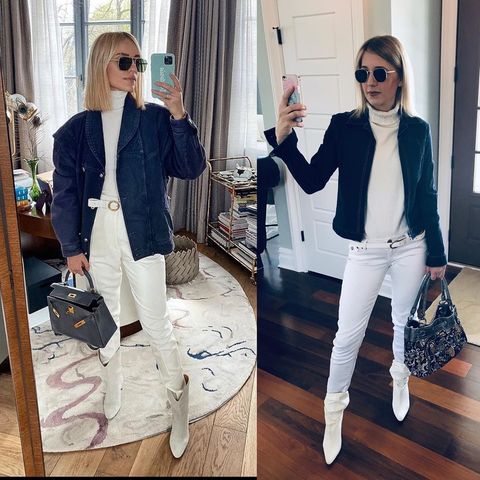 Sometimes, a cropped denim jacket is suitable to accentuate a neat waistline, and draw attention away from wide hips. On other women, a fashionable muted gray or light-brown plaid blazer will cover wide hips and add a ton of trendy chic!
Tucked or untucked shirts?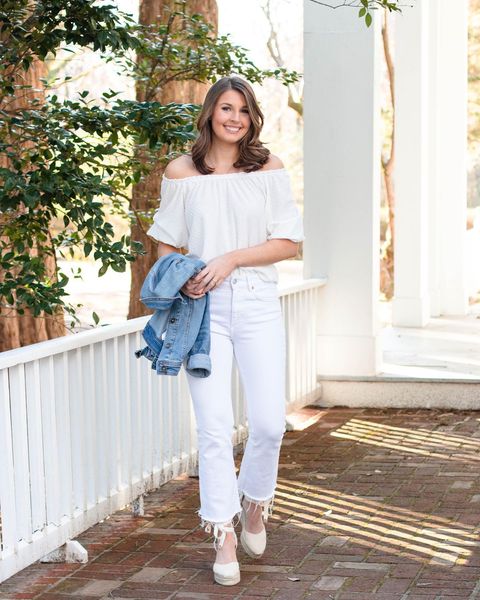 Shirts can be tucked in or worn out, depending on your body shape and preference. If you're slender or curvy, untucked shirts tend to look better with white jeans, as the shirt pattern may show through the top of your jeans. But with this year's popular fashion for 80's crop tops and short cardigans, you should also consider cropped tops which suit high waist pants perfectly, as they don't show too much skin.
If you sometimes like to dress up your white jeans, avoid distressed styles and choose a classic cut like straight-cut jeans. This style looks excellent with a starched shirt or a floaty blouse in a bright pattern or plain color. Tall women can wear ballet pumps and short women can add height with heels. Beige tops with leopard-print shoes and white jeans look great!
How to wear white jeans in winter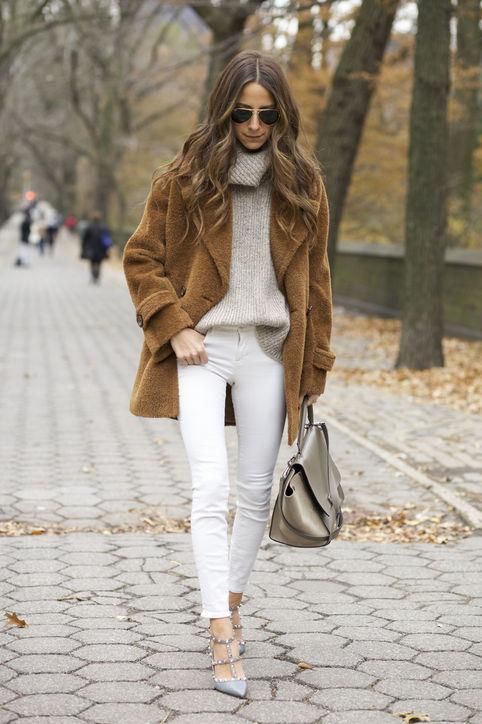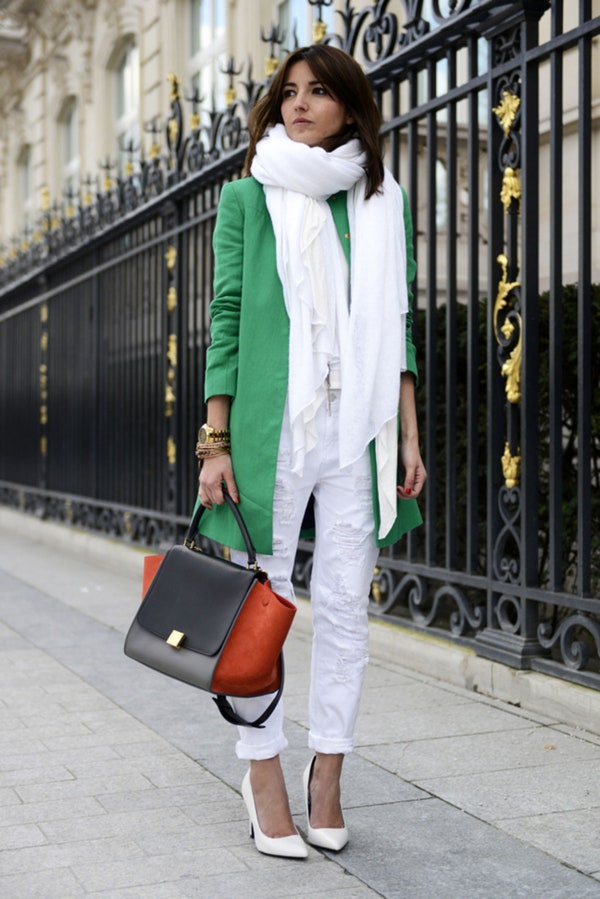 White jeans are perfectly fashionable in winter, and brighten up your winter look by avoid months of wearing black and navy pants. And there's a strong movement in fashion circles towards getting more wear out of our summer clothes, by wearing them layered in winter. White jeans worn with a long, fashionable gray or light-brown cardigan-coat and a long-sleeved T-shirt make a warm and comfy winter look.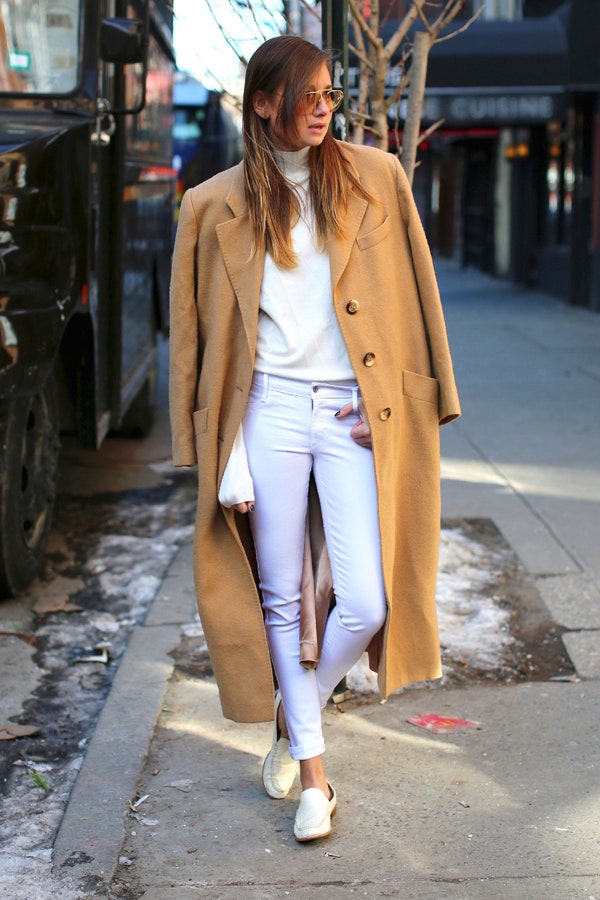 This winter's main colors are muted shades of gray, brown, including khaki, camel, beige and mustard-yellow shades. And the gem colors like deep purple, burgundy, tan, sea-blue, deep pink and sapphire. So whatever your skin undertones may be, you've got a good range of shades to choose from!
I love to see white jeans in winter teamed with gray or beige turtleneck tops or fine-knit sweaters. These muted colors look classy and understated especially if you wear a matching handbag. Or opt for a tan handbag; they are featured in many trendy fashion shoots this year.
White jeans & jackets/coats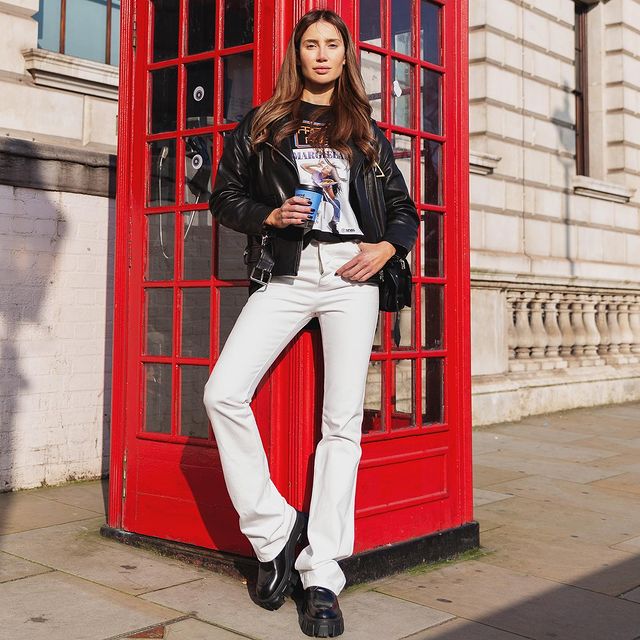 For a jacket or coat choice, wear a brown or olive-green trench-coat, a gray or brown plaid blazer, or a thickly textured, knitted long cardigan-coat. With white jeans and a gray sweater, a long deep purple cardi-coat would add a classy richness. Or wear one of the geometrically patterned long cardigans, if you want a livelier style. Camel cardigans look great with white jeans, too.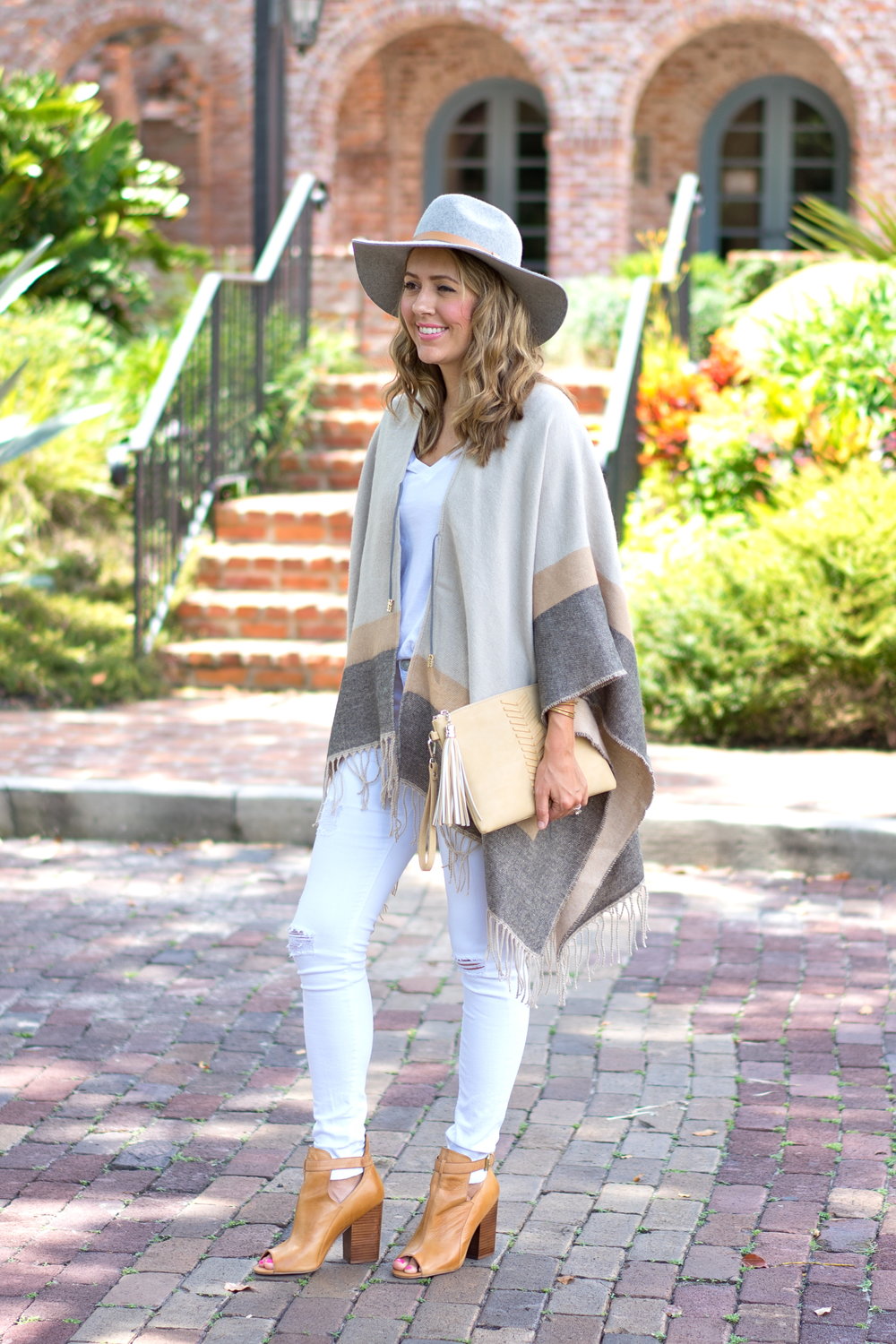 And did you know that poncho's are back in fashion again? They are available in lots of different patterns, so you can really create your own style be choosing your favorite to go over your white jeans. Ponchos are great for being loose, cozy and comfortable, plus it's easy to get a size that suits all shapes and sizes. And there's also the choice of a luxurious cashmere and wool blanket scarf to wrap around your outfit for warmth and a classy touch this year.
White jeans & trendy footwear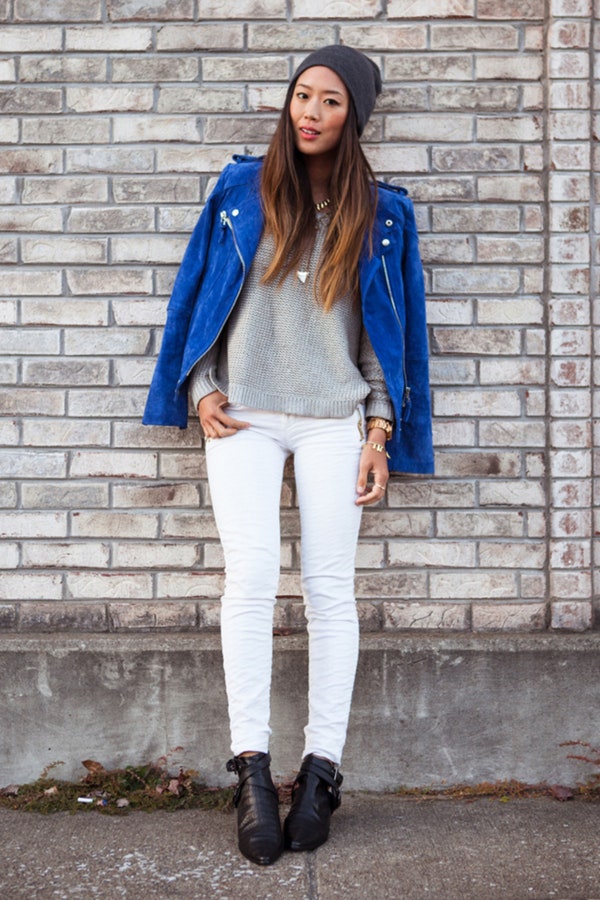 In the winter, you won't be able to wear wedge-heels, so ankle boots both flat and with chunky heels are the best style choice for white jean outfits. Light brown or taupe ankle boots are a good color choice for this season.
Black would be too much of a contrast and tend to make your legs seem shorter. Roll up your white jeans so they just touch the top of your ankle boots, or wear then bunched up around the ankle with just the front of the boot showing.
Cute white jeans outfits for spring & summer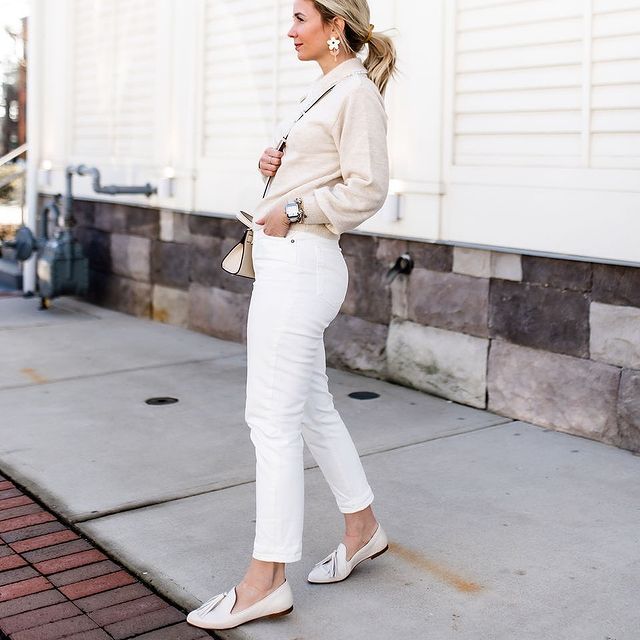 Of course, not all of our readers are experiencing cold weather right now, so here are the most fashionable spring and summer outfit ideas for you to enjoy! The nautical theme is a classic for white jeans and it can be tweaked and have added twists to make it totally contemporary. The blue-and-white striped Breton sailor tops are already in my local stores, to be worn with light-wash denim crop jackets, ballet pumps, wedge sandals and sunglasses.
Before you rush out to buy, bear in mind that the trend for over-sized fashion clothes is back this year, so don't buy snug-fitting clothes, which you then don't like because they're not loose enough to be trendy.
Crop tops & white jeans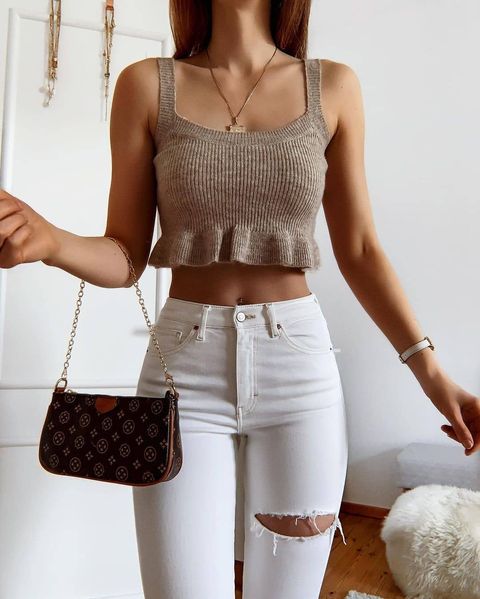 The cardigans and sweaters for summer are lovely, soft pastel colors of green, blue, pink, lavender, beige, camel and white. They are all designed to be worn with high-waist pants and skirts, so you can choose waist-length cardigans without worrying your tummy's going to be on show. The cropped cardigans have lots of feminine details, like large, lace collars, gem and pearl buttons and fancy cable patterns in the knit.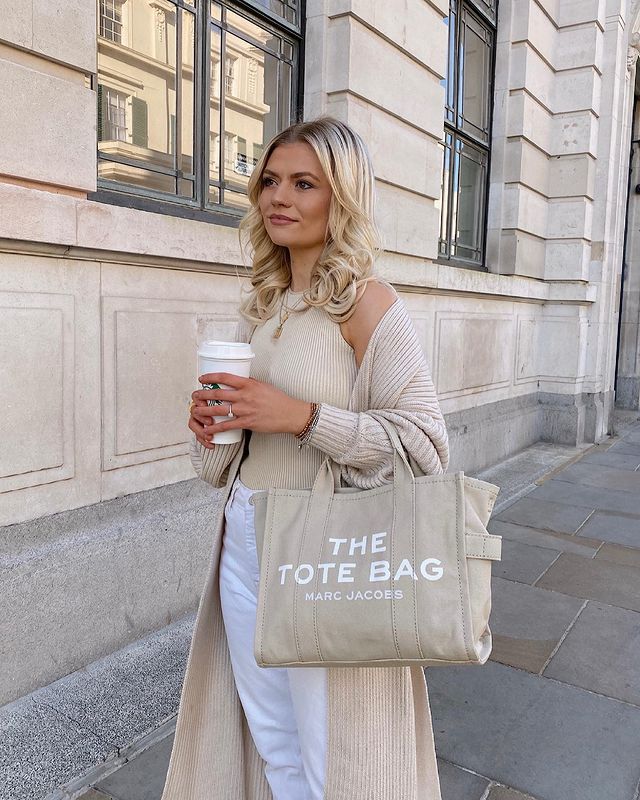 So as you can well imagine, these new cardigans are going to match all types of white jeans perfectly! We will be wearing our lace-collared cardigans buttoned-up, like cute sweaters. Summer sweaters are wide and cropped, with wide necklines for an off-the shoulder style that looks casual and cool. And this is a size-inclusive design that allows all women to wear the style successfully.
White jeans plus lacey tops & tie-dye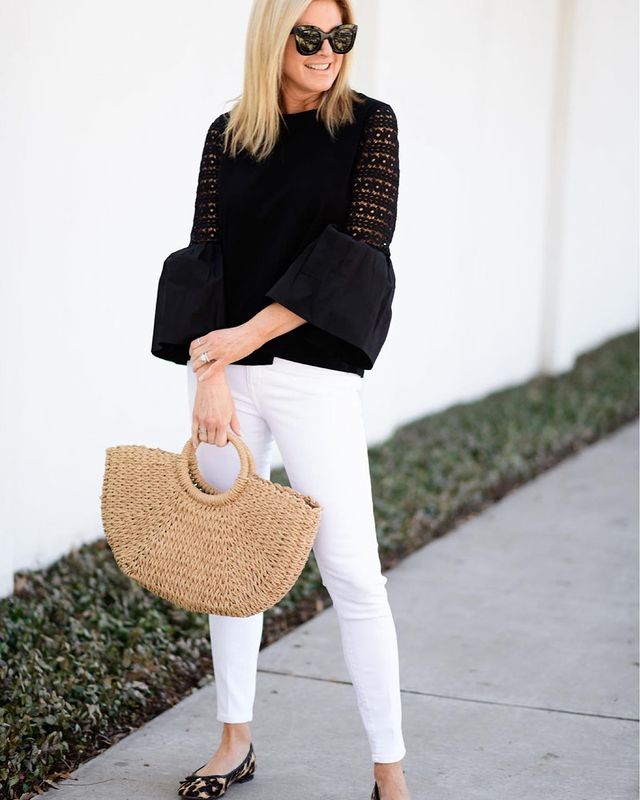 Cute lacey top in white and cream are fashionable for summer-wear this year and look sweet with white jeans and a tan handbag. And even vintage 60's tie-dye tees are back in fashion, although the colors and dye patterns have been gorgeously updated to suit our more sophisticated tastes. A mainly blue tie-dye top will look great for evenings out teamed with a blue patent, rectangular shoulder bag with a chain strap and matching high-heeled blue sandals!
Graphic T-shirts & white sneakers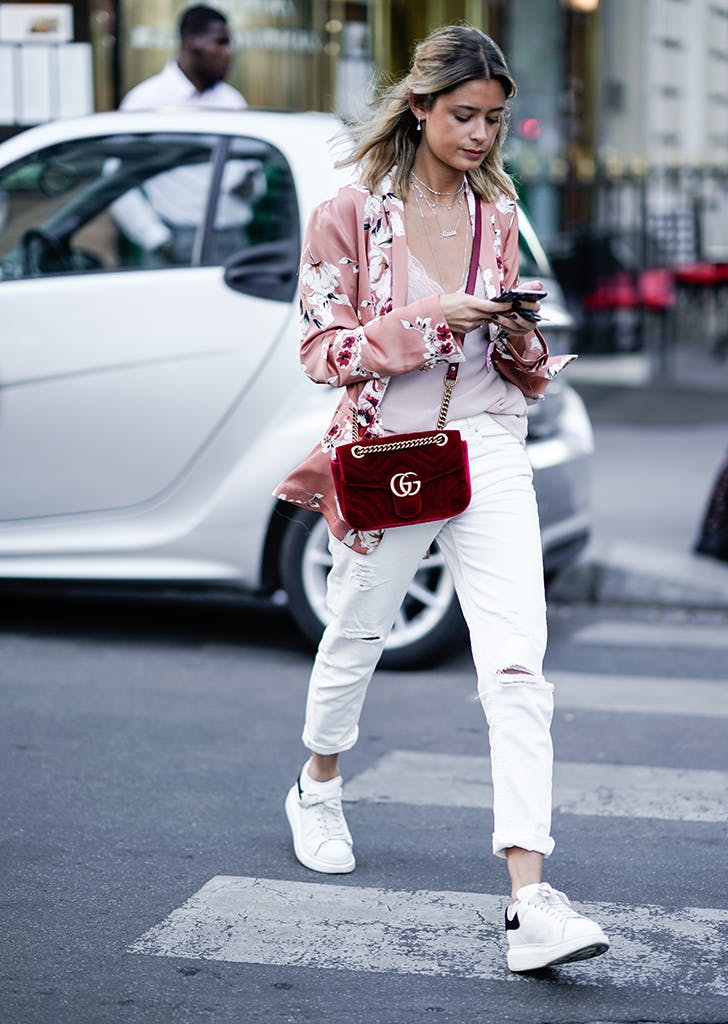 EDWARD BERTHELOT/GETTY IMAGES –
purenow
And oversized T-shirts, plus graphic tees and white sneakers are going to be something of a uniform for fashion-conscious men and women this summer. The hot countries' ranges of graphic tees in the stores right now have expanded even more than last year's lines. And you can get vintage Mickey Mouse drawings and images from 1928, which are much trendier than modern Mickey Mouse tees.
Looney Toons have brought out a fabulous range of retro graphic tees with old favorites like Tom & Jerry, which are selling fast and create a super, fun look for summer. There are also plenty of arty graphic tees for a classier, hip look. And you'll find there are all types of T-shirts with eco messages, random geometric images and vintage rock band themes.
Ripped & distressed white jeans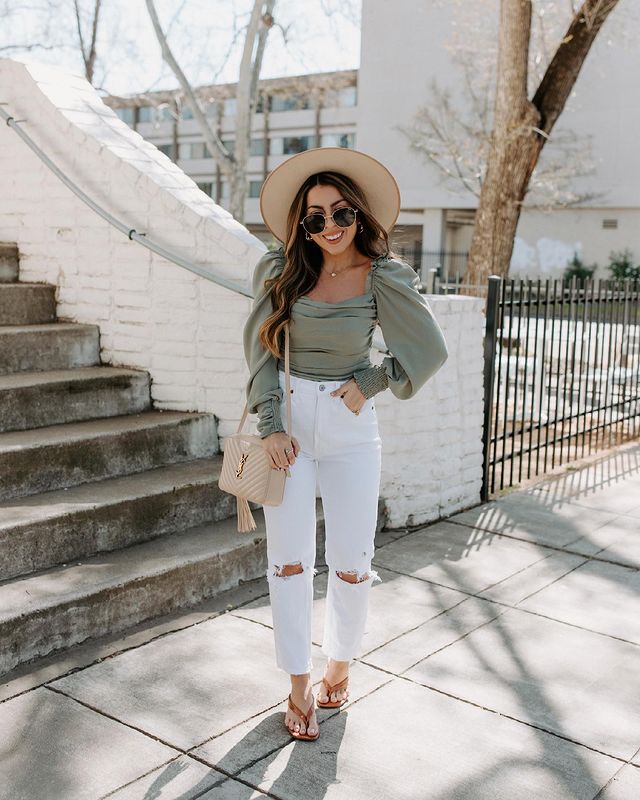 The popularity of ripped and distressed jeans continues into the new season, so you can get the ragged look in all of the latest jean styles. It looks best with very casual accessories, like anime, rock-band and other 'cool' graphic tees. Or with random, geometric images that match with it's rebellious vibe. For footwear, ankle boots and engineer boots go well, even though they don't necessarily harmonize with the white denim. And ballet pumps or sneakers in summer.
So I think we can safely say that the designers are targeting all women with this year's white jeans styles and I hope you enjoy wearing these gorgeous new clothes, with a lovely retro-vibe!