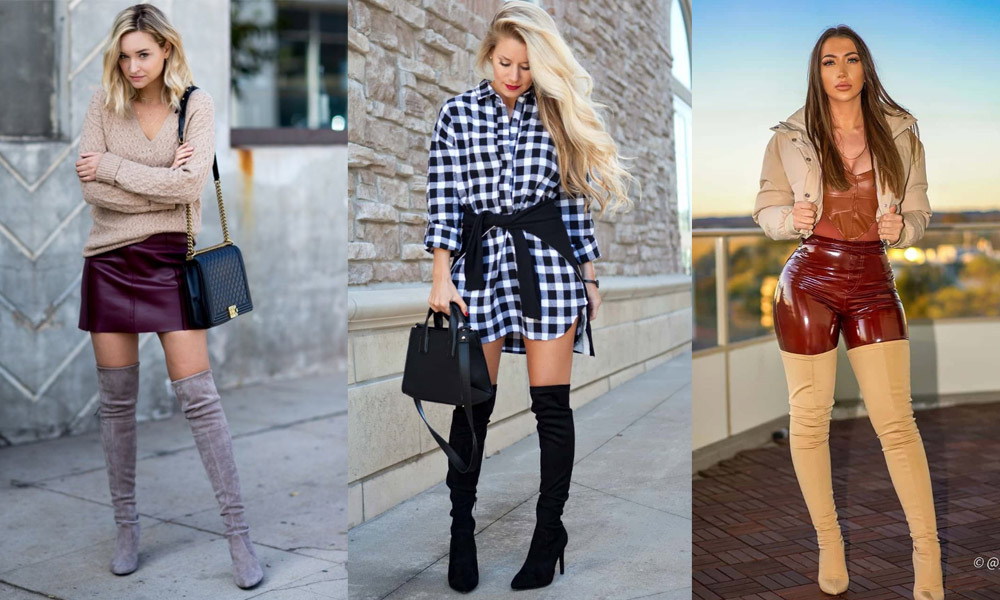 How to Wear Thigh High Boots in Fresh Fashion-Show Styles
This year's footwear frontrunner for cold weather is definitely high boots, and in particular thigh-high boots are a huge trend. Since they first emerged in the Autumn/Winter Fashion Shows, thigh-high boots have caught the attention of women everywhere.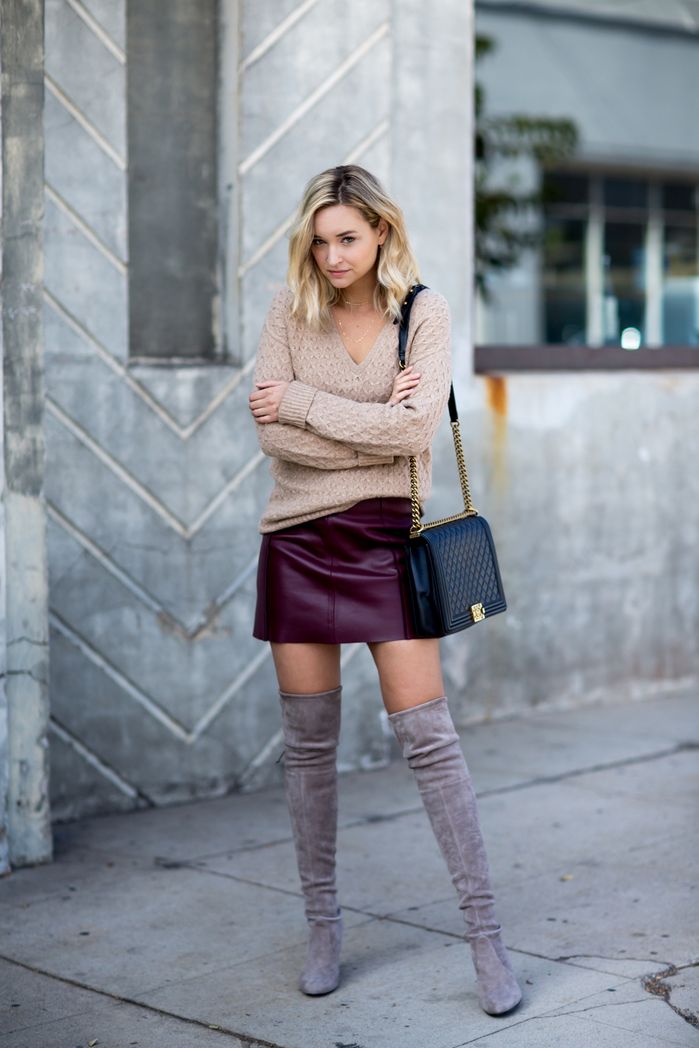 At last we have the opportunity to wear warm and protective boots, without it having that boring sexual connotation. And that's because trend-leading brands, like Khaite, Schouler, Bottega Veneta and Proenza have put them on the fashion runway in fabulous new, fashion outfits.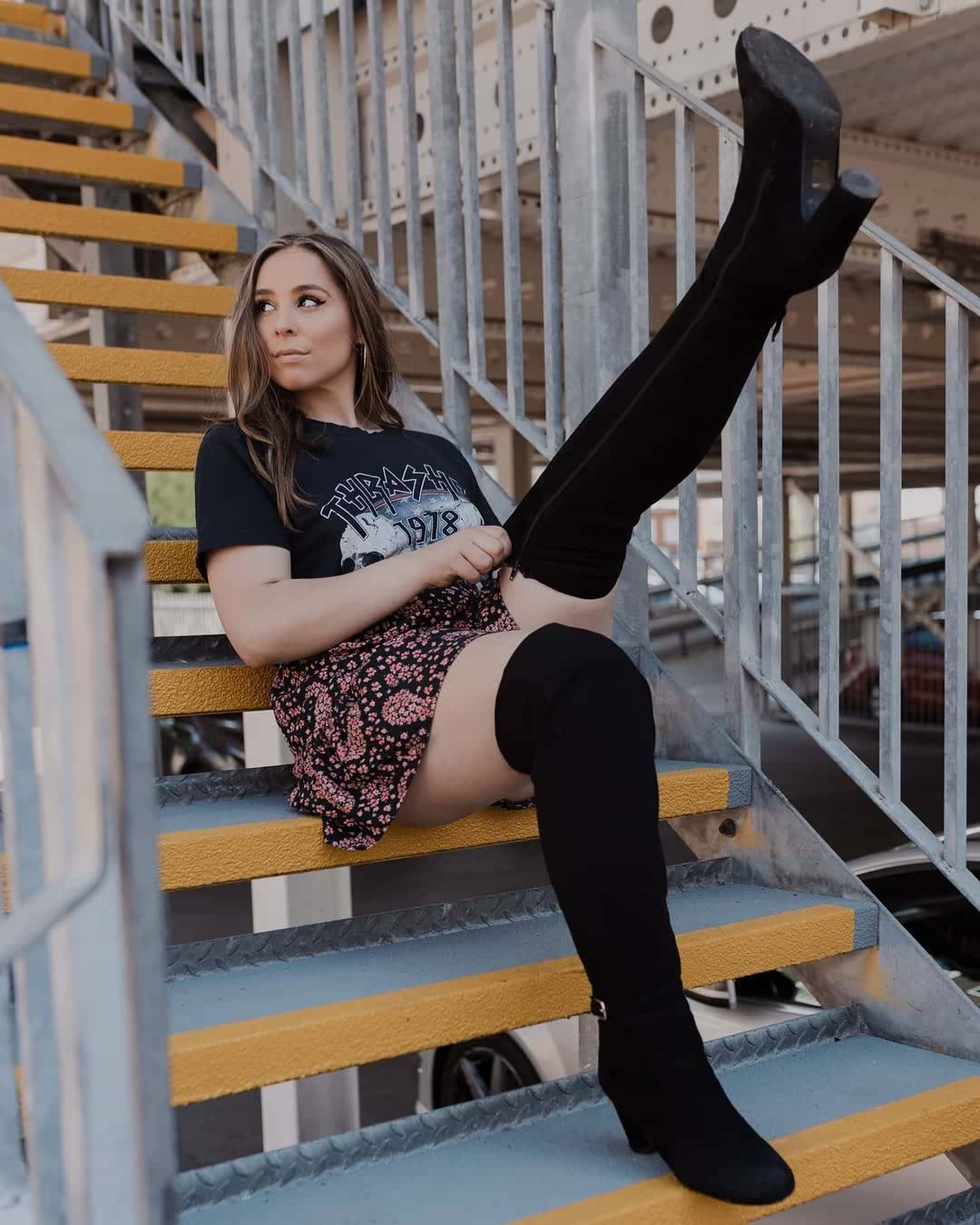 Varied outfits
As we're probably not all familiar with how to style thigh-boots for everyday wear, you need to know that there are lots of different styles and leg-widths to choose from. So you can wear sleek thigh-high boots with a close-fitting silhouettes, or wider legged straight styles, and rumpled boots that are slouchy and made from soft, comfy material. The narrow-fit thigh-high boots are great for layering under skirts, dresses, coats and even Bermuda, or denim, shorts in summertime!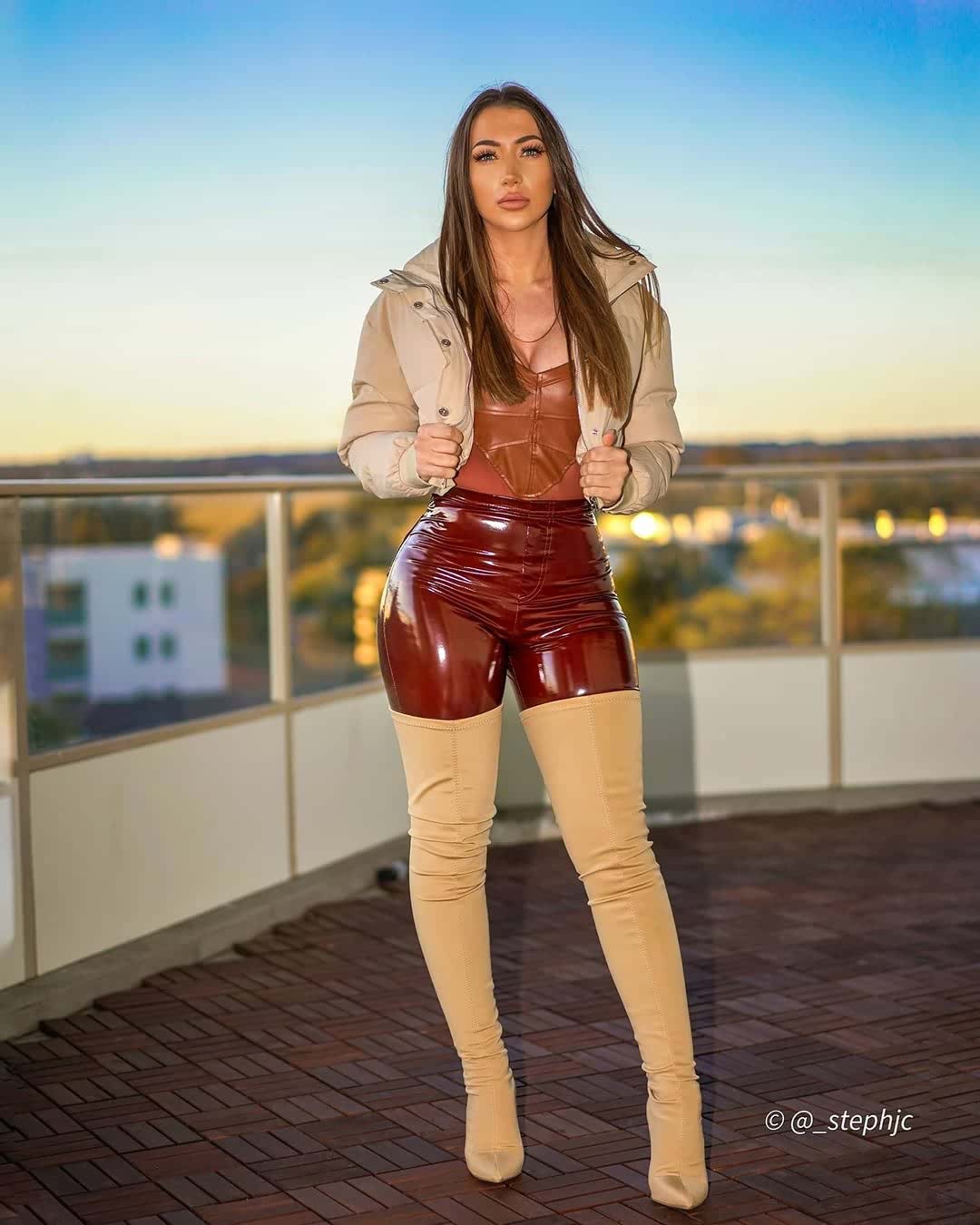 Oversized knitwear
And they can be worn solo to make leather 'leggings', with a long, oversized sweater or a thickly textured, cardigan-coat. This look was a very popular way to style thigh-high boots at the fashion shows and there were plenty of French women wearing them in the streets outside the shows. If you're still not convinced thigh-high boots are easy to style, just scroll down and see some of the best thigh-high boot outfits for this whole year!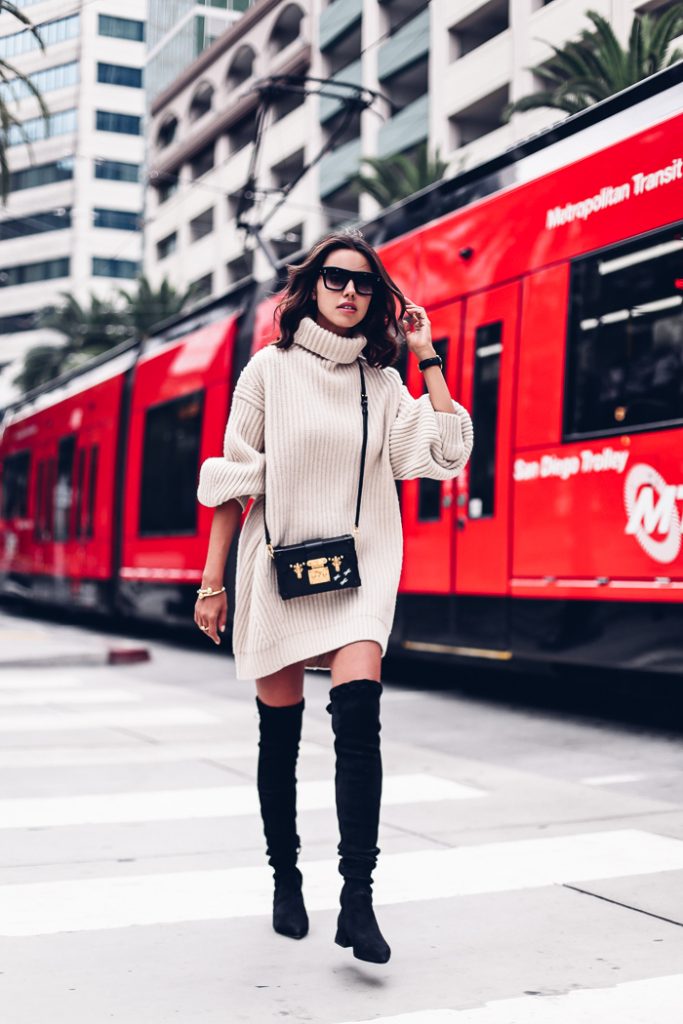 How to wear thigh high boots in real life:
1. Thigh-high boots & eye-catching coats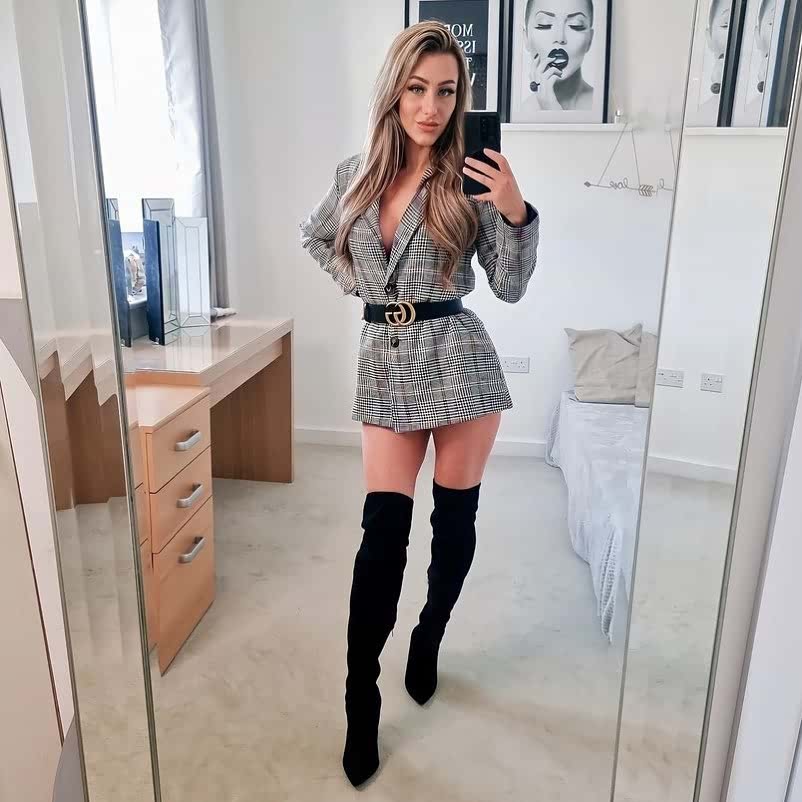 Wear thigh-high boots with an eye-catching coat, which could be the latest plaid or check pattern, so you avoid the boots being the main fashion point of your ensemble. Wear a modest woollen jumper and skirt suit of a dull gray-green, ribbed knitted fabric that just covers the knee and black, suede thigh-highs, plus a handbag that matches your coat. And another way of avoiding making your boots the main item in your outfit is to choose beige or cream colored boots.
2. Thigh high boots & plaid pinafore dresses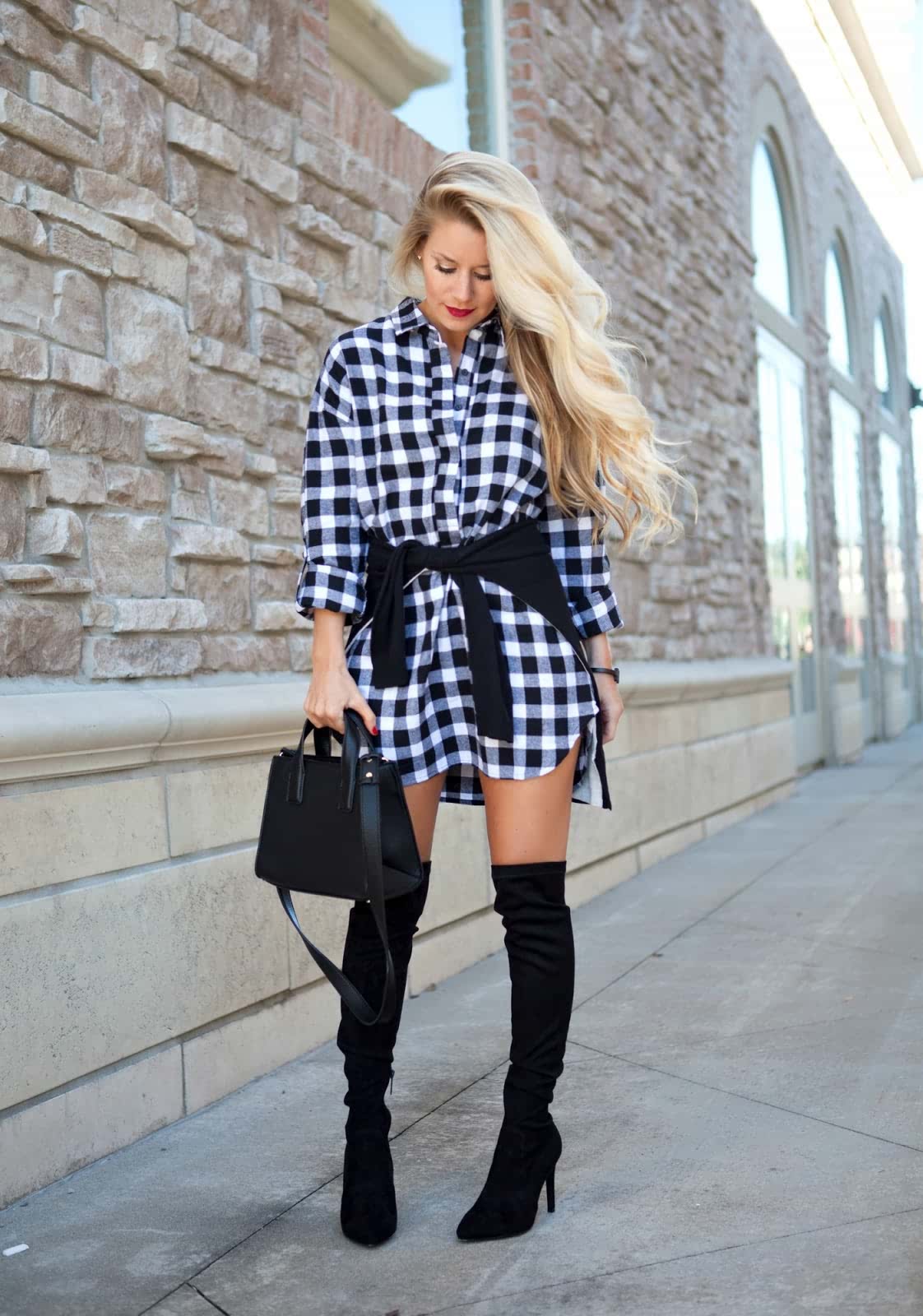 Wear a checked or plaid dress or pinafore dress, so you're warmly covered up to the neck. A brightly colored red check or plaid, with a black polo-neck sweater will look super-smart with thigh-high, close-fit, black leather boots. Or wear a plain-colored, almost knee-length, shift dress in this winter's gem colors, like dark purple, dark-blue, burgundy, deep pink, mustard-yellow or forest-green with Ganni's wide-leg, patchwork boots. This style has black, brown, navy and a pastel color in 5 pieces of patchwork so you can create a Boho look with a totally different thigh-high boot vibe.
3. Thigh-high boots & chunky sweaters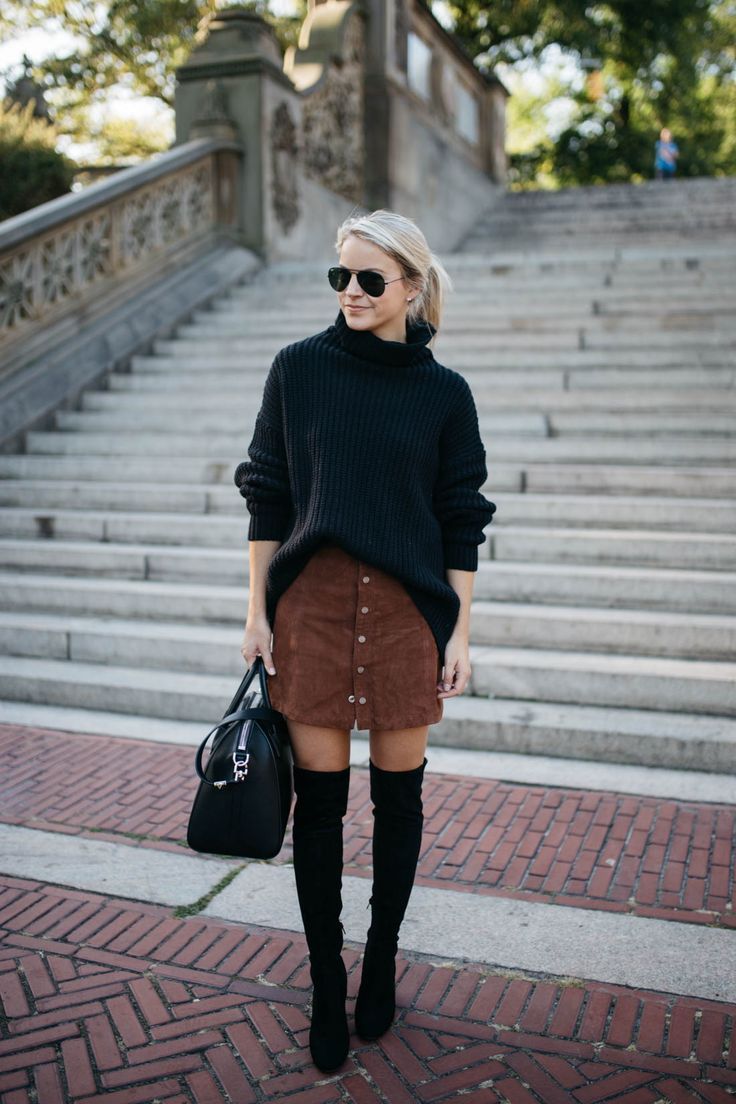 Experiment with different textures for an interesting new look by wearing your black-suede or leather thigh-highs with an oversized, diagonally ribbed, polo-necked sweater in trendy camel. You can wear a black-leather skirt with an asymmetric, zip-up, split at the front, with your thigh-high boots, but make sure the hem comes down to knee-length. The real key to a chic look is to avoid overtly sexy garments and team your boots with more regular clothes. So if you find some fabulous thigh-high boots with criss-cross lacing up the front, make sure your other clothes are fairly modest.
4. Thigh-high boots & shirt dresses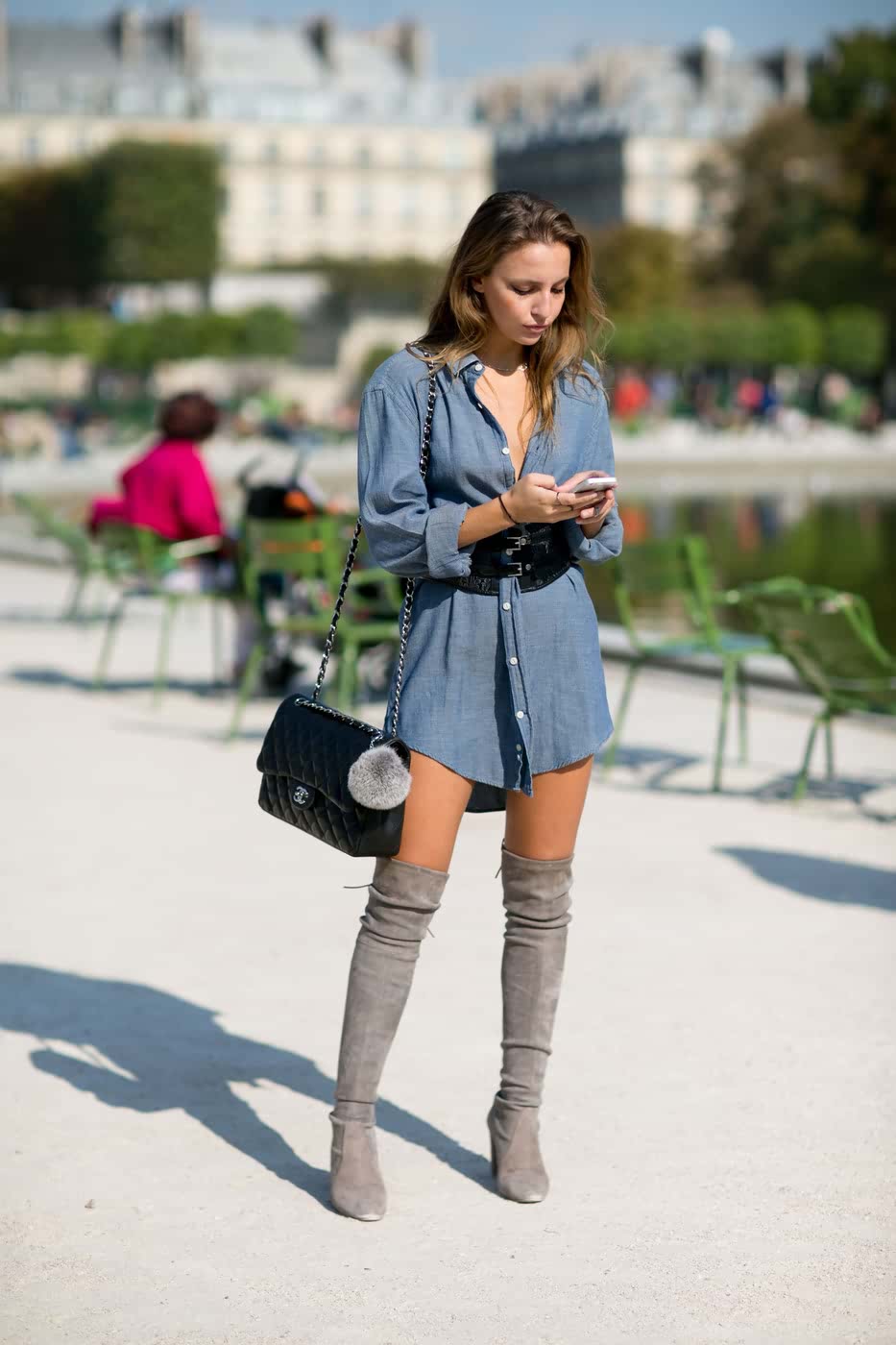 Get out your classic shirt-dress and wear it with your thigh-high boots peeping out from beneath. With a below the knee shirt-dress, you will be partly covering you boots, but that's fine as this is the trendy way to style them for daytime wear. Remember, as well as being a hot fashion trend, women are claiming back the thigh-high boot as a practical piece of footwear to keep our legs warm and dry.
But if you're tired of black boots, switch to navy, blue, brown, cream, beige, red, pink or any of the other colors on offer! You can even get orange boots, so you have the choice of ultra-chic or fun outfits, in addition to office ensembles with low heeled boots and midi-skirts.
5. Thigh-high boots & thick tights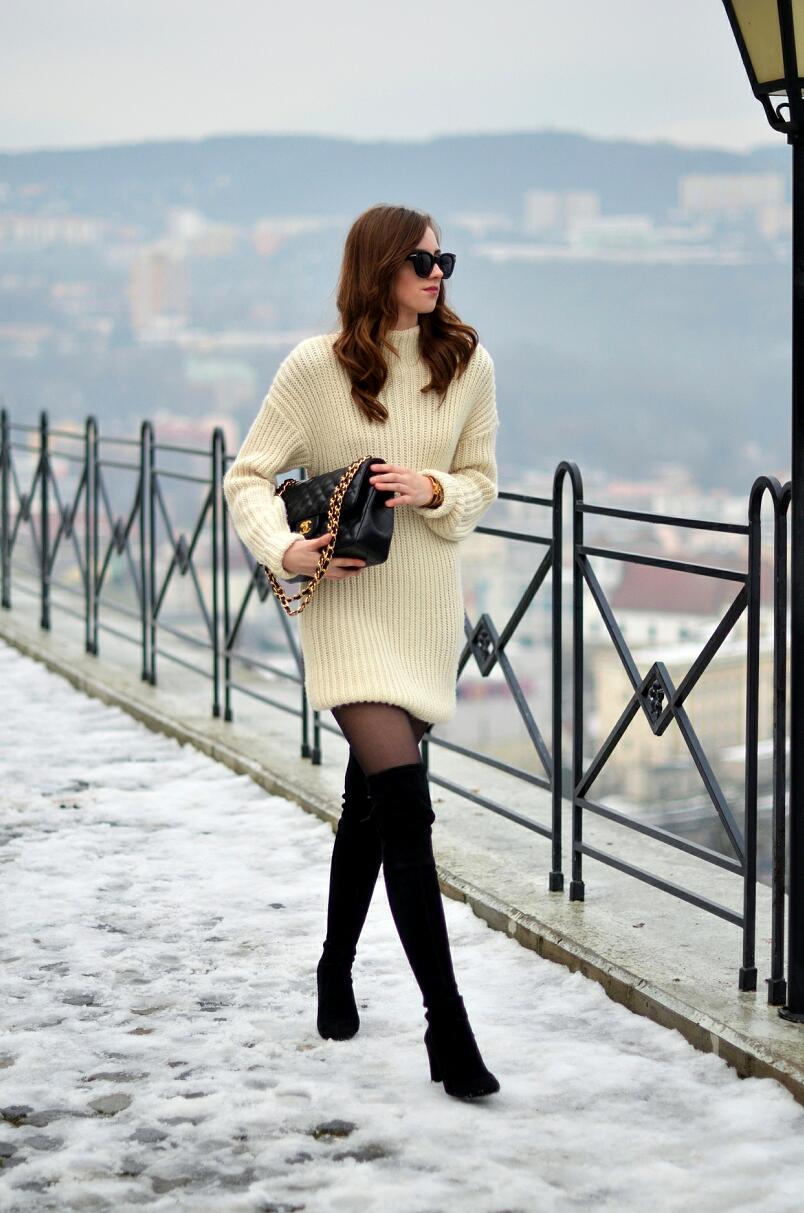 During the winter months, you can wear thigh-boots over black, thick tights along with a short, pencil skirt. Team these with a cream/off-white sweater, with big, puffy sleeves and top the outfit off with a faux-fur lined leather jacket. This will give you a casual, but trendy and warm outfit for everyday wear. And you can add texture by wearing deep-brown snakeskin boots, with a decorative, vertical tan stripe from sole to the top of the boot. But keep your skirt plain, if you wear snakeskin textured boots.
6. Thigh-high boots & oversized sweater dresses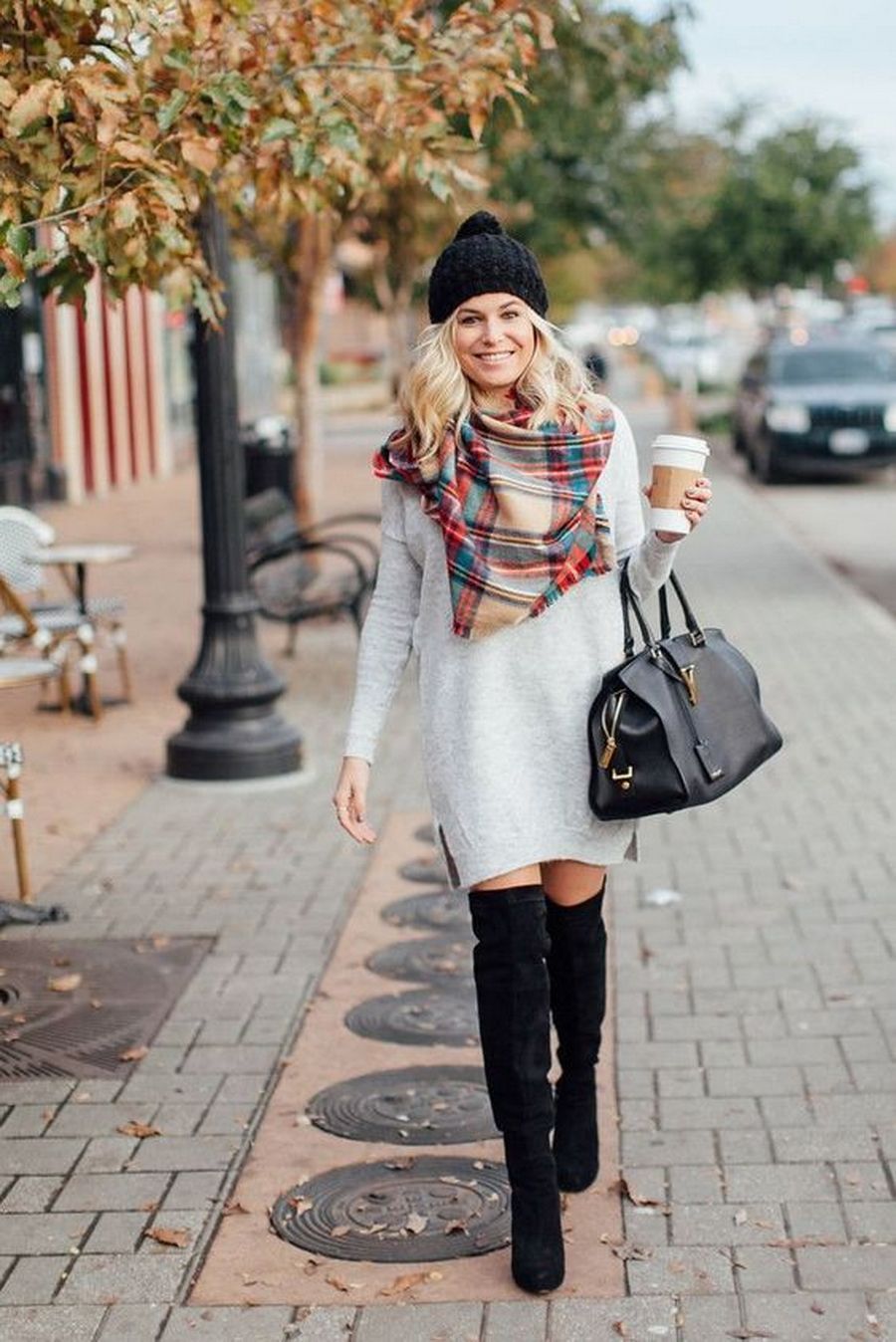 An oversized sweater dress has all the casual appeal of the 1950's beatniks, who rejected conventional fashion and invented their own quirky looks. You could try a scooped-neck, thick-knit, textured jumper in blue and gray, over black tights and soft, velveteen thigh-high boots that fit the leg like a sock.
Add one of the latest silk-scarves, tied imaginatively around the neck for style and warmth and carry a black handbag. Teaming your thigh boots with opaque tights and a short skirt is fashionable, if you wear a loose-fitting dress or skirt.
7. Thigh-high boots & sporty look
If you fancy a sporty look with thigh-high boots, why not go bright with a 90's Fila sweatshirt in navy, white and red. Wear with a red midi-skirt, with an over-the-knee split and a small, red handbag. Look out for red thigh-boots if you want to put together a really stunning look. Fendi make some fabulous red canvas boots, with leather uppers and Gio make red leather boots.
And don't forget to wear a neck-scarf to finish off the up-to-the-minute look! Slouchy style, thigh-high boots look best with a casual, sweater outfit. And with the summer colors being full of beige, cream, camel, tan and khaki colors, you'll be able to wear light-brown suede thigh-boots into the spring and even cool summer days.
8. Thigh-high boots with monochrome skirt & top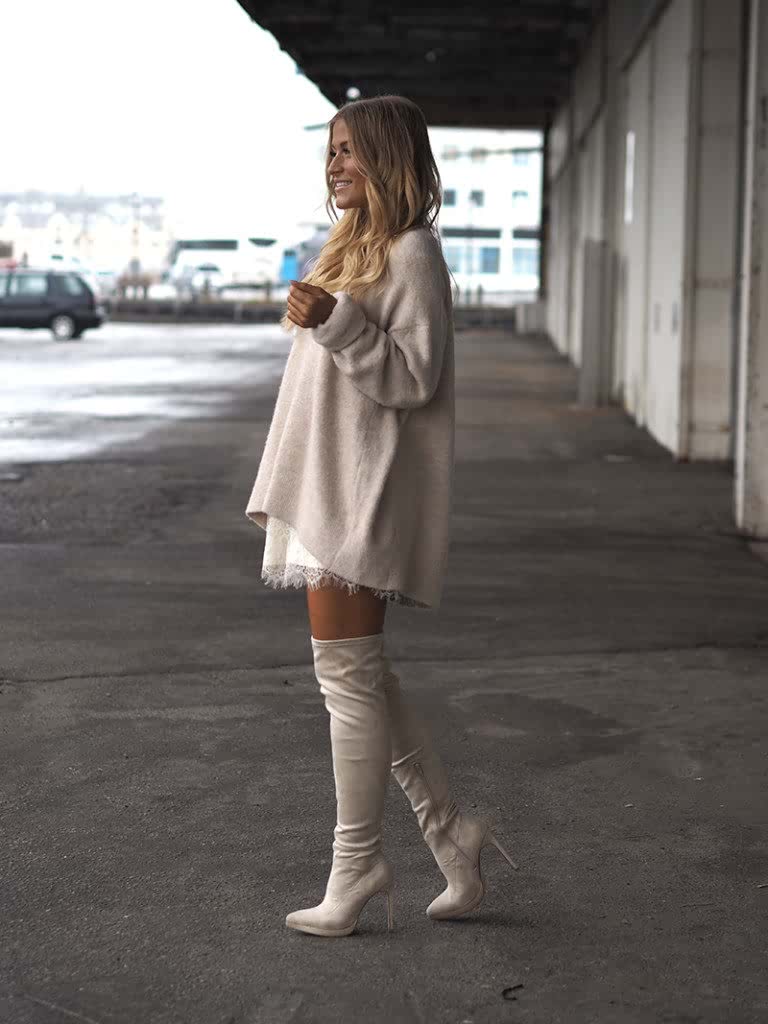 Wearing head-to-toe block color adds a pulled-together, polished edge to an ensemble. Choose a color that really flatters your skin tone and hair color and go for it! A monochrome outfit will make a petite woman appear taller and as long as you make sure you wear boots with a high, block heel, this is a superb look!
Knee-length button-front skirts with a curved split at the front in smart check or plaid are another top look from the runways. And it's your choice whether you make the look sophisticated with a fine-fabric blouse, a flared, crinkled PVC skirt and shiny boots to match. Or if you style your boots in a smart-casual ensemble with an A-line skirt, a jumper and matching, block-heel boots that's suitable for office-wear.
9. Thigh-high boots, oversize jackets & cardigan-coats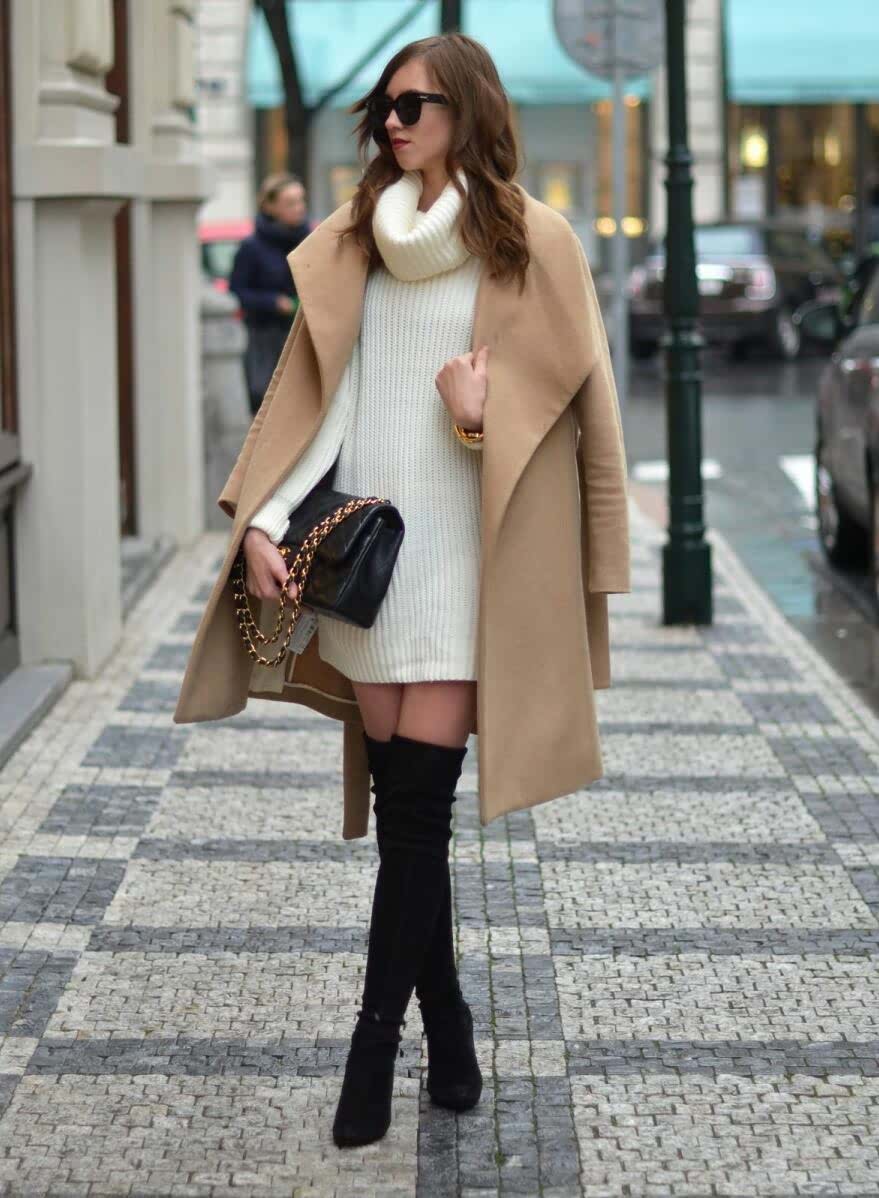 Oversize jackets and coats in shades of brown and dull-green are also fashionable for this year, so wear a smart pair of cream, crinkly boots to create a funky outfit, without pants. And in particular, make sure you have a couple of long cardigan-coats, or coatigans, to wear with leggings tucked into thigh-high boots.
The new coatigans come in a vast range of colors and checked, plaid or abstract patterns, so you can create a vivid, statement outfit with your thigh-boots, or a subtle dull-colored look, depending on your personal preference! And you can wear a chunky, choker necklace to dress up a cardigan and boots outfit.
10. Thigh-high boots & long, ribbed knitted dress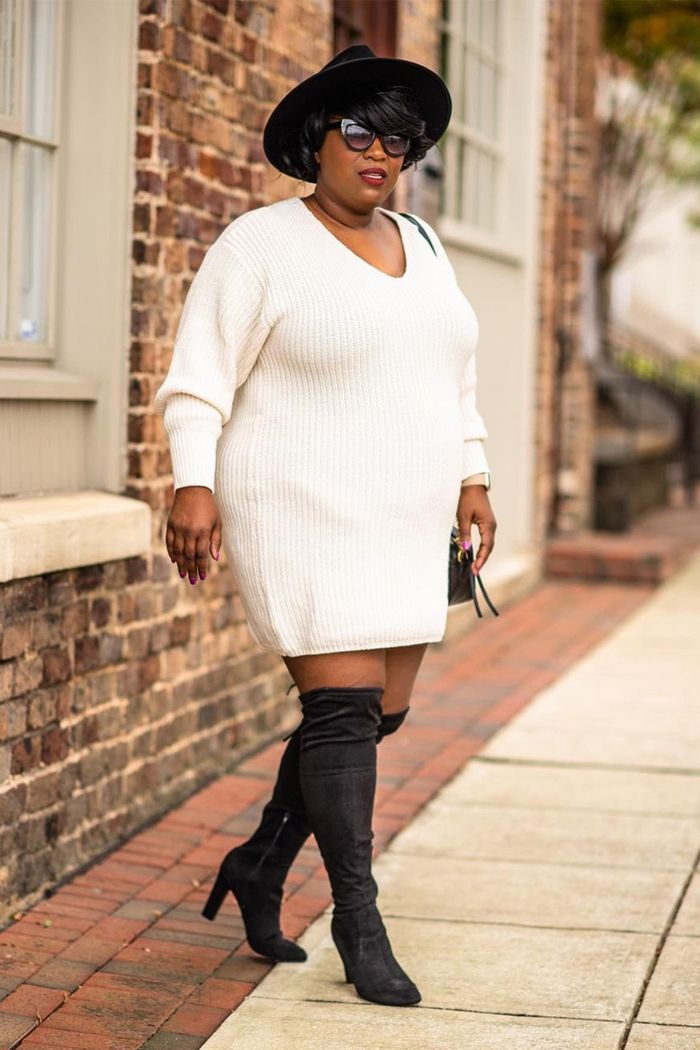 For plus-size women to show off a curvy body, look out for long, ribbed, knitted dresses in shades of brown with an above the knee slit to show off just a couple of inches of flesh. The length of the dress and its streamlined fit will elongate your silhouette and balance out your shape beautifully. And with matching brown, or animal-print thigh-boots you'll have a trendy and flattering new look!
11. Thigh-high boots, an oversized flannel shirt & bike shorts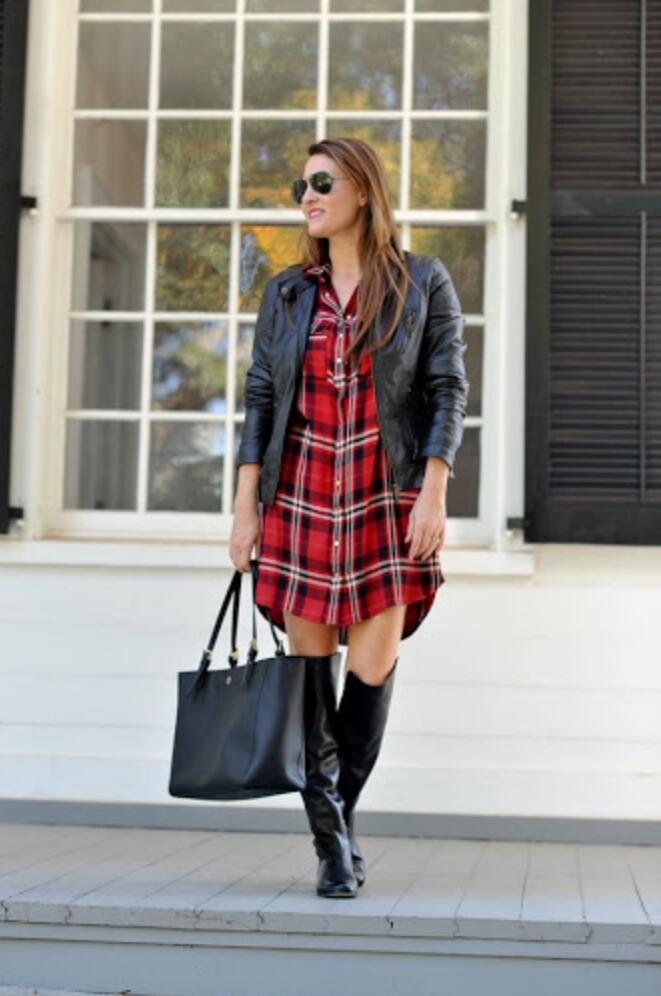 Thigh-high boots are perfect for wearing under one of this year's trendy plaid or checked, oversized flannel shirts. If the shirt's long enough, you won't need to wear pants, but if you need more coverage just pop on your biker shirts to get a warm, but attractive and feminine look! Or just wear one of your oversized turtleneck sweaters, biker shorts and thigh-boots for another casual boots' style!
12. Thigh-high boots & tucked-in sweatpants
Want to get more wear out of your sweatpants by dressing them up? Just tuck in your favorite joggers to colored thigh-boots and wear with a bralette top and a bolero jumper for a look your friends will definitely want to copy. Use slim-fit sweatpants and alternate the colors, so you could have cream boots, brown pants and bralette and a cream knitted bolero or whatever colors you like!
13. Thigh-high boots in white suede for summer & winter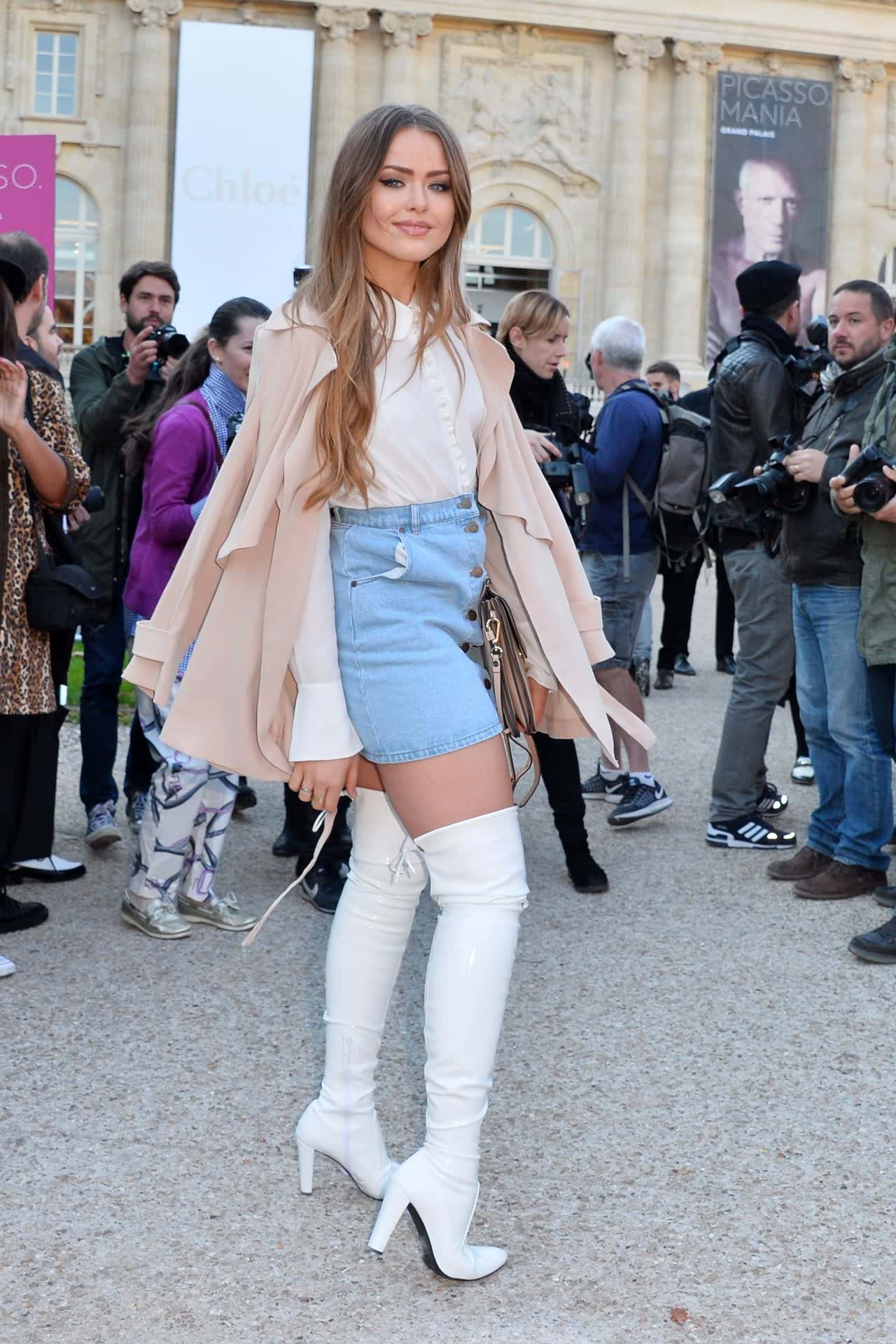 Since it's been decided that we should be getting more wear out of our clothes, winter and summer garments should be worn layered at any time of the year. And that also means you can wear white in warm and cold weather. But a lot of us won't want to wait until winter to try out the beautiful white, suede boots currently on offer!
White suede boots can be worn with a pretty, floral summer dress when the temperature isn't high. And this look can be topped off with one of the cute cropped cardigans in the shops right now. They are so sweet, with lace collars and pearl or gem buttons, and give the perfect aesthetic balance for white or light-colored thigh-boots.
14. Thigh-high boots & Bermuda shorts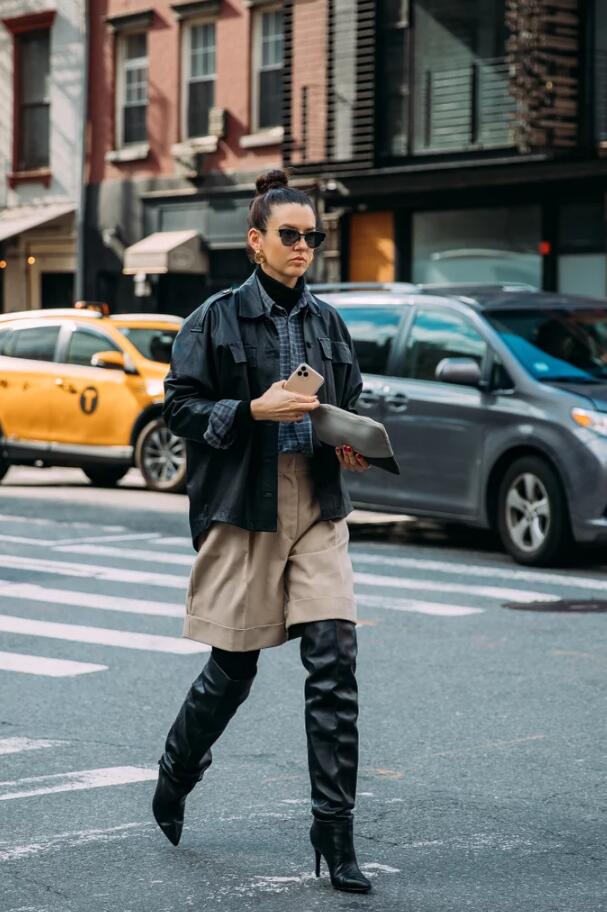 A leather pair of over-the-knee boots make a tailored pair of khaki Bermuda shorts feel edgy as ever. Saint Laurent's last fashion show had a lovely outfit of a mustard-yellow blouse with black, Bermuda shorts and shiny, PVC thigh-boots ending up underneath the shorts. This is an easy outfit to put together yourself, as long as your thigh boots are glossy and fit close to the leg to emphasize your calves. You can wear a mustard-yellow sweater, tee-shirt, or patterned shirt without spoiling the look and get a unique, personal style that's highly fashionable!
15. Thigh-high boots & denim shorts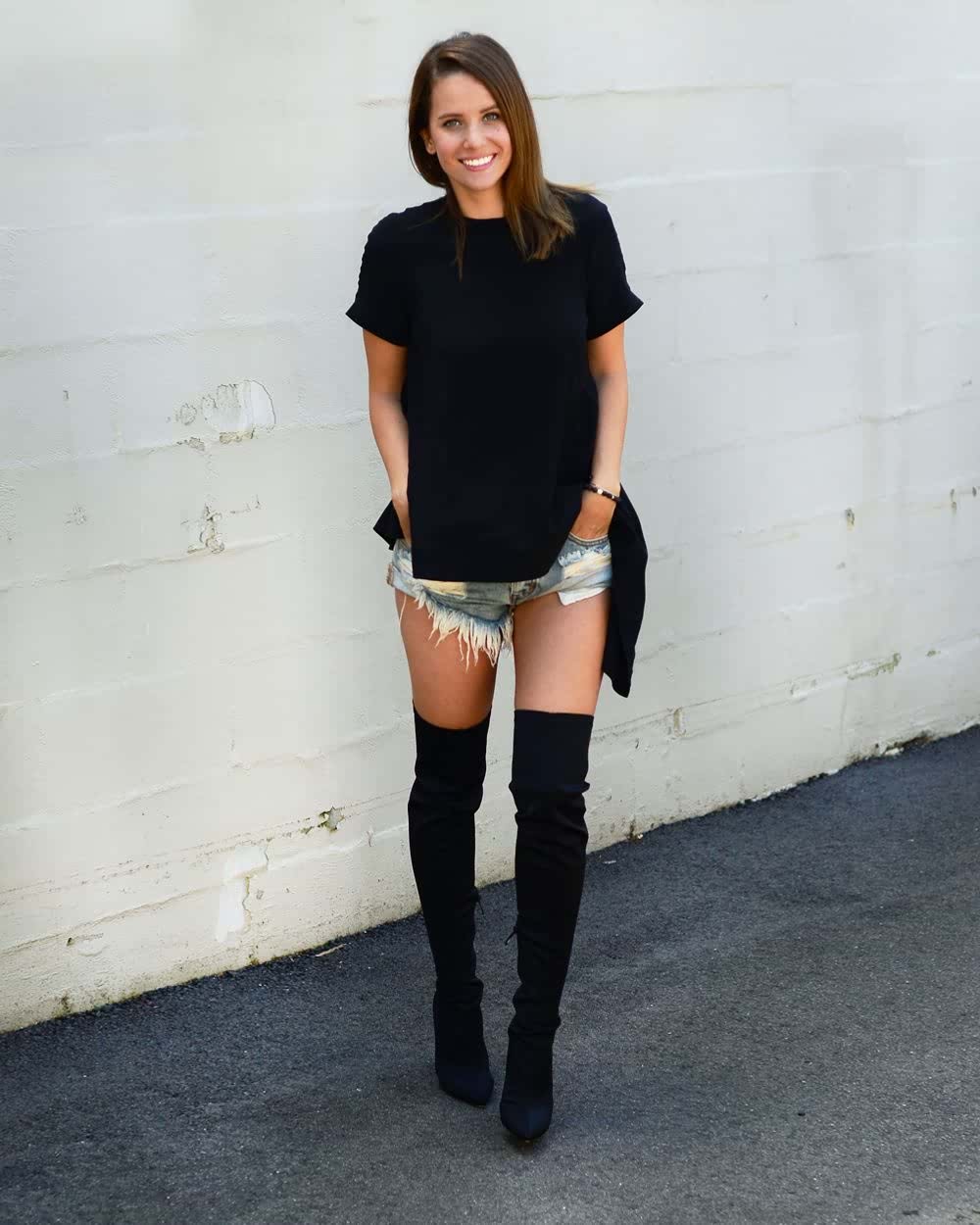 This is a fantastic summer look that uses thin fabric, or canvas thigh-high boots to wear with short denim shorts. Choose a light-wash, denim short and wear with a white short-sleeved tee-shirt. And top with a beige, over-sized blazer with orange, blue or beige boots, depending on how daring you are! Finish off the trendy look with a small, white, cross-body bag and get ready for a lot of admiring looks!
Subscribe to get more fashion tips on herstylecode.com