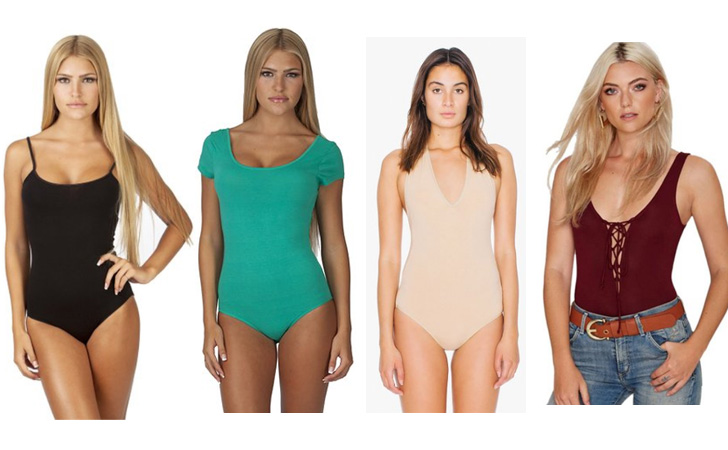 Bodysuits are a timeless fashion trend that is currently making a big-time comeback. They are the perfect complement to tight skirts, high-waisted shorts or jeans, or even long, flowing maxi skirts. Bodysuits stay perfectly tightly tucked into whatever you wear on the bottom without coming loose or appearing unattractively bunchy.
They help ensure a smooth, tight, curve-hugging finish that enhances any outfit. To get on this fashion trend, keep reading the Bodysuits reviews to learn about the top rated best bodysuits currently available.
10.

Blooming Jelly Women's Stretch Lace up Tank Leotard Bodysuit Jumpsuit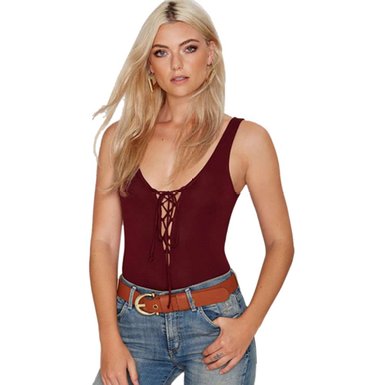 This bodysuit from Blooming Jelly is a fashionable garment that features V-neck lace-up detailing over the bust. It has a thick-strapped tank-top design and looks great under high-waisted jeans or shorts. It is a tight, body-contouring bodysuit that tightly hugs your curves and helps you appear slimmer and more shapely.
The bodysuit is available in multiple colors, including the dark red shown above, an olive green, and a pure black with zipper detailing. The Blooming Jelly leotard bodysuit is crafted from stretchy polyester fabric that is elastic, stretchy, and breathable to prevent discomfort and moisture buildup during wear.
9. Winson

Basic Fitted Soft Long-Sleeved Deep V-Neck T-Shirt Sweater Bodysuit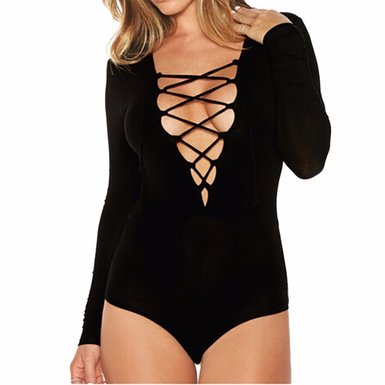 This bodysuit from Winson features a long-sleeved design that perfectly complements a long skirt or jeans for a warmer look that is great for autumn or winter. The bodysuit features a deep V-neck lace-up front design that exposes an abundance of cleavage for an attention-catching, sexy finish.
The bodysuit is crafted from a soft, sweater-like material that feels comfortable when pressed tight up against your skin. It fits snugly to show off the gorgeous curves of your waist and your bust.
8.

Hollywood Star Fashion Women's Sleeveless Mesh-back Sweetheart Leotard BodySuit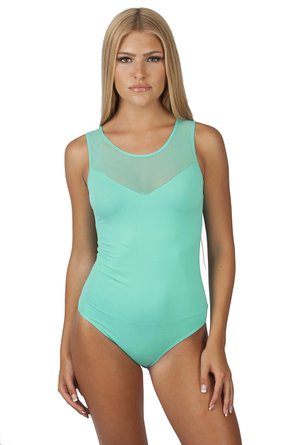 This bodysuit from Hollywood Star Fashion has a unique leotard design. It can be worn alone for exercise, yoga, or dance classes, or it can be worn under high-waisted shorts, jeans, or skirts. The bodysuit has a mesh back and mesh panel in the front with a sleeveless, sweetheart neckline to subtly show off cleavage without looking too revealing for casual everyday wear.
The bodysuit is available in a wide range of fun and neutral colors, including the mint green shown above, red, bright coral, black, and light aqua blue. The bodysuit has hook closures at the top for easy restroom use and effortlessly changing.
7.

May&Maya Women's Plunging Neckline Bodice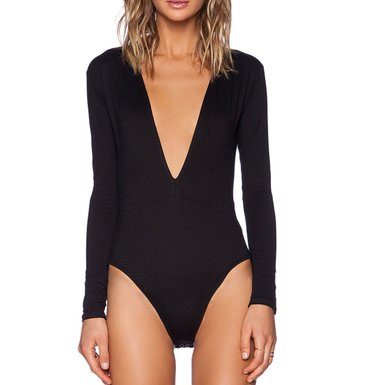 This bodysuit from May&Maya has a long-sleeved design with a sexy plunging V-neckline that stretches below your breasts. It is the perfect formal bodysuit to be worn to cocktail parties, clubbing, or other fancy events where you want to look sexy and gorgeous.
The bodysuit is crafted from ninety-five percent cotton, which ensures breathability and soft comfort. The other five percent of the bodysuit's fabric blend is elastane to ensure a tight fit and stretchy flexibility during wear.
6. Hollywood Star Fashion

Short-Sleeve Scoop Neck Snap Crotch Leotard Bodysuit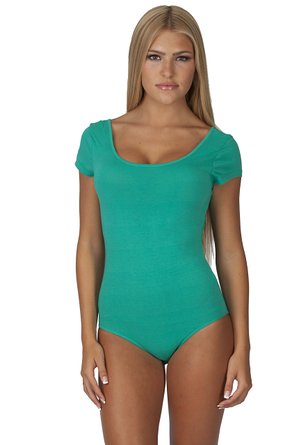 This bodysuit looks just like a plain and casual T-shirt on the top but, unlike other traditional T-shirts, it will always fit snugly against your skin and will never come untucked from high-waisted shorts or skirts. The Hollywood Star Fashion bodysuit is crafted from ninety-five percent breathable, soft cotton and five percent stretchy, movable spandex.
The bodysuit is available in many different colors, including black, the bright green hue shown above, nude, pink, red, bright cobalt blue, and more. It features an effortless snap closure at the crotch to make restroom use and changing in and out of the garment easy.
5. BEKDO Women's Basic Solid Long Sleeve Bodysuit with Stretch
This bodysuit from BEKDO has a unique, full-coverage, high-necked long-sleeved design. It can be worn under looser clothing to increase the warmth of your outfit, or it can be worn under high-waisted shirts, jeans, or skirts.
The fabric of the bodysuit is stretchy, soft, and lightweight. It breathes easily and features a mesh body and sleeve to prevent the accumulation of moisture. The bodysuit is available in more than fifteen different colors which range from emerald green to black to bright pink and beyond.
4. iHeartRaves Tie Dye Velvet Rave Bodysuit
This adorable bodysuit from iHeartRaves is the perfect garment to wear when you want to make a bright, colorful, unique statement at a party, concert, festival, or a rave. In this bodysuit, you are sure to stand out no matter where you are. The bodysuit features a bright tie-dye design with an adjustable zipper closure at the bust that allows you to reveal just as much cleavage as you want.
This bodysuit looks great with high-waisted destroyed shorts or a black skater skirt. It is crafted from ninety-six percent soft polyester and four percent spandex to ensure a tight, stretchy fit. The bodysuit has a wide-strapped tank-top design and a low scoop neckline that accentuates your curves and enhances your bust effortlessly.
3. Hollywood Star Fashion Thin Strap Leotard Bodysuit Camisole
This leotard bodysuit looks like a traditional tight camisole top that fits snugly against your skin and stays effortlessly tucked into your high-waisted bottoms without having to constantly readjust. This bodysuit is a basic camisole tank-top design that flawlessly complements any high-waisted shorts, jeans, or skirt to allow your bottoms to remain the focal point of your outfit.
The bodysuit is crafted from ninety-five percent soft, breathable cotton and five percent stretchy, flexible spandex that allows you to move around easily while you wear the garment. The thin spaghetti straps of the bodysuit are easily adjustable to allow you to achieve the perfect strap length that works for you. The camisole bodysuit is available in many different colors to complement any outfit, including black, red, white, blue, and hot pink.
2. American Apparel Cotton Spandex Jersey Halter One-Piece Leotard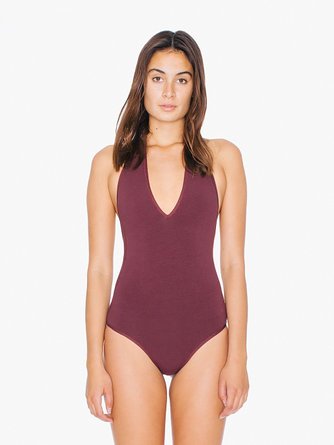 This leotard bodysuit from American Apparel is the perfect addition to your wardrobe. It is a versatile, multi-use garment that can be worn alone as a leotard for dance or yoga classes or practice or underneath high-waisted skirts or shorts to complement any outfit. This bodysuit has a halter top design with a V-cut neckline.
The bodysuit is crafted from ninety-five percent cotton that is top-quality, soft, and breathable. The garment also includes five percent stretchy spandex that ensures the flexibility and ease of movement of the bodysuit. This American Apparel bodysuit is available in nude, black, white, red, and the dusty rose color pictured above.
1. Dearlovers Sheer Mesh Romper See Through Jumpsuit Bodysuit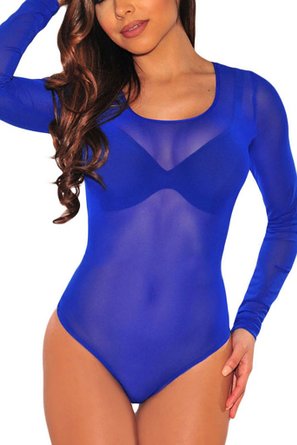 This bodysuit from DearLovers is a unique, see-through bodysuit that is perfect for layering over cute bralettes or camisoles for a sexy appearance. It can also be worn over a regular bra to slim and shape your curves and then layered underneath a sweater or tight, long-sleeved dress.
The sheer, long-sleeved bodysuit is available in many different colors that range from basic neutrals to bright, fun hues. These colors include bright cobalt blue, black, nude, white, pink, and more.
Bodysuits are an awesome current fashion trend that effortlessly enhance any outfit and add variety and versatility to your wardrobe. Use the list in this post to learn about some of the best bodysuits on the current clothing market to find one (or more) that suit your wardrobe.