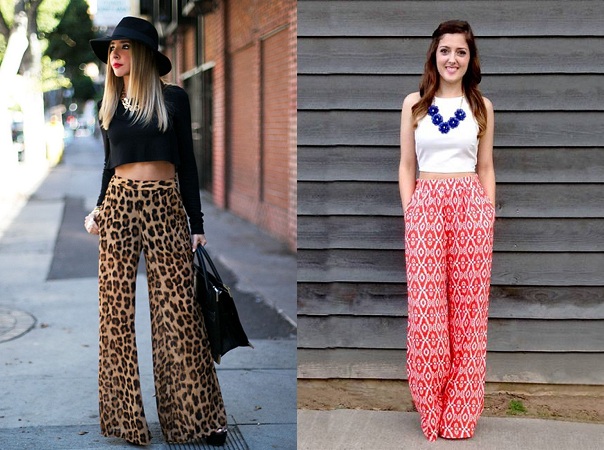 First of all, we need to know what exactly are Palazzo pants? It's not a very common garment in the normal range of fashion items and a lot of people confuse Palazzo pants with the equally unusual Gaucho trouser. Palazzo's are full-length pants, unlike the calf-length Gaucho pant style. So, Palazzo pants are women's long trousers, which have an extremely wide leg, cut in a flared shape from the waist. They are loose fitting and usually made in light-weight fabrics, like silk, crêpe and jersey for expensive Palazzo's and other blended materials for this year's high-street fashion shops.
Consequently, they flatter and flutter about your figure with finely-woven fabric creating cooling draughts of air to keep you cool in hot, summer weather. Unlike bell-bottoms, which are snug-fitting around the hips, with a flare that starts at the knee, Palazzo pants have a loose fit from the waist. And this creates a graceful look and a style that flatters women of all ages and most body shapes.
What body shapes look best in Palazzo pants?
Taller women look best in Palazzo pants, as too much swirling fabric can swamp a slender, petite figure. And curvy women will find this cut trickier to style, but with correct proportions from the right fit and choice of top, most women can wear Palazzo's. Obviously high-waisted pants, with full-length legs, are the priority for petite and curvy women, to get the longest possible silhouette.
But high-waisted pants are definitely the best choice for all women, so you shouldn't find it difficult to source high-rise Palazzo's!
How to wear Palazzo pants for plus sizes
Palazzo pants should be full-length to balance out the width of wide legs and that means always longer than your ankle and touching the toe of your shoes.
Floor-grazing Palazzo pants are the best length, but you shouldn't wear them with high-heels as the heels tend to get caught in the inside hem and can cause you to fall forwards.
Wear platform or high wedge shoes/sneakers/sandals to make your legs look as long as possible and to avoid ordinary heels catching in the hem.
Only buy wide-leg pants that fit the widest part of your figure. So, if you have generous hips, make sure the pants aren't overly stretched around your hips or gaping at the crotch.
Plus-size women look better in Palazzo pants made with a thicker, woven fabric that provides more body support.
Palazzo pants should drape over your curves, so to get the best fit you may have to choose one size up from your normal size. But that's fine – your goal is to get the best look!
As Palazzo pants have a loose fit, balance your proportions with a fitted top or a streamlining, simple blazer jacket.
Here are some of the best outfit ideas for all women on what to wear with palazzo pants:
How to wear Palazzo pants with a sleeveless top
As Palazzo pants are voluminous, but not bulky, one of the best types of top to wear is a simple, sleeveless top. And this will balance the flowing fabric of the pants below and allow you to add a trendy, cropped cardigan if necessary. This layered look, with a short cardigan to the waist, is very fashionable right now with all high-waist pants. So on a warm day you could wear one of the latest, spaghetti-strap t-shirts, tucked-in to your pants with a light cardigan on top for a classy, stream-lined look!
How to wear Palazzo pants with a blazer
Adding one of the latest colored blazers is a good way to introduce more structure and formality to your Palazzo pants ensemble. For a classic look, wear a black blazer or for a more contemporary style choose one of the new blazers for this year.There's a strong trend for plaid blazers this year, which can be regular or oversized. And the soft gray, beige, camel and cream colors used for the plaid blazers are perfect to wear with light-brown or gray Palazzo pants.
You can choose from some beautifully bright blazer jackets, which conservative fashion gurus advise against wearing with Palazzo pants. However, I don't see any reason not to wear a royal blue blazer with white pants. Or go Boho with purple pants and a peach-orange blazer. There are lots of lovely neutral colors based on all shades of light-brown and gray in fashion this year. So you can always wear one strong color and one neutral to balance it out.
How to wear Palazzo pants with a pretty cream-lace top
Consider combining chocolate brown Palazzo's with a long, mustard-yellow blazer jacket. If you're slim enough, add a brown leather belt to your blazer and get some waist-focus. But if you have an apple shaped midriff, skip the belt and leave your jacket open to show a cream colored top underneath.
One of the pretty white or cream lace tops would look great with Palazzo's as they aren't 'cropped', but do just come down to about waist level. And this is a good way to show off the high-rise and the lovely waist pleats that are part of the Palazzo style. Accessorize with a cream or tan bag and dainty sandals with or without heels.
How to wear Palazzo pants with a silky camisole top
A silky camisole top is another perfect top to wear with Palazzo pants for a feminine, classy outfit. If you choose a style with a heart-shaped neckline, you can make an evening outfit that shows off some décolletage and your shoulders. In summer, just tuck your cami into the Palazzo pants, and in winter add a dark colored blazer jacket.
Try wearing a black cami-top with dull pink Palazzo pants and high-heeled strappy sandals. And if you prefer to look more casual, swap the black top for a shell-pink cami or spaghetti tee-shirt and wear with pink sneakers or wedge sandals.
How to wear Palazzo pants with a sexy off-the-shoulder top
If you have a pear-shaped body and want to distract attention from your hip area, wear an off-the-shoulder, long sleeved top in white, tucked in to camel- or another neutral-colored Palazzo pants. It's a chic look that looks great with a neutral clutch bag and sandals.
And whatever body type you have will look good with an off-the-shoulder top. It shows off your upper body, in an alluring way that's more subtle than a deep V neckline. And if you like patterned fabrics, a striped off-the-shoulder top would look great with Palazzo pants. And a frilly shoulder-baring top would also look lovely with this style of pants.
How to wear Palazzo pants with a casual denim jacket
Wear a denim jacket with your palazzo pants and get a casual outfit that will be comfortable all day. Try teaming a white short-sleeved tee-shirt, tucked-in to light red Palazzo pants and finished off with a denim jacket that reaches about half-way down your hips. And carry a sand- or beige-colored clutch bag.
This is a basic outfit you can wear again and again with a different top each time. And although graphic tee-shirts are mostly associated with blue and black jeans, there are plenty of cute and artistic graphic tees this year, which would match the vibe of Palazzo pants for a casual look with your denim jacket.
How to wear Palazzo pants with a smart duster-coat
Adding a duster coat over your Palazzo pants will perfectly suit the chic look! The layers of light, flowing fabric look glamorous and eye-catching. You can wear a knee-length or floor length duster depending on your preference and they instantly add lots of extra style to an outfit, which could be casual or dressy.
In the summer weather, go for one of this year's pretty pastel fashion colors for your duster. And they are soft shades of aqua, shell-pink, light-blue, gentle yellow, lavender, peachy-orange and cream, sand, khaki and beige. When there's a cold wind blowing, opt for a darker duster in black or navy made in heavier, warmer fabric.
How to wear Palazzo pants with a sophisticated one-shoulder top
Another super alternative to the bare-shoulder blouse is an asymmetrical, one-shoulder top. Worn with a pair of high-waist Palazzo pants, this can produce a very trendy and sophisticated look. The top can have one short, one long or one sleeveless side opposite the bare shoulder, but it will still look great for everything from a casual lunch with friends to a special dinner date. And a ruffled or flared sleeve would also go well with the Palazzo pant fashion image.
How to wear Palazzo pants with a matching shirt
If you want to wear your Palazzo pants in cool weather or for office wear, you can add a matching shirt to create the look of a casual suit. So a shell-pink, plain shirt would look great with deep pink Palazzo's. Or a pale-blue shirt would suit darker blue pants, and be easy to style and wear regularly without having to think about what goes with what.
This two-tone look is a highly stylish look that shows you have planned it to look smart, but not over-fussy. And small-print, patterned shirts go well with plain colored Palazzo pants. So if you've got a wardrobe full of classic striped shirts, and shirts with tiny flower prints, like me (!), you can still wear them tucked-in with Palazzo pants this year for a cute look!
How to wear Palazzo pants with cute cropped tops & cardigans
Cropped tops and cropped cardigans are a huge fashion trend for this year and can be worn together or as separate items, depending on the temperatures where you happen to live. Cropped tops look good with Palazzo pants, as they match well with high-waisted bottoms and emphasize the shape of your waist – as long as you have one. The pastel-colored cropped cardigans are one of my favorite new fashion items for this year.
They are very pretty and feminine, with pearl and jewel buttons and a long lace collar, which suits the sophisticated style of Palazzo pants. Cropped jumpers, sweatshirts, hoodies and casual jackets also suit the Palazzo pant shape and can be worn to keep you warm and create a young, casual vibe. Wear with platform shoes, sneakers or high-wedge shoes for a relaxed style that will also make your legs appear longer.
If you've found the fashion for skinny jeans too casual or uncomfortable for your preference, try some trendy Palazzo pants and enjoy being chic and comfortable at the same time!