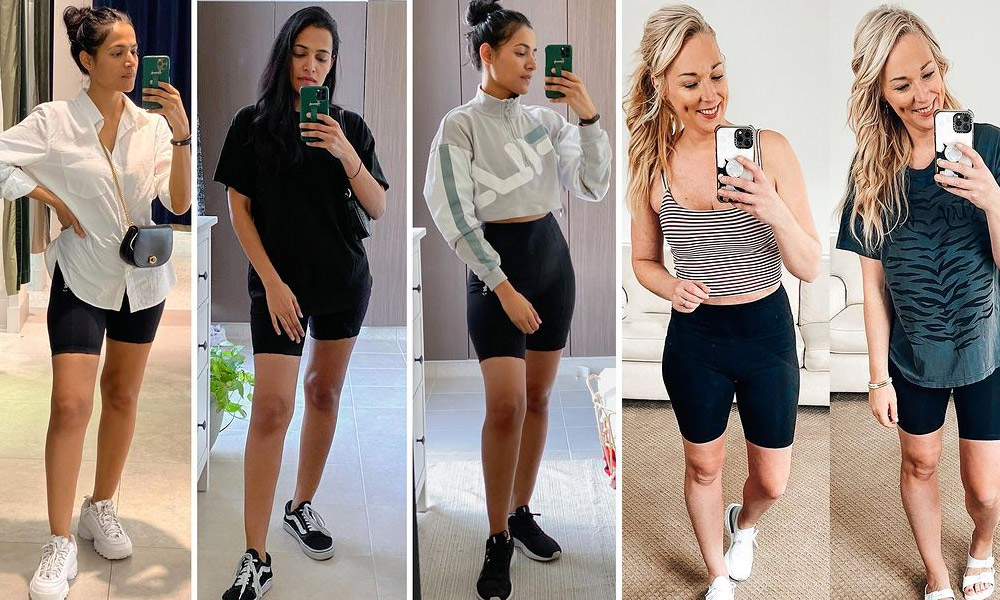 Ways to wear Your Bike Shorts – What to wear with Bike Shorts
Whether you're a keen cyclist or never learned to ride a bike, biker shorts are one of the most versatile items you can have in your wardrobe. In cold weather, biker shorts are a very warm and comfy extra layer to wear under jeans, trousers, dresses and skirts. And in warm weather, you can wear them with one of this year's trendy, oversized blazers, plus heels, for a chic look.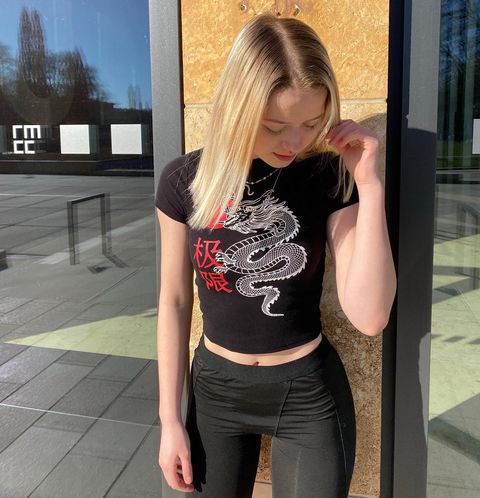 And a pair of bike shorts is great for layering under the ultra-short tennis skirts in the shops, ready for summer wear. Or you can wear biker shorts beneath a simple slip-dress, and just tuck in one small section of the dress to the side of the waistband to create an asymmetrical look! (check out the gallery of what to wear with biker shorts at the end of the post.)
Style biker shorts over s-exy tights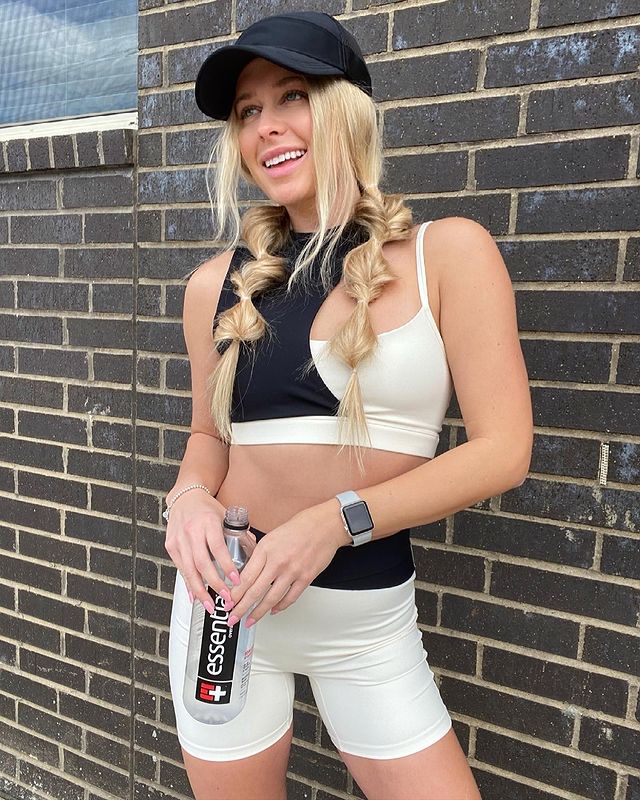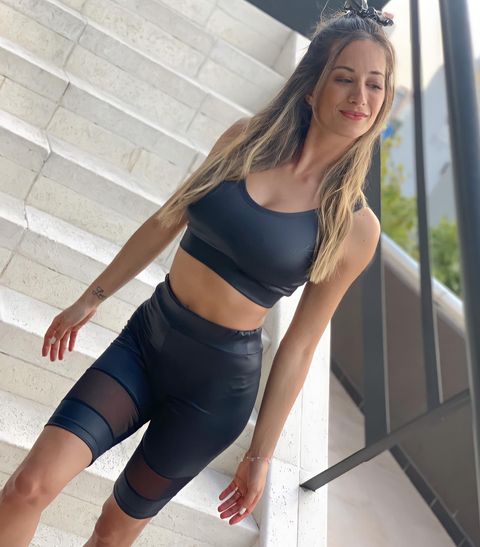 Bike shorts also look great over thick tights that can be conservative black, or a bright color, not to mention s-exy, patterned black tights and fish-nets! You can create a sporty vibe, match with all sorts of trendy graphic t-shirts and brighten them up with colorful sneakers or espadrilles. So here are some of the most up-to-date ways to style biker shorts along with the latest fashion garments.
Trendy colors for styling biker shorts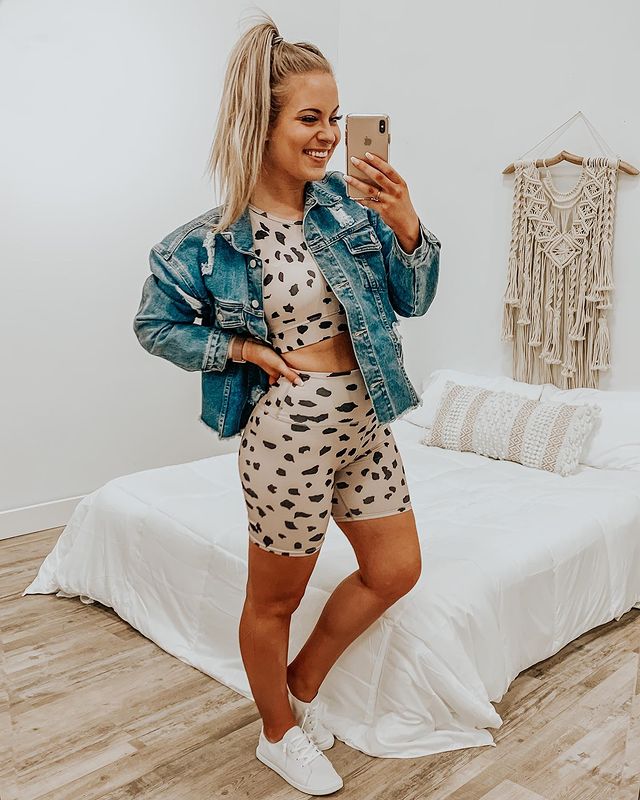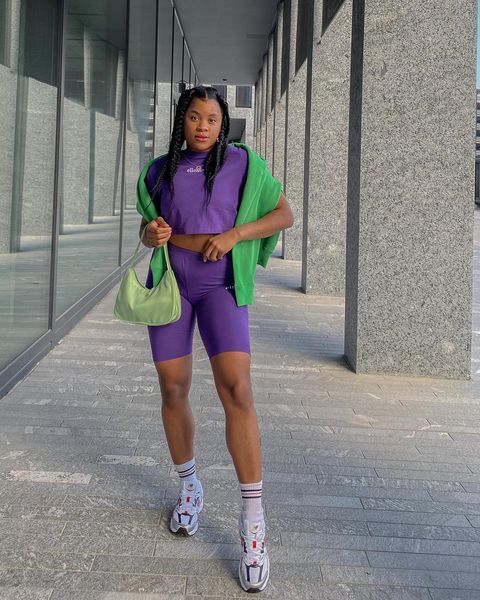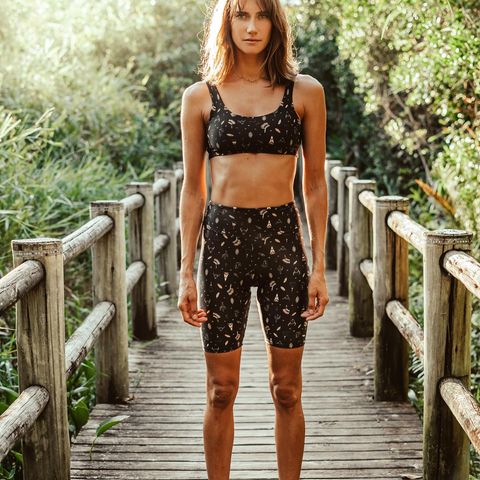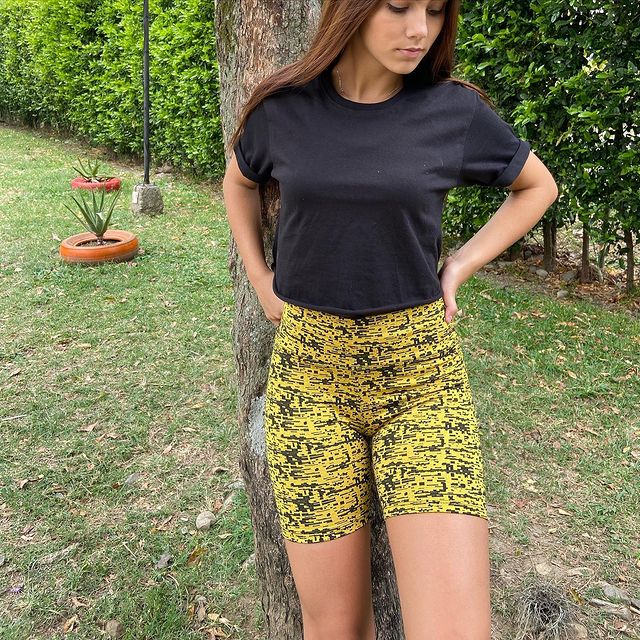 If you find that 100% synthetic fabric causes uncomfortable perspiration, try 95% cotton 5% spandex Yoga bike shorts. They have a lovely, soft brushed-cotton texture and come in a range of bright colors and patterned prints. Try colors instead of the traditional black bike shorts, e.g. hot pink, green, light or dark-blue, aqua, red, purple, lavender, orange, brown, beige or shell-pink.
As far as fashion styling is concerned, bright and patterned printed bike shorts can look fabulous under a black or plain colored skirt. Or a tunic or slip-dress which is the same shade as the main color of the patterned shorts!
Top tips for styling biker shorts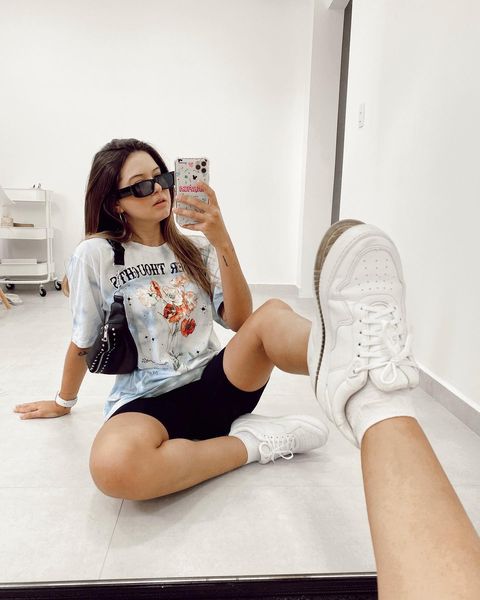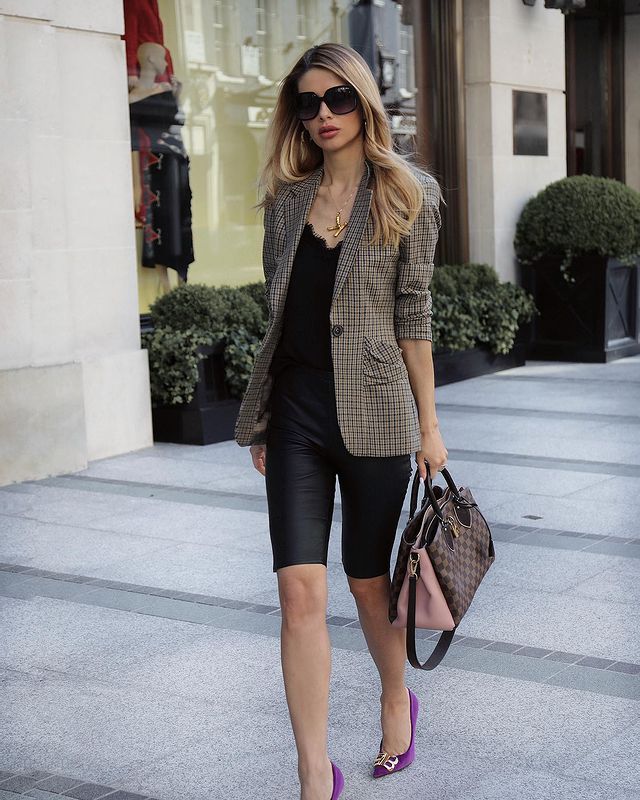 Look for the latest high-waist styles as these are the most flattering to every woman and of course, high-waist compression shorts are going to shape and flatten your abdomen, hips and thighs!
Bike shorts with an oversized blazer and laced engineer boots look great together.
Get with the over-sized denim jacket trend and wear it over an all-black shorts outfit and high-heel, platform or wedge sandals or just a plain pair of comfy sneakers for a more casual finish.
Wear a buttoned shirt in an over-sized fashion or just buy one a size or two bigger than your usual size and create a super-casual look with your bike shorts.
Checked and plaid blazers are super-trendy this year, so wear biker shorts with a checked jacket for a completely fresh look.
For a quirky look, team knee socks and chunky trainers with your shorts and a zip-up hoodie or sweatshirt.
Be simply minimalist with a black tee-shirt and white sneakers teamed with a subtle color of biker shorts.
Streamline your outfit with a French sailor striped-top over black shorts and deck shoes.
Wear high-waist bike shorts with one of the latest crop tops, and add a tailored blazer to create an interesting contrast between formal dress and a sporty style.
Style this year's summer tartan and checked patterned, pleated tennis skirts with very short biker shorts to keep your modesty intact!
Go 'full 1990's' with bike shorts under a vivid, silky slip dress, a waistband handbag, bright sunglasses and 'dad' sneakers.
What shoes can I wear with biker shorts?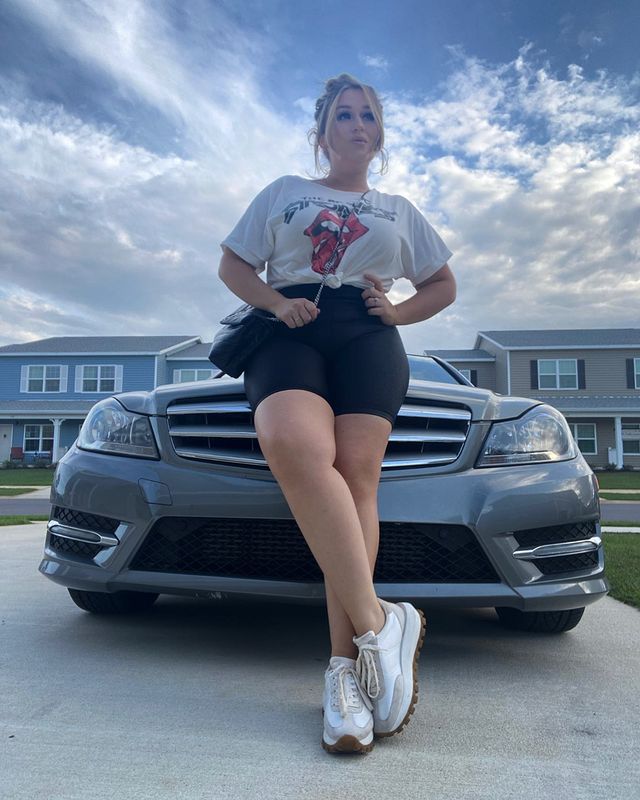 Most biker shorts end above the knee or at mid-thigh, but there are extra-short bike shorts, too. And the length of your shorts will affect the overall look of your legs. So the longer your shorts are, the lower the top edge of your footwear should be. This means you can wear ankle boots or engineer boots with extra-short shorts, but not with knee-length biker shorts.
Cycling shorts are tapered in a way that emphasizes the hips and legs and fashion sneakers can be perfect to balance the look of shorts and add an attractive fashion detail.  Bike shorts don't look their best with high-tops or athletic boots, as this tends to make anyone's legs look shorter and this is unflattering, especially if you are petite.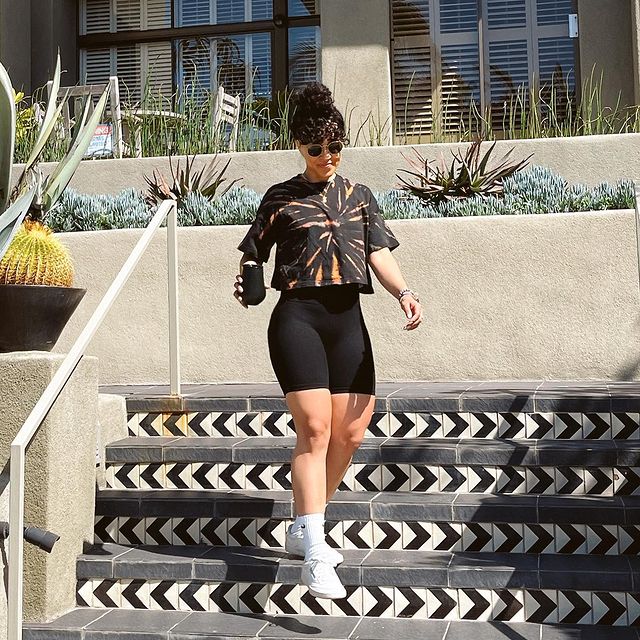 As bike shorts were designed for cyclists, training shoes and sneakers are one of the most obvious types of shoe to wear when styling your shorts. However, actual cycling shoes have hard, smooth soles that suit pedaling, but aren't comfortable for fashion, athletic activities or casual walking. But, you can wear almost any type of shoes with your biker short outfit. And that includes Mary Janes, platforms, wedges, sandals, deck shoes, stilettos and heels of all types!
Platform sneakers
On the other hand, platform sneakers are a great choice as they make legs look longer and platforms are definitely in fashion for this year. And low-top sneakers are another good way to make your legs look longer, unless you are wearing something dressy over your shorts and need smart heels.
Lots of women wear white ankle or knee socks, or low rise invisible socks for more comfort and to remove moisture from perspiration in warm weather.
Trainers for running in biker shorts
Bike shorts can be worn for any exercise activities and prevent thigh-chafing if you like to run or walk long (or short) distances. They also offer a fair degree of compression, which is comfortable and flatters wobbly thighs and bottoms.
If you do want to wear your biker shorts for exercise sessions, you should ensure you choose quality trainers designed to give good support and shock absorption for running.
7 Trendy ways to style biker shorts – what to wear with biker shorts
So if you fancy trying this year's new ways to style biker shorts, here are seven trendy outfits to inspire you!
1. Professional office outfit with biker shorts
One of the most popular ways we see bike shorts styled in an urban setting is plain, black biker shorts, under a fashionable over-sized blazer and a belt-bag. Depending on the weather, leave your jacket open to show a tucked-in tee-shirt, or button up for a sleek, classy look. Add dressed-up high heels for a super-classy, boss look that shows off your lovely legs and stride down the office corridors like you own the company!
2. Cute look with waist-length cardigans
One of this year's summer favorites will be the cropped or fitted waist-length cardigan. They are extra-feminine, with large lace collars, and pearl or gem fancy buttons. So they will be perfect for wearing over biker shorts along with a low heel for a girly look. The pastel colors can be matched with your shorts to make a quirky shorts suit or contrasted with black for a quick and easy fashion look!
3. Night-out ensemble with biker shorts
Here's a great look for dates or drinks in the evening. Style your biker shorts with a fine-textured, feminine blouse or a shirt that covers your behind and you've got a flirty, s-exy look that just takes two seconds to put together. Wear with pointed shoes with a heel or flat, depending on your height, to smarten up the look. And carry a clutch bag. It's a super, alternative look especially if your date is expecting you to turn up in the typical jeans and top look!
4. Travel styles with biker shorts
Wear your shorts with a sweatshirt or zip-up hoodie and trainers to be warm and comfy whilst travelling in unpredictable weather. If it's cold weather add an oversized tweed blazer or an olive-green or khaki trench-coat for a really trendy, athletic-casual vibe. Or wear one of the myriad of groovy graphic tee-shirts with biker shorts in the summer heat. This outfit will look trendy anywhere.
5. Casual around town style with biker shorts
Pretend to be an off-duty celebrity or model in an all-black ensemble, for a casual weekend look. It's easy to put together when you've not got a lot of time and need to get stuff done in town, but want to look trendy and attractive all the same.  Just add a structured handbag with a chain shoulder strap and some fashionable white trainers!
6. Two-piece matching sets for exercise
If you find it hard to motivate yourself for working out, get some cute matching sets and concentrate on how good you'll look in your work-out gear! The current year's workout 'suits' of cropped top and biker shorts come in a tone of fabulous animal prints, vivid colors and even 'executive' pin-stripes. Whether you choose yoga, Pilates or the open gym for your workout, you know you'll be looking great and that will help you enjoy getting and staying in shape!
7. The benefits of well-styled biker shorts
The best points about bike shorts as fashionwear are that they are durable, comfortable, affordable and versatile. You can buy a 6-pack of different colored or patterned biker shorts in lots of stores and online, so they're easy to shop and very affordable. Synthetic styles with compression mold your figure and make it look extra s-exy.
And although cotton yoga bike shorts may not have the compression of synthetic shorts, not everyone needs it. Plus cotton fabric wicks away bothersome perspiration. And considering how incredibly comfy, s-exy and versatile this garment is, it's no surprise at all that it's part of this year's massive expansion in trendy and fun fashion clothes!