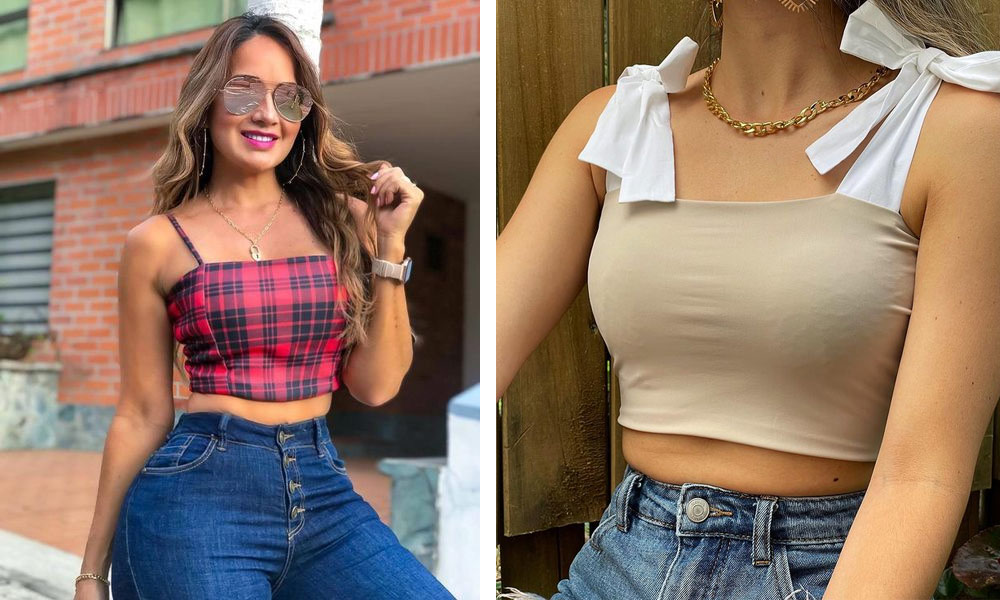 How to style and what to wear with crop tops
Crop tops are back with a bang and that's great because they are the perfect top to wear with the new high-waisted jeans! So if you didn't wear crop tops with your low-waist jeans, because you didn't want to show bare flesh – or there was too much bare flesh to show, here are 3 super ways to style crop tops to suit your body and style! So let's get started with how to wear crop tops without showing skin:-
Wear your crop top without showing your midriff
Layering is also back in fashion, especially to get more wear out of your summer clothes in winter, or any cold weather. So the easiest way to wear you crop top is to wear it over a tucked in, or not tucked in, T-shirt with long or short sleeves. This works with low-waist and high-waist pants.
Wear it over a cute slip dress, and if it's a cropped, graphic T-shirt wear it over a plain one color slip dress for a completely new style idea.
High waisted skirts, especially stretchy pencil skirts look trendy and flattering with a crop top, which can be plain, graphic or have a message written on.
Crop tops match with all high-waisted garments, so spend a rainy afternoon experimenting with your fashion clothes to find out the best color matches and have them ready for when you need a trendy look!
And if you still have a bit of flesh you'd like to cover, get out your denim jacket and tie the arms around your waist!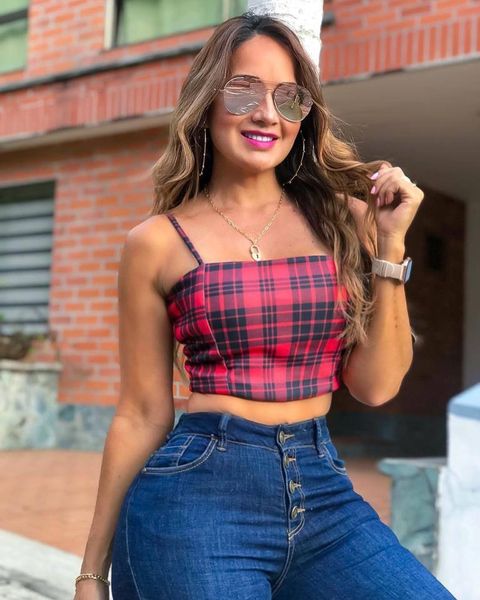 Crop top outfits that show your waist
If you don't mind if your waist flesh shows beneath your crop top, this is a great new trend for you to wear. Take a look at the outfits below to see how chic crop tops can look with white, denim, cream and khaki, light-brown and all colors and styles.
This year, the stores are full of pastel colored faux leather jackets, and they look super-cute, too. You can wear white jeans with a white or pastel crop top, topped off with a sweet, short white, pastel pink, green or lavender faux leather jacket!
With your metal-button fly, denim shorts, you can wear a highly fashionable cropped white blouse with trendy puffy sleeves. And a super stylish tan shoulder bag.
For a date or social engagement, you'll look fabulous in a semi-transparent, cream gauze cropped blouse over skinny white jeans. The blouse should have a collar and puffy sleeves to add a semi-formal chic vibe. If you fancy an unconventional vibe, too, have raggedy bottom edges to the legs and high-heeled, ankle-strap, mustard-yellow shoes with white dots!
And not all crop tops are cotton tee-shirts; look out for more sophisticated short-sleeved crop tops in white silky fabrics for an elegant look. Wear with an off-white, high-waisted pencil skirt, big statement earring in a light brown shade and a chain-strap, curved beige shoulder bag. This is an outfit that always looks expensive, even when you've bagged a few bargains to put it together! And you should wear it with nude, beige or brown high heeled pumps.
A silky crop to over a silk dress is another elegant style you can dress up with high-heeled sandals or dress-down with a pair of cute sneakers.
Black crop tops always look super over animal print jeans, pants, skirts and dresses. There's a lovely contrast between the plain black and the patterned animal skins, which feature black in their natural pattern. Look out for zebra prints this year, which are more popular than ever and a change from leopard print.
For everyday shopping about town, a white crop top can be lightly tucked in to black high-waisted wide-leg flare trousers for summer smartness!
And an all-white crop top and white flared jeans outfit can be decorated with a pretty belt-bag with golden thread embroidery or any embroidery to add a touch of color and interest.
Patterned urban shorts with a white background and gray pattern look fabulous with a cropped blouse top in black with puffy short-sleeves. Wear with a small, rectangular bag on a chain strap and trendy high-heeled, black sandals.
High-waisted, midi-skirts in pastel colors, like pink, look very elegant with a cropped blouse in white, with short, puffy sleeves and beige heeled shoes, plus a mid-brown, rectangular shoulder back.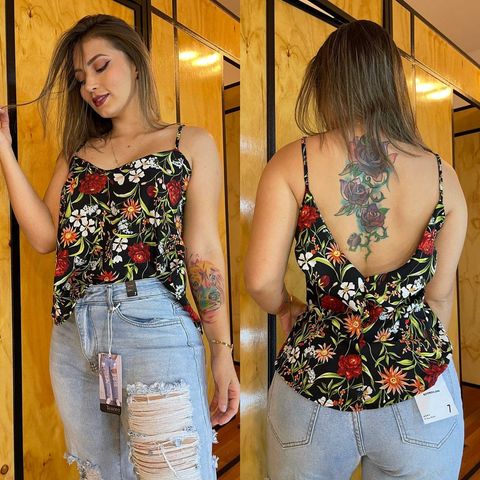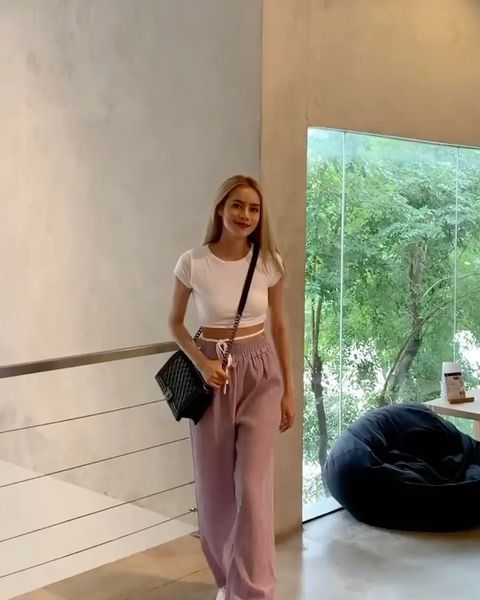 Crop top styling for plus-sizes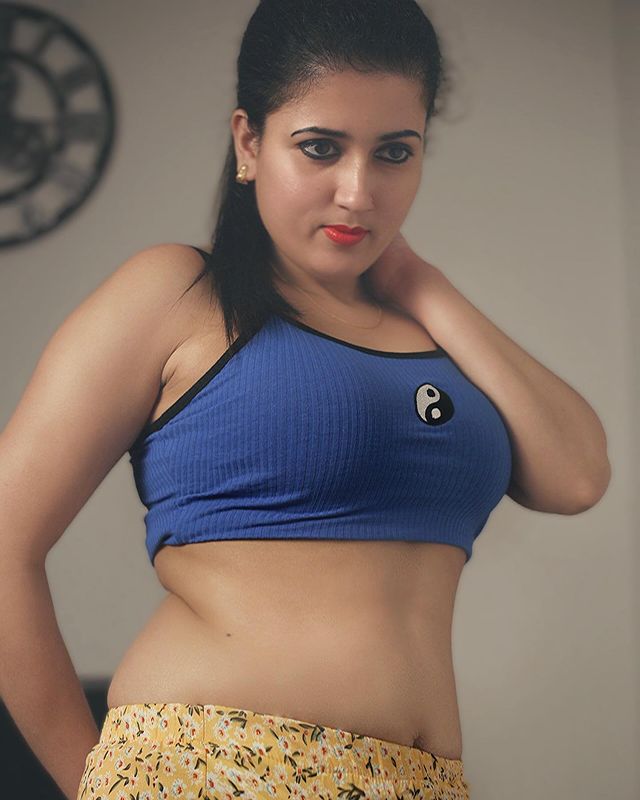 We believe that all of the plus-size rules about what you should and shouldn't wear are silly and oppressive, so if you agree, you'll love these suggestions for wearing crop tops on larger figures. So we advocate wearing bright colors and fashionable cropped cardigans, sweaters, T-shirts and sweatshirts.
And in the summer, wear cropped blouses with long or short puffy sleeves that will really balance your figure and emphasize the curves of an hourglass or whatever shaped figure!
Large girls can wear crop tops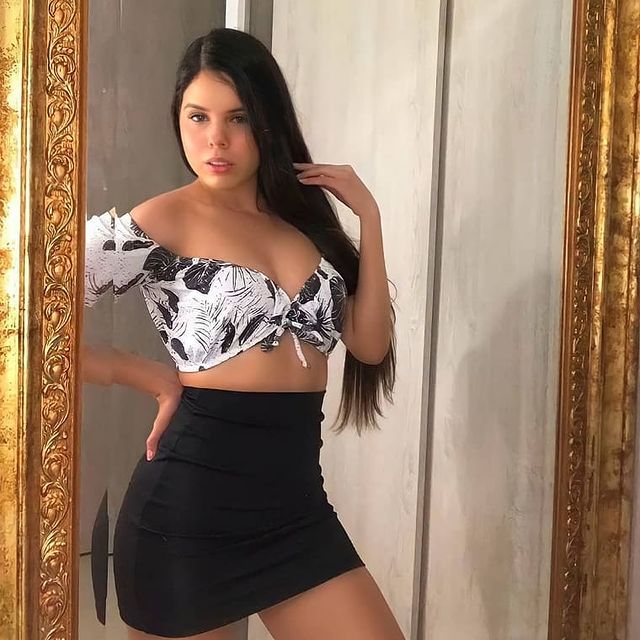 The rule saying that weighty girls shouldn't wear crop tops came from the fear that the fat around the waist would be displayed. Oh no! Well, we say, 'Oh yes!' and why not? Actually, crop tops are not just highly fashionable right now – they are also quite flattering to plus-size women and girls. Some people expect you to be ashamed of your size and forever trying to hide yourself, but that negative stereotype is losing support these days and you should be confident, and as fashion conscious as everybody else!
Wear crop tops in fashion colors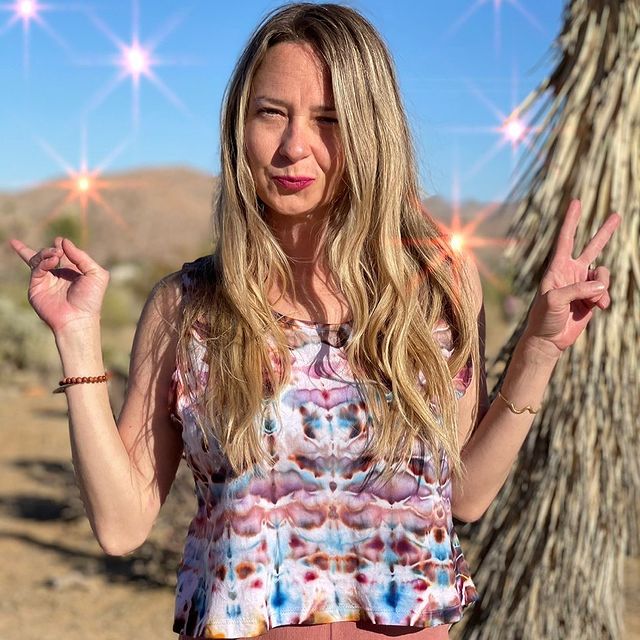 If we just wore 'slimming' black, the world would look like there was a mass funeral every day. Black is an elegant classic and we all have attractive black garments we love to wear. But in summer everyone should be able to switch to the latest pastel shades and patterned fabrics that lift our spirits.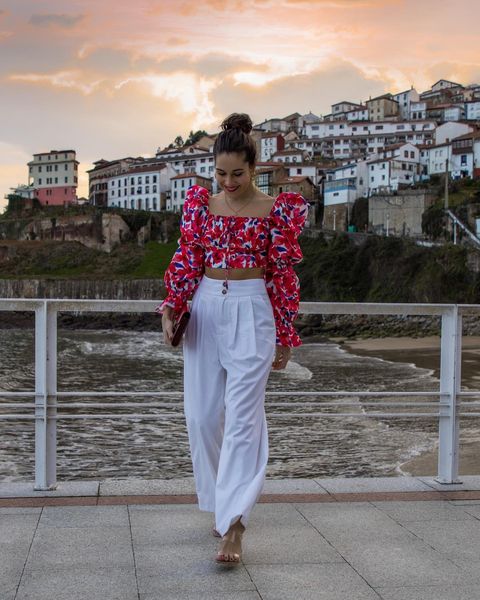 This year's summer colors are soft lavender, soft yellow, beige, cream, pastel pink, light blue, and a lovely soft light green. And along with these colors will be all tones and shades of light brown, as brown is going to be the 'new black' this year.
Be confident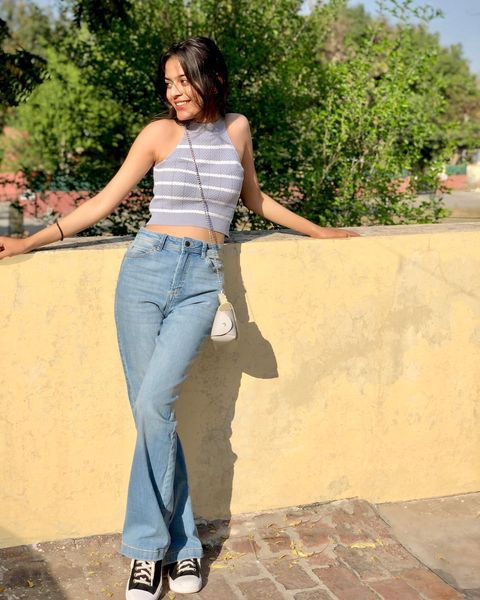 All you need is confidence and knowing there are plenty of plus-sized crop tops out there designed especially for you to wear!  You can wear layered crop tops if you absolutely don't want to show any flesh. And you can wear high-waisted pants and skirts that flatter every woman's stomach shape, and allow us wear crop tops without showing our waist covered by the high cut fabric. And you can also wear any type, style or color of crop top that you want.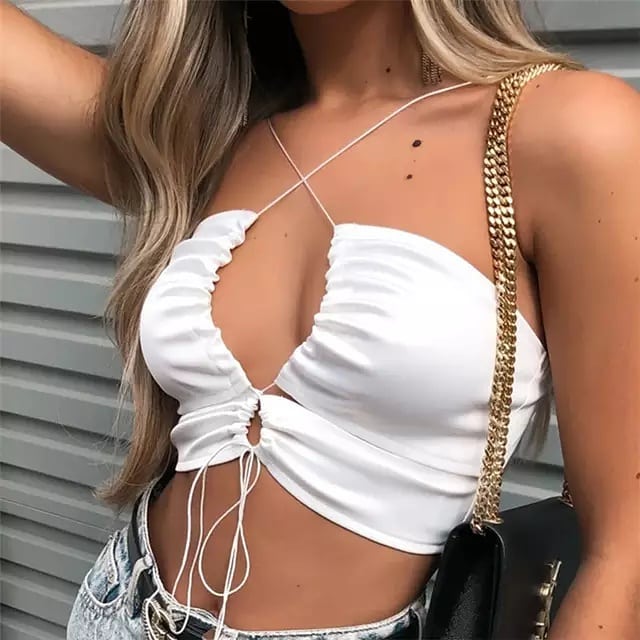 The key is to wear your crop tops with confidence, because confidence is the best shield we all need to develop to love ourselves and ignore those who try to put us down.
Switch to high-waisted styles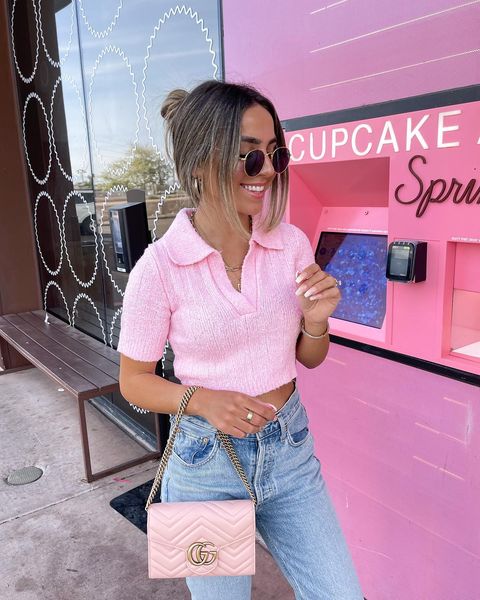 These tips apply to everyone and will help you get your trendy look perfected for spring and summer of this year when every fashion look has been updated and the new colors are just gorgeous!
And wear tops with puffy long or short sleeves and wide leg trousers that will give you a better balanced silhouette.
Jeans with a high supportive waist section will hold your abdomen in and make your crop top look great.
A fun, floral print crop top is a fashionable choice for daily home and work wear, worn with boyfriend jeans, white wide pants or straight legs.
Crop tops and shorts are perfect for summer-time wear.
Tailored crop tops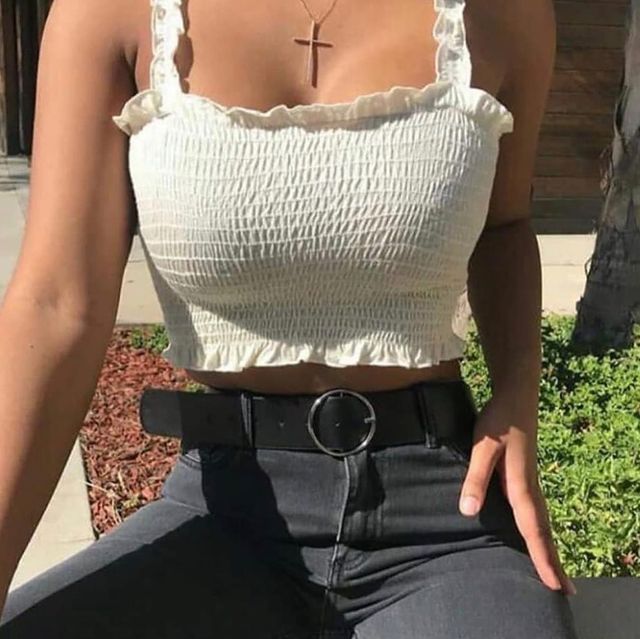 Crop tops aren't always the most sophisticated type of top, but they aren't all made of cotton T-shirts. So when you want a trendy, but more sophisticated ensemble, look in more upmarket shops for short tops that have some tailoring and bust darts. The fabric should be a little bit more substantial than a fine cotton tee, as you don't want your bra to be showing through. And stiffer fabric gives a cleaner line to the look, too.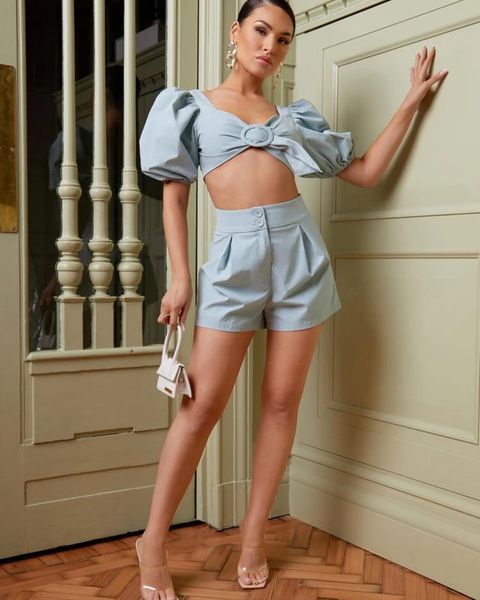 Simple decorative touches will also make the outfit appear chic, for examples gold buttons on the shoulder or a cross-over hem-style at the front. Stiff, gauze puffed-out sleeves are gorgeous and add tons of style to any tailored crop top. So when you're looking for a cute or elegant, feminine outfit for a special occasion remember that a classy cropped top can look marvellous over a flared skirt, a pencil skirt, midi and full-length skirts!
Sleek shoes add class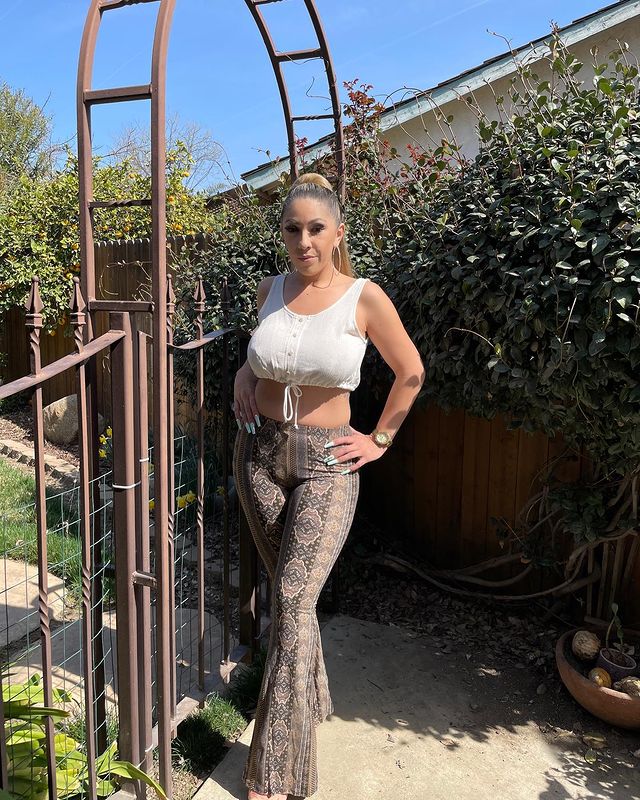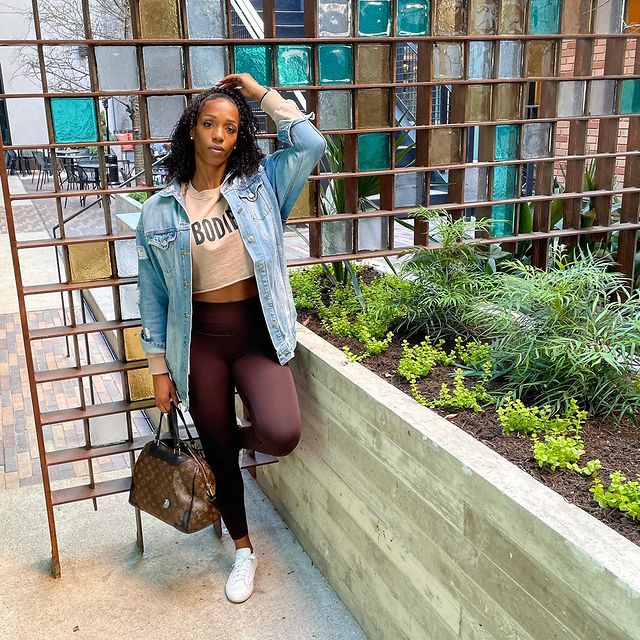 And flat shoes look great with a classy crop top and tailored black shorts for day-to-day wear in hot weather cities. However, if you're petite and need a little height, choose a floral wedge sandal or a sleek heel on beige or nude shoes to help make your legs appear longer.
So I hope that you've all got lots of new ideas from the inspiration gallery we've put together for you today! Crop tops are actually as varied in style as any other blouse, shirt, sweater or top, so enjoy shopping and finding your perfect makeover look for this year!