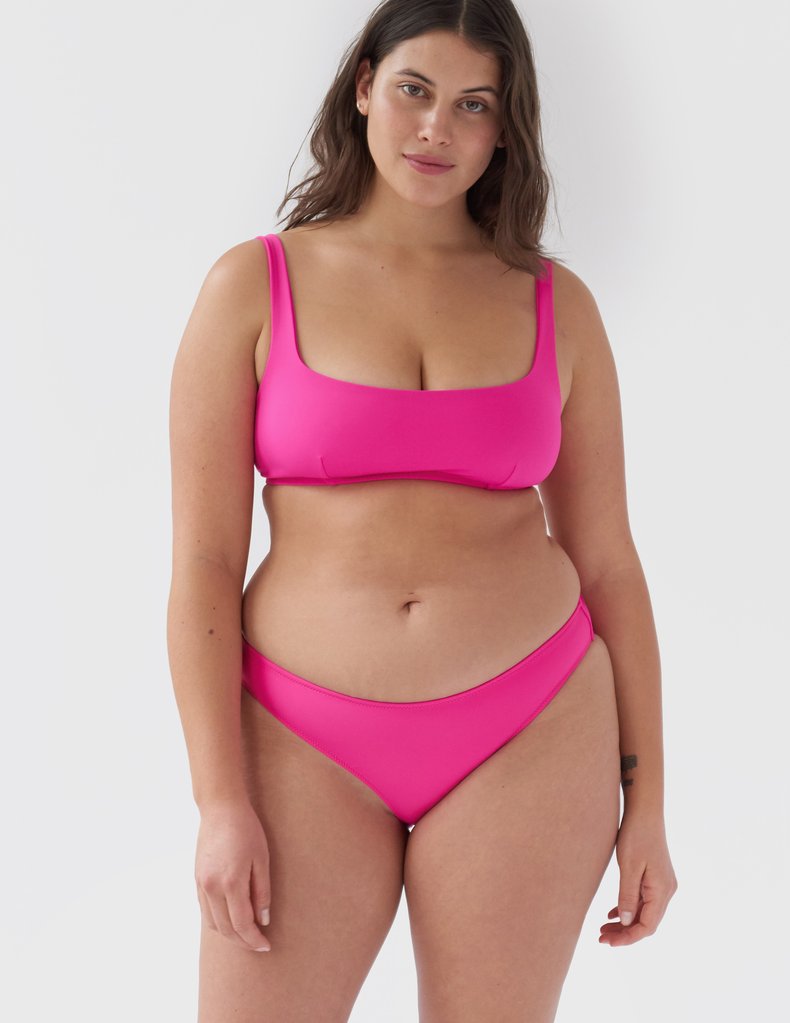 The best plus size bathing suits are comfy, supportive and figure-flattering, no matter what shape or size you are. So finding the right swimwear is very important to your holiday fun and your enjoyment of pool-parties, local swimming pools, garden sunbathing and long days at the beach! These days there are lots of plus-size bathing suits on offer from good quality brands who've finally woken up to the fact that curvy women count!
And we deserve the same range of styles and s-exy plus size swimsuits as any other woman. So that's what we've selected for you today – a one-stop guide to the best, plus-size bathing suits for style and comfort right now!
1. Araks – Quinn Bikini Top in Pitaya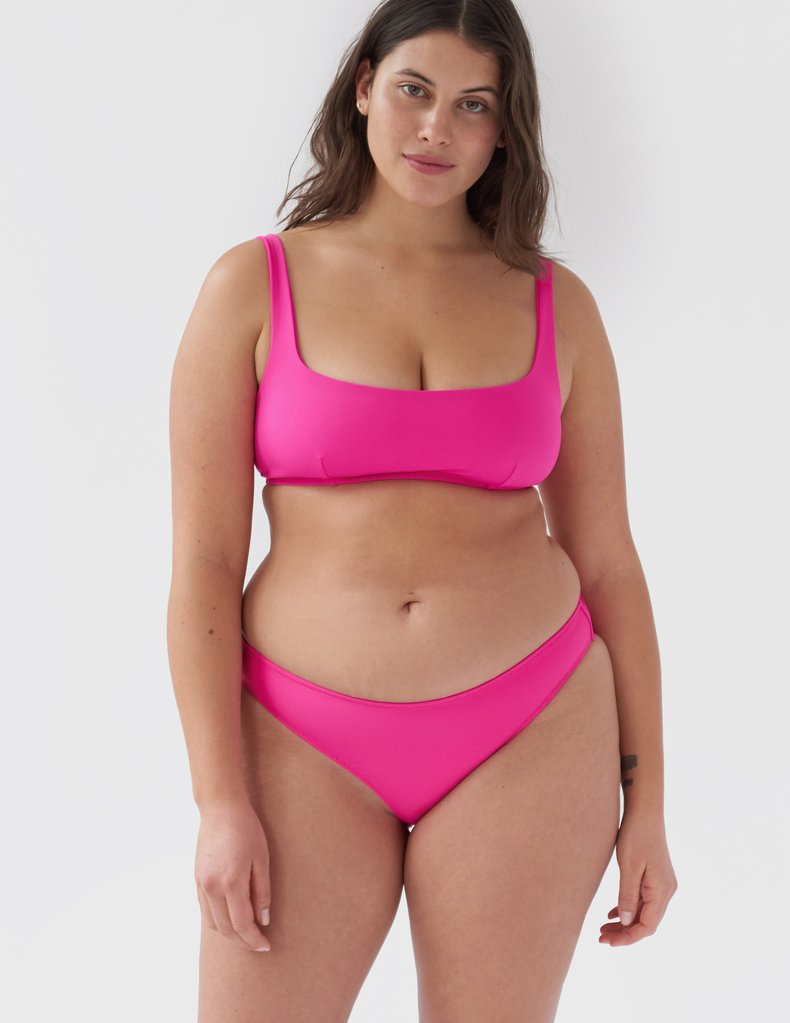 Shocking-pink is one of our fave neon colors and it's never truly out of fashion! Neon colors are a top-trend this season and Araks have lots of fashionable and supportive designs for women with larger bust-lines. They are not the cheapest brand, but you get proper darts for extra shaping and excellent comfort/fit. Available in sizes small, medium or large D-cup.
Quinn Bikini Top in Pitaya
Araks
2. Ashley Graham x Swimsuits for All – Daisy One-Piece Swimsuit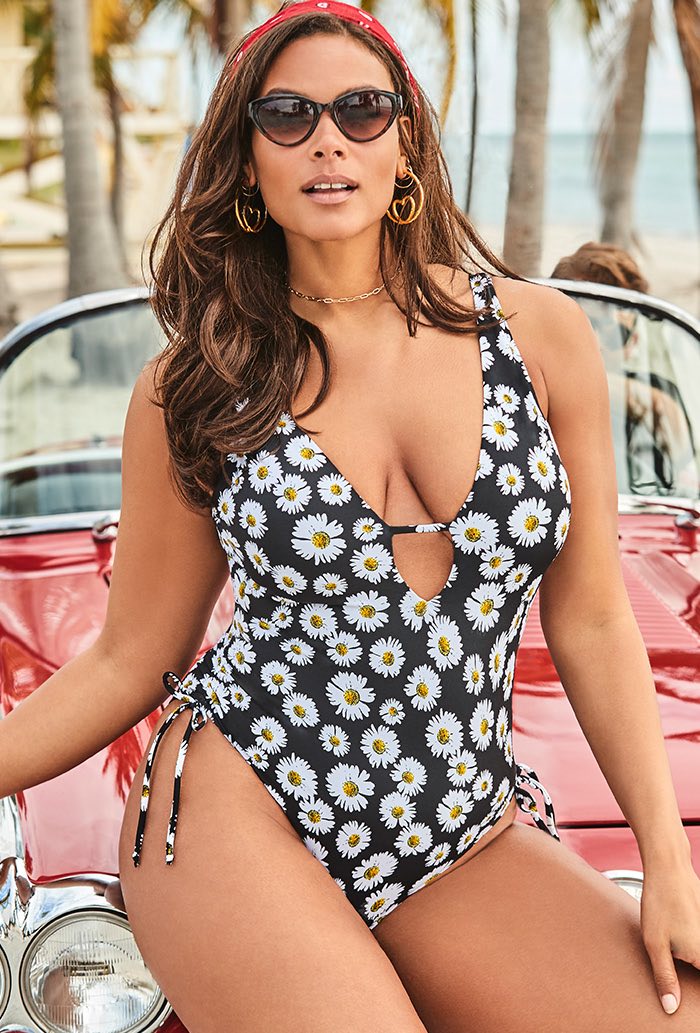 Ashley Graham X Swimsuits for All Collection shows their designers really understand the plus-size women of today and what they want. Their trendy, one-piece swimsuits have comfortable, soft, removable cups for support and often feature adjustable side ruching, which allows you to have more, or less, coverage over the hips. The plunging neck is sexy and the 'Daisy' bathing suit is available in size 4 – 24
Ashley Graham – Daisy bathing suit
Swimsuits for All Collection
3. Andrea Iyamah – Shani One-Piece Bathing Suit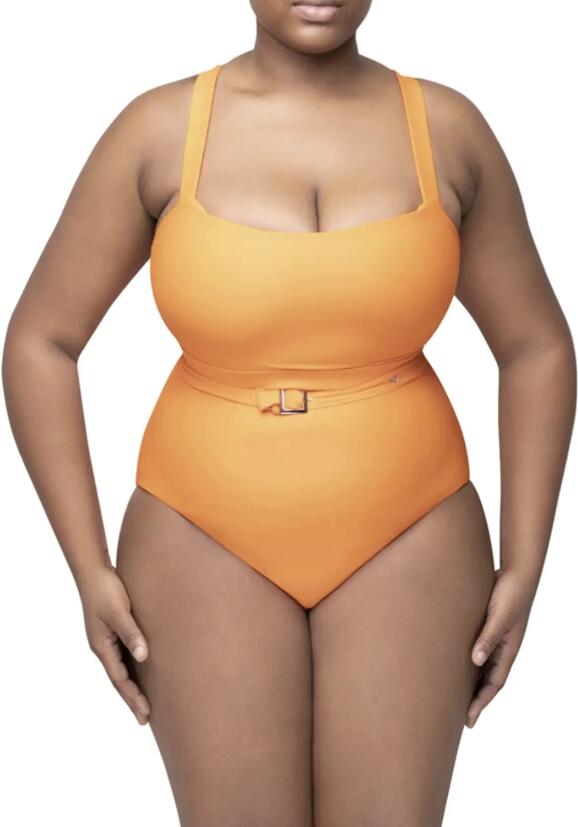 Who doesn't want to show-off a fabulous hour-glass figure? This retro-style swimsuit from Andrea Iyamah offers full cover and high-style, with a cute belt accentuating the waist and a flattering, U-shaped neck. This rich soft shade of orange is a trendy favorite right now and it flatters tanned and deep skin-tones equally well. Available in XS – XXXL.
Shani One-Piece Swimsuit
Andrea Iyamah
4. Dippin' Daisy's – Muse Tie-Front Top
Dippin' Daisy's swimwear collection includes this must-have, tie-front bikini top, available in a massive choice of 17 different colors. And the low prices of their swimwear separates, makes it easy to build up a 'wardrobe' of bikinis using mix and match with different bottoms. This seamless bikini is created for comfort, as well as trendy style. Available in sizes from 0 – 3X.
Muse Tie-Front Top
Dippin' Daisy's
5. Lively – 'Busty' Swim Bralette
The Lively brand focusses on offering great-looking bathing suits and lingerie for women with large bust-lines. The three-quarter-cover cups keep everything in its place and a sexy, keyhole cut-out detail adds trendy fashion style. Available in cup sizes from 32DD – 38DDD.
Lively – Busty Swim Bralette
Nordstrom
6. Bleu by Rod Beattie – Mesh Panel One-Piece Swimsuit
For a sophisticated look, you can't beat a sleek, black all-in-one swimsuit and this one is especially attractive, with a flattering, square neck and mesh front panel. The front panel keeps the style supportive, whilst offering a sexy vibe in the low V plunge. And the back has cute strappy straps, to add more interest. Available in sizes 16W – 22W.
Mesh Panel One-Piece Swimsuit
7. Summersalt X Tanya Taylor – Tie Marina Bikini Top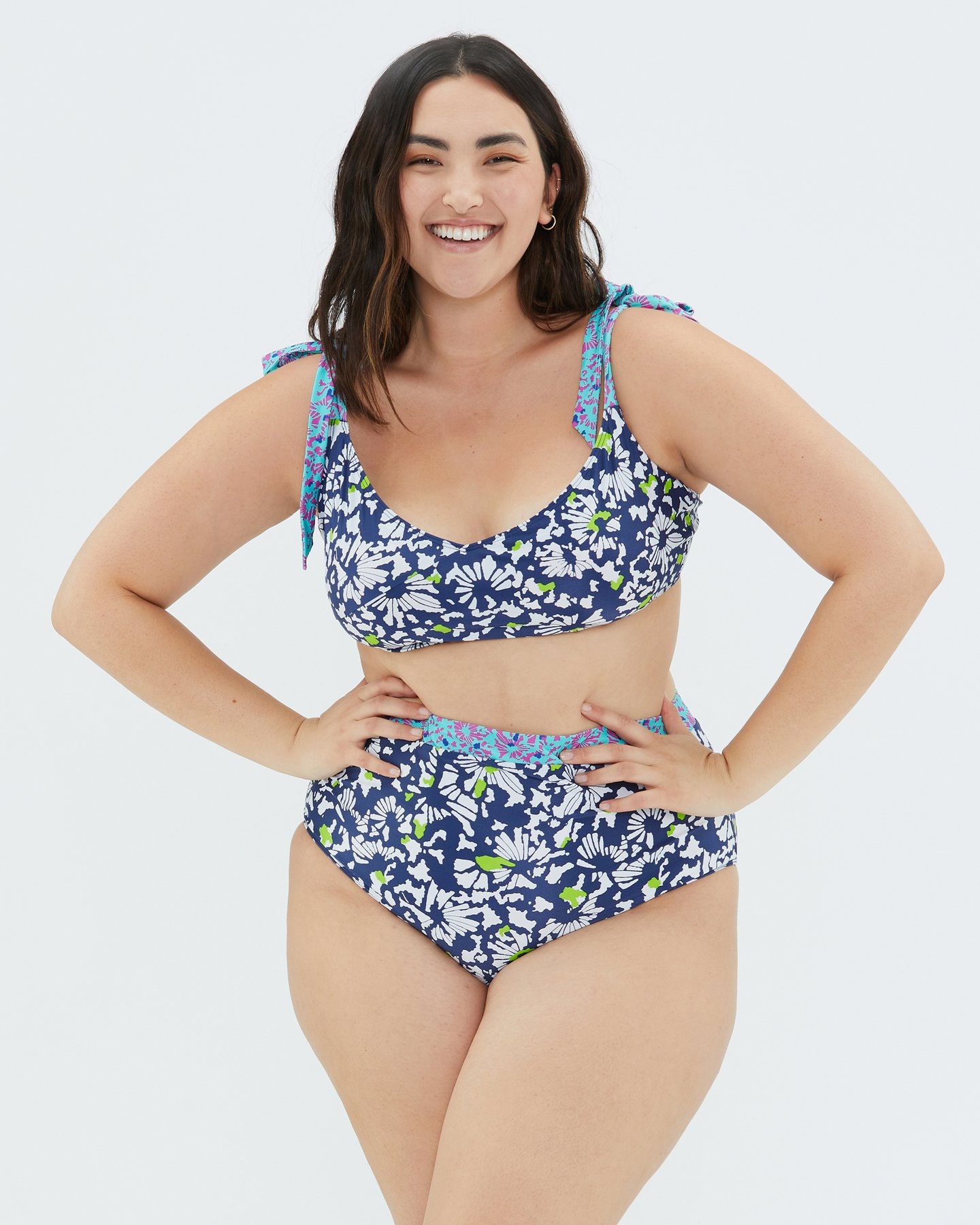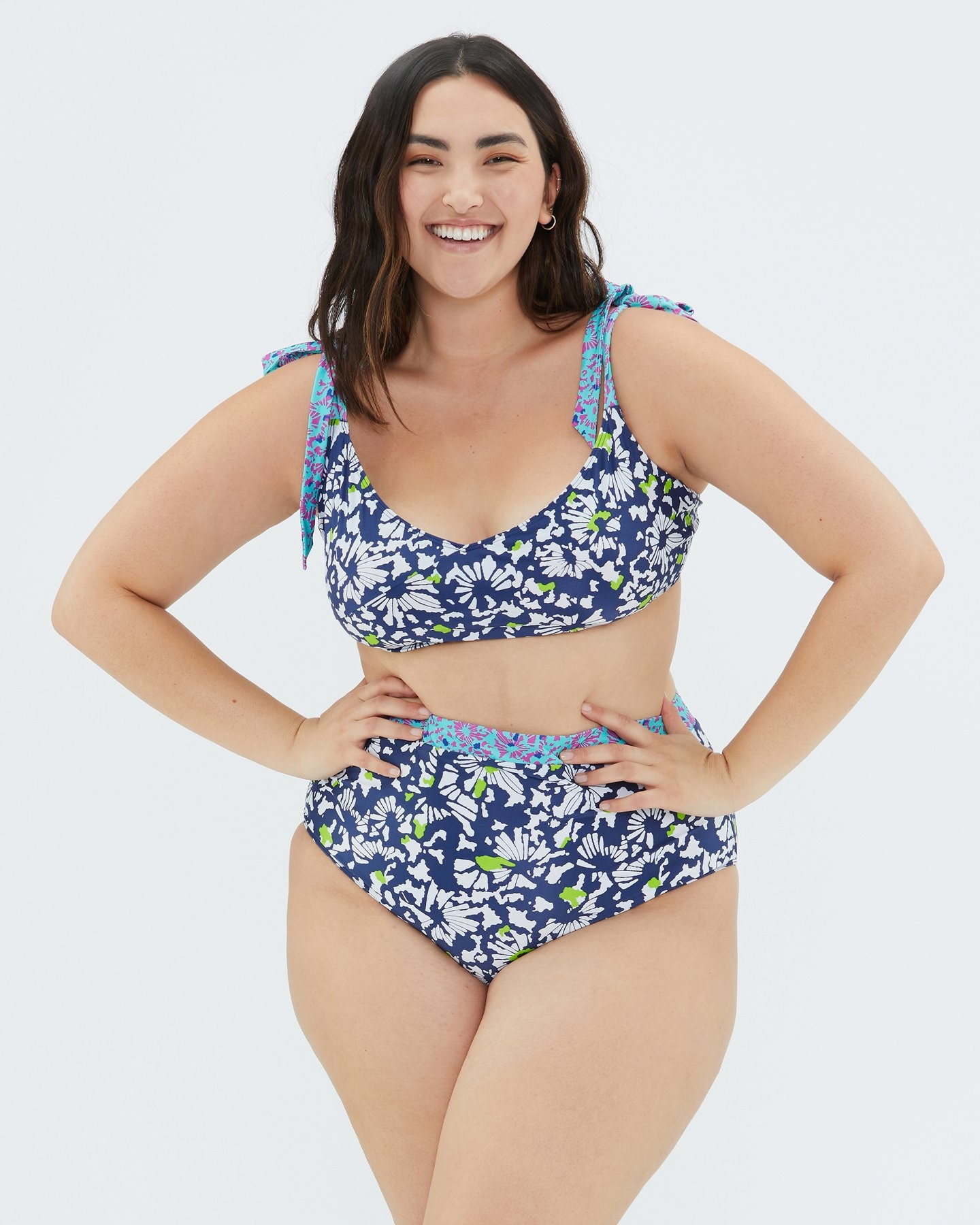 This super-fresh, blue and white flower-print bikini combines the specialized fit from top bathing suit brand, Summersalt, with a trendy, hand-painted pattern from Tanya Taylor's talented design team. This collection offers a wide range of strong and supportive swimwear styles. The details on this suit are very attractive, with contrasting straps and waistband adding tons of retro style! Available in sizes 2 – 22.
Tie Marina Bikini Top
Tanya Taylor
8. Figleaves – Seville Embroidered Black Strapless Bandeau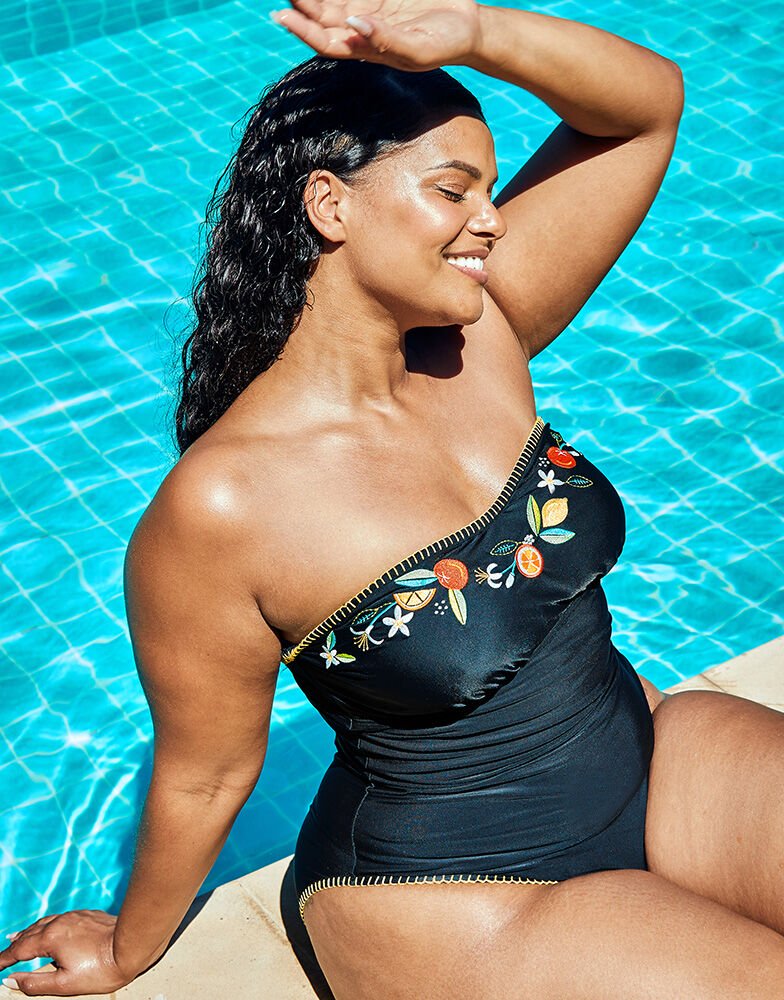 This Spanish-inspired strapless bathing suit has a hidden under-band for giving light support to the bust and also has detachable straps, giving two styles in one suit. And you can buy it in regular or long length, to help you get a perfect fit. The Seville oranges decoration and pretty trim around the top and legs add the perfect touch of summer sophistication to a slimming black suit.
Seville Embroidered Black Strapless Bandeau
Figleaves
9. Summersalt – Side Stroke All-in-one Swimsuit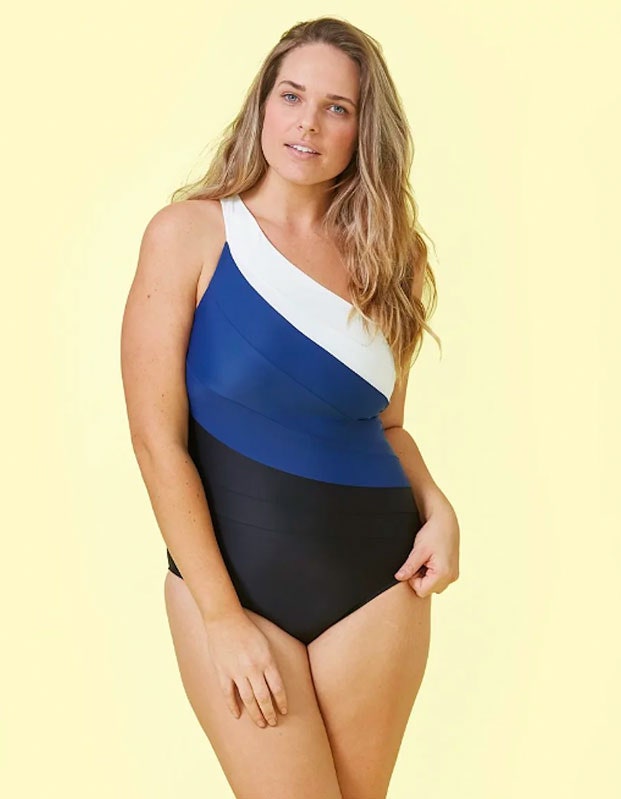 Color-blocking and an asymmetric one-shoulder style combine to create a super-flattering line to this chic lovely bathing suit. And this top-seller is available in several different color combinations. With full-coverage and a very supportive structure, this style is one of the most popular swimsuits. Available in sizes 0 – 24 and up to size 14 in other colors.
Summersalt – Side Stroke swimsuit
10. Asos – Re-cycled – Curve Flutter-Sleeve Cropped Bikini Top
This young and fashionable bikini top is useful as a wardrobe staple to match with trousers and skirts, and as a lovely piece of swimwear. You can buy the matching, high-waist, high-leg bottoms to complete the bikini and wear the bottoms as mix and match with other bikini tops from the low-priced Asos Curve Collection. Available in sizes from 12 – 26.
Recycled – Curve Flutter Sleeve Crop Bikini Top
Asos
11. Nakimuli – Bright Delight Bathing Suit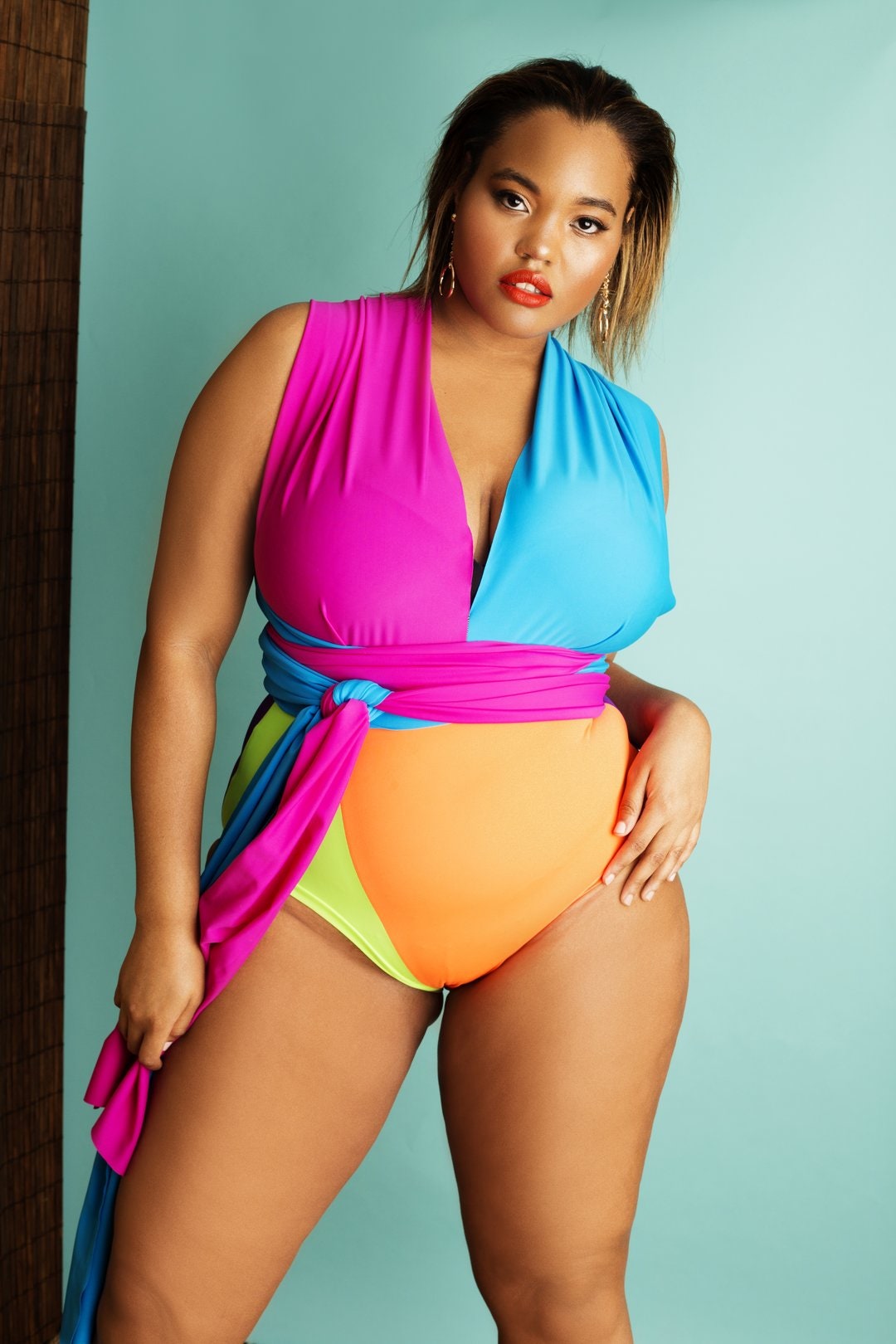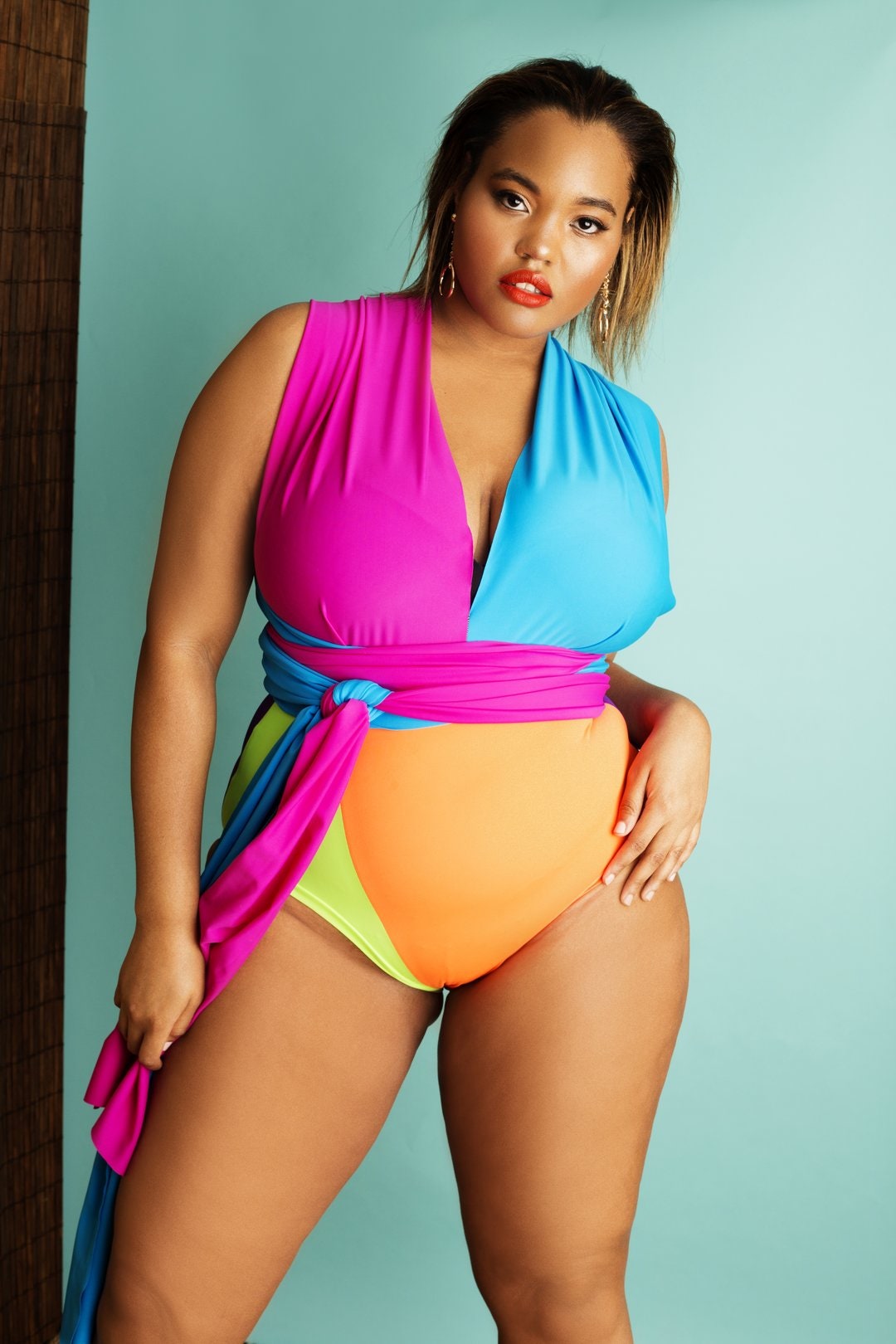 Bright and modern, this is a fantastic new look for swimsuits! It's full cover, with a cute belt at the waist and a really eye-catching, youthful look! The neon color-block fabric is totally on-trend right now and this clever designer has created straps which you can wear is several different styles. So it's also possible to wear it as a halter-neck and a one-shoulder asymmetric suit, plus more (see tutorial video). Available in sizes small to 3XL!
Bright Delight Bathing Suit
Nakimuli
12. Chromat – Quartz Suit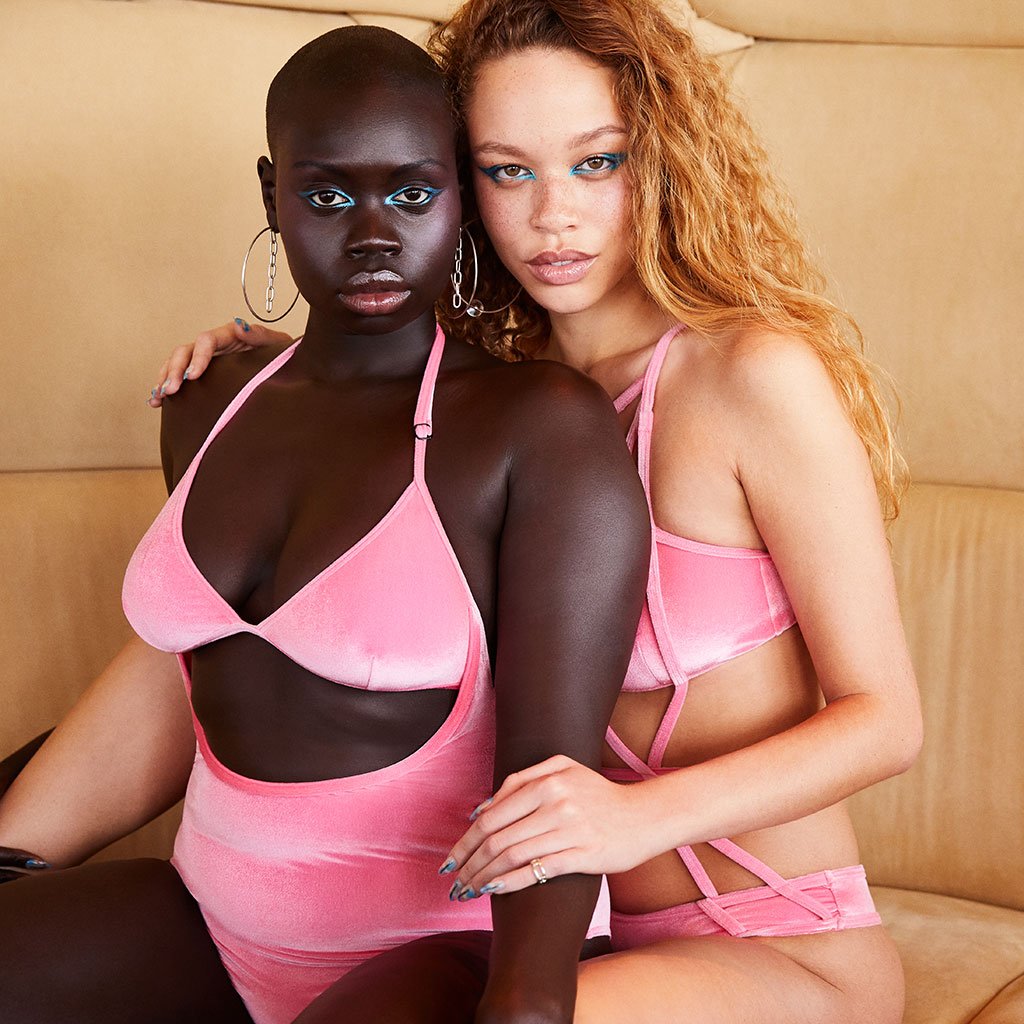 You can rely on Chromat to offer something completely new and innovative for every season! And this futuristic and sporty design really catches the eye when compared with the traditional swimwear we are used to seeing. Using pink velvet for beachwear is an inspired design idea and the fabric is still practical, as it dries quickly after your swim. Available in sizes XS – 2X, you've got to see their whole collection!
Quartz Suit -Chromat
13. Andie Swim – Bali One-Piece Swimsuit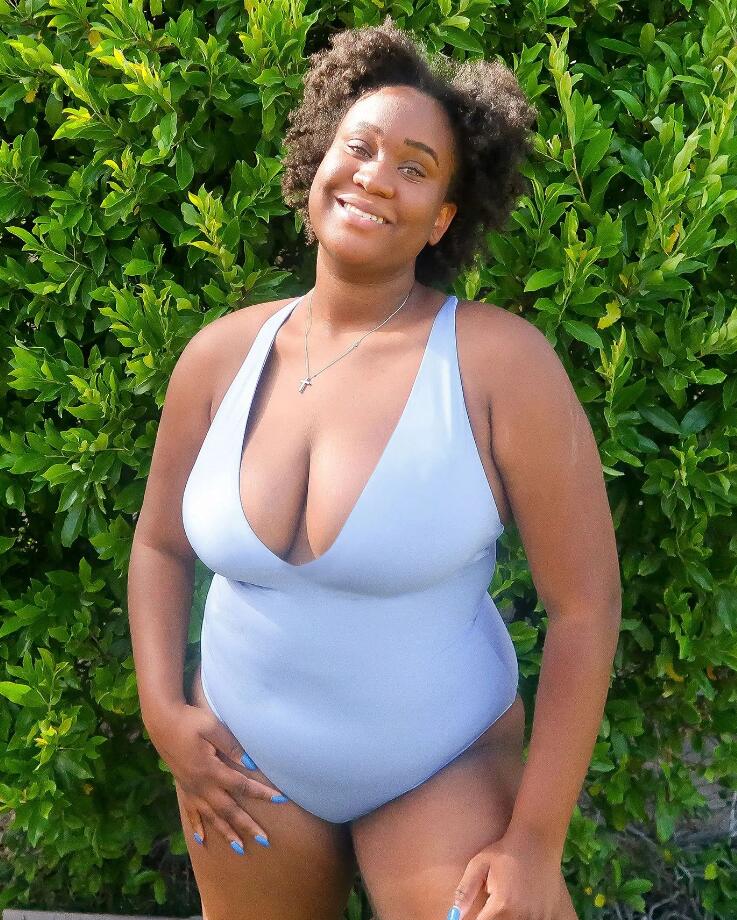 This body-flattering swimsuit from Andie Swim is just one of their basic styles, available in fashion colors and 'limited edition' season-themed colors, too. The deep V adds length to your body shape. This is an inclusive brand, which prides itself on being eco-friendly. So you can choose eco-friendly swimwear fabrics for your swimwear. Sizes XS up to XXXL.
Bali swimsuit
Andie Swim
14. Swimsuits for All – GabiFresh X Cup-Sized Underwired Bikini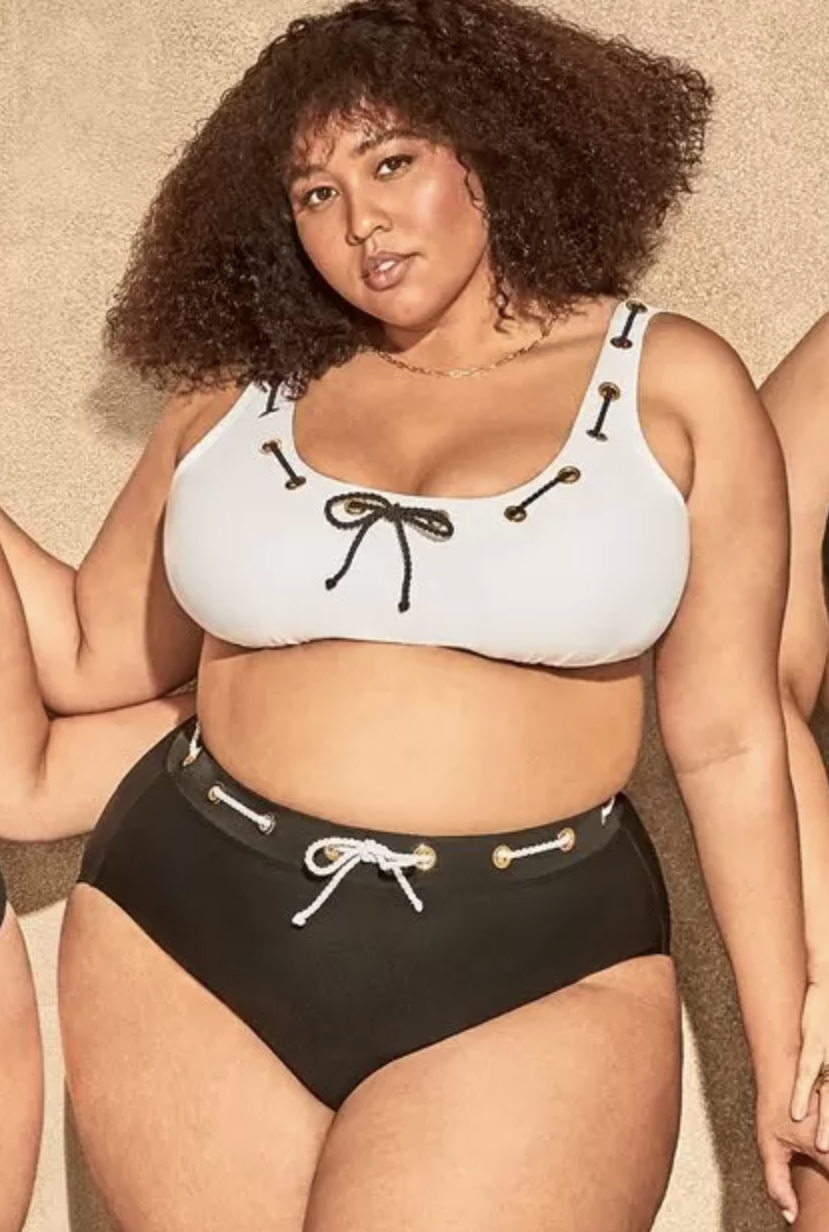 We love the 'nautical' vibe of this trendy bikini from the body-positive vlogger, GabiFresh! She has combined with trusted swimwear brand, Swimsuits for All, to bring us this attractive and supportive high-waist bikini. And as we are all different shapes and proportions, you can buy this ship's sail style bikini as a set – but choose different sizes for the top and bottom! Available in sizes from 10 – 26.
15. Pretty Little Thing – Zip-Detail High-Neck Swimsuit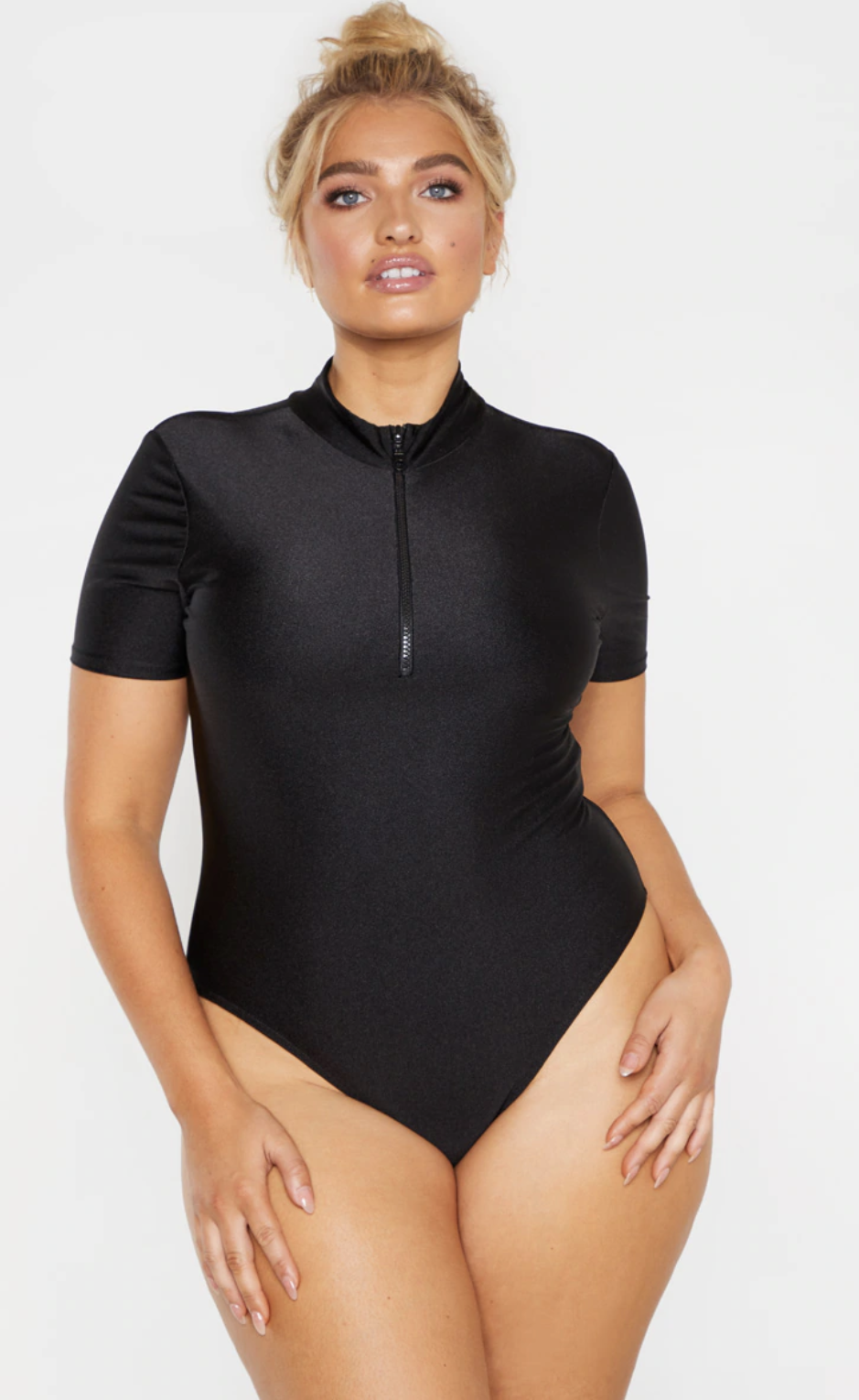 Sleek and simple, this black bodysuit with short sleeves is perfect for water-sports, swimming, and relaxing. You can wear your own bra beneath this sporty bathing suit and zip it up high to protect your chest from the sun and then zip it down for a sexy, V-neck look later. It can also be worn as a 'body' with skirts and trousers. Available in sizes 12 – 22!
Zip-Detail High-Neck Swimsuit
Pretty Little Thing