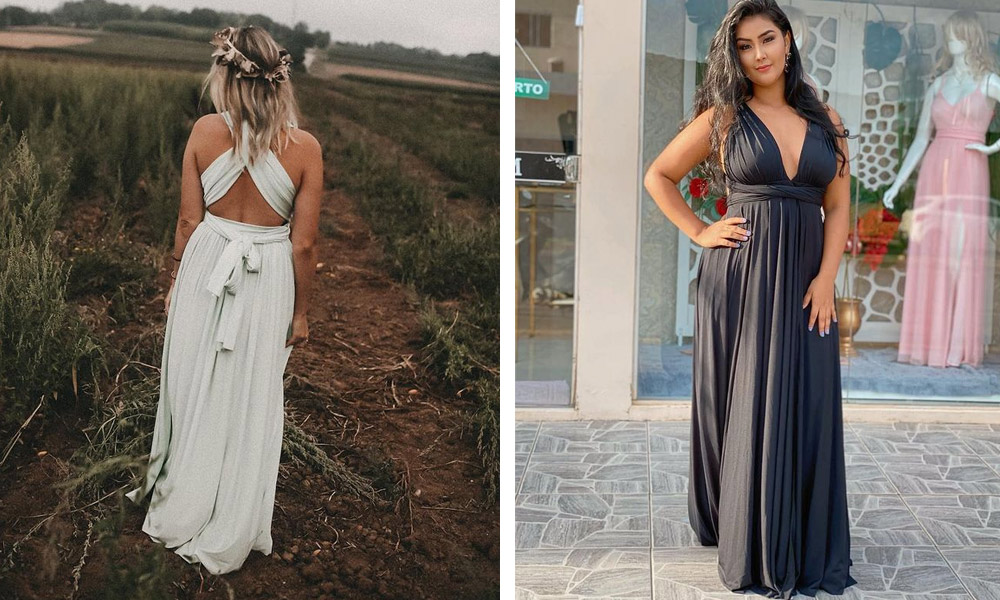 The Infinity Dress, also known as a Convertible Dress, is a wonderful invention that allows you to style it in so many different styles, you can hardly believe it! And it always fits you like it was made-to-measure, because it can be styled to suit every different body shape.
So whether you are petite or grande, have a large or small bosom, tiny or generous hips, a round or flat bottom, broad shoulders . . . you name it, this dress will fit it!
Perfect fit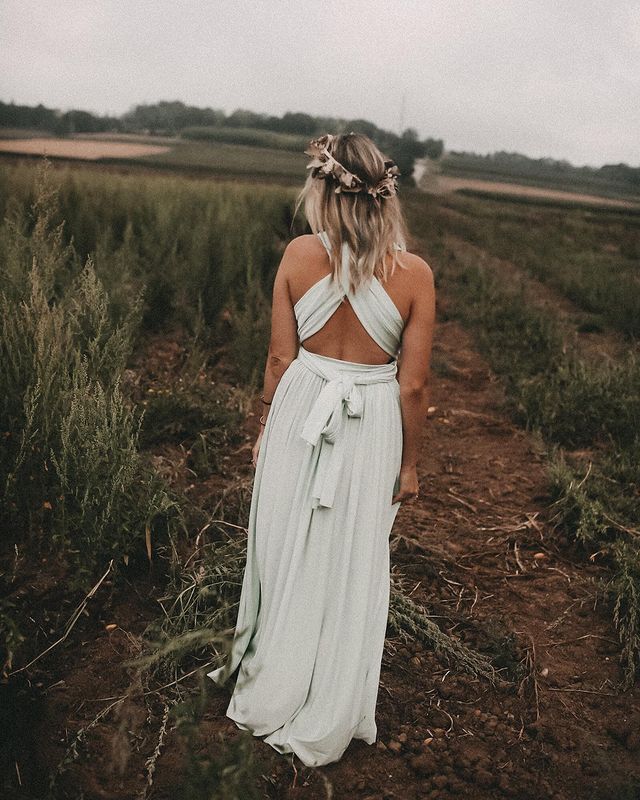 An Infinity Dress in a good quality fabric can save you a fortune in buying several special occasion dresses, because it can be transformed into a wide range of styles. And all these styles have straps, belts, wrapped and twisted fabric details – made with the dress itself – which create structure and a perfect fit on your individual body.
Versatile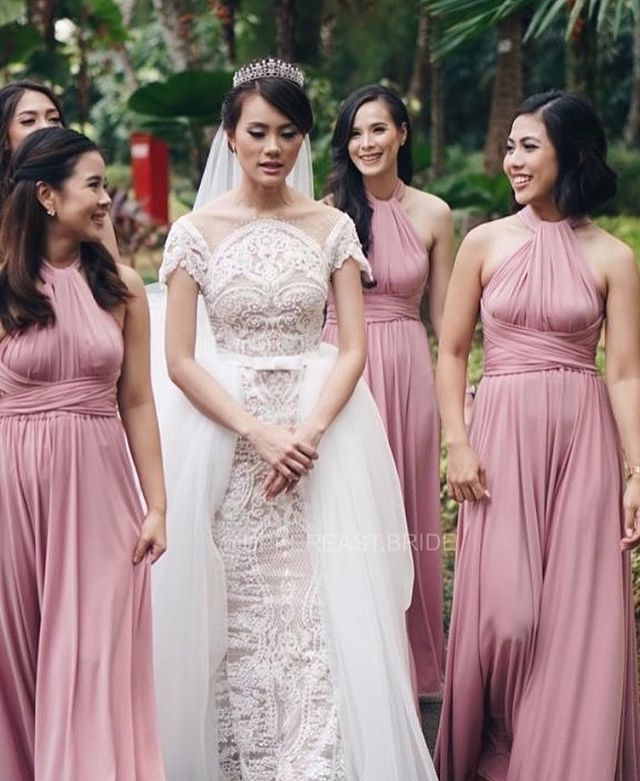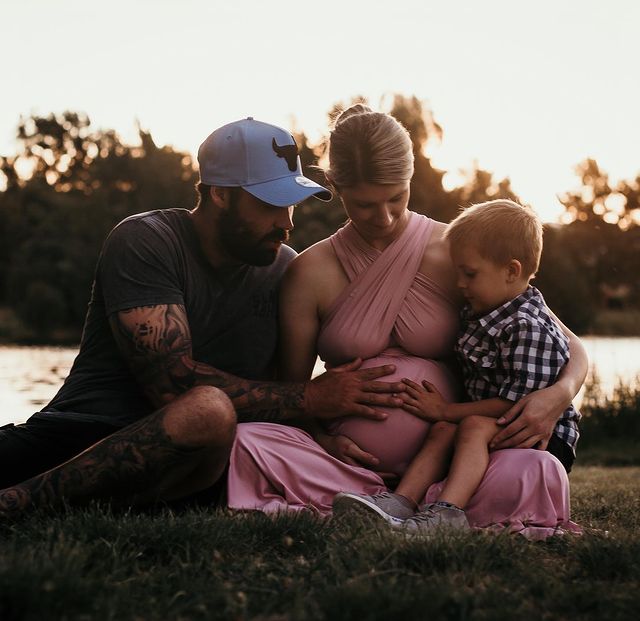 You can have a backless dress for one event, and then style it as a strapless dress for another; then a one-shoulder frock, a dress with sleeves, a high neckline or a plunging neckline. The list of styles is, well, infinite! And you can put on weight, become pregnant and still wear it, and if you lose weight, it will still fit you! So forget diamonds – an infinity dress could well turn out to be every girl's best friend!
What exactly is an Infinity Dress?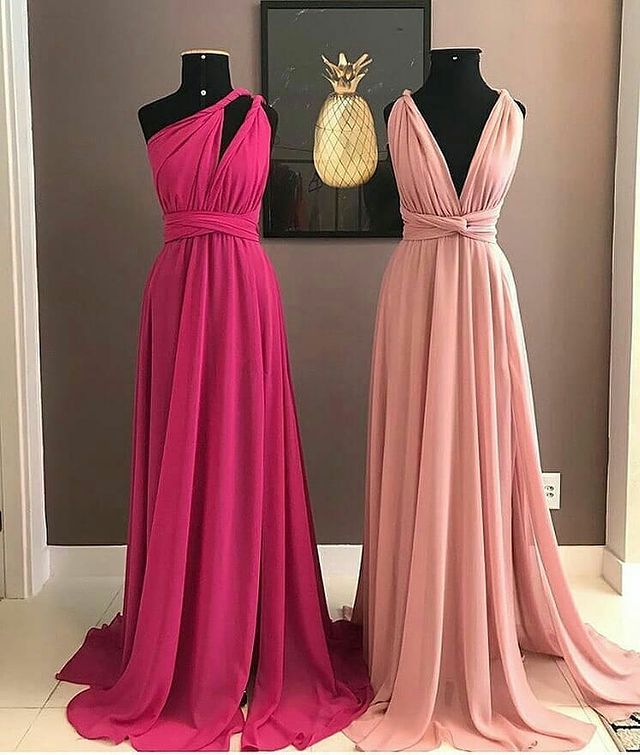 It's an ankle length dress made with a draped skirt, onto which two wide band-straps have been sewn. These wide straps and also quite long and can be worn in many different ways, including wrapped around your body to make a waist-flattering belt, after they have been arranged over your shoulders and back.
This dress is perfect for any evening occasion, like a dinner-dance, an awards ceremony, formal receptions, cocktail parties and christening parties. In particular, the Infinity Dress has become very popular with brides choosing the perfect dress to suit several differently sized bridesmaids. It certainly takes the stress out of choosing a dress that fits and suits all your maids of honor!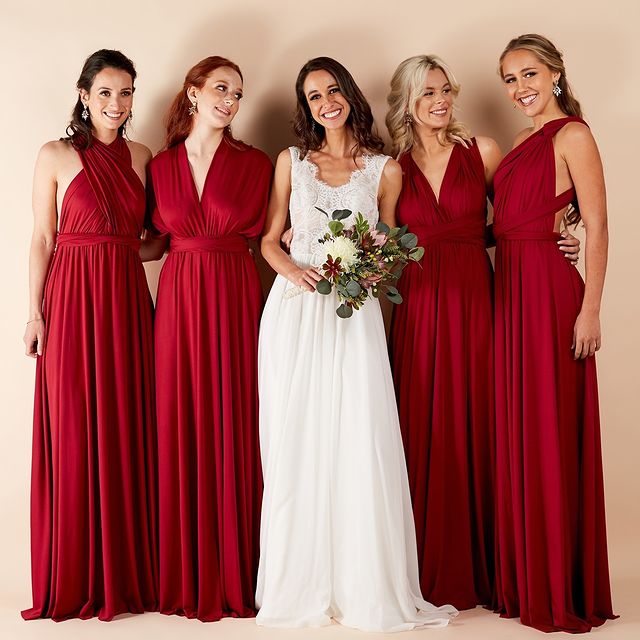 And the best benefit is that each brides-maid will be wearing the same color and fabric, but they can choose which style suits them best! And if they are paying for the dress, they know they'll be able to wear it again and again, after the wedding ceremony!
Can you wear a bra under an Infinity Dress?
One of the most frequent questions asked about the Infinity Dress is can you wear a bra under it? This question pops up because many of the publicity photos of the dress feature slender, young women who don't need a bra with an infinity-dress style. Anyway, the answer is 'Yes', you can wear any type of bra with an Infinity Dress and create a style that hides your bra like any other evening dress would. And here are just a few of the bras and dress-styles you can wear with them to get a perfect look:
What lingerie should you wear under an Infinity Dress?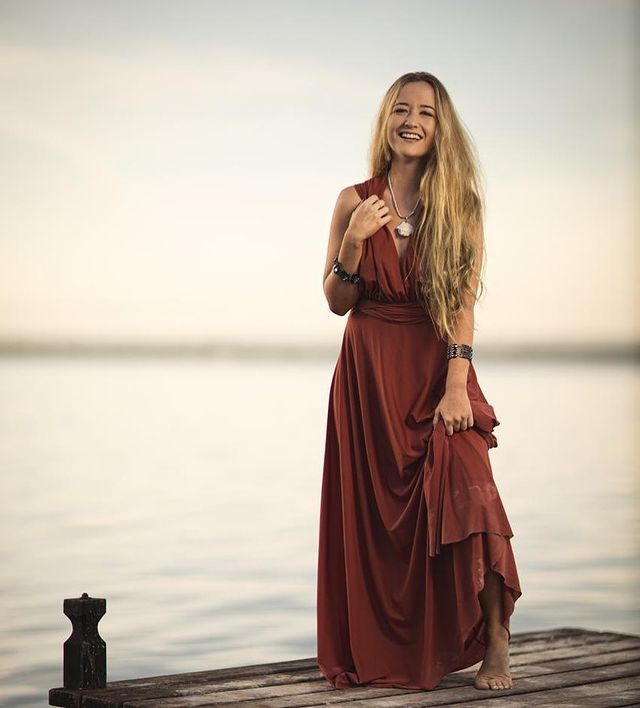 Most women prefer to wear their Infinity Dress with a bra, so it's best to buy a bandeau/boob-tube in the same fabric and color as your dress. Then even if part of your bra shows, the bandeau will cover it and will always appear to be a part of your dress. If you can't get a bandeau from the manufacturer, try to buy one that matches as much as possible. But if you have a good 'eye' for style and color, you can choose a complementary color, a contrast color or get a solid fabric bandeau to go under a dress made of semi-transparent material.
Strapless infinity dress
Sweetheart neckline
One shoulder look
Just wear a good quality, strapless bra underneath these three styles and the dress style will cover it perfectly. Longline bras can be helpful if you need a strapless bra, but have a large bust. They give far more support and won't keep slipping down. And all-in-one strapless, seamless bustier body suits are also a good investment.
Flesh-colored silicone 'sticky bras'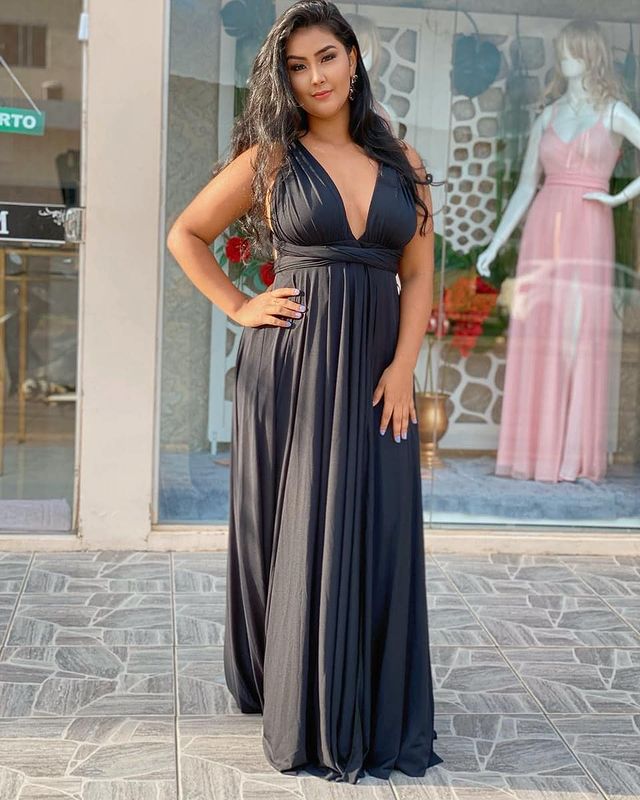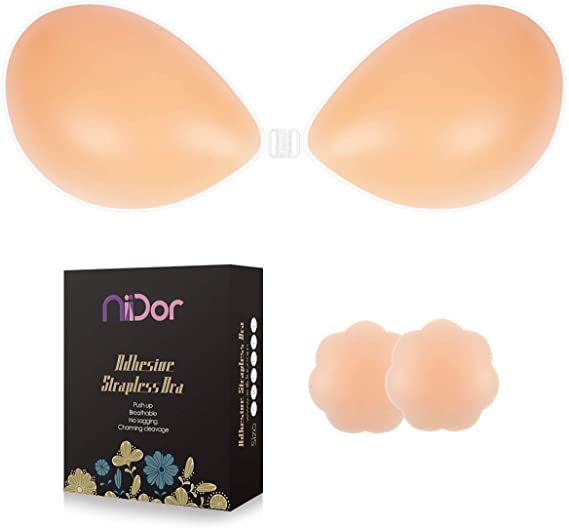 If you haven't heard of these before, they are flesh-colored silicone 'sticky bras'. They are excellent for small busts, and keep the breasts lifted and well-supported. Women often choose to wear this bra with a sexy style, which shows off more of your body and doesn't have any dress straps to cover bra straps.
Low-back bras or convertible bra straps
If you don't really want to have to buy a new low-back bra for a particular Infinity Dress style, try convertible bra straps. You just attach them to the back of a regular bra and then wrap them around the front of your body, fasten them and they pull on the back and make it go lower.
Racer-back bras & T-back bras
These are useful, too, with several of the Infinity Dress styles. Converters like Racerback Bra Clips help hide your bra straps and give extra lift and more cleavage, too.
Cross-over back bras
A Cross-over X strap bra is useful when you want to wear the Infinity Dress straps in an X style at the back. Or you can buy a converter clip for a normal bra to become an X back bras.
Everyday bras
And it isn't necessary for you to buy a new bra if your budget is tight, as there are lots of Infinity Dress styles you can wear with a perfectly ordinary, smooth textured bra. And there are lots of little clips to convert bras to different styles.
Shapewear panties
Some Infinity Dresses are made of soft, flowing fabrics and this is why they 'drape' so well around any body-shape. However, soft, stretchy fabric may highlight the shape of your panties, so it's a good idea to invest in a pair of shapewear panties. If you do decide to wear high-waist, hipster or thong underwear, buy seamless micro-fiber so you don't show any seamlines. And avoid sexy, lacy knickers as they may also be faintly visible through your dress.
Here are some of the trendiest Infinity Dress styles:-
One-shoulder Infinity Dress style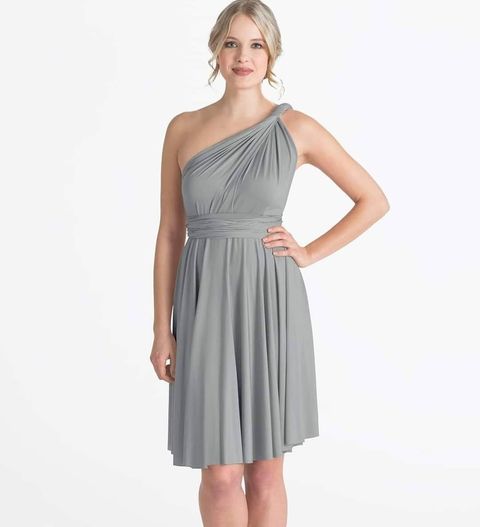 Put on your Infinity Dress and adjust it so that the waist is next to your waistline. Then pull both of the straps over one of your shoulders. Take note of where they touch just underneath your shoulder and tie a knot there to get a good supportive shape at the front. Then get hold of both straps and twist them into a rope shape, which you drape diagonally across the back. Hold the straps at your waist and wrap them around your waist to make a belt, with the ends tucked into the belt at the back. This is a really gorgeous style!
Halter neck Infinity Dress style with cross-over back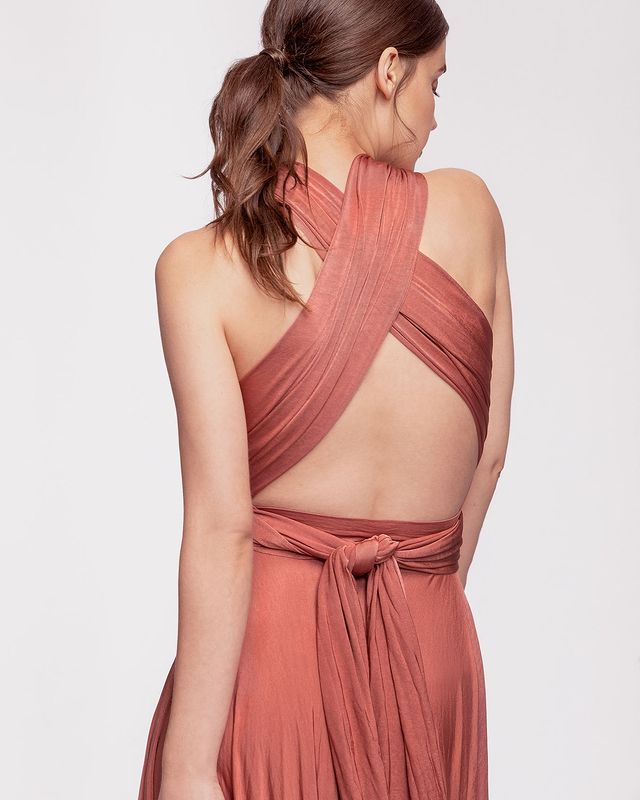 Wear you Infinity Dress so it aligns with your waist and check that it covers the back band of your bra. Take the straps and twist them to make a design detail at front collar-bone level. Then take the left strap and place it over the right shoulder and the right strap goes over the left shoulder. At the back, cross the straps to make an X and then pull them back around to the front at your waist.
Wrap the fabric around your waist to create a band-belt and make a knot at the back to finish off the belt. Adjust the straps at the front to cover your chest, and smooth out all the straps to make a neat finish. You can wear this attractive style with a strapless bra, a halter-neck bra, a cross-over X bra and without a bra.
Sweetheart neck Infinity Dress style
This is a more intricate way to style your dress, so make sure you practice it before the evening of your social event. And you can also ask a friend or family member to help you get it right. Start with the dress arranged with its waist next to your waistline. Then cross the straps over each other at the front to make a nice, V-shaped décolletage between your breasts.
Then tie a knot in each strap at the point where your arm joins your body and drape each knotted strap back over your shoulder. Cross them over at the back and then bring them back to the front to make a broad crossed-over band under your bust. And then continue to the back again, where you just tie a knot to fasten the fabric. Make sure you tie everything quite close to your body as you need a tight fit to this alluring style.
Halter neck with a twist Infinity Dress style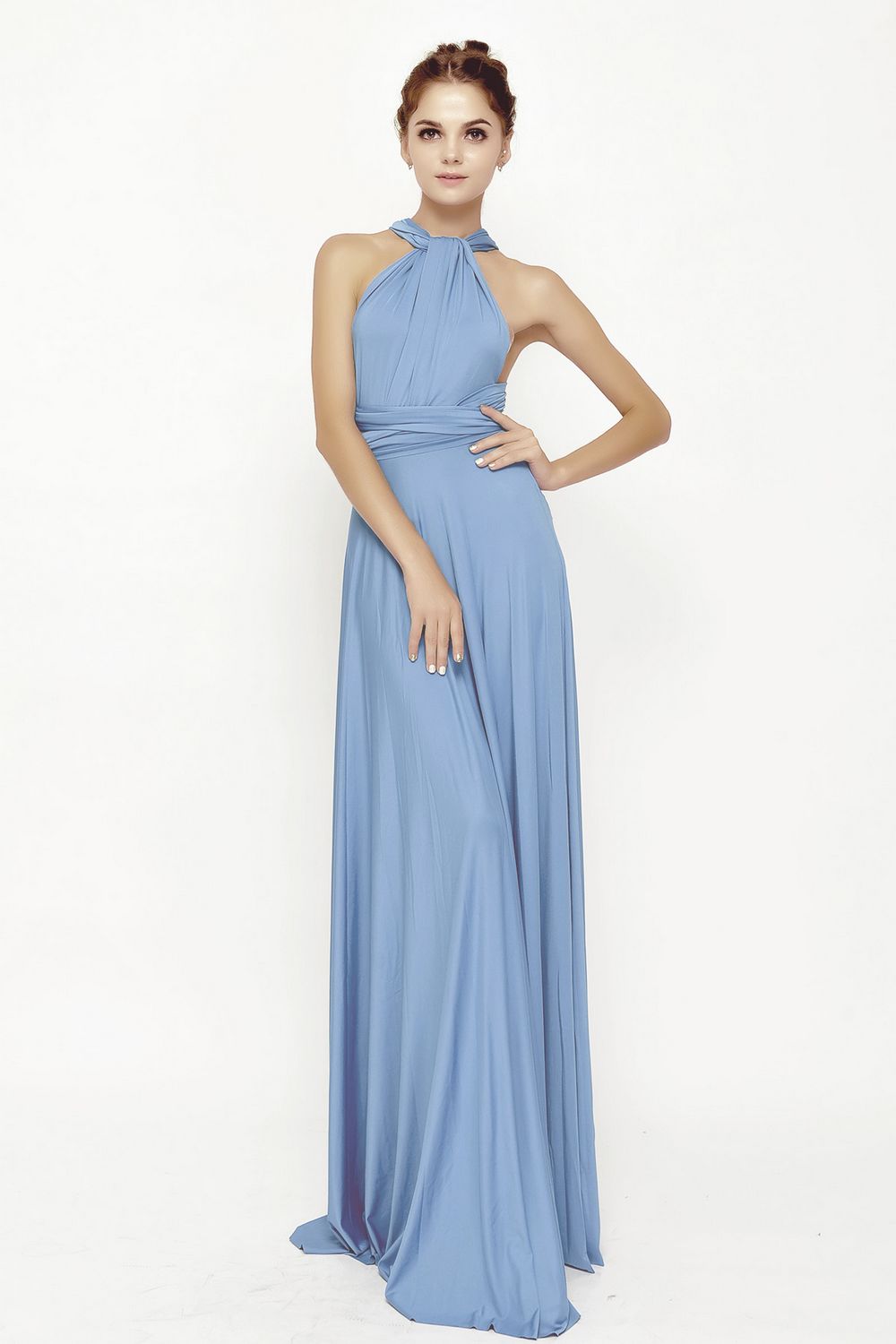 This cute style raises the neckline, so you have a subtler halter-neck design. Pull up both straps to cover your chest and twist each strap to get a few inches of twisted fabric above your breasts. Then cross-over the straps and place the right strap over the left shoulder and the left strap over the right shoulder.
At the back, bring the two straps together and twist them into one vertical strand moving down your back. When you get to the waist, separate the straps and bring them around to the front as a belt, which should cross-over again and return to the back where you can knot the ends and tuck them into the belt fabric. Then you can open up the twisted section on your shoulders to make them into pretty capped sleeves.
Wide Halter with Bow at the Back
First of all, you need to have your hair style up and off the neck at the back, so the bow will be shown. Then put on your Infinity Dress and pull up both straps over your shoulders and tie them in a knot at the nape of your neck. And then tie a large, decorative bow. The long straps should be left to drape down the back to a point roughly at behind-the-knee level. This style will feel more secure if you wear a halter-neck bra with it.
So if you've got any special evening events, summer parties, weddings, christenings, anniversaries, cruises, holidays, awards ceremonies or dinner-dances scheduled for this year, why not save yourself a lot of cash and invest in a gorgeous and versatile Infinity Dress?