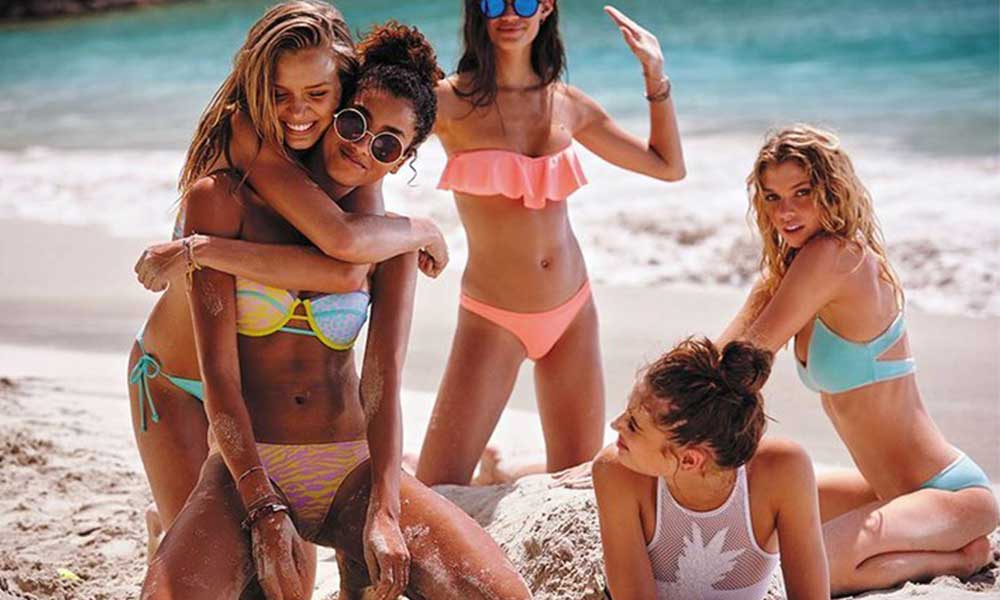 Every year when May and June roll around, women everywhere start scrambling to find a stylish new bathing suit to wear during the upcoming summer season. Summer is an exciting season that brings the first warm days of the year and gives you an excuse to rock a brand-new bathing suit by the side of the pool or at the beach. Unfortunately, finding a new bathing suit doesn't always end up being the fun and exciting process it should be, however. In fact, it is an annual dreaded, discouraging, and confusing hunt for many women.
Each year brings new trends in swimwear and it can be difficult to figure out which type of bathing suit to buy. The ideal bathing suit is both on-trend and complements the unique shape and size of your body. Finding a bathing suit that is high-quality, fits well, and is relevant and trendy doesn't have to be a wild goose chase that ends in frustration and discouragement. All of the bathing suits below are examples of top-quality swimwear that is also up-to-date with the most stylish trends for summer this year.
8. Cupshe Fashion Lace Up Bikini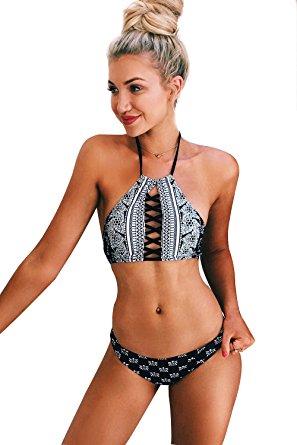 This bikini from Cupshe Fashion is the perfect combination of style, support, and functionality. It features a chic, sophisticated black and white pattern. The suit also includes a unique lace up halter-style top that fits right in with this season's lace-focused trend. The bottoms are a cut-out, cheeky style that allows you to show off your booty without looking inappropriate at any standard pool or beach.
In terms of support, the bikini includes a padded top that helps keep your chest secure while swimming, walking, or just laying out in the sand. Both the top and the bottom pieces of this bikini are crafted from a combination of chinlon and elastane materials. This blend allows the bathing suit to be stretchy and comfortable and fit your unique shape snugly and securely.
7. Cupshe Fashion High-Waisted Bikini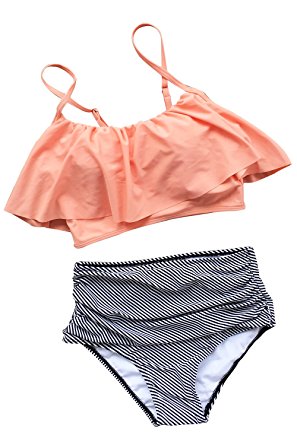 High-waisted bikinis are one of the top trends for the upcoming summer seasons. The high-waisted bikini style is a trendy option that is revered by many women because it allows you to rock a gorgeous bikini while concealing and smoothing your tummy and love handles.
This stylish high-waisted bikini from Cupshe fashion is a great choice for women who want to hide extra pound around the hips and tummy and enhance volume on the chest. The bikini features bottoms that sit high on your hips and smooth out your midsection. It also includes a ruffled top with padding that highlights your chest and helps it look bigger than it really is. This swimwear features a blend of chinlon and elastane materials that fit your shape snugly without squeezing or pinching.
6. Zero City Lace Up Monokini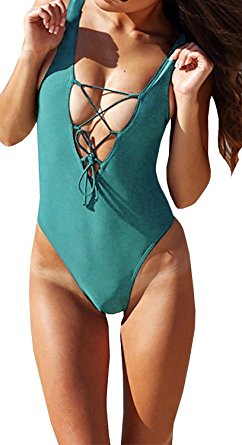 This season, one-piece bathing suit styles are making a major comeback and have become one of the most sought-after trendy styles in this year's swimwear. This monokini from Zero City combines two top trends: the one-piece style and lace up accent.
The one-piece bathing suit features a low-cut, rounded back neckline and a lace-up V-neck front that dips low for a sexy and revealing finish. It is available in many different colors ranging from black to white to fiery red. The bathing suit is crafted from polyester spandex fabric that is both durable and stretchy to ensure a long-lasting, comfortable fit.
SHOP NOW
5. Saslex Mesh One-Piece Bathing Suit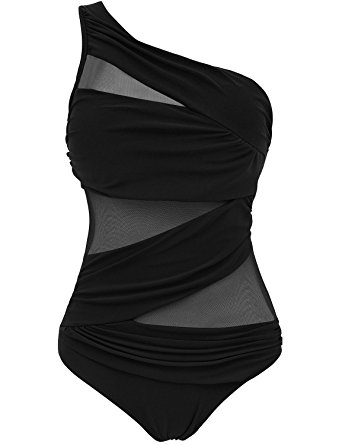 This one-piece bathing suit from Saslex is the best of both worlds. It provides you with the comfort and security of wearing a one-piece. However, it also features multiple see-through mesh panels that show just enough skin to add a sexy finish. The one-shoulder design of this one-piece adds a unique touch that is sure to turn heads.
The one-piece is crafted from microfiber polyester and spandex fabrics that are comfortable and secure. Plus, its wireless padding at the chest provides plenty of support. The bathing suit includes several regions of bunched fabric, which help conceal any lumps and bumps around your midsection that you'd like to keep hidden. This swimwear is available in many beautiful and interesting colors and patterns. These choices include black, red, purple, blue, a wild floral pattern, and more.
4. zeraca Racerback Bikini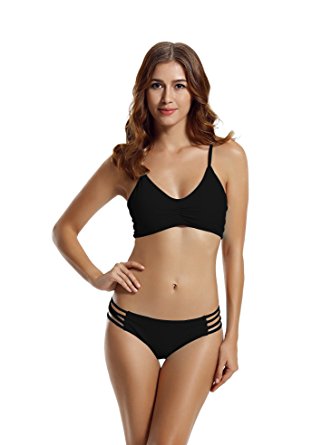 If you're looking for a classic, sexy bikini that provides ample security and support, you've found it here. The bikini top features a strappy racerback style and removable padding that offer plenty of built-in support for your breasts without looking bulky or unfashionable. The bottom piece of the bathing suit mimics the trendy, strappy style of the top to ensure a put-together, balanced finish.
This bikini is available in more than fifteen different colors and patterns that range from white to tribal print to dark red and much more. It includes a complementary blend of polyester and elastane to ensure a soft and stretchy fit that doesn't squeeze.
SHOP NOW
3. Crochet One-Piece Bathing Suit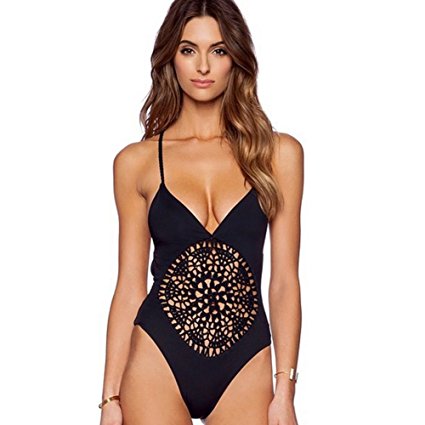 This gorgeous crochet one-piece bathing suit is a work of art in and of itself. It features a mesmerizing crocheted cut-out pattern that adds texture to the swimsuit. This texture and the high-waisted style of the bathing suit helps smooth out your midsection.
The bathing suit includes a low-cut V-neck. This neckline highlights your cleavage and adds a sexy, revealing touch to the full-coverage one-piece. The cups of this monokini are slightly padded to ensure sufficient comfort and support. The one-piece is available in both white and black.
2. LookbookStore Crochet Lace One-Piece Bathing Suit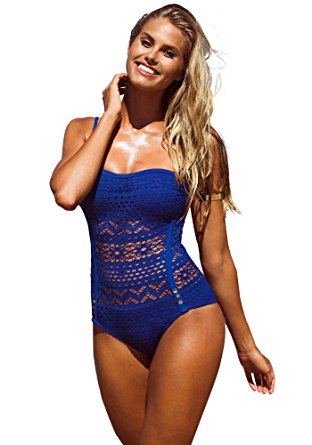 If you love the crochet trend, try this intricate crochet lace one-piece. The see-through style of the bathing suit's midsection allows you to have the best of both worlds between a bikini and a monokini.
The bathing suit features removable versatile straps that can be changed from spaghetti straps to halter straps or taken off entirely for a bandeau style. It comes in several different colors, including red, blue, white, purple, black, and more.
1. Cocoship High-Waisted Bikini

This high-waisted bikini has a gorgeous, retro vibe with a trendy finish. It features a ruched high-waisted bottom piece that helps your hips and booty look bigger and smooths out your midsection. The bikini top is a halter style with an adorable tie accent at the front. The cups of the top piece feature pads to ensure security and support at all times. Plus, the top includes textured fabric at the front to volumize your bust.
This unique bikini comes in many bright and wild patterns like the tropical floral style shown above. These patterns include designs with leaves, roses, pineapples, cherries, and more.