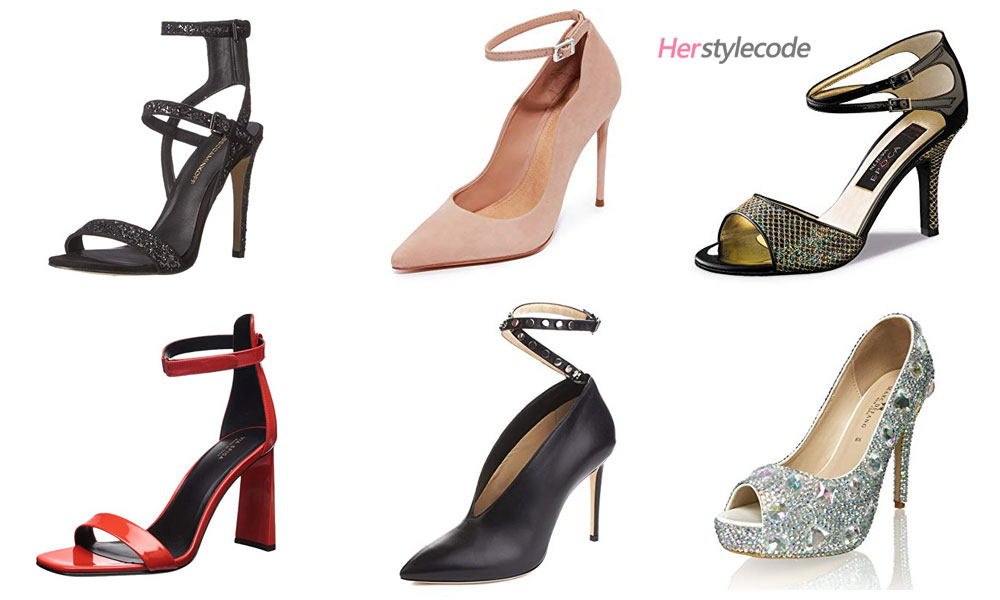 Heels are likely the first thing that come to mind when you think of luxury shoes. High-end luxury heels are artistic masterpieces you can wear on your feet. The right pair of gorgeous heels can skyrocket your confidence and put the perfect finishing touch on your look.
Contrary to popular belief, not all luxury heels are only suitable for formal parties. Many high-end heel styles are more versatile and appropriate for a wider range of occasions so you can show them off in both casual and dressier events. Decadent, elegant, carefree, and fabulous, this versatile selection of heels represents some of the most beautiful, highest-quality luxury heels reigning over this season's shoe market.
10. Rebecca Minkoff Rosalie Dress Sandal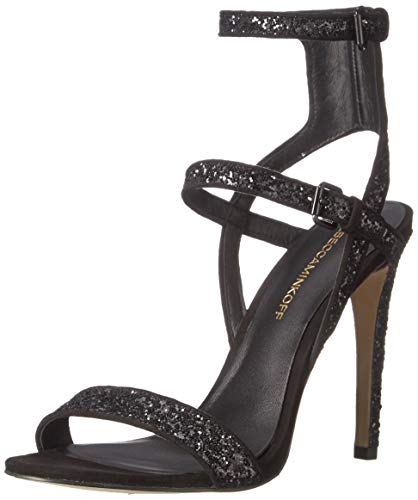 Every woman needs at least one pair of classic black stilettos in her closet. Take yours to the next level with these sandal heels from Rebecca Minkoff. With a durable rubber sole and kid suede exterior, these stilettos are made to last.
Black and silver glitter adds a fun and sexy finish to the exterior of these heels. A thin, tall 4.5-inch heel and slim toe and ankle straps help these stilettos maintain a delicate, feminine finish.
9. Via Spiga Faxon Heeled Sandal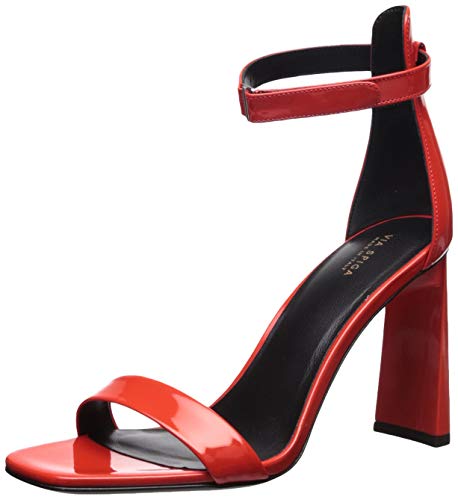 Slip strappy detailing and a modern design blend together to create these trendy yet sophisticated heels from Via Spiga. Crafted from genuine Italian leather with a leather-wrapped heel and leather lining, the quality of these adventurous heels is not in question .
A unique architectural 3.75-inch heel and angular toe gives these bold shoes a trendy, contemporary look. Plus, the widened bottom of the heel adds stability that makes walking in these shoes much more comfortable. Color match your outfit for an upcoming event with one of this heel's four available shades. Choose between pure black, vibrant orange, neutral tan, and classy bone.
8. Schutz Thaynara Pointed Heel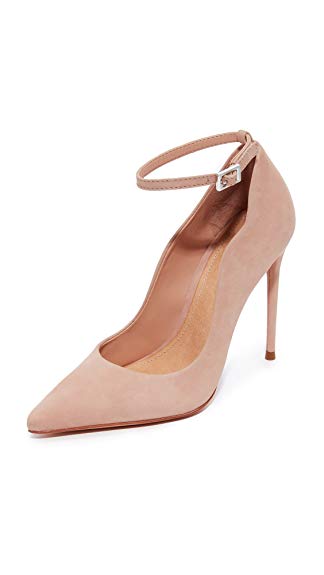 Delicate and unassuming, these Schutz Thaynara heels add a subtle feminine touch to any look. A blush suede exterior and pointed heel gives these shoes an effortlessly classy finish. Featuring a durable leather sole and slim buckled ankle strap, they provide a quality, comfortable fit.
The simple, modest style of these heels makes them a versatile option for both casual and more formal attire. Pair them with cutoff skinny jeans to give a trendy everyday outfit for a chic finish. Or, create a dressier  sleek and polished look with these heels and a sexy fitted cocktail dress.
7. Jimmy Choo Leather High Heel Pumps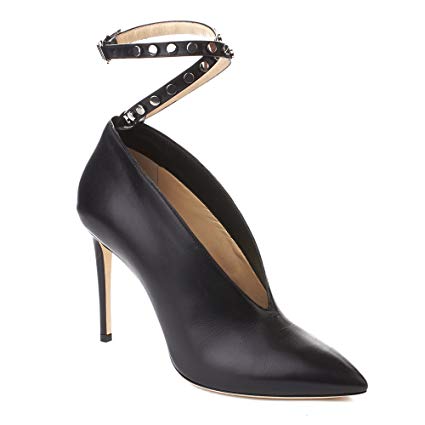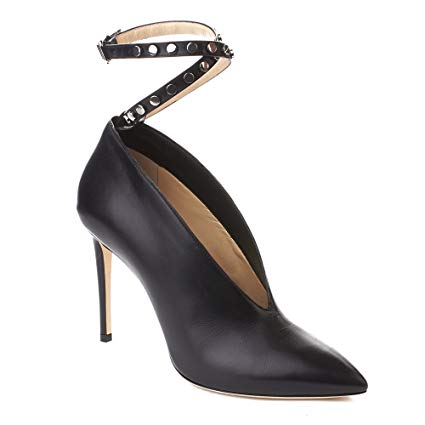 Sleek and bold, these daring Jimmy Choo heels make a statement wherever you go. Designed like a classic black heel at their core, these one-of-a-kind shoes set themselves apart with their silver stud-embellished ankle wrap strap.
Crafted from genuine matte black Italian leather, the heels definitely live up to the famed high quality and comfort of Jimmy Choo shoes. Both their slim 4-inch stiletto heel and pointed toe act as sharp accents that contribute to the fearless yet polished vibe of these luxury heels.
6. Marc Defang New York Diamond Frost Bridal Heel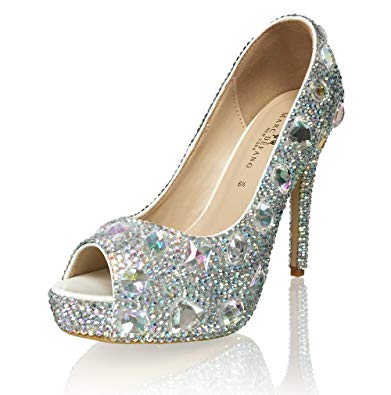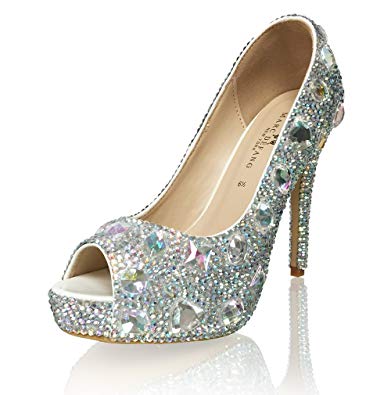 Make a statement at your wedding or any special event with these dazzling, one-of-a-kind stilettos from Marc Defang New York. The exterior of the heel is drenched in AB crystals of various sizes that reflect an iridescent sparkle with every step you take.
A slight 1.25-inch platform and open peep toe accentuates the bedazzled finish of these brilliant stilettos. Their slim 5-inch stiletto heel adds an elegant, graceful finish that erases any hint of gaudiness from the shoes.
5. Nueva Epoca Cecilia Black Hologram Heel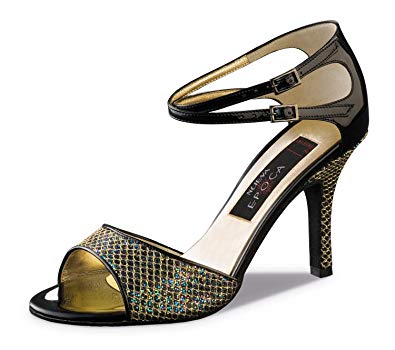 These breathtaking Nueva Epoca heels are the picture of class and sophistication in a shoe. Adorned with reflective multi-colored sparkles and a subtle scale pattern, the exterior of these heels draws attention without overwhelming.
Crafted from top-quality genuine leather with an innovative suede sole, these heels are comfortable and easy to walk in and wear for hours on end. Their modest 3.5-inch stiletto heel and delicate buckled ankle straps help preserve the shoes' classy, elegant finish.
4. Via Spiga Caged Heel Ankle Bootie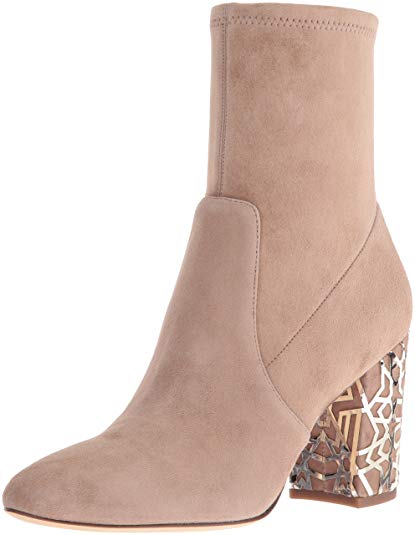 Look simultaneously trendy and elegant in these one-of-a-kind heeled ankle booties from Via Spiga. Their simple, modular construction and carefully-placed visible seams both contribute to the contemporary vibe of these soft suede boots. A subtle daisy pattern around the exterior of their block heel also adds fun and femininity to their design.
The unique design of these heels makes them an appropriate attire for both casual and dressier occasions. Crafted from lush suede with a leather sole, the booties are top-quality and offer both ultimate comfort and durability.
3. Salvatore Ferragamo Payson Heel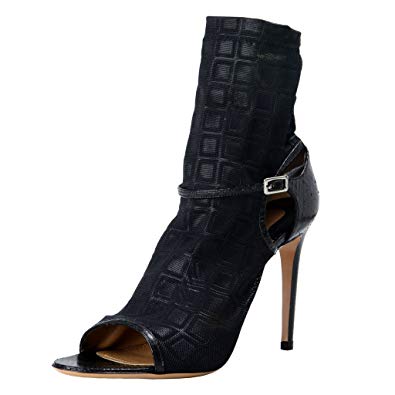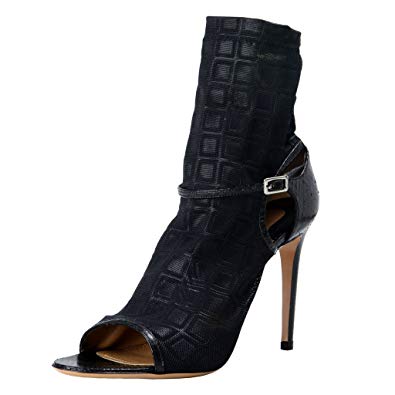 Look bold and sophisticated in these daring stiletto booties from Salvatore Ferragamo. Made in Italy from canvas and snake skin materials, their exterior features a subtle square pattern that adds to the fearlessness of these shoes without disrupting their elegance. A slim buckle with silver metal detailing adds more texture and intrigue.
The construction of these heels is a work of art in and of itself. Both its open peep toe and keyhole side add a modern, sexy finish that prevents these shoes from looking bulky. A slim 4-inch heel also contributes to the delicate finish of these adventurous stilettos.
2. Salvatore Ferragamo Felicity Heel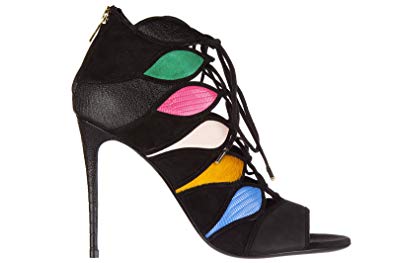 Turn heads in these fun and flirty stilettos from Salvatore Ferragamo. The multi-colored, textures shapes stitched onto their exterior give these shoes a light-hearted, multi-dimensional look. Soft suede panels that punctuate their stamped leather material also add interest and additional texture.
Both an open peep toe and lace-up design add an unexpected delicate finish to these shoes. Their padded leather footbed and slip-on construction means these 3.75″ stilettos are long-lasting and comfortable to wear.
1. Christina Lombardi Heidi Heel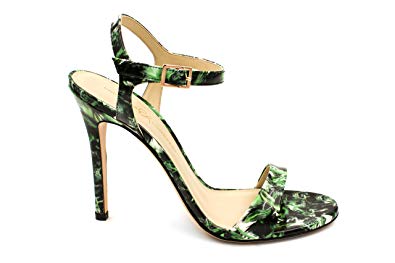 These stunning stilettos are available in multiple bold colors and patterns, including a brightly-colored tile design and the green leaf pattern shown above.
The exterior of these bright and cheerful heels is made from lush, top-quality satin material while their sole is crafted from genuine Italian leather sole to add durability and comfort. Their adventurous colors and patterns are both balanced by their simpler, classic design complete with delicate ankle and toe straps for added polish and femininity.
Don't settle for cheap, uncomfortable heels that will leave your feet throbbing at the end of the night. Stay comfortable, confident, and glamorous all night (or day) in any of the impeccable-quality luxury heels from this guide.