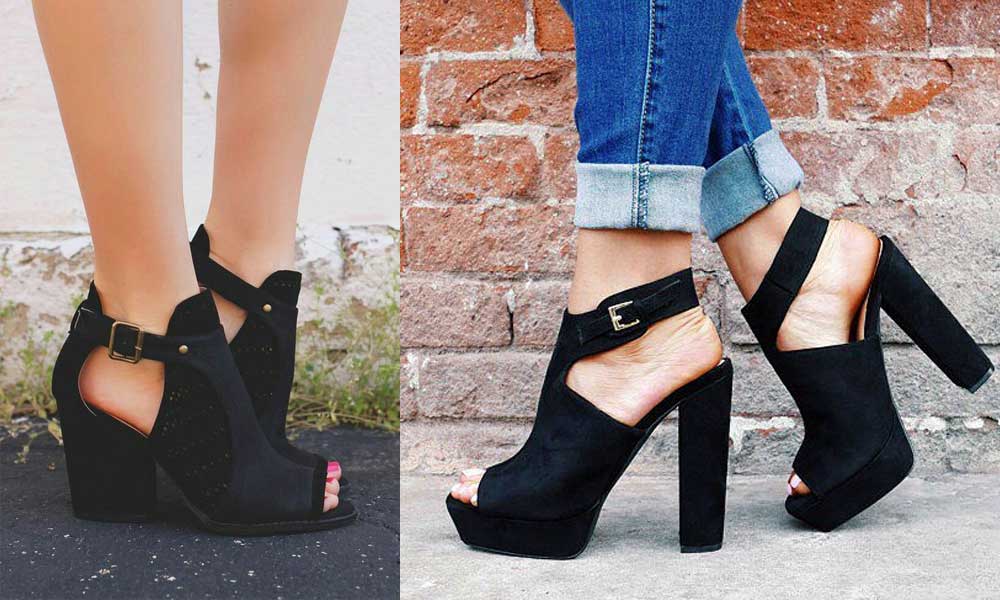 Chunky heels are the new and improved wedges in the world of shoes. They are quickly becoming one of the top trends of the season. These heels offer the sleek, slimming elevation of classic stilettos combined with the comfort and daily practicality of wedges or platforms. They give your look a solid, eye-catching finish that makes them more versatile than delicate stilettos and allows you to easily pair them with a wide variety of looks.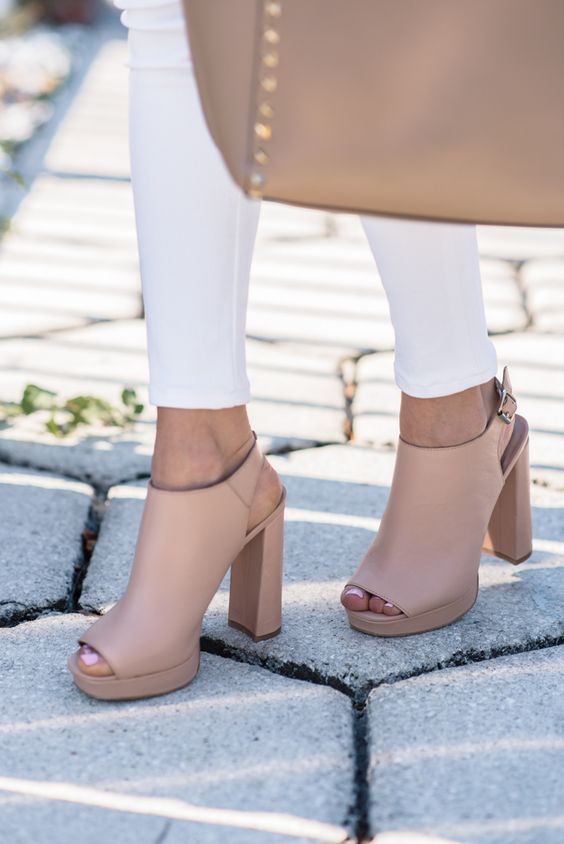 via
The possibilities are endless when it comes to chunky heels. Many different types of shoes come with a chunky heel. You can find ankle booties, knee-high boots, sandals, and open heels with a chunky block heel attached to the end. Like thinner heels, chunky-heeled shoes are available in a range of heights from a short kitten heel to a five-inch block. Chunky heels are super easy for anyone to pull off (and wear). Even if you aren't normally a "heel person", step out of your comfort zone and transform your favorite looks with a chunky heel.
1. Transform a Basic Look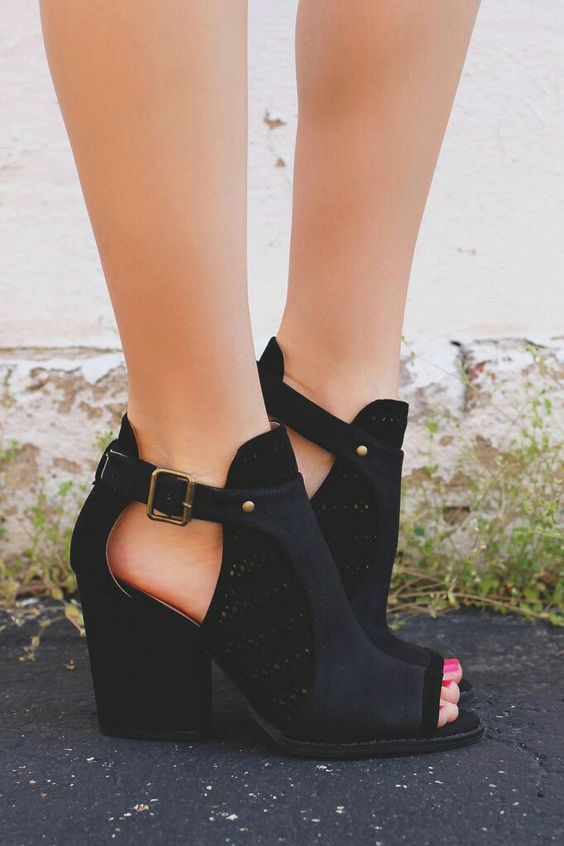 Every woman should have a variety of basic, minimalistic looks available in her wardrobe. Basic looks are perfect for days when you want to throw on a comfortable outfit that is cute and functional for a wide range of everyday activities. However, many style-conscious women worry that their most basic outfits look too boring.
A great way to boost the interest of a minimalistic look is to add a chunky heel. Most chunky heels are simple enough to fit in with a look full of basic pieces, but they're interesting and trendy enough to help your outfit look stylish. Combine strappy sandals that feature a short block heel with loose gypsy shorts and a fitted crop top for a bohemian finish. Add a pair of neutral, chunky-heeled ankle boots to a look that includes a graphic crop tee and high-waisted shorts to achieve a city chic vibe.
2. Get Professional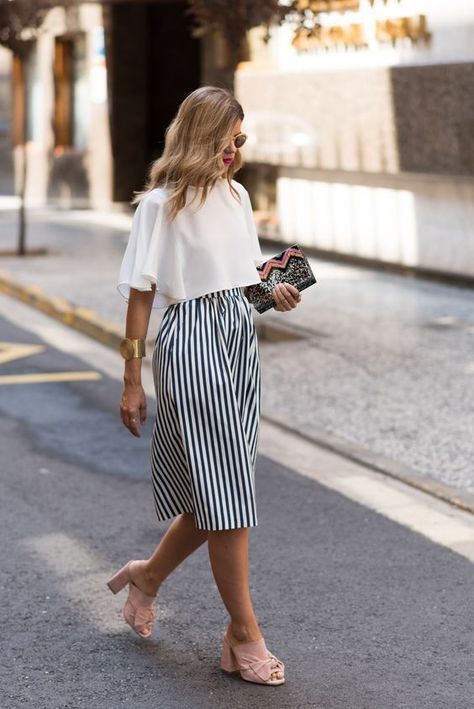 Chunky heels have a reputation for being a very casual type of shoe because they are more likely to be paired with less dress outfits than other heels. However, these heels definitely don't have to be casual. You can easily create a professional look that includes a chunky heel without sacrificing any formality.
Pair chunky-heeled ankle boots with tights, a fitted midi skirt, and a blazer. Pick up a pair of mules with a block heel in any solid color and wear them to balance out straight-legged slacks and a business casual blouse. Chunky heels are a great option for professional looks whenever possible because these heels are usually much more comfortable than other types of shoes that are appropriate for more professional or formal settings.
3. Neutralize Your Look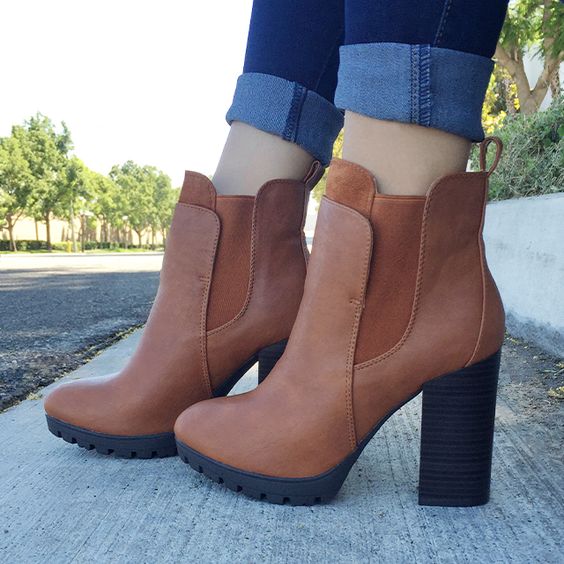 If you ever think that an outfit that you want to wear is a little too wild, crowded, or excessive, pair it with a chunky heel. Chunky heels are simplistic and they help neutralize looks that might appear too busy with a more eye-catching type of shoe. However, they also don't detract from your look or make it appear
Try pairing a patterned jumpsuit with chunky platform sandals. Wear a geometric maxi dress with a pair of chunky-heeled sandals underneath. Combine block mules with wide-legged gypsy pants in a bright color or fun pattern. When it comes to chunky heels, the possibilities for the rest of your look are endless.
4. Rock a Skirt or Dress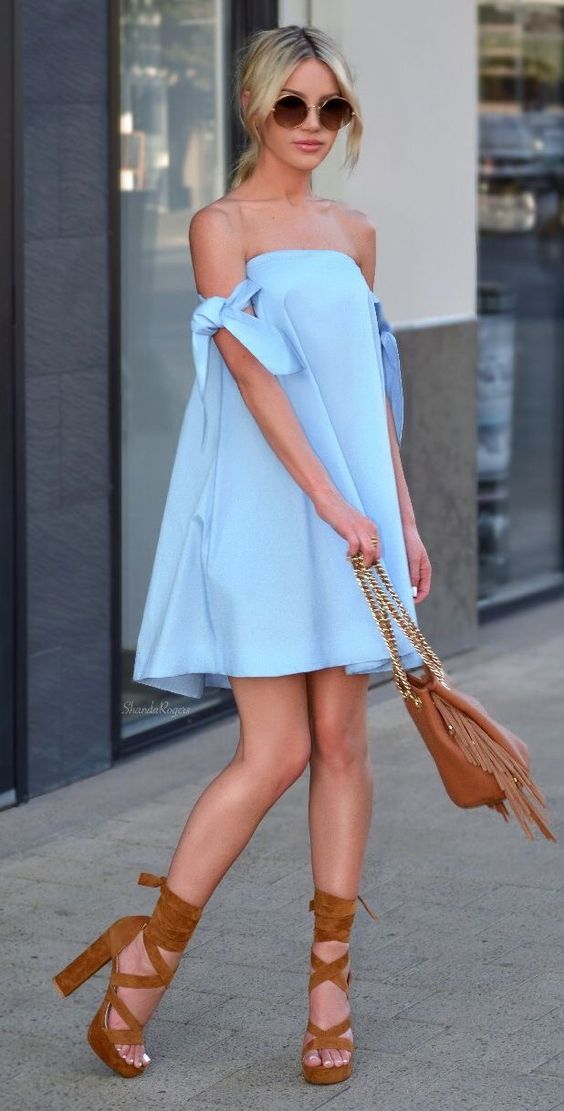 You can easily pair your chunky heels with a skirt or a dress to help elongate and slim down your legs instantaneously without worrying about tripping during your everyday activities. Try wearing a loose, patterned summer dress with strappy chunky sandals; chunky heels complement any dress length from mini to maxi and the midi in between. Or, pair a mini skirt and a cropped sweater with tights and chunky-heeled ankle boots when the weather is a bit colder.
Most types of chunky heels look best with casual dresses and skirts. However, you can look a bit more formal when needed by pairing a nicer dress with a pair of block stilettos that feature a thinner and taller chunky heel.
5. Balance Out Jeans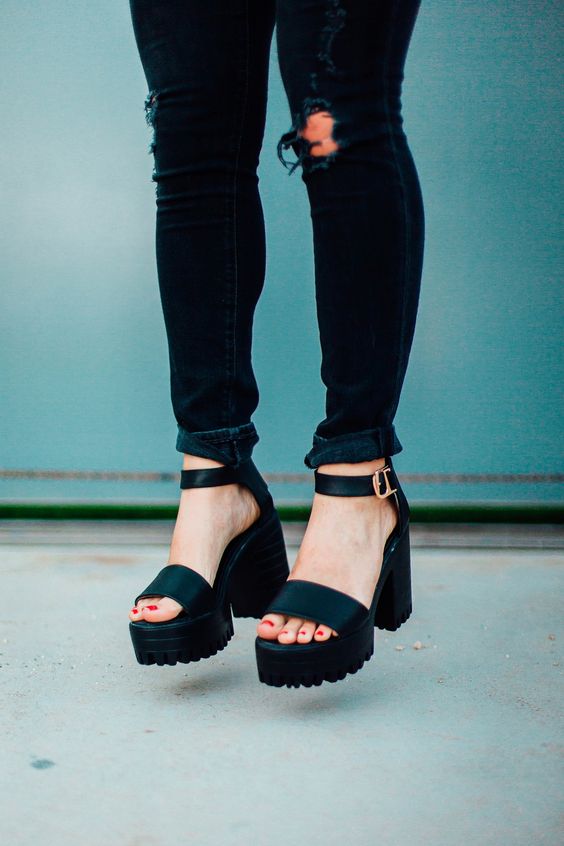 If you're struggling with trying to find shoes to wear with your jeans that aren't plain old sandals and flats, try a chunky heel instead. Chunky heels help balance out most styles of jeans and add interest to a simple denim look.
This type of heel works especially well with mom jeans, cropped jeans, flared jeans, or any other style that benefits from a bit more balance around the ankle. But, you can rock knee-high chunky-heeled boots or chunky stilettos with your full-length skinny jeans, too.
6. Wear Socks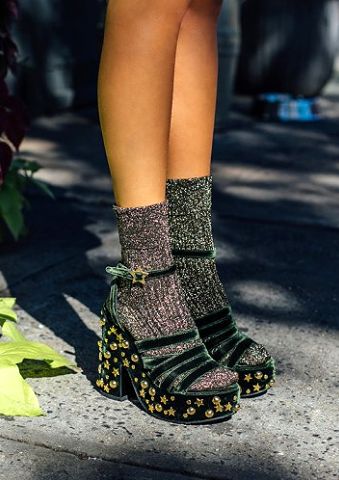 You might cringe at the idea of heels with socks, but it's actually not as much of a fashion faux-pas as you think. In fact, socks paired with chunky heels is a quirky trend that lets you have fun and show off your whimsical style.
The key to wearing socks with chunky heels is to keep the rest of your outfit very simple and let your shoes be the focal point. This helps you avoid an outfit that comes off as too busy and allows you to look put together while rocking a quirky trend. Try neutral knee-highs with a chunky pump in a bright color and a solid-colored short dress or mini skirt. You can also wear chunky-heeled sandals with knee-high socks or tights to go all out with a '70s vibe.
7. Make Your Heels the Statement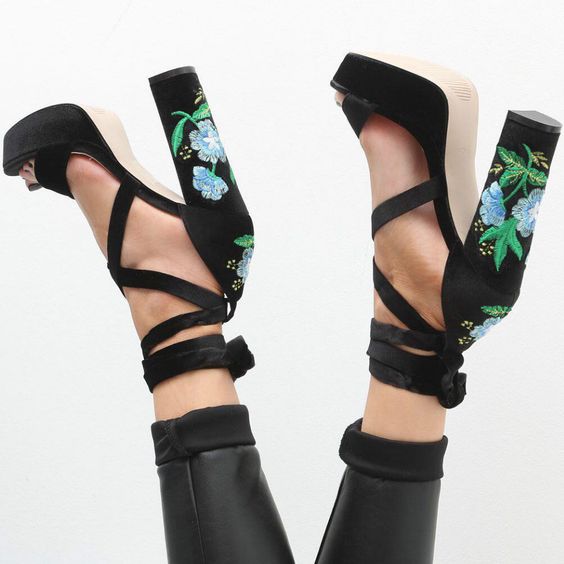 Many chunky heels are fairly simple, but others can be quite the opposite. If you get the right pair of chunky heels, you can make a statement
One of the best things about statement chunky heels is that the design of a chunky or block heel in itself is fairly simplistic. You don't have to worry about the construction of the heel stealing the show. Instead, you can go all out with colors and patterns. Because chunky heels are so minimalistic, they are available in a wide variety of colors. Try color-blocking and coordinate your
Chunky heels are basically the best of all worlds. They're comfortable enough to wear all day, they naturally complement a wide range of outfits, and they add interest to every look. Experiment with adding chunky heels into your daily wardrobe; you really can't go wrong.