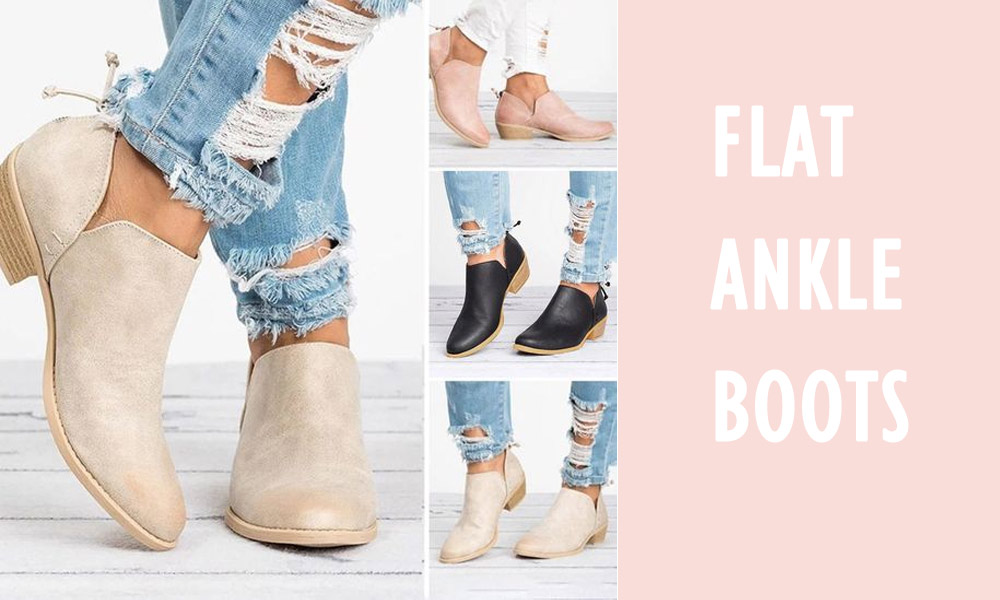 Flat ankle boots are so popular right now that they're available in a huge range of styles and colors. Lots of them have added details to decorate the outside, like straps and buckles, or hiking boots with brightly-colored lace-up fronts that ensure you get an excellent fit and a rustic vibe. Combat boots are another popular choice that look good with khaki or camo trousers. For a more elegant look you can wear undecorated suede flat ankle boots, which are suitable for work or casual, indoor wear, but will get spoilt if you wear them in wet, winter weather.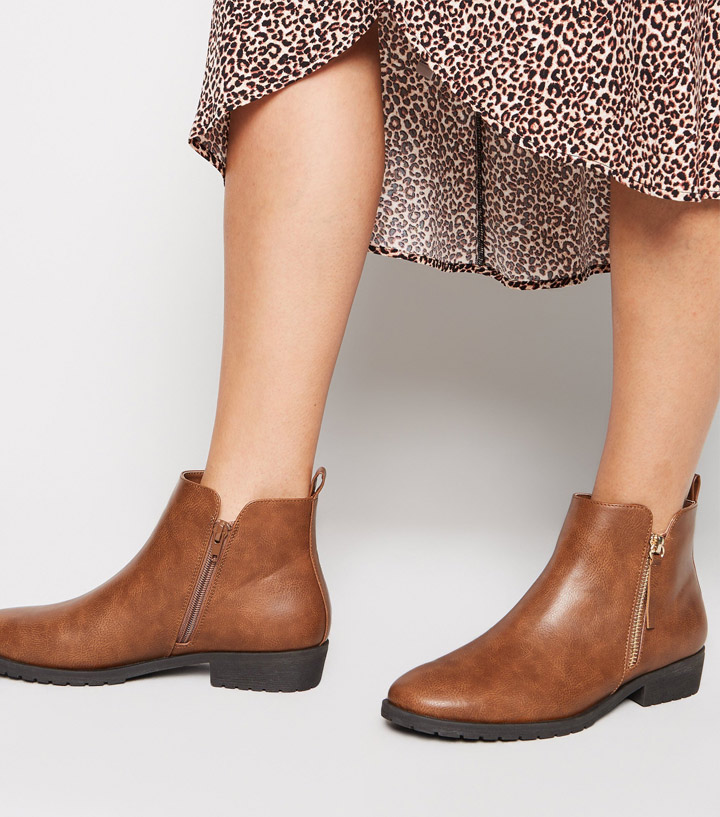 Some low ankle boots are decorated with small, silver studs or have a triangular, elastic insert, so you can just slip them on and off without having to deal with zips, buckles or laces. The lower-cut ankle boots with a pointed toe create a great accessory to a more sophisticated outfit and, as you can see the ankle, they make your legs look longer! And that's always a good look!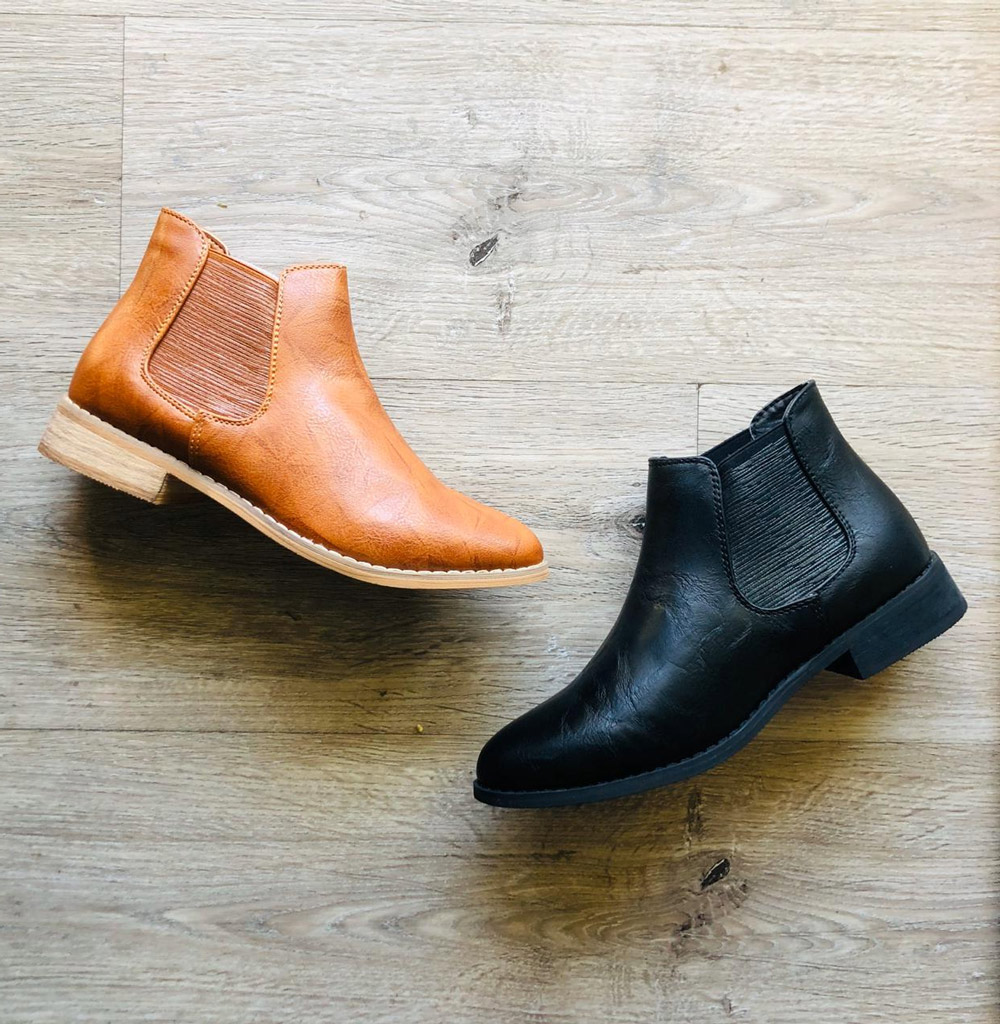 1. Flat ankle boot styling for short women
If you're short you may already have thought this fashion isn't for you, but it ain't necessarily so! Flat ankle boots on petite girls and women always look good with cropped or skinny jeans and leggings or thick tights. So, if you are petite, you can wear flat ankle boots with leggings and an extra-long sweater, or with thick tights and a mini-dress. It's a cute look you can top off with a cross-body handbag and feel trendy and comfortable all day.
It's also important to check where the top of the ankle boots is on your ankle, because choosing boots that stop just above, or just below, the ankle will give shorter women the most flattering look!
2. Flat ankle boot guide for tall women
Taller women have more choice when it comes to clothes they can successfully wear with flat ankle boots. So you can wear them with a midi- or maxi-dress and an autumn cardigan, sweater or jacket, as a welcome change from always wearing jeans and a sweater.
Popping on a maxi- or mini-dress with your flat bootees is so easy and looks fine for work, shopping or dates. Especially long sleeve dresses give you feminine appeal in the winter, when most women are bundled up in shapeless tops, trousers and heavy coats.
3. How to wear flat ankle boots with dresses
Remember this fashion rule, the shorter the ankle boots, the longer you can wear your skirt, dress or pants. And the opposite is true, too! The higher your boots, the shorter you can wear your hemline. If you are wearing an evening midi skirt/dress in the cute longuette style, it will be semi-formal, with an A-line, flowing skirt that drapes an inch or two below the knee. So choose low-cut, dainty, ankle boots with a pointed toe to make the boot look more formal and less clumpy and casual. And it's important to wear ankle boots that are either 'nude' or match the color of your dress.
This will lengthen your top-to-toe silhouette and add a lot of class to a highly fashionable look.  And ankle-length dresses/skirts with a slit up one side are a great way to add sexy glamor to your ankle boot outfit. Black flat ankle boots look excellent with black thick tights and you can go a little shorter when you're wearing thick tights in the winter. But try to avoid pairing ankle boots that aren't black with black tights, the rule is to try and match the colors to make legs appear longer.
4. Creating a balanced look
Whatever size or shape you are, bear in mind that balanced proportions are the key to looking your best in trendy clothes and accessories. You can lengthen your silhouette by wearing a long raincoat in the trench-coat style, in cool weather. This works well with flat ankle bootees, and flat shoes. Or a shorter jacket in warmer weather looks great teamed with a pair of cropped jeans or trousers, and helps to make anyone look slightly thinner.
And taller ladies still have to think carefully about which flat ankle boot styles, colors and types they wear with their chosen outfit, as one pair of ankle bootees won't suit all of your clothes. Be especially careful about shaggy-looking flat short boots, as they can totally unbalance your proportions and make you look as if you have enormous feet!
5. How to Wear Ankle Boots with Jeans
a) Tucking-in
Now that fashion in jeans is expanding towards straight-cut, flared jeans and bell-bottoms, you may need some advice about the rules of 'tucking in' to your flat ankle boots. It's quite simple, as you should always tuck-in your skinny jeans, but never try to tuck-in flare jeans, bell-bots or any wide-hemmed style. Straight-cut jeans that are too wide to tuck-in look best rolled up to rest just above the top of the bootees. And the latest high-waisted jeans and dress trousers also look trendy with matching flat ankle boots.
b) Colors
If you want to start your ankle boot wardrobe with one pair, choose a pair of brown boots that match with all of your light – dark denim jeans. Or you can buy one pair of blue ankle boots that match all your jeans. I know it can be hard to find the right color in your size and the right style sometimes. But I always buy the shoes or boots I want and then dye them to the color I need at home. I've been dyeing my shoes for years and it is very easy to buy shoe dye and apply it successfully.
6. Themed outfits
Or instead of spoiling a themed outfit with your everyday trainers, try matching a French Breton striped top, with black leggings, a blazer-style jacket a shoulder bag and a pair of flat, patent-leather boots. The metal buttons on a blazer or military-type black jacket will shine like the patent leather boots and pull the look together. Or ditch the leggings and wear with a metallic-fabric skirt and a turtleneck fine-knit sweater.
Flat ankle boots do have a lot more classy style that grubby trainers and they will add fashion-flair to any outfit if matched up correctly.
7. Top ankle boot brands
If you don't know where to start in your search for trendy flat ankle boots, take a look at these three well-known expert design and manufacture brands:
Dr. Martens zip & lace-up flat ankle boots
Doc Martens are a heavy-duty brand that are made to last a lifetime, be extremely trendy and comfy and protect your feet from all types of bad weather. But that doesn't mean you only wear them in winter, of course. Doc's are worn all-year-round, with every type of fashion wear and have been a best-selling brand for decades!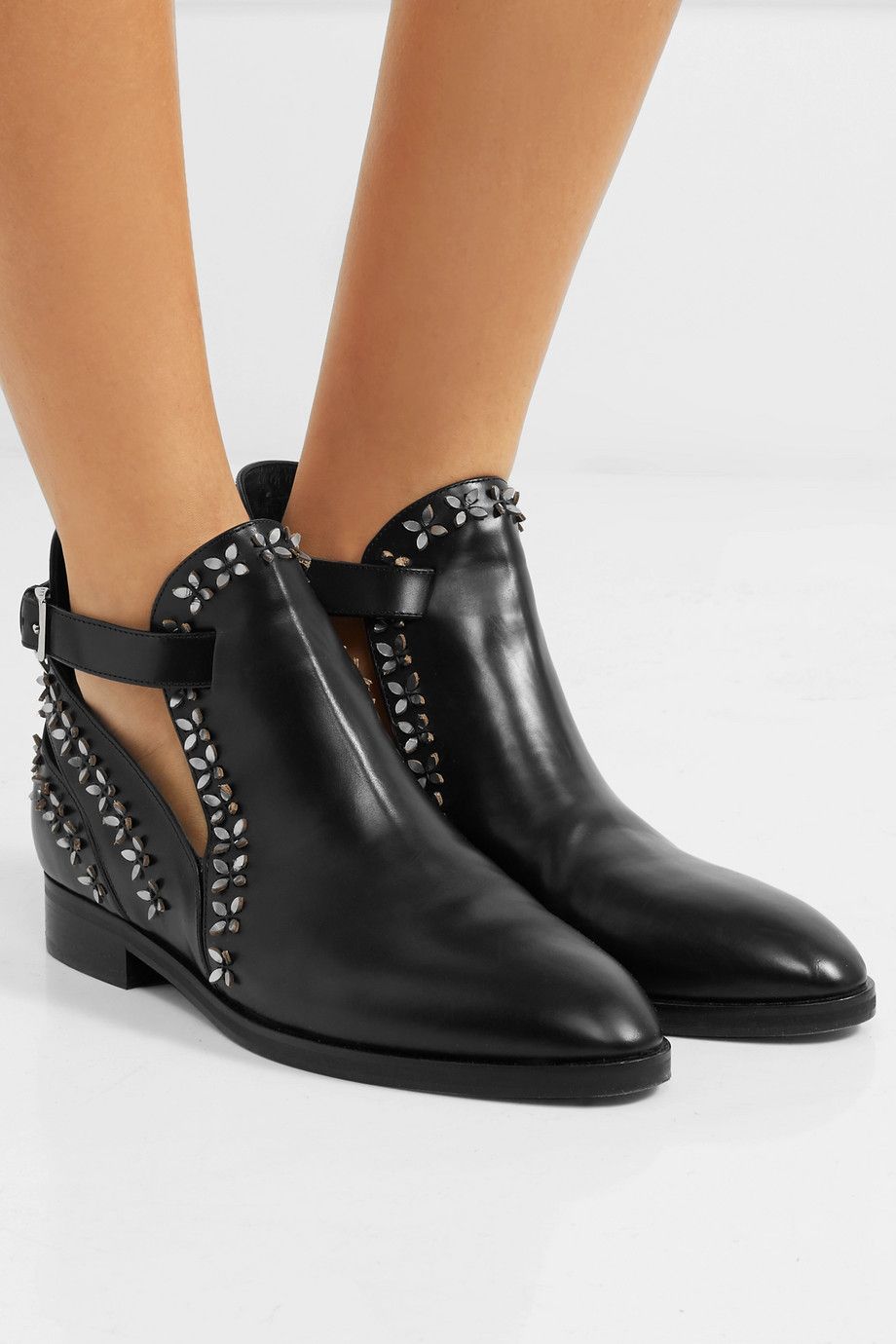 Two of our favorite pairs of flat ankle boots comes from the fantastic trend-setting designers at Alaïa. They are lighter looking than some styles and highly decorated with cute metal, petal studs and eyelets. If you love unconventional twists on current fashion trends, this is a great place to look for your dream flat ankle boots!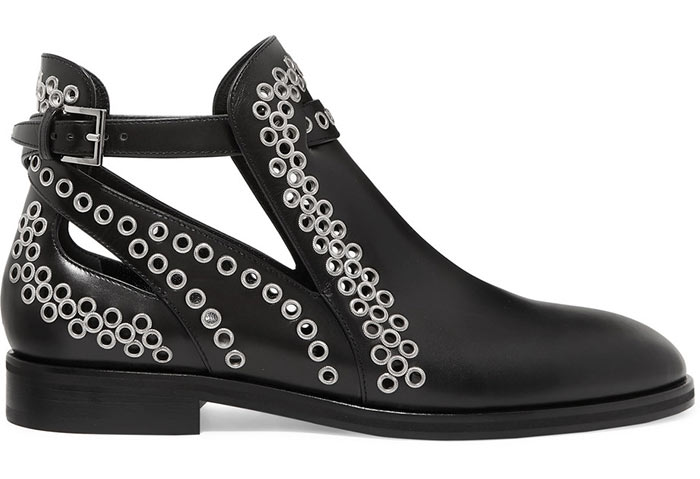 Common Project Chelsea boots
Top of the range Chelsea Boot, flat ankle boots from Common Project are a great combination of practicality and luxury. They are made by top-quality Italian craftsmen, from the best leather and they focus on quality, not flashy branding! The brand image is kept low-key, with just a foil-stamped factory ID code and style number on the side. These flat ankle boots are targeted at women who enjoy minimalist, street-fashion boots of the highest quality.
8. What not to wear with ankle boots
Stylists have many different opinions, but here's our list of the fashion items we don't like to wear with our flat ankle boots:

Cropped thick tights
Cropped trousers
Shorts
Capri pants
Cigarette pants
Pencil skirts
9. Flat ankle boots for summer wear
You love this look so much that you know you won't want to be wearing anything else in the summer season? You're not alone! Women have really taken to flat short boots, so here are some basic tips to help you find the perfect summer ankle boots. You'll find that pastel-colors in suede boots look adorable in the summer and match just about anything you choose to wear. Look for ankle boots with open sections, perforated areas and cut-outs, so your feet stay cool and dry in the hot weather.
Experiment with styles you've never considered before, like modern cowgirl boots and fabric boots – floral or denim. You won't be spending every day at the beach and you need some fantastic new fashion tricks for evening activities and the office! Subscribe to get more fashion tips on herstylecode.com!
Here are more flat ankle boots outfit ideas, enjoy.