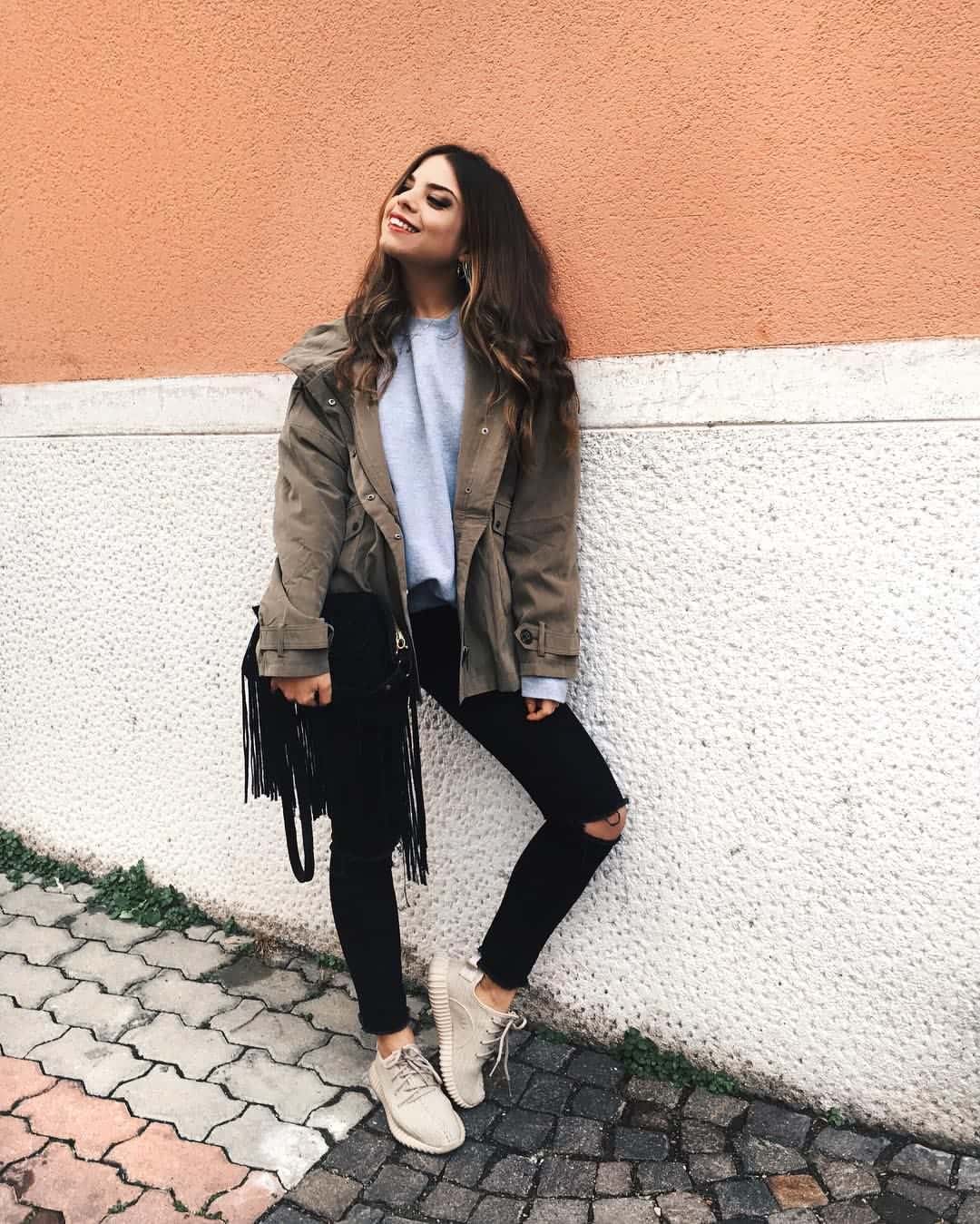 What to wear with Yeezy Sneakers for women?
The key to wearing Yeezy sneakers is to keep the rest of your outfit casual. The Yeezy range is designed by Kanye West in joint projects with Adidas and Nike, which guarantees high-quality materials and manufacture. And the most striking feature about Yeezys is the originality of the designs and the unusual fabrics of some of the models. Both men and women wear Yeezys, even though some of the models may only be labeled as menswear. If you want to take your lead on how to wear Yeezys from Kanye, you'll see that he likes to wear them with graphic T-shirts and narrow jeans.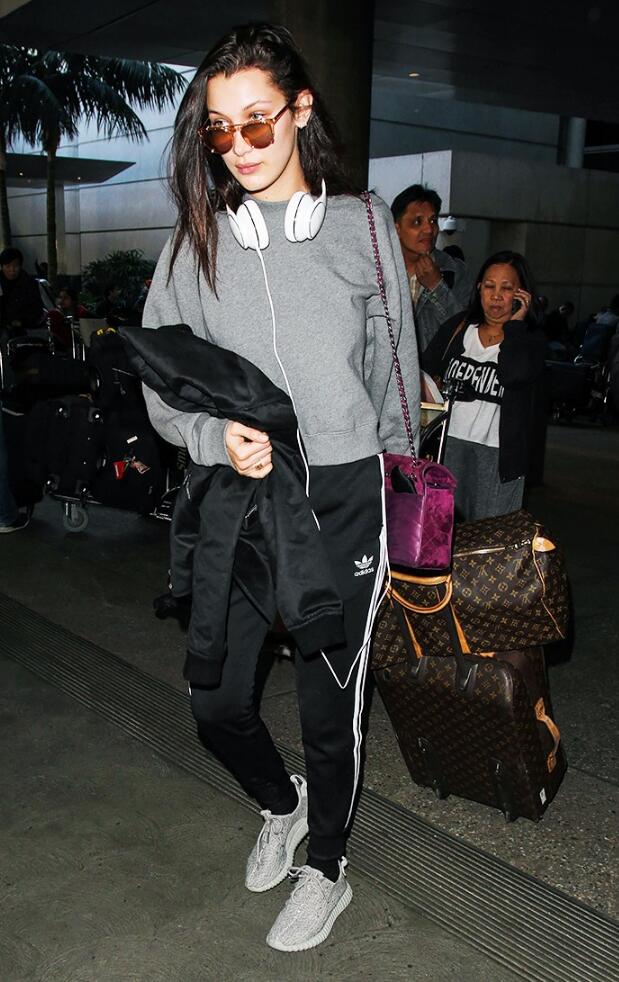 But, of course, as a female wearer you have lots more options on how to style your Yeezys. So for this year you've got a wide choice of faux leather leggings, flared jeans, skinny jeans, wide-cut pants, sweatpants, leggings, shorts and skirts. And for tops, you can style Yeezys with sweaters, shirts, long- and short-sleeved tees and cropped tops in the summer.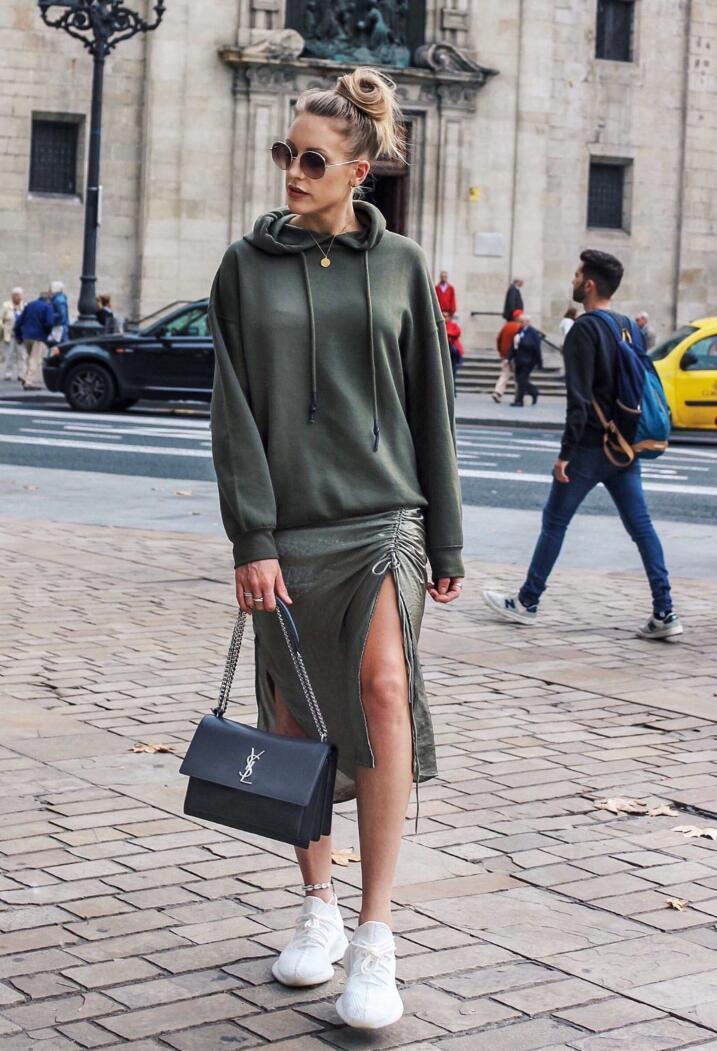 What pants & skirts go with Yeezys?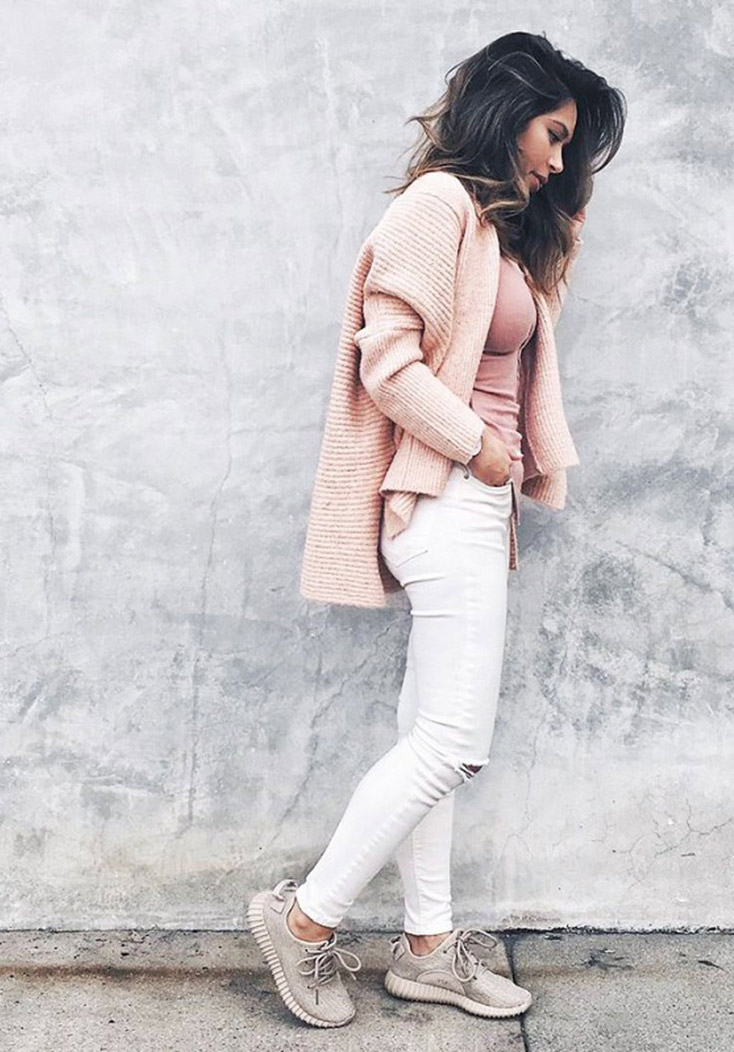 This does depend to some extent on your body shape and general style. However, Kanye wears tapered jeans that are loose fit around the hips and narrow at the bottom. This helps draw attention to your sneakers and is comfy at hip and waist level. And you can let longer pants bunch up at the bottom if you like, too. If you have slim hips, wear skinny jeans in blue denim, tan and black. For the edgiest look, wear ripped denim jeans.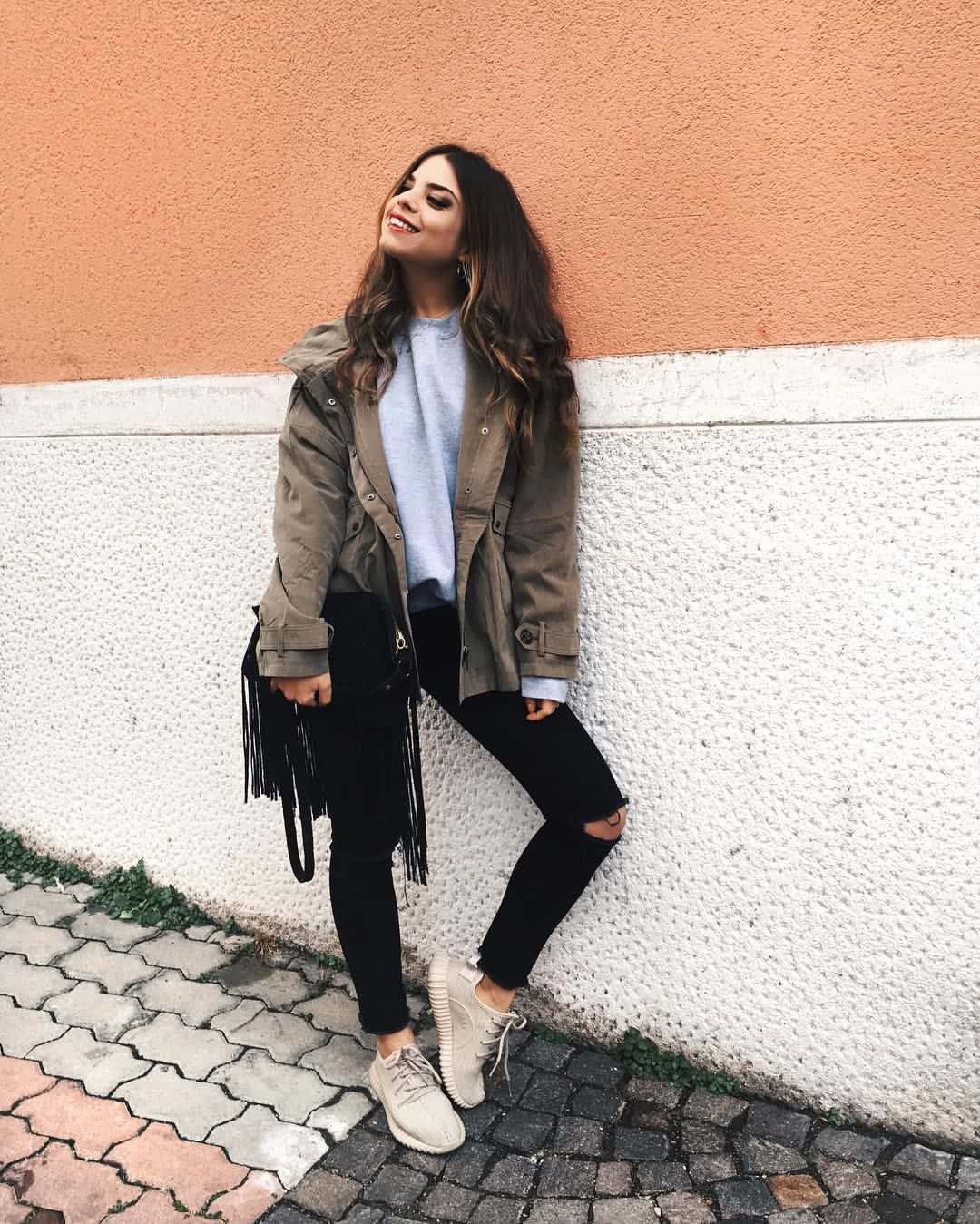 Summer shorts, leggings & joggers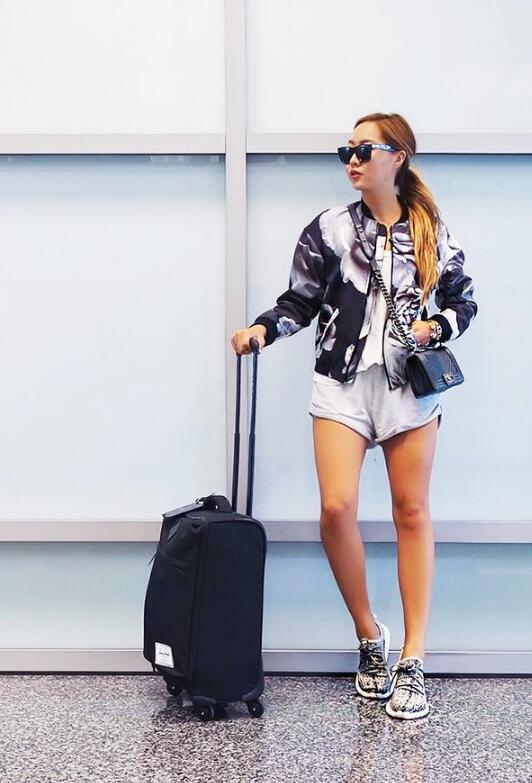 For variety, you can also wear Yeezy sneakers with leggings or jogging pants, in a solid color. This is a fabulous look for wearing around town, at the gym and for a range of athletic activities. Yeezys are worn by men and women and you'll get a nice, stream-lined look if you team them with gray or black joggers.
Shorts look great with Yeezys in the summer, with denim shorts for casual or stretchy activity shorts for gym workouts. And top-off shorts and Yeezys with a graphic T-shirt or a sleeveless, spaghetti-strapped top, as this 90's style top is back in fashion again.
Mini-skirts & short dresses
If you fancy a sexy, boyish look for day-wear or a night out, wear a mini-skirt or short dress. This outfit looks best with bare legs and no-show socks, especially with V2's and 350's. And try to match your mini-skirt with the top, so you are wearing the same color for a longer silhouette and a more attractive overall look.
And you need to bear in mind that Yeezys are not usually worn with dresses when you want a formal look. Yeezys won't match a formal dress and you'll end up with an outfit that's having an identity crisis! You'd be better wearing these sneakers with your casual wear, that will include over-sized sweaters, sweatshirts and T-shirts this year and for the future.
Best tops to wear with Yeezy
This is your opportunity to inject some of your individual personality into your look. So choose graphic tees with an image of your preferred sport teams, bands or random image. Or get your own message printed onto a plain tee, because any image will match the range of sneakers by Yeezy. For evening outings, wear black Yeezys with a black shirt and pants for a cool, figure-flattering look. You can add splashes of color with a scarf, handbag, bangles, earrings and short neck chains and colored socks, if you want to break-up the all-black look.
Over-sized tops & fashion colors
Over-sized tees will create a hip-hop style when worn in a plain color with Yeezys. As a matter of fact, oversized sweaters, jackets and tees are mainstream fashion for 2021, so look out for tops one-size bigger than you usually wear. Colors to choose include pastels for summer and fashion colors like, salmon-pink, coral-orange, all shades of light blue and aqua and mint green and match them with your V2 or 350 sneakers.
Layering & trendy brown shades
Instead of always wearing the darker colors in autumn and winter, you can match Yeezys with white, cream, tan, light brown khaki and all shades of brown pants that are hot for 2021. This will give you a fresh and up-to-the-minute look and stand out from the crowd. And layering is popular again, so wear a white or colored long sleeved tee under your shirt or sweater and be warm and trendy.
Plaid, paisley & patterned tops
Plaid jackets in soft shades of gray and tan are hot new looks for this year, so get a totally new and individual look by wearing plaid with Yeezys. Or wear brightly colored button-down shirts if you like to stand out. You can style Yeezys with Hawaiian, paisley, floral or contemporary patterned tops for extra texture in your ensemble.
Which socks should I wear with Yeezys?
For a stylish, contemporary look you can't go wrong with black socks and it is the most popular color to wear for an athletic and fashionable image. If you prefer the no-sock look, try wearing 'no-show' low-cut socks, which will keep your feet comfortable within the shoe. Or you can wear longer, 'crew-length' socks that cover your ankles and still be fashionable. Make sure your crew socks are pulled up and straight at your ankles, especially if you wear 350's and don't turn up the hem into cuffs. Low-top Yeezy sneakers like the Powerphase and Wave Runner 700 or 500 can be styled like 350's.
White & colored socks & cuffs
Of course, if you don't like black socks, you can wear white or any color that complements your Yeezy sneakers or your outfit in general. Ankle socks that stop at the top edge of the foot give a sleek look and look good with shorts, skirts, casual dresses and skinny jeans. And if you really want to put the focus on your sneakers, you can accentuate them by rolling up your trouser legs. Hem cuffs should be around 1 – 3 inches to show your ankles and shoes.
How to choose your best Yeezys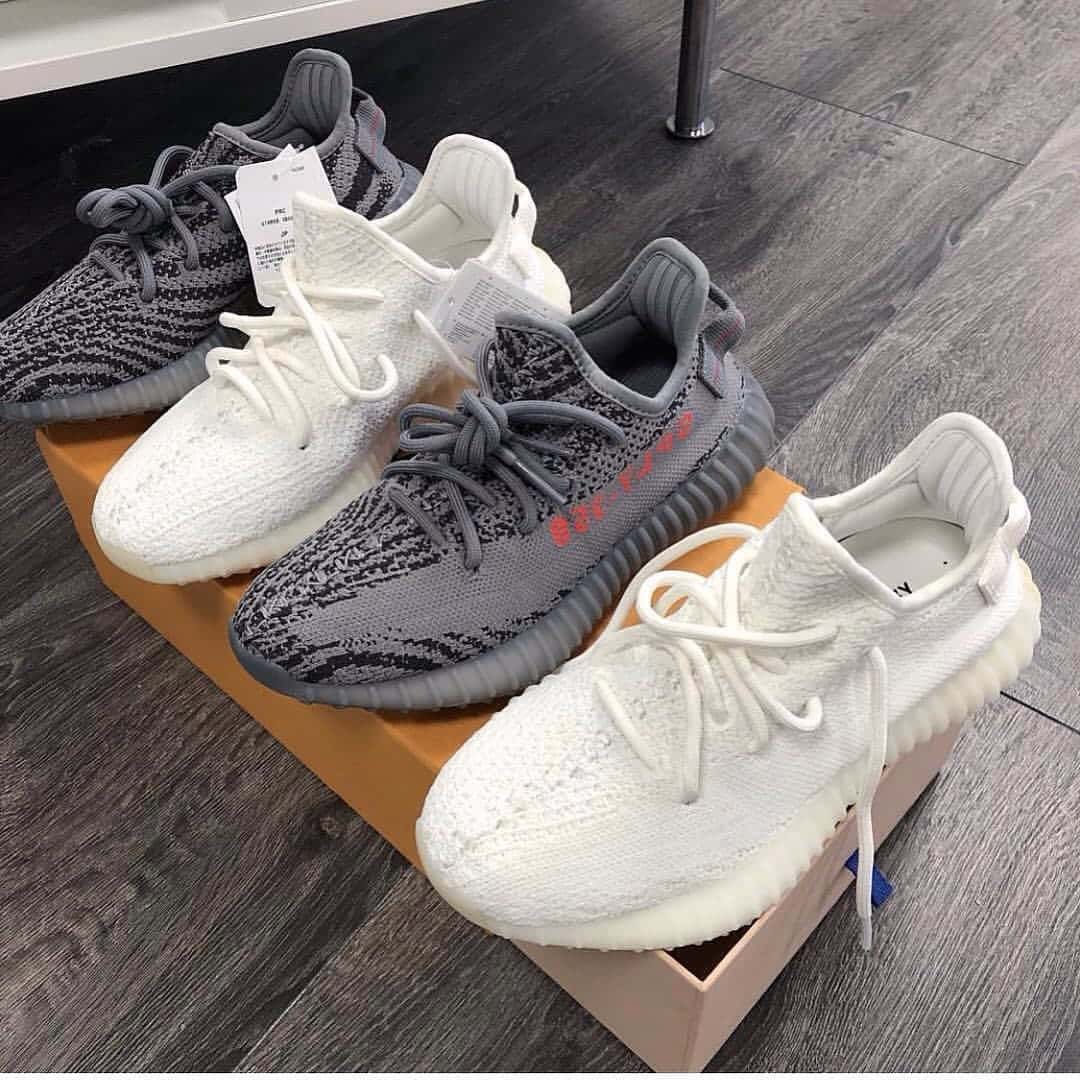 This is very important, as your Yeezys will be the main focus of your ensemble, so you need to get the best pair for your style. The most popular pair is made by Adidas – the Yeezy Boost 350 – which has laces, a comfortable foam sole and mesh on the outside. They are a versatile shoe which is generally worn for everything from shopping to workouts and nights-out, as well as casual smart wear. Yeezy 350's are available in Turtledove, a mix of blue, gray and white and black, gray and tan. Tan and gray are new, trendsetting colors for this year.
Yeezy Boost 350 V2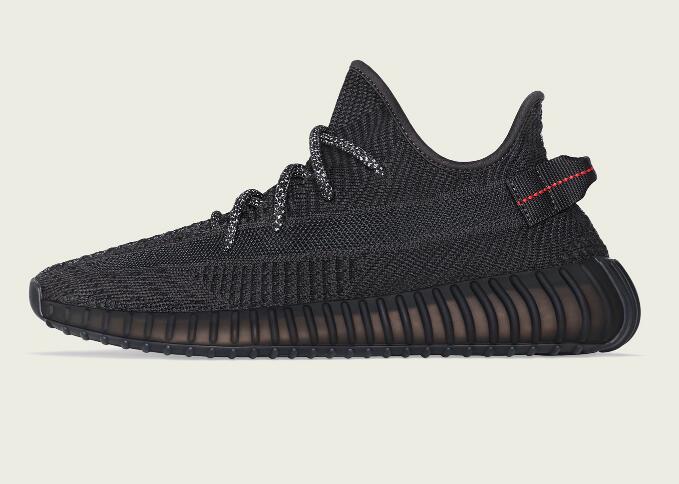 If you fancy something more colorful, select Yeezy Boost 350 V2, which closely resembles 350's, but has a natty, colored stripe across the side. And the foot-entry hole is tighter with the V2, so if you have narrow feet you get a more secure fit.
V2 is available in black and green, gray and red, black and white, black and copper, white and cream, orange and gray, and red and yellow.
Adidas Yeezy Boost 750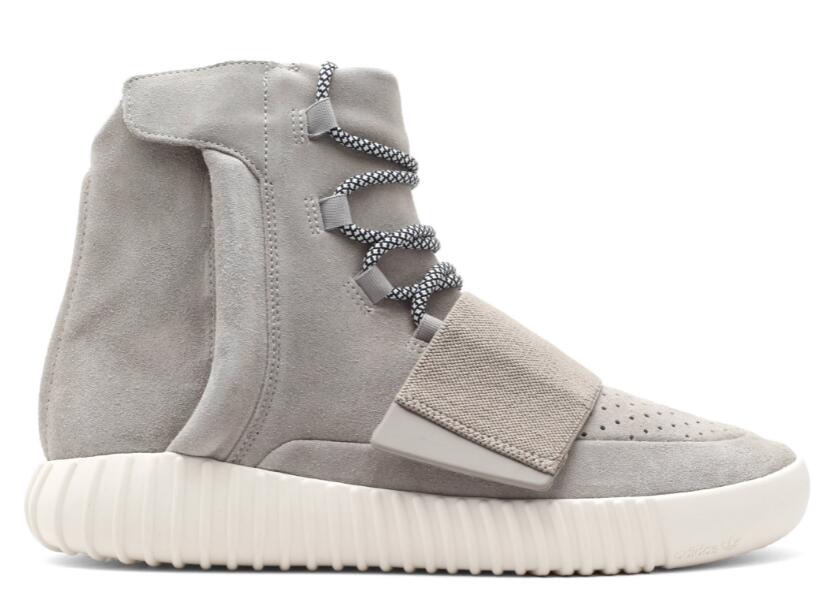 The Adidas Yeezy Boost 750 is popular for its sleek, high-top image. This is a simple sneaker that chimes with minimalist looks. And this sneaker looks fabulous with tucked-in, skinny jeans. Wear with the latest brown jeans, and all shades of brown that's a huge trend for this year.
The Yeezy 750 comes in chocolate, light-brown, all-black and glow-in-the-dark. This model matches many fashionable outfits, so it's an excellent investment for your long-term, trendy wardrobe.
Nike Air Yeezy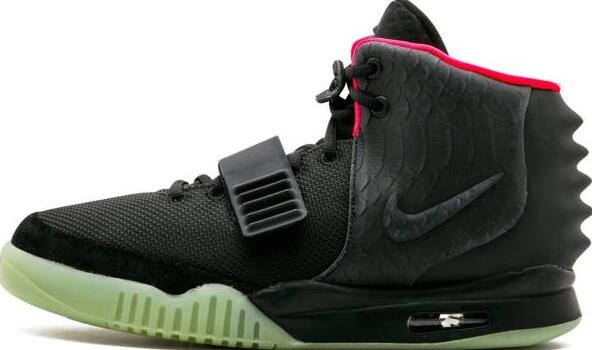 The Nike Air Yeezy is inspired by basketball shoes and comes in many different styles. Most Air Yeezys are designed to look like high-top basketball shoes and are used as basketball court sports' shoes. However, the Air range is also popular for all casual and athletic activities, and is available in trendy gray, tan, red, white and black.
Adidas Yeezy 950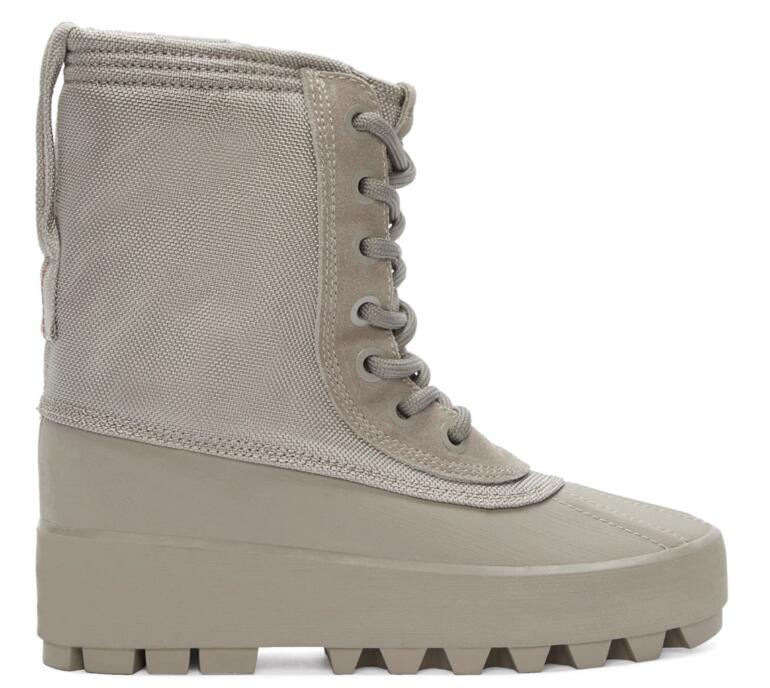 The Adidas Yeezy 950 is a military style that's suitable if you're looking for boots. This snazzy model has the look of an astronaut's boot, with a high-top and smooth sides. The 950 is available in moonrock-tan, dark chocolate, peyote-cream and black. And the Yeezy Military Boot is also a high-top with smooth sides, but has a far sleeker look. The Military Boot Yeezy is offered in dark-gray, burnt sienna-dark orange, taupe-gray-brown, rock-tan and cream. You should always tuck-in your pants to Yeezy boots to show them off.
How to spot fake Yeezy sneakers
1. Look closely at the tongue inside the sneaker, as fakes use soft fabric that makes the tongue floppy. But a real Yeezy sneaker tongue is stiffer and stands up straight. Feel the quality of the shoe's fabric, because fakes have fabric that feels a lot softer than real Yeezys.
2. Fake Yeezys don't use the correct size of logo, so fakes have a logo that's too big and which takes up too much surface area of the shoe. The YZY logo on counterfeit Yeezys is also too big.
3. Make sure the side of the sneaker has the Adidas trefoil logo showing clearly.
4. If it says, 'Sample Made in China' on the tag, it's a fake pair. It should just say, 'Made in China' if they are authentic, as well as the bar-code, the size and gender and the serial code.
5. Fake Yeezys have white text on the insoles and the writing will not be a perfect mirror image of the text in the second shoe. Real Yeezys insole text is always a mirror-image of the other shoe insole.
6. The real-deal sneakers have text that is dark-gray on the insole and nearly matches the gray background.
7. Real Yeezys have text that reads, 'adidas YEEZY' with the Adidas trefoil in between the words.
8. Fakes have lettering that says, 'SPLV-350', which is badly misaligned and have the letter, 'V' on them, where it should read, 'W'.
9. The letters on counterfeit sneakers are wrong, because they curve upwards, but real Yeezy letters are applied straight-across.
10. Messy, 'criss-cross', stitching is a sign of fakes sneakers. Real Yeezys have perfect stitches creating an 'X' on both sides and a square that separates them.
11. Real sneakers have exactly 9 red dots on the heel tab. Fakes have varied numbers of dots on the heel tab. And the dots that aren't inside the rectangle do not count in this check.
12. Fakes have stripes inside the heel tab that appear to have been printed on.
This is a special time in the fashion world, because there's a lot of new styles and colors on offer for us this year. So keep up-to-date here are make sure all your fashion buys are on target and versatile! Subscribe and get more fashion tips on herstylecode.com