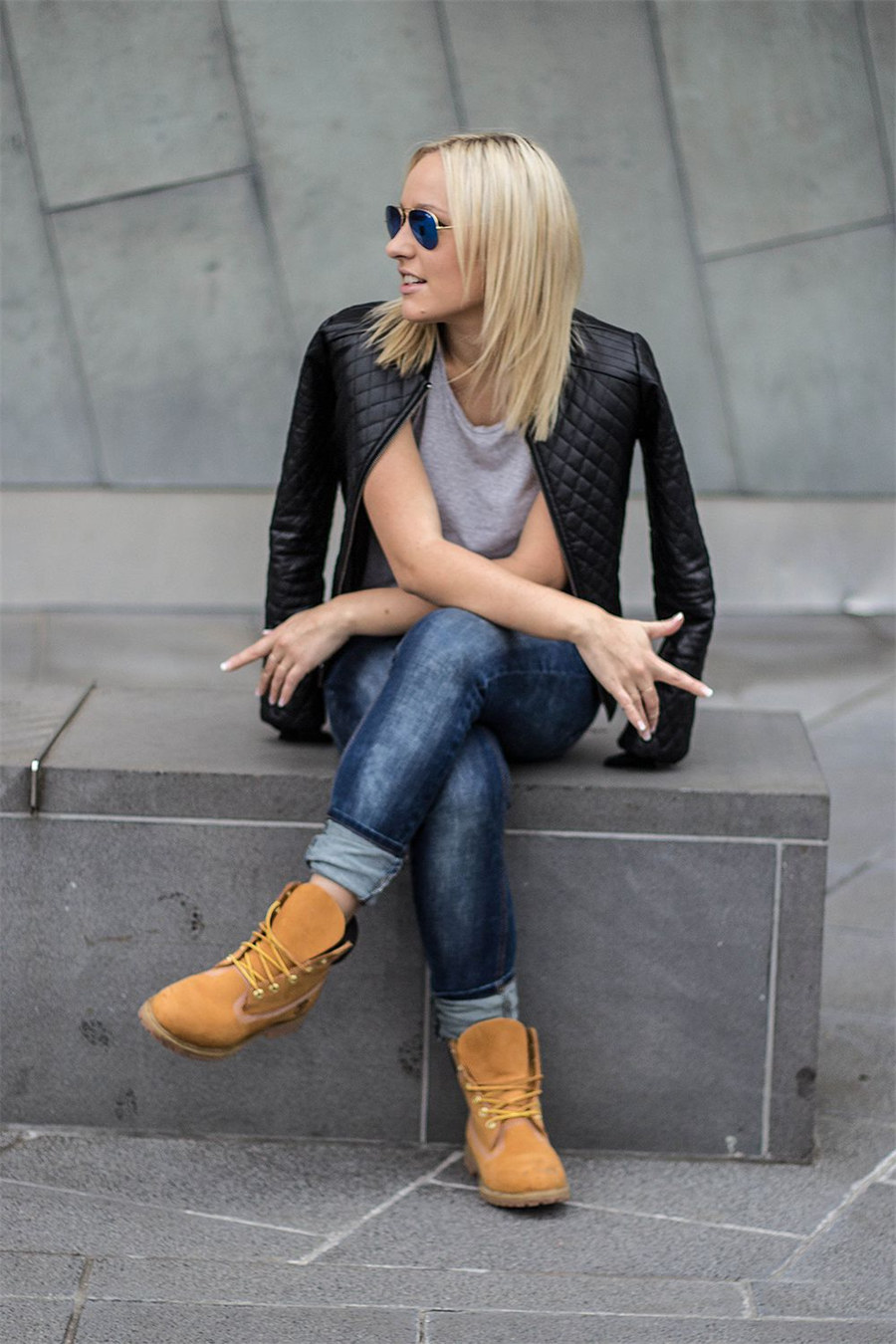 Worn with this year's wide range of new fashion garments and styles, you can have lots of fun wearing your Timberland boots this year! And I'm going to show you how easy it is to re-create these fabulous combinations to bring your wardrobe of fashion essentials totally up-to-date.
This year is different from most as it has a veritable explosion of new styled jeans, pants and trousers, moving away from our love-affair with skinny jeans and leggings into wider legs in different cuts. And this means that you have to take a moment to consider how to create a properly proportioned silhouette and get the right type of boot to balance with wide hems.
Timberlands suit all trendy styles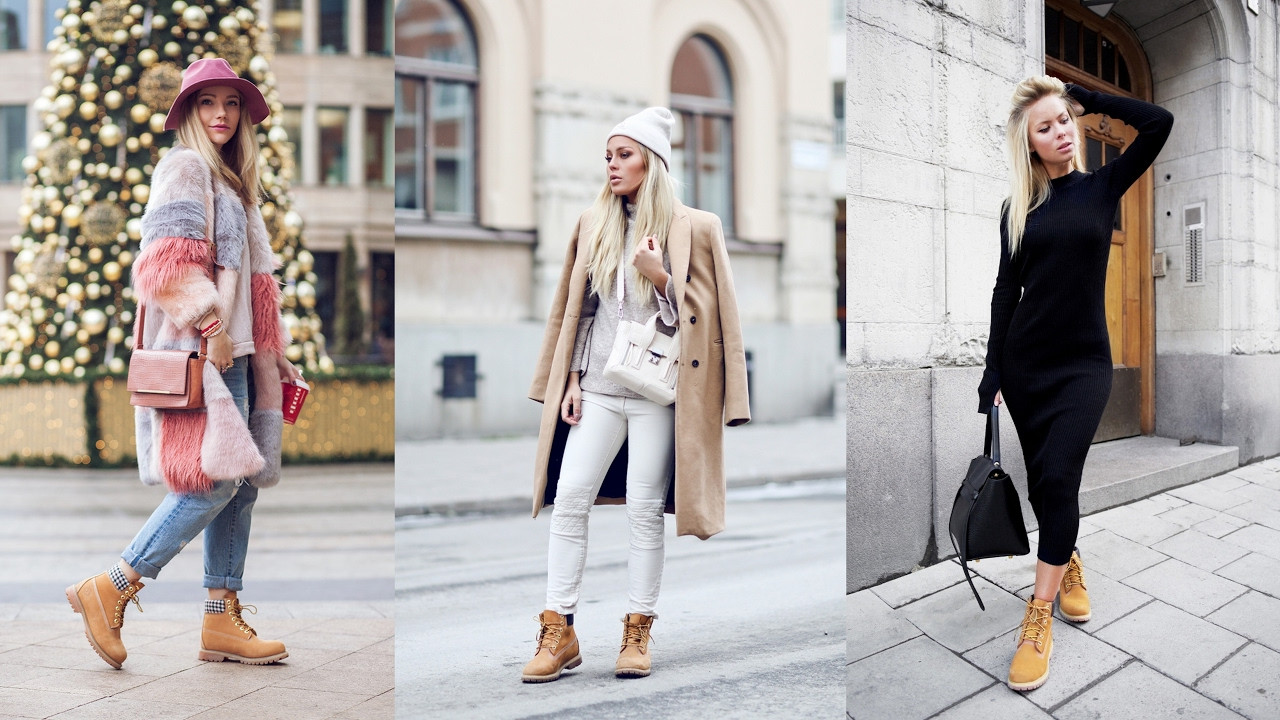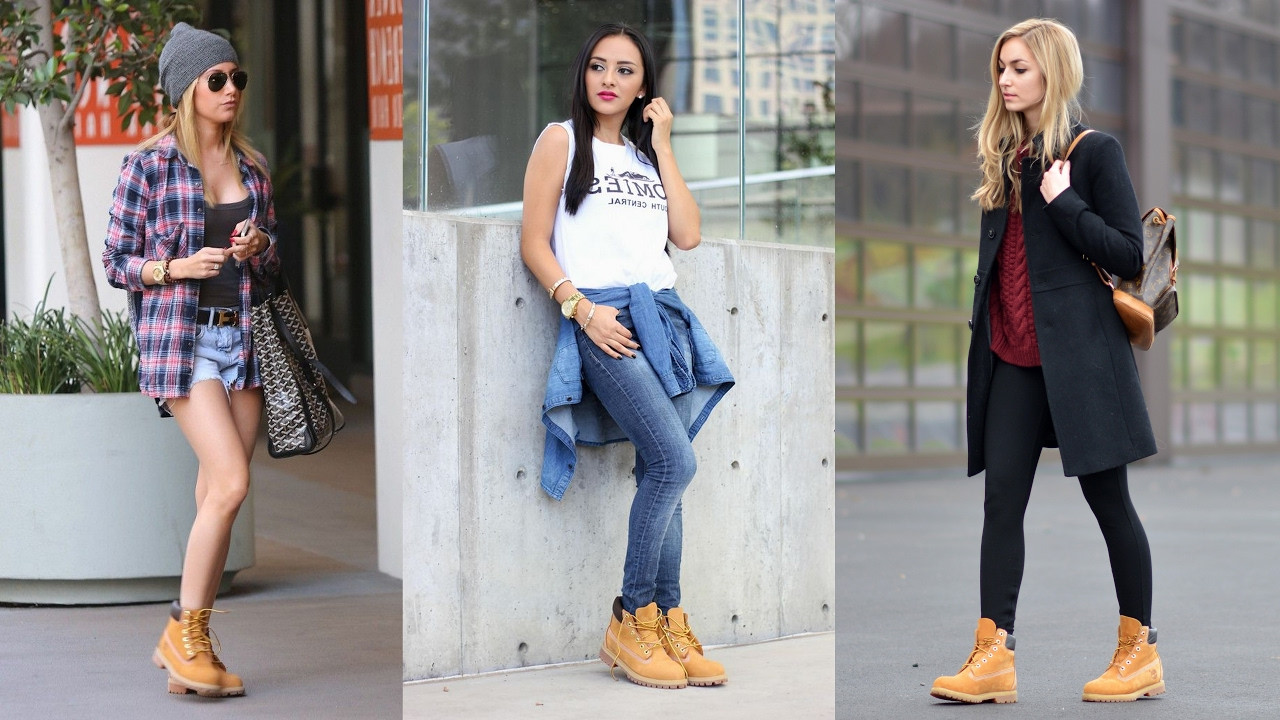 There are also many new skirt styles, which make fabulous casual outfits when you add a trendy pair of Timberland boots. And as tan, camel and all shades of brown, sand and khaki are major fashion colors this year, what better boot to wear that the Timberland which will match with almost all of this year's most popular fashion colors. So whether you're into town punk, 'boyish' looks, hipster minimalism, double denim or your own Scene/Boho creations, here's some great inspiration for your new fashion outfits!
Military style trend
Timberlands complement a huge range of currently trend-setting styles, including green, beige and brown trench-coats, slim, long sweaters with leggings, all black ensembles and of course, skinny jeans. The addition of Timberland boots can instantly make any outfit look cool and practical. And as this year's wide leg jeans are often distressed or ripped, you can make the most basic styles with just a long jumper, ripped jeans, a black leather jacket and classic Timberlands. This edgy 'street' look is great for any woman who likes to look tough and stylish. And the masculine look and military inspired khaki bomber jackets are a big trend for this year.
Timberlands in feminine fashion colors
This year's main fall and winter colors are jewel colors like rich, deep purple, burgundy, dark sapphire blue, lovely new forest green, deep pink and especially all shades of brown, like chocolate, camel, sand, khaki and beige. And there are oversized jackets in subtle gray or brown plaid, as well as wool coats and trench-coats in these shades. And Timberland boots come in all of the fashion colors! So you can choose a matching or contrasting color of boots in purple, lavender, red, brown, green, gray, yellow, light-brown tan and various other shades.
And the summer colors are the pastel versions of these same colors, which include baby blue, soft pink, lavender, soft moss green, red plaid shirts and skirts, checked, pleated tennis skirts and lovely cropped cardigans in pastels, too. So this guide on how to wear Timberlands covers lots of feminine and edgy looks to cover you for every occasion!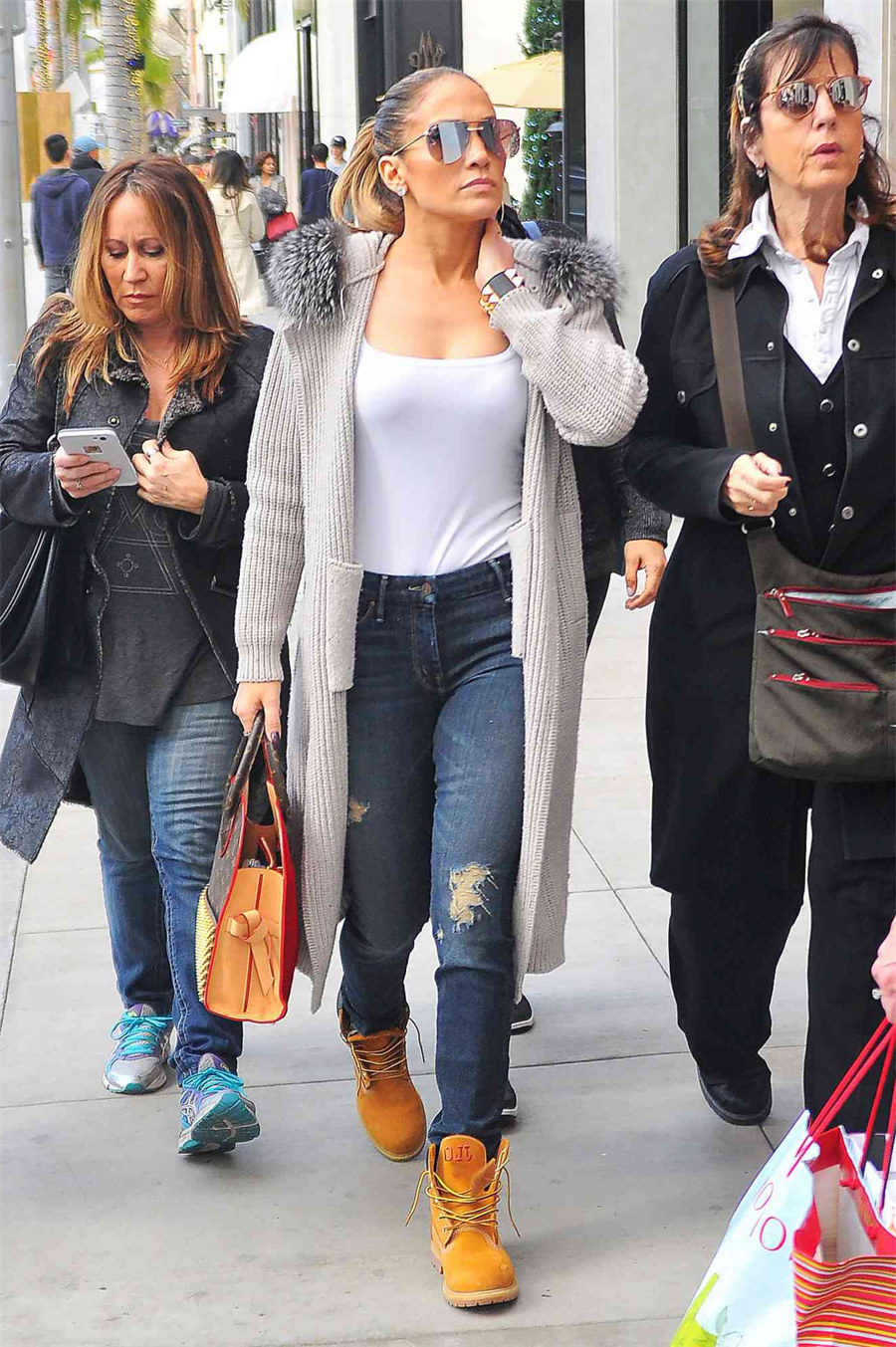 Dresses & Timberlands Boots
But Timberland boots aren't only designed for those who spend their time in the great outdoors. This year women are pairing Timberlands with all of their outfits from flares, bell-bottoms, boot-cut and straight-cut jeans, as well as skinny jeans. And in spring weather you can see women with thick tights and dresses worn with their favorite suede Timbs. Timberlands look great with dresses!
Long knitted dresses are already in the stores and you can create a dramatic and figure flattering look for the office or daily wear with a long dress and Timberland boots. For example, a conservative black knitted dress with long sleeves, hugs the figure, but not too tightly for the office. And finishing off the midi-length dress, you'll have about 4 or 5 inches of bare leg and then lovely soft yellow, flat boots.
This is a subtly sexy and edgy style that flatters, without being over-the-top. And it's much smarter than wearing a baggy jumper and shapeless skirt to work! Wear with a gold colored pendant necklace and a large, black leather handbag for lunchtime shopping excursions. And, of course, Timberlands high-heeled block heels are great to wear with midi-dresses and flowing skirts in all seasons of the year!
Timberlands Boots & skirts
If you prefer skirts to wearing jeans all the time, you can still wear your Timberland boots to walk through crisp snow and change to dainty shoes at work if you like. Try this combo of a midnight blue quilted bomber jacket to hip length, over a pretty, pastel blue, cable-knit sweater and matched brilliantly with a soft, camel midi pencil skirt. Yellow Timberlands look perfect with this color combo and keep your feet comfy, warm and dry.
And for nights out, keep your look inspired by retro-1990's fashion trends. So wear white, Timberland boots decorated with a buckle, with a vivid red, midi-pencil skirt, a black belt bag and an over-sized white or black sweatshirt!
Timberlands Boots & animal-prints
Animal prints are still extremely popular and available in a wide range of shoes, bags, accessories, dresses, skirts, pants and bodysuits in this year's best fashion shops. And leopard, tiger and camel colors match perfectly with the various shades of beige, soft yellow and tan offered by Timberland's wide range of styles and colors. So how about wear a leopard print bodysuit, with black leather tight pants and tan Timberlands? Add a short black, biker jacket and a black beanie hat for a super-cute outfit.
Sweaters & khaki jackets with Timberlands Boots
Starting with a useful and attractive fall/winter/spring idea, you can wear your slim blue jeans, with a crisp, pastel blue shirt under a navy sweater with a yellow, burgundy and black tribal pattern decoration the tops of the sweater and unusually, the cuffs. Show your pale blue cuffs turned back over the sweater cuffs and emphasize the blue shades with a pastel-blue cross-body back. Tuck your jeans casually into the top of your Timberland ankle boots and match with a light khaki jacket. Light blue is one of the important colors for this year, along with tan and khaki/camel. And you'll love how well these colors go together for an everyday, outdoorsy style that's features all the new trends!
Timberlands Boots & hiking outfits
For a day out hiking in winter weather, wear a dull-green parka with a furry collar, or a cozy puffer jacket over a white sweater for warmth. Pick green camo-print slim jogging pants with cute zips across the knees, lightly tucked-in to pale brown Timberland boots.
Cute travelling outfits & Timberlands
When you're travelling, you must wear comfortable clothes, but you probably also like to look fashionable. Am I right? Well, try this idea of a black scooped-neck top with medium-light wash skinny jeans and Timbos in trendy soft yellow. Tie a highly fashionable, red tartan flannel shirt around your waist to add color, shape and texture. And when you feel cold, you can wear it and feel comfy in its soft texture.
Urban bomber jacket with boyfriend jeans & Timberlands
Waist-length, black bomber jackets in quilted fabrics are great to layer over a long, white tee shirt, distressed, boyfriend jeans and your Timberlands. These jeans give a relaxed fit, for a super-casual image and black jackets look great with long blonde and copper-colored hair draped over the shoulders.
Wash-blue skinny jeans with horizontal knee rips and cute little cuffs show off the soft yellow-tan color and style of your Timbo's perfectly. Complete the outfit with a long, beige sweater and a short, black biker leather jacket with a buckle and a shearling collar. And add a feminine touch with a rectangular, cushioned, black handbag with a pewter chain shoulder strap. It's a gorgeous look!
Timberlands Boots & shorts
Look fresh and capable in denim shorts and Timberland boots when you have to work or play outside in hot weather. Wear with a crisp white shirt, a flattering V-neck, and white socks just showing above the top of your boots. Add a leather belt and a pretty handkerchief scarf tucked into a side belt loop for a feminine vibe. And you don't have to stick only to denim shorts, Timberland's summer colors match with floral prints and girly shorts perfectly!
In town, you can wear a high-fashion, red plaid flannel shirt over a white spaghetti-strap tee-shirt and ragged edge denim shorts with your Timberlands. The shirt should be one or two sizes too large for your usual size, to tap in to the huge trend for over-sized clothes that set to be a major fashion this year! And red looks great with long, dark hair, which will help you look your absolute, gorgeous best!
Wide-leg jeans & high-heel platform Timberlands Boots
If you're short, you really need to wear platform high heels with flares, bell-bottoms, wide-legs, baggy jeans etc. So why not check out the fabulous, high, block-heeled Timberland boots that give the extra height most women need when wearing wide leg jeans. Wide velvet pants and corduroy trousers are also fashionable this year, so you'll be able to get a balanced look with Timberland boots and wide hems, as well as matching the colors easily!
Timberlands Boots with zippers & buckled styles
Faded blue, cropped narrow jeans with cut-off ragged hems look super-cool with beige-cream Timbos. The boots have a traditional lace-up detail at the front, but a super-convenient zip on the inside leg of the upper! And Timberland have also introduced a boot that has a decorative and functional buckles around the front, to make your feet feel more secure and your boots look different and trendier!
You've got to hand it to the Timberland company, they've produced a fantastic range of fashionable, functional and comfortable shoes in lots of attractive styles for women to enjoy. They obviously realize the importance of matching their boots with your fashion colors, and they always make sure you have a full range to choose from. And they've been in business since the 1950's, so always giving their customers what they want is clearly their best marketing feature!