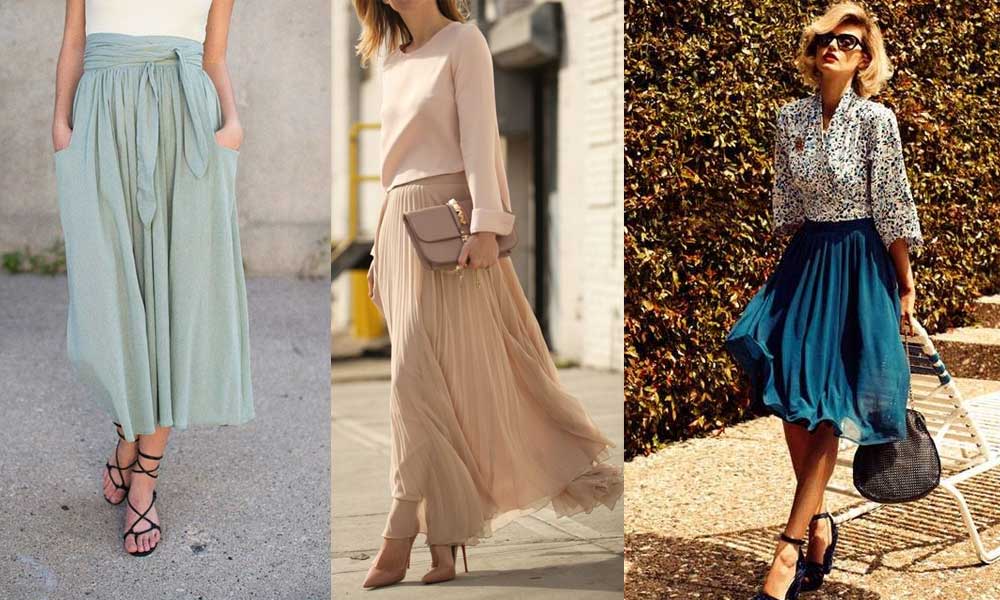 As its title suggests, a midi skirt is a skirt with a length that's in between that of a mini skirt and a maxi skirt. The hem of most midi skirts falls midway down your calf, somewhere between your knee and your ankle. Midi skirts automatically flatter every body size, shape, and type. They help your waist appear slimmer while enhancing and emphasizing the natural curves in your hips and backside.
Since they complement everyone, it seems like it should be easy to throw on any old midi skirt and look great in it. However, midi skirts are often difficult to choose and incorporate into a look because of their unique style and cut. Despite this challenge, there are many simple ways to style a midi skirt so you can take advantage of its body-enhancing benefits and feminine finish in your daily looks.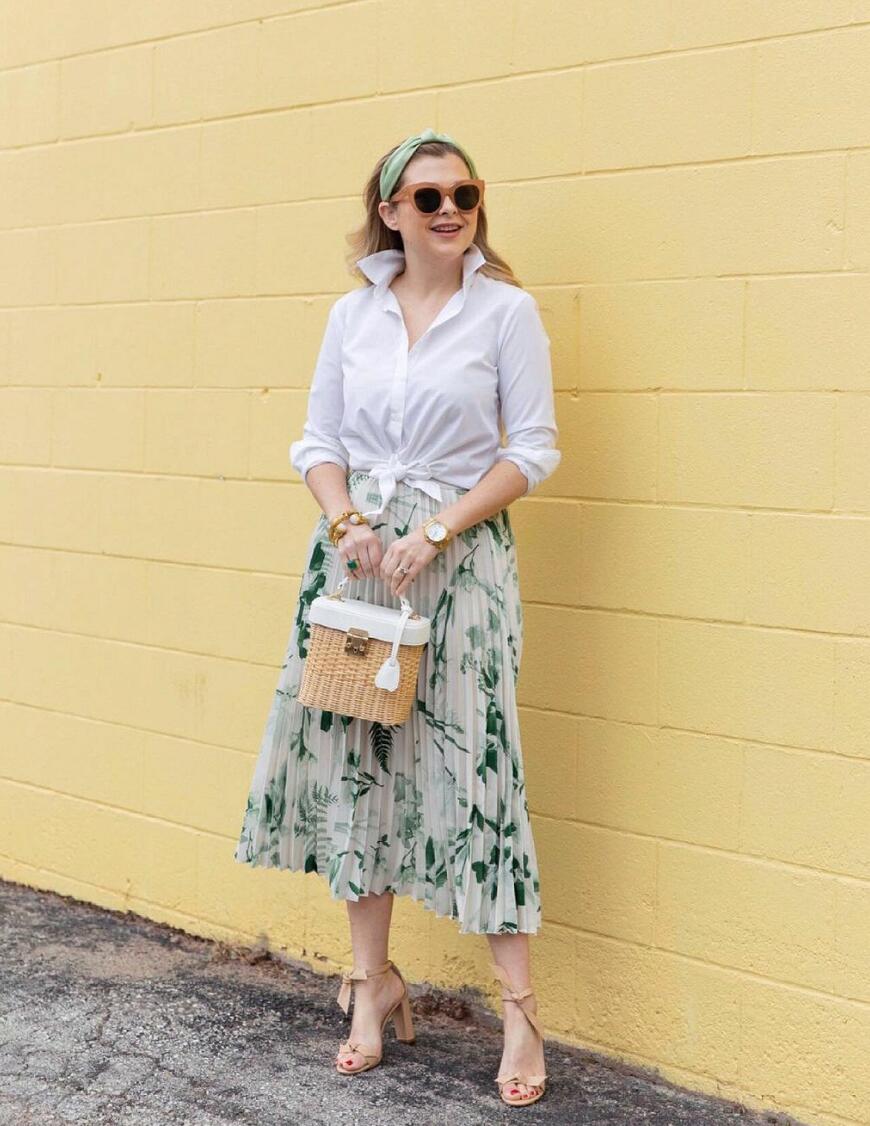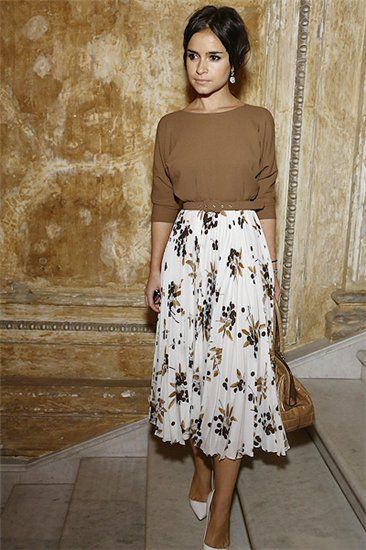 1. Balance It Out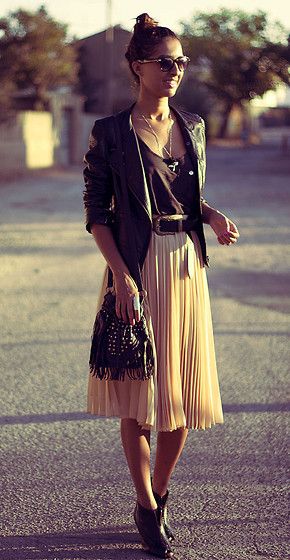 Balance is very important then it comes to a midi skirt. These skirts fit tightly around the waist, but they get looser around your hips and legs. Keep this in mind when choosing pieces to pair with your midi skirt. Make sure that some parts of your outfit fit snugly so that your natural shape stays visible. Show off your shape with a tight crop top or a top that's tucked into your skirt at the waist.
You also want to make sure that your shoes attract attention in order to balance out the in-between hem length of your midi skirt. Stay away from flip-flops, basic flats, or any overly simplified shoe styles that don't add an eye-catching touch to your look.
2. Modernize Your Look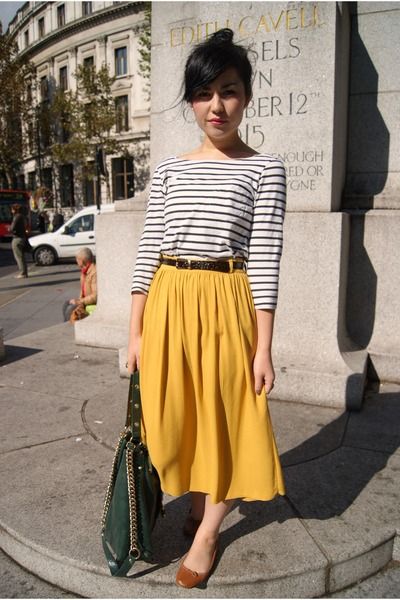 Midi skirts are a modern trend in and of themselves, but they do have the potential to look a bit frumpy when styled incorrectly. Be aware of this possibility and add some modern touches to your look to keep your midi skirt looking fresh.
Incorporate other relevant trends into your look to modernize the appearance of your midi skirt. Layer your midi skirt over a tight bodysuit with lace detailing. Pair a solid midi skirt with a simple fitted top and a cropped embroidered denim jacket. Tuck a parachute-sleeved striped top into a neutral, solid-colored midi skirt. Add subtle hints of today's trends in with your midi skirt to guarantee a modern finish for your look as a whole.
3. Rock Your Shoes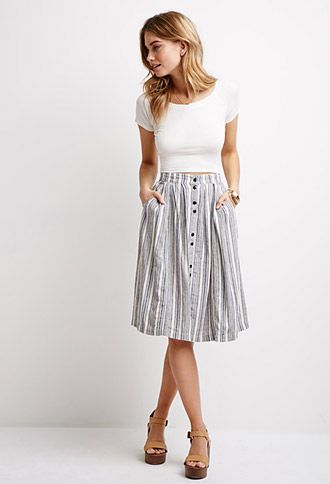 The shoes you wear with your midi skirt make or break your look as a whole. You want to choose a pair of choose that are eye-catching enough to draw attention to the lower part of your outfit and keep your look balanced with a put-together finish.
That being said, you have a ton of options when it comes to shoes that you can pair with your midi skirt. If you want to sport a more casual finish, go for strappy sandals. Lace-up sandals that tie a few inches up your calf are a great choice because they make the transition between shoes, bare calf, and skirt look more fluid and less choppy. Chunky heels are another stylish option. The block construction of these heels adds balance to your look and the elevation helps slim and elongate your calves.
4. Don't Be Afraid of Texture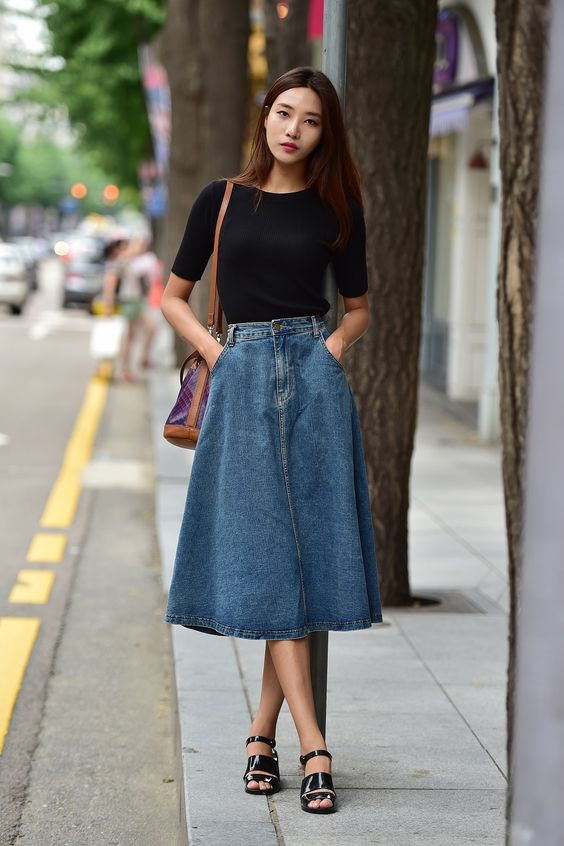 Midi skirts are available in a wide range of styles and materials. Choose a midi skirt that includes some fun texture and detailing to create a unique twist on this trend.
Denim midi skirts might seem like a bad '80s flashback, but they're easy to rock in the present-day fashion world too. Pair a fitted denim skirt with a loose cropped blouse. Or, go with a fitted top in an eye-catching pattern to balance out the mass of solid denim on the bottom. Try other textures, too, like velvet skirts, button-down skirts, or frilly skirts. Just make sure that you keep your top simple and let your skirt be the focal point of your look.
5. Get Creative With Your Top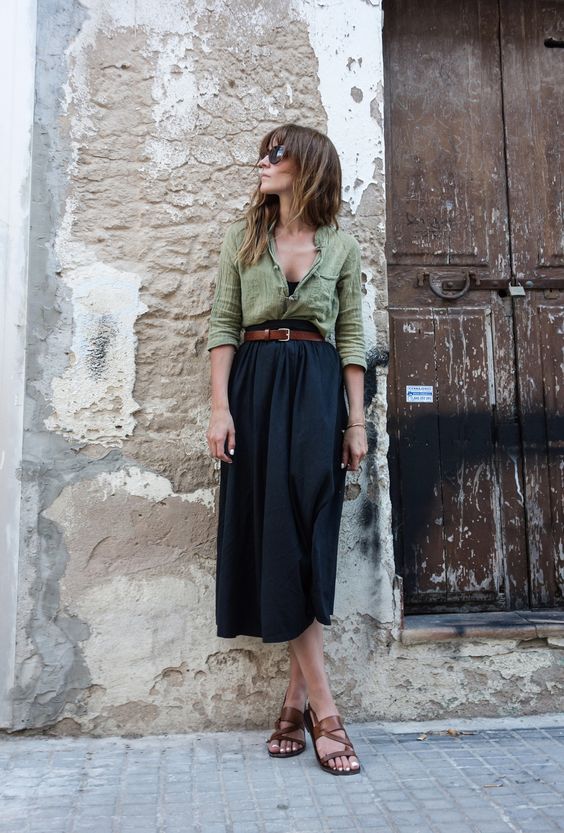 The options are endless when it comes to tops that you can wear with your midi skirt. The key is to look outside of the box. Try a variety to set your look apart from the crowd.
For a sexy professional vibe, tuck a button-up shirt into the waist of your skirt and add a pair of slim heels. Rock a city chic finish with a patterned skirt paired with an oversized leather jacket layered over a fitted solid crop top. Counteract the flirty, feminine finish of your midi skirt with a graphic tee. Chop the bottom of the shirt into a loose cropped style and leave it untucked over a solid skirt or tuck it in. Pair your skirt and tee combo with a pair of ankle booties or heeled lace-up boots.
6. Skimp on Skin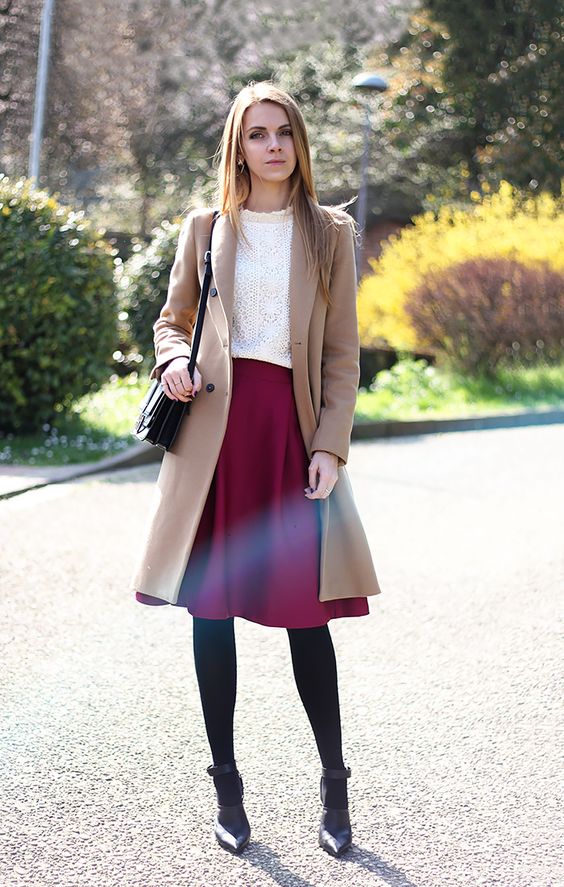 There's nothing wrong with showing the skin between where the hem of your midi skirt ends and the tops of your shoes begin. However, you can put your own twist on the midi-skirt trend by covering up these few inches of skin with socks, tights, or boots.
Layer heeled knee-high leather boots under your midi skirt for a whimsical, bohemian finish. Or, rock lace-up combat boots with long socks to maintain balance in your look. If you want to opt for tights, pair them with ankle booties. Just make sure that your shoes include some texture so your legs and feet don't blend together.
7. Add Accessories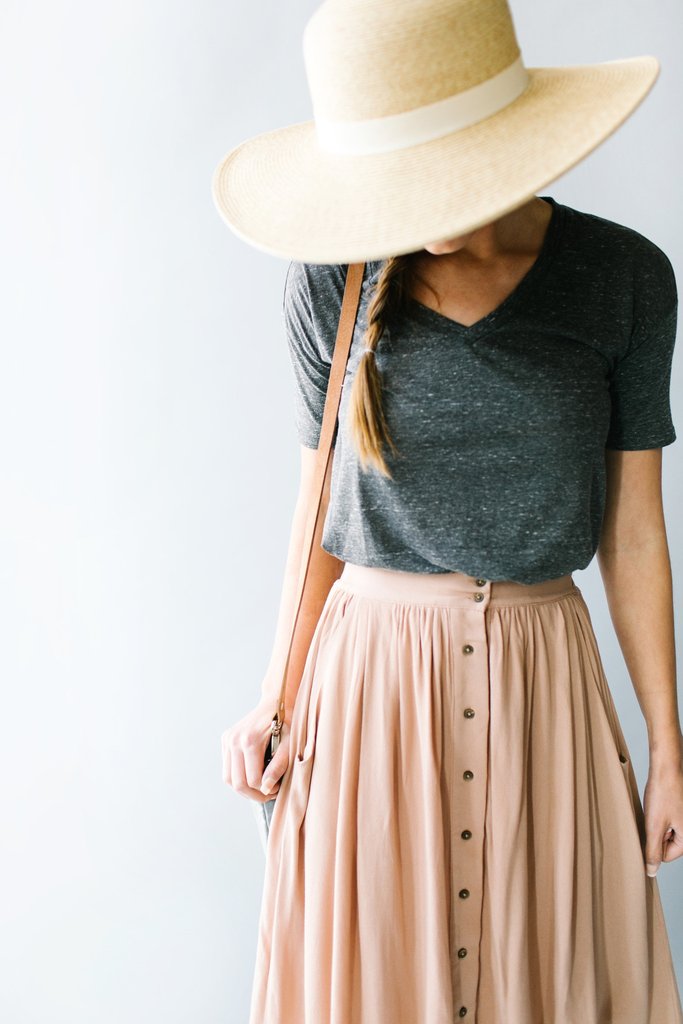 Your midi-skirt look wouldn't be complete without a few choice accessories. Accessorizing your midi skirt is easy and fun. There are a ton of accessory choices that complement a midi skirt.
Pair a wide-brimmed sun hat with a button-up midi skirt and a loose blouse for a boho, feminine finish. Add balance to a fitted skirt with a snug top by adding statement jewelry like bangles or a pendant necklace to your look.
Midi skirts are a cute and classic style choice for any season. Experiment with your midi skirt and other pieces and accessories you already have in your closet to create a unique look that's fashionable and fits your personal style.