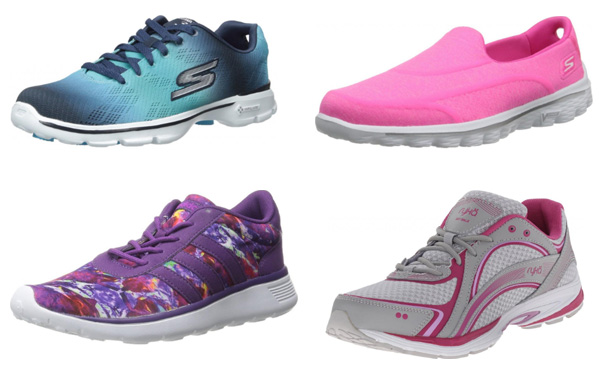 Best & Most Comfortable Walking Shoes for Women
Find the best and most comfortable walking shoes for women here! Everyone loves the feel of comfortable walking shoes and that's one of the main features we've used to select our Top 10 Best Walking Shoes for Women.  The year is important, too, as shoe manufacturers are constantly updating their walking shoes for women to include advances in materials and technology.  This year is certainly the best year in history for buying practical and attractive shoes that keep feet stable, supported, comfy and cool! Convenience and performance are also important when choosing your best walking shoes. Therefore, we've reviewed a wide variety of the best walking shoes for women, including slip-ons for those who can't manage laces or just prefer a smooth upper.
In addition, we've tested the best women's walking shoes made from a variety of materials, including leather and fabric uppers. Leather gives a more weatherproof shoe, but fabric shoes are lighter to wear and offer better foot-cooling properties.  Finally, we've included a selection of trendy, high-fashion and classic walking shoes for women, because we all have our own personal fashion style.  There are tie-dye, paisley, leopard-skin and my own favorite – 1950's retro polka-dot patterned shoes that are such fun to wear!  Read the women's walking shoes reviews below and get up-to-date with the best, comfy walking shoes right now!
10. 

Brooks Women's Addiction Walker Walking Shoes
These attractive white walking shoes for women have the features of a running shoe, in a casual walking shoe.  It has energy-returning MoGo cushioning, strong support and a slip-resistant sole. The MoGo midsole design has won an award for superior quality cushioning and comfort.
These are the best walking shoes for supporting low-arches and controlling pronation, according to testers with severe over-pronation and flat feet.  The uppers are made from supple leather which is waterproof and durable.  Available in various width sizes, so you can get a shoe that truly fits your feet and women with high arches say you can put arch supports in with no problem.
9. 

Saucony Women's ProGrid Integrity ST2 Walking Shoe
The smart-looking women's walking shoes are also recommended for running and other athletic activities.  This upper is made from waterproof leather and has a Stretch Zone (trade-marked) that gives extra comfort to the forefoot.  This is great for those who find some walking shoes for women a little cramped in the toes.
These shoes also have HRC Cushioning with Strobel Board, which helps normalise the gait and cushions the heal as it hits the floor.  These are one of the best walking shoes for women who require a versatile, flexible shoe with excellent traction from the rubber sole.
8. A

didas Women's Superstar Foundation Casual Sneaker
These trendy, walking shoes for women are actually a slightly retro-look tennis-shoe/running shoe with the original Adidas Shell-Toe design.  The upper is made from smooth leather with a pattern made from different textures, lots of seams and black stripes.  The rubber cup-sole is totally flat and there's a reinforced synthetic toe-cap.
Testers found these shoes very comfortable and they are one of the best women's walking shoes for those who like retro-fashion. These are the authentic Adidas casual sneakers that triggered a revolution in comfortable, street-wear shoes in the 70's!
7. 

Reebok Women's Skyscape Runaround 2.0 Walking Shoe
These are one of my favorites for the neat and simple lines and the huge range of trendy colors.  There's a blue option with white polka dots, lovely leopard skin, tie-dye, retro-paisley and other plain or patterned versions!  I think sneakers that match what you're wearing just look more attractive than a pair of grubby, white 'trainers'.
These walking shoes for women do offer a wide selection of cute, classic and high-fashion alternatives!  The shoes are lightweight, with a foam-cushioned fabric upper and good quality rubber soles for grip.  The seamless design and comfort makes these one of the best walking shoes for fashion-conscious women!
6. 

Skechers Performance Women's Go Walk 2 Super Sock 2 Slip-On Walking Shoe
These brightly colored walking shoes for women are great for those of us who really don't like wearing lace-up sport's shoes all day, every day.  These are slip-on walking shoes, which I prefer for convenience and how they look.  If fluorescent pink isn't your color, there are 21 other colors available in medium width women's sizes!
If you're used to wearing a small heel, these are perfect with an angled sole that gives lots of shock-absorption at the heel.  There's plenty of mid-sole support, too, and the integrated Ortholite anti-microbial sock-liner stops your comfy shoes being 'smelly'.  I loved testing these shoes which I found fashionable, practical and comfortable!
5. 

New Balance Women's WW577 Walking Shoe
Available in black and white only, these are one of the best walking shoes for women who need athletic-grade shoes.  This company puts a lot of emphasis on providing a range of sizes and widths, so users get a perfect fit.  The leather upper is weatherproof and has a padded collar for support and comfort.
Designed for comfort over long walking periods, this is one of the best walking shoes for women who like a classic leather walking shoe with modern cushioning.  Our tester wore these for three days spent with her kids at a theme park and says they are very comfortable!
4. RYKA Women's Sky Walking Shoe
These fashionable dual color walking shoes have a fabric upper designed to allow perspiration and air to move through, so your feet stay cooler.  They aren't as water-resistant as leather walking shoes for women, but can be machine washed to keep them looking smart.
Testers found these shoes very comfortable and liked the Memory Foam with a latex base.  It stops the sock-liner from staying compressed, so you get support all day.  The rubber sole gives good traction and durability.  These are one of the best walking shoes for women who want a very lightweight, but well-made shoe in 7 fashionable color options!
3. A

didas NEO Women's Lite Racer W Casual Sneaker
These trendy multi-colored walking shoes are another lightweight design, with light-foam cushioning and 'breathing' air-mesh uppers. The sole is made of rubber for good grip on different surfaces and you get extra stability from the heel overlay.
These snazzy walking shoes are intended as casual-wear for everyday use.  The insole has removable cushioned material made from visco-elastic 'rebound' foam, to give a very good fit.  Testers described these shoes as cute, lightweight, comfortable, sporty and stretchy. They are one of the best walking shoes for daily wear at school or work, rather than distance walking.
2. Skechers Performance Women's Go Walk 3 Lace-Up Walking Shoe (a lot colors)
The Skechers brand is an international market leader in trendy, casual shoes.  These are lightweight shoes with a synthetic sole and a full-length Goga energy-return insole for step-boost and foot support.  The 'breathing' fabric-mesh upper's designed to let sweat and hot air pass through and disperse into the air, keeping your feet nice and cool!
This is a fashionable shoe suitable for daily wear, rather than sporting activities. Testers found these walking shoes for women fitted wide feet and normal feet.  There are no uncomfortable areas from seams and these are popular lace-up casual shoes!
1. 

Skechers Performance Women's Go Walk 3 Slip-On Walking Shoe (more colors)
Our No. 1 shoe for the latest Top 10 Best Women's Walking Shoes, is a slip-on style with a lightweight feel.  The upper is made from synthetic knitted fabric, with an attractive zig-zag stitching design.  The pull-tab, cut-out at the heel is a super idea, making it easier to put on and take off these shoes.
This is an important point for women who have arthritis in their hands and need a walking shoe without tricky fasteners.  The rubber soles give good grip and the shoes are very comfortable. These were voted the best women's walking shoes for style, comfort and durability (and painful foot conditions)!