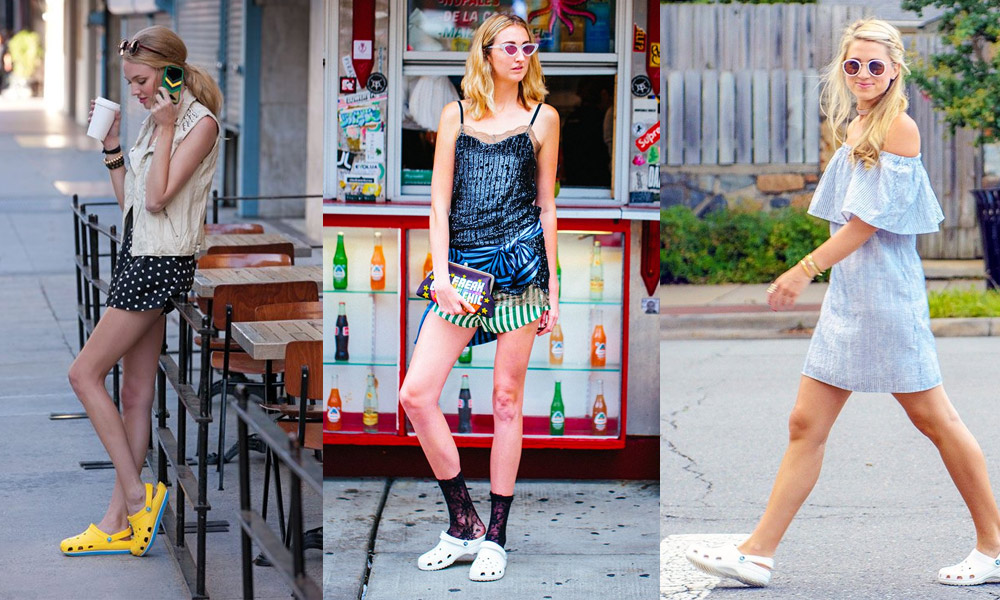 If you thought you'd seen the last of Crocs, think again because they are back in fashion! Crocs clogs are not the only sandal made by the Crocs Company, so there's probably a fabulously flattering Crocs sandal just waiting for you to discover it. But even so, the clog is the best-known design from Crocs and it's turning up in the most amazing places.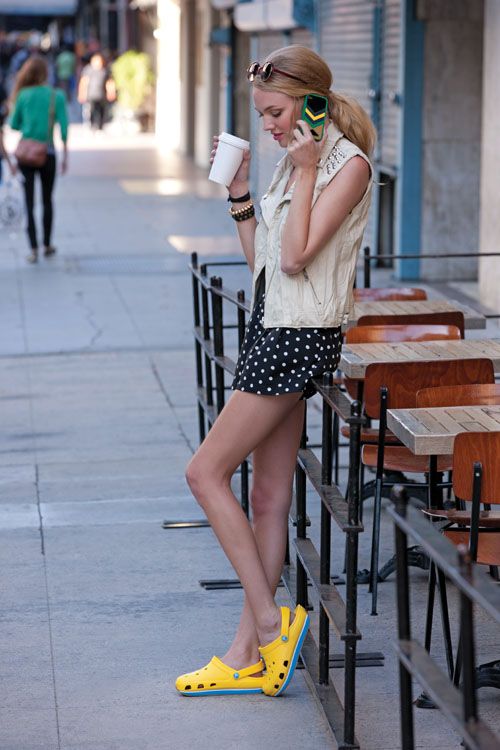 Last year's Emmy's audience was surprised to see actor, Nicholas Braun, wearing an expensive navy blue suit teamed with a pair of navy-blue Crocs' clogs! And owing to the incredibly wide range of trendy and comfortable Crocs' sandal styles, there really is something attractive and stylish for every fashion fan to wear.

How and what to wear with Crocs
Crocs & wide-leg jeans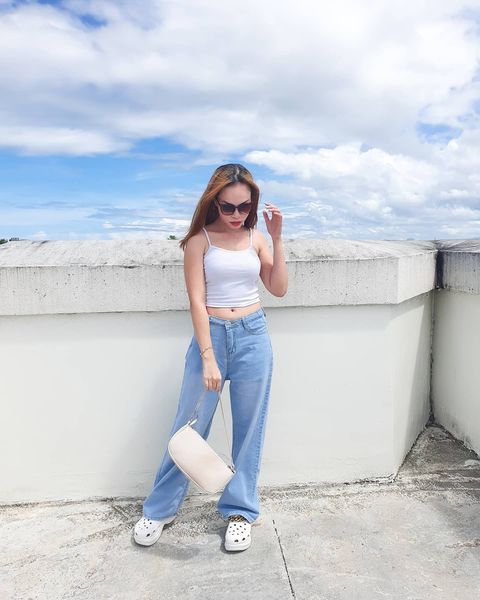 In particular, I think the chunky Crocs with their large silhouette will be worn by those who switch to wide legged jeans and trousers, as they are a good balance with wide hems. The benefit of Crocs' clogs is their extreme comfort compared with most other shoes. And they are very lightweight, with air-vents keep your feet nice and dry and free of perspiration.
However, if you're one of the people who have vowed never to wear Crocs' clogs, you can now choose from a very wide collection of daintier and more flattering sandals.
Balenciaga & Christoper Kane Crocs
The new range of slender and dainty Crocs' sandals will match perfectly with narrow jeans, skirts, dresses, shorts and all of your summer outfits. In fact, Crocs have worked with famous designers, like Balenciaga and Christopher Kane to bring out very modern and fashion-forward sandal designs.
So here are the fabulous, new ideas showing how to wear Crocs clogs and summery sandals for a contemporary fashion look.
Faux-fur winter Crocs snow shoes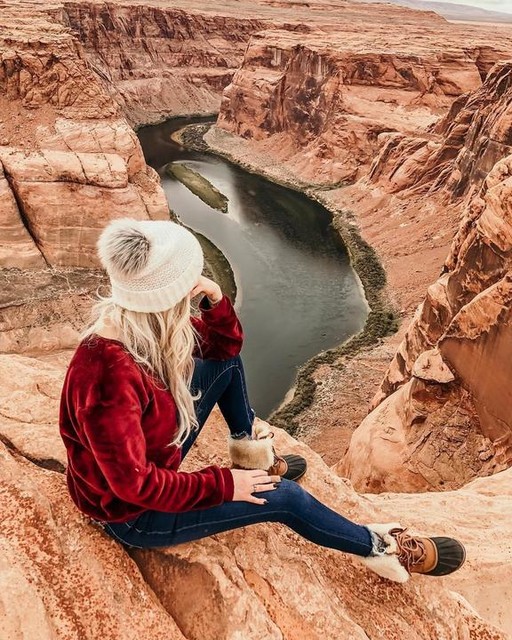 Crocs have introduced a fabulous range of furry shoes to wear at home or around your neighborhood. They look great and feel even better with a layer of faux-fur running around the top of the uppers. Style your furry Crocs with a striped sweater and Mom jeans and you're ready to step outside in cool weather. And there are even pairs of warm, fuzzy socks to match with your comfy winter shoes.
Crocs Sophisticated Black Pearl flat mules
For holidays and sightseeing in warm weather, try Croc's Black Pearl slippers that add a touch of elegance to a chic casual ensemble. Wear a white tee-shirt of flowing, flimsy blouse top, with a black bra showing underneath. Add ice-blue ragged denim shorts, with a black belt and your sophisticated flat black mules, embellished with black and pearl decorations on the top.
These lovely summer sandals are great for cycling or walking around comfortably in warm temperatures.
Crocs rose-gold metallic mules for the beach
These are super-stylish, dainty and comfy mules you can wear on the beach with family and friends, or when you're just idling away a free afternoon alone. The cute rose-gold color is worlds away from Crocs' bright, galumphing clogs and the shade is soft enough to wear with your favorite crop top and shorts, or a bikini top and long summer skirt. Worn with a small brimmed straw hat, this creates a feminine and attractive outfit.
Funky mismatched color Crocs clogs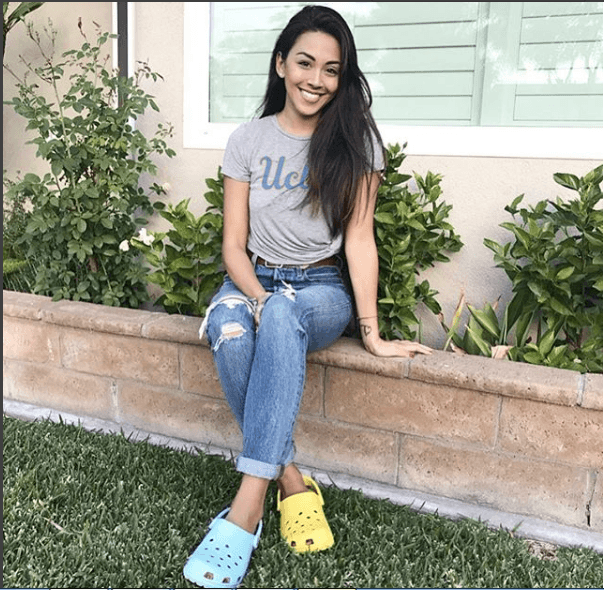 If dainty colors aren't your thing, have you tried the mismatched trend yet? Mismatched earrings are big for this summer, and surprising color matches are everywhere. So why not go funky yourself by wearing different colored clogs? Colors like aqua on one foot and soft yellow on the other are great fun, and of course, the color options are as wide as the clogs trendy color range.
Wear with ripped, narrow cuffed jeans, to show off your shoes and a graphic tee-shirt in summer. In winter match a rich, red sweater with ripped jeans and wear with on red and one white clog. Or wear them with a flowing, floral midi-dress for a summer party!
Feminine strappy pink Crocs sandals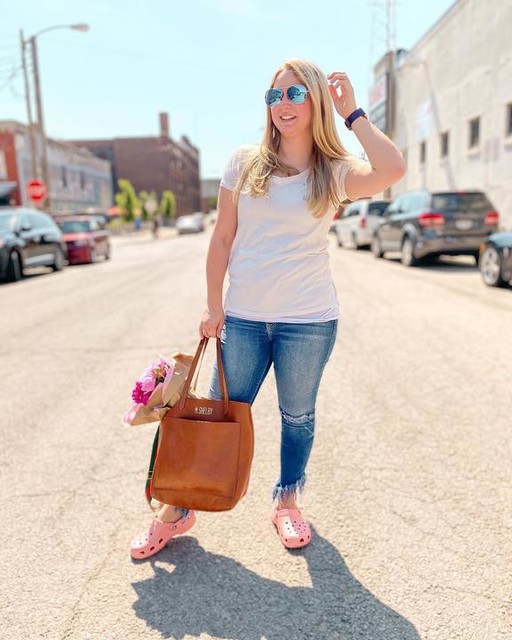 Crocs gorgeous, dainty, flat sandals are strappy and feminine, showing off your pretty feet in summer. You can get comfy pink sandals, which have trendy contrasting straps across the front in orange and deep pink. Crocs understand that women need soft, but cute sandals to wear with dresses and fancy, pink plaid skirt and ruffled, white top outfits.
Crocs Logo Shoes for a sporty look
Black Crocs mule sandals look sporty and chic with the 'crocs' logo printed across the tops in bright white. Worn with athleisure black spandex leggings, they give you a fashionable sport look, especially if you wear white ankle socks with black borders with them. And they're also a great innovative look to team with your flared jeans, as the extra cushioning keeps your feet comfortable when you're out for a walk or shopping with friends.
Minimalist white Crocs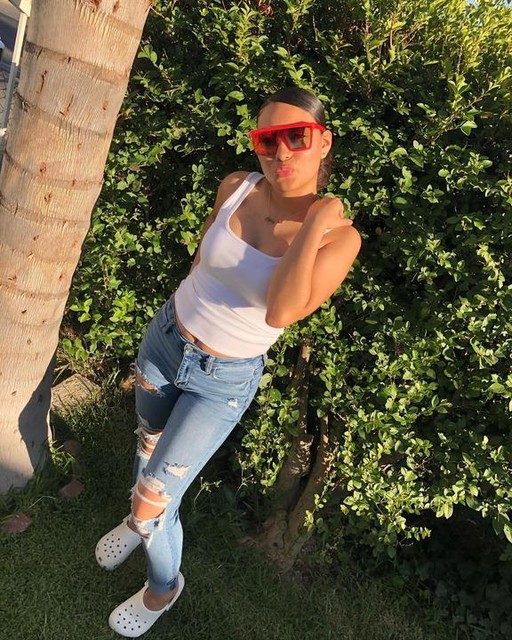 If you like the minimalist look that's simple in style and color choices, why not wear a white tee, with white wide-cut jeans and a pair of comfortable white Crocs clogs to match. Let the hem of your wide jeans just break a little over the top of your clogs. And you'll get a good proportion between wide hems and large silhouette shoes for a chic finish!
Fancy socks & Crocs
Crocs are no longer a sock-free zone, with so many patterns available in the innovative clogs these days, they have become popular with lots of Alternative Scene/Boho fashion groups. So if you have a fancy sock collection that gives you a Lolita look, you can now wear white crocs decorated with soft pastel color lines with pastel striped socks and enjoy how feminine they look. Wear green-lined white Croc clogs with your fave socks and a pink, flimsy mini-skirt and pink leather jacket.
And accessorize with a cute brimmed pink hat, a bright rectangular handbag and heart-shaped, Lolita sunglasses.
Street style in Crocs boat shoes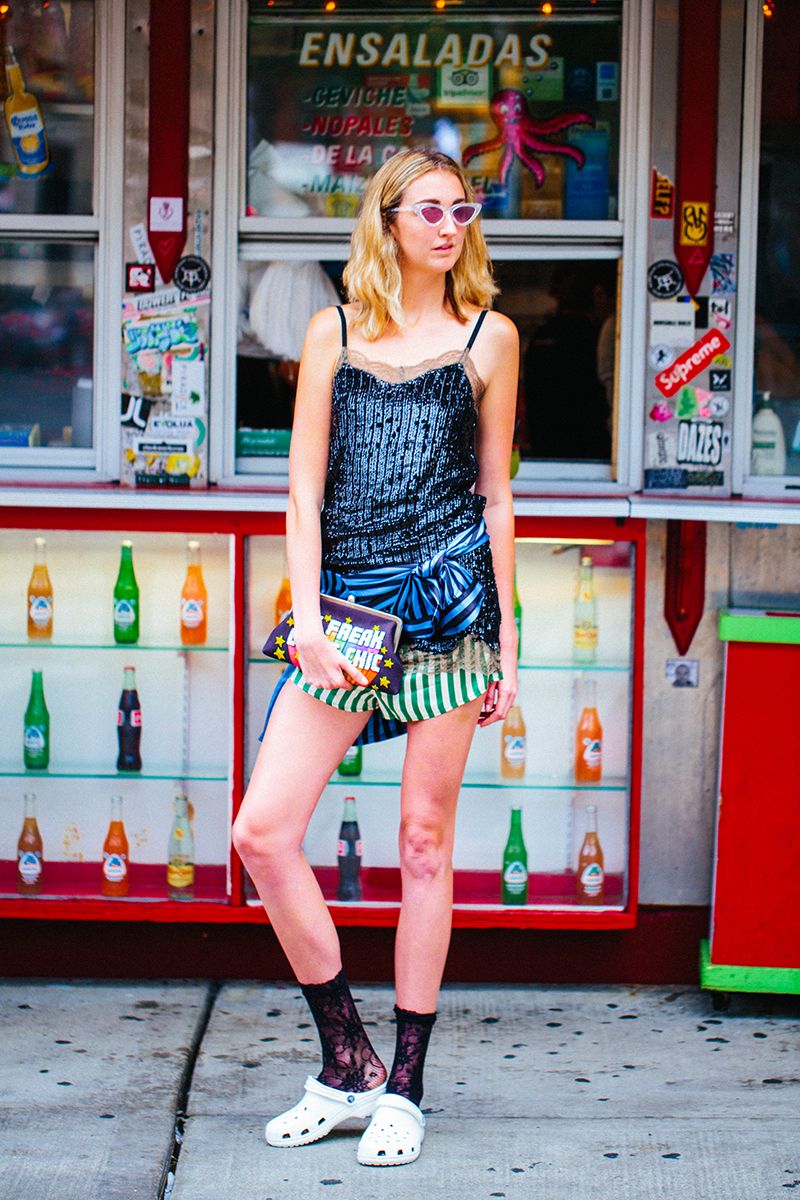 Crocs boat shoes are a super-popular new trend, with a flat sole and some bright and funky colors to make them the highpoint of your outfit. Wear with a black, collarless 'suit' leather jacket, a white tee or a graphic tee, black skinny jeans and maybe a trendy checked flannel shirt tied around your waist for color and texture contrast.
A blue and pink checked shirt will look fantastic with hot pink Crocs boat shoes!
Fabulous retro Crocs' sling-backs
I do love to see retro and vintage footwear coming back into style! And the vintage sling-back was the height of sophisticated fashion in the 1960's. Sling-backs from Crocs are comfortable and highly fashionable with a flat sole to keep give them a more casual twist than their last outing. Wear them for everyday wear with a long sweater or graphic tee-shirt and Mom jeans to show your ankles and your matching blue sling-backs.
Crocs embellished party clogs for comfy fun
Embellished Crocs clogs are designed to match with all things metallic and party-style for this year. So you could wear a metallic golden sequined top, with a darker gold metallic, ruched skirt and metallic pewter tights. Cover with a fashionable black blazer with funky, split sleeves and embellished party clogs for a crazy, part look!
Crocs wedge-sole sandals for summer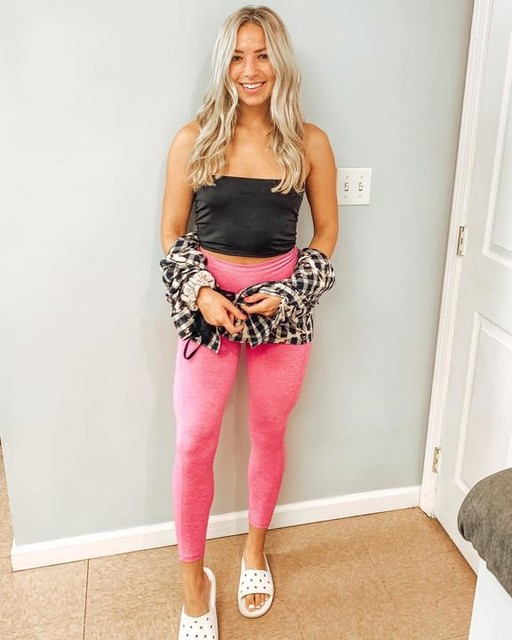 Are you looking forward to casting off your layers and itchy sweaters to let some warm air get to your arms and legs? Well take a look at the latest Crocs Wedge Sandals, which are perfect for wearing with dresses, skirts, flares, bell-bottoms and all wide leg jeans, as well as your faithful skinny jeans and denim shorts! Wedges with skirt/dresses look very cute and they are perfect for giving smaller women the extra inches they need to look good in wider-leg pants. If you want Crocs that make your legs look longer in everything – get some Crocs wedge-soles!
Crocs & animal prints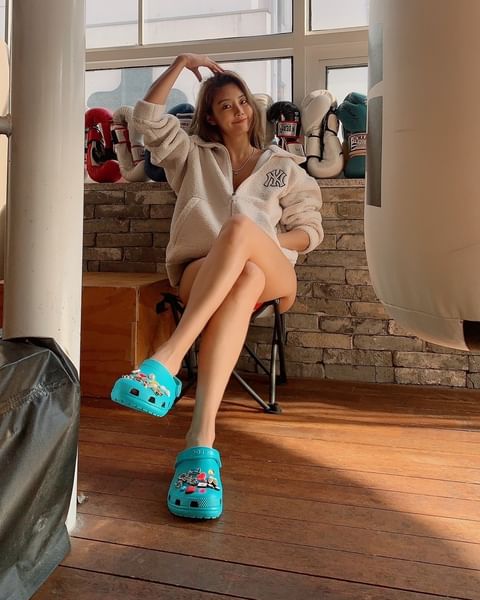 If you like a minimalist look or work in design, where everyone just wears black every day, add some life to your outfit with a pair of trend-setting zebra-print Croc sandals. In light-blue and black colors and with a dark navy cropped top and skinny pants suit, they will look extremely sophisticated and quite unique! And add a narrow brimmed hat for a semi-formal finish if you're attending a special fashion event.
Crocs leather & suede clogs
Crocs have also offer leather and suede clogs in classic, feminine style that will keep your feet warmer and comfy, in cooler seasons. The extra covering is just what was needed to allow you to wear your favorite clog style in autumn, winter and spring. And this style also has a higher heel to make wearers appear taller and more slender. Just what you need for wide-leg pants, too!
There's been a total Crocs revolution and you can now wear the original clogs in a ton of different colors and color patterns, with embellishments and all sorts of decorative options. But Crocs have also worked with the top designers to broaden the appeal of their first footwear design to include every style that a woman could desire! And that's why they're making a huge comeback this year!