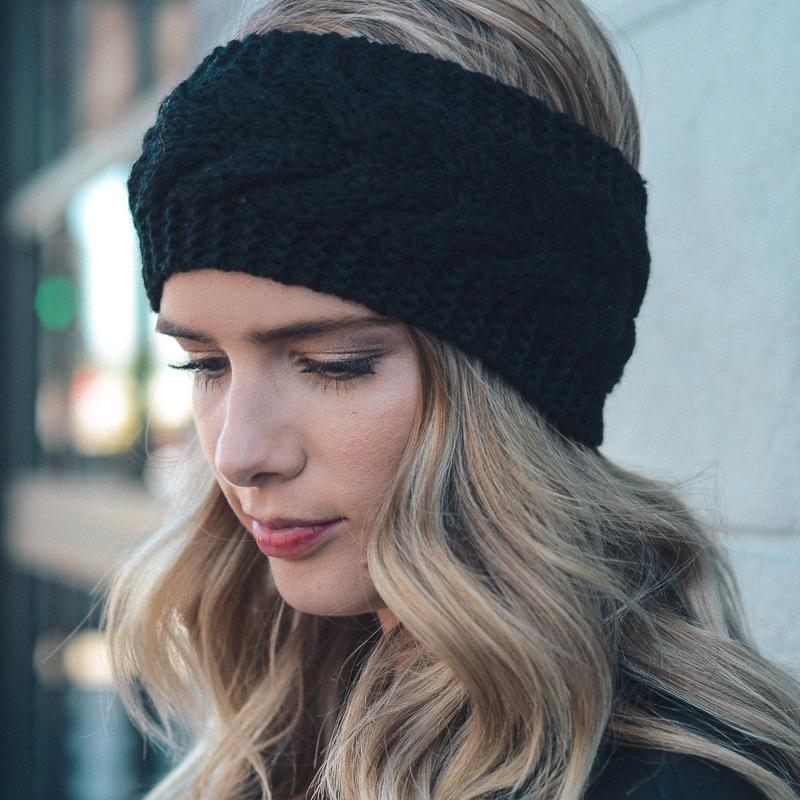 This season's fun and practical new fashion accessory is the trend-setting ear-warmer! And although ear-muffs, hats and scarves can also keep your ears warm and protected from strong winds, the 'ear-warmer' is a new way to keep warm with style. So it's a must-have for we fashion fans who like to look up-to-date and avoid flattening our hairstyle!

The most fashionable ear-warmer, 'headbands', are made from knitted or crocheted wool, mohair, merino wool, nylon and acrylic blends. This mix of materials ensures that your ear-warmer won't shrink in the wash and keeps the price down, as natural materials like wool are pretty expensive these days! And a soft and stretchy ear-warmer head-band is a vital piece of winter weather equipment to protect your ears from unseen damage.
Pretty pink & white ear-warmer with textured bands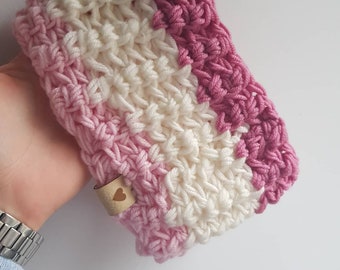 Made from 100% merino wool, this luxury ear-warmer is the perfect gift for family, friends or yourself! It's raspberry and vanilla ice cream colors are jaunty and uplifting for winter-time. And light colors always make you look younger!
Why wear ear-warmers?
Most of us are aware that as heat naturally rises, we all lose lots of heat from our head. But did you know that this actually affects your core body temperature and your internal organs? Low temperatures are a known contributory factor to hearing loss and no-one wants to lose their hearing because they didn't bother to protect their ears from the cold winter weather!
So bear in mind that once the temperature dips to 59ºF, you must ensure your ears are well-covered. That may not seem excessively cold to some of us, but this is the temperature when the brain's temperature controller starts retaining heat to keep your internal organs working properly. And that heat moves blood away from your ears, nose, hands, feet and leaves them needing warm socks, gloves, scarves and ear-warmers.
So – now we are all motivated to protect our ears at all costs, let's consider how we can wear trendy knitted ear-warmers to give our fashion style a spirit-lifting boost!
Wardrobe color check
This is always my first 'port-of-call' before I go shopping for fashion clothes and accessories. I haven't always been so organized, but a few years ago I looked in my wardrobe and realized that I had lots of great clothes – but I couldn't wear them because nothing matched! I love patterned shirts – but I also love patterned pencil skirts! So I was more or less restricted to wearing jeans every day with my patterned shirts and the skirts were not getting their fair share of wear at all!
So from that day I started planning my shopping trips with a list of plain tops that I could match with my pretty skirts. And I've found that it saves me a fortune in uncoordinated clothes that I couldn't wear before they had a matching partner! And an ear-warmer is the type of fashion accessory that has a fashionable and practical function, so it needs to mix, match or tone with your favorite colored clothes.
Use the Color Wheel
If you have a fairly definite set of color tones that you tend to stick to, then your job is easy and you'll see straight away which color will complement your clothes. If you have time, use one of the many professional Color Wheels available on the 'net and that will show you both complimentary and opposite colors. This helps if you don't just want to match your ear-warmers to your clothes, because you can wear surprising color combos that actually work really well if you consult the Color Wheel! For example, these opposites on the wheel create some fabulous modern looks:-
Pinks and greens
Yellow and violet
Red and blue
Earth tones are warm and comforting to look at.
If you're keen on fluorescent colors, get ear-warmers to match and you'll strengthen the individual style of your look tremendously.
Jewel colors like ultramarine, purple and garnet-red are always popular against a dark overcoat or jacket.
White & pastel shades look young and perky.
Crochet flower ear-warmer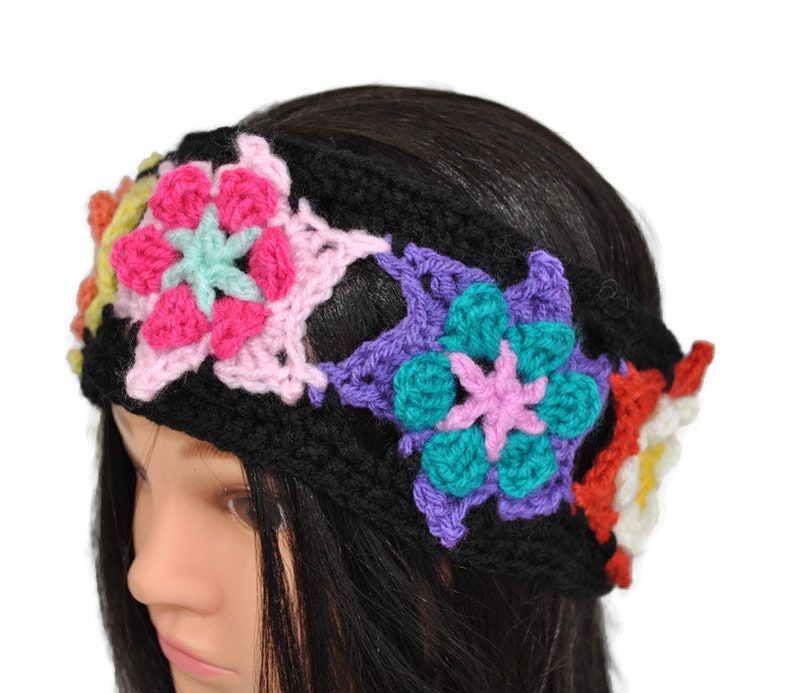 This acrylic head warmer is bright and attractive, reminding us that spring flowers are not too far behind! It's soft, comfy and cosy and displays traditional crochet work, which seems as if it will stay popular for ever! Every time I see this style, I think of Hawaii and sunshine, so it has a clever psychological effect, too!
What style ear-warmer is best?
As ear-warmers are designed to wear both indoors and out of doors, try to build up a small range that matches your favorite fashion styles. For example, sporty outfits look perfectly 'finished' if you add a 'sporty' style ear-warmer made in the same type of fabric blend as your outfit. If you just want to look relaxed for day to day wear, choose an ear-warmer that brings out the color of your hair, to add a chic vibe.
Chic dual-color wrap-over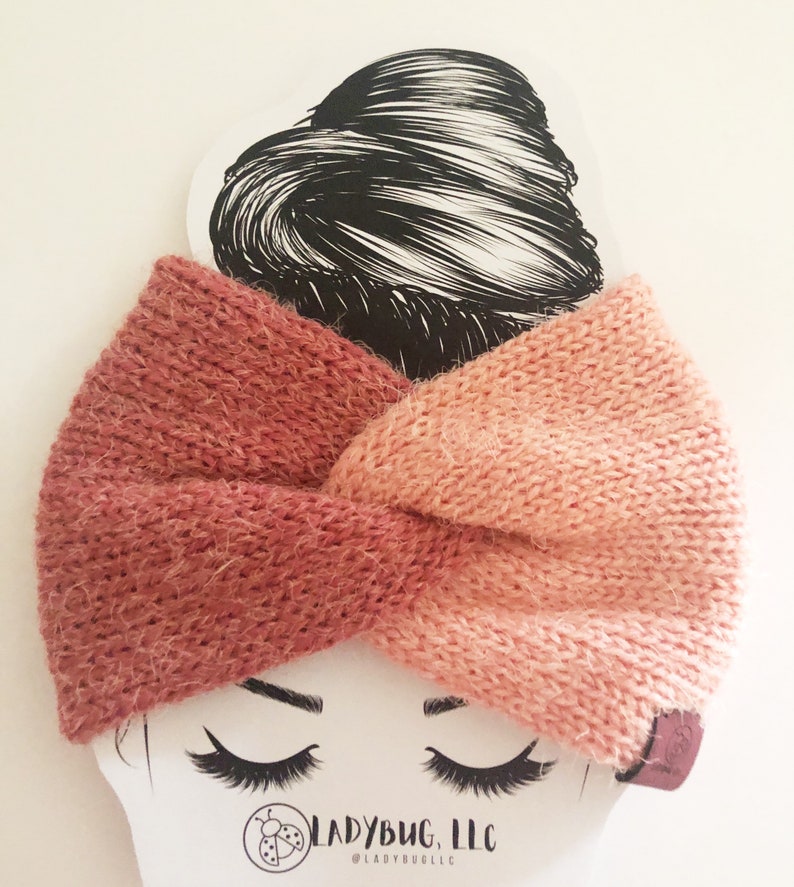 This gentle blend of two colors adds lots of chic style to this turban twist ear-warmer style. It's more sophisticated in color and style than some of the ugly winter hats we wear year in and year out. This year's designs are brighter, trendier and just as warm, with double wool fabric hugging the head. And worn with a classy or messy bun on top, the effect is very feminine and attractive!
Make-up styles for ear-warmers
Many style advisers tell you to wear understated make-up with your ear-warmers, and show you a photo of a beautiful model with a perfect skin, who doesn't need any make-up! But I think you should wear whatever style of make-up you choose for that day's activities. In particular, I always wear a medium-thick foundation in very cold weather as it protects your skin from extreme temperatures that can cause permanent broken veins and red blotches. Do try to co-ordinate your eye-shadow color with your ear-warmer and try to bring out the color of your eyes and lips.
Pearl embellished 'big night out' head warmer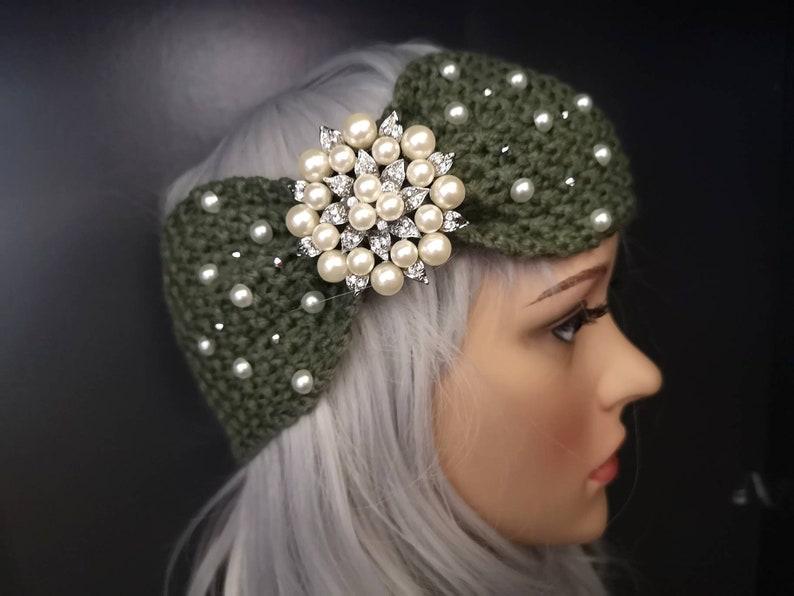 We are all so used to dragging on old, black bobble hats when it's cold weather, that perhaps we lose a little of our customary trendy style during the winter! But now the line has been crossed and glamorous headwear has entered the fashion arena. This lovely pearl and rhinestone warmer is just the beginning of a new wave of practical, hi-fashion, winter glamor!
Layer-up your ear-protection
Layering is big again this year and it's always an attractive and practical way to get the most out of your clothes. So if your facing extremely low temperatures and wind-chill, start with your ear-warmer headband, and the add a beanie hat or thick hood to cover the exposed crown of your head. And then wrap a warm scarf around your neck and shoulders. Layers are the best way to trap body heat next to your skin and light layers are generally more comfortable than one big, heavy overcoat with hood.
Cute handmade mohair and wool
The great attraction of this new way of keeping warm is that it suits all ages, from girls to grans. And there are so many different styles and colors, there's a cute look available for everyone! And it's versatile, too, because if you happen to find yourself with a cold draft hitting your neck, you can slide the warmer down to be a cosy neck-warmer.
How to put-on ear warmers
Stretch the ear-warmer sufficiently to pop it over your head and down around your neck. Make sure any logo or decoration is at the front and then slide it up to cover the front of your head and arrange it comfortably over your ears. If your ear-warmer band fastens with a button at the back, you don't need to put it round your neck and slide it up to the forehead. Instead you just open it up and place each side around the head, and fasten the button at the back.
Brush through your long hair to make it smooth and free of tangles. Then take two side sections and clip them temporarily on the crown of your hear. Slide the ear-warmer headband onto your head, with the back section hidden beneath your hair. Then unclip the side sections and let them drape down over the ear-warmer. That will give you added insulation over the ears and create an attractive headband look that accentuates your face.
Alternatively, you can style your hair into a trendy, high ponytail or a tousled bun and simply slide the ear-warmer on without affecting your hairstyle at all. You can wear lots of half-up styles with this warming fashion accessory, including braids and braiding that's twisted around the back section of the hairband!
Short hair
If you have short hair, try parting your fringe deep on one side for a trendy asymmetrical fringe. And for curly hair, you can just slide the ear-warmer into place and pull out sections of long hair to cover the sides, as curly hair is the least likely to get spoilt by wearing an ear-warmer.
Quirky owl ear-warmer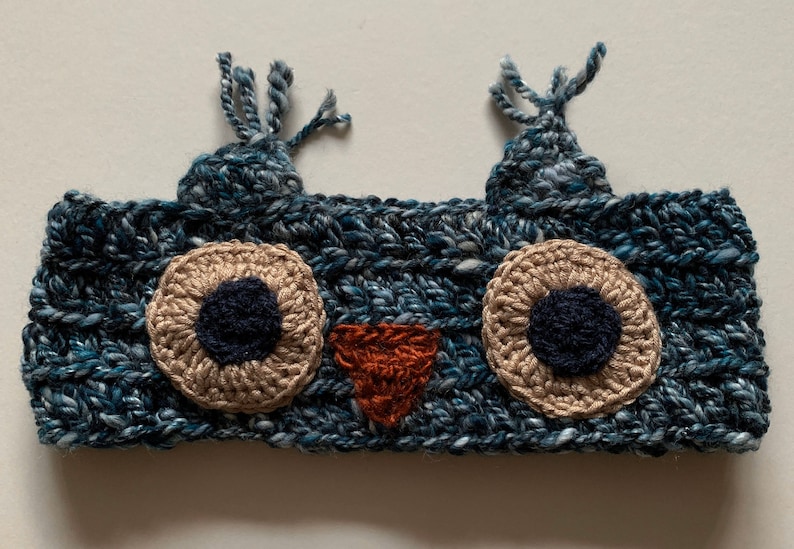 Isn't this the cutest head-warmer you've ever seen for grown-ups? I've always loved seeing children with sweet animal hats in the winter. So I'm delighted that someone has designed a range of hilarious head heaters for women to have fun with. We all need cheering up during the snowy times and this beautifully made owl head warmer band fits the bill perfectly! It's another one from the luxury range, but made from silk and merino wool and so cheerful, makes it well-worth its price.
Merino wool with statement crystal embelleshment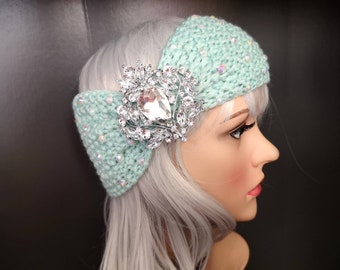 This is a truly trendsetting new look that combines high-fashion ash-blonde hair, with an extravagant ear-warmer. This is a sophisticated way to keep your head and ears warm, when you're off out to a special occasion and don't really want to arrive with your old, 'bobble hat' spoiling your fancy image! Chunky mint green wool complements the cool color theme, with pearlescent rhinestones creating a fab frosty finish!