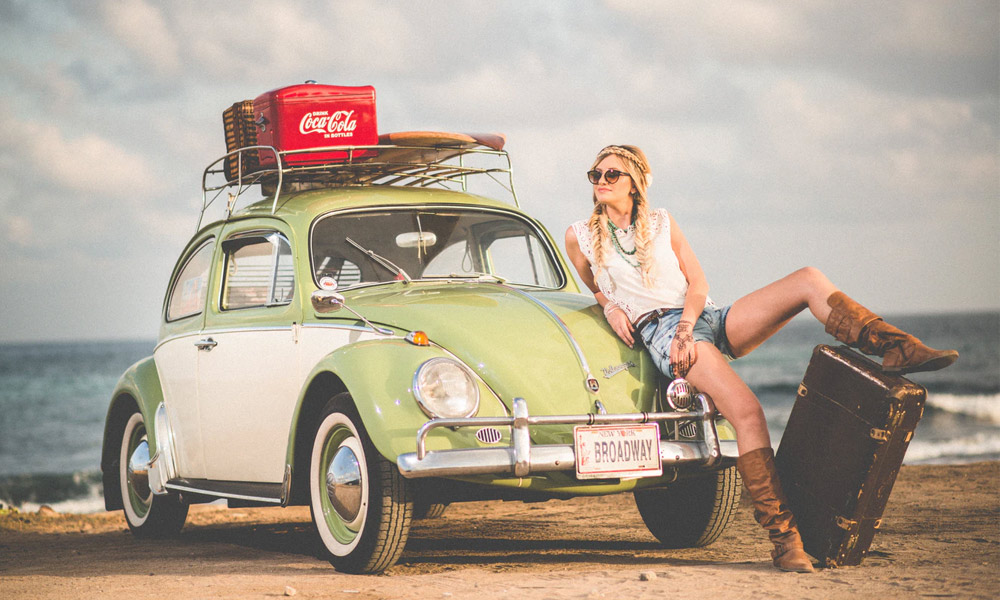 From 90's throwbacks to 70's flares, it's time to address the fashion question we have all been asking ourselves. Is vintage the new modern? From TikTok trends to celebrities rocking vintage looks, it's as if we have been thrown back in time, deep into a fashion portal of colour, retro pattern and oversized jumpers.
As we delve into the styles of fashion past and present, read on to find out why vintage fashion has risen back to fame and which 5 styles you need to add to your wardrobe this summer. From Miley Cyrus to Olivia Rodrigo, let's see which vintage fashion pieces are currently going viral in the 21st century.
Why Has Vintage Become The New Modern?
Vintage style has slowly risen to fame in the past ten years thanks to the new kids on the block, Generation Z. From a mix of social media coverage to the celebrities throwing the style into the public eye, it has certainly become the new normal to throw on a 70's glam outfit and make your way into the town.
With more of the digital native population than ever before wearing flares, retro patterns and oversized jumpers, these vintage styles have hit the high street stores, dominating Zara and H&M displays and quite possibly a whole generation.
One of the reasons for this is social media. Generation Z is all about originality. As some of the generation's largest opinion leaders such as Ariana Grande, Miley Cyrus and Olivia Rodrigo continue to popularise their 90's throwback styles and oversized jumper statements on their Instagram pages it's no wonder that these fashion statements are going viral amongst their fans. As TikTok becomes the new online fashion runway, it's no surprise that vintage clothing has become the newest trend.
Generation Z are also currently the most eco-conscious generation, making them the perfect audience for a vintage revamp. Obsessed with originality, climate change and the abolishment of fast fashion, tweens, teens and everyone in between are expressing their eco-awareness through their fashion statements.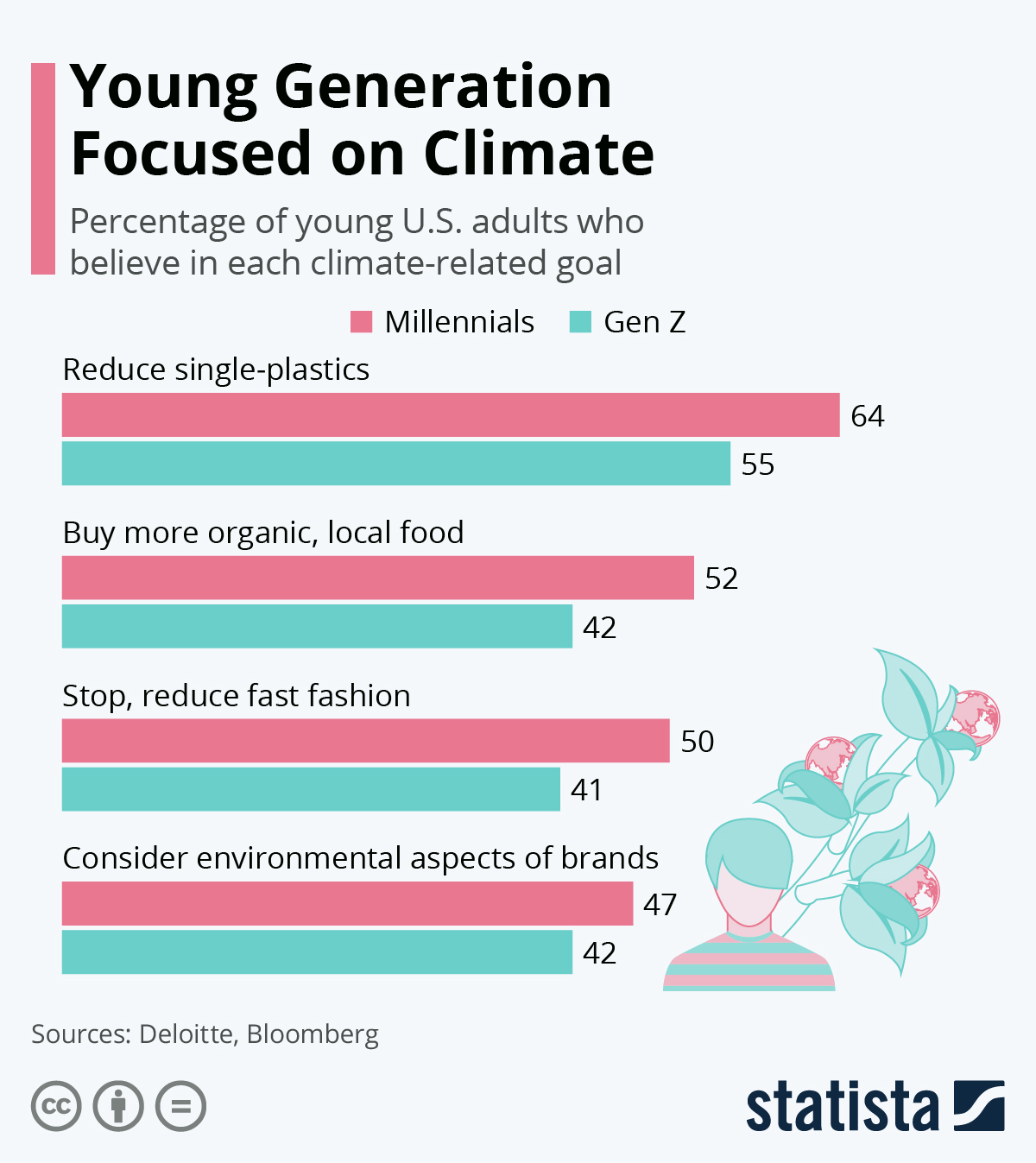 (Source: Statista)
As vintage style seeps into sustainable collectives and second-hand stores, it is encouraging a young generation to shop sustainably, reducing the need for fast fashion. As an industry that currently accounts for 8% of global carbon emissions, fast fashion could soon become a thing of the past as consumers begin to open their eyes. Vintage fashion doesn't only promote originality but reduces unsustainable manufacturing practices and most importantly fashion waste, as a new era of second hand, DIY clothing has become this generation's hottest style.
The question is, which of these vintage styles have taken off? Below are 5 of our ultimate vintage style picks for an eco-conscious approach to fashion that screams retro chic.
1. Oversized Is The Perfect Fit
One of the most talked-about trends in this past decade is the return of the oversized fit. We're talking baggy jumpers, Mom jeans and flamboyant flares, kicking off our vintage haul with a bang. Finding its way back to the fashion market, this 80's style has become the new normal for Generation Z. The fight between the Millennial skinny jean and the Gen Z flare has been a tough one, but as we increasingly see our favourite stars rocking that oversized fit, it's clear we have a winner.
Vintage jumpers are also firmly back in fashion. From American football washouts to 80's style retro patterns, baggy jumpers with long sleeves are flying off of vintage store racks. If you walk into any modern-day second-hand store, these are the pieces you see. Full of individuality, we're not surprised to see this trend back in fashion. Better still, no one vintage jumper is like the other, perfect for accommodating any style. Dark colours and washed out finishes complete the modern-day indie/grunge style, while soft baby pink pastels, gives TikTok's soft girl aesthetic that 90's twist.
Speaking of soft girls, the celebrity that quite possibly brought oversized jumpers into fashion is Arianna Grande herself. Known for wearing her statement knee length jumpers, perfectly matched with her knee-high boots has encouraged a global audience to jump on the trend and carry forward that oversized hype.
2. 60's/70's Retro Style
Quite easily the most popular style inspiration for our current generation is 60's/70's retro. From the era's broad range of eclectic patterns to short skirts, tall boots and funky fringe designs, these icons have become some of the largest inspirations for modern outfits.
In the modern-day we see genzenials rocking bright colours and geometric patterns, throwing it back to the era of the birth of pop as they pay homage to some of the 70's best music icons. Amongst figures such as Abba, John Lennon and Jean Shrimpton who helped spearhead some of the most memorable fashion moments, Gen Z has hit the ground running with their tribute to the 60's/70's vintage.
One of the most common prints has become a flower power pattern, taking us all the way back to the 60's summer style. With pastel overtones and flowy fits, it's clear to see that this style has made it back onto the high street.
Fringe has also made its way back up to the top of the most wanted list, following the 70's trend that saw just about all coats, trousers and bags covered in a denim fringe finish. One of the style leaders taking this forward is Miley Cyrus herself, paying homage to her country roots as she rocks the ultimate statement piece.
If that's not 70's enough, we can't forget the 70's silk scarf obsession currently hitting the TikTok For You Page. Following the footsteps of Goldie Hawn and Bianca Jagger's loose hair wrap statement, genzennials are embracing retro scarves for more than just accessories. This multi-functional fashion piece is being used as both a headscarf, wrap-around top and modern style neckerchief for ultimate 70's glamour.
3. Bold Accessories
Bright coloured patterns are not the only thing hitting the fashion scene once again. Bold accessories are also back in and here to stay. From bold statement rings to chunky glasses frames, you can clearly see references to fashion trends of the past with this new instalment of vintage jewellery.
Playing on traditional primary colours and their pastel counter shades, colour is becoming a trend when it comes to accessorising modern outfits. This eclectic mid-century modern twist on a retro 70's trend is definitely making its way across TikTok and screams individuality.
As celebrities such as Hunger Games heroine Jennifer Lawrence and Sex In The City Star Sarah Jessica-Parker continue to bring statement jewellery to life with their approach to bold colours on the red carpet, it's no wonder that the social media world has taken to Art Deco dress pieces and flamboyant throwbacks to geometric necklaces.
4. 90's Throwback
90's fashion has come back in with a bang. After the hit show Friend's hit Netflix only a few years ago, 90's fashion has easily become one of the most talked-about vintage trends of the Gen Z generation. Combining baby spice pastels, glitter based crop tops and those light washed denim mom jeans, 90's vintage is what you're most likely to find along the high street.
Olivia Rodrigo is currently owning this trend with her 90's/00's throwback outfits. For example, in a recent shoot, she was caught wearing a vintage glitter butterfly top, similar to the style worn by Mariah Carey in the noughties.
If you're looking to embrace 90's vintage, it's time to bring back the crop top, funky flares and hip waist jeans. 90's vintage is also all about matching, so there has never been a better time to introduce those matching 90's hair scrunchies into the mix and become a vintage queen.
5. The Future Of DIY Vintage
One of the biggest causes for the rise in vintage fashion is Gen Z's new approach to sustainability. With many of the current digital native generation choosing to improve the environment and reduce their carbon footprint, DIY fashion has become a trend that is here to stay.
From knitting and stitching to revamping old fast-fashion styles, TikTok is currently full of DIY vintage videos that are revolutionising the fashion industry. In comparison to this 2019 Guardian Poll which revealed that "one in three young women, the biggest segment of consumers, consider garments worn once or twice to be old", DIY vintage clothing is increasing the shelf life of fast fashion products and reducing the need to purchase new clothing.
One of the trend's most well-loved DIY styles is creative crochet. Paying homage to the style that blew up in the '60s alongside bohemian patterns and eclectic fashion, crochet has become the summer go-to statement piece of 2021, dominating crop tops, bralettes and even hand and clutch bags.
As vintage fashion continues to dominate the social media scene and seep further into 21st-century style guides, it's safe to say that it's out with the new and back in with the old. Vintage truly is the new modern, and we're excited to see where it goes next. Subscribe to get more fashion tips on herstylecode.com