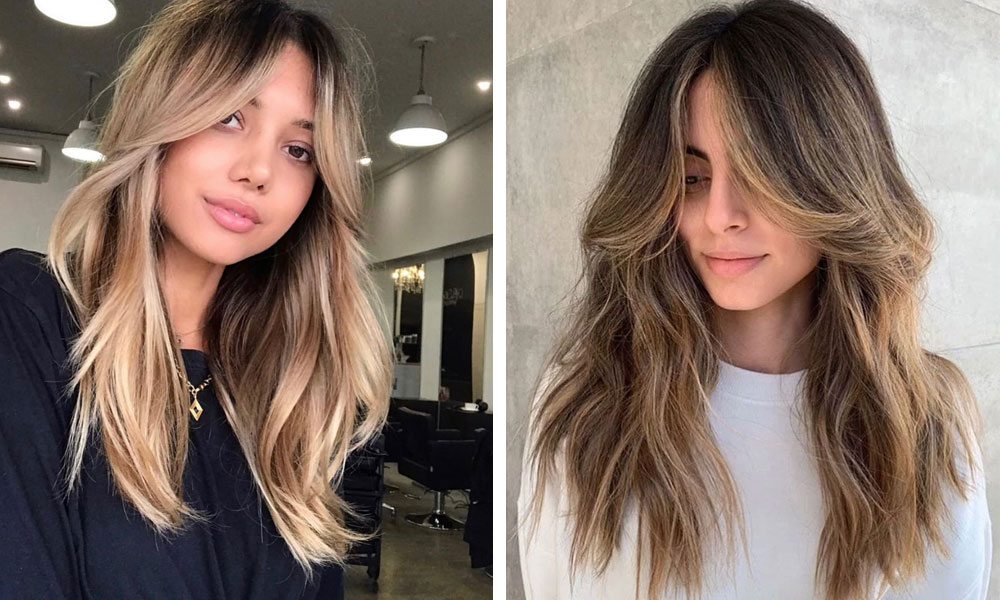 If you're the proud owner of a fresh set of curtain bangs, chances are you're eager to explore different ways to style them. Luckily, unlike mastering intricate updos or flawless Hollywood waves, learning how to style curtain bangs can be pretty straightforward. We'd even wager that you already own all the tools and products you need. (And if not, who could resist a little shopping spree for hair accessories?)
One thing to remember as you delve into the world of curtain bangs styling is that, unless you're adhering to a very specific look, you can pretty much style your bangs in any way that makes you feel your best, be it sleek and straight or soft and wavy. If you're all about guidelines, however, no worries; a quick scroll through Instagram or Pinterest will give you a ton of inspiration for your desired vibe (retro, modern, boho, etc.), and you can always draw ideas from your favorite style icons. Still feeling uncertain? Don't hesitate to ask your hair stylist for tips during your next appointment.
Once you've figured out the kind of look you want to achieve, you can sift through your arsenal of hair tools and products and begin experimenting with styles. However, if you're new to the curtain bangs club — or if you're stuck in a style rut and looking for some fresh ideas — you've landed on the right page. Below, four hair stylists share six of their favorite ways to style curtain bangs, from breezy boho waves to sleek, polished looks. It's time to get creative with your trendy fringe!
70s Curtain bangs – A flattering change
Curtain bangs are softer and more flattering than a straight-across fringe and they are cut in a curve that starts longer at the side, where it can be blended into the side layers. The line moves up to be shorter in the middle of your forehead and then curves back down to the other side. If you're nervous about taking your look from no-bangs to a fringed style, start with longer length curtain bangs. They can easily be curled back to join the rest of your hair and leave your forehead bare – just in case you don't like it.
Versatile & economic
That's the good thing about long, curtain bangs – they are versatile and can be styled in lots of different ways. So some days you have bangs, and other you can style them off the face and have a completely different look. However, curtain bangs are a pretty safe bet for all face-shapes, so it's unlikely that any stylist will leave you with a look you're not happy with.
And another benefit is that you don't have to keep returning to your hair stylist and paying for a little trim every 3 – 4 weeks, because curtain bangs can be left to grow and they'll just become flattering face-framing waves.
Curtain bangs are practical
And with more people now working from home and having to wait longer for a visit to their local hair salon, lots of us have grown longer fringes. And if you haven't cut your bangs yourself, or even if you have cut your own bangs, (and aren't happy with your handiwork), now is a good time for all of us to learn how to style curtain bangs!
A friend of mine cut her own bangs and ended up with a micro-fringe that wasn't her best look. So I'm sure she's not alone in preferring to style a long fringe rather than risk another mini-fringe cutting disaster! LOL!
Will curtain bangs suit me?
Curtain bangs, can be tailored to suit virtually any face-shape and flatter your facial features. So it's important to go to a salon with experienced and well-trained stylists (a lot of them buy pro scissors on https://scissortec.com/) who know how to cut your new fringe to the best length for you. A lot depends on your forehead shape, too.
For example, those with a wide forehead on a heart-shaped face will love curtain bangs covering the outer forehead edges, and leaving the center forehead bare. You'll find that this will make the forehead balance really well with a narrow chin. A divided fringe creates lovely symmetry to your face shape, so it's much nearer the oval ideal!
Low foreheads & laughter lines
Women with a low forehead should have a short, deep fringe that will hide the hairline and add the illusion of a higher forehead. Long, parted curtain fringes reaching down to the cheekbones are another good style that cleverly covers any crow's-feet lines at the outer edges of your eyes. And if you have naturally curly hair remember to let the stylist know whether you are planning to wear your new fringe curly, wavy or straight, as this will indicate at what length and depth it should be cut.
A fashionable new look
Except for a couple of exceptions, which I'll explain lower down the page, curtain bangs suit most hairstyles and lengths. And that includes thin faces, oblong faces, long faces, round faces, diamond shapes and everything in between. So even if you have a shaggy, chunky, or sleek finish or a cute pixie, a slanted bob cut or long straight hair, there's a new curtain bangs style that can add trendy style and a fashionable new look!
Who can't wear curtain bangs?
Unfortunately, if you have a 'widows' peak or a cowlick at the hairline above your forehead, it's often not possible to get a middle parting that's needed for the curtains' look. And very fine hair is just not thick or heavy enough to get this look. Fine hair works best when you have a straight-across, blunt-cut fringe as this keeps all of the natural weight of the hair intact.
Are curtain bangs easy to maintain?
Like all types of fringe, curtain bangs need to be styled and maintained, but even so they aren't difficult to look after. They are easier to style than many other fringes, but will be affected by humid weather. However, there are so many excellent frizz-control products on the market these days, you shouldn't let hot weather and perspiration on your forehead put you off getting curtain bangs.
Styling suggestions:
Flipped end curtain bangs
On long wavy hair, make a center part and have long bangs draped down to cheekbone level. Then use a small, hair styling tool to flip the ends away from the face. This will cover about half of your outer eye-brow and accentuate your eyes beautifully.
Long straight hair
Long straight hair is one of the most common hairstyles for women and girls, and although it's lovely to see long, healthy hair, it can sometimes be a little boring. So why not add extra-long curtain bangs, curled back from the face and get a softer and more feminine look.
Curtain bangs on short hair
Lots of short haircuts look better with curtain bangs and there are various ways to make them add trendy style to a simple bob. For example, flip out the sides of the fringe at eye level to highlight your eyes. And worn with one of this year's fabulous, new hair fashion colors, like deep coral or lavender, you'll be setting the trends at your workplace!
Long bob & curtain fringe
The ever-popular lob haircut looks great with all types of waves. But if you add face-framing curtain bangs, you'll get fabulous emphasis on your eyes when you're wearing a face-mask. And it's a very attractive, easy-style look.
Curtain bangs for long face-shapes
Curtain fringes do add a bit of length owing to the divided section in the middle of the forehead. But overall they suit long faces very well. The fringe needs to be long enough to create a diagonal line, that 'cuts' the length of the face. And if you add blonde highlights to the fringe, it will draw attention away from the length of the face.
Long curtain bangs on long hair
If you want to get a new look, but don't want to cut your hair short, why not try long curtain bangs. On long hair, you get the flattering face-framing 'wings' and a more youthful look, without changing your options to wear your hair in a ponytail or bun.
Curtain fringe on wavy hair
Add a curtain fringe to your medium-long waves and you'll get a more contemporary look that's easy to style. Just straighten your fringe a little and you'll have a fresh, new look with a fringe that stops just above your eyebrows.
Pixie cut with curtain bangs
Pixie cuts are ultra-trendy, but if you're getting tired of you side parting and side-swept fringe, switch to curtains! All pixie cuts are extra-stylish, and with this new trend you can add up-to-the-minute fashion credentials to your hairstyle.
Curtain bangs for round faces
Curtain fringes are an excellent way of adding length to a round face, which will make your face appear slimmer. So make the most of the new trend by wearing a long, flipped back fringe with highlights on the strands right next to your face. It's a very modern and flattering look, especially if you go with soft fantasy colors.
Curtain bangs with messy ponytails & buns
A long curtain fringe adds lots of interest and personality to up-styles. You can get a fashionable messy look with a very long fringe down to the cheekbones and a casual ponytail or messy bun. And make sure your high ponytail is held with a retro hair scrunchy, which is another trend that's a high-fashion hair accessory for this year!
Curtain bangs with a side parting
Most curtain bang styles are divided symmetrically in the center, to make a change from the many asymmetrical styles we love. However, you can have curtain bangs with a deep fringe and a center part.
How to blow-dry curtain bangs
Air-drying bangs is simple and you just comb your fringe into the way you want it to lie, clip it with metal hair-clips to hold it in place and leave it to dry naturally. But if you want to blow your fringe dry, follow these instructions:
1. Part your hair down the center and take one-inch section from near the temples and wrap it around a one-inch round styling brush.
2. Hold the brush so it's at a vertical, right-angle to the hairline.
3. This is to avoid you blowing your bangs dry in a horizontal direction, which would cause them to be very puffed out.
4. Apply heat for a few seconds and then let your hair cool for a few more seconds more to allow it set in the new shape.
5. Release the hair section gently and continue the method to the middle of your fringe.
6. Then start at the other side and repeat the process.
Top tips
• You can also use a flat iron to take each side of your curtain bangs and curl it away from your face.
• And if you want to leave your natural curls as they are, just push your fringe to each side to 'open up' your face.
There's no strict rule about the right length of curtain bangs, and this is something you can discuss with your hairstylist. Take into account the shape of your face and ask for a curtain bang style that will highlight your best features and minimize the areas you don't want on show. And enjoy wearing your new retro fashion clothes with this perfect matching hairstyle!