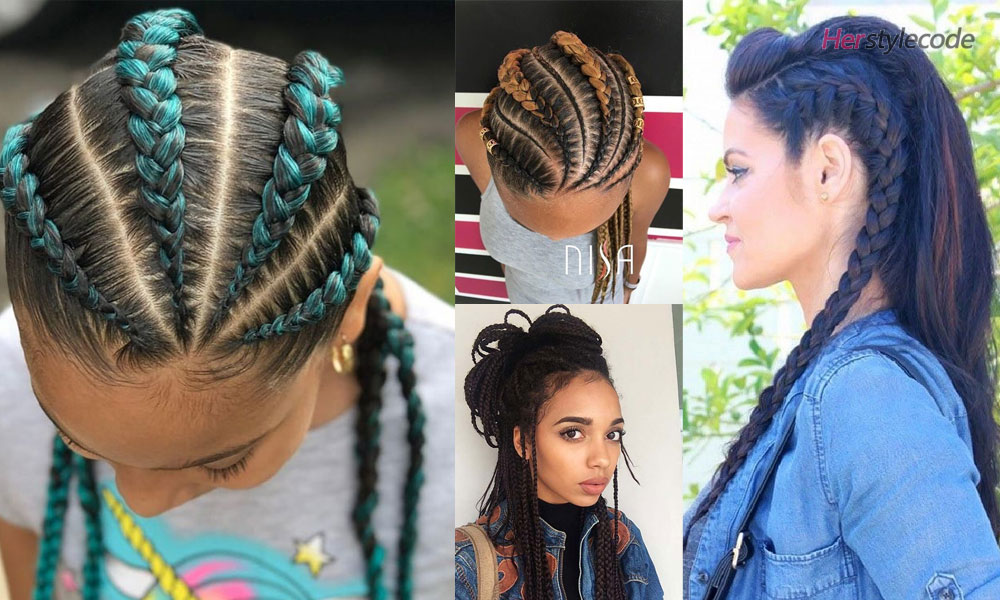 Instead of totally neat, straight rows or geometric patterns, the new trend-setting box braids are more casual. There's a lot more variety, too, with inspiration for natural hair designs coming in from Ghana and Nigeria.
Many of the patterns are asymmetrical, with wavy corn-rows and some fantastic colorways and balayage ideas!
1. Aquamarine tapered box braids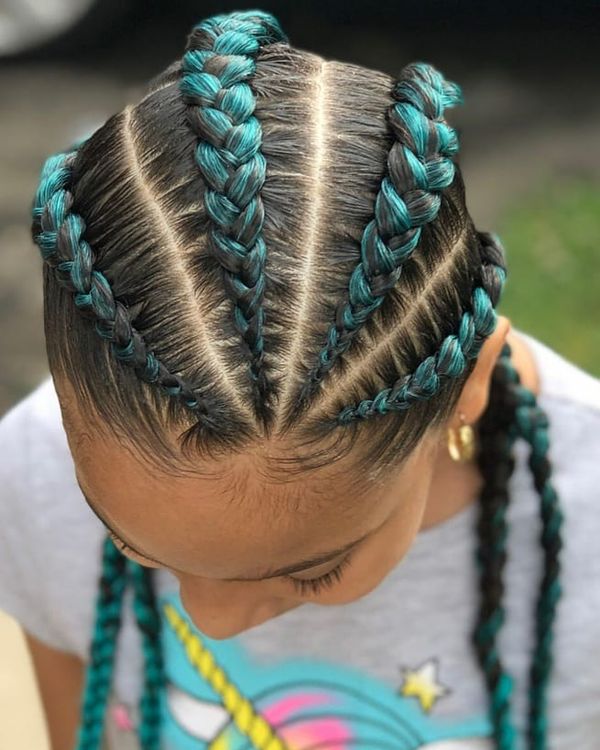 Use temporary hair dyes, like Hair Chalk or Colored Hair Spray to create a colored braid hairstyle that matches the main color in your outfit. You can use this technique to jazz up your children's hair for parties, or your own hair to create chic color complements with your favorite trendy outfits!
2. Dusty pink & baby-blue long braids
This is a style inspiration from a salon in Ghana, where they often lead the new trends in natural hairstyles for black women. These cute summery colors really draw attention to the model's long, waterfall of braided hair. And they make a lovely, soft contrast to the dark tattoo on her shoulder and arm.
3. Sophisticated honey-blonde reverse ombré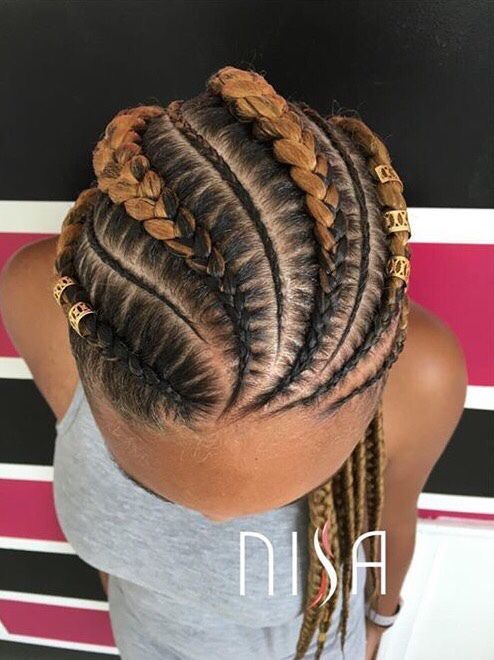 Rose-gold blonde and honey-blonde are two very strong trends for this year. And this honey-blonde ombré really complements the warm honey tones of the model's lovely skin tone. There's lots of pleasing asymmetry here, too, from wavy-corn-rows and mixed widths.  With pretty, gold hair accessories giving the finishing touch, this is how to impress your date at an important dinner!
4. Casual elegance for natural hair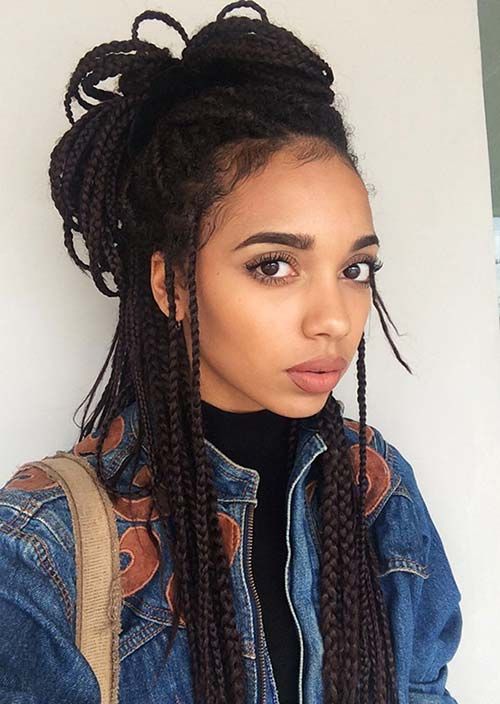 Varying the width of long braids is a great way to break-up the symmetry of this traditional look and add some trendy texture. This year is featuring lots of styles with two braid sections framing the face and a gap showing the ear. And it's so easy to quickly twist up a few braids on top, for a casual, asymmetrical half-up style!
5. Half-undone multi-blonde box braids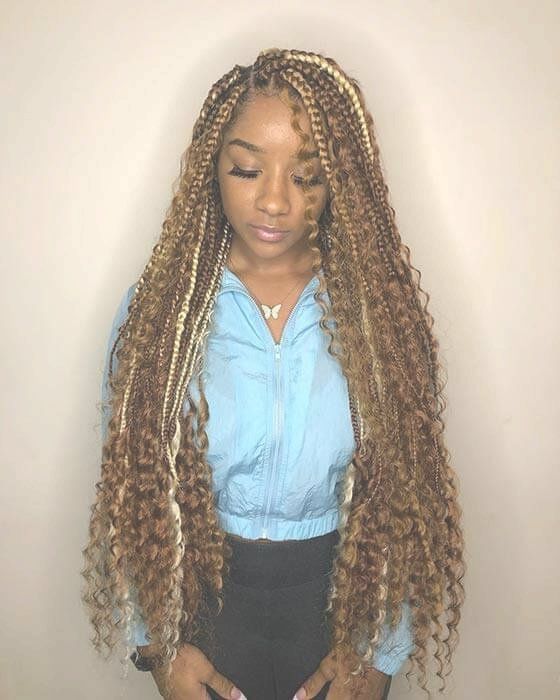 Half-undone braids with cute wavy volume at the ends is a high fashion look for the new season. This design is packed with different textures and colors from tapering braids and bright blonde highlights. And it can varied in many different ways to create crazy, jumbo braids, upstyles and half-down hair designs.
6. Medium-short blonde hair with clip-on braids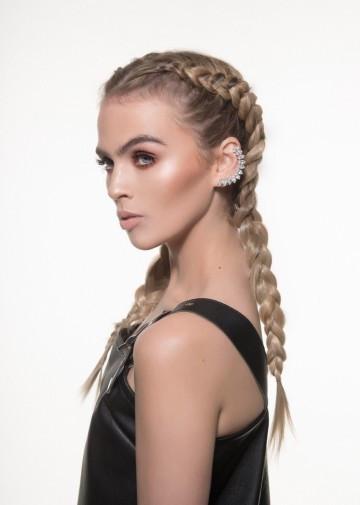 Here's a fun and easy way to completely change your image for a party or special occasion. There's one tapered width braid on each side of the head, firmly pinned at the back. And then two matching, natural blonde braids with spiky tips are clipped over the 'join' to give you an instant long hair, casual vibe!
7. Silver-gray is such a flattering color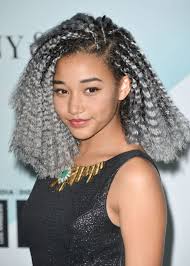 With black roots gradually changing to silver gray, this red-carpet look is youthful and casual.  The overall shape is a blunt-cut bob, created from an asymmetric side-parting and criss-crossed short braids. With most of the hair in kinky, undone-braid volume,  you get marvellous light reflections on this beautifully textured look!
8. Original new look for men & women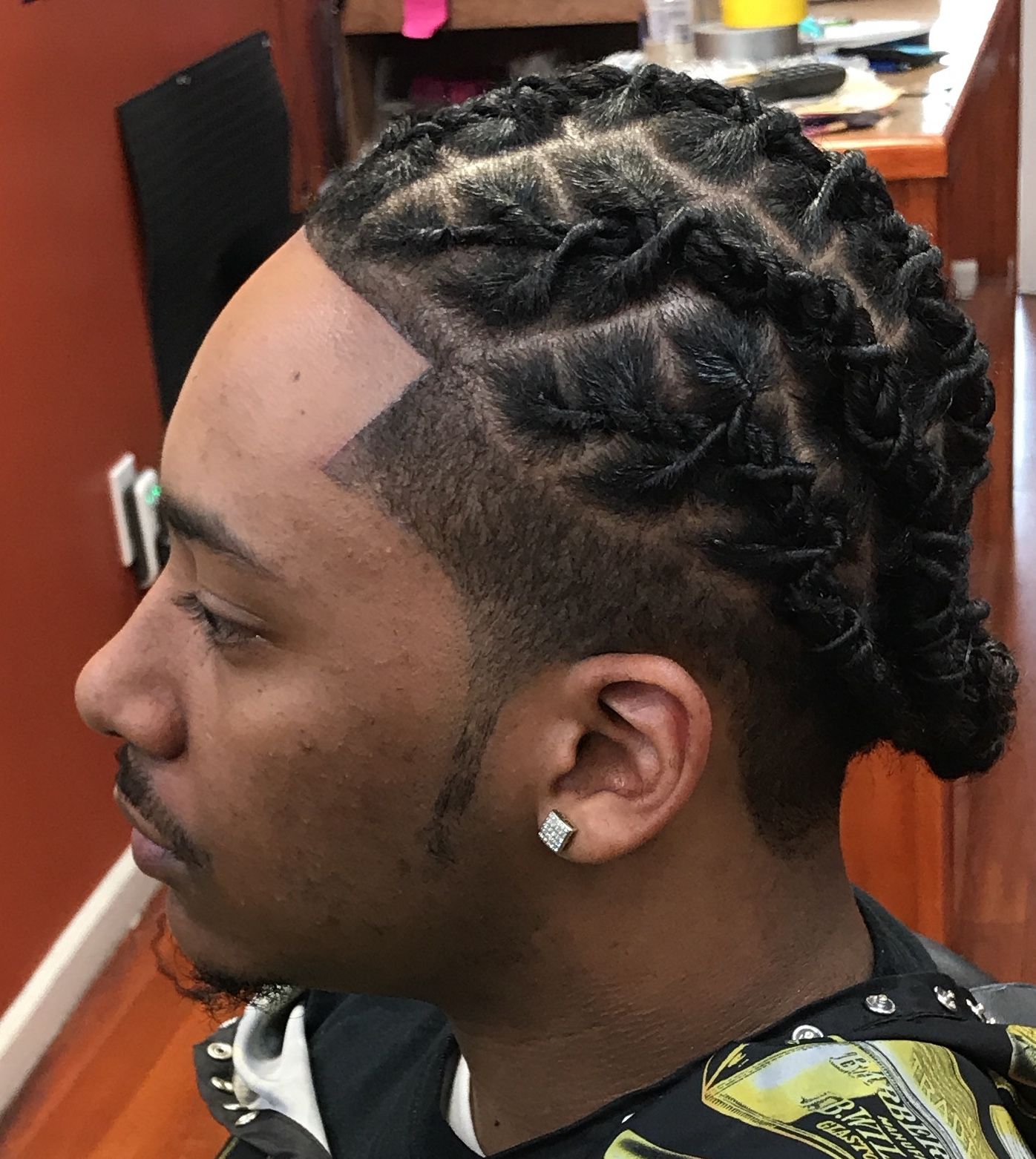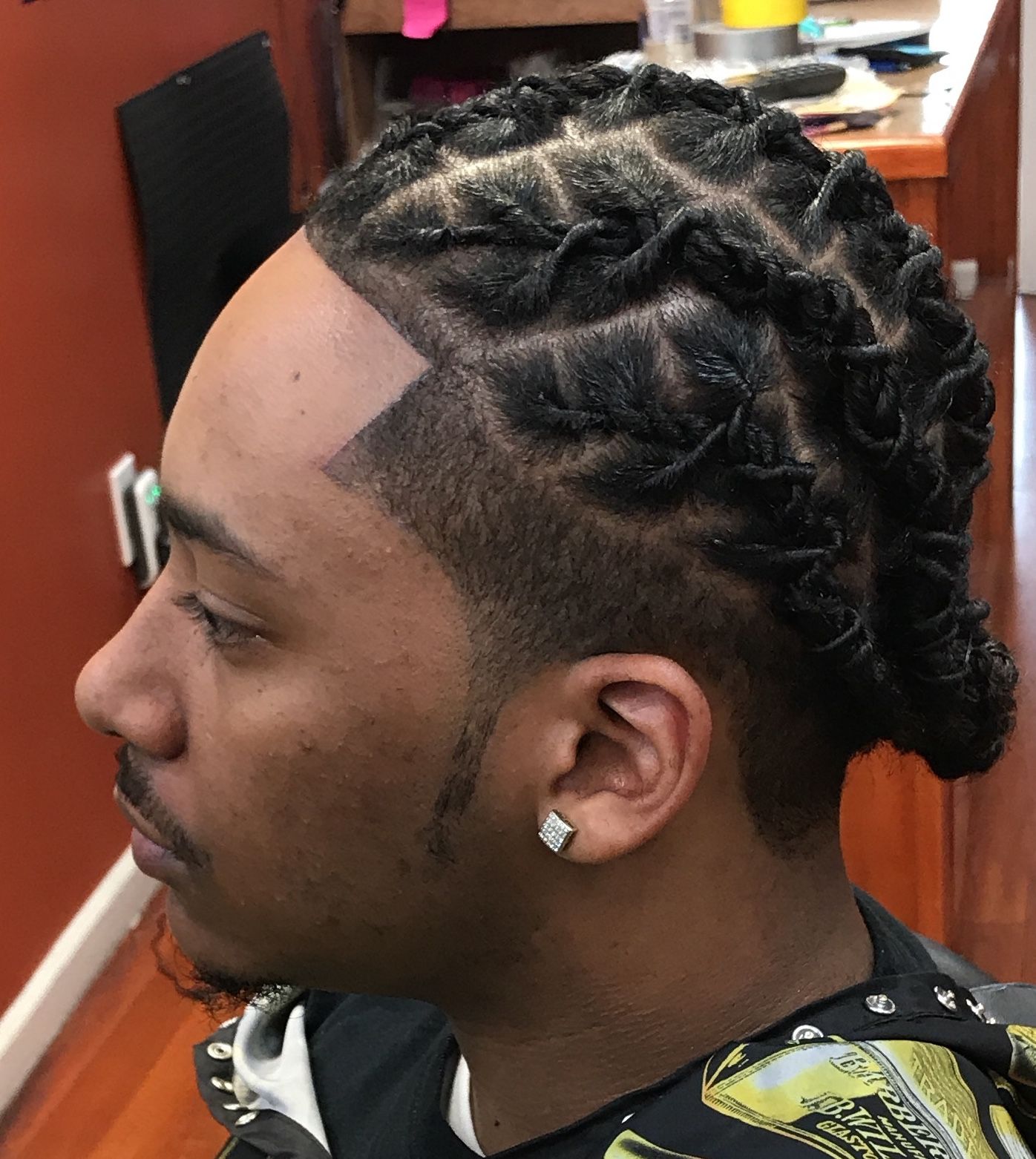 What we love most is discovering the totally original new ideas as soon as the talented stylists publishes them! And I'm sure you'll agree that this is a fantastic new look. It's a funky variation of the corn-row idea, but with more wavy shape and a totally new texture!
9. Chic color matching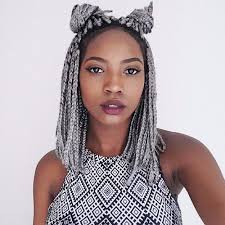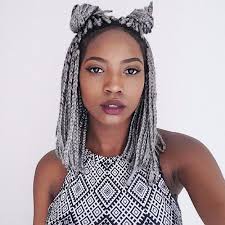 Here's another highly fashionable style you can match to the right outfit for a totally 'pulled together', chic ensemble. The smart white and black geometric pattern in the dress, harmonizes perfectly with the texture of the silver-gray braids. And those cute little buns on top add lots of extra height and emphasise the models perfectly rounded forehead!
10. Blue-black hair with long side braids & balayage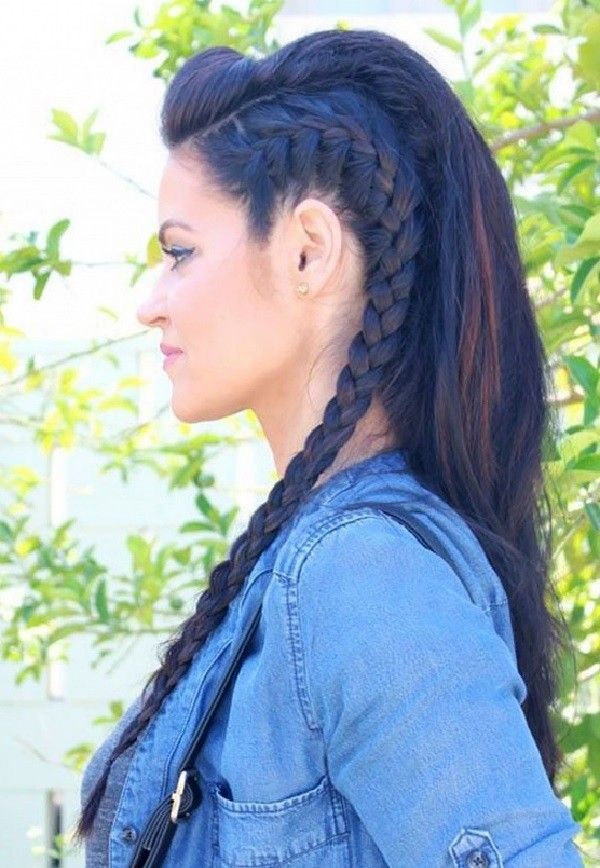 Here's a master-class in choosing the correct shade of rainbow color for temporary hair color. The model's natural color is probably coffee-brown, which doesn't have any natural color highlights. And the colorist has chosen a subtle blue shade to add sophisticated color, matching the blue jacket and sweater. And for a tiny twist, there's a touch of copper balayage, which complements blue shades!
11. Light golden-blonde on long box braids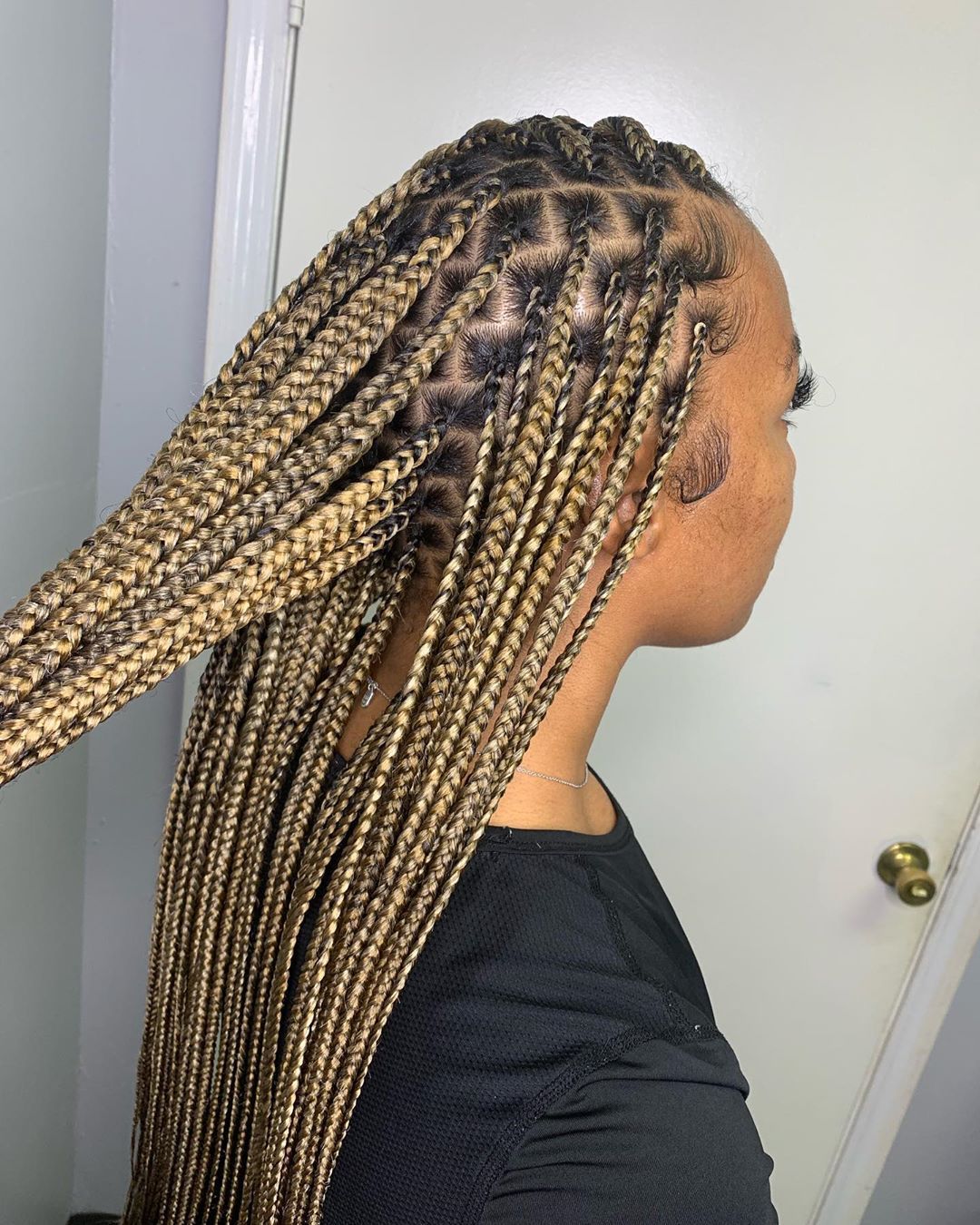 This is a fabulous twist on the Goldilocks look, contrasting golden-blonde with black in the gorgeous, long braids. And the particularly interesting shape of the square root pattern makes with an eye-catching style both for color and textures! These braids are also perfect for creating lots of fancy upstyles, half-down styles and even woven into one huge braid over one shoulder or straight down the back!
12. Quirky head dots & golden-blonde ombré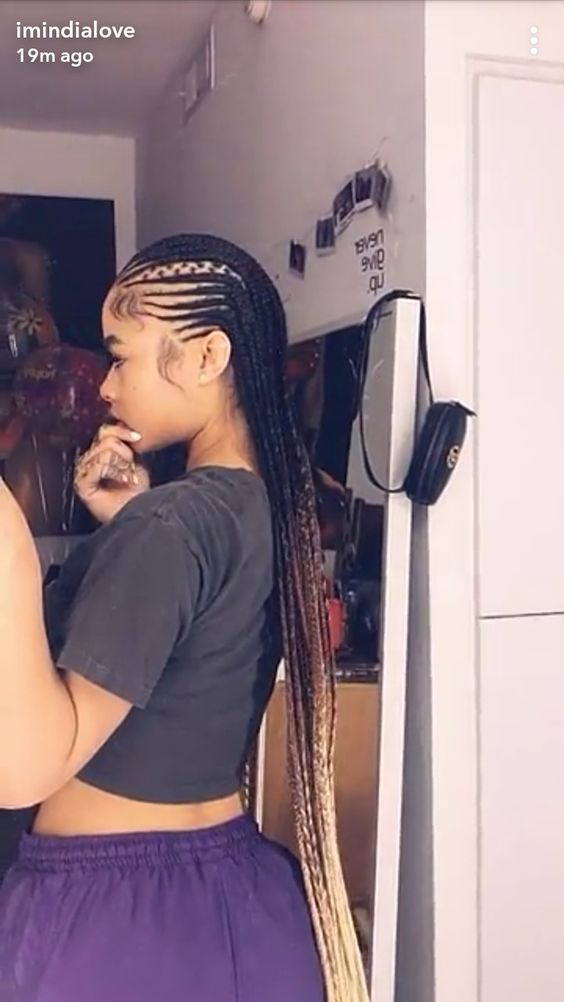 Corn-rows with black dots in between them is definitiely a snazzy, new look! And the short, hairline hair has been waxed and fixed into pretty waves that soften the line beautifully. The super-long braids are reverse ombreèd with a trendy golden-honey blonde shade. Notice how the blonde is placed to draw attention to a slender waist and curvy hips!
13. Asymmetrical medium-bob in thick black braids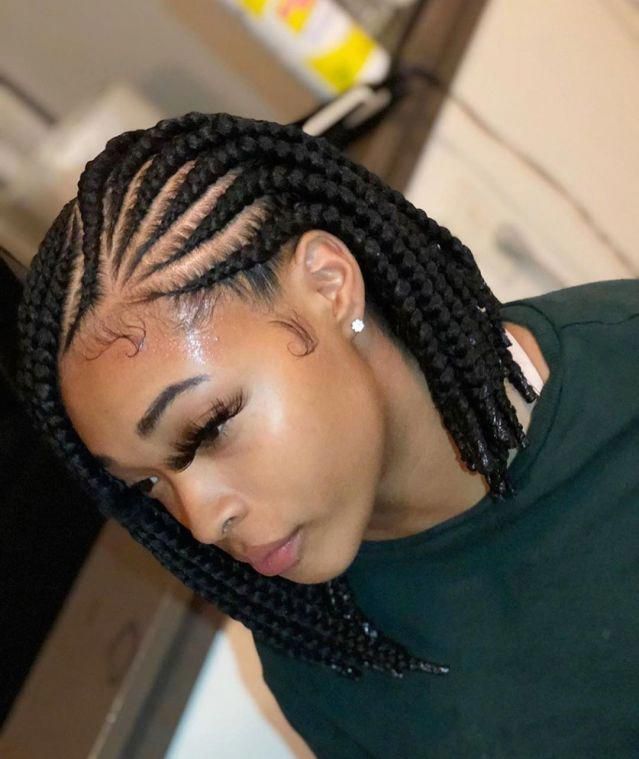 The hair is styled into a high fashion version of the blunt-cut bob, that's one of this season's favorite new looks – again! The twist here is the asymmetry, with one side tucked away behind the ear for a relaxed look. And a finely tapered tips, leading to solid-looking braids with a high profile,which are the same width down to the tips!
14. Trendy tapered head pattern on long black braids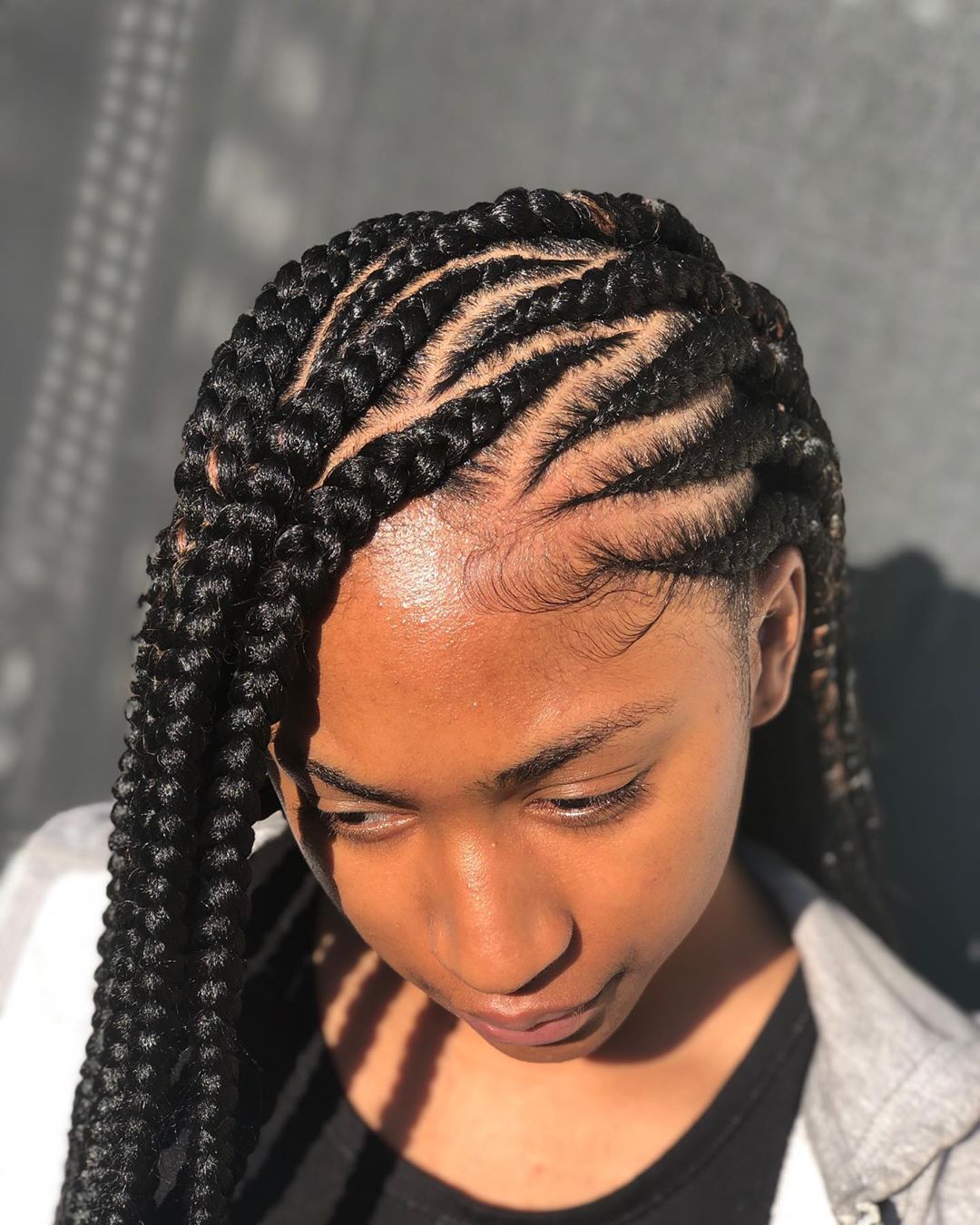 Instead of going from wide at the top and tapering down to a slim point at the ends of the hair, this style reverses the trend. And the result is a very artistic-looking head pattern, that's a million miles away from the original, straight corn-row style. There's a highly fashionable asymmetrical vibe in here, too. With one side braided to show the profile and the other side in chunky non-tapered braids!
15. Effortless elegance in swirly braided top bun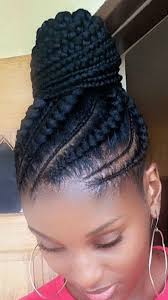 There's always something regal about a high, top bun – probably because it reminds us of the crowns worn by queens to show off their wealth and make themselves seem taller! Well, you can show off your beautiful hair with this neat, but wavy head braid pattern. And a cute rounded, high bun with lots of texture from different sized braids!