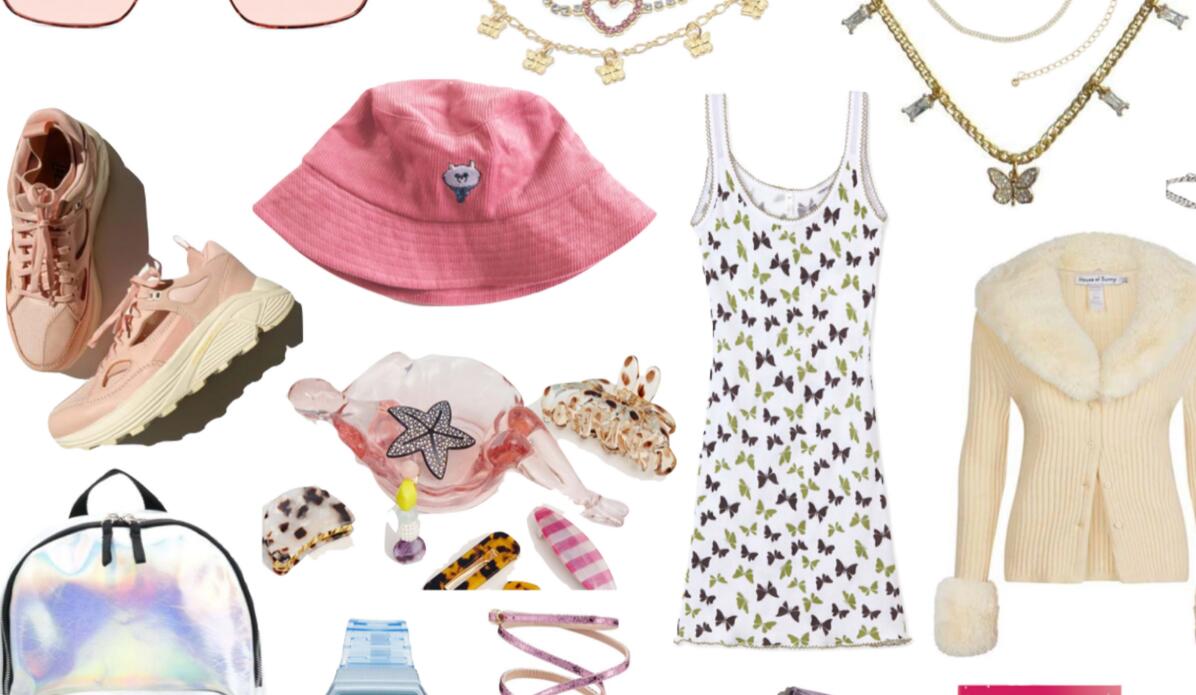 Y2K fashion outfits are back – roughly 25 years after they were Top of the Fashion Pops! So it suits those of us who love searching in second-hand shops for authentic garments and fast-fashion addicts who enjoy easy, high-street and online shopping!
History of Y2K fashion
Y2K fashions come from styles popular at the end of the 90's and continued to the early 2000's. It relies heavily on pop culture and is the last time fashion did not rely on visible logos. It was also the last time there was a distinct line between high-fashion and classic luxury clothes.
What is the Y2K fashion trend for 2022?
This time around, Y2K fashion is madly popular with the young generation who live their lives on social media. You'll know exactly what it is if you follow celebs and influencers who are showcasing bra-tops, cropped tops and midriff-showing outfits in general.
Look at contemporary pop idols like Saweetie, Bella Hadid and Rico Nasty to see the new twist that makes fashion styles from the 2000's such a popular trend.
So the fashion equivalent of, 'pop-music', is back with a bang and delighting young fashion fans with velvety tracksuits, bubble-gum pink garments, metallic jackets, shiny graphics and logos, plus super-short minis.
The best versions of Y2K style have a touch of retro, mixed in with an avant-garde twist. And if you're not a teenager any more, I'll also show how you can still wear the Y2K fashion style, in a fabulous adult style!
Here is the list of Y2K trends for this year to wear:-
1. Mini Skirts
2. Wide-Leg Denim Jeans
3. Velour Track-Suits
4. Baby Tee-shirts
5. Bandanas & Scarves
6. Transparent Clothes
7. Baguette Bags
8. Shiny Metallic Outfits
9. Kitsch Accessories
10. Double Denim Outfits
11. Tie-Front Tops
12. Ribbed Cardigans
1. Y2k Mini-skirts
Mini-skirts have been with us for many years now, since they burst onto the fashion scene in the 1960's. Today's fashionable mini-skirts are close-fitting, thanks to modern stretchy fabrics, and look great with cropped tees and cardigans.
For winter wear, team your checked or tartan mini-skirts with turtleneck sweaters and high boots. This gives a casual, but smart, fashion style, especially if you embrace the trend for faux-leather, and real-wool, checked mini-skirts.
All short skirts look super with the current fashion for oversized knitwear, sweat-tops and hoodies for winter and tiny tee-shirts for warm weather wear. And you can add lots of edge to mini-skirts with chunky sneakers, heavy-soled loafers and tractor boots.
In the early 2000's, mini-skirts also copied the designs worn by popular Bratz dolls, bringing bright, pleated skirts to our attention! And optimistic, bright colors with textured fabrics will keep you looking trendy and positive well into next year!
2. Y2K Wide-Leg Denim Jeans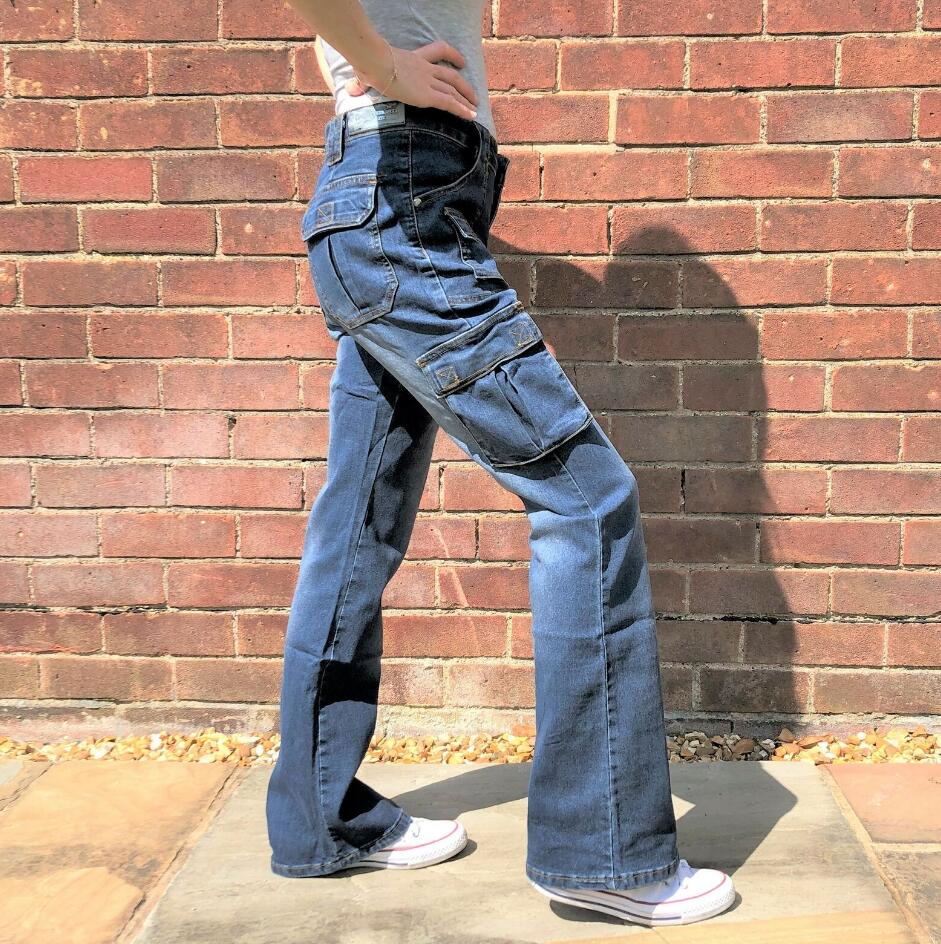 Bootcut and low-rise jeans were popular in the early 2000's, but another street-trend was also big amongst skate-boarders. And the wide-leg jeans fashion is the one that's returned for this year and the foreseeable future!
Current wide-leg jeans may not be as baggy and bum-revealing as the boy-style was 20 years ago, but it's still a strong Y2K theme. Team your new, wide-leg jeans with cropped cardigans, fitted T-shirts, and figure-clinging skinny-rib knitwear.
Wide-leg jeans are available in lots of different denim washes, including light, medium and dark blue shades. Lots of styles have an authentic ripped look, but there's such a wide range you'll be able to find the best leg-width and style to suit your size and fashion preference. Want to try skinny jeans? Check out this post about How to wear Skinny Jeans with Y2K.
And keep an eye out for high-rise jeans that also have cut-out features around hip-level. This combines two Y2K trends in a new and interesting way for extra edge!
3. Y2K Velour Tracksuits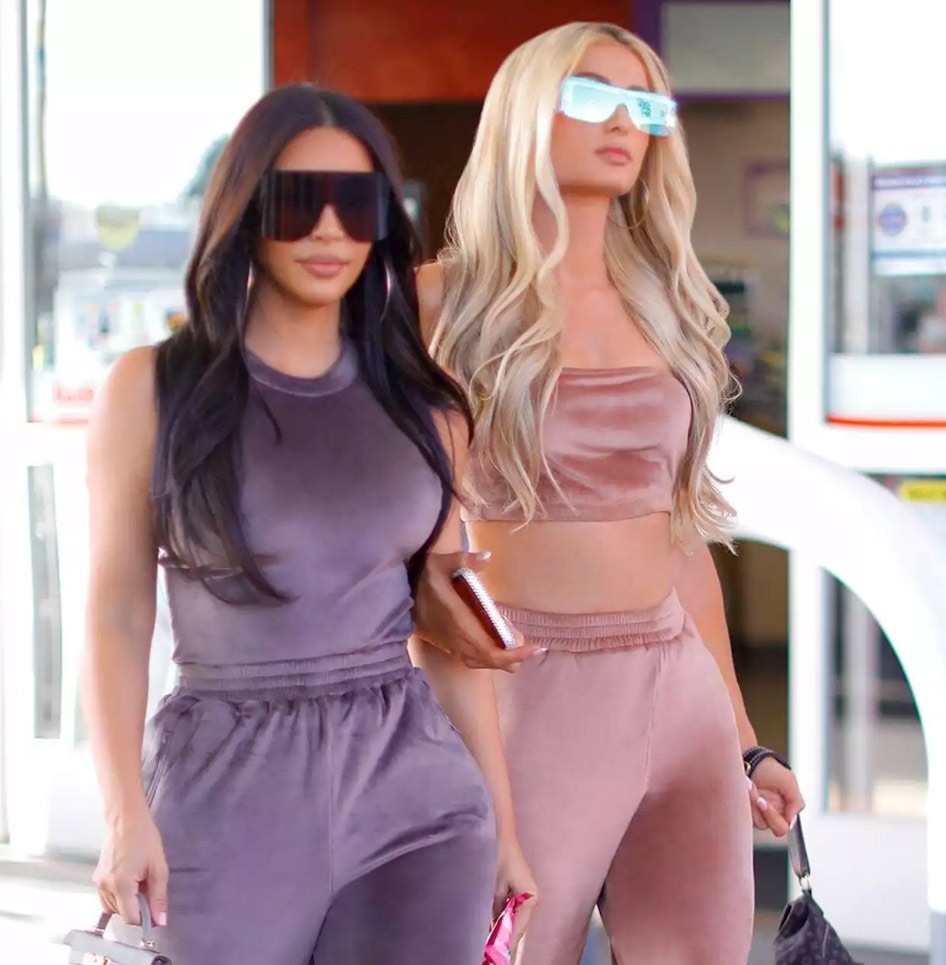 The soft and velvety Track-Suit was a popular, youthful look for celebs and everyone who loved vivid Juicy Couture colors and incredible comfort! And I'm delighted to see this cute outfit return to popularity.
After pushing fashion to the back of our minds for a while, we are eager to get out of the house and show our trendy new style in this cozy, casual look. Whether you favor bright colors with snazzy, sports' stripes down the pants' leg, or the darker, smarter, hoodie and pants' sets, you'll be perfectly dressed for the fresh, Y2K explosion next year!
Give your velour suits an edgy, contemporary twist by adding chunky shoes, boots or sandals. And accessorize with a contrasting bralette and denim jacket. And if you want to capture the full Y2K look, go for neon colors in green, orange, pale-blue and pink!
4. Y2K Baby Tee-Shirts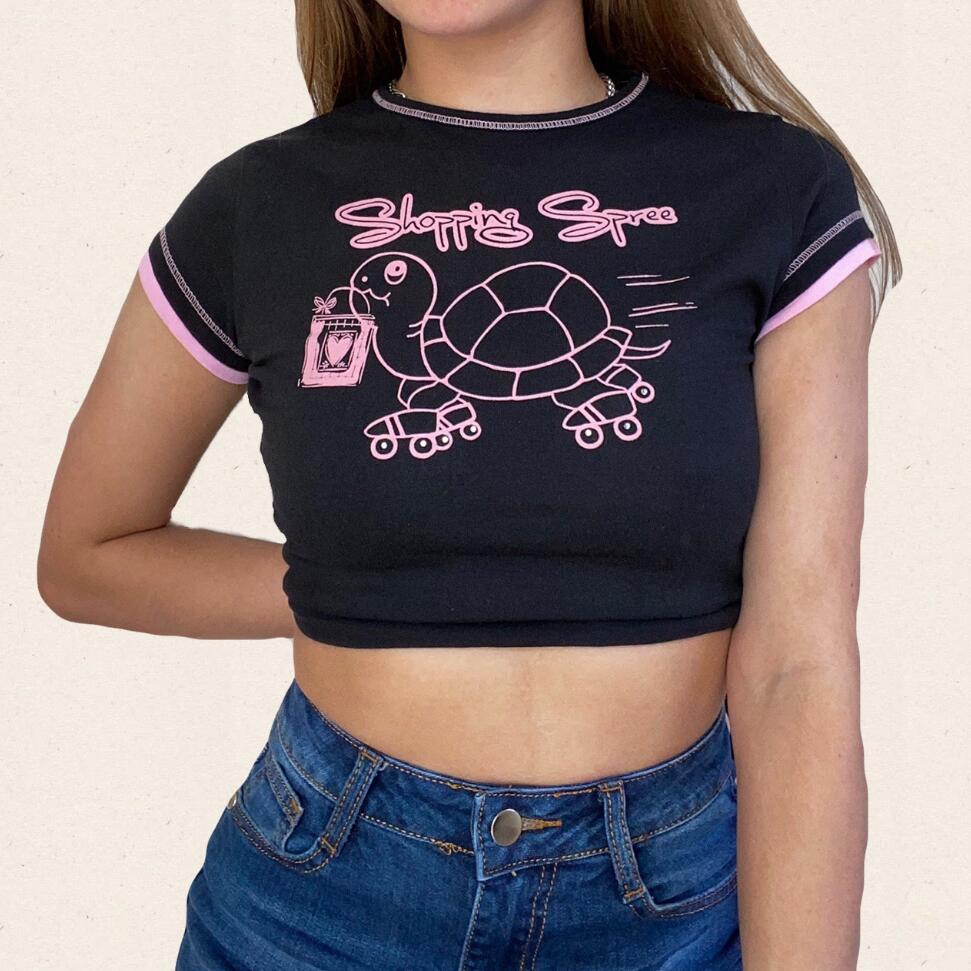 For the young and slender, the teeny-weeny T-shirt is yet another Y2K trend to look forward to wearing next year. These skimpy T-shirts finish above the navel and look good with low-rise and high-waist jeans.
Team baby tees with loose, wide-leg jeans, shorts, raggy denim cut-offs and pleated mini-skirts. And look out for baby tees with pretty patterns, cartoons, or short quotations displayed on the front.
Juicy Couture is still one of the main brands for this cute trend, which allows you to look hot and 'cool' at the same time!
5. Y2K Bandanas & Scarves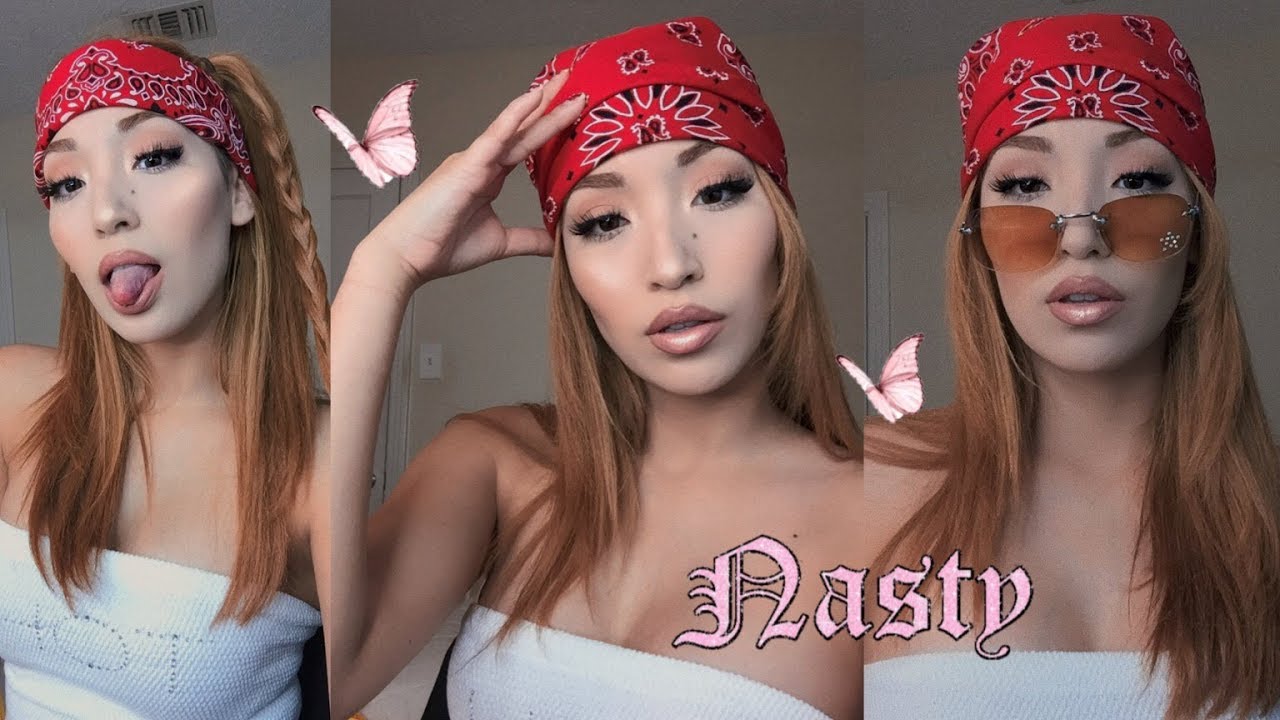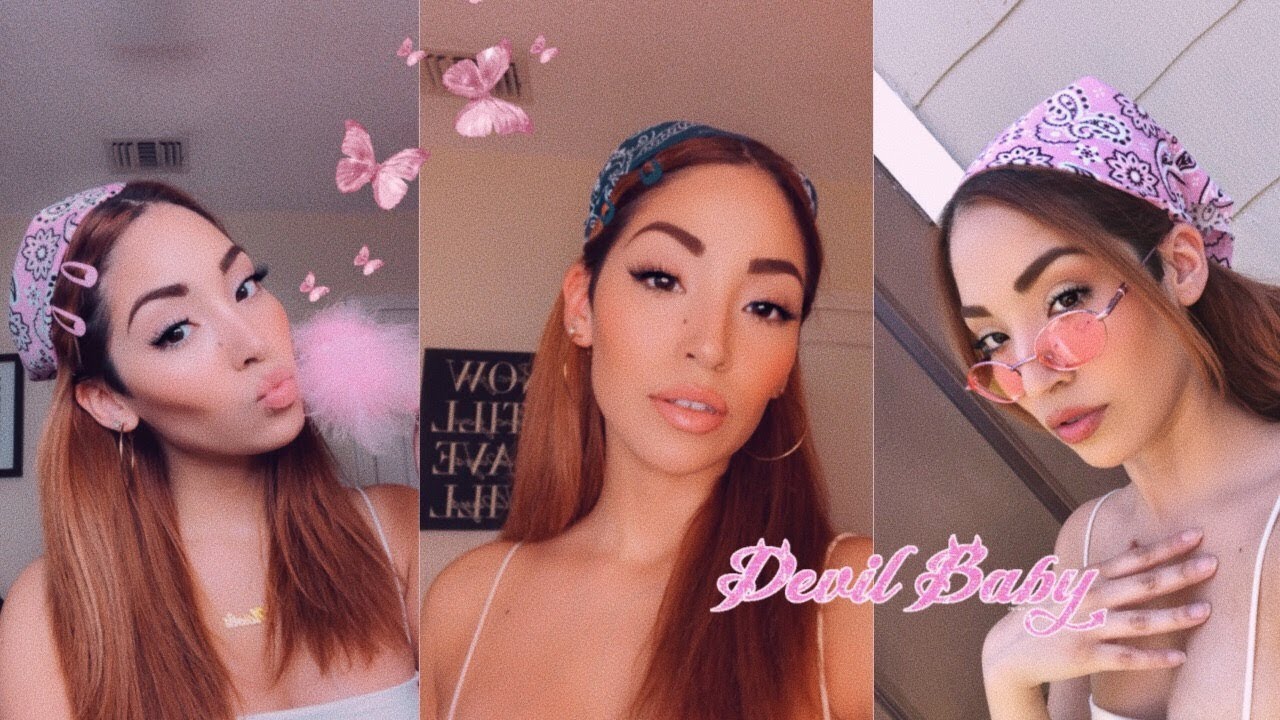 The 'laid-back' bandana headscarf was a basic accessory for early 2000's fashion fans! It's a great addition to your general style image and can be worn in lots of different ways to complement a variety of outfits.
The staple style is a bandana folded in a triangle and then wrapped around the top of the head. Leave your hair loose underneath and add some Y2K colored lens or kitsch sun-specs, if you love short hair, here are some great short hair styles for you to choose from.
Or wear a bandana in a thin, folded strip around your head as a brightly-colored headband. And if you want a more upscale look, choose a bandana color that harmonizes with your outfit!
6. Y2K Transparent Clothes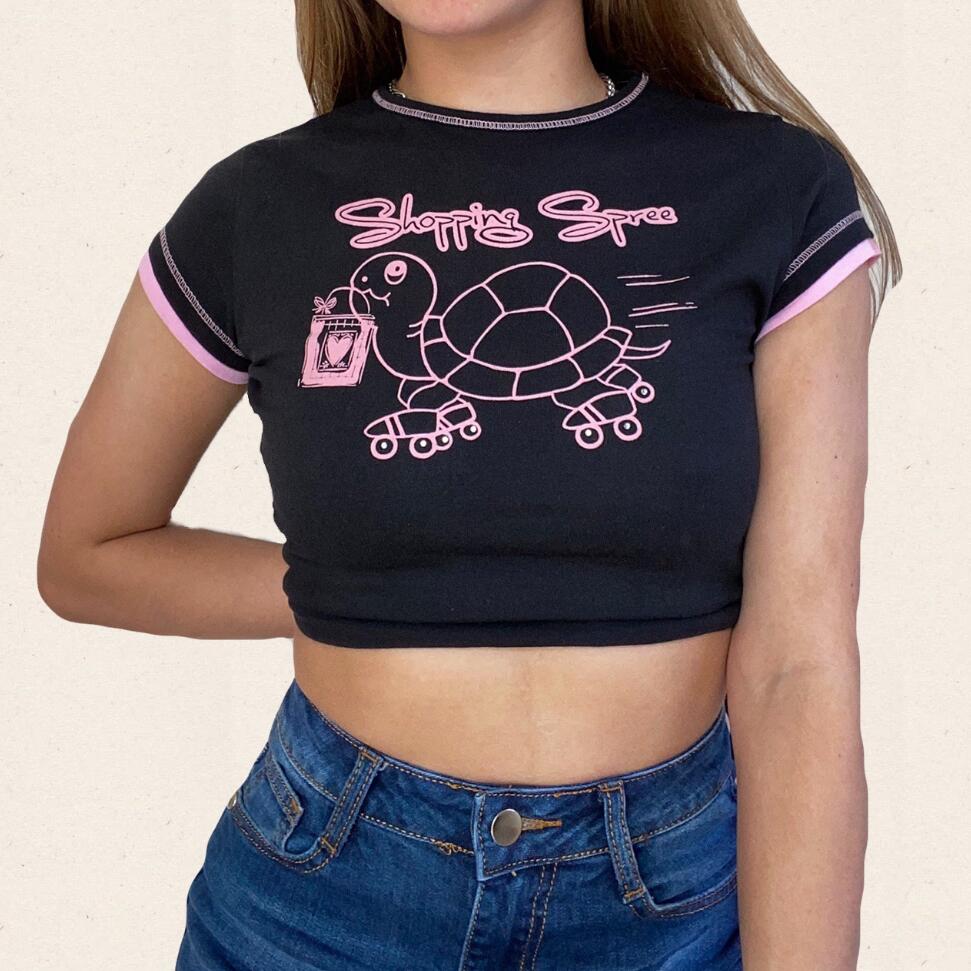 As you've probably seen in the recent party clothes of our favorite celebs and singers, transparent and translucent clothes are hot right now. And this was inspired by the Y2K desire for experimental, futuristic fashions.
Translucent garments can be revealing of the body underneath or toned down by wearing a trendy bralette, slip dress or tiny T-shirt beneath. There's also a big trend for mesh tops and mesh panels in dresses coming next year.
And for daily wear, you can wear 'see-through' shirts and blouses over a cropped top for a high-fashion, but modest look. Opt for bright colors and create a fantasy look for your wild nights' out!
7. Y2K Baguette Bags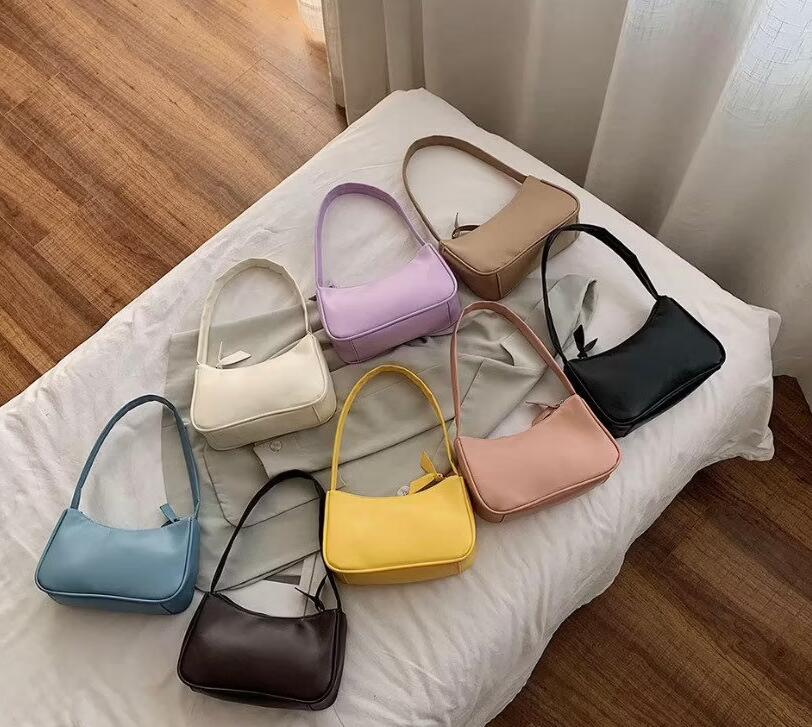 Carrie Bradshaw in Sex & the City was a major showcase of the Y2K look. And although this iconic TV show has just returned, you need to see the original series to get the authentic 2000's fashion styling.
And one of the many items that Carrie introduced to the world was the tube-shaped, baguette shoulder-bag. Look out for vintage baguette bags in second-hand clothing stores.
Or if you want to rock the experimental, futuristic look buy bags made from shiny materials and with plenty of metallic touches. These can be worn with a wide range of Y2K fashion-wear!
8. Y2K Shiny Metallic Outfits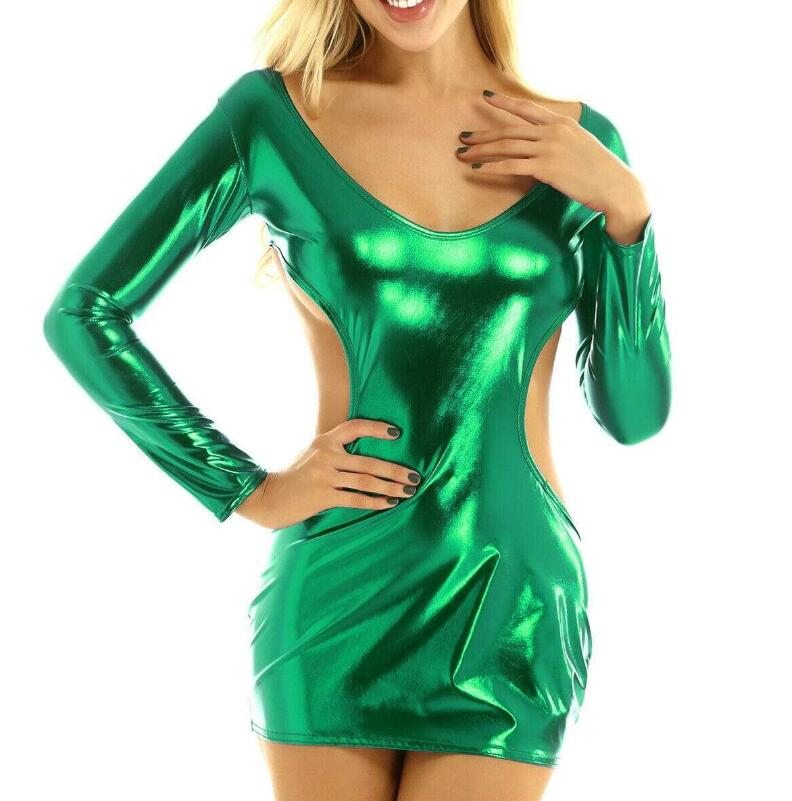 The early 2000's were full of excitement about the future owing to the internet boom. And that translated into new, shiny fabrics like faux-leather with a pearlised finish, and metallic, silver and gold clothes.
It was also the first time anyone had seen the 'iridescent' finish for fabric, nail-polish, eye-shadow and lipstick. So you should be looking out for the new metallic and sequined fashion clothes for an extrovert, fantasy image.
To re-create this look, you can now get a puffy, metallic jacket to wear with your flared denims. And team these with vivid bubble-gum pink, lime-green, pale-blue and orange!
9. Y2K Kitsch Y2K Fashion Accessories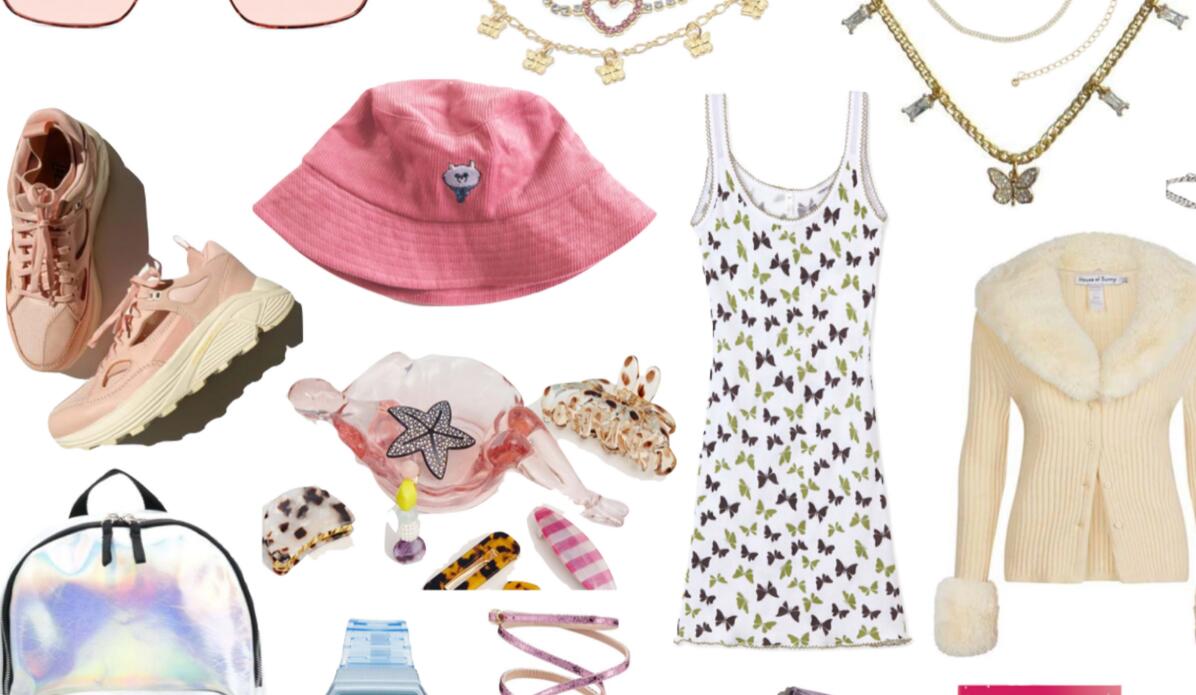 Kitsch accessories are garish, bad taste and most of all, lots of silly fun! And in the optimistic Y2K fashion trends, anything playful and silly is welcome.
Whether you're going all-out for the full, authentic 2000's look, or just want to add some giggles to a plain, minimalist ensemble, you should be wearing 'novelty', plastic jewelry, hair accessories and sun-specs.
Brightly colored plastic-bead necklaces and bracelets with words like, 'Love', Smiley Face icons and the popular star shape are perfect. Novelty sunglasses, like heart-shaped, Lolita frames are another great idea, here are more y2k accessories.
And of course, logo hair-slides and scrunchies will transform you into a lively year 2000 girl!
10. Y2K Outfit Ideas: Double-Denim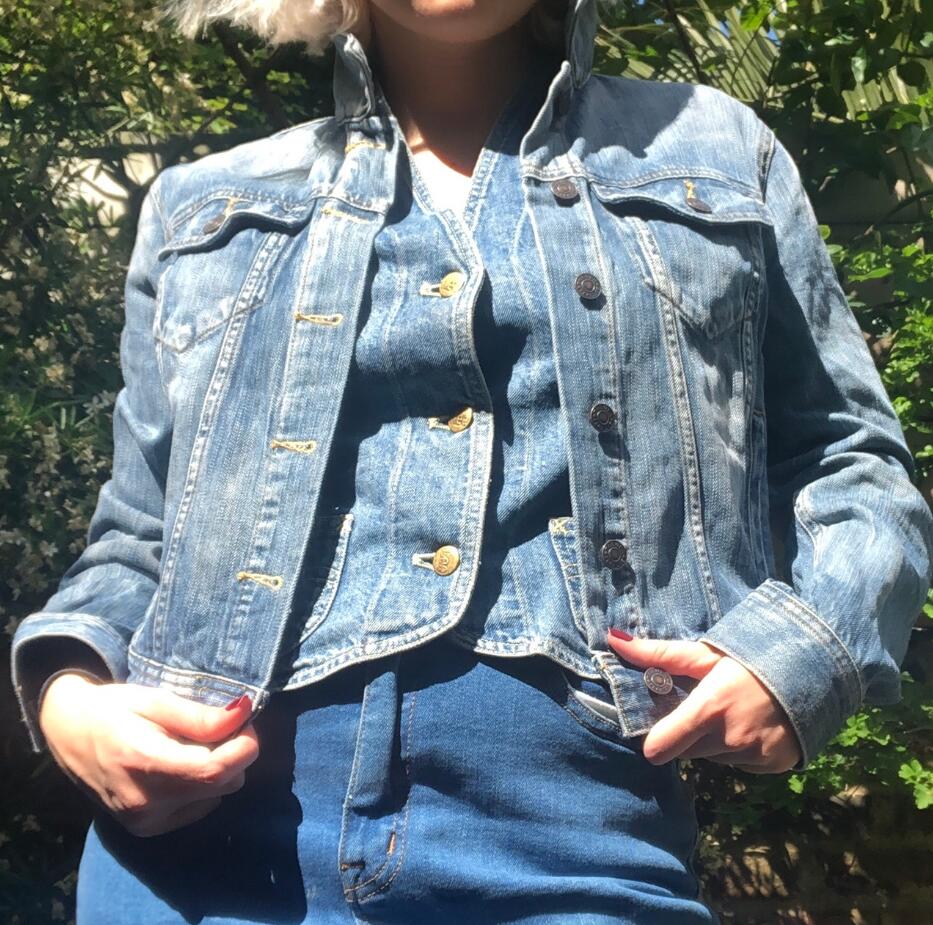 There's always a lot of debate about whether double-denim is cool or not! But if you like it – wear it – because it's a popular, Y2K look anyone can copy. And if you style your double-denim with the current fashion for patchwork, contrasting-panel and decorated jeans, it's a strong, statement look.
The new Y2K look can be achieved by teaming cropped tops with flared jeans, shorts with a cut-off knitted vest and low-waist jeans with a super-sized jacket. Or keep the denim colors well-matched and wear with a plain, white top for a smarter look.
Add jaunty Y2K accessories like brightly-colored sun-specs, chunky-heeled shoes and a classic baguette bag!
11. Y2K Fashion: Tie-front Tops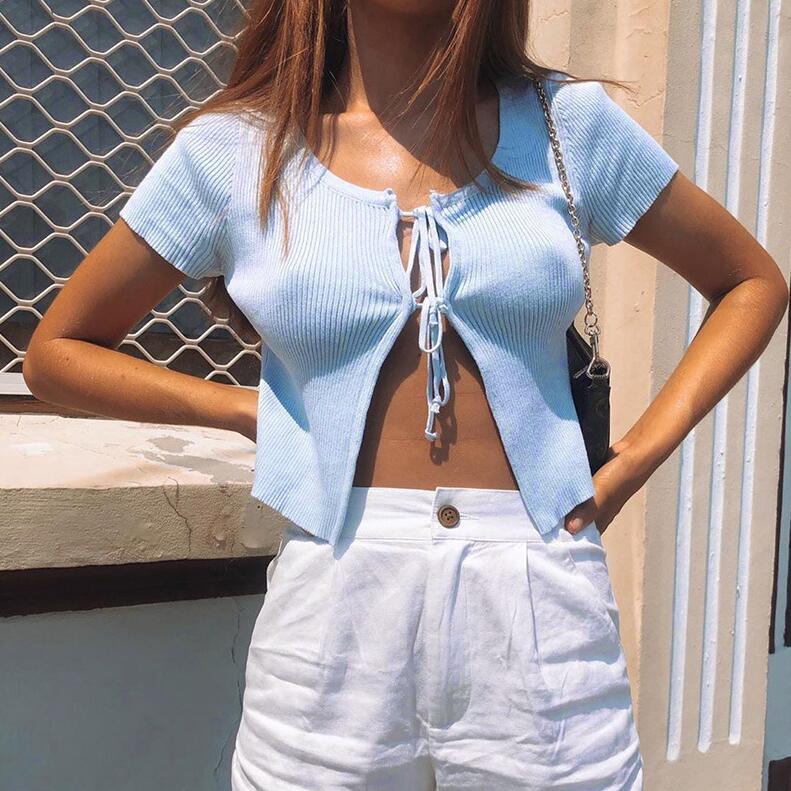 Sexy, tie-front tops were a huge trend in the noughties and form an important part of the Y2K revival. They look great in warm weather and let you show off your shape! The new twist is fresh pastel colors and close-fitting, skinny-ribbed fabric.
Wear with the new generation of bright, pretty bralettes, tiny tees, or alone and get an appealing, young look. In particular, tie-front tops look smart with high-rise jeans, hippy-like, patterned, wide-leg pants and our favorite mini-skirts.
This is a bright and casual look, but you can also pop any tie-front top over a shirt or blouse to keep the fashion style in colder weather!
12. Y2K Outfits: Ribbed Cardigans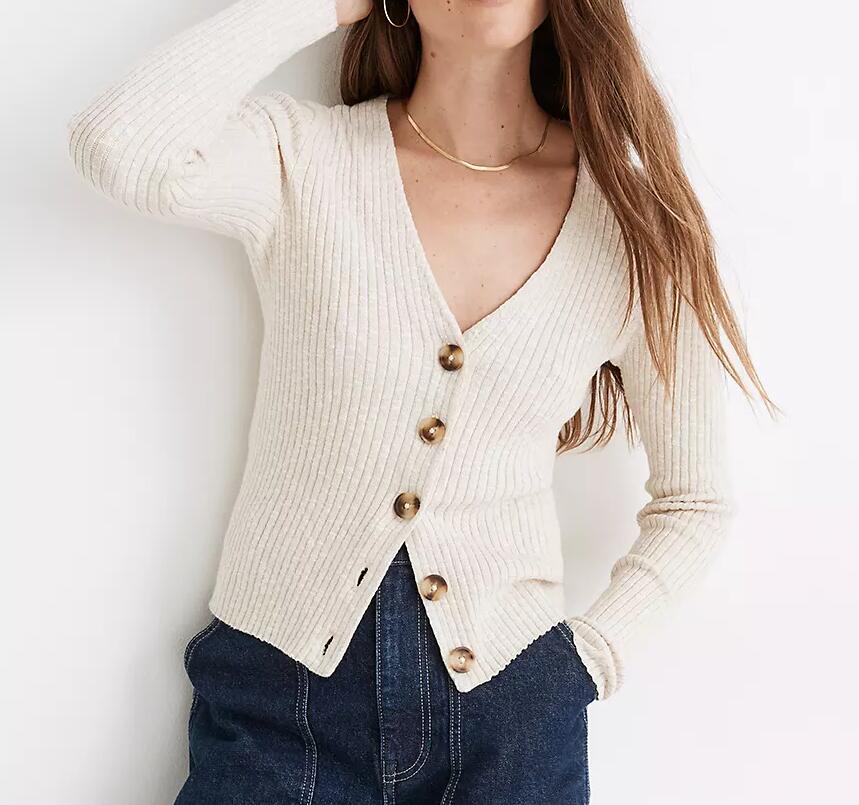 Skinny-rib, short cardigans look fabulous with baggy jeans, super-short skirts and over silky, summer slip dresses. Leave the top button undone and wear a modern bralette top underneath, for a night-out.
And pastel shades will liven up your Year 2000 look next spring and summer. The ribbed cardi can be worn on its own or as a handy layering top for adding warmth on a breezy day.
Play around with colors and put unusual, complementary colors together to give a new twist to your throwback look! And pastels can look fabulous when paired with navy-blue jeans and high-heeled boots.
FAQ's & Tips on Y2K Styling
Can I wear the Y2K fashions the second-time around?
Lots of women who wore this trend in the past, are wondering how to wear this lively new trend as mature adults.
For anyone who wore this trend the first time around, who would love to rock it again, go ahead! There's no reason why mature women can't enjoy fun fashions, just use the fashion-sense you've learned to add touches of Y2K, rather than wearing complete retro-outfits.
If you've gained a few pounds, wear your bright, velour track-suit in a looser fit. And the same goes for ribbed cardigans.
Shiny clothes and bags are available for everyone to enjoy for parties, but not for every-day workwear if you're not a youngster any more . And tie-front tees look fashionable, but modest, worn over fine-fabric shirts and blouses.
Bandanas have always been worn by people of all ages, but don't go overboard with the novelty, Kitsch accessories and plastic jewelry. And mesh and transparent clothes are going to be a mainstream trend next year and anyone can wear them, as long as you add a color-matched t-shirt underneath.
Where to buy Y2K fashion clothes?
The Y2K revival is absolutely unstoppable and appeals to anyone looking for a bright and optimistic new look. For those who like authentic fashion pieces, you can find plenty of 90's and 2000's clothes in second-hand, vintage stores.
But just take a stroll along to your nearest Shopping Mall and see how much the international fashion stores have invested in this fabulous new trend for us to enjoy in this year and beyond!
Are you excited to wear this positive new fashion trend? Which is your favorite new Y2K item? Will you be wearing sequins and metallic clothes for parties and dance-clubbing? Do you think bright fashion clothes help people feel optimistic?