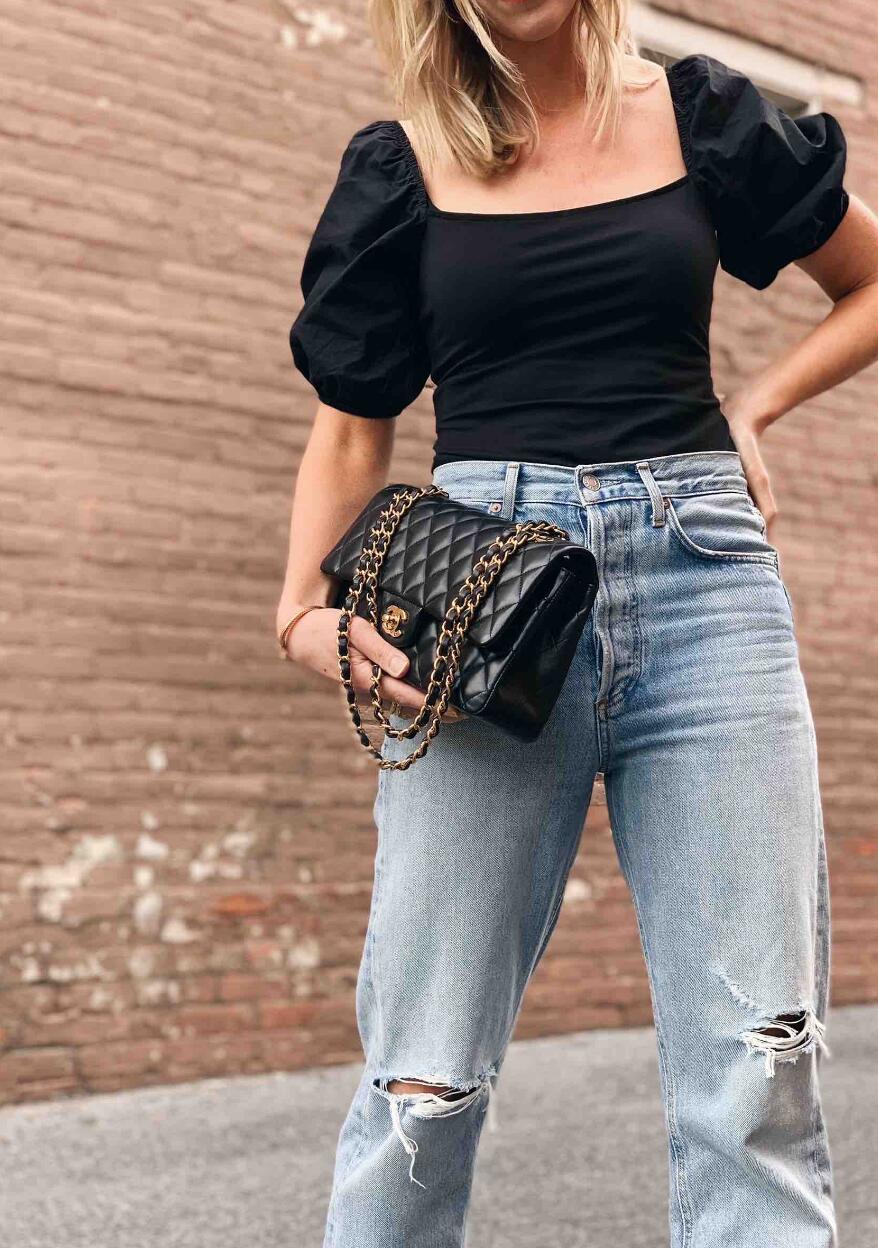 After the last year's fashion trends for comfortable clothes, fashion is returning with a much wider range of exciting, new trends. And this year is going to bring some fabulously quirky, bright, dark and appealing new fashion ideas! So whether you're coming up to a hot or cold season in your location, there's plenty of choice here!
Social media dictates the fashion trends
Our love of TikTok, Instagram and all of the other social media has changed who dictates fashion trends. It always used to be just a select few fashion designers and their exclusive runway shows. But now we are all involved in setting the trends by using social media, following celebs, and fashion influencers, wearing real-life streetwear, and getting to see lots of different, young, fashion tribes!
Latest fashion tribes
The whole fashion trends' scene in the last year has opened up into lots of alternative looks based on different personality types and lifestyles!
You can now choose from many different fashion styles, like Cottage Core, which embraces flowery, vintage rural-style fabrics and feminine styles. And this is just one of the fashion tribes that appeals to those who feel a bit trapped in an urban environment and want to feel like a romantic heroine!
For instance, there's Light Academic, Dark Academic, E-girl, which is inspired by current Japanese girl-fashions, Goth, Fairy Grunge, Alternative Scene, Athleisure, Classic, Professional, Y2K Fashion, 70's, 80's or 90's inspired and Vintage to name a few main trends.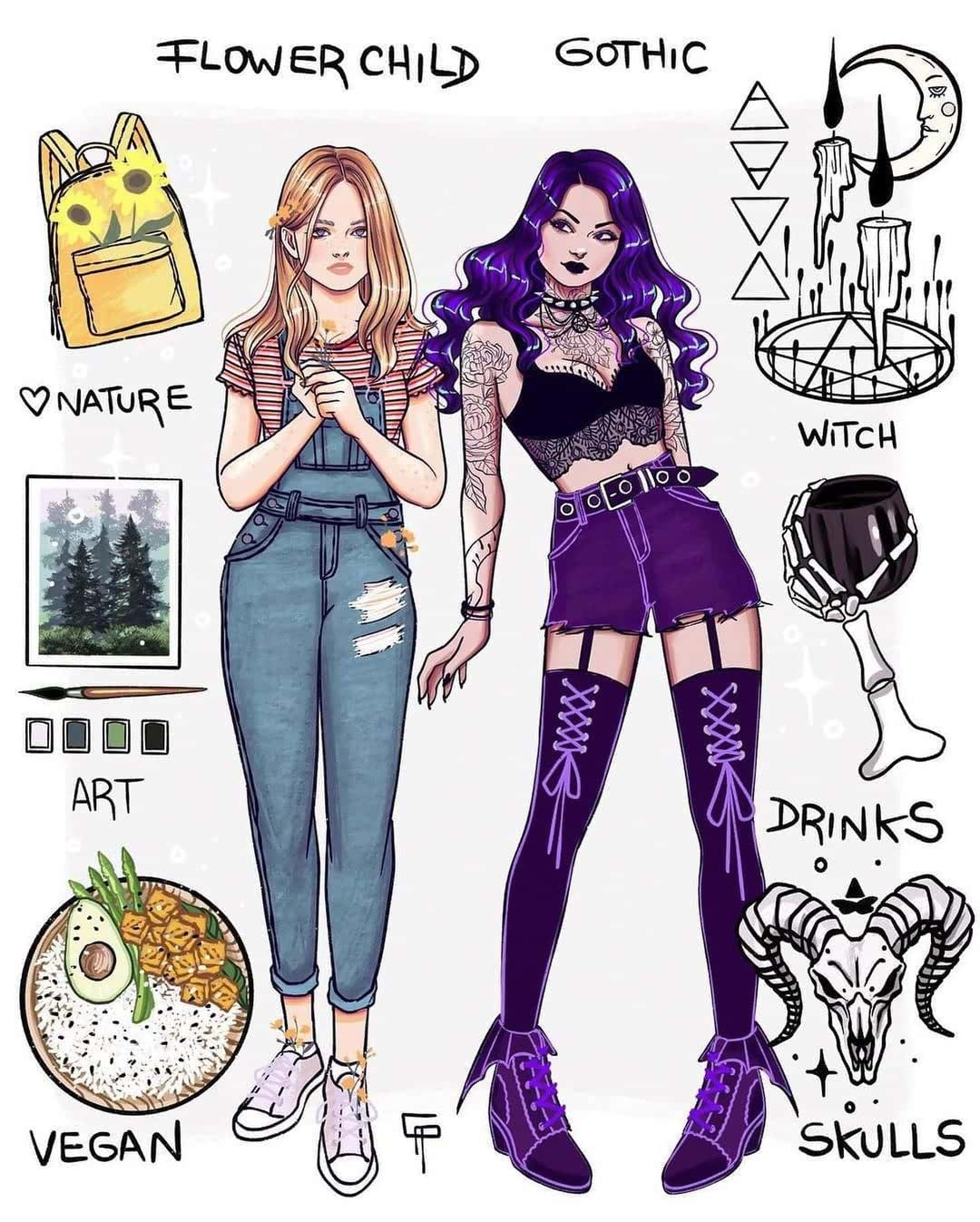 Fashion Trends for This Year: What's new?
And you can see examples of all of these fantastic new styles right here to get you back into the fashion 'saddle' and riding high on the Top Fashion Trends for this year!
So if you're tired of the last year's fashion trends for neutral colors and athleisure, take a look at the hottest, new fashion styles – right here!
Chunky Loafers
Color Clashes
Smart and Sexy Black & White
Hoodies with Blazers
Beautiful Bohemian Florals
Wide-Leg Jeans & Trousers
Light & Dark Academia
Hot Goth Look
Y2K Fashion
Bomber Jackets
Cropped Cardigans
Boiler-Suits
Casual Trench Coats
Tractor-Tread Boots
Sugary Pastels
Knitted Vests
Puffed-Sleeves
Maxi-dresses
Sash-Belts
Bright Bralette Tops
1. The Chunky Loafers
Styling tip:-
Patent leather loafers look fantastic with vegan, faux-crocodile bags and give you an authentic rock'n'roll star vibe!
When it's too nippy for ordinary shoes and too slippery for high heeled boots, it's time for chunky loafers. They give a strong fashion statement that always makes you stand out from the crowd. Current forecasts for next year agree that classic, chunky loafers will take-over the top-spot from sneakers and high-boots, ballet pumps and fancy shoes.
So invest in a pair of long-socks and wear chunky loafers for the 'schoolcore' look. Or wear the grunge trend, light and dark Academia or whatever style you love, along with a comfy, stylish pair of chunky loafers! They are not called a, 'classic' shoe for nothing – this style has been popular as a fashion trend and for hundreds of years!
2. Color clashes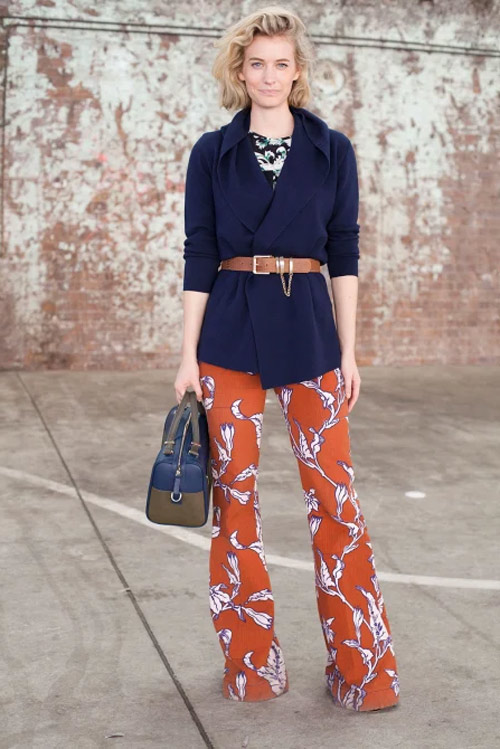 Styling tip:-
Look at the Color-Wheel online and pick out the 'complementary' colors, like blue and orange, or pink and green etc. They will show you which colors can be 'clashed' successfully and which ones to avoid.
Color clashing is a clever way to freshen up you existing wardrobe, without having to break your budget. Look at the Mexican artist, Frieda Kahlo's self-portraits online and see how she loved to make fabulous color clashes.
Colors like orange and raspberry pink look trendy and modern, along with lots of others like purple and orange, which was popular everywhere in the 70's! Try to wear the stronger or darker color on top to get a fantastic focus, but this isn't too important.
Clash vivid complementary colors and give new fashion life to your classic jackets. Mix in bright modern shades like bright green with shocking pink – along with vintage-look ruffles blouses.
And to make the best fashion statement, choose simple, plain colored clothes. For instance, pencil skirts, shift dresses, maxi-dresses, wide trousers, plain sweatshirts and hoodies etc.
3. Smart and Sexy Black & White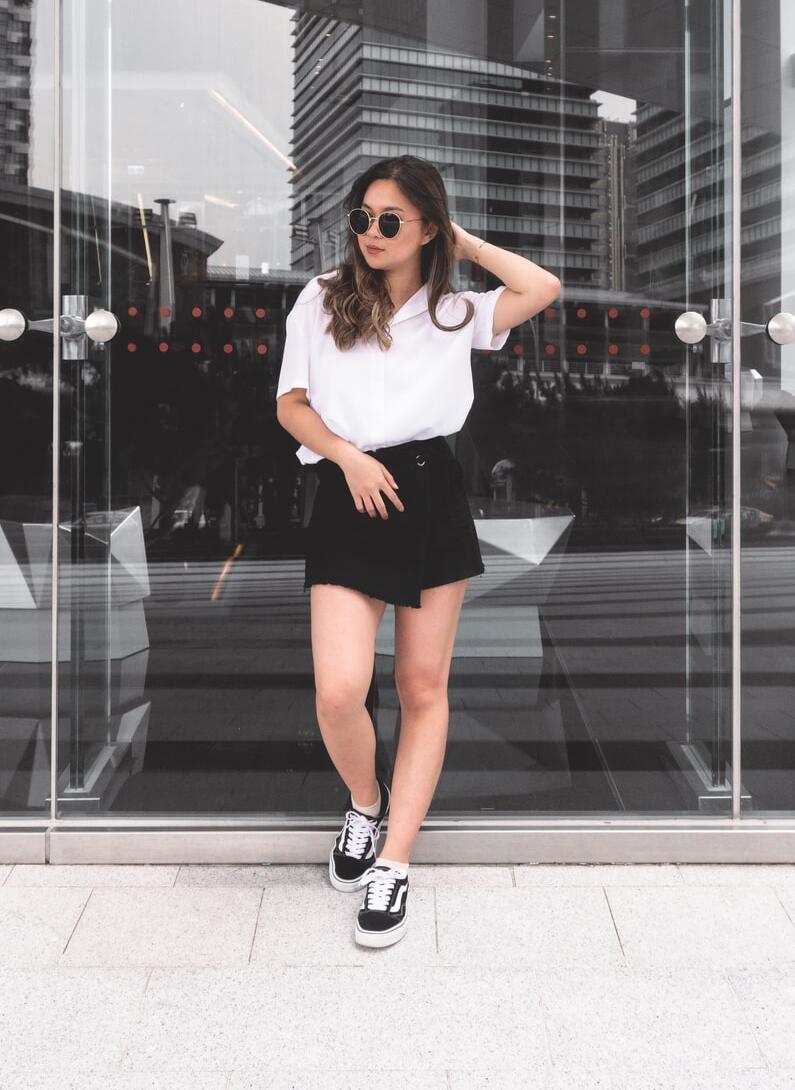 Styling tip:-
Wear a white shirt or blouse under a black mini-dress to get more wear out of your dresses in colder seasons.
The combination of black and white is a classic that we never get tired of. It's always a professional look for daytime wear and a classy style for evenings.
If you just can't decide what dress to wear for a formal event, then you can't go wrong with a white shirt and black dress pants. Fortunately, black dress trousers are back in the shops now.
And to add a modern twist to your ensemble, add texture in lacy or layered garments. Or try cut-out styles, which is one of the 2021 fashion trends that is just getting started, including knitwear. From black leather to soft white lace, there's a sexy or elegant black and white outfit to suit everyone!
4. Hoodies with Blazers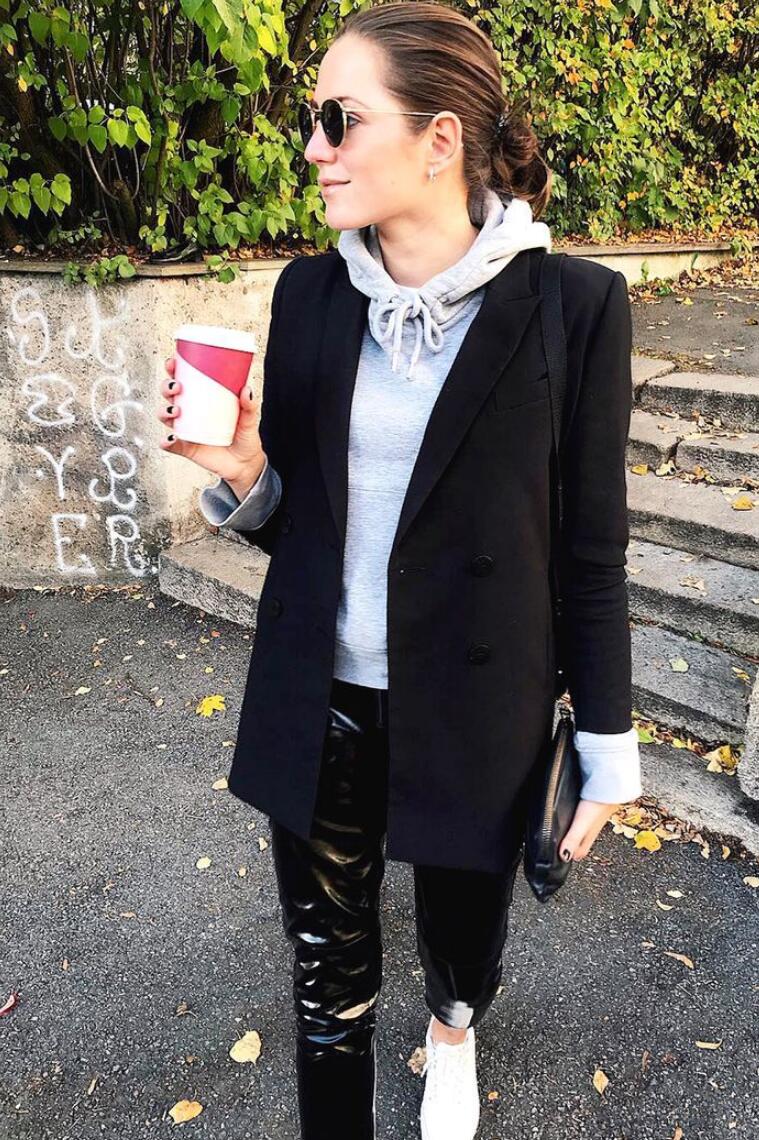 Styling tip:-
Now that oversized blazers are a major trend, you can slip them over a hoodie with no problem!
Hoodies are cozy, comfy and trendy, so we never want to take them off! And now you should be wearing them with a modern twist under a smarter jacket. This is a look that has come from the streets, but works for everyone.
On the latest oversized blazers, you can wear your hoodies with ease. But if you need to get more wear from your classic, 2021 fashion trends like tailored jackets, wear with a slimline, thinner hoodie. And make sure it's plain, with no logo, and in a dark color.
This look works with jeans or trousers, for casual or smarter wear, so it's going to be popular with everyone, everywhere!
5. Beautiful Bohemian Floral Frocks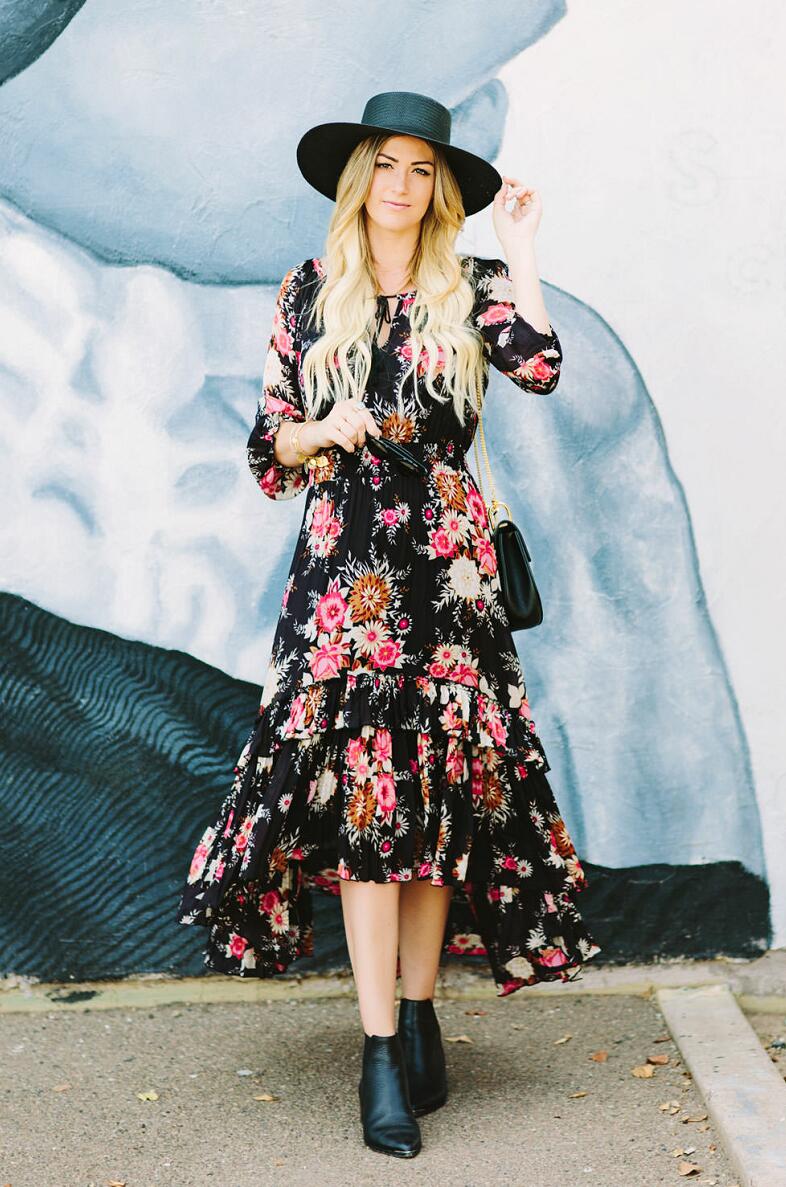 Styling tip:-
Look out for fantasy florals, rather than droopy rose patterns. And brighten dramatic gothic red and black clothes with unexpected sunshine yellow and vibrant greens!
When spring brightens our lives it comes in the form of the first flowers of the year. And next spring will be full of floral fashions you can wear as a classic, dainty, feminine look. Or for the full high-fashion look, mix and match with your own Goth, CottageCore, Academia, E-girl and Alternative Scene style.
You'll find next year's designs are very different from this year's 2021 fashion trends of pretty, vintage, rose-prints. We'll be wearing a fabulous new version described as, 'adding petals to metal'! And midi and maxi dresses will be our favorite summer frocks!
6. Wide-Leg Jeans & Trousers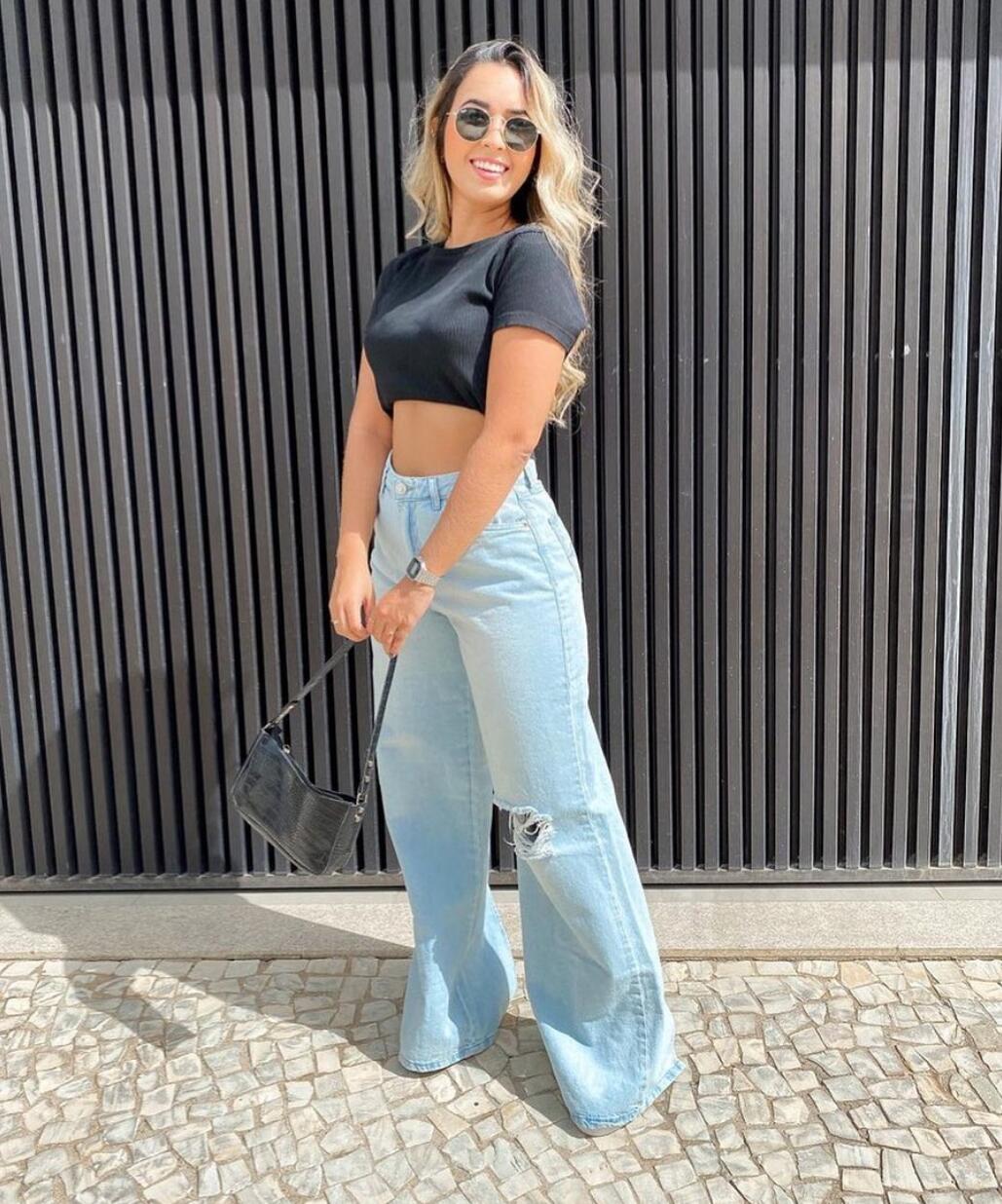 Styling tip:-
Wide-leg jeans and trousers are a major trend and one that will be with us for a number of years. You can wear them loose, extra-long, baggy and droopy, but you need to balance the look with a close-fitting or cropped top.
The charity shops are going to be overwhelmed with cast-off skinny jeans, and wide-leg pants of all types will take over in our wardrobes. I expected them to be widely worn this year, but I didn't realize how popular skinny jeans still were.
And it won't be easy to get rid of my own pile of skinny pants, but it's got to be done. So if you want to avoid being marked out as an oldie in your skinny 2021 fashion trends trousers, you need to move on to the wide-leg trend.
Make sure you team wide-legs with a high waistline, and a top that's either close-fitting, cropped or tucked into the waistband. Otherwise you could end up looking dumpy and shapeless. And if you're short in stature, don't go too wide in the legs.
7. The Academia Fashion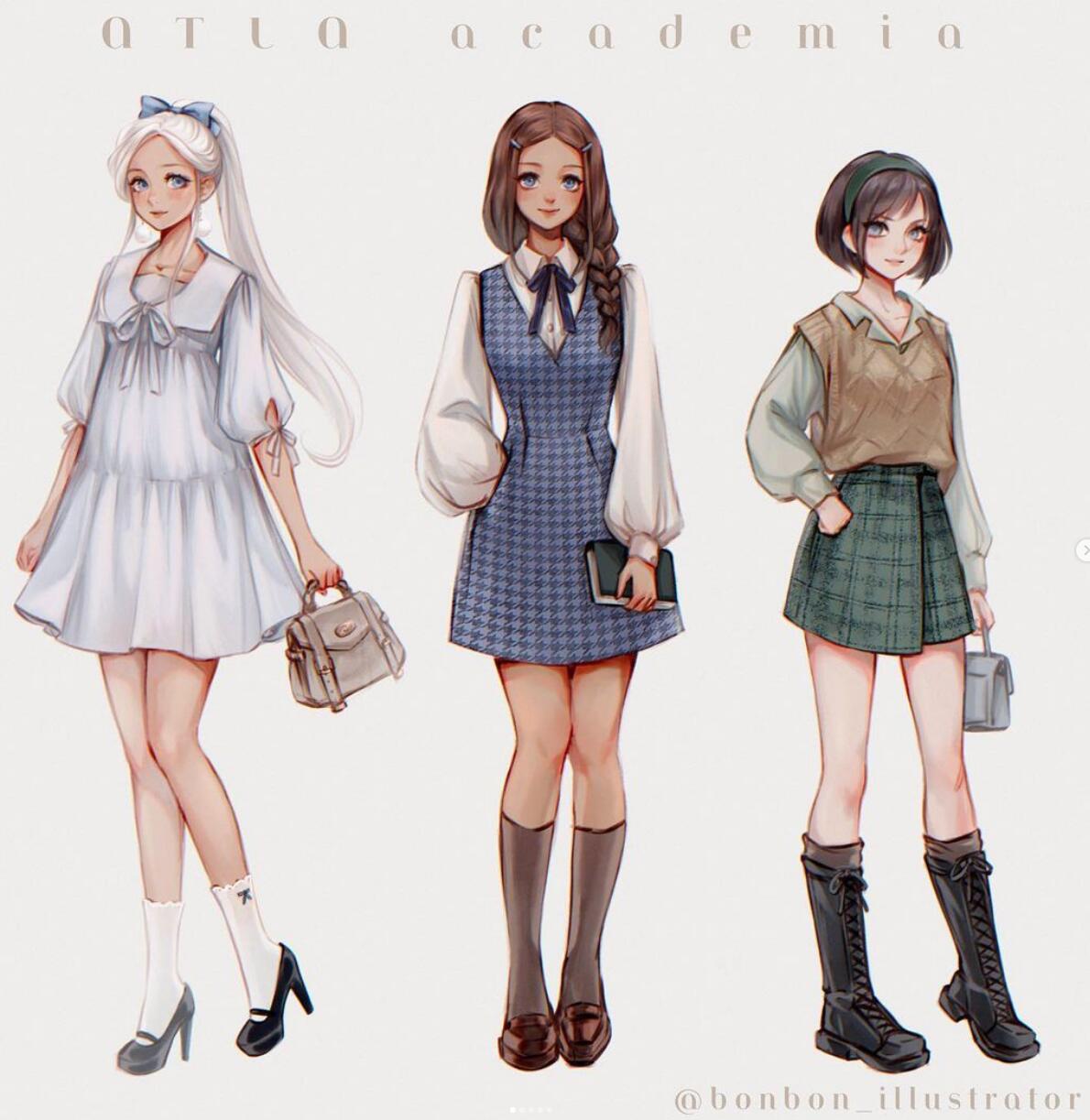 Styling tip:-
Academia styles are neat outfits with smart blazers, turtlenecks, brogues, chunky loafers and tractor boots. The Academia style is divided into two main branches – Light and Dark Academia.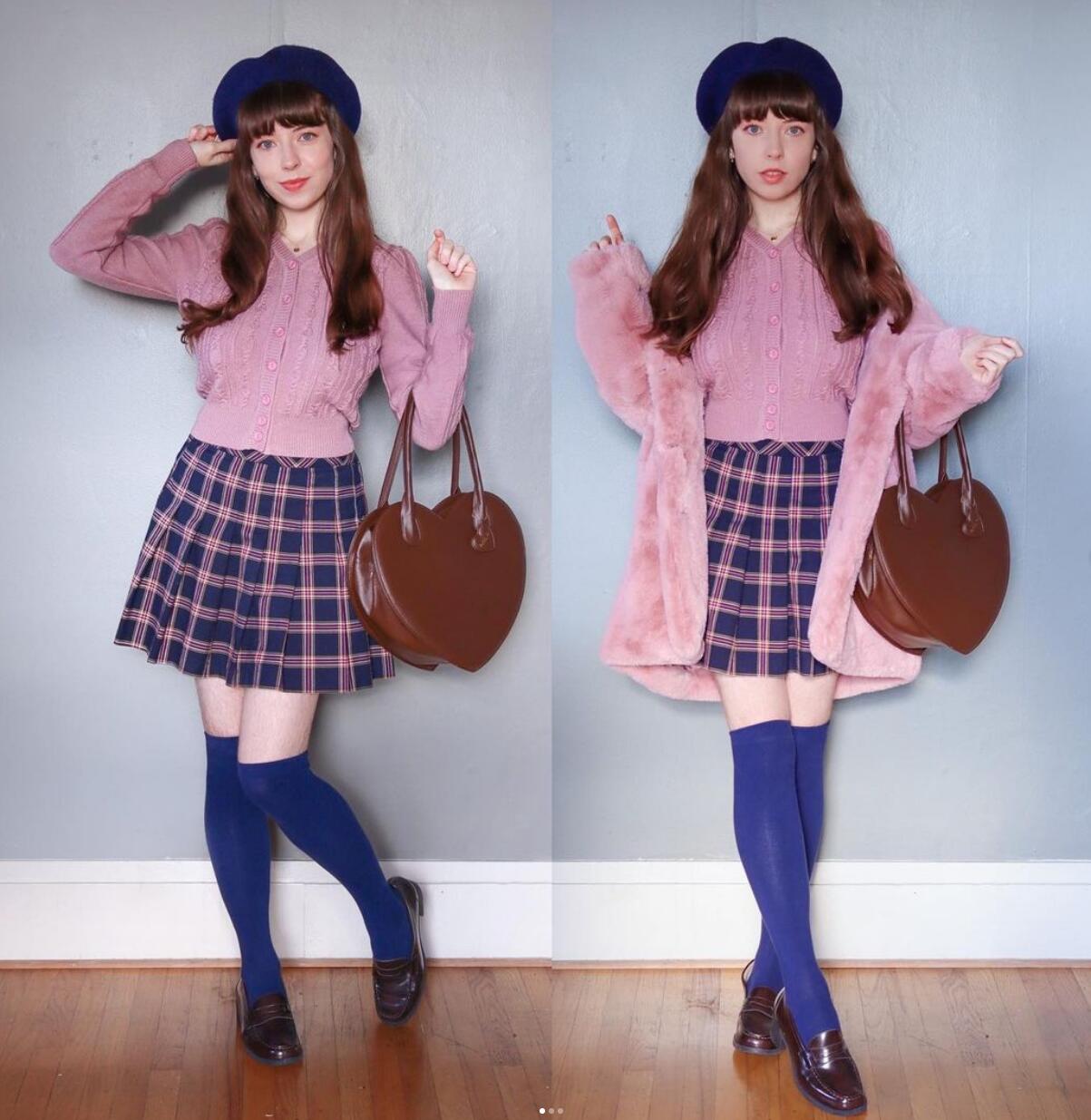 Light Academia is closer to the vintage high-school look of the years before 1960, with pleated skirts and tailored blazers, long socks, feminine plain blouses, knitted vest tops, warm sweaters and a positive vibe.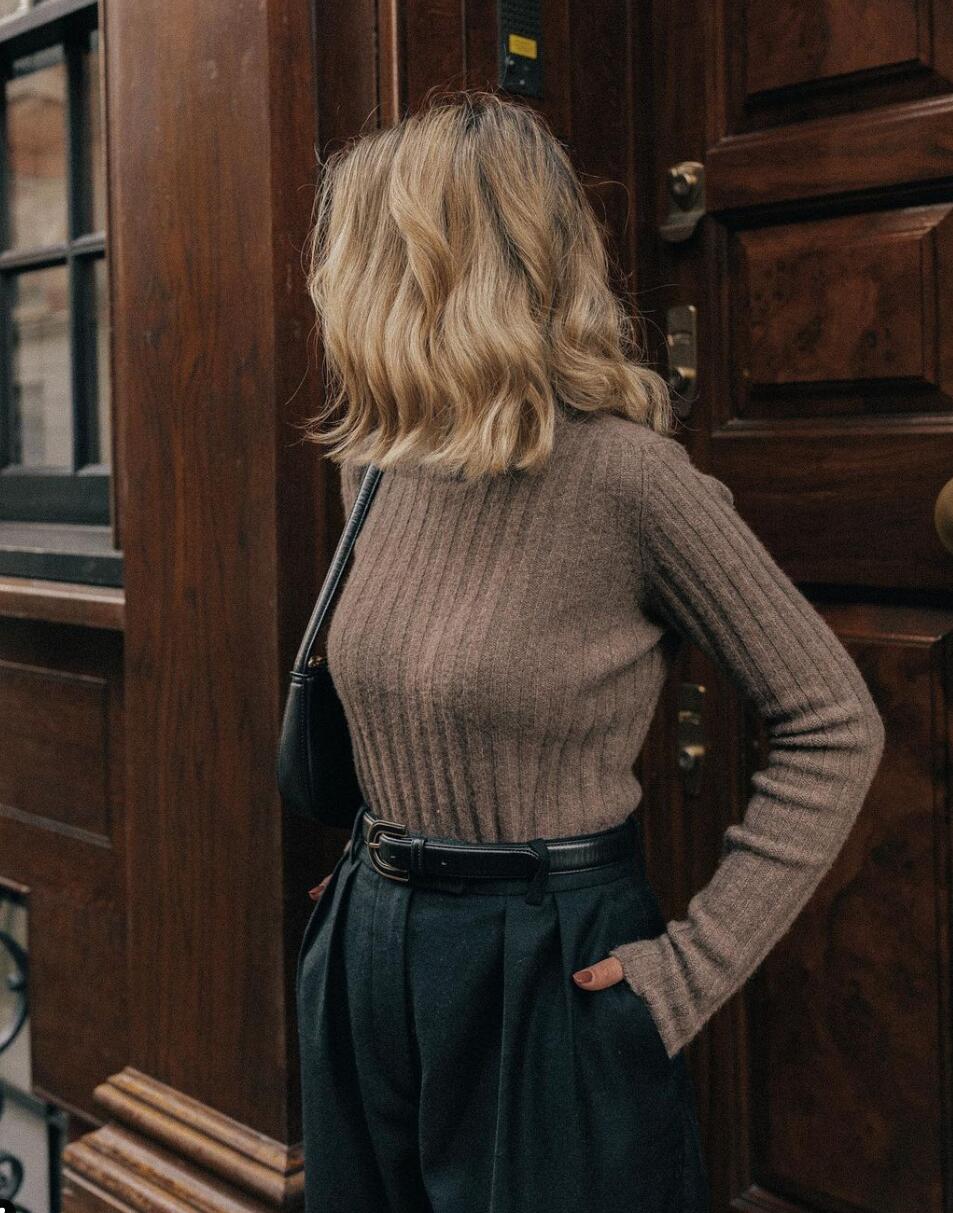 Dark Academia is based on ideas from classic Greek arts and architecture, with a lot of deeply Gothic features. So this includes thick sweaters in dark colors, reminiscent of the clothes worn by Hogwarts students in Harry Potter films.
Look out for checked jackets and trousers to wear with plain blazers, dog-tooth checks in light gray, browns and darker colors, including lots of black for Dark Academia.
8. Hot Goth Look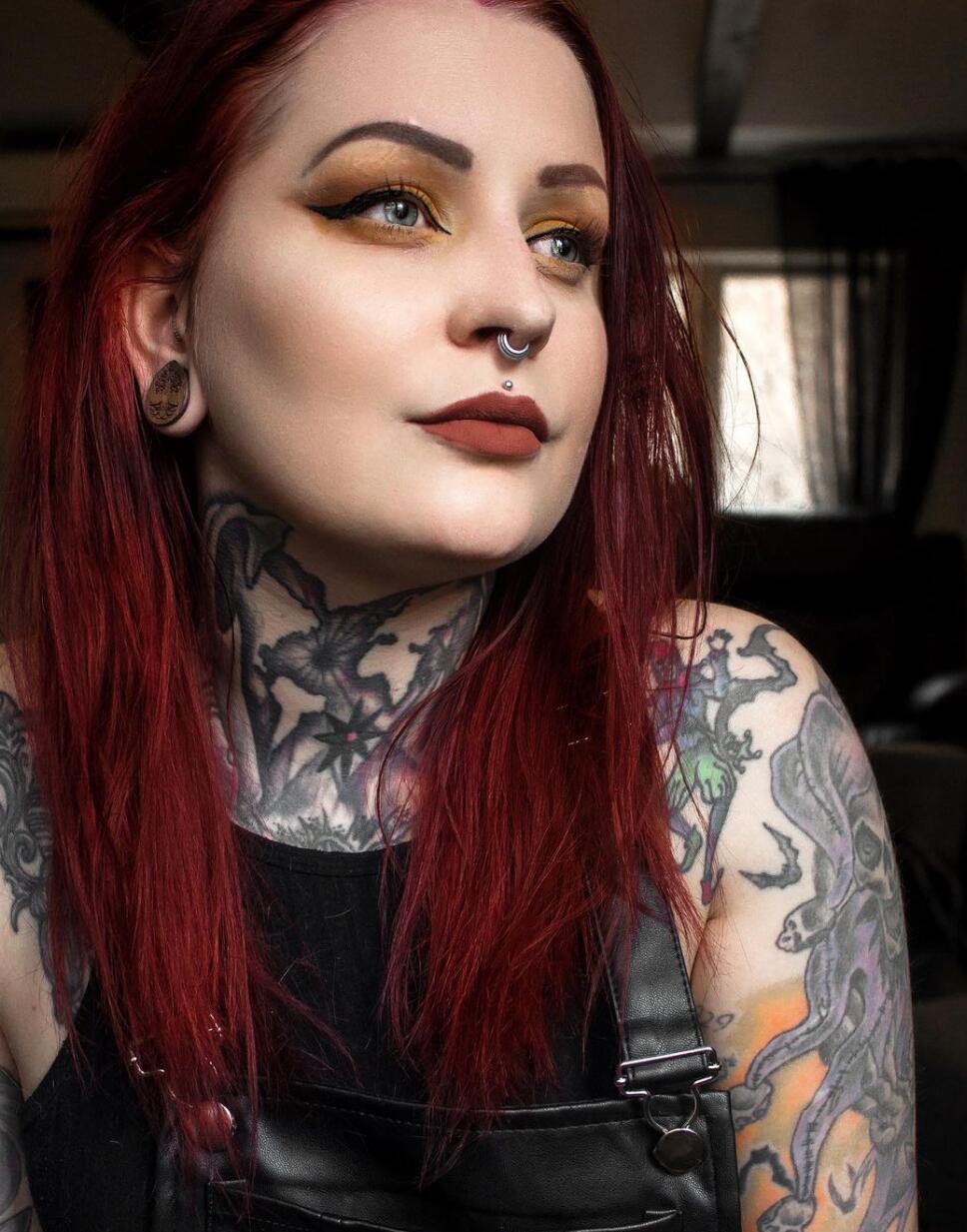 Styling tip:-
The Hot Goth look is chic and sexier, so avoid a witchy look and choose cut-out dresses and soft-textured fabrics.
In the wide range of fashion tribes of the Alternative Scene, Gothic gear is one of the most popular. Goths were one of the earliest subcultures and remain a mainstay of alternative fashion trends.
But it's starting to cross-over into mainstream fashion, with sexy Hot Goth garments a big, new trend for the coming year. So you don't have to be a vampire-fan or in love with the dark arts to rock this look!
Black lace, mesh inserts, lace-up sections, black velvet, faux leather and similar fabrics are part of the Hot Goth trend. And if you don't want to be a complete Goth, just add-in some sexy, Hot Goth garments with your monochrome looks!
9. Y2K Fashion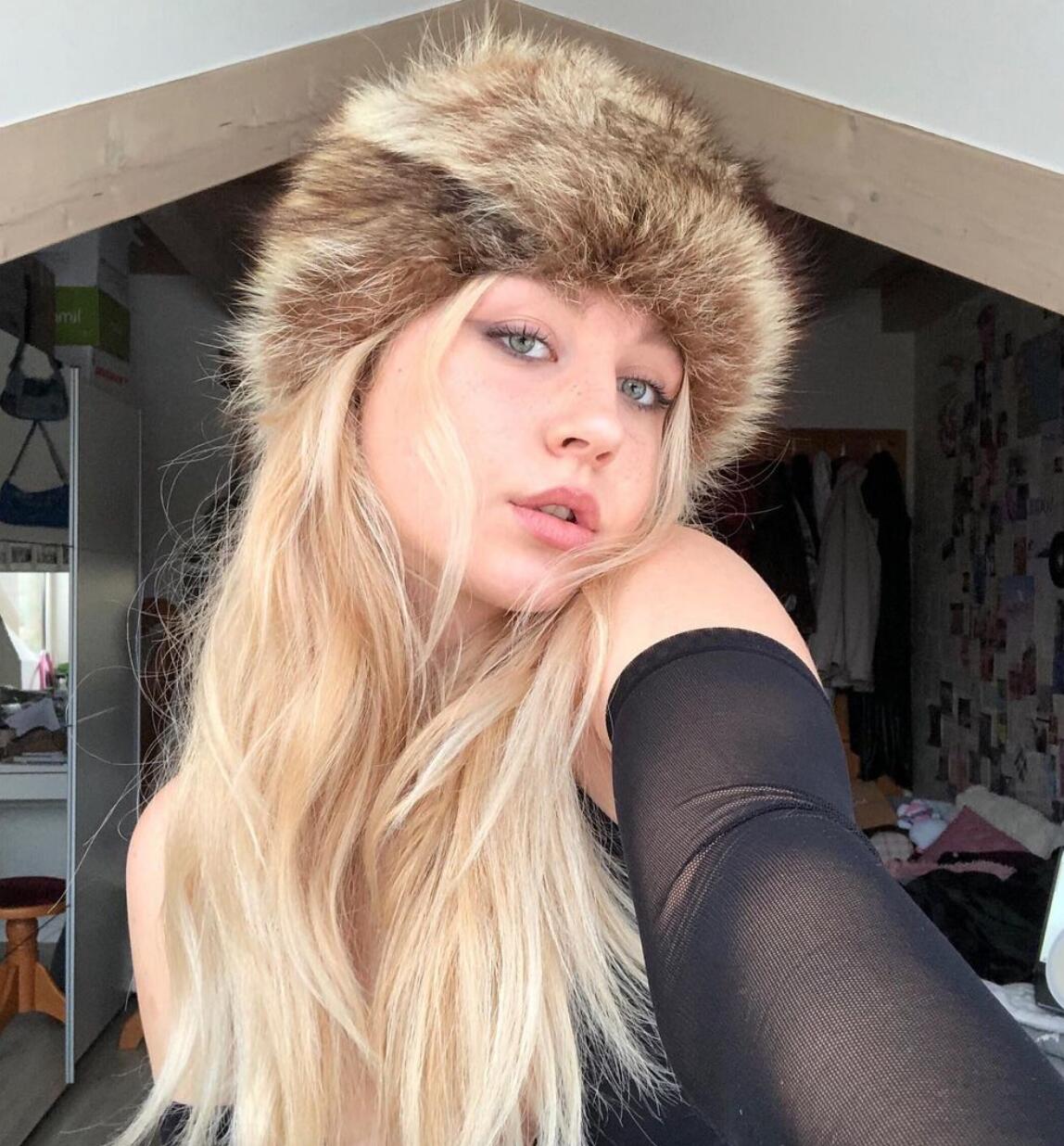 Styling tip:-
This is the 'pop-music' element in fashion trends and includes bright, young colors like shocking pink, shiny logos, metallic jackets, double-denim and mini-bags.
Comfy and cozy pastel track-suits and hoodies are a mainstay of Y2K fashion wardrobes, which is couch-to-streetwear for those who didn't need to 'dress-up' for the last year or so.
Y2K sweatpants are now almost as widely worn as jeans and if you aren't focused on a complicated fashion style, you'll enjoy the fact that sweats go with just about everything.
It's a positive vibe if you keep it bright and avoid dark colors that can look dreary and without personality. Wear with white trainers and faux gold jewelry to get the full Y2K effect! Update: read more about Y2K fashion trends here(Best Y2K Fashion Trends and Outfits for this year).
10. Bomber Jackets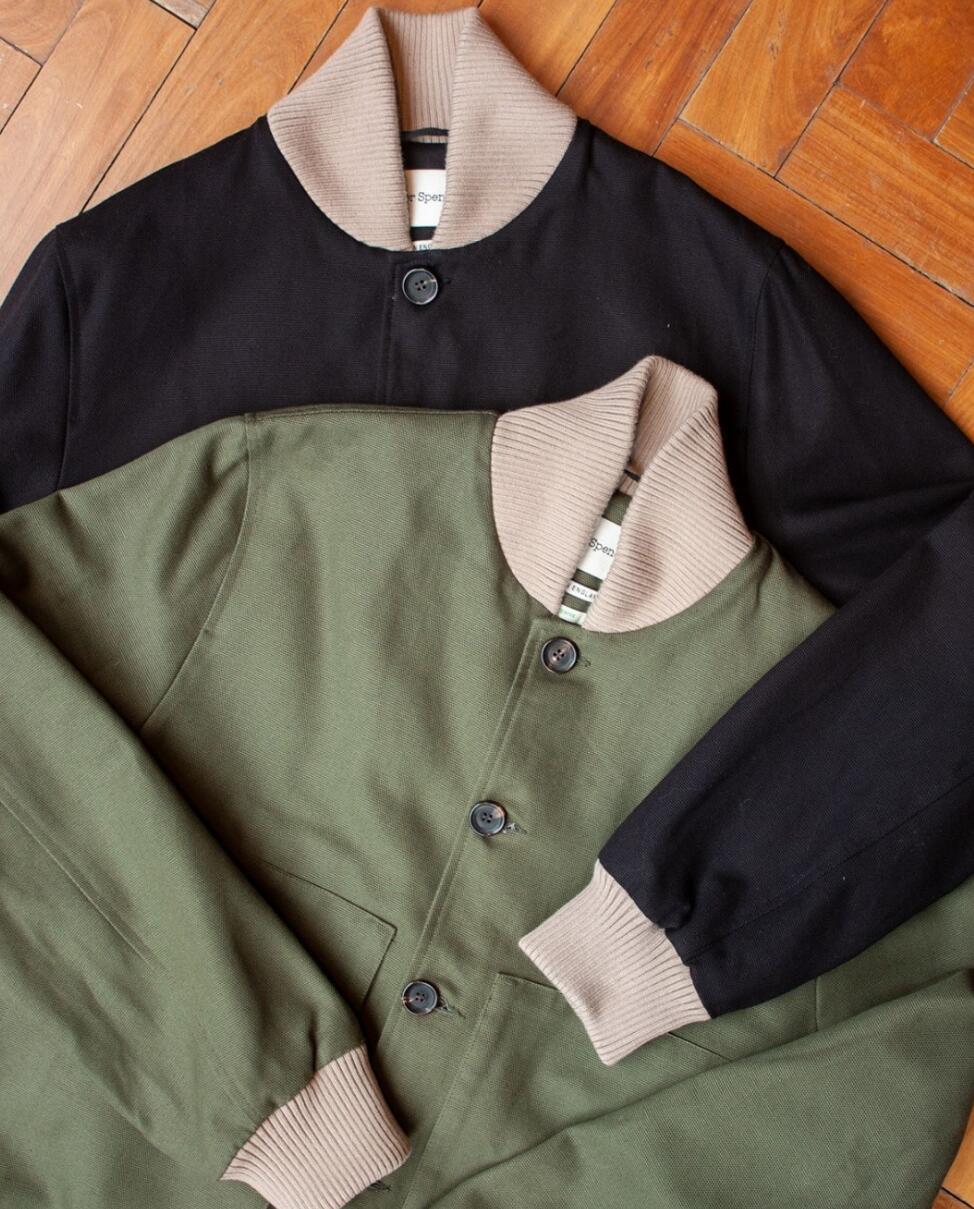 Styling tip:-
Wear with wide pants or short skirts, with long socks and oversized sneakers for a fabulous London vibe!
Bomber jackets are a lighter, less structured jacket often made with colorful, silky fabrics. This new trend includes both oversized and shorter bomber jackets, which you should choose according to your body type.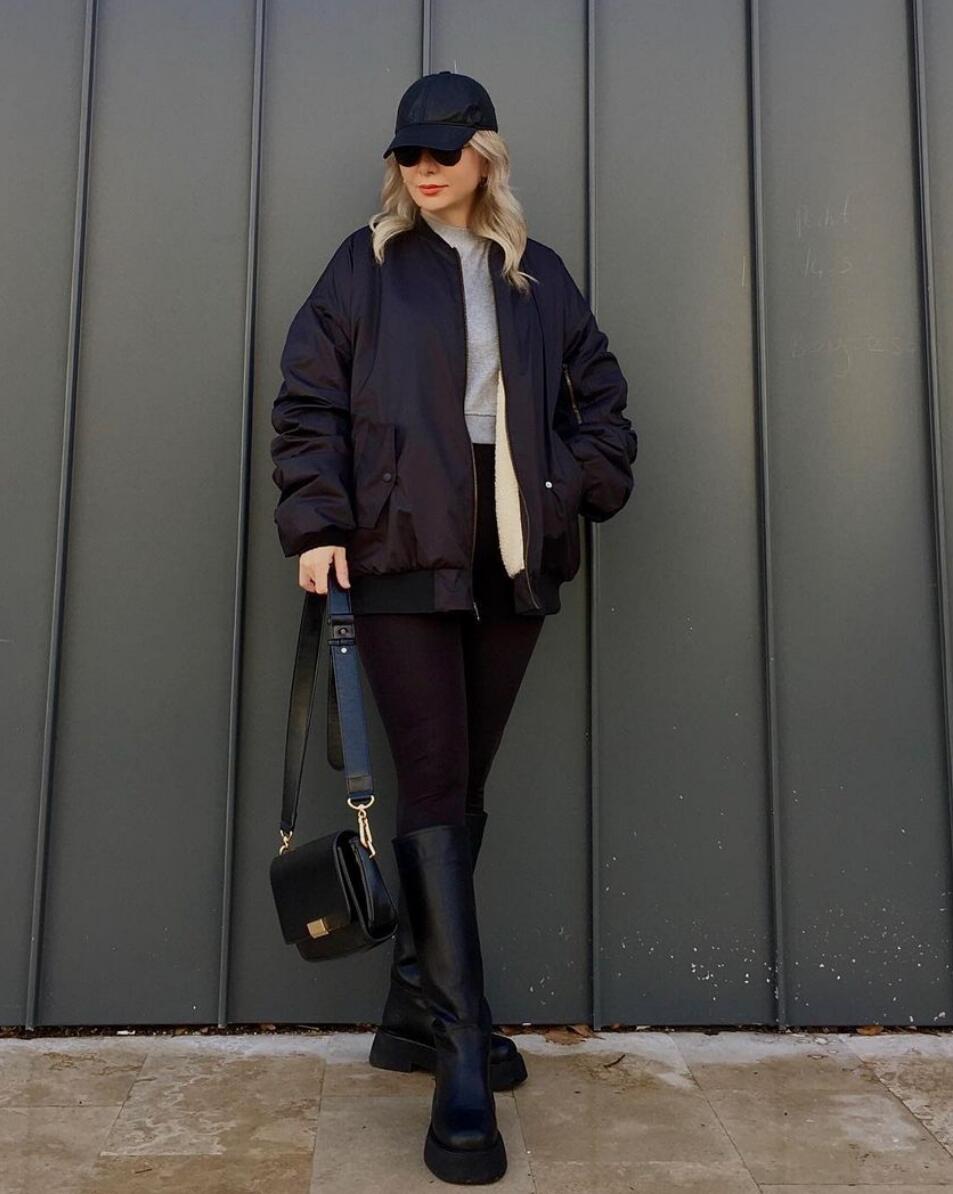 Smaller women look better in a shorter style, which doesn't swamp their figure. And if you've opted for the oversized look make sure the jacket drapes casually at the hips.
Whatever you choose, the cuffs should be close-fitting and definitely not hanging over your hands. Cuffs need to end at the wrist on all types of bomber jackets.
You can select from bright or neutral colors, depending on your preference and the rest of your wardrobe. And bomber jackets that fit at the waist or hips look great with wide-leg jeans and pants!
11. Cropped Cardigans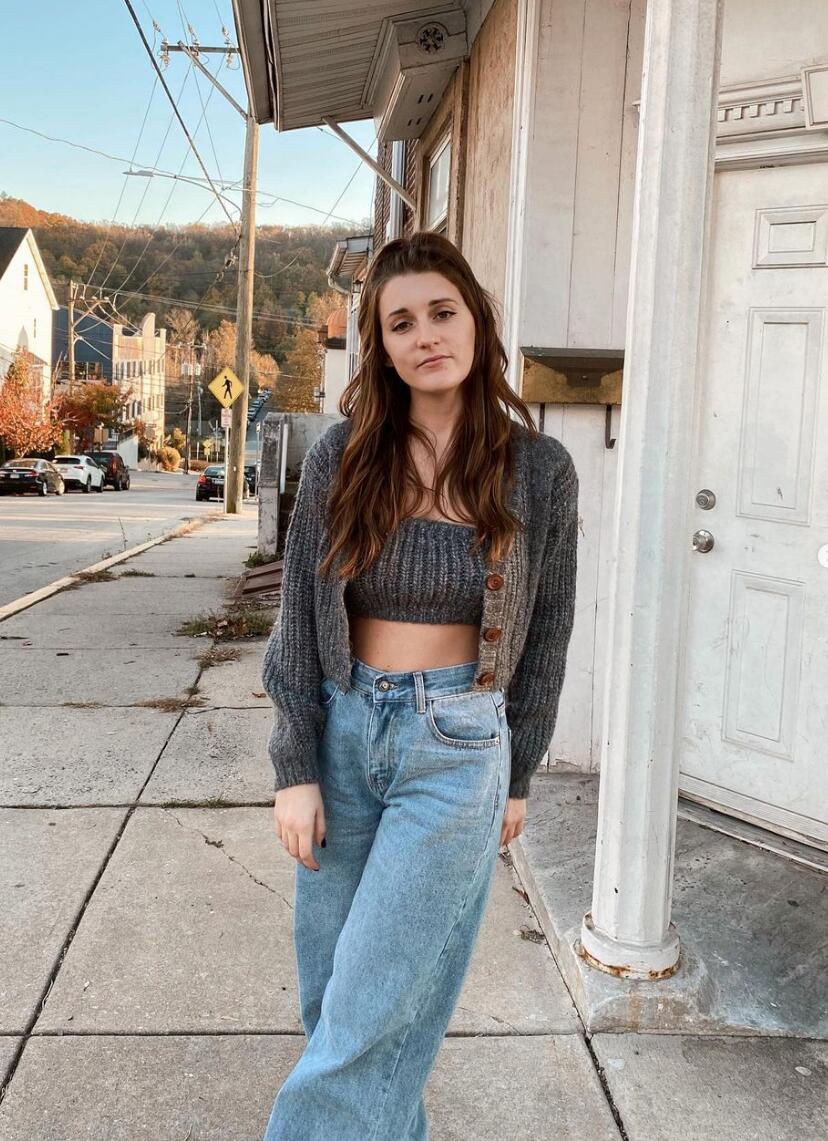 Styling tip:-
Add a new twist by wearing a cropped cardi with your comfy sweatpants or a calf-length skirt.
Cropped cardis are starting to diversify and we now have wide cropped cardigans, tailored versions and the latest close-fitting, skinny cardis. All are based on vintage styles and suit a wide range of fashion styles, including printed, sequin decorated and embroidered looks.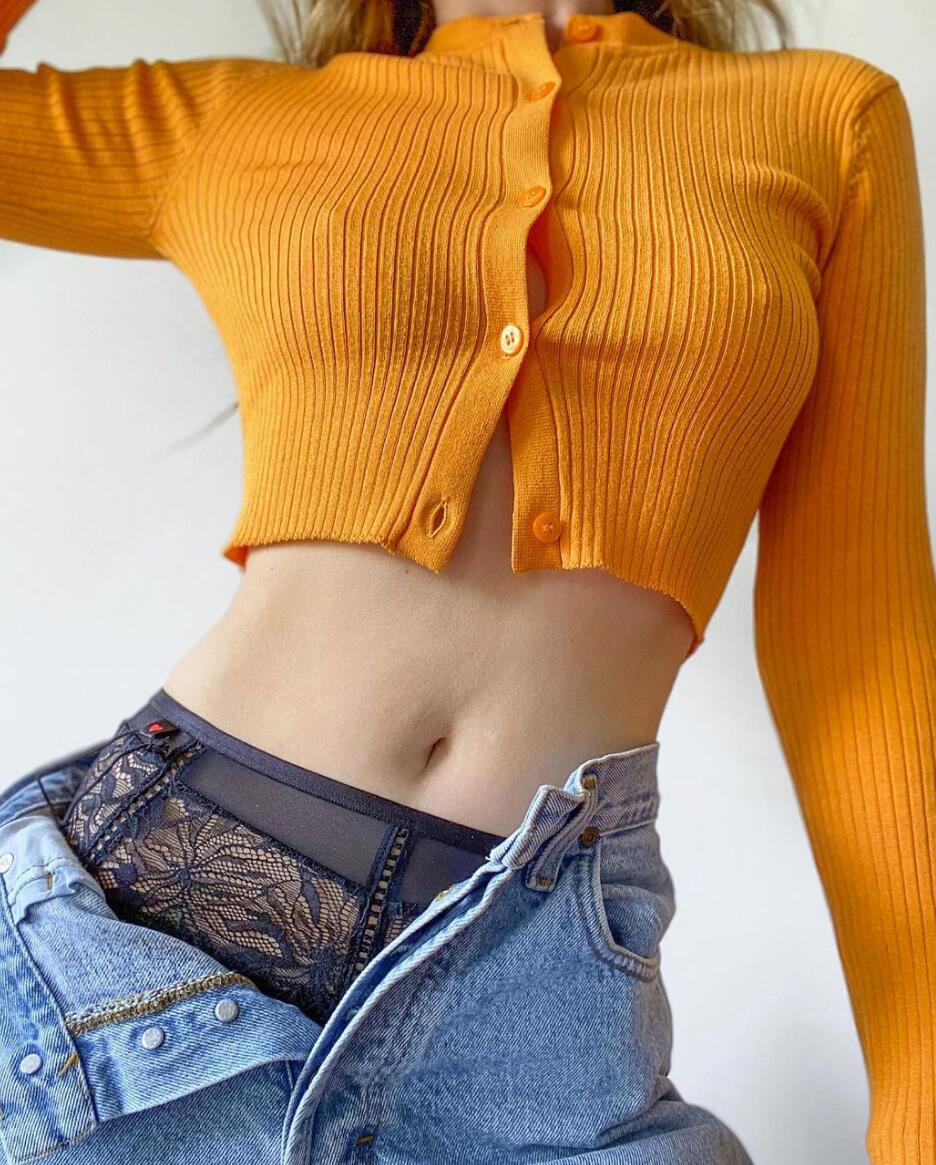 Skinny-knits are especially cute with high-waisted jeans and balance out wide-leg jeans well. But you can also wear your cropped cardigans with slip skirts and a faux-leather jacket for extra warmth. And finish off your look with heavy boots if you are experiencing cold weather right now!
12. Boiler suits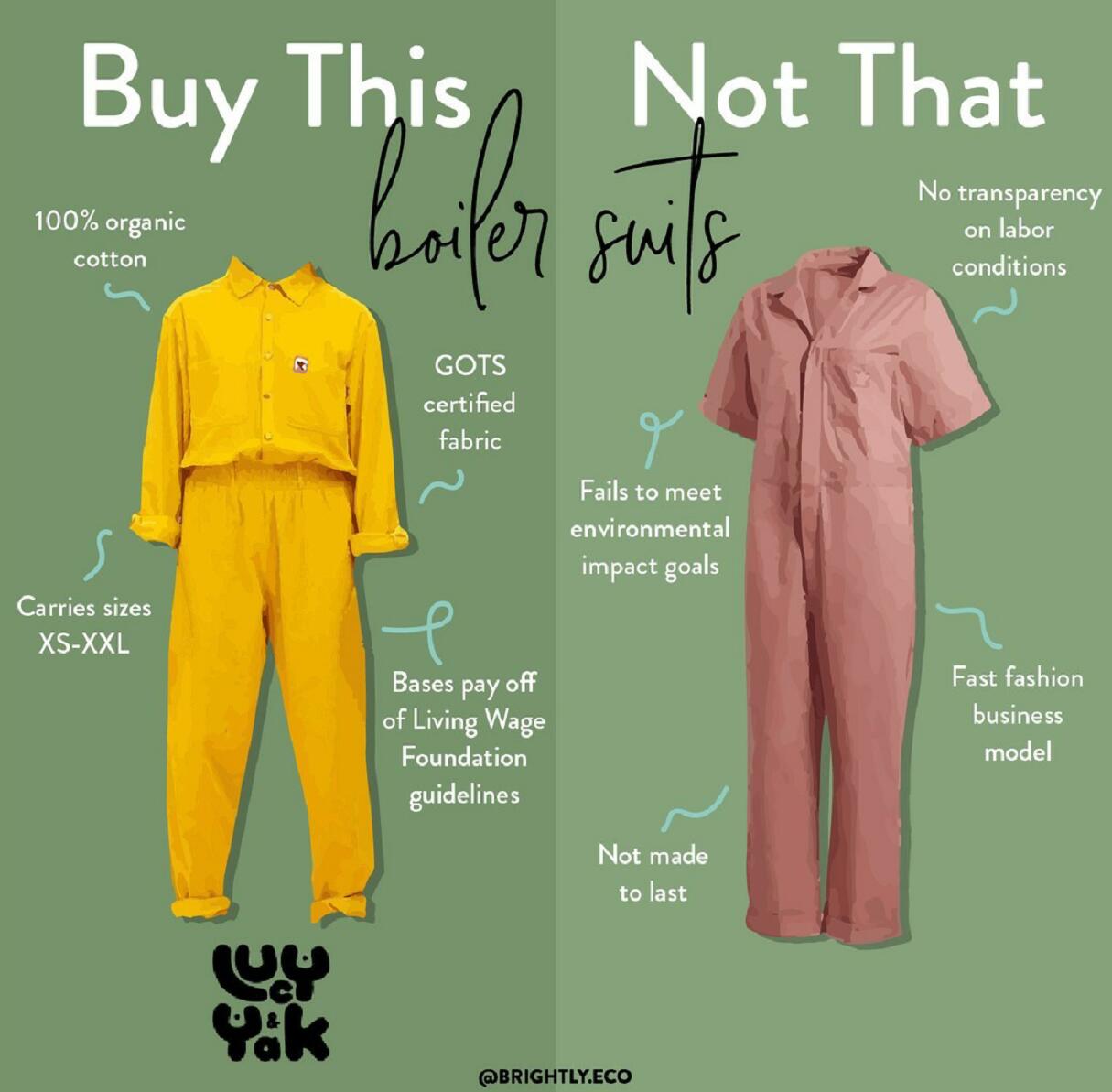 Styling tip:-
An eye-catching look that calls to mind the super-models of the past! This time around add a matching belt to accentuate your waist and define your shape.
Everyone in the fashion industry is enthusiastic about boiler suits this year, from designer brands to fast-fashion stores. And because of this they are available in a wide range of sizes, including petites and plus-sizes.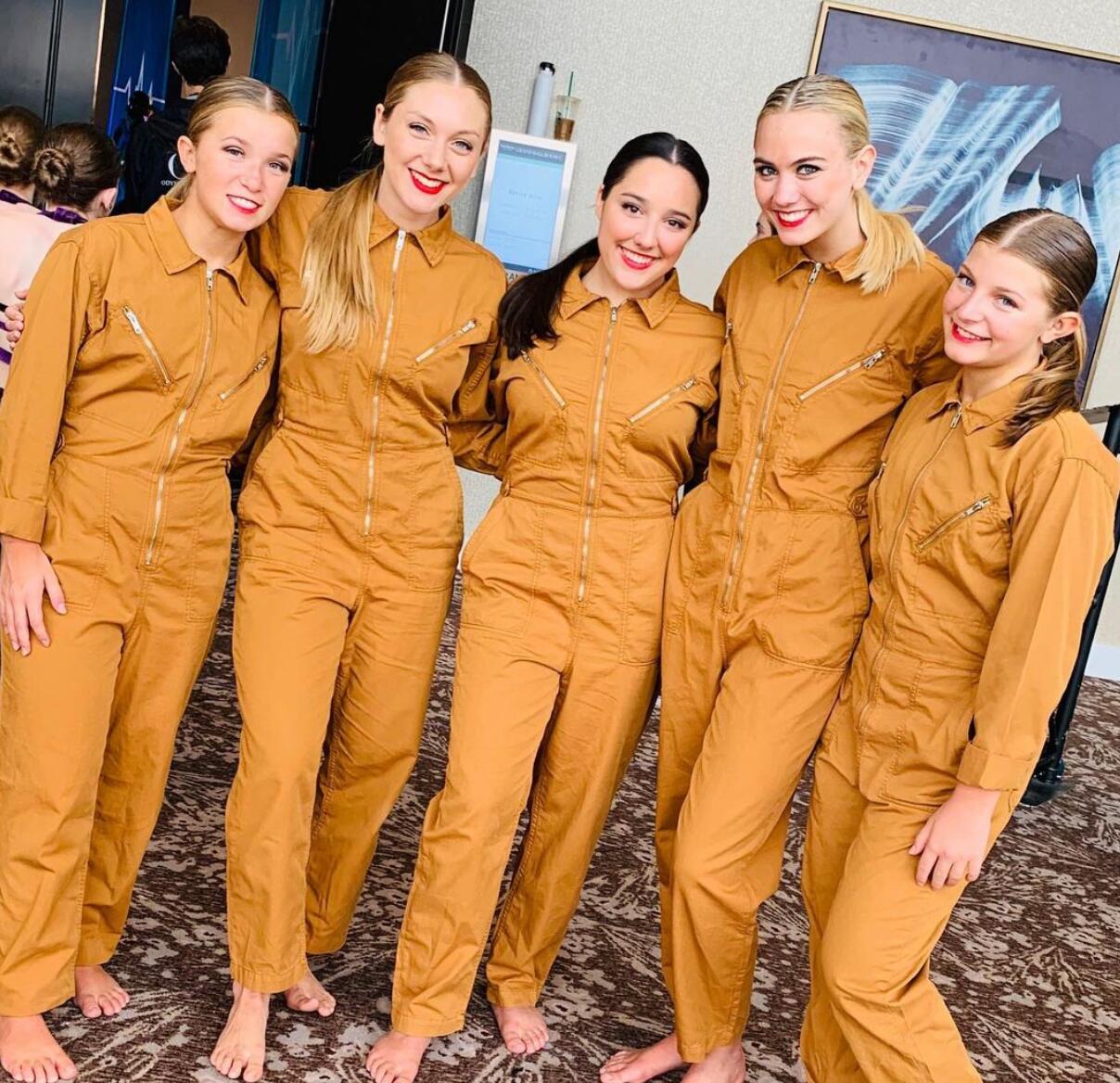 The look is part of the movement known as, 'utility chic', inspired by the comfort and easy-wear idea of male work-wear. Boiler suits are available in practical fabrics and a variety of styles, including military, fitted and blue-denim to suit lots of fashion tribes!
13. Casual Trench Coats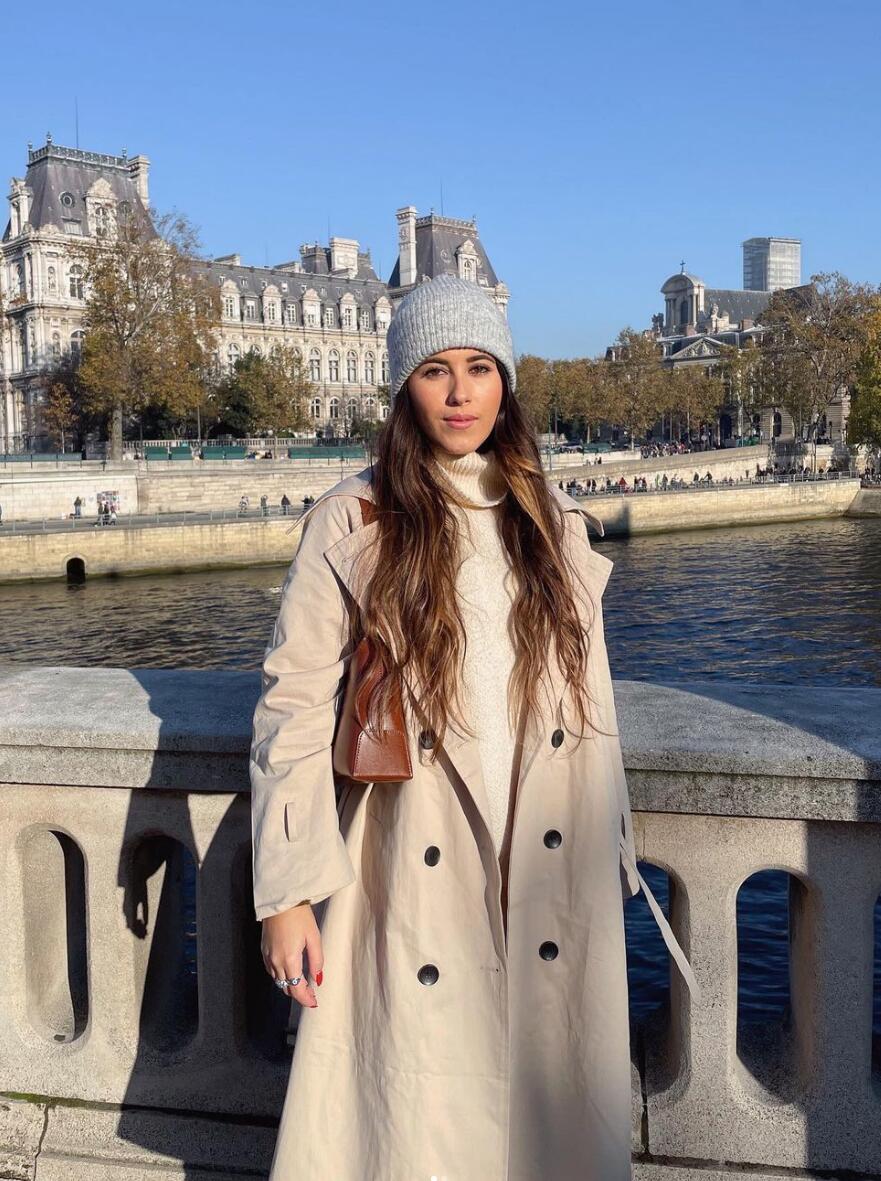 Style tip:-
For an extra-trendy look, team a vegan 'leather' trench coat with a cosy, skinny turtleneck or a winter floral frock.
Trench coats were designed for soldiers fighting in World War I, and they definitely caught the fashion industry's imagination. This casual coat has been in fashion ever since and each new season brings with it an attractive range of modern trench styles.
Trenches are usually made from water-resistant Gabardine material, making them a practical and attractive fashion choice for showery weather.
And as the trench style is inspired by military uniforms, it always looks polished when matched with a turtle or polo-neck sweater and heavy, tractor boots!
14. Tractor-tread boots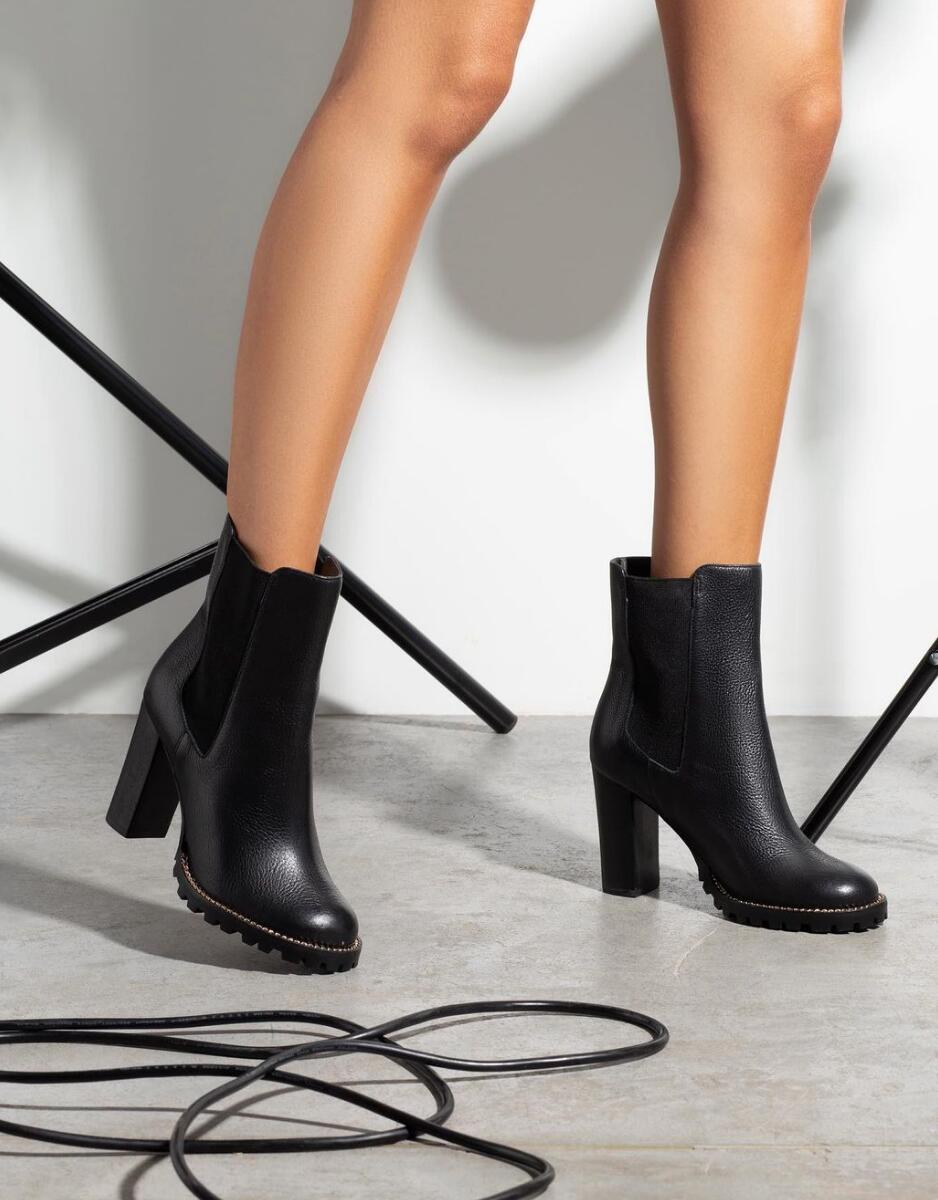 Styling tip:-
Put an even more modern twist on your tractor boots by matching with leggings or casual sweatpants. This will give you a relaxed version of 'utilitarian chic'.
With a thick, all-terrain sole and an exaggerated, high, round toe, tractor-boots are popular with all designers and stores for this winter and far into next year. And you can wear them with just about any garments, including maxi-dresses and micro-skirts.
Tractor-tread boots are an offshoot of the classic Doc Marten boots that came into fashion for Punks as far back as the 1970's. And tractors give you a great alternative to chunky, platform sneakers!
15. Sugary 'Barbie' Pastels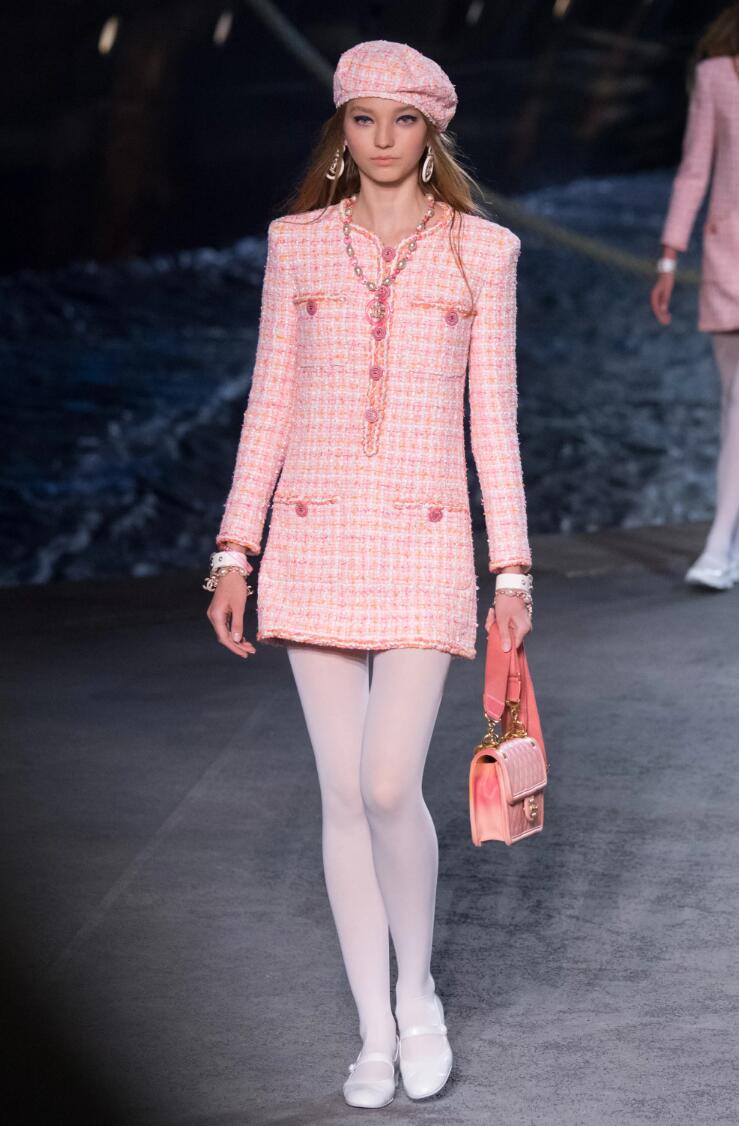 Styling tip:-
To get the full effect, team with long jackets or blazers, layered neck jewelry, cute white boots or cut-out sweaters.
This is an unashamedly girly fashion style that takes its inspiration from 1990's Barbie dolls. It's positive, optimistic and great for wearing in spring and summer. But if you want to be completely contemporary, you need to add some edgy touches to your dainty look.
This fashion can crop-up at social events where you wouldn't normally expect to see it! Because long and short skirts, teamed with romantic ruffled, 'chiffon' blouses and transparent tops make a fabulous contrast to a room full of women wearing leggings and dark sportswear.
16. Knitted Vests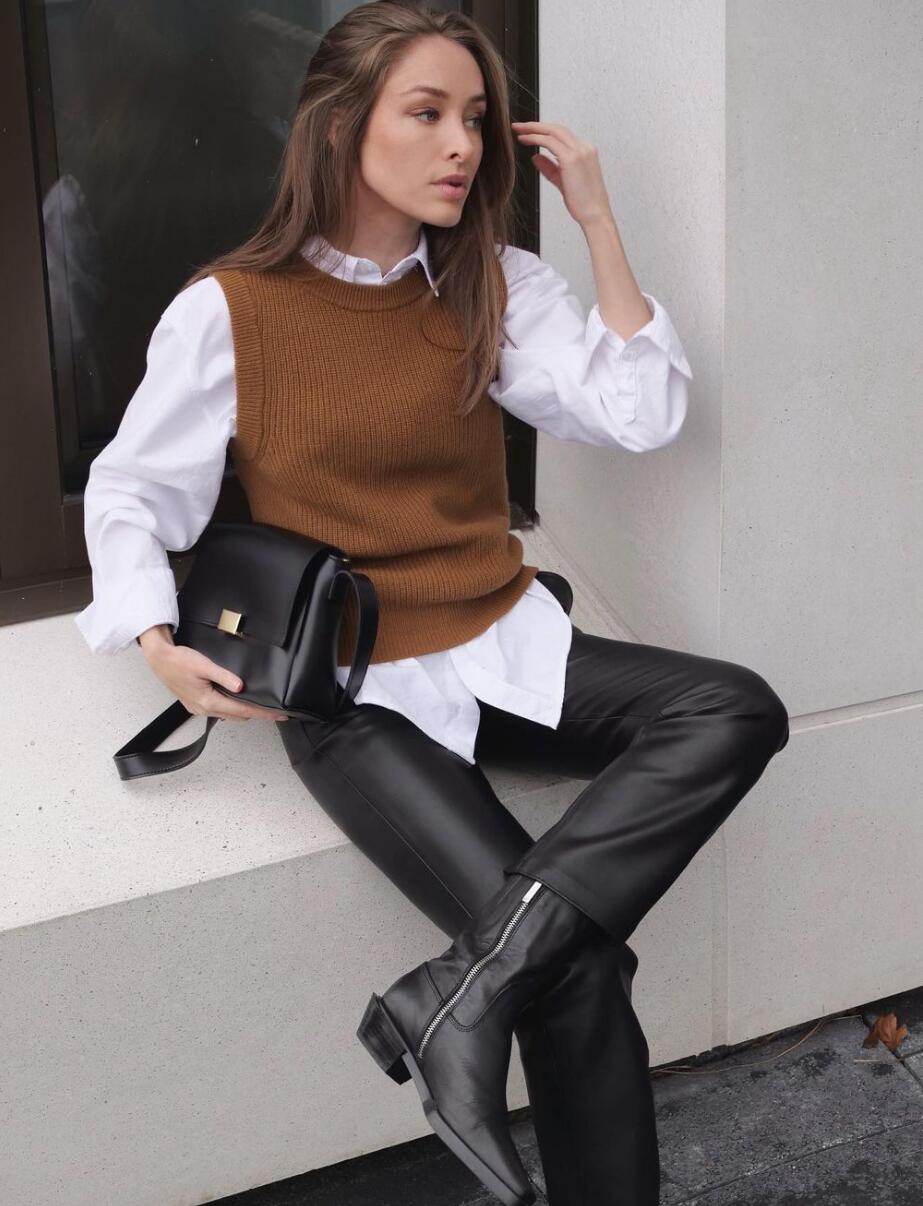 Styling tip:-
Wearing a knitted vest over a shirt is now being called the 'shest' trend and it looks as good as ever, but oversized outfits are the most fashionable.
Knitted vests came to be widely worn by women in the 1970's, but today's version is less tailored and generally baggier. This creates a suitably relaxed look, which has been popular throughout this year!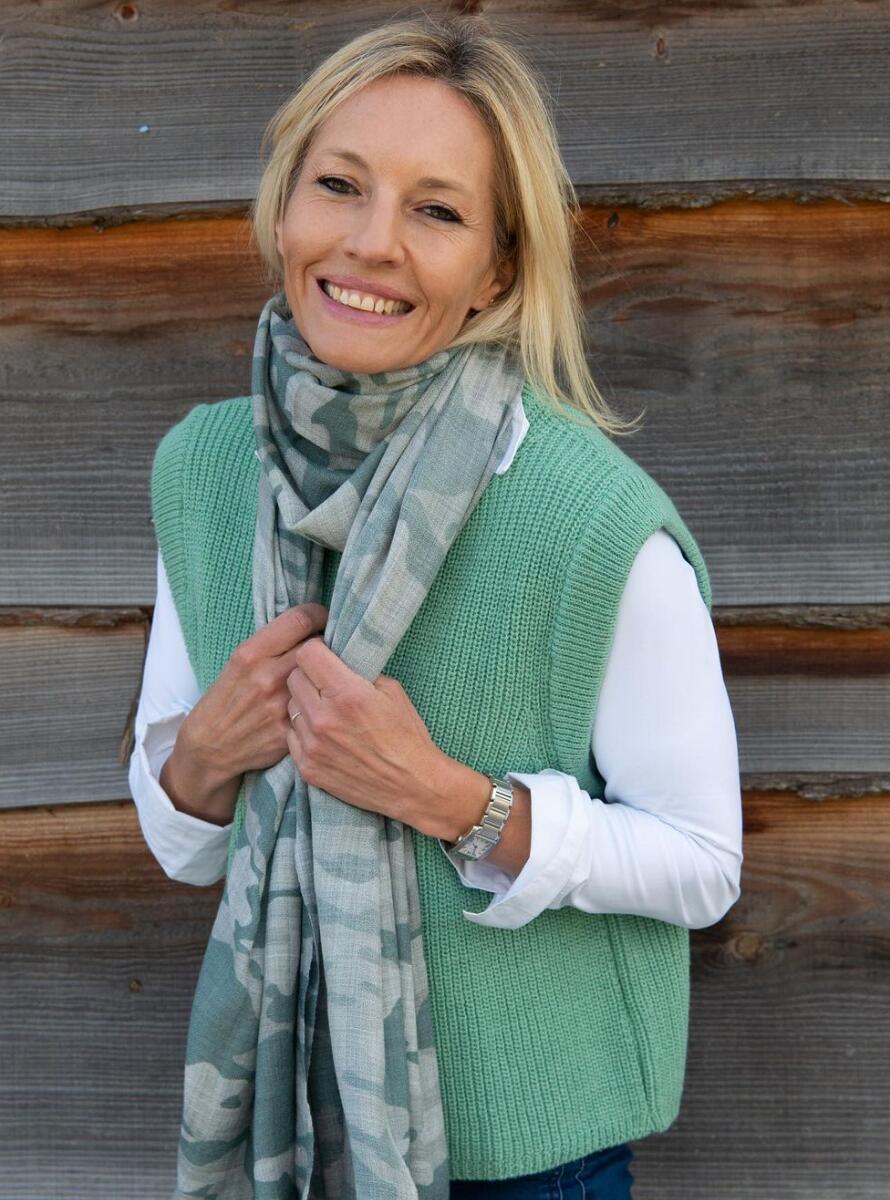 Knitted vests are available in lots of different fashion styles, including vintage dog-tooth checks, fancy lacy knitwear and pretty pastels. And if your budget is struggling at present, make your own vest by snipping off the sleeves of an old woolly jumper!
17. Puffed-Sleeves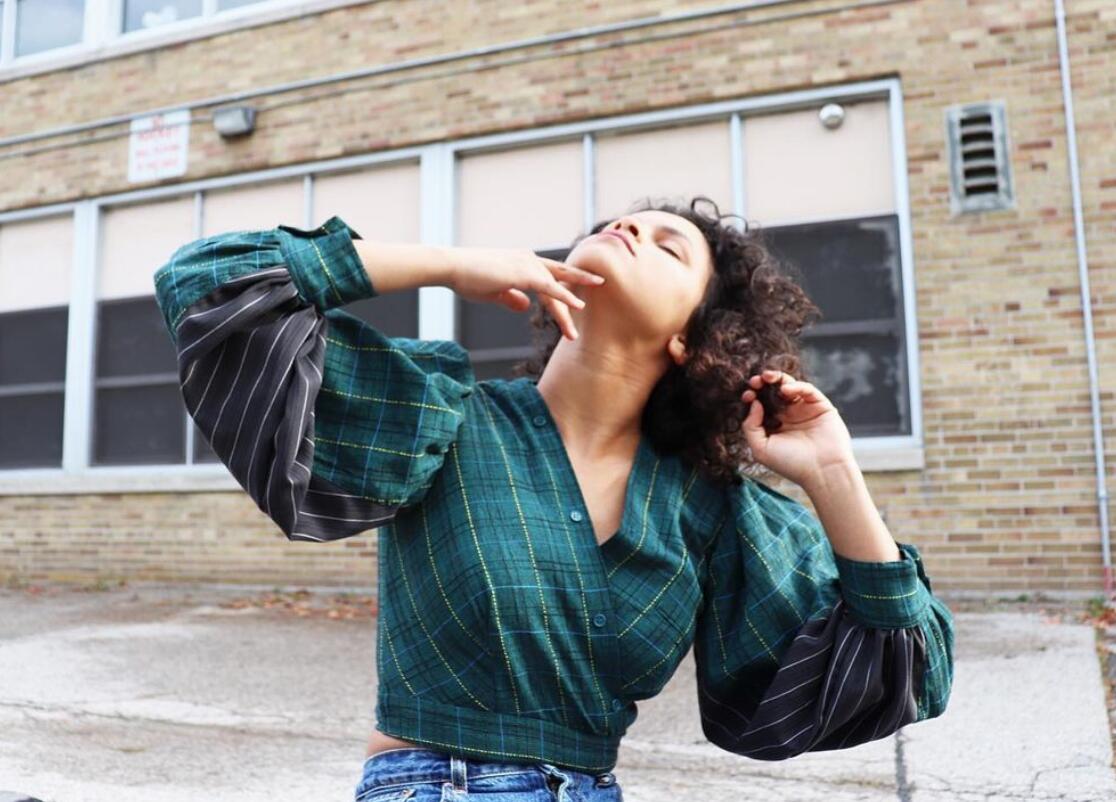 Styling tip:-
Match with the new trend for puffy, big-hair 80's hairstyles to avoid making your head look small against big shoulders.
The large sleeve fashion has been popular this year and is set to continue as a big trend for next year. And this means there will be lots of new twists on the puffy-sleeve style.
You need to balance puffy-sleeves carefully, especially if you have broad shoulders, as this style isn't one that flatters every size and shape.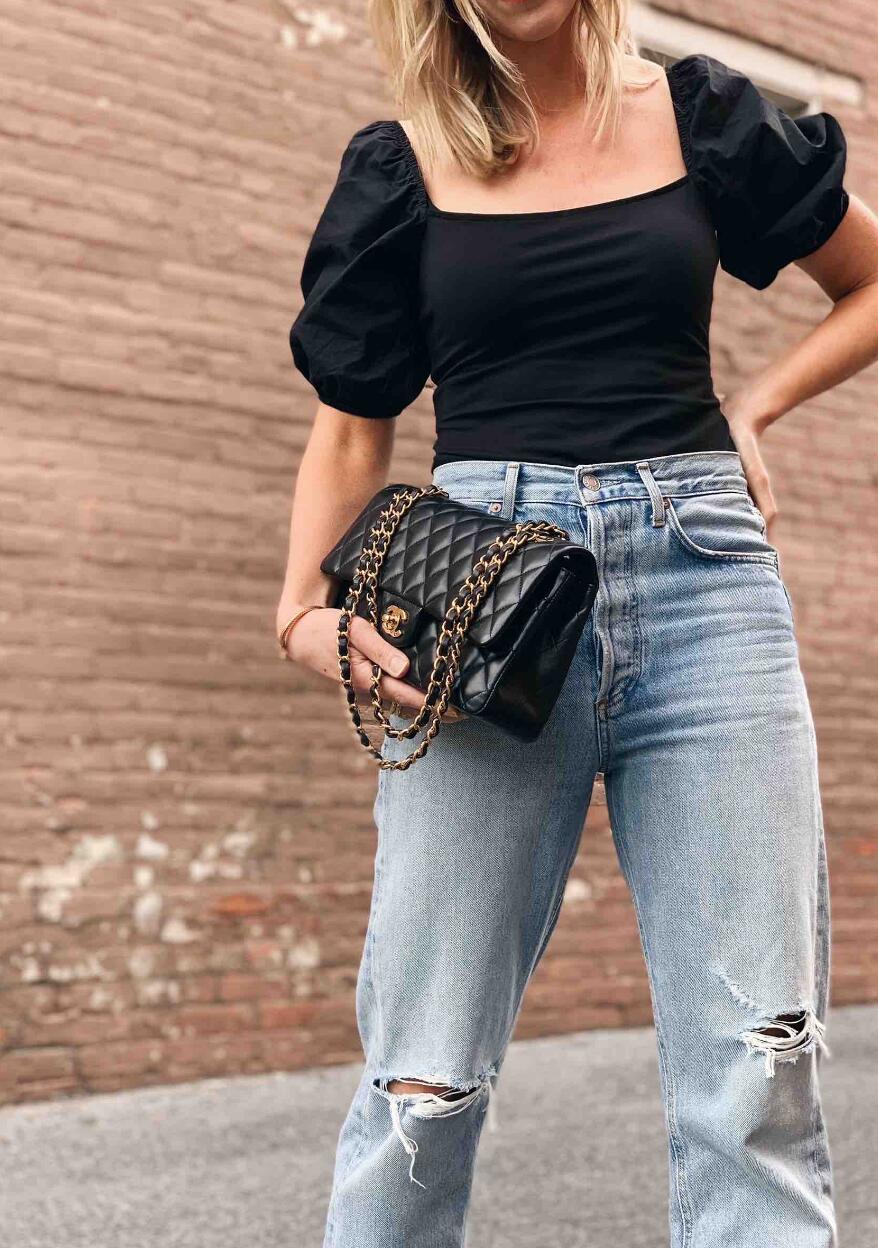 So start off with puffy sleeves that taper to the wrist for a dainty, romantic look. And only opt for sleeves that are wide all the way down, if you are aiming for a really casual, oversized look!
18. Maxi-dresses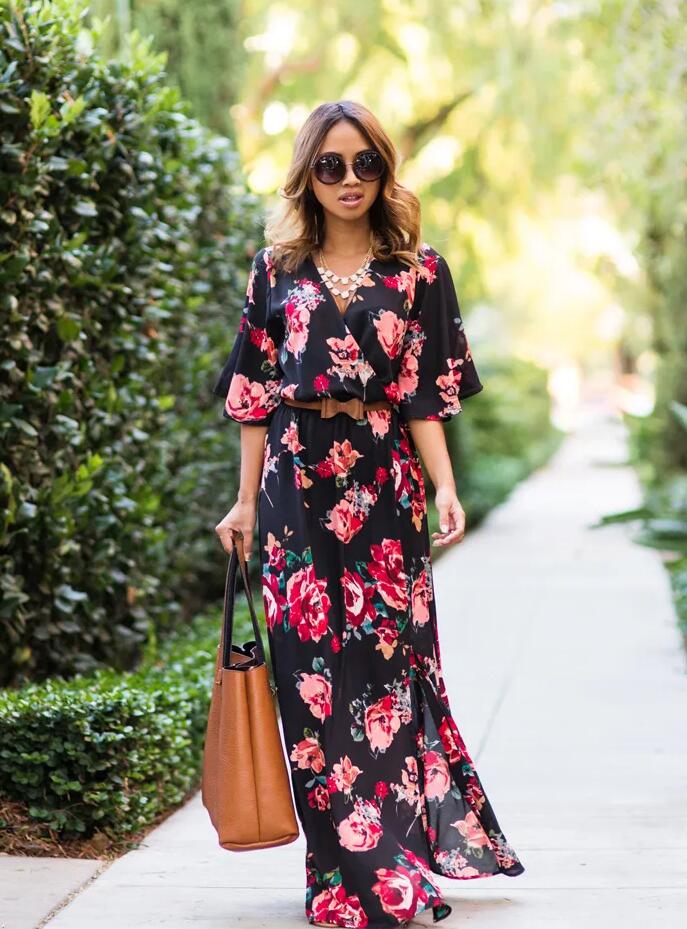 Styling tips:-
Add a trendy hat, daring jewelry or bold shoes to add extra style to a plain or neutral maxi.
Maxi-dresses are great for winter and summer wear and will continue to be popular and trend-setting next year. And there's a newly designed style and fabulous new fabric print for every fashion tribe from Hot Goth to Urban Fairy!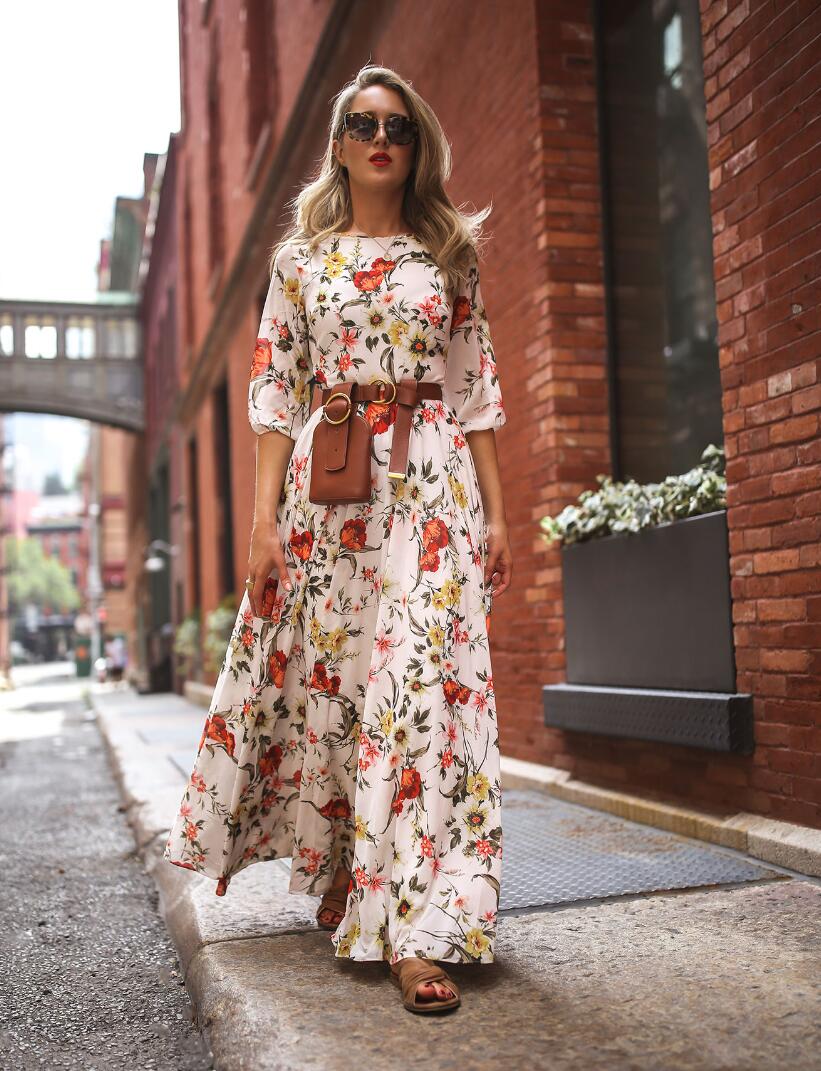 If you're heading towards summer right now, wear your sexy maxi with fancy sandals. Going to a special party – then just add lots of costume jewelry! Choose from bold, clashing prints or color blocked outfits!
19. Sash-belts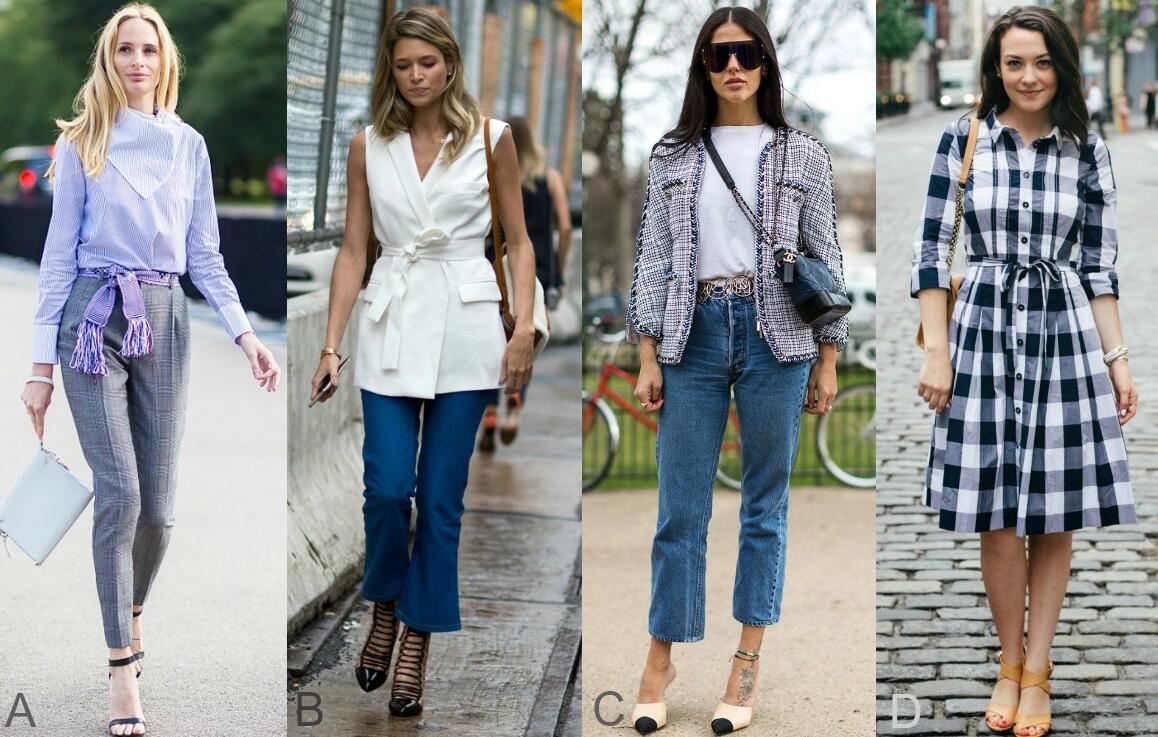 Styling tip:-
Sash-belts are more than ways to keep your trousers or skirt up, they add style and color interest to a range of dresses, pants and skirts.
They have mostly been used for formal dresses and wedding gowns until now, and have already been re-invented for next year. There will be lots of sash-belts used as an integral part of dresses and other clothes, especially featuring the cute bow-tie.
And you can update your current clothing by getting out your silky scarves and threading them through the existing belt loops on your jeans and trousers for trendy, DIY sash-belts!
20. Bright Bralette Tops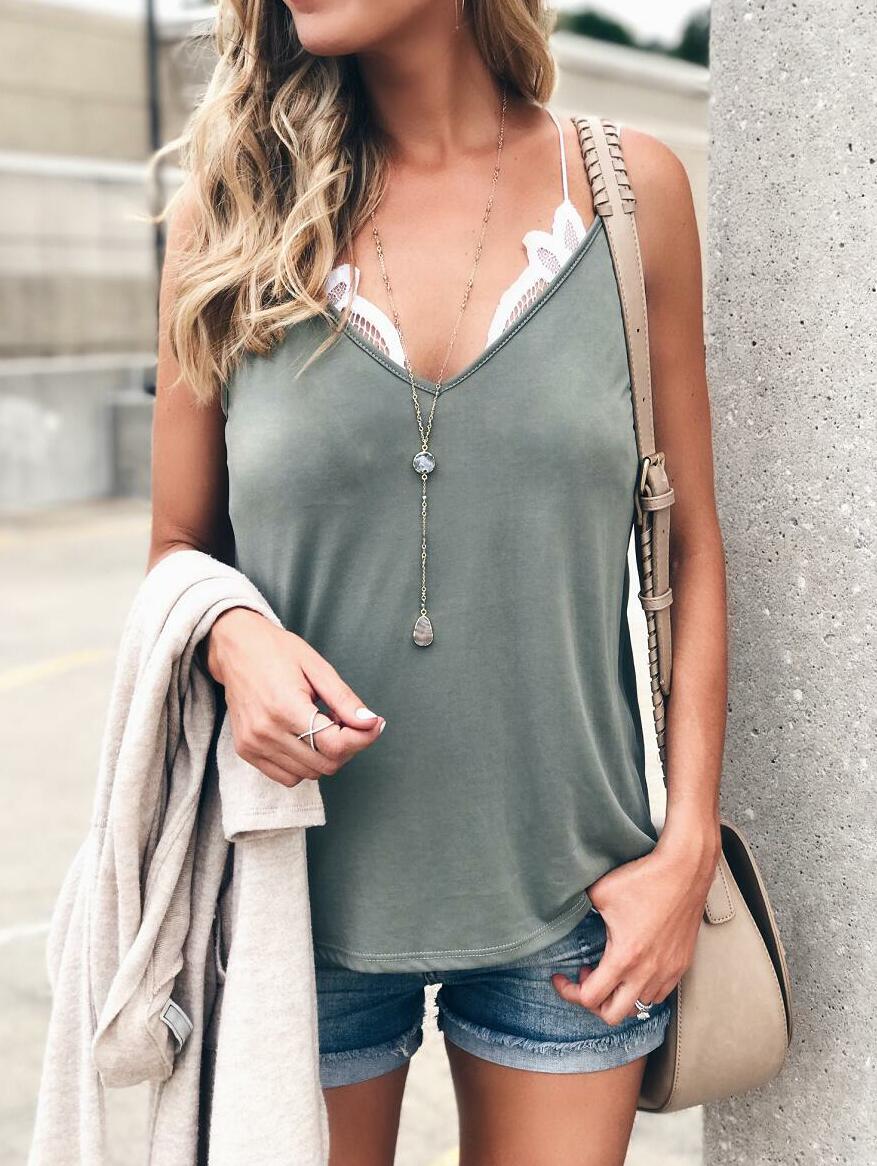 Styling tip:-
A bralette can look fabulous under a boiler-suit, or low-cut dress and add extra style!
Bralettes are best for women with smaller chests, as they are not designed to give much support. However, if you have the right body type, a bralette can be worn under your cardigans or blazers.
And if you wear a complementary or contrasting color, you'll hit the next new bralette trend for next year! As there will be lots of mesh-tops on offer next year, the bralette is getting a huge fashion boost as a modest way to wear transparent blouses and tops!
Whether you live in the southern or northern hemisphere, and are coming up to winter or summer, there's a wealth of trendy inspiration for you in the Top Fashion Trends for this year!
Quick Fashion Trends Quiz
And now we'd love you to take a moment to answer a quick quiz! Your opinions are important to us and we love to hear what you think!
Which are your favorite, new fashion trends showcased above and why?
Do you prefer cheaper, fast fashion, or long-lasting, classic clothes or a mix of both?
Are you into high-boots or heavy tractor boots and chunky loafers?
Do you think faux-leather, vegan fashion will continue to be important in international fashion wear?
What do you think the fashion industry could do to improve its eco-credentials?
Just type your answers in the commentary box below and join the lively HerStyleCode community discussions!