In the digital age, are you still a book-lover finding comfort at the library? Well, the Academia aesthetic can bring out your intellectual self through your fashion sense. Here's how to achieve it:
What is the Academia Aesthetic all about?
Dark and Light Academia aesthetics are branches of the Social Media Subcultures evolved through Tik Tok and similar social media platforms.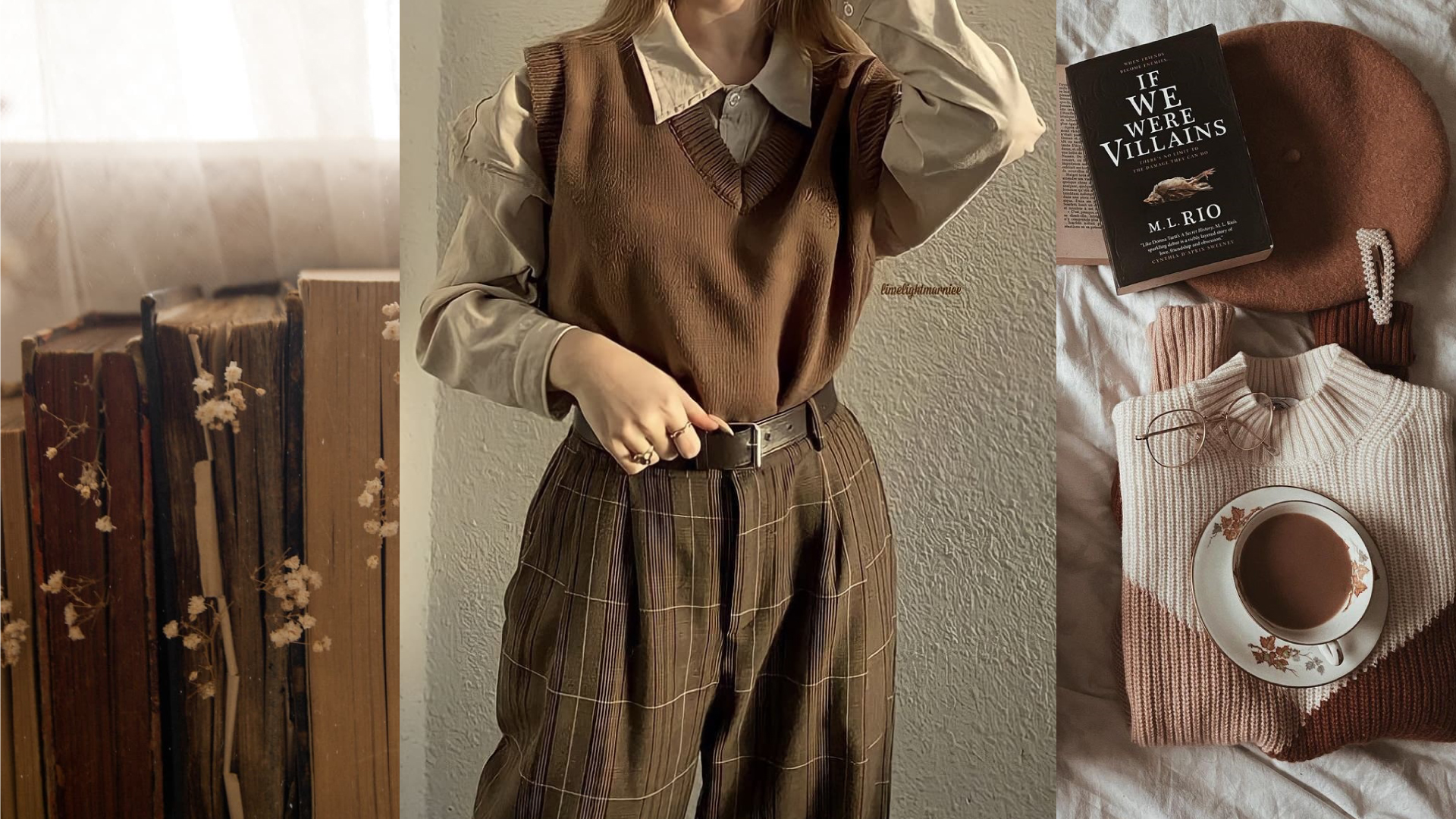 Generation Z in particular are fond of this aesthetic, which deals with giving limelight to higher education, specifically the Arts, Humanities and Literature (which are subjects known for not yielding much respect amongst the general public because of its lack in monetary benefits).
History of Academia
The elements and aesthetics of Academia has its origins from elite education of Europe. Quite frankly, studying poetry and writing was only accessible to the kids of the aristocracy at the time.
Thus we also see these outfits often having the backdrop of colleges and institutions having Greek and Gothic inspired architecture.
Wait, this seems very restricted and discriminatory? Well, it WAS. The original Academia education was available to a specific set of people, yet the generation today adopts it regardless of their ethnicity and race, thus making the aesthetic more inclusive than ever.
Colors in Academia: Light and Dark
Academia speaks sophistication, and could very well be a synonym for no-nonsense knowledge. Colours is where the distinction in Light and Dark Academia is truly seen. Earthy tones are seen throughout the aesthetic, referring to their inculcation of knowledge.
Dark Academia has tans, blacks and brown colors at play. In a literary sense, Dark Academia focuses on the questions meant to be cynical: the meaning of life, death and everything in between.
The counterpart, Light Academia, has light ochre, beige, and white as it's representative colours. Unlike the dark side, Light Academia gives importance to the optimistic virtues: romanticism, godly words and making life more meaningful.
Since Dark Academia is the popular one of the two, the following inspirations are tuned to it. However, the same pieces can be bought in a light fabric for Light Academia.
Phew, now that we have got the theory out of the way, here are the ways to actually embody the Academia aesthetic for yourself through your clothes:
Fabrics and Prints
Luxury fabrics work great with this aesthetic, think wool, linen or Egyptian cotton.
If you do not have access to such fabrics on the daily, one can always have a look at thrift stores. What a 60 year old grandma left there might just fit your aesthetic with a few altercations.
Plaids
If you do not have plaids in your outfit, it isn't cut to be an Academia ensemble. Plaids have been used in most school uniforms and workwear. Co-ords often have plaids in various sizes.
Flannels
The younger brother to plaids, flannels are for the casual days, weekends if you may. Boxy flannels in shades of tans work well with the rest of the Academia look, without steering you more towards the skater aesthetic, which has flannel as its core print.
Ginghams
The perfect balance of black and white in a print can only be presented with a gingham design. Off-white ginghams which have a yellow tint to it would match perfectly with your coffee-stained books.
Florals
A minor print compared to others, dark florals when used scantily can add the Light Academia's romanticism into your fits. These are usually tiny prints with peonies, or simple five petal flowers on sweaters and cardigans.
Clothing Investments in Academia
Ready to have your week's worth of uniforms for your online school? Academia may seem like a boring aesthetic to begin with, yet if you have come this far, you definitely have a niche for the elite subjects of society.
Turtlenecks
Striped, ribbed or as an underdress, turtlenecks look great when layered with blazers or even cardigans. The autumn-winter season is the season for turtlenecks, mostly because of its exclusivity relating with education and polished look.
Invest in a white, navy, and black turtleneck for your winter fits. Once you get used to it, you can always improve your collection with designer pieces as well.
Pants
Cigarette pants create balance within an outfit since most Academia fits are top-heavy, meaning they have more fabric in tops rather than bottom wear. Thus, the straight silhouette of a cigarette pants is an investment you'll end up using daily.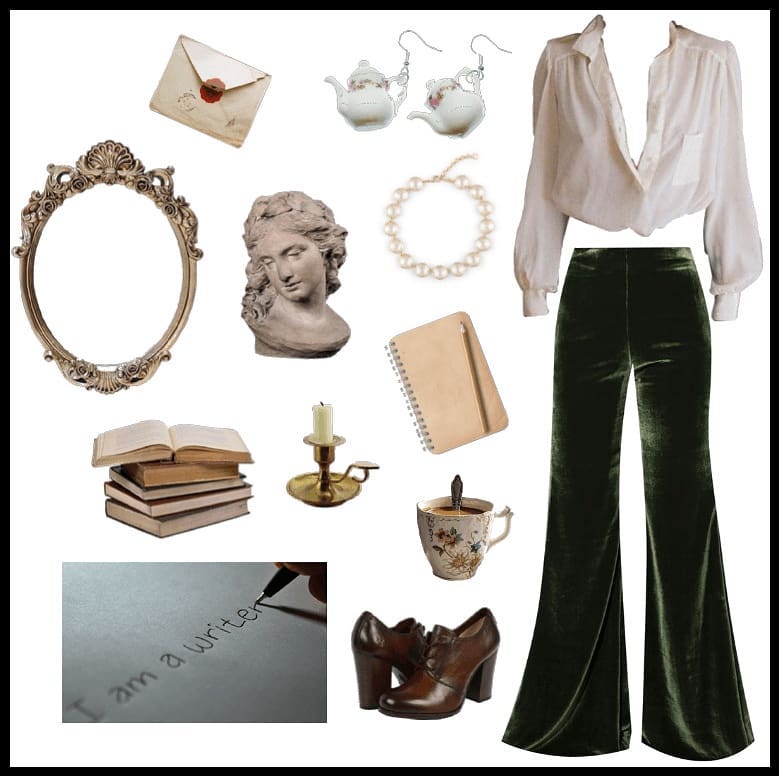 Flared pants can be worn in the summers though, when you won't have blazers and sweaters covering your shirt.
Vest Sweaters
A new addition as a trendy piece of 2020-21, sweater vests have made a comeback in many aesthetics, including Academia.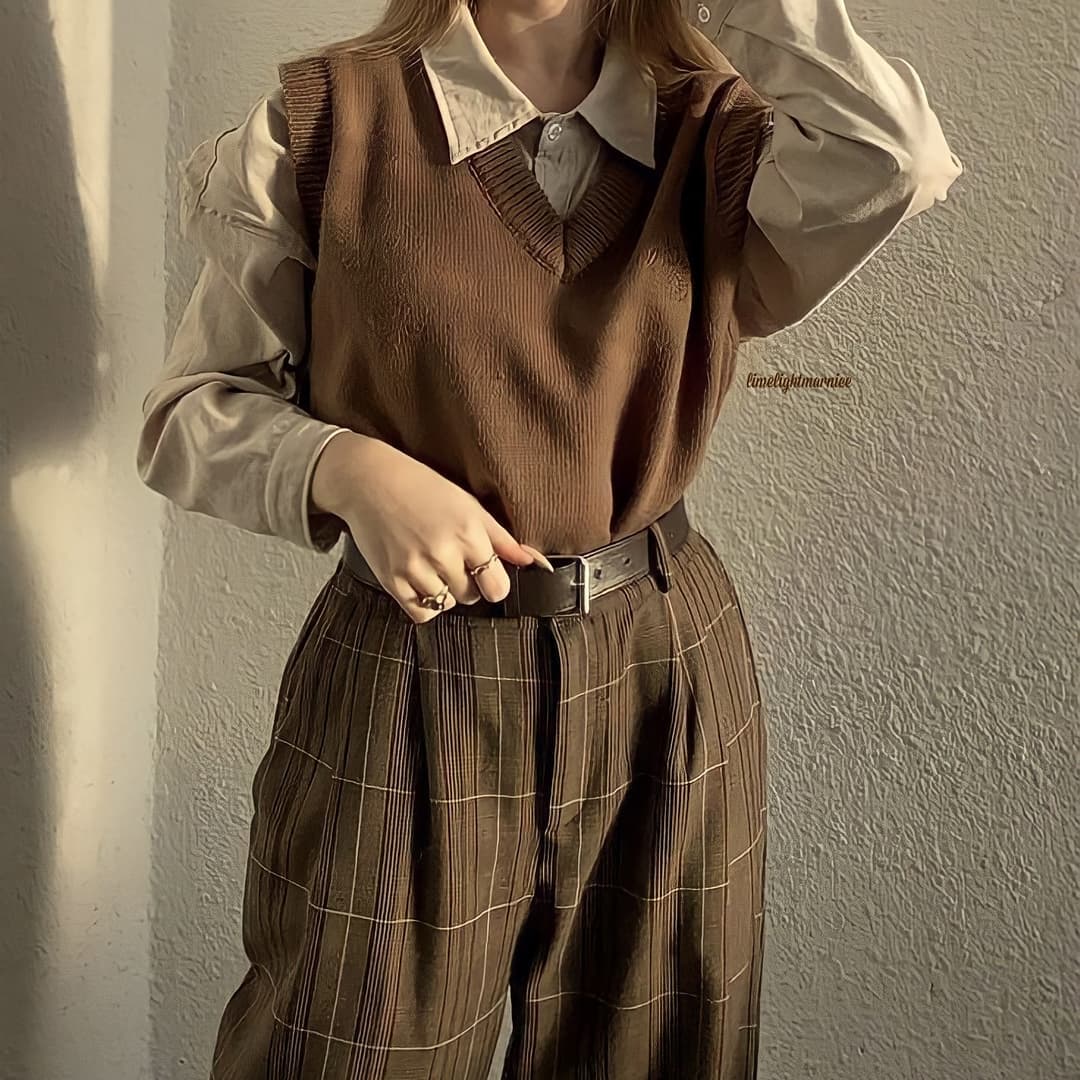 The vests of today are often knitted, oversized and paired with skirts and a collared shirt underneath.
One important note to keep is that vests are usually the uppermost layer of your outfit, which makes room for you to buy these in different prints and graphics of your choice to make them stand out.
If sweater vests aren't your cup of tea, a chunky knit sweater works with the aesthetic too!
Cardigans
Buttoned-up, pullover or just a shrug, cardigans are meant for creating those layers which elevate the style quotient of your outfit. Since Academia is mainly about the winter season, cardigans become a staple for the not-so chilly days of your university schedule.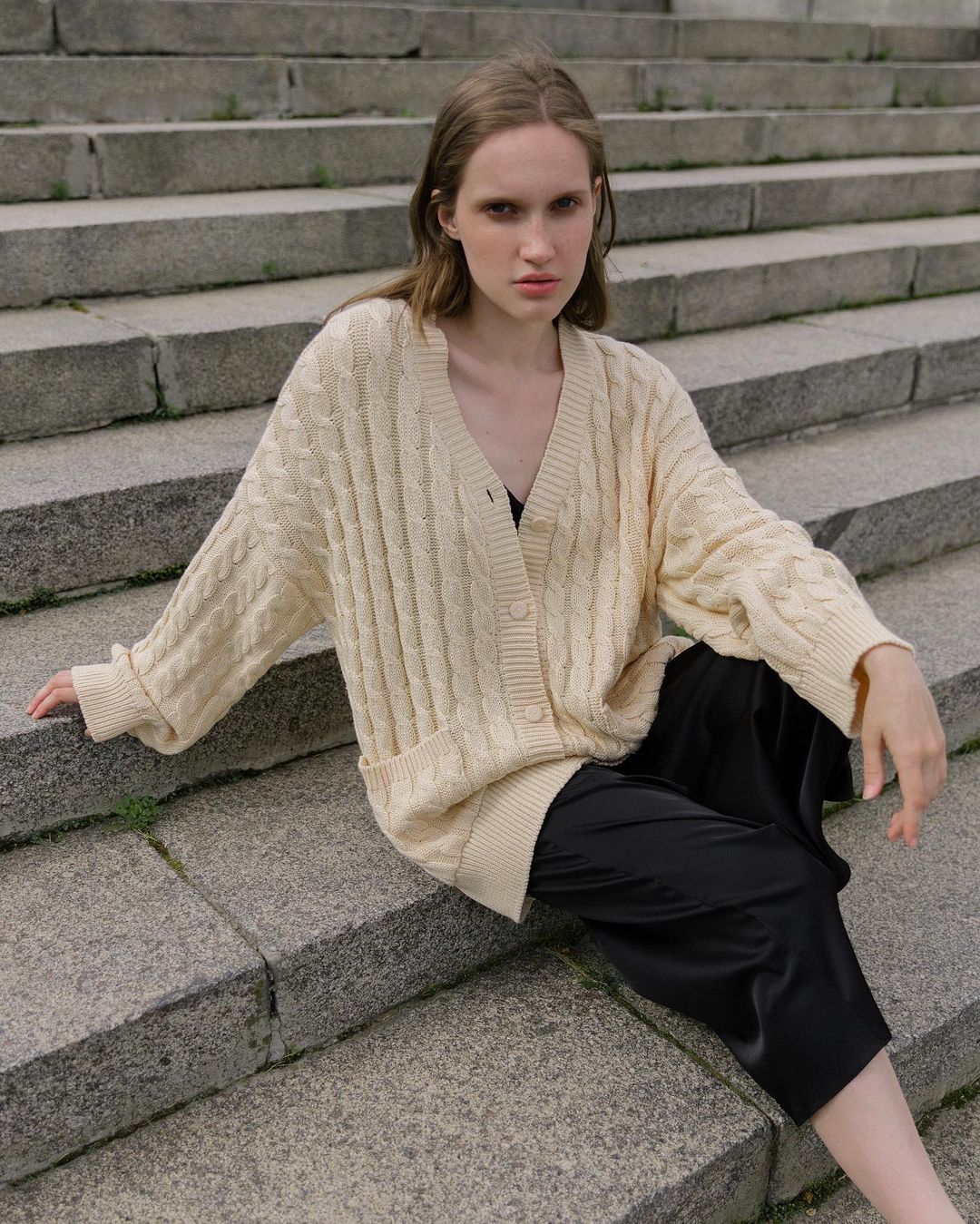 Like earlier pieces, tans and white provide attention to the rest of the pieces (like a blazer or the skirt), but a cashmere navy or olive green one can be the statement piece as well.
Skirts
Skirts in Academia are the most versatile, and have options for both the modest and bold dressing styles.
Button down skirts which fall till your knee are the iconic ones in this aesthetic, yet Gen Z have incorporated mini skirts in plaids and dark colors too. Having one in a floral print can give you the girly edge too, if that is what you wish to go for.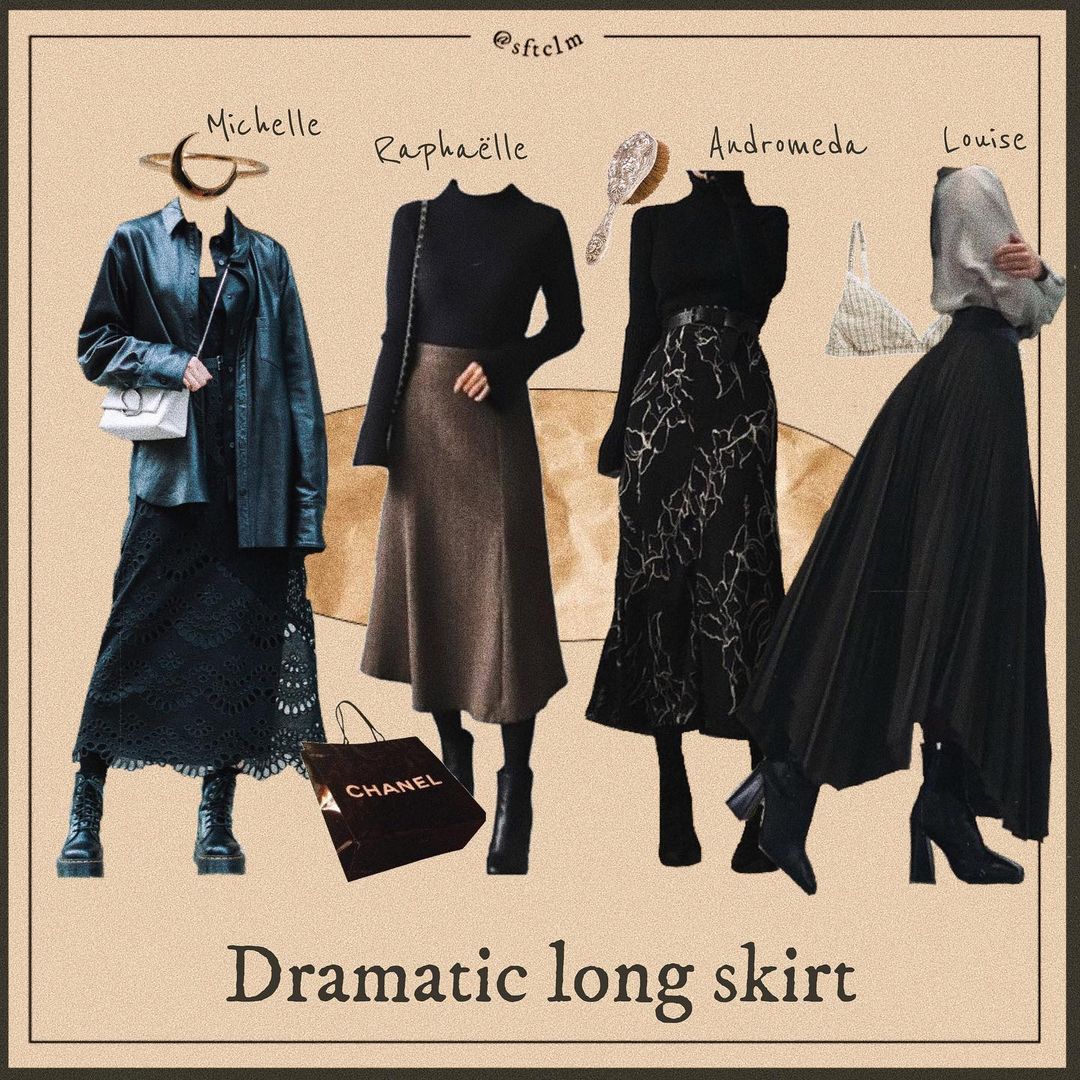 Floor length skirts look great with heeled boots. Invest in a few woolen ones, while the summer skirts can always be of linen or chiffon to keep the grace constant.
Layering tip: Keep the top half of your attire with less layers if it is a long flowy skirt. With mini or form-sitting skirts however, you can pair them with a blazer and leggings underneath to ward off the cold.
Blazers
It isn't Academia without blazers. Uniforms throughout have made blazers a symbol for education. The aesthetic calls for blazers in tweed fabric, which is heavy-duty and lasts about a decade and then some.
If you really want to have the Academic makeover and live in a cold environment most of the year, definitely watch out for three or more blazers in different prints. We suggest a plain, a gingham and a plaid one for starting out.
Suits
Best with Doc Martens shoes, suits can be expensive, but a one time purchase of a two-piece can take you a long way. These are especially helpful when you just don't have the energy to build an outfit.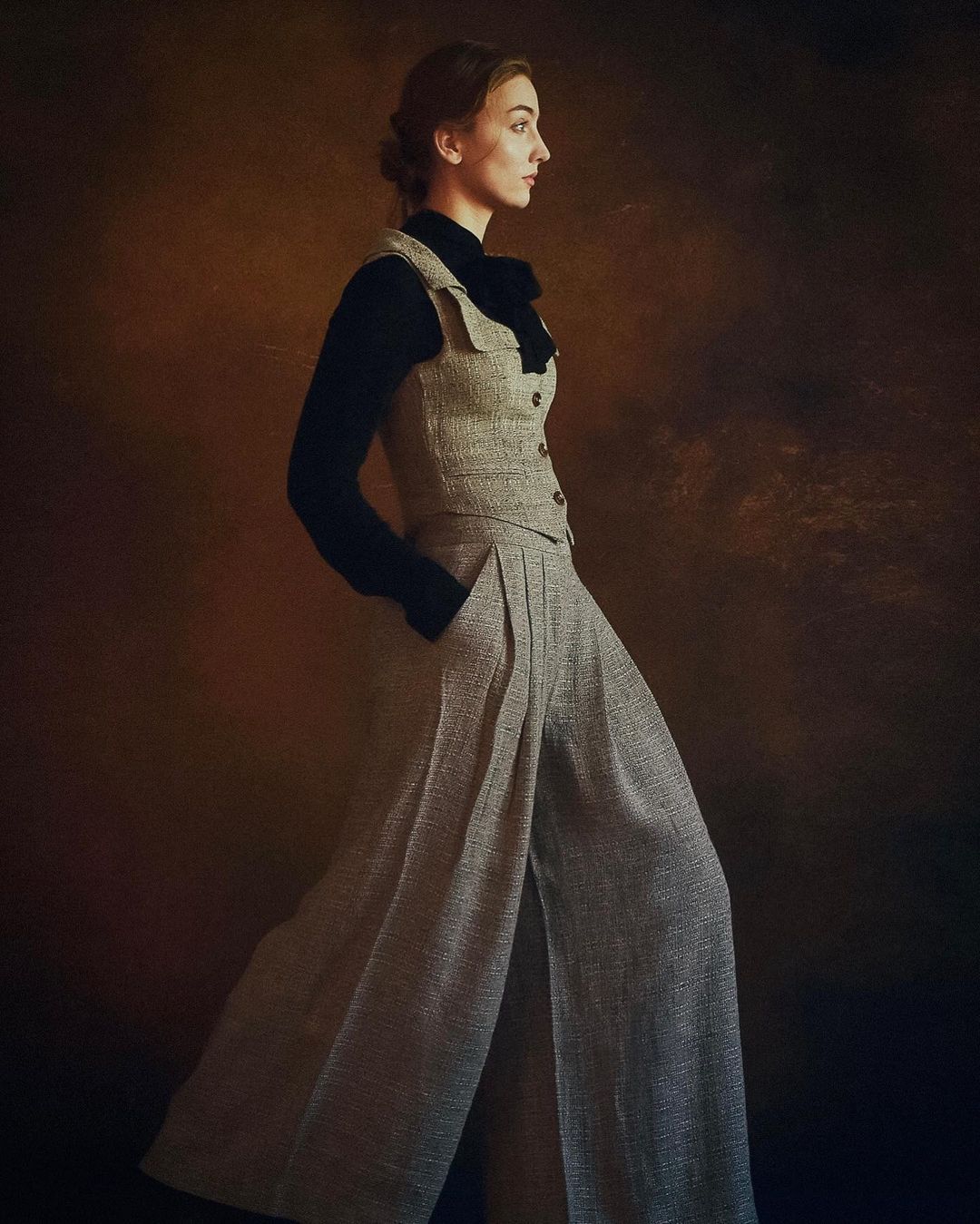 Grey suits look different from normal blacks. Avoid printed ones in suits (unless you want that to be a statement), a plain one can help you with layering printed underneath.
Frequently Asked Questions about Academia
What kind of jewelry and bags works with Academia?
Anything and everything which speaks English. Minimal gold plated necklaces with the Queen's silhouette on it, layered with a pearl choker and even better, a bowtie works perfectly with the Academia aesthetic.
If you have a collared shirt, try working with brooches instead of necklaces (you can ofcourse layer them below the collar if it has a pendant accent). You can also keep your style by adding trendy accessories for the season.
For bags, opt for leather or tote bags. Leather is created mostly in tan color and has better structure than a beige tote. Thus, having both in your collection can give variety to your accessory.
Do I need to be an intellectual to sport Academia looks?
Absolutely not, Academia is majorly an aesthetic, and you get to choose which things you like from it and pick those to be in your lives, be it books, clothes or ancient candle holders.
I don't want to wear the school-looking Doc Martens, what are some other shoe options for Academia?
Remember those kawaii block heels? Those in black or brown are the Academia option for shoes. Others are loafers, ballets or any kind of boots in tan.  Also, you can try Mary Jeans.
If you feel that Academia isn't quite to your taste, watch out for other social media subcultures in fashion! Subscribe to get more fashion ideas on herstylecode.com!