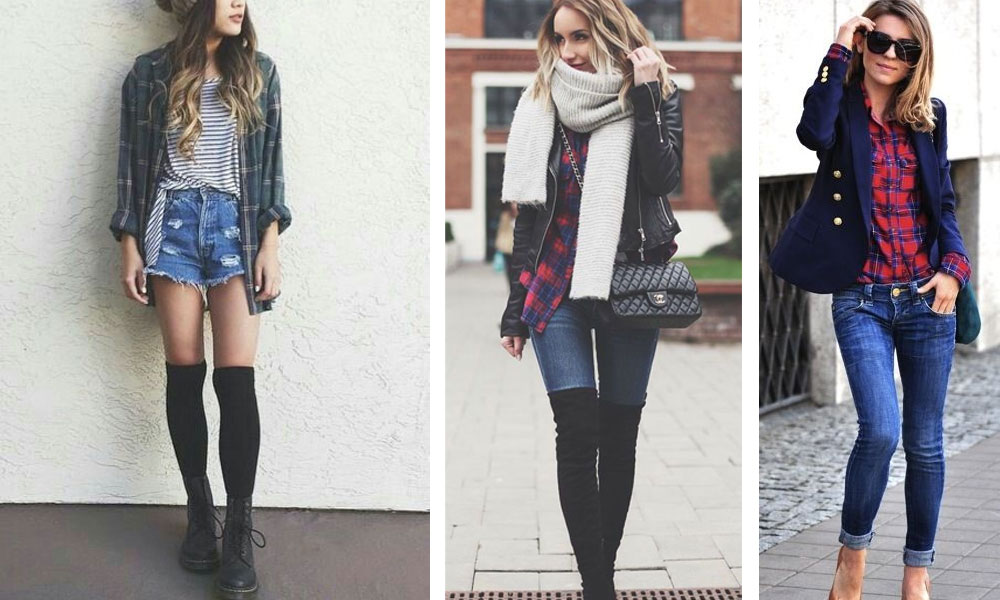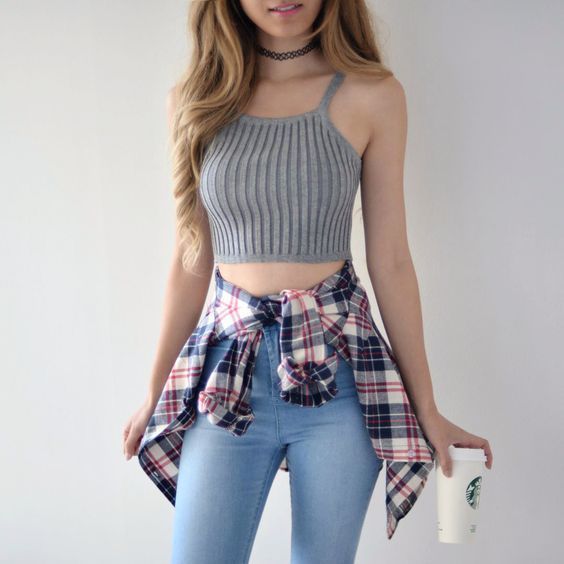 Flannels are a classic wardrobe staple that most women already have in their closet. They're comfy, cozy, and cute. What could be better than that? Unfortunately, flannels are often underrated or misconstrued as lazy or sloppy. It's easy to toss your trusty plaid to the back of your closet in favor of flashier pieces to add to your look.
The timeless flannel doesn't have to be boring, though. There are plenty of ways to amp up the intrigue of the flannel tops you already own to make them more exciting and incorporate them into head-turning looks that are both classic and trendy.
1. Make it Sexy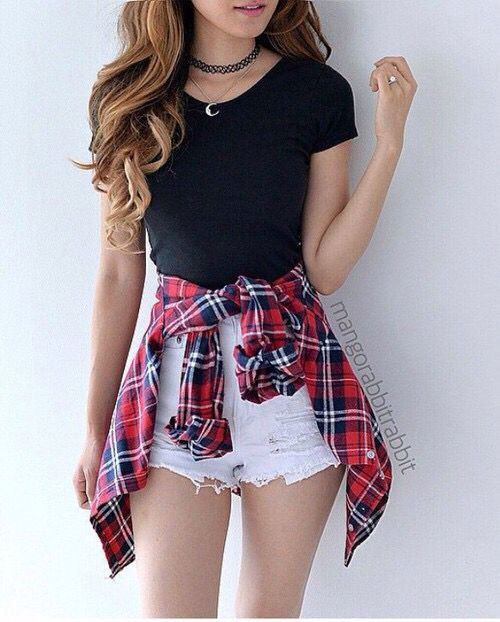 Didn't you know that the lumberjack look can be sexy, too? Just think about how hot you feel when you wear your man's giant tee or sweatshirt. An oversized flannel has the same effect when paired with the appropriate pieces that make up the rest of your look.
Add interest to a basic fitted crop top and high-waisted shorts combo by tying a flannel around your waist. This finishing touch makes a simple look appear more seamless and eye-catching. If you have an extremely oversized flannel, consider rocking it by itself as a dress instead of a top. Pair your flannel dress with ankle booties or lace-up block heels for a sexy, chic finish.
2. Wear it to Work

You might never have thought you'd be searching for your flannel top to throw on before you head out to the office in the morning. However, there are actually multiple ways you can incorporate a flannel into your for-work looks without compromising your professionalism.
Try tucking a flannel into dark jeans. Put on neutral booties or full-length boots and add a blazer on top. For an added finishing touch, nix your neutral blazer and put one on in a brighter color that is also present in your flannel's pattern. On colder days, you can also layer a flannel underneath a fitted sweater. Pick a sweater that's slightly cropped and cuff the sleeves of your flannel over it to show more of the flannel's pattern underneath. Pair this sweater-flannel combo with dark pants and simple flats.
3. Dress Down

Because flannels are so casual in and of themselves, you can use them to dress down an outfit that would otherwise appear more formal.
Layer your flannel over a dress or tuck it into a high-waisted mini skirt. Make sure that the dress or skirt you wear is fitted so that your natural shape remains visible. Also, try to keep your dress or skirt solid so that you don't overpower the pattern of your flannel and cause your look to appear overly busy. However, there are certain patterns you can pair with a flannel for an added touch of whimsy that doesn't look too crowded. Throw on a dark-colored flannel over a fitted dress with black-and-white stripes to try out this multi-patterned finish.
4. Get Classic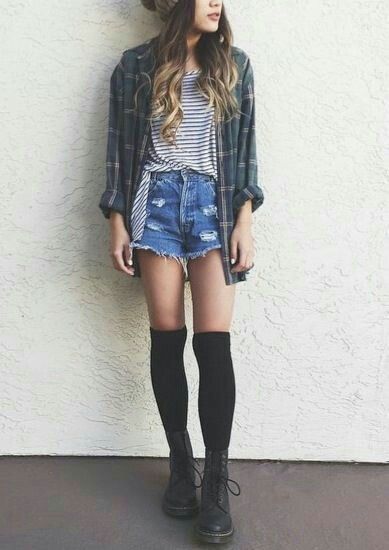 There is nothing wrong or boring about wearing a flannel in a classic look. You just need to make sure that your look is well-balanced and includes a focal point to keep things interesting.
Layer your flannel over a pair of high-waisted, distressed jeans with a solid, fitted crop top. The fitted crop top will emphasize your shape under the oversized flannel and the distressed jeans add balancing interest to the look. If you feel like your look needs a little bit of extra eye-catching intrigue, add a pendant necklace to act as a focal point.
5. Go Graphic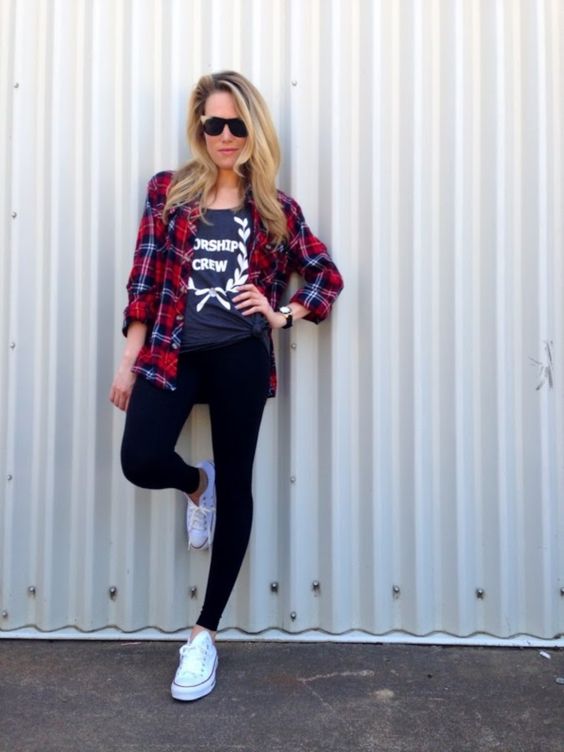 If you're sick of only pairing your flannels with solid tops, try a graphic tee instead. A graphic tee is a great choice to complement a classic flannel. It doesn't include an all-over pattern so it won't overcrowd your look, but it adds an extra dimension of interest to your outfit.
You can wear any type of graphic tee underneath a flannel. Just make sure that the tee is mostly solid-colored and includes just one main graphic or image on the front to prevent clashing. Rock a graphic tee underneath a flannel with distressed black jeans and ankle booties for a sleeker look. Or, tuck your graphic tee into high-waisted shorts and pair this combo with tights to achieve a harder-edged, chic finish.
6. Balance Out Black

An all black look is a lot of fun, but such an intense and monochromatic look is often too intimidating for many women to brave out in public. If you're looking for something to break up an all-black look, try a flannel.
Create a streamlined, monochromatic look with a variety of form-fitting pieces. Pair a high-necked, tight black tee or tank top with distressed black jeans or shorts to add in some much-needed texture. Cuff the jeans and rock them with black strappy sandals or put on some matte black ankle booties or combat boots instead. Try to make sure that the flannel you wear is fairly oversized so that it successfully balances out your entire monochrome look.
7. Accessorize Seasonally

Flannels are traditionally considered to be part of a fall or winter wardrobe. However, they can actually be worn during any season depending on how you accessorize them. Create the perfect cold-weather look by adding a knit scarf or a beanie. Choose your knitted accessories in colors that match or coordinate with those in your flannel.
The arrival of the warmer months of spring and summer doesn't mean that you have to stop rocking your flannel for half a year. All you need to do is accessorize it a bit differently. Tie your flannel around the waist of your spring or summer outfit. Pair it with strappy block-heeled sandals, sunglasses, and a wide-brimmed sun hat to make it more appropriate for warmer weather.
Flannels are  staple that should not be denied or underestimated. They're cute, comfortable, versatile, and they can seamlessly fit in as a part of a wide variety of fashion-forward looks. So drag your flannels out from the bottom of your hamper or the back of your dresser drawer and let them shine.