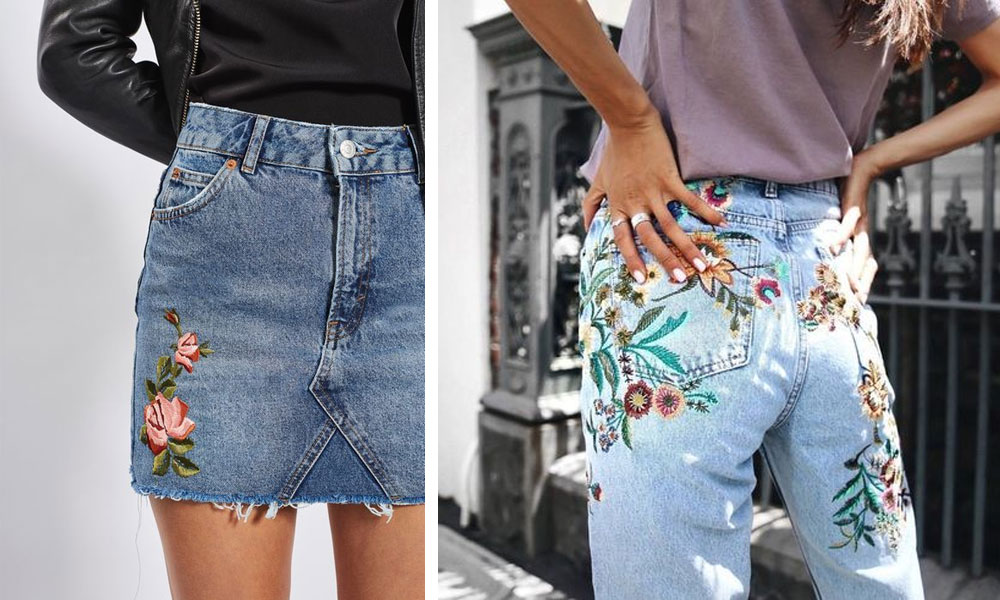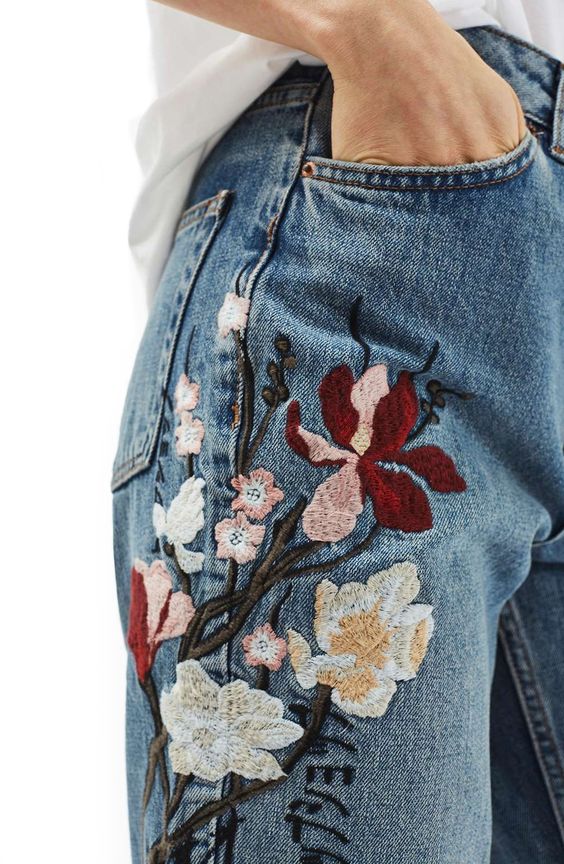 Embroidered denim is one of this year's biggest fashion trends. From cropped jeans to jackets to high-waisted shorts to mini skirts, it seems that every denim piece you spot in stores or on the runway features some type of embroidered embellishment. Denim is a comfortable and casual material that crops up in a variety of ways in almost every woman's essential wardrobe. Who can live without their trusty denim jacket or distressed, high-waisted cut-offs?
There's no doubt that denim is a wardrobe staple. However, plain old denim can get a bit boring. Fortunately, there's an easy way to make the denim pieces in your closet instant trend-setters: embroidery. Embroidered denim is fun, whimsical, and it's currently uber-trendy. Try it yourself to add automatic style and intrigue to any casual denim look.
1. Go Floral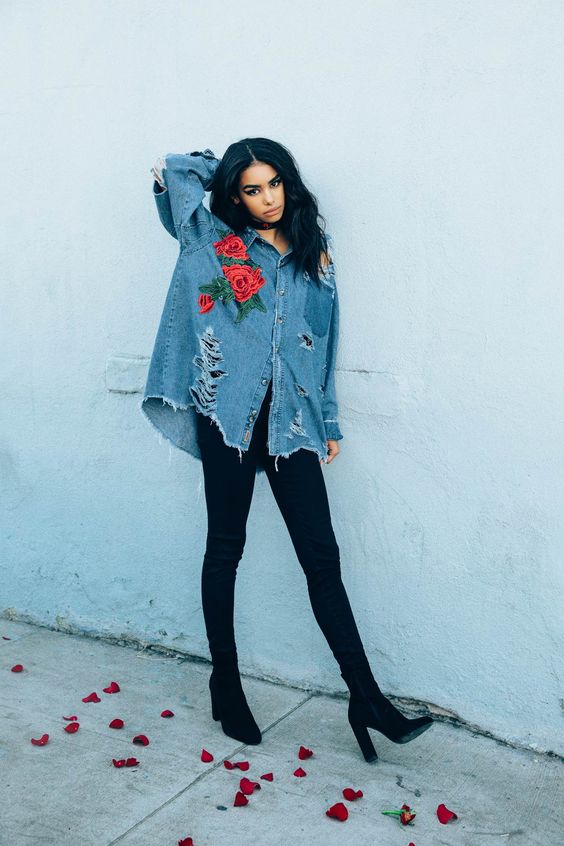 There are countless different designs you can choose from when it comes to embroidered denim. Because the trend has become so popular, you'll have no shortage of options if you head to a store or online in search of a unique embroidery pattern on a pair of jeans or a denim skirt.
If you're not sure what type of embroidered design you want on your denim, remember that you can't go wrong with flowers. Floral embroidery on denim is a classic that has withstood a test of time that's lasted multiple decades since
2. Rock a Bodysuit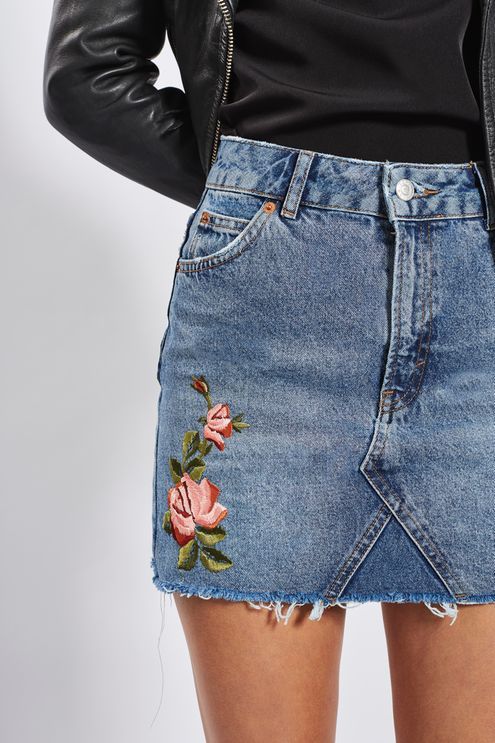 Bodysuits are a great choice to pair with embroidered denim. Embroidery gives denim pieces more texture and can make normal jeans, shorts, or jackets appear chunkier. Because bodysuits are so form-fitting, they help show off your natural shape and balance your look when paired with embroidered denim.
Get creative with the bodysuits you wear. Try a sheer, mesh bodysuit over a bralette to create a sexier finish. Pair a tight, lace-up bodysuit with straight-legged denim cutoffs to add balance and even texture to your look.
3. Stay Neutral
It's often a good idea to pair your embroidered denim with other pieces in a neutral color scheme. Keeping the rest of your look neutral helps the colors in your embroidery pop and ensures that your embroidered patterns remain the focal point of your look. Try tops and shoes in coordinating shades of black, nude, or olive to maintain a neutral color palette and let your denim shine.
If you don't want to limit the color scheme for your look, at least make sure your look has a color scheme. Take the colors included in the embroidery on your denim piece into account when choosing colors for the rest of your look. For example, if your jeans sport red rose threading, pair them with red suede flats. Take note of the mustard yellow in the embroidery on your denim skirt and choose a fitted top in a similar shade.
4. Keep it Simple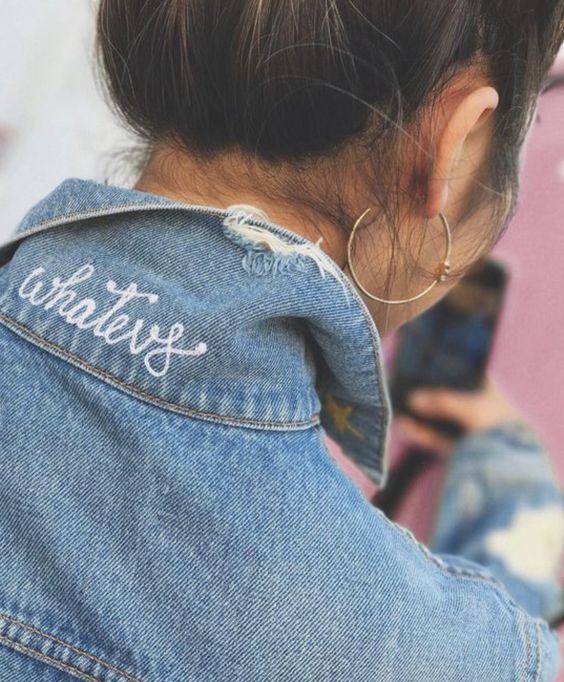 Simplicity is key when it comes to looks that include embroidered denim. You don't want your look to come off as too busy or overwhelming. Try searching for embroidered denim pieces that include subtle embroidery. Jeans with one flower embroidered on the back pocket or a denim skirt with embroidery around the waistband are good choices.
If you really want to go all out with your embroidered denim, keep the rest of your look simple. Stay away from patterned pieces and go with solids instead to ensure a balanced finish.
5. Check For Quality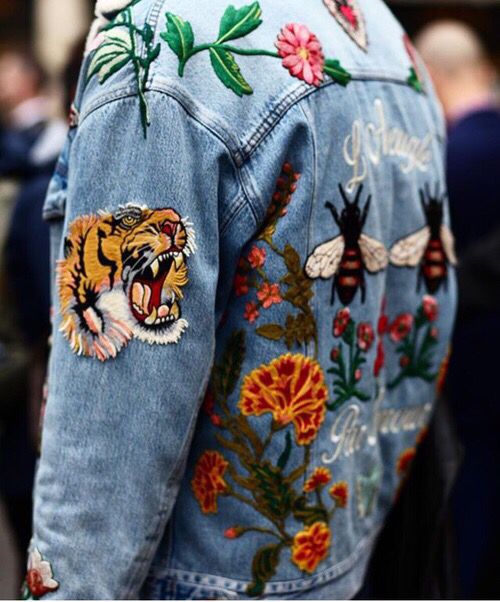 You don't have to shell out hundreds of your hard-earned dollars for a pair of embroidered high-waisties. That being said, you do want to make sure that the embroidered denim you purchase is of a high quality. Due to the extreme popularity of embroidered denim, many lower-end brands have begun selling "embroidered" denim pieces for very cheap prices.
While these "deals" might seem irresistibly tempting, don't fall for them. Cheap "embroidery" is often just patches ironed or sewn onto the denim. This faux embroidery is obvious and it really brings down the vibe of your look. If you're not sure if a piece is the real deal or not, turn it inside out and check for evidence of real threading on the backside. Patches made to look like embroidery won't show that. If cost is an issue, check thrift stores for authentic embroidered denim pieces that won't break your bank.
6. Streamline With Heels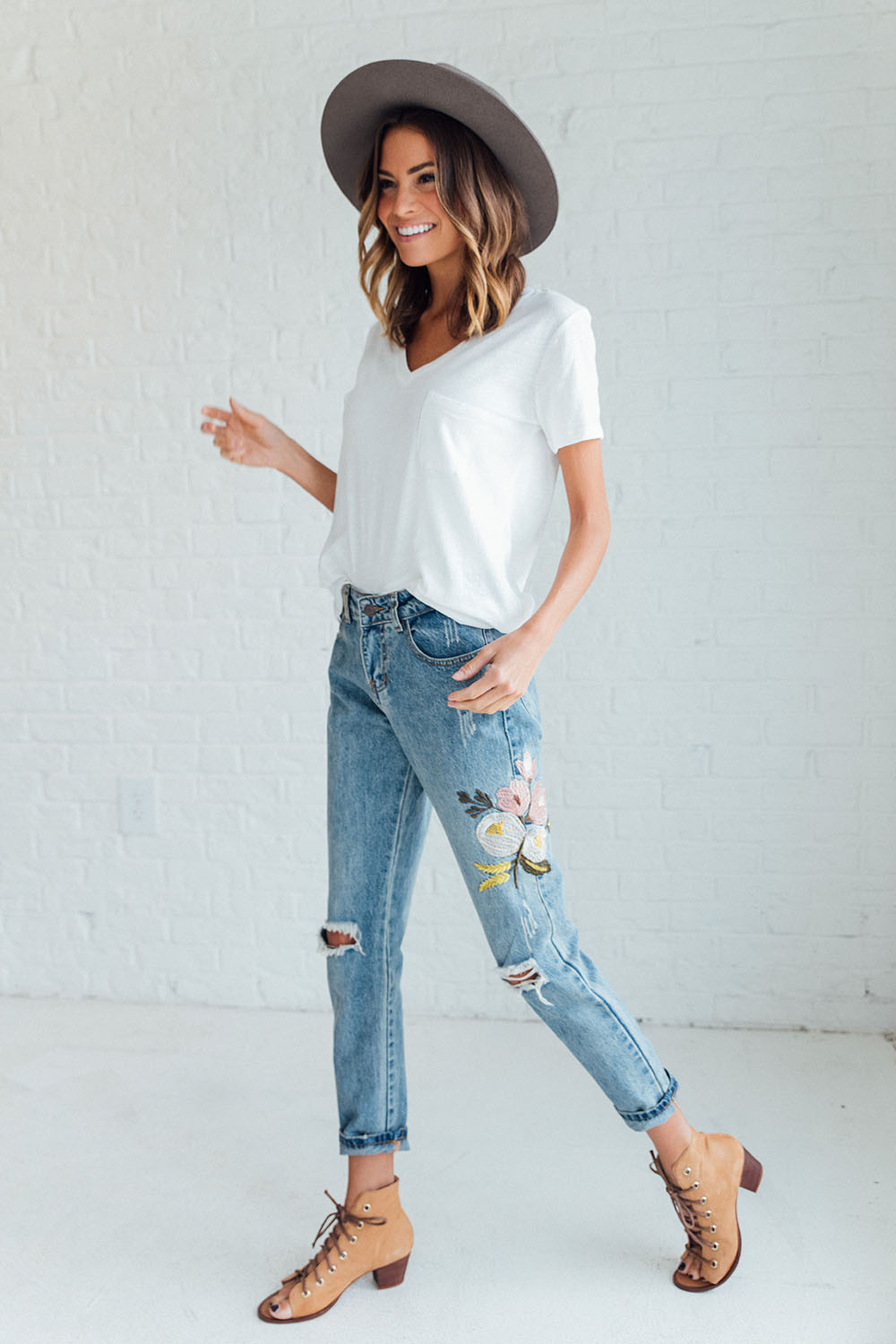 Because embroidered denim pieces are pretty whimsical, it's important to make sure that your look as a whole appears streamlined and put-together. A great way to dress up a look that includes embroidered denim is to add heels. You don't have to strut down the street in your stilettos. Any shoe with a bit of elevation works to add style, sophistication, and a streamlined finish to your look.
Rock a pair of chunky block heels with straight-legged embroidered cutoffs for a balanced finish that's still casual. Pair heeled ankle booties with an embellished denim skirt to immediately create a sexy, city-chic vibe.
7. Go Retro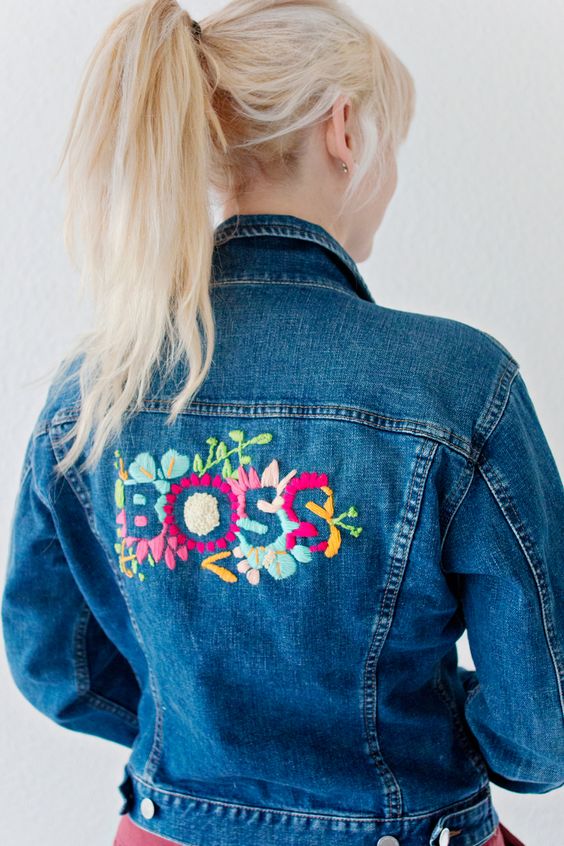 In and of themselves, embroidered denim pieces don't give off an old-fashioned vibe. Although this season's embroidered denim trend is based on embellishment vibes left over from the '70s and '80s, you don't have to worry about looking outdated if you rock some extra threading on your favorite denim pieces.
However, it's fun and easy to embrace and amp up the retro style of embroidered denim while maintaining a modern vibe for your look. Throw it back with high-waisted jeans that have a darker wash and a cut and style that appears slightly vintage. Go for floral embroidery, as this was most popular when embroidered jeans were high up in the fashion world the first time around. Finish off your look with a loose, off-the-shoulder blouse and strappy sandals or even moccasins.
Embroidered denim isn't a trend to ignore. It adds fun to every outfit and helps you put together looks that you're excited to wear using casual, comfortable denim as your base. Head to a thrift store if authenticity is your thing or ho pos your favorite online clothing store to find some embroidered denim pieces of your own that are sure to become instant staples in your home wardrobe.