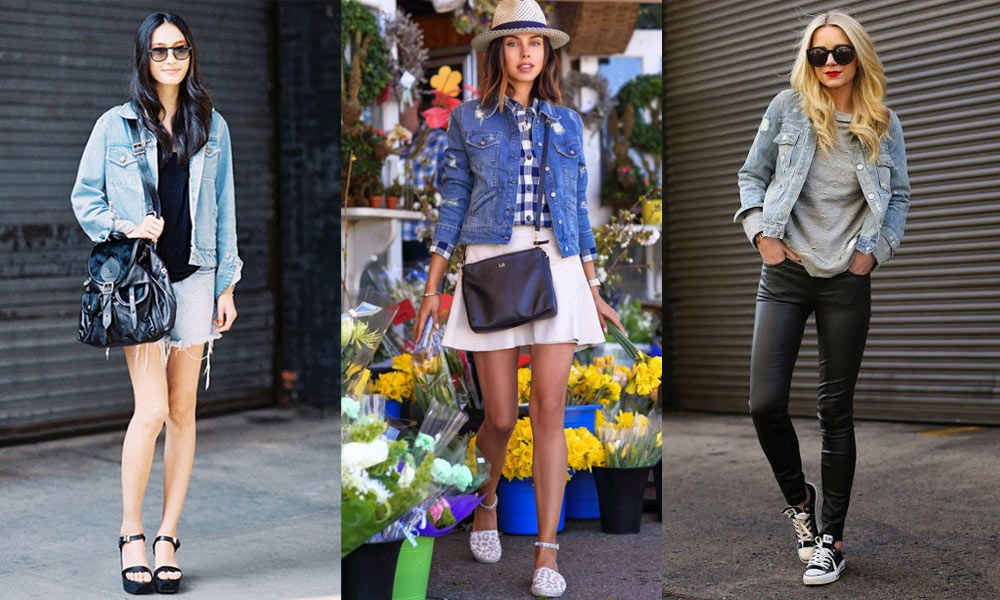 Denim jackets are timeless pieces. They've nobly withstood the flared-arms phase of the 1970s, the denim-on-denim travesties of the 1980s, and the faded grunge style of the 1990s. Today, deep into the 2010s, denim jackets still stand as a convenient, stylish, practical go-to trend. It's hard to find a style-conscious woman who has never owned a trusty denim jacket. Most of us have at least two or three variants of this classic piece hung in our closets (or tossed on our bedroom floor).
One of the biggest benefits of denim jackets is that you know they'll never go out of style. You don't have to feel guilty for spending your money on indulging in the latest trend because denim jackets have been trendy since the '60s. However, the classic nature of denim jackets quickly turns to staleness if you're not careful. It can be difficult to plan a look that includes a denim jacket that hasn't already been overdone time and time again. There are many ways to create a look with a denim jacket that still retains some freshness and uniqueness.
1. Go Old-School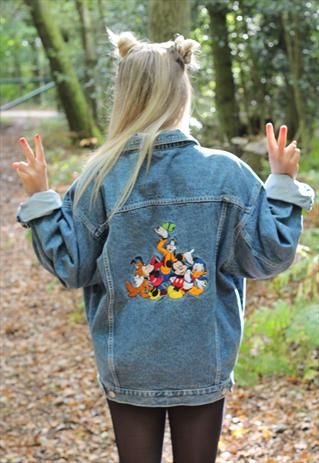 The perfect way to accept the "overdone" component of a denim jacket is to accept it. Denim jackets have been popular for decades. Invest in a vintage denim jacket (or buy a modern one in a fake vintage style) and rock it in the style of decades past. Grab a solid, dark-washed denim jacket reminiscent of the 1980s. Hit up Forever 21 to find a grunged-out replica of a 1990s denim jacket, complete with ragged holes and splatters of paint and bleach.
Make sure to pair your old-school denim jacket with simple, modern pieces. You can pull off wearing a piece in an outdated style as long as you make it the statement of your look. Rock a vintage denim jacket with tight black jeans or leggings and chunky heels or sandals.
2. Crop It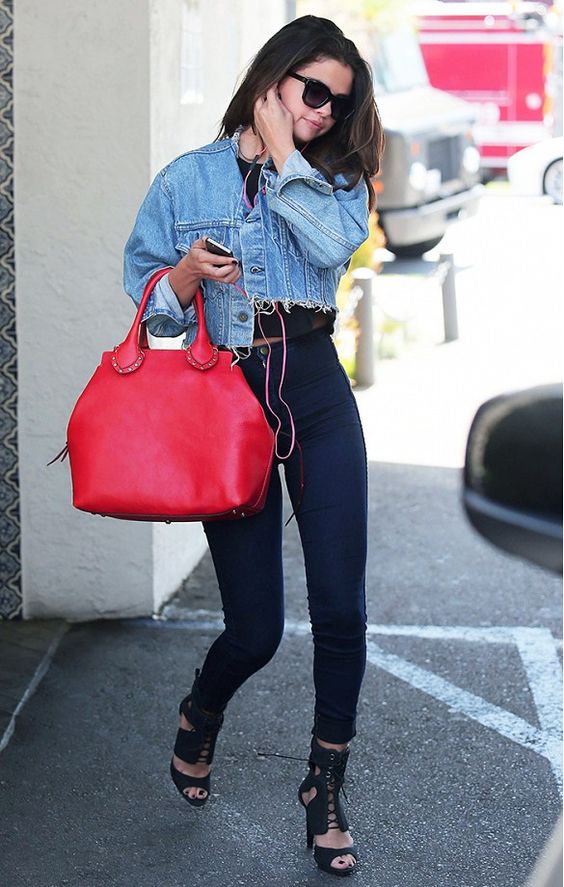 It seems like everything, even wool sweaters, comes in a cropped option these days. Denim jackets are no exception. Cropped denim jackets put a modern, trendy twist on the classic piece. Just make sure that you find some way to maintain balance within your look if you opt for a cropped jacket instead of one with a standard length.
Pair a cropped denim jacket with a tight crop top and high-waisted jeans. If you want to look a bit more feminine, wear it with a bralette and a high-waisted mini skirt. Don't wear only tight pieces with a cropped denim jacket. You'll look top-heavy. If nothing else, at least wear chunky heels or stilettos to add a bit of interest to the bottom half of your look.
3. Pair With Patterns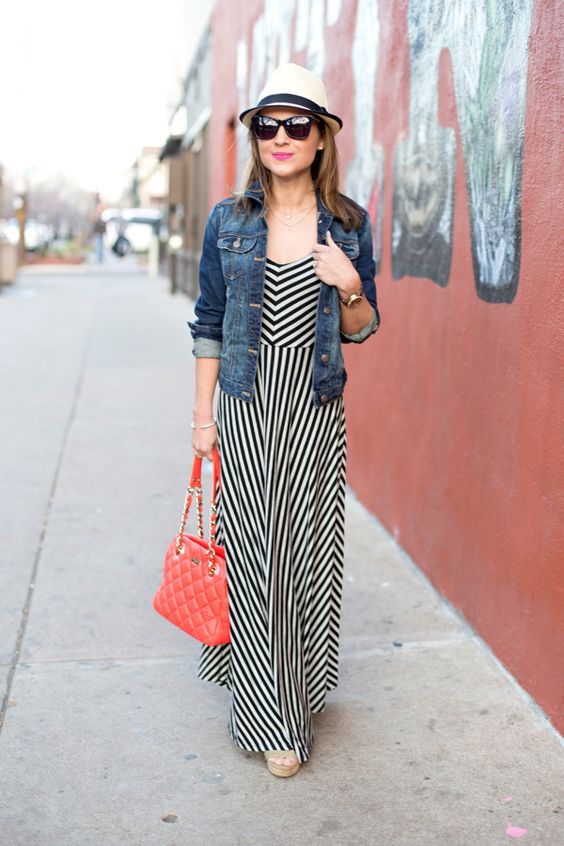 In and of itself, a denim jacket is a very simple piece. That's why it has remained such a classic for so long. The simplicity of denim jackets means that you can easily pair one with your favorite patterned pieces without creating an overly busy look.
Rock a denim jacket with a bright floral or geometric patterned dress or top. The jacket will let your patterns shine while also toning down your look so it doesn't appear too crazy.
4. Keep it Casual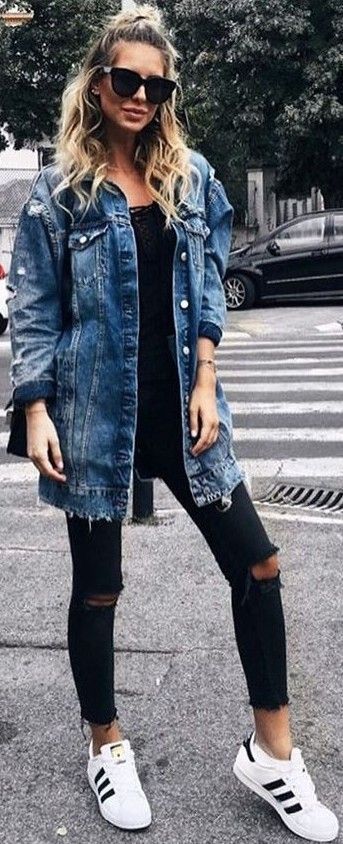 Don't feel like you always have to use a denim jacket to dress down a look. Denim jackets also fit effortlessly into any casual look. Feel free to pair your denim jacket with simple pieces you already have in your closet.
Just make sure that at least one part of your outfit is eye-catching. It can be anything from your wedges, ripped skinny jeans, or a pair of bangles on your wrist.
5. Flirt With Femininity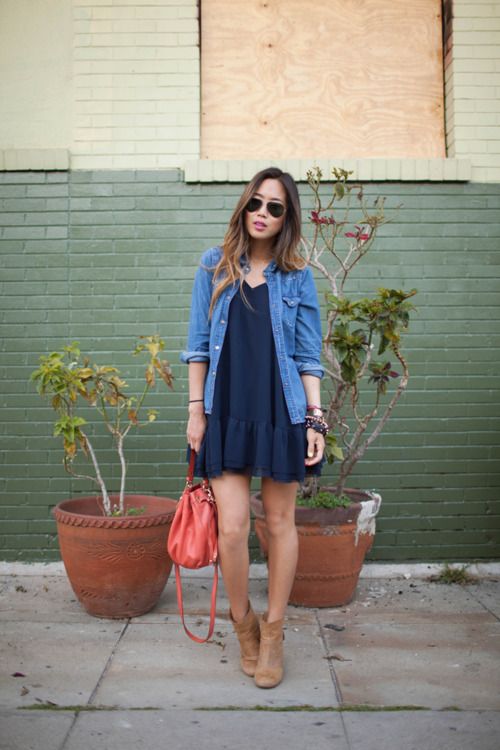 You can wear a denim jacket and still rock a look with a feminine style. In fact, denim jackets look great when paired with almost any type of casual skirt or dress. If you really want to add a feminine touch to your denim jacket, try cuffing the sleeves until they reach your mid-forearm. This trick adds a cute touch and instant femininity to your look as a whole.
6. Soften an All-Black Look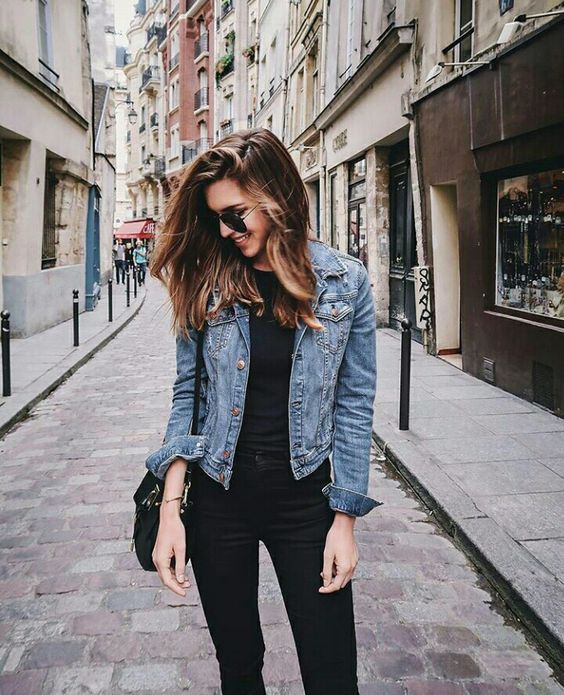 All-black looks are nothing short of gorgeous and glamorous. However, many women feel too intimidated to rock the all-black trend themselves. A great way to offset a look that only includes black pieces is to throw a denim jacket on top of it. A denim jacket is simple enough that it doesn't detract too much from the sleek effect of an all-black look. It adds just enough softness to subtract from the intimidation of wearing only black pieces without ruining your look.
Start with a black maxi skirt and a tight, solid black crop top or a slim black mini dress. Add a loose-fitting denim jacket on top. If both your top and your pants are tight-fitting, make sure to pair them with a longer, oversized denim jacket. This pairing will add some needed texture and balance to your look so that you don't end up looking top-heavy.
7. Don't Be Afraid of Accessories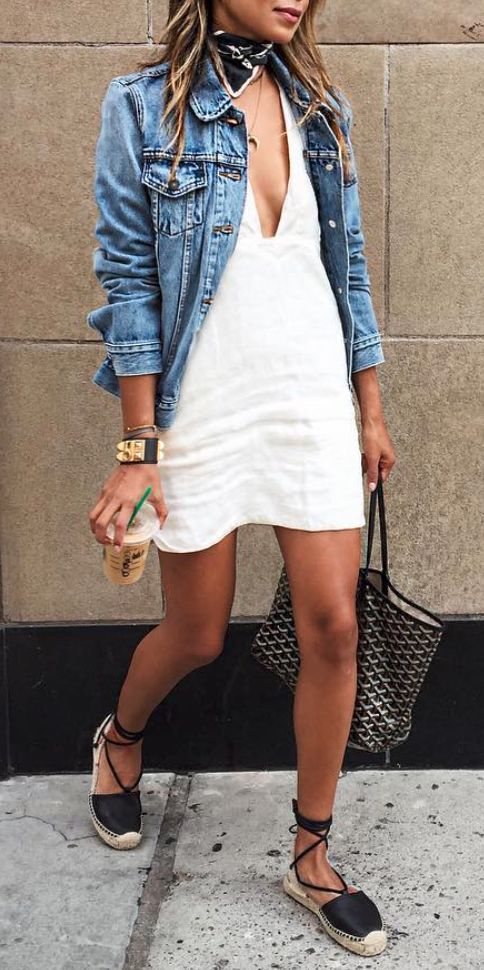 Some women think that they can't wear accessories at the same time as a denim jacket. Because of the buttons, collars, and general texture that denim jackets have on their own, many women are afraid that adding accessories will make their look appear just a bit too busy. Contrary to this common misconception, however, denim jackets sometimes need a little bit of added spice. Added accessories instantly add interest to a denim jacket and can even draw attention to the style of the jacket itself.
On colder days, pair a flannel scarf with a denim jacket for a city-chic finish. When it's warmer outside, rock a patterned fashion scarf with your jacket instead for a pop of color and intrigue. When it comes to jewelry, choose one statement piece. Don't shy away from necklaces just because your jacket has a collar. You don't have to keep it delicate, either. Go big and rock a chunky necklace with an open denim jacket. Just try to minimize the amount of jewelry you wear to keep things from looking too busy.
If you don't have one already, invest in a denim jacket. You'll be able to wear it for years or even decades to come. If you do have a denim jacket but just never wear it, don't leave it to dust in the back of your closet any longer. There are countless ways you can rock a classic denim jacket while keeping your style ultramodern and on-trend.