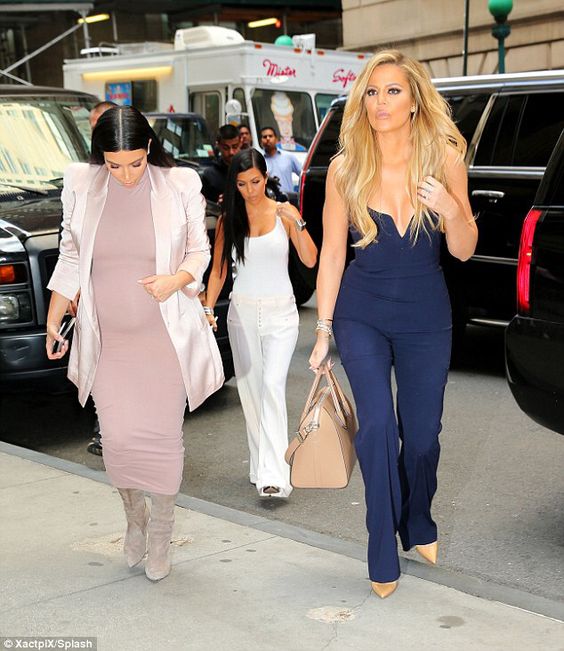 In the ten-plus years since the Kardashians debuted on their family's reality show KUTWK–which is now approaching the end of its 15th season–the Kardashian sisters have made a name for themselves as trend-setters and style icons.
From owning a clothing boutique together to working as wardrobe stylists to launching their own individual clothing lines, the Kardashian sisters' involvement in fashion has been threaded throughout their booming careers for more than a decade. Beyond their official involvement in the fashion world, the Kardashian moguls have pioneered and catalyzed the growth of many now-popular trends–including sheer tops, bodycon pieces, and all-neutral color palettes–just by the outfits they wear to various events or even while caught on camera in the streets of L.A. or their hometown of Calabasas.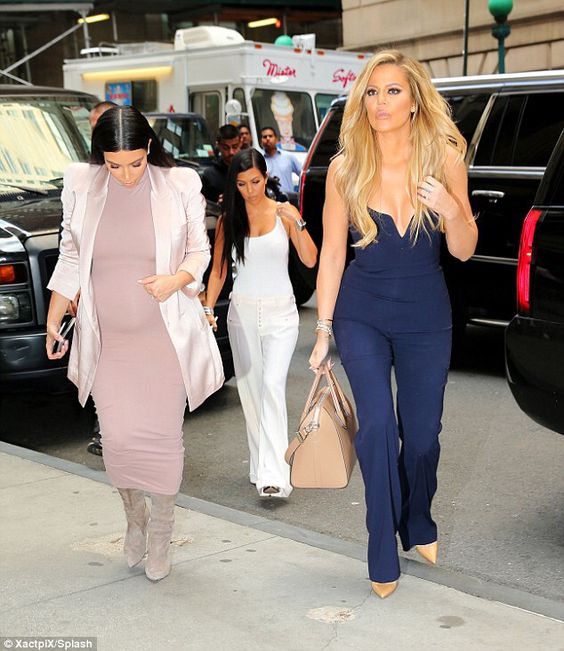 via
Just as they branch out to pursue their own ventures within the world of beauty and fashion, each of the Kardashian sisters maintains their own unique style. While the Kardashians' looks–one of Kim's recent looks for a night out cost almost $16,000–definitely don't fit in the budget of many people, mimicking their style with more affordable pieces is definitely doable.
1. Kourtney Kardashian: Oversized Sweatshirt and Thigh High Boots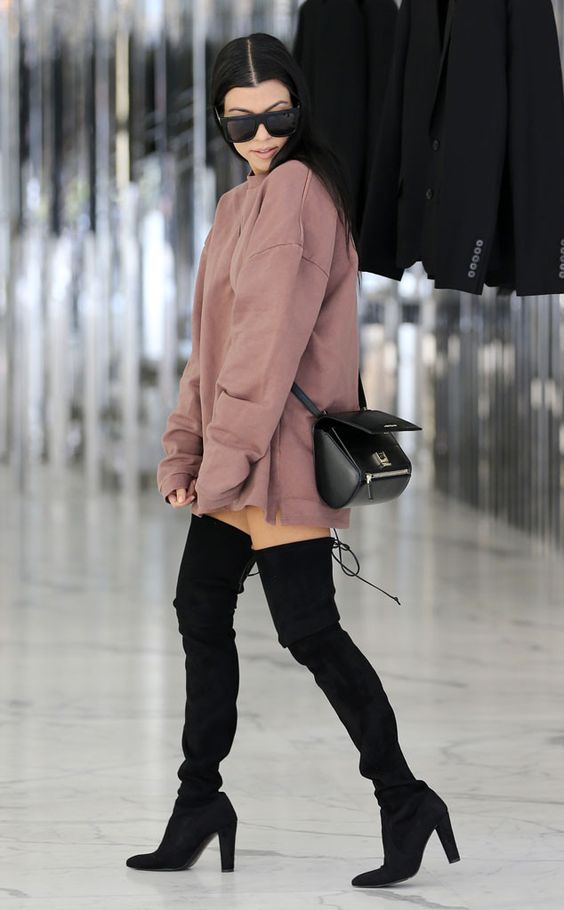 Kourtney Kardashian prioritizes comfort in many of her everyday outfits, but she still manages to look trendy at all times. Kourtney doesn't disappoint with this casual, chic look that effortlessly combines comfort with style.
Finding an oversized sweatshirt that fits like a dress is pretty simple–even if you're taller than Kourtney's 5'0″ height. Many standard men's sweatshirts in a size XL or XXL create this long, baggy dress-like look on women. A replica of the chunky-heeled high black suede boots Kourtney chose to pair with her baggy sweatshirt is available at Forever 21 for less than $40.
2. Kim Kardashian: Lingerie Top and High Waisted Jeans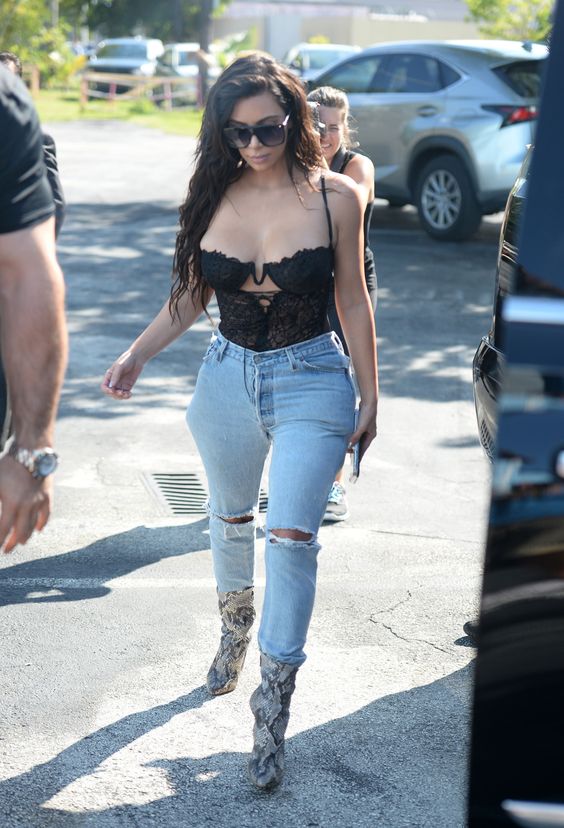 All of the Kardashian sisters are known for incorporating risqué lingerie tops into their casual everyday looks. H&M sells a sexy black bustier corset top like the one Kim is wearing in this photo for only $35.
A replica of Kim's light wash, high-waisted mom jeans are not hard to find. As for her snakeskin boots, Urban Outfitters sells a pair of leather, black and white snakeskin ankle boots for $175.
3. Khloe Kardashian: Sleeved Bodysuit and Skinny Jeans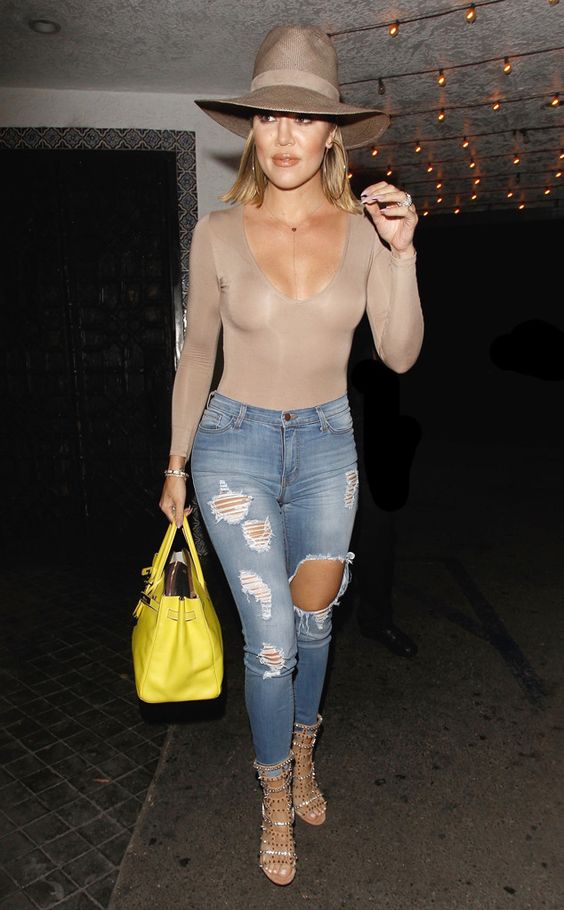 Of all the Kardashian sisters, Khloe is the queen of denim. She even launched her own brand of denim Good American in 2016. Good American also features collections of tops and bodysuits. One of these collections is likely the origin of the skintight nude bodysuit Khloe is wearing in this look.
The medium wash distressed skinny jeans and long sleeve bodysuit are easy-to-find staples. Khloe's accessories in this look take a little more digging. You can find a pair of nude studded gladiator heels that look very similar to the ones Khloe is wearing here from LuLu's Fashion Lounge for under $40. Calvin Klein sells a good-quality but still semi-affordable canary yellow tote bag like Khloe's for under $150.