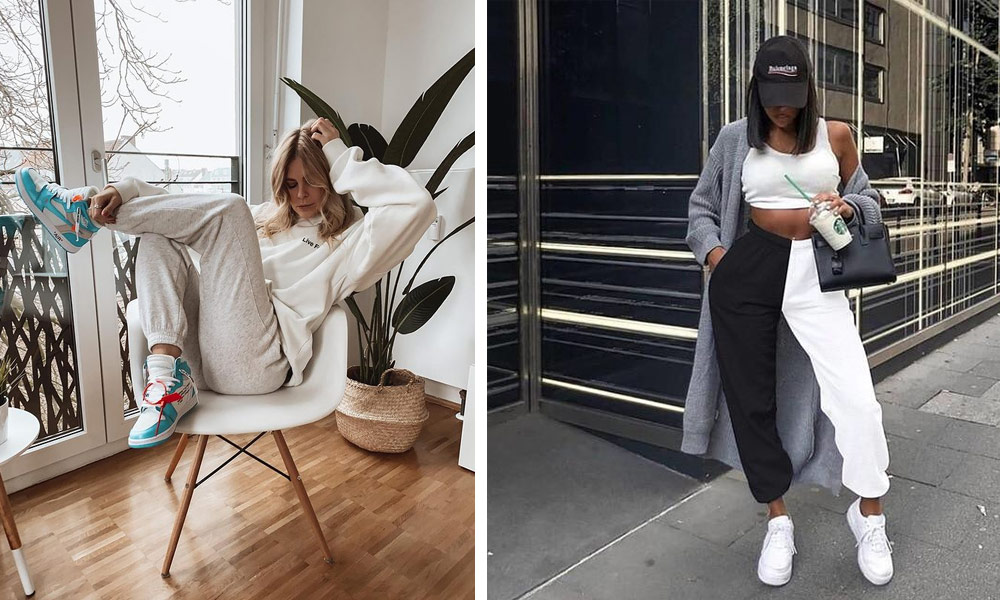 When you think of all the stiff corsets and girdles women used to wear, it's great that women are now free to be their natural shape! Comfort-wear has been moving towards the first-place in the everyday fashion stakes for quite a few years now. And certainly in the U.K., some women even go to the local supermarket in their pajamas in winter-time!
Sweatpants started life as dull, grey loose trousers men wore for working out, but they have become a favorite for women, too. And sweatpants are now popular, not only for relaxing at home, but for wearing anywhere, anytime!
So if you like to wear comfy sweatpants most of the time, here are some great new ideas to vary the look and add some extra style!
Fitted Sweatpants for girls
If you value the comfort of sweatpants, but need a slightly more professional look for work, look out for fitted sweatpants. They are more expensive than the standard baggy pants sweats, but still comfortable and super-trendy.
Fitted sweatpants have been featured on several new season runways this season, so it's a worthwhile investment. And instead of a sweatshirt to complete your warm outfit, consider pairing them with a trendy fitted jacket or an elegant trench coat to add a smart touch to your look. This could also be a relaxed vibe, denim jacket, or your favorite leather/PVC jacket to give your look more personality and edge.
Adding Individuality
What to Wear with Sweatpants for women? Go boho in sweatpants made from light-as-a-feather silk in a bright, jewel shade and you'll look fabulous and feel even more comfortable. And top this off with a simple, white cotton blouse or T-shirt for a fresh and feminine look. Worn with heels, instead of flat sneakers, makes this look great for an evening date.
For a more formal occasion, choose black velvet sweatpants to create an elegant evening look with a silky cream blouse and contemporary jewelry in silver. Add an attractive dash of color with a hot pink or turquoise long scarf worn as a stole to add brightness or keep your arms warm.
Be well-groomed
Sometimes, all you need to dress up your sweatpants is to style your hair well and present a well-groomed beauty look that shows you like to be comfy, but you're not 'letting yourself go'. For example, wear flattering make-up including a bright lipstick, if your sweatpants are a dark color.
And a trendy casual bun or messy ponytail will show that your image is smart-casual, not slob!
Shoes Transform Outfits
Shoes can stamp a definite style on any outfit, so wearing high heels of any type, or fashionable ankle boots will add style and move your look up from 'couch-potato' to girl-about-town! Wear leopard-print shoes to add lots of high-fashion appeal to your sweatpants.
If you like a sporty, but chic, outfit just pop-on a white T-shirt and add stylish sneakers with wedge heals, or a pair of slip-ons or trainers. Brighten up dark sweatpants with shocking neon footwear or match your shoe color to your pants for make your legs seem longer. Don't think of wearing Ugg boots with sweatpants, as you will just look dumpy with thick legs. And you can tuck sweatpants into long boots, if the boots come up to mid-calf.
Monochrome Looks
Buy matching black sweatpants and top, making sure they are both the exact same shade of black, of course. Then wear a crazy, brightly patterned long scarf to lift the black and add liveliness. Resin jewelry in bold styles and colors also add flattering color around the neckline, face (from earrings) and wrist to show you've put your 'look' together carefully.
A decorative watch can add lots of interest. And choose a glam handbag in silver or gold or a color that matches with the scarf and jewelry.
Mix Textures & Fabrics
Mix up you fabrics by teaming cotton sweatpants with a short woolen patterned sweater or a needle-cord shirt in a bright color. A light-colored shirt can look great under a cardigan or jumper, and instantly gives more character to a pair of sweatpants.
Unless you need to keep warm, try not to wear sweatpants in the heavier fabrics, as they will make your legs look shapeless and thicker than they are.
Follow Your Fashion Style
And you can individualize your sweatpants look by following through from your overall fashion style. For instance, get a school-boy look with a brim-hat, a fitted charcoal-gray jacket, slender-fit black pants and pointed, heeled pumps.
Wear faux-leather sweatpants in black teamed with a vintage style, rock band tour T-shirt for a rock-chic vibe. Biker-chicks can stick with their black leather jackets, but lighten the look with a white and navy striped top and natty, suede ankle boots.
Feminine Twists
Lace tops and blouses add femininity to sweatpants and make a good look for a girl's night out. You will be casual, but cute. And color is important to set the mood for any activity, so pale pink pants with a lacy white top is so fresh looking in summer.
A white, spotted blazer is another summer look that will make you stand out from the crowd and add tons of style to pastel colored sweatpants.
Go Frida Kahlo bright
And if you're tired of gray and black sweatpants just go for a really vibrant look including reds, yellow, green, blue, purple and deep pink shades teamed with a camel-colored coat that will balance out the brightness! Take a leaf out of famous artist, Frida Kahlo's book and wear Mexican bright color clashes that look original and attractive against a sea of dark colors in autumn and winter wear! Subscribe and get more fashion ideas on herstylecode.com